Summer isn't only in Indonesia a big theme right now. The temperatures in Europe go also up and vacations rise the corner. Matching to this I made a new What's in my bag post (here you'll find the last one). Read here about the things I always have in my pool/beach bag.
Suncream
Like y'all know I have really pale skin so I can't forget taking some suncream with me. For my body I use a spray from Nivea with the SPF factor 20. I think it's really cool that this is a spay it's way easier than a tube to put the cream on the skin. I also use sunoil but that's nothing for Bali beacause it's too light. I only use it if I'm already a bit tanned. For my face I use a suncream from DM with the SPF factor 30 (pr sample). It's a tarnishing one so if you already don't wear make-up the whole day to make the skin look flawless your skin isn't shiny. By the way please girls don't wear make-up, except you have some which is waterproof, when you go to the beach or pool. It's not cool to swim in make-up but I think must girls know this and think like me.
Sunglasses
One of the things I loose really fast, sunglasses. Well, look carefully for them and don't wear them too often because you'll can get an imprint on your face. The sunglasses in this picture are incidentally not from Ray-Ban, like the case, they're from H&M. I just own two cases this one and another for my regualar glasses, so I use the case in the picture as a protection for all of my sunny babies.
Reading material
It doesn't matters if you take a book or a magazine to the pool/beach but you can let your inner bookworm out when you go to one of this places. It's mosty too bright for tablets etc. so I recommend to buy a print product. I decided to take a Grazia with me, it's a beautiful mix from fashsion and stars.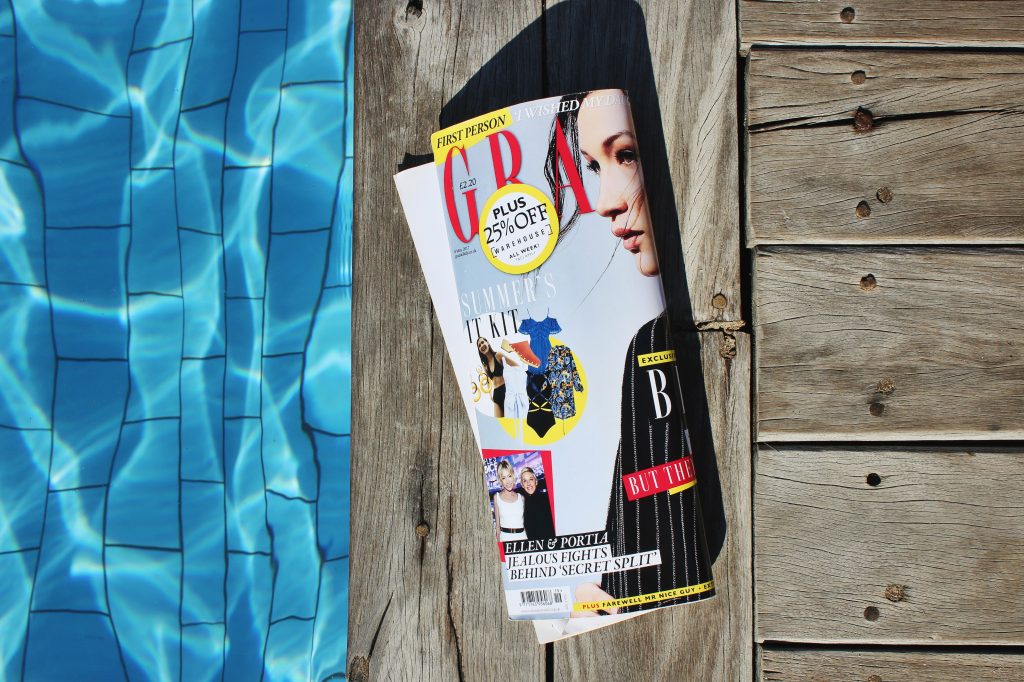 Music
Beside reading is music the best, like everywhere. Already in my travel must-haves post I wrote that I could never live without it. If you have good weather, lay by the pool or the beach you can enjoy the sounds of your favorite songs above all. I put a (in my eyes) great summer playlist together on Spotify. I listen to it like 90% of the day. The headphones are incidentally from Panasonic, it's a cheaper modell because I break mine really fast unfortunately.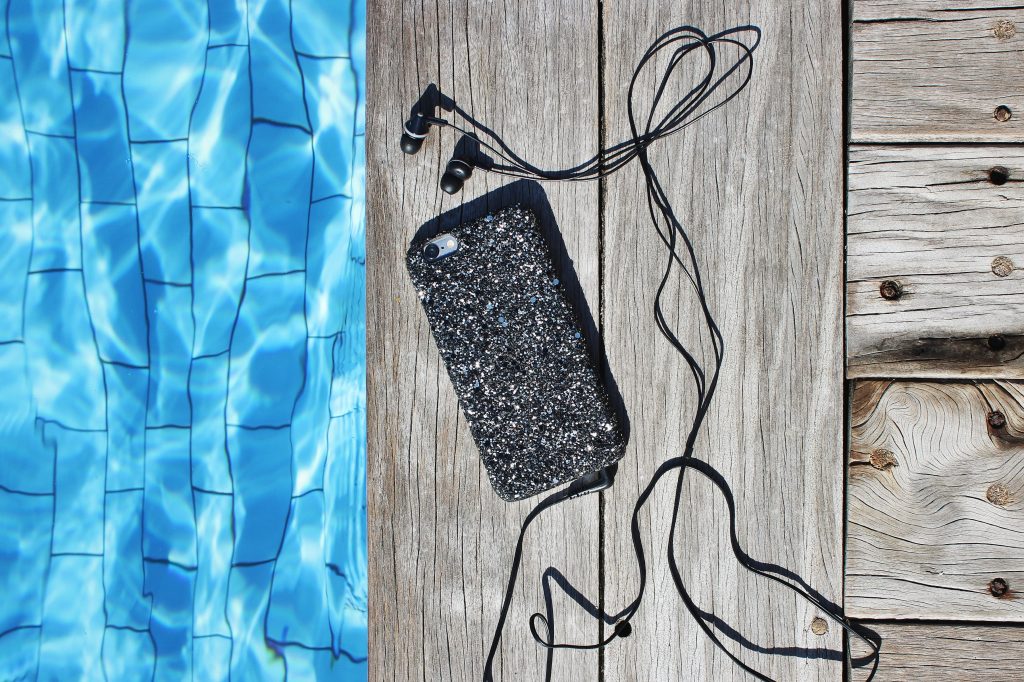 Swimming things
Beside a bath towl you totally need a bikini, swimsuit, tankini or whatever you prefer. Except you go to a naturism pool/beach… Well but I'm not the type of person who does this so I always take swimming clothes with me. I wore for years only bikinis but this year I bought myself a swimsuit and I totally love it. It's from American Aparell by the way. I thought this chaim went bankrupt and closed all stores but the one in Berlin is still open with a lot of clothes no end in sight. Oh last but not least my beach slides they're from a brand called TRUFFLE COLLECTION.  I bought originally some months ago at TK Maxx, I'm so thankful for this store I always find something for myself.