When I came back from my Indonesia trip last week I had a lot of post in my letter box. There was also a parcel from cosnova. They sent me some products from the Essence "next stop: summer" trend edition (pr samples). I´m totally in summer mood at the moment so I was on fire to make a review about the products. They´re available during May and June 2017 in stores like dm, Müller, Rossman or Douglas. By the way I´m really happy to present this on my blog because Essence was the brand I started doing my make-up with. The price-performance ratio is more than just good what is really rare these days.
wet or dry eyeshadow & eyeliner palette
The first thing I want to present you from the "next stop: summer" trend edition is this eyeshadow & eyeliner palette. These colours are just beautiful and perfect for lovely summer days. You can use the palette in wet and dry condition, you can create beautiful looks in both conditions. If I were you I´d use the palette in dry condition only as a highlighter because it doesn´t cover really good but it glitters so cute. The other bad thing, if you use it as a eyeshadow palette, is that it crumbles and half of the eyeshadow falls down on your clothes. In wet condition the palette is just amazing, it covers good and everything stays where it should be. So my tip is to use the palette only in wet condition as a eyeshadow palette and in dry condition just as a highlighter. Nobody likes colour on his clothes after doing their make-up.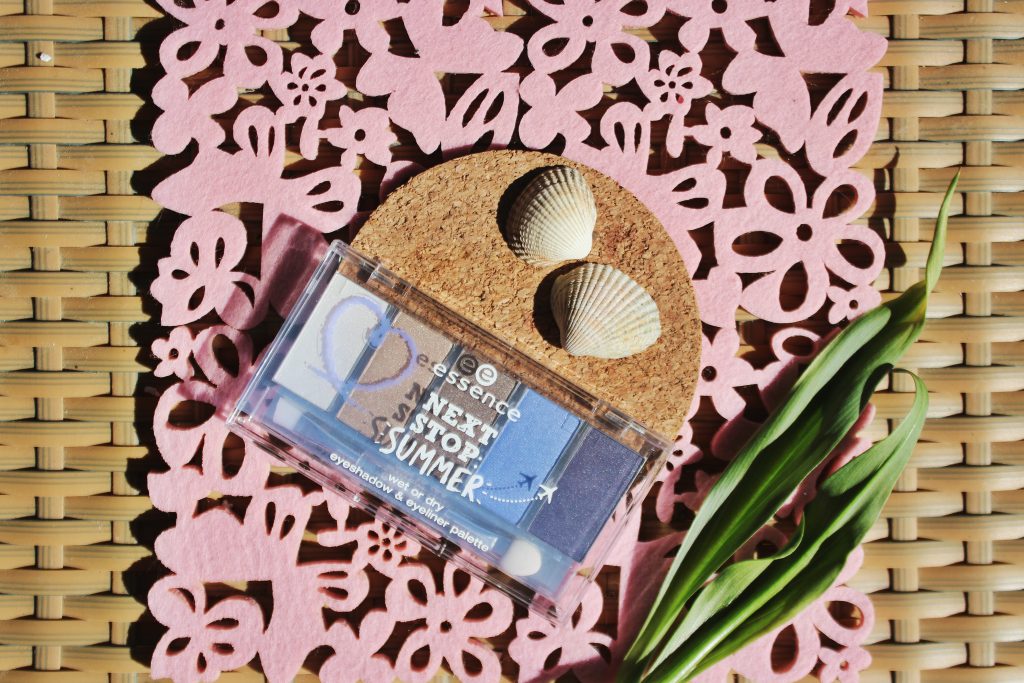 dry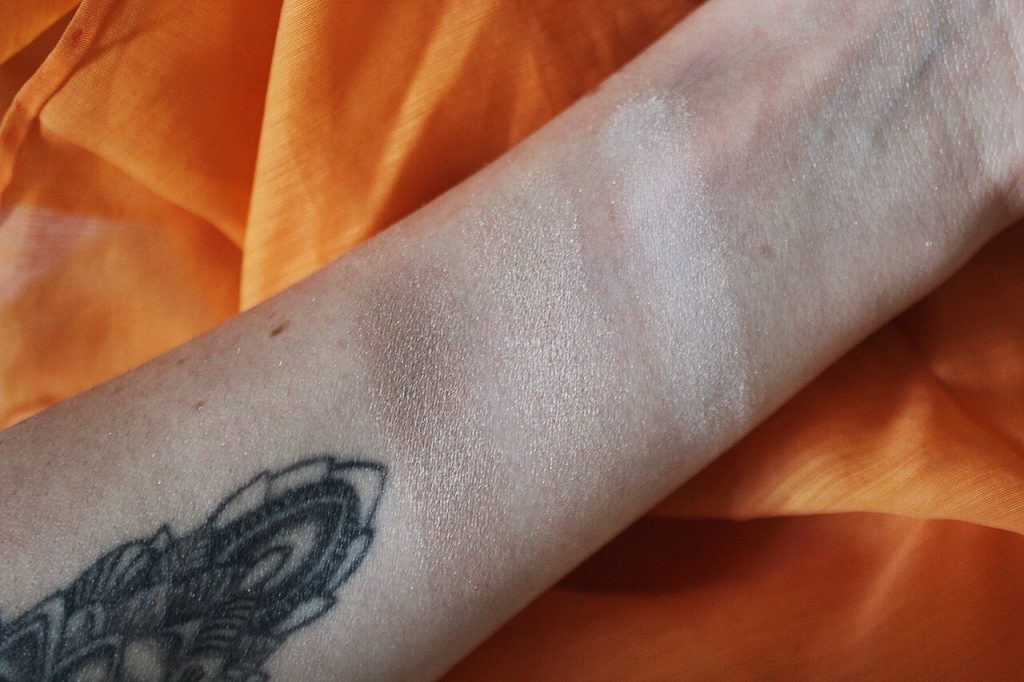 wet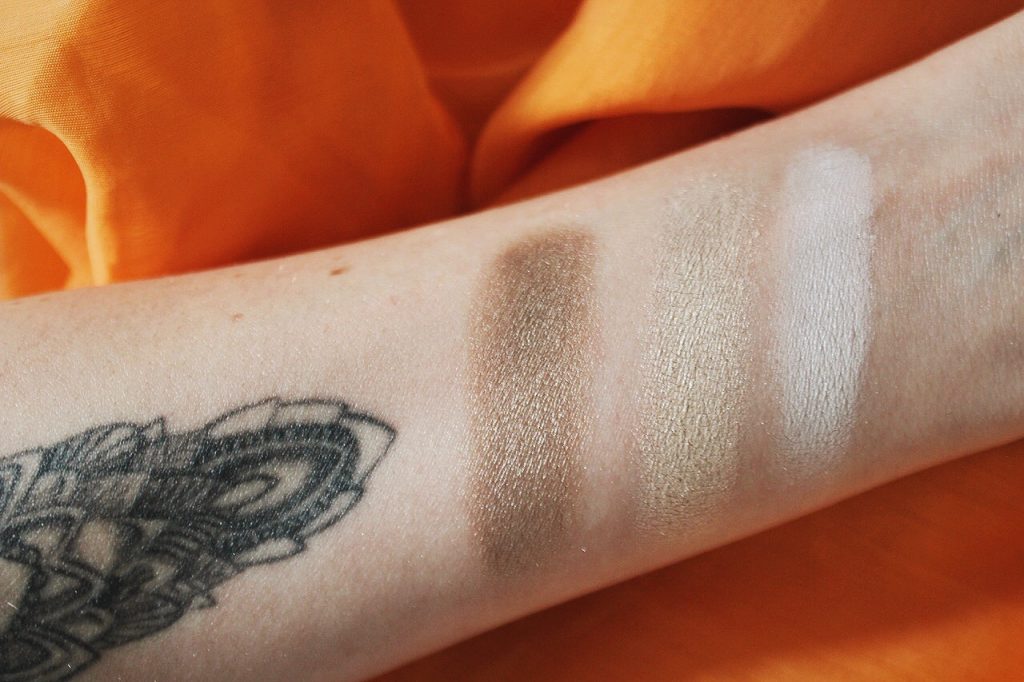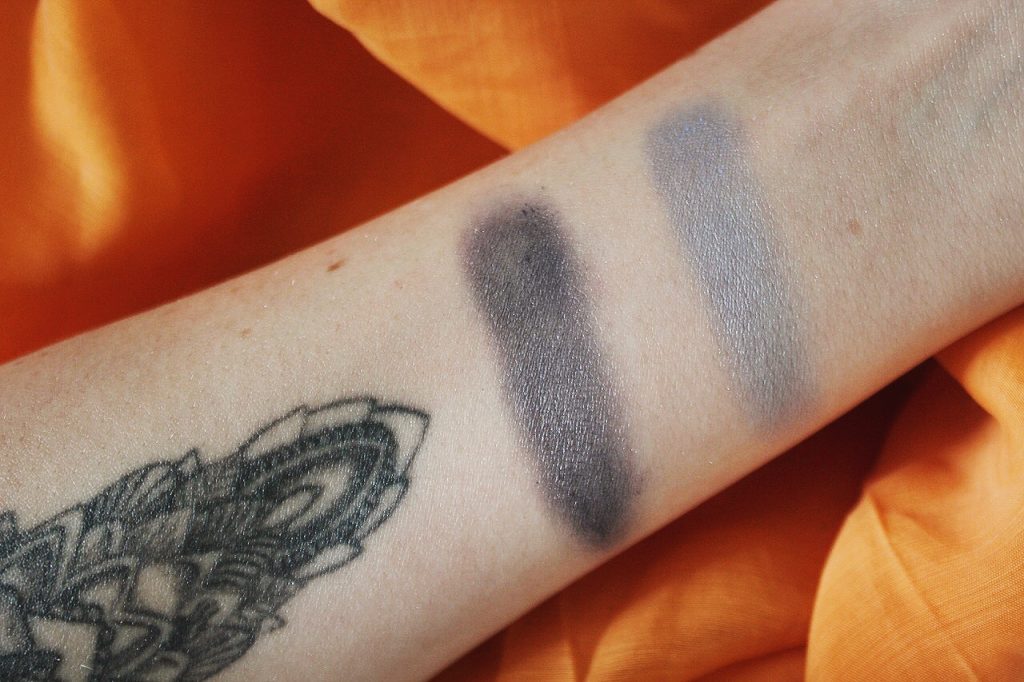 colour changing lipstick
This lipstick can change his colour from mint to apricot, just amazing. I heard of nail polish that changes his colour when the temperatures change but lipsticks are new to me. First I thought it didn't really worked or I did something wrong. I thought this lipstick would also be mint on my lips and change then to apricot and back. I even stand half in the fridge for some time until I realized that the colour just changes from the lipstick colour to the colour on your mouth. This should be a bit better communicated in my opinion. Well but maybe I´m just a weird person and everyone else would get it. Whatever, the lipstick himself feels light on the lips just like a lip balm, that´s nice. This lipstick comes in two colours, the one I testet 02 little miss sunshine and 01 wish i was a mermaid in purple and pink. You can buy both lipsticks in stores for about 2 euros.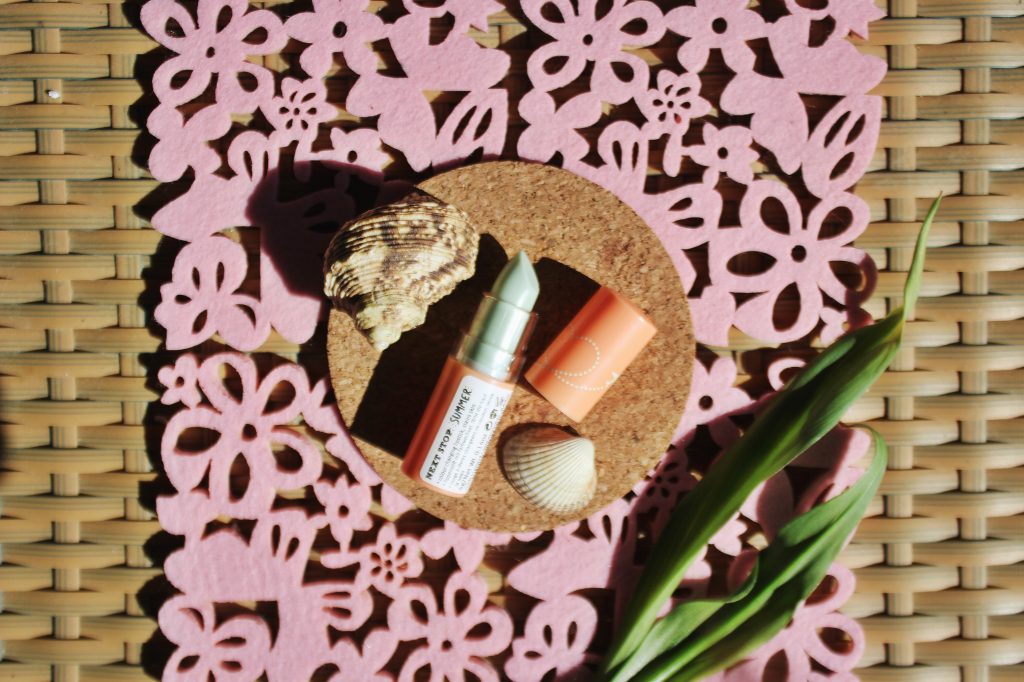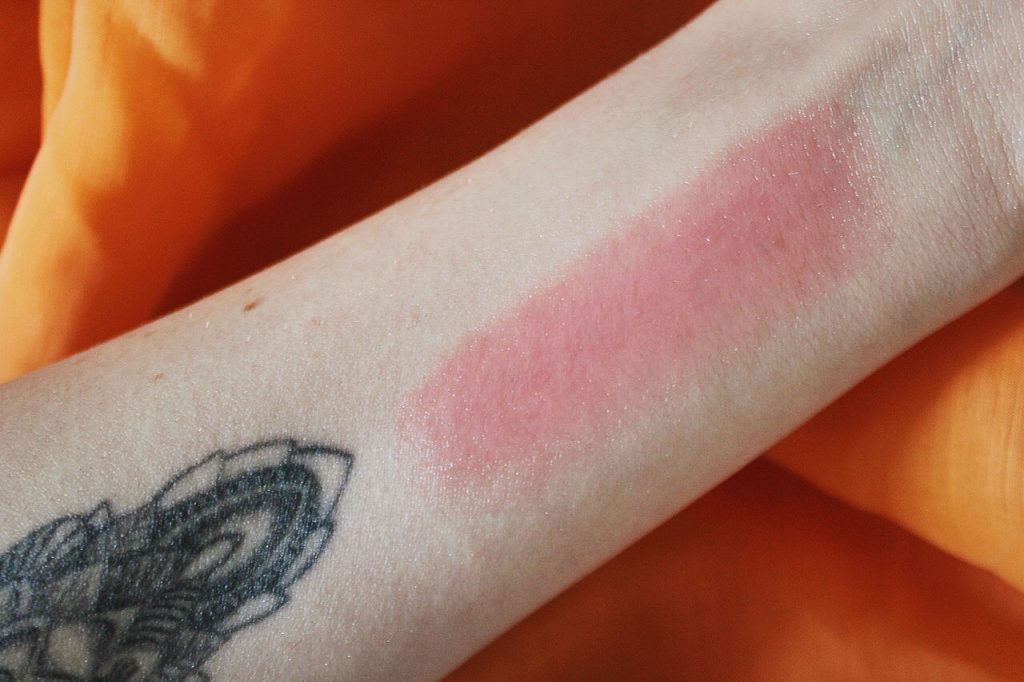 nail polish
I testet the nail polish of this trend edition in 03 made for sunny days und 04 no hurries, no worries. They come with cute flowers on the top of every nail polish. You can use this flower as a ring or as a scrunchie. There are also two other colours their called 01 fun is where you are (mint) and 02 vacation mood on (apricot). You can buy them for about 2 euros in stores. I really like all of them but my favorite is the white one. White is my summer colour number one because it looks so nice when the skin is tanned. The nail polish is also long lasting most nail polishs I tested, crumbled really fast.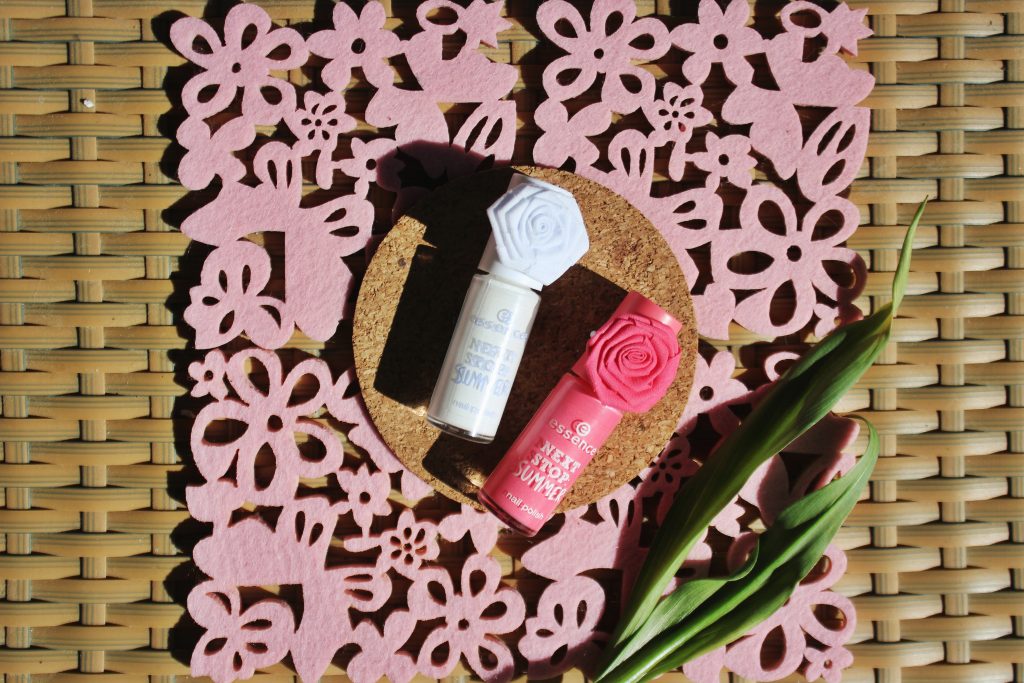 sun glow top coat
This top coat leaves a beautiful gold-shimmering finnish on every nail polish. The top coat is called 01 be someone´s sunshine today! and I really love the name of it. You can buy it in stores for about 2 euros. Before I testet the top coat I thought it´s more yellow on the nail but it´s really light what is amazing in my opinion. It looks like my nails are sun kissed. Unfortunately you can´t see it very well on my pictures but with glitter eyeshadow it´s the same I bet you understand me.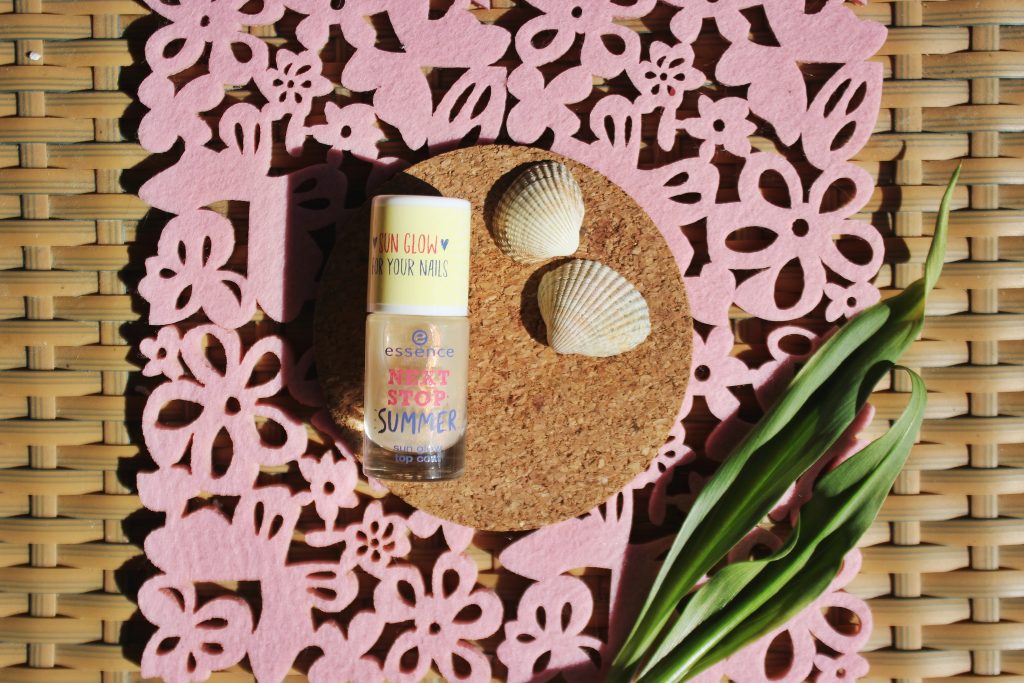 nail polish holder
That´s something I really, really like. I always do my nails in bed or on the couch and there is no table close by. With this nail polish holder you don´t always need to have one beside you, you could even do your nails at the beach or by the pool. This nail polish holder is called 01 live life sunny side up! and you can buy it in stores for about 2 euros. If you think the nail polish would fall out of it – no it won´t. I testet this nail polish holder with thick and thing nail polishes.
There are also some other products available like an airbrush bronzer, nail stickers or a sun protect lip conditioner. So girls, you can see it´s totally worth it to take a look at the "next stop: summer" trend edition from Essence.
Thanks to essence who provided these beauty products.