[:de]Wie pflege ich meine neues Tattoo? Eine der vielen Fragen, die man sich stellt, wenn man vor einem Besuch im Tattoo Studio steht oder gerade einen hinter sich hat. Heute möchte ich euch diese Frage beantworten und euch gleich die Hintergrund-Story zu meinem neusten Tattoo erzählen.
Als ich vor kurzem in London war liess ich mir ein neues Tattoo stechen. Dieses ist nun übrigens "schon" mein viertes. Es ging echt lange bis ich das richtige Studio für mich fand. Das Tattoo entstand relativ spontan, als ich von dm Balea eine Tattoo Pflege-Set bekam (PR Sample).
Schon länger wollte ich ein neues jedoch wusste ich nicht genau was das Motiv sein soll. In meinem Kopf schwirrte schon längere Zeit die Erdkugel herum, welche für meine Liebe zum Reisen stehen sollte. Ich entschied mich jedoch für etwas ganz anderes an diesem Wochenende, nämlich für eine Rose neben der rechten Brust. Diese soll mich symbolisieren, ja das hört sich erst mal seltsam an. Ich sehe das so, ich bin klein und süss (naja, mehr oder weniger) aber habe trotzdem Stacheln und kann auch mal "böse" werden, wenn es sein muss. Ein Giftzwerg hätte auch gepasst aber das sieht nicht ganz so schön aus.
Jedenfalls lies ich das Tattoo an der Oxfordstreet bei Westone Tattoo stechen für 80£. Der Tätowierer kommt aus Griechenland und hatte es in meinen Augen echt drauf. Ich kann dieses Studio wirklich weiter empfehlen! Die Mitarbeiter sind sehr nett, die Preise sind super und das Ergebnis ist ein Traum. Ausserdem kann man einfach spontan vorbei gehen, was nur selten der Fall ist bei seriösen Unternehmen. Ich muss sagen, dass bei meinen vorherigen Tattoos auch schon ziemlich schlechte Erfahrungen machte. Mein letztes liess ich in Berlin stechen, es ist ein Mond bzw. soll einen Mond darstellen, aber es sieht nicht wirklich aus wie einer. Das muss ich unbedingt mal nachstechen lassen. Bezüglich der Schmerzen bin ich beinahe gestorben um ehrlich zu sein. Ich habe nicht besonders viel Haut bei den Rippen und jedes Mal wenn er auf dem Knochen war, dachte ich jemand sticht mir ein Messer rein.
Jedenfalls habe ich früher immer Bepanten verwendet zur Pflege nach dem stechen, da ich von dm Balea die Cremes bekam, probierte ich natürlich diese aus. Eine Creme ist für die Verheilung und die andere dafür, dass die Farbe auch schön bleibt. In der für gleich nach dem stechen sind übrigens 5% Panthenol, Mandelöl und Sheabutter für die Geschmeidigkeit der Haut und Allantoin und Bisabolo zur Beruhigung drin. Natürlich geht die Bepanthen Creme aus der Apotheke auch, jedoch ist diese hier extra für Tattoos und der Preis ist echt nicht hoch. Die andere Creme (es sind ja zwei bei der Linie) ist für wenn das Tattoo schon etwas verheilt ist. Es soll die Farbe schützen und beinhaltet auch etwas zur Beruhigung der Haut und UV-Schutz. Ob die Creme hält, was sie verspricht kann ich nicht sagen. Meine Tattoos fingen alle erst nach etwa einem Jahr an etwas zu verbleichen und ich glaube das ist auch normal so. Vielleicht schreibe ich in einem Jahr nochmals darüber, ob die Creme etwas genützt hat, wer weiss. Das was drin ist, hört sich in meinen Ohren schonmal nicht schlecht an um ehrlich zu sein.
Ich habe einige negative Berichte über die Cremes gelesen (erst vor einigen Tagen) und finde diese nicht gerechtfertigt. Vielleicht haben andere schlechte Erfahrungen gemacht okay, aber ich sehe das mein Tattoo sehr gut verheilt und das ist auch das was für mich zählt. Dieser Artikel wurde nicht vergütet, ich berichte einfach darüber, weil mich das Produkt überzeugt hat. Ich habe das Tattoo nun fast zwei Wochen und wie eben gesagt, es ist sehr schön am verheilen. Ich finde es verheilt sogar besser als die Tattoos davor. Also, ein Daumen hoch von mir für dieses Produkt! Ich freue mich auch schon riesig auf mein nächstes Tattoo, das wird dann wirklich die Weltkugel sein.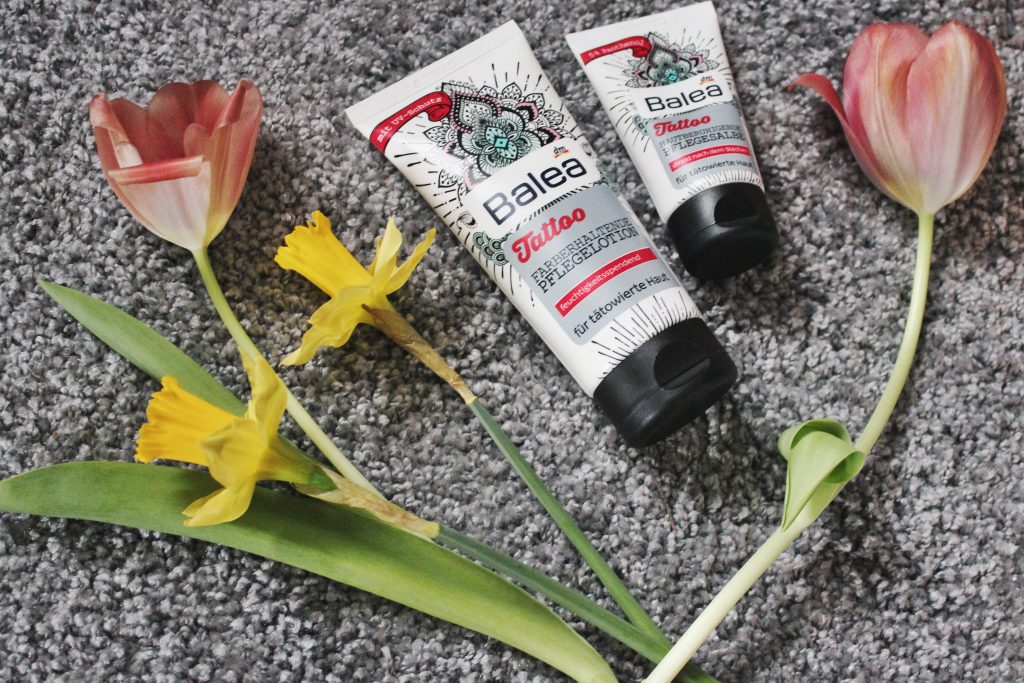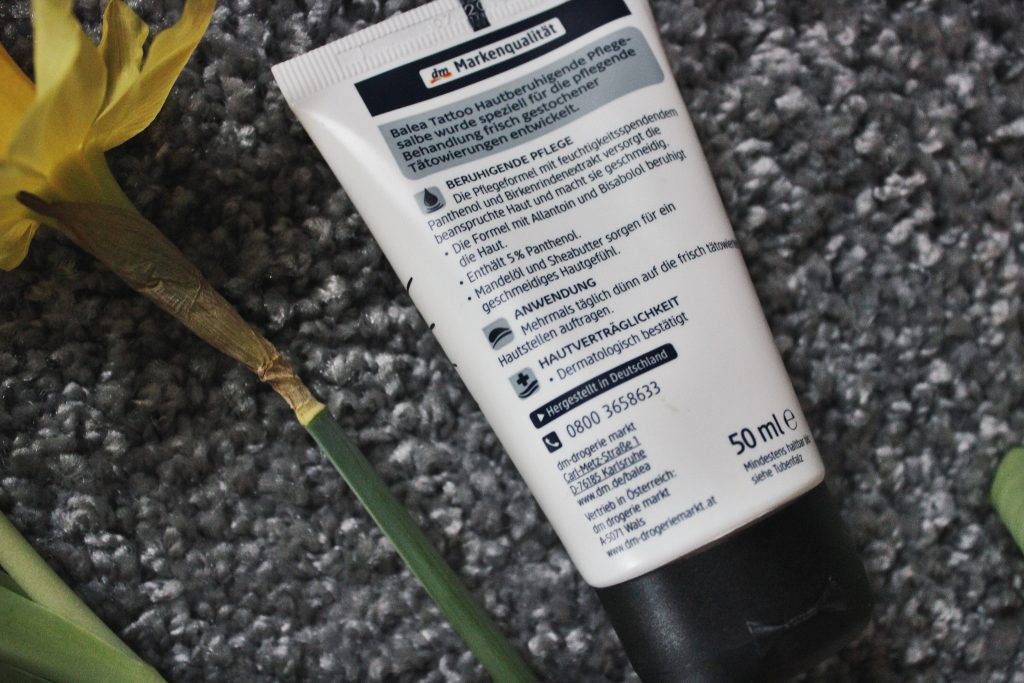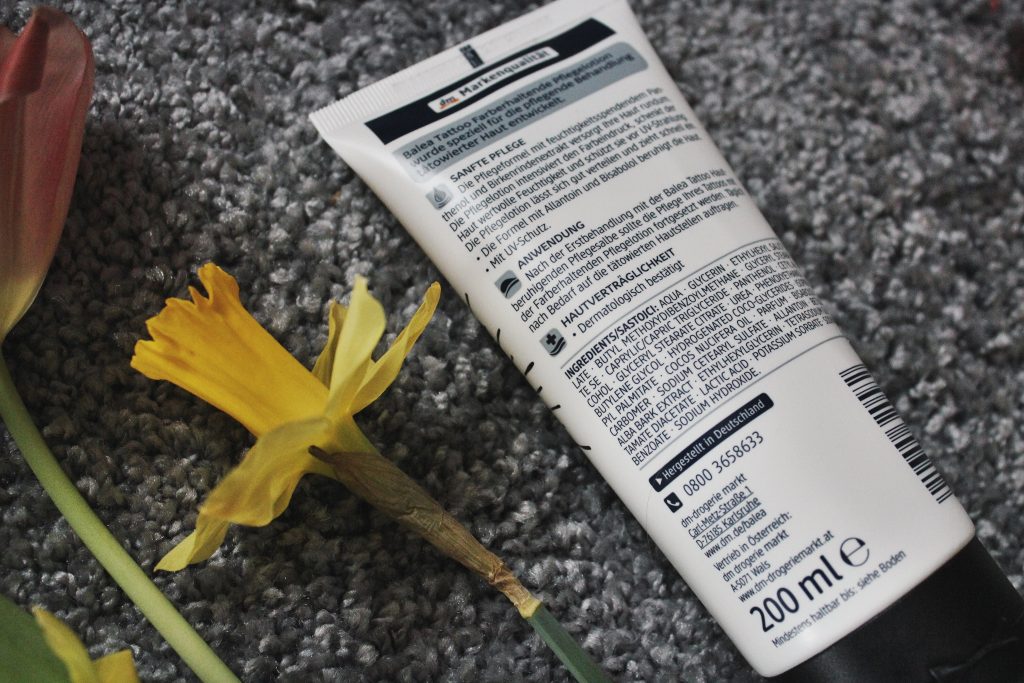 Die Tattoo Creme wurde mir freundlicherweise von dm zur Verfügung gestellt.[:en]How do I care about my new tattoo? I think that´s what everyone wants to know after or before a visit at the tattoo studio. I´ll tell you in this article how I care about my new tattoo and the background story of my latest one which I made in London.
Like I told you in my last post I got a new tattoo in London, by the way this is my fourth. It took  me a long time till I found a good tattoo studio. The whole thing was pretty spontaneous. The idea came when I got the new tattoo caring set from dm Balea (pr sample). I wanted a new tattoo for a long time but I never find a good tattoo studio here and the right motive. I´m still thinking about get our planet inked but in London the thing was a rose. It should kinda symbolise me. I´m small and cute (more or less lol) but I can also be kinda bad like the rose with the prickles. A nasty little runt could have also been a motive but the rose is just more beautiful. Any way the tattoo was made at the Oxford Street in a tattoo studio named Westone Tattoo and cost me 80£. The tattoo artist who made mine was from Greece and made his job really good in my opinion. All employees were really really nice, the price is more than good/fair and the result is just stunning. Oh and you can go there spontaneous what´s really rare for serious tattoo studios. I need to say that I had some bad experience with my last tattoo. I got it here in Berlin like 2 years ago and it should have been a moon but it don´t look like a moon to be honest. I need to touch it up soon. The pain with the rose tattoo was really bad when he came on my rips but on the skin where were no bones it was totally okay.
Before this tattoo I always used Bepanthen for the wound healing but like I told you on the beginning I got a present from dm Balea so I tested their product for my new tattoo. In the product for right after the stitching is 5% Panthenol, shea butter and almond oil for the softness and Allantoin and Bisabolo for calming the skin. In my opinion the Bepanthen cream from the pharmacy is also good for a new tattoo but this one is extra made for tattoos and the price is also really good. The other product for when your tattoo is not really new anymore and a bit healed. With this product the color should stay longer on your skin. I think I´d need to test this one some years to tell you if it´s worth it, because from experience the color starts to fade away not until you have it some years. So I can´t really tell you this now but until now I can say that it sounds good to me because it also has something to calm the skin and uv protection. I read some days ago a few negative articles about those products online and can´t comprehend them. My tattoo is healing very good and that´s what counts for me. By the way, no, this is not a paid post, I just write about my experience. I have this tattoo almost two weeks now and like I told you it´s healing really good. I think it heals even better than my other ones. Anyhow I give a thump up for this product. I´m so happy with my new tattoo and looking forward to my next one.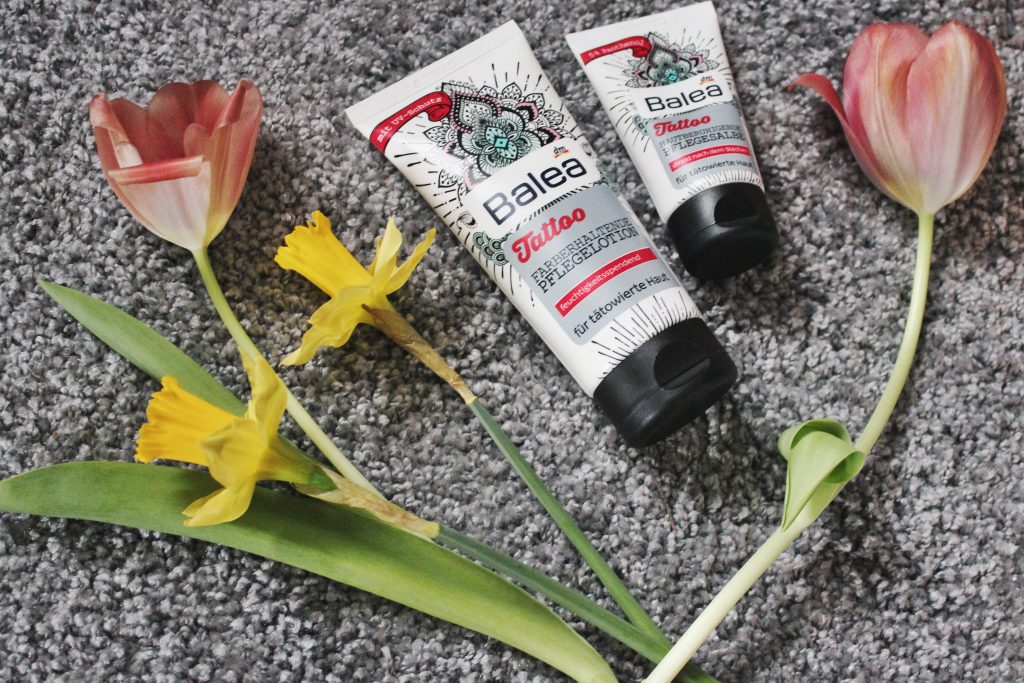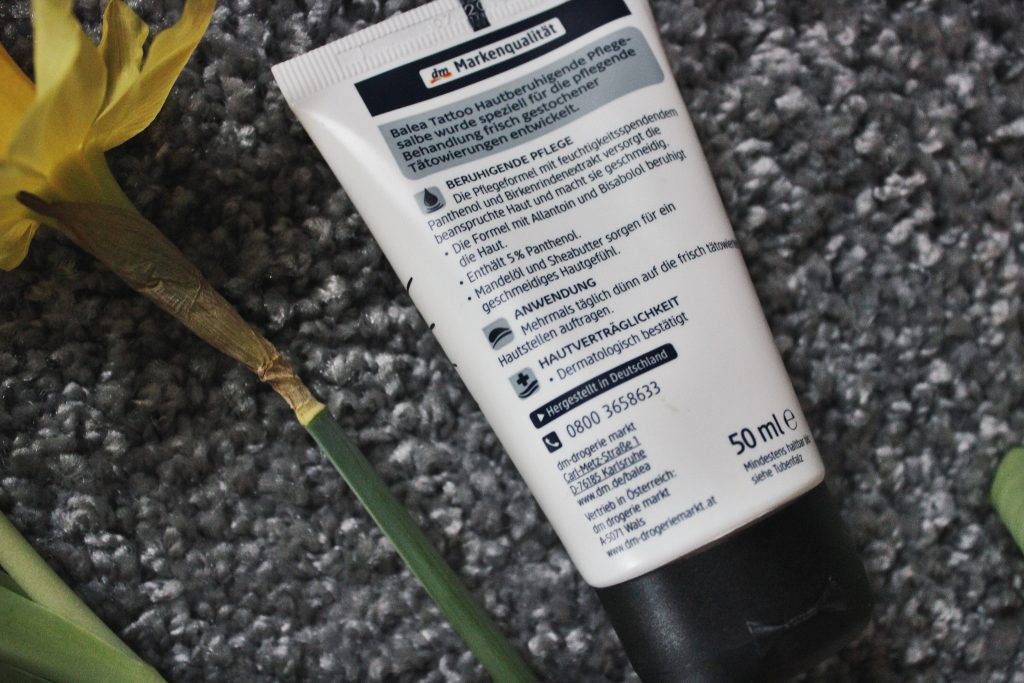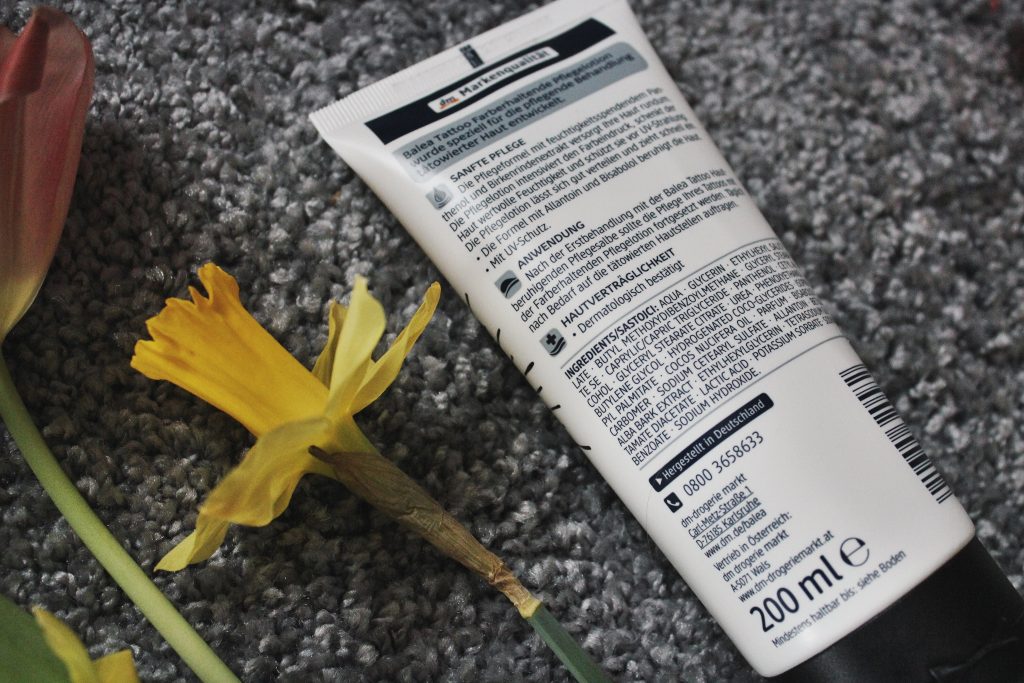 Thanks to dm who sent me the tattoo creme.
[:]