[:de]Neu gibt es bei Rossmann eine Theke von Lottie London. Zu diesem Anlass bekam ich einige Produkte (PR Samples) der Marke zum ausprobieren zugeschickt. Ich habe bisher ziemlich gemischte Dinge über diese Marke gelesen. Es schein, als wäre die eine Hälfte total verliebt und die andere kommt damit überhaupt nicht klar. In diesem Beitrag findet ihr meine persönliche Meinung zu einigen der neuen Beauty Produkten.
Stamp Liner
Wie ihr schon im Titel lesen konntet, war in dem Paket unter anderem ein Stamp Liner. Auf der einen Seite ist es ein normaler Eye Liner und auf der anderen ein Stempel. Ich finde die Idee sowas herzustellen echt cool. Von den Produkten ist dies auch mein Highlight. Irgendwo in irgendeiner Werbung habe ich erst grade sowas ähnliches gesehen aber nur in Stempel. Die Kombination von beidem finde ich besser. Jedenfalls ist der Stempel ein Sternchen. Ich finde, dass dieses Produkt perfekt für die kommende Festival Saison ist. Bei vielen Eye Linern ist es so, dass wenn man rüber wischt schnell den Strich bzw. hier auch den Stempel verschmiert – dies ist bei dem Produkt nicht der Fall, was mich sehr gefreut hat. Das einzige, was mich hier stört, ist dass es ziemlich schwer ist (zumindest für mich) einen dünnen Lidstrich zu ziehen.
B.A.E. Primer
Ich muss gestehen, dass ich schon seit längerem keinen Primer mehr benutze sondern bloss Tagescremes. Der B.A.E. (Before Anything Else) Primer von Lottie London fühlt sich auf der Haut sehr gut an und zieht auch schnell ein. Der Geruch ist nicht meins, da hätte ich mir etwas frischeres gewünscht aber das ist ja bekanntlich auch Geschmackssache. Von mir gibt es jedenfalls einen Daumen nach oben hierfür.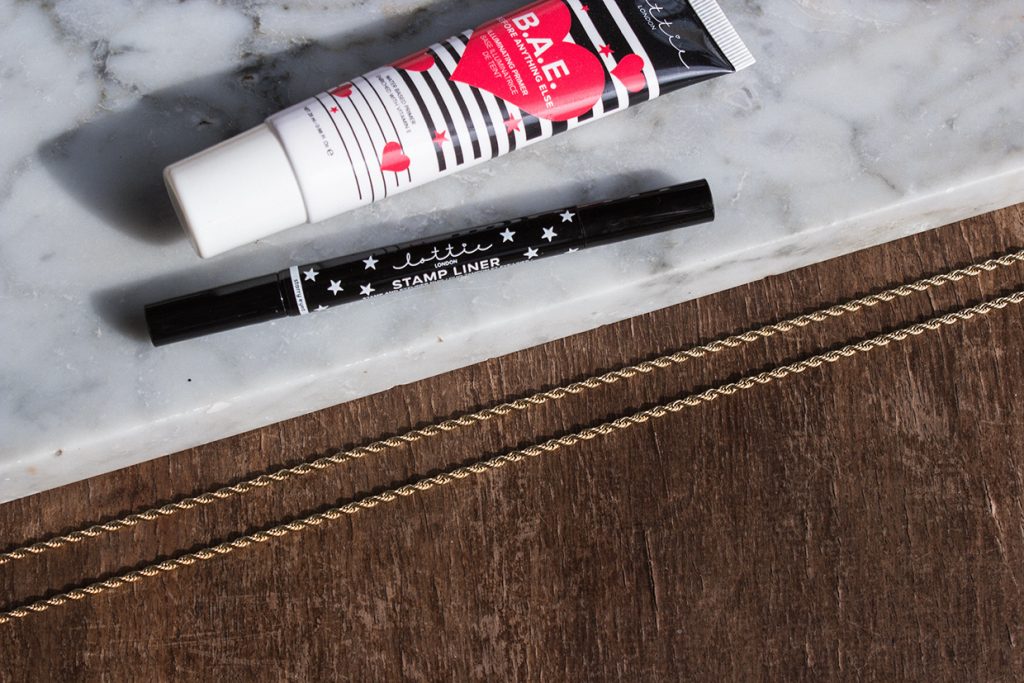 Blush Crush
Ich muss gestehen, dass ich kein grosser Rouge Träger bzw. Trägerin bin. Auch wenn ich dies bei meiner Blässe ganz gut gebrauchen könnte, waren bisher alle Töne die ich bekam oder fand zu knallig. Ich sehe damit echt schnell, wie ein Clown aus. Für mich persönlich ist auch dieser Ton etwas zu dunkel, ich hätte eher was gebraucht, was ins orange geht. Von der Pigmentierung her gefällt mir der hier aber sehr gut. Ich denke, dass ich mich umschauen werde, ob es den noch in einer Nuance gibt, welche mehr zu meiner Hautfarbe passt.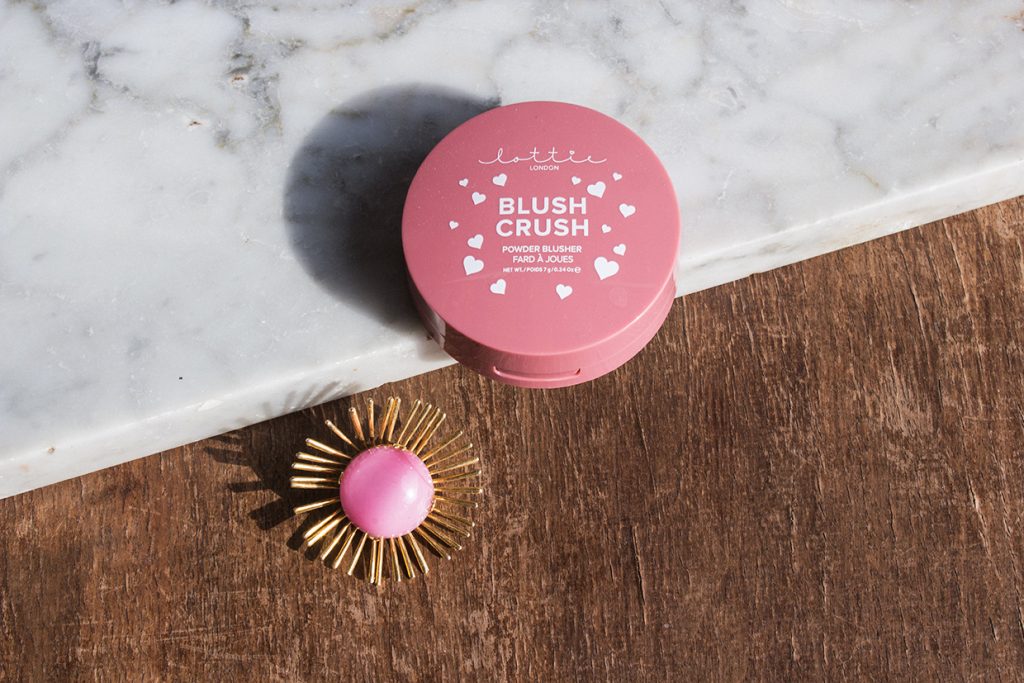 Shimmer Squad Highlighter Palette
Über dieses gute Stück habe ich mich auch sehr gefreut. Ich habe nur einen Highlighter von Catrice und der ist ein Stift. Mit dem komme ich leider überhaupt nicht klar… Nach einer schönen Palette war ich daher schon länger auf der Suche also könnt ihr euch vorstellen, dass ich mich hierüber, wie eben erwähnt, sehr gefreut habe. In der Palette sind vier Nuancen: The Good Girl, The Flirt, The Troublemaker und The Queen Bee (geswatcht hab ich auch in dieser Reihenfolge). Besonders der hellste Ton hat es mir angetan, die Pigmentierung der vier Highlighter ist wirklich sehr gut. Ich bin ziemlich verliebt in diese Palette und kann sie daher von ganzem Herzen weiterempfehlen.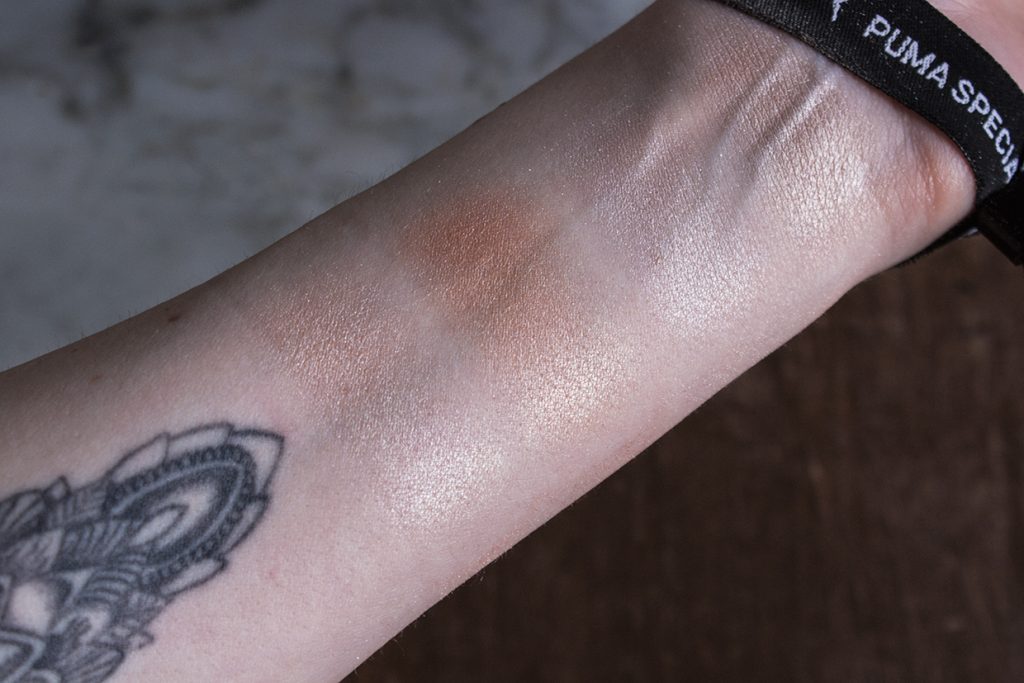 Slay All Day Matte Liquide Lipstick
Zu guter letzt war noch ein Lipgloss in dem kleinen Paket. Auf den ersten Blick fand ich den auch echt cool, da ich total auf Nudetöne stehe – nur selten wähle ich eine andere Farbe für meine Lippen. Eigentlich bin ich eher im Team Lippenstift, als Team Lipgloss wegen des Auftrages aber bei dem hatte ich kein Problem. Dieser Matte Nude Lipgloss hält auch viel länger, wie alle Lippenstifte, die ich besitze und das sind einige. Zu dem ist er Kussfest und fühlt sich nicht trocken oder so auf den Lippen an, wie es bei vielen Matten Produkten der Fall ist. Das einzige was mich stört, ist dass er ca. die erste Stunde nach auftragen etwas klebt – also wenn man die Lippen aufeinander hat und löst dann fühlt es sich so klebrig an, obwohl er trocken ist.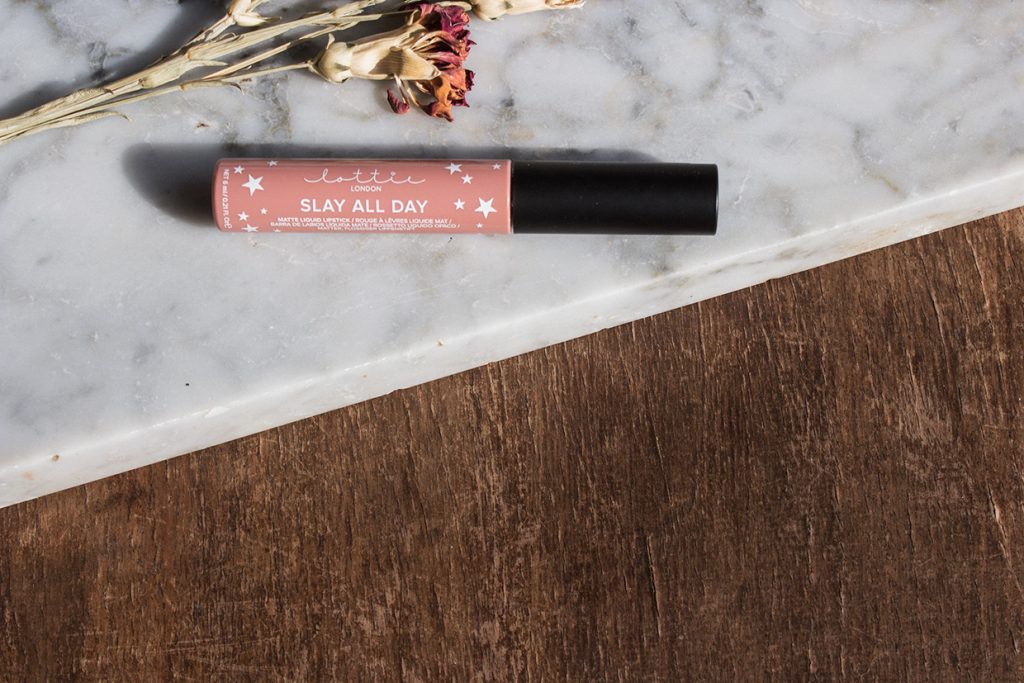 Fazit: Die Produkte, die ich nun getestet habe, finde ich ziemlich gut, nicht perfekt aber eben sehr gut. Also ich bin auf der Pro Lottie London Seite. Ich werde jedenfalls, wenn ich das nächste mal bei Rossmann bin schauen, ob da noch mehr ist, was mir gefällt.
Dieses Produkt wurde mir von Rossmann und Lottie London kostenlos zur Verfügung gestellt. Dies beeinflusst in keinem Fall meine Meinung in diesem Beitrag.[:en]New at Rossmann is a counter by Lottie London. On this occasion, I got some products (PR samples) of the brand sent to try out. I have read mixed things about this brand so far, it seems like half of them are totally in love with the products and the other one does not realize it at all. In this post you will find my personal opinion about some products.
Stamp Liner
As you could read in the title, the package included a Stamp Liner. It's two in one, a normal eye liner and a stamp. I think the idea of making something like this is really cool. Of all the products, this is my highlight. Somewhere in any advertisement I have just seen something similar but only as with a stamp. I think the  combination of both is just amazing. Anyway, the stamp is a star. I think this product is perfect for the upcoming festival season. With many eye liners it's that when you wipe over it with your finger it quickly smeared the stroke or here the stamp – that's is not the case with this product, which I is very cool. The only thing that bothers me here is that it's pretty hard (at least for me) to draw a thin line with this eye liner.
B.A.E. Primer
I have to admit that I have not been using a primer for a really time, I used only day creams. The B.A.E. (Before Anything Else) primer by Lottie London feels very good on my skin and is also absorbed quickly. The smell is not mine, I would have liked something fresher, but that's a matter of taste. Anyway, I give this primer a thumb up.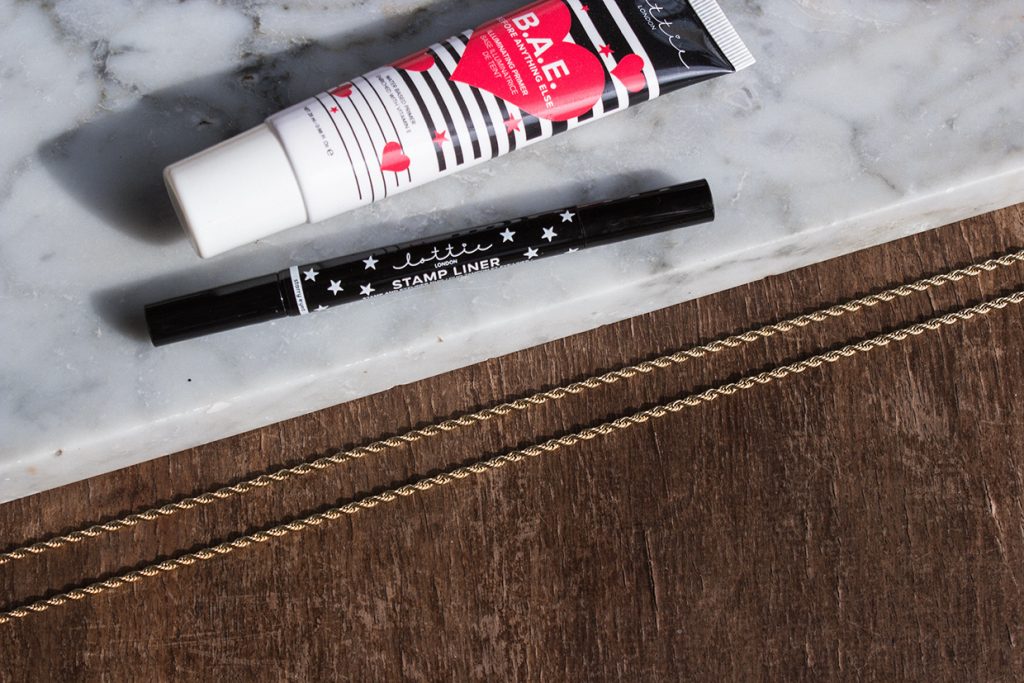 Blush Crush
I must confess that I'm not a big rouge wearer. Although I could use this with my paleness quite well, so far, all the bushes I got are too gaudy for my skin. I look really fast like a clown. For me personally, this one is a bit too dark, I would rather have needed something which is more orange. I still like the pigmentation of this product very good. I think that I will look around, if Lottie London has this one in a shade, which fits better to my skin color.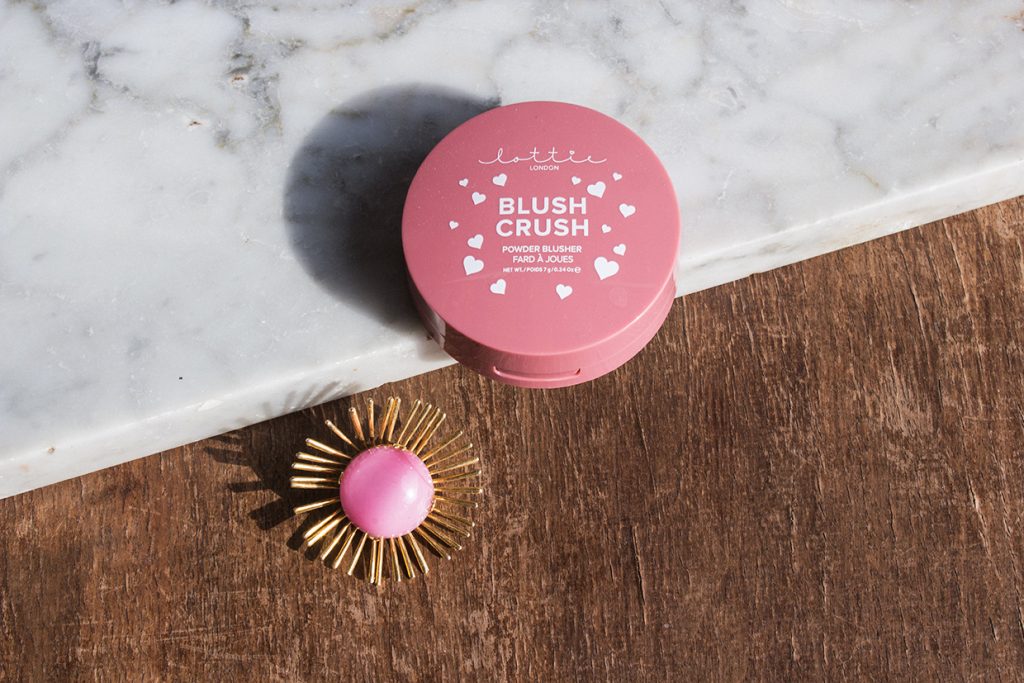 Shimmer Squad Highlighter Palette
I was also very happy about this good piece. All I have is a small highlighter stick from Catrice. Unfortunately, I can't work with this highlighter stick… I was looking for a good highlighter palette since a longer time now, so you can imagine that I was very happy about this product, as just mentioned. There are four nuances in this palette: The Good Girl, The Flirt, The Troublemaker, and The Queen Bee (I also swatched them in that order). The pigmentation of the four highlighters is really very good, especially the brightest highlighter has done it to me. I am quite in love with this palette and can therefore wholeheartedly recommend it.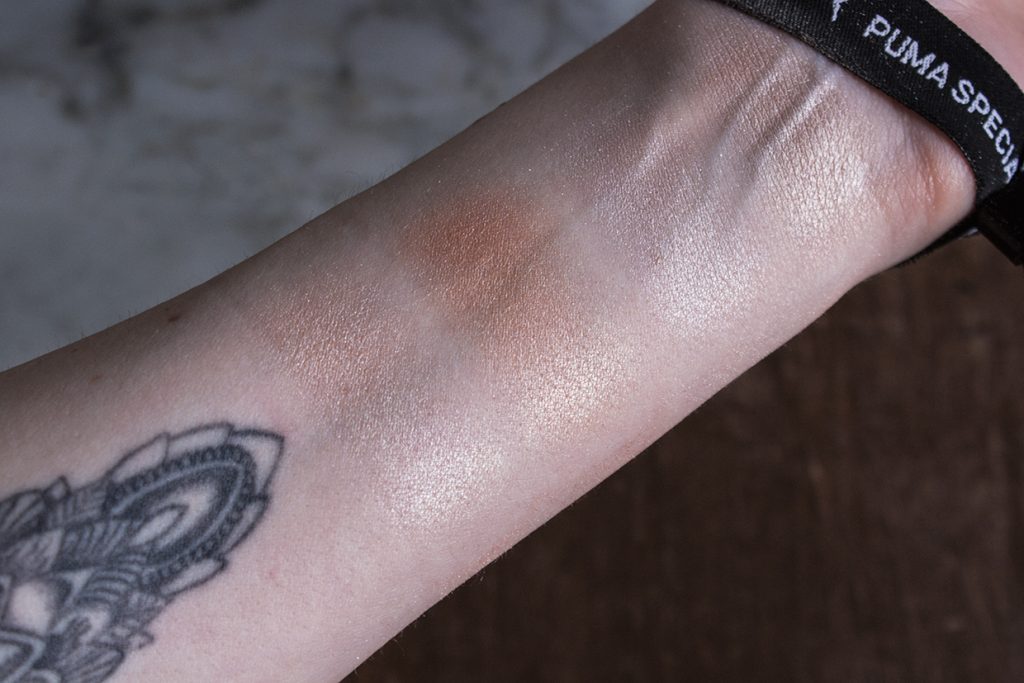 Slay All Day Matte Liquide Lipstick
Last but not least is a matte liquid lipstick. At first glance, I found it really cool, because I'm totally into nude colors – I rarely choose a different color for my lips. Actually, I'm more team lipstick as team lipgloss because of how to put it on the lips but this one was really easy. This matte nude liquid lipstick also lasts much longer than all the lipsticks I own (and these are many). He is also kiss-proof and does not feel dry on the lips (many matte products do feel dry). The only thing that bothers me is that he sticks about the first hour after applying – so if you have the lips on each other and then dissolves it feels sticky, even though it is dry.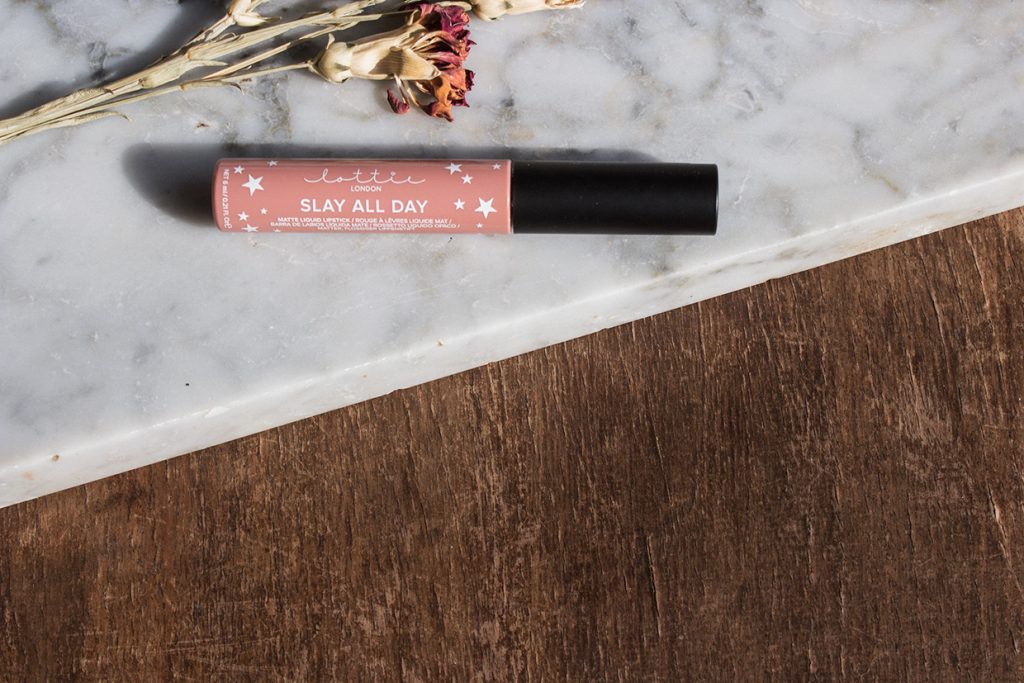 Conclusion: The products I have tested are pretty good, not perfect, but yes pretty good. So I'm on the Pro Lottie London site. Anyway, next time I'm at Rossmann I'll check if there's anything else I could like.
This product was provided to me by Rossmann and Lottie London for free. This influences my opinion in this post in no way.[:]