[:de]Vor etwa einem Jahr ist Makeup Revolution London bei Rossmann mit "eingezogen". Ich habe vor kurzem einige Produkte aus der neuen Revolution Linie (alle drei sind PR Samples) zugeschickt bekommen und diese natürlich direkt getestet. In dem kleinen süssen Päckchen waren zwei Highligher und ein Banana Luxury Powder. Von Banana Powders habe ich schon viel gehört aber selbst noch nie eins benutzt und Highlighter sind sowieso immer cool, wenn dann auch den gewünschten Effekt erzielt wird. Neue Sachen auszuprobieren, besonders im Bezug auf Make-Up, ist echt mein Ding. Zur letzen Review über die ICONails Gel Lacquers von Catrice geht es hier entlang.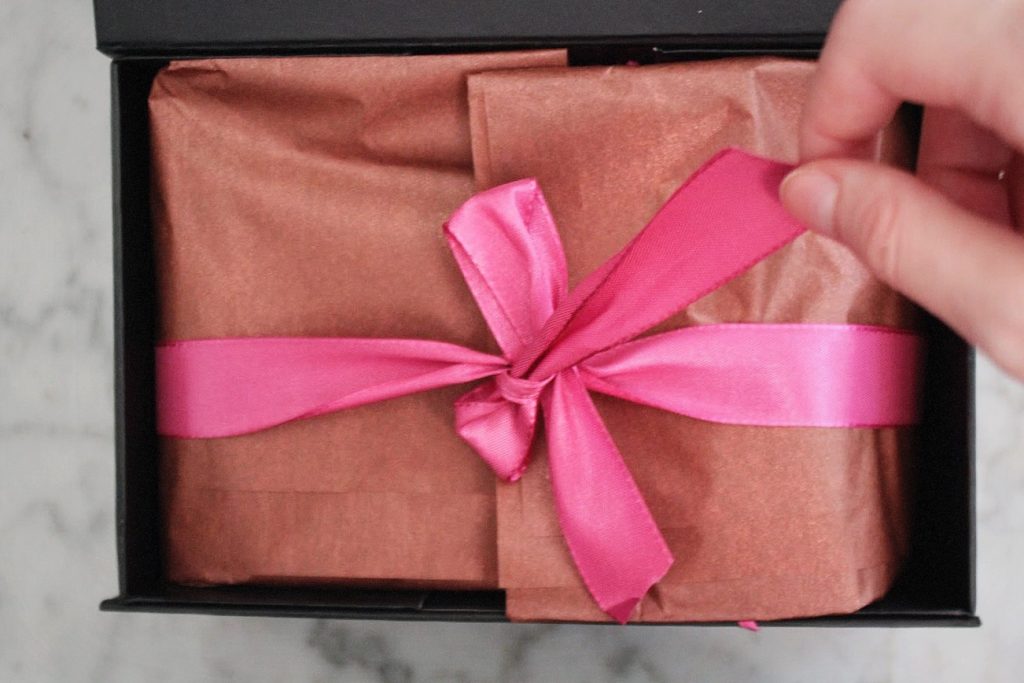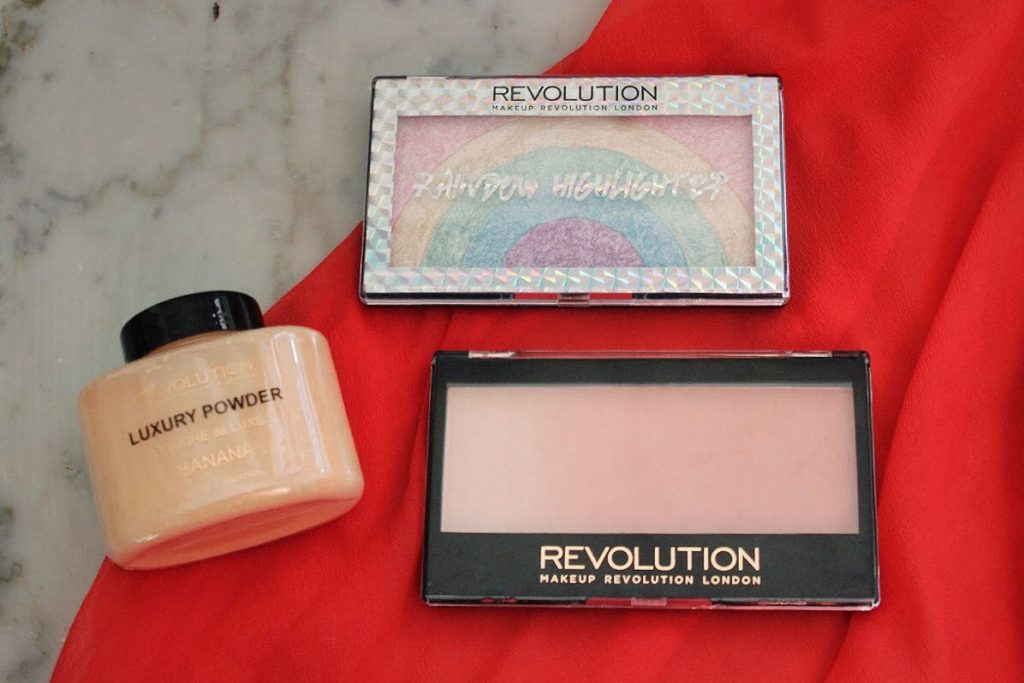 Rainbow Highlighter
Ich fange gleich mal mit meinem Liebling an, nämlich dem Rainbow Highlighter. Ich war erst vor kurzem bei Douglas und stand mit einem Rainbow Highligher in der Hand rum, da ich mir überlegte einen zu kaufen. Irgendwie habe ich mich dann aber doch für ein paar Masken entschieden, ja ja Sarah der Masken Freak. Daher freue ich mich umso mehr nun doch einen zu besitzen. Die fünf bezaubernden Pastelltöne können gemeinsam oder auch einzeln benutzt werden. Was ich persönlich am coolsten finde, ist wenn man es wie ein Regenbogen aufträgt. Um ehrlich zu sein würde ich mir auch nur deswegen einen RAINBOW Highlighter kaufen. Die Pigmentierung finde ich bei diesem Highlighter echt gut. Kleiner Tipp; Wenn man das Schwämmchen oder eben den Pinsel etwas anfeuchtet, kommen die Farben besser auf der Haut zur Geltung.
UVP: 5,99 €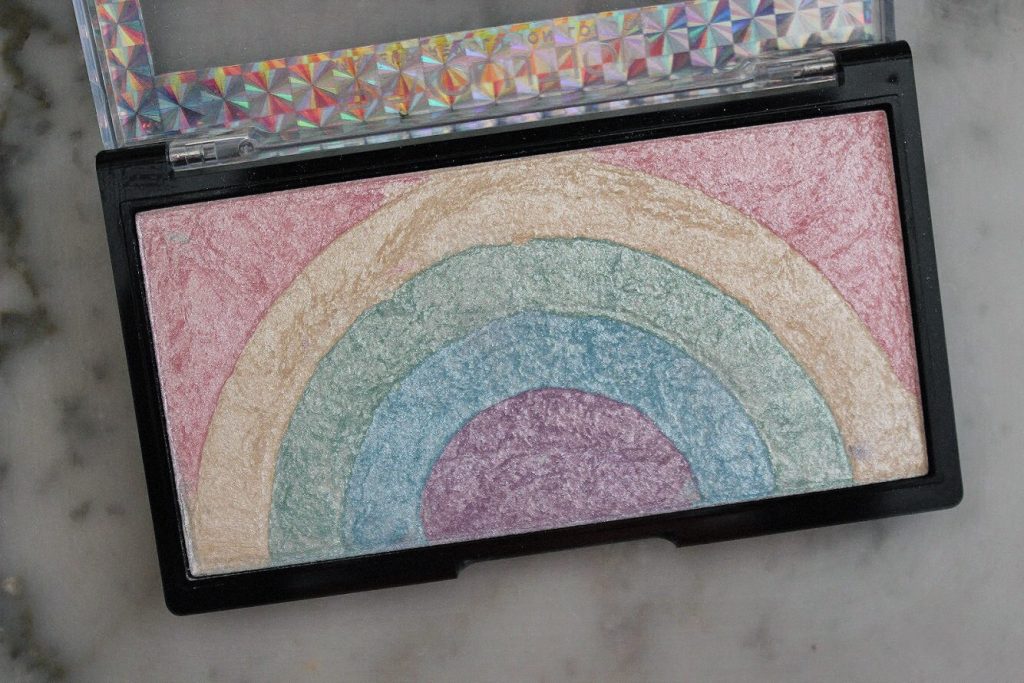 Gradient Highlighter
Diesen Highlighter gibt es in drei verschiedenen Varianten:
01 Sunlight Moon Lights – eine Mischung aus wunderschönen Korallen- und Pfirsichtönen.
02 Rose Quartz Lights – eine Mischung aus Korallen-, Pink- und Bronzetönen.
03 Peach Mood Lights – eine Mischung aus helleren und dunkleren Pfirsich-Tönen mit unterschiedlicher Intensität.
Ich bekam die Nummer eins, Sunlight Moon Lights. Mir gefällt die Farbe sehr, will ich zu beginn sagen. Die Pigmentierung hingegen ist meiner Meinung nach nicht ganz so gut. Als ich den Highlighter auftragen wollte, landete der Grossteil nicht auf meinem Gesicht sondern auf meinem Schminktisch. Das, obwohl ich nicht besonders viel "Farbe" auf dem Pinsel hatte. Nach einigen "Schichten" sah man auf meiner Haut leider auch nicht wirklich viel. Der Gradient Highlighter fällt deshalb bei mir durch.
UVP: je 5,99 €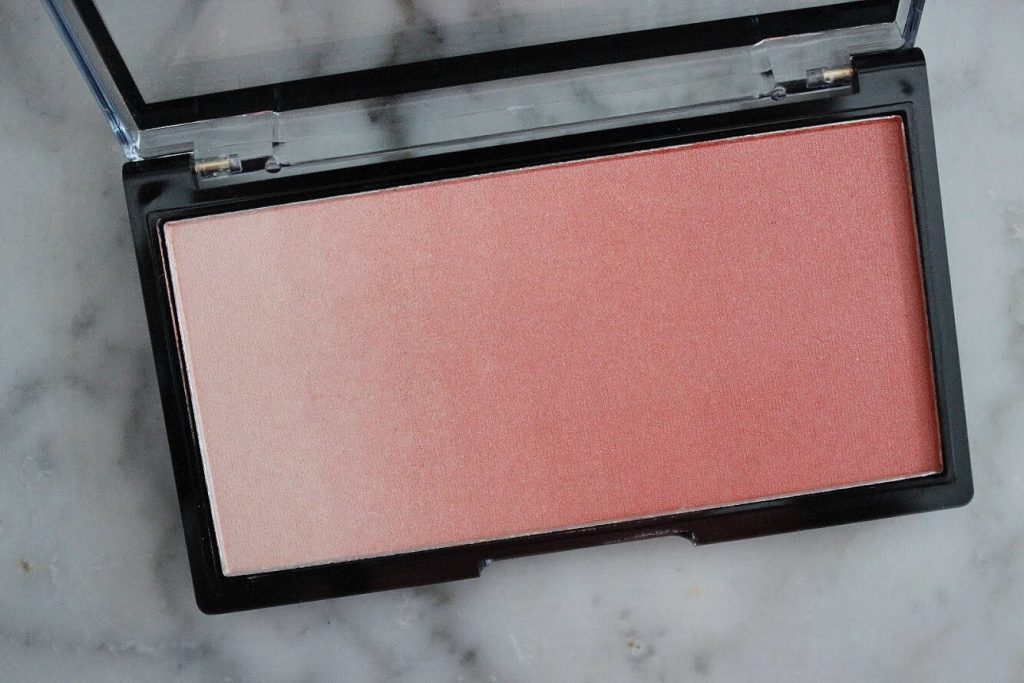 Banana Luxury Powder
So, kommen wir zum dritten und letzten Produkt. Wie weiter oben schon erwähnt, habe ich zuvor noch nie ein Banana Powder ausprobiert. Es soll die Grundierung fixieren, Hautglanz reduziert und Rötungen korrigiert. Das integrierte Sieb verhindert Klümpchen-Bildung und sorgt für ein einfaches Auftragen. Schade finde ich, dass nicht gleich ein Schwämmchen mit dabei ist. Bei den meisten Powder die ich benutze ist eines dabei. Ich brauche es echt wenig da ich daheim mit "besseren" Pinseln und Co. arbeite, wenn ich jedoch z.B. auf einem Kurztrip bin dankbar dafür. Dies ist auch mein einziger Kritik Punkt. Von mir erhält dieses Banana Powder einen Daumen nach oben. Es hält genau das ein, was es verspricht. Was will man mehr?!
UVP: 7,99 €
Ich wollte von allen Produkten eigentlich auch noch Tragebilder hochladen. Als ich jedoch die Fotos machte, sah alles genau gleich aus. Bilder wo mein Arm einfach nur glitzert, ohne dass man das richtige Ergebnis sieht, nützen niemandem etwas.
Die Makeup Revolution London Produkte wurden mir freundlicherweise von Rossmann zur Verfügung gestellt.[:en]About a year ago Makeup Revolution London moved into Rossmanns stores. I recieved a short time ago some product of the lates Revolution line (all three are pr samples) and tested them of course directly. They sent me two highlighters and a banana luxury powder. I heard a lot good things about banana powders but I never used one by myself and highlighters are anyway super cool if they work how they should work. Testing new stuff is totally my thing, especially beauty products. You´ll find my latest review of the ICONails Gel Lacquers from Catrice here.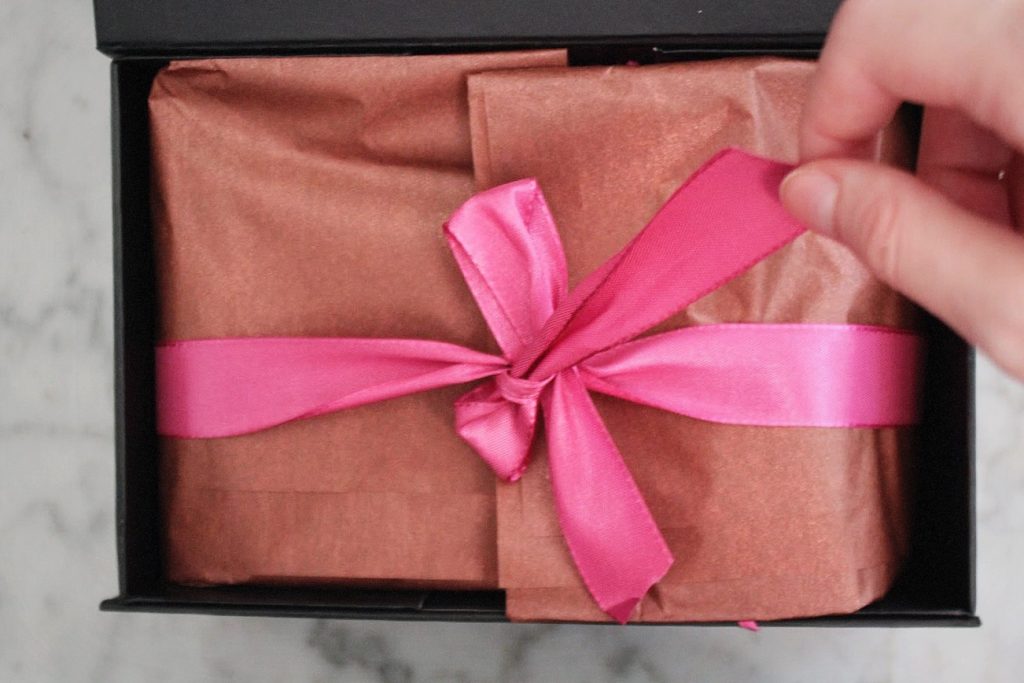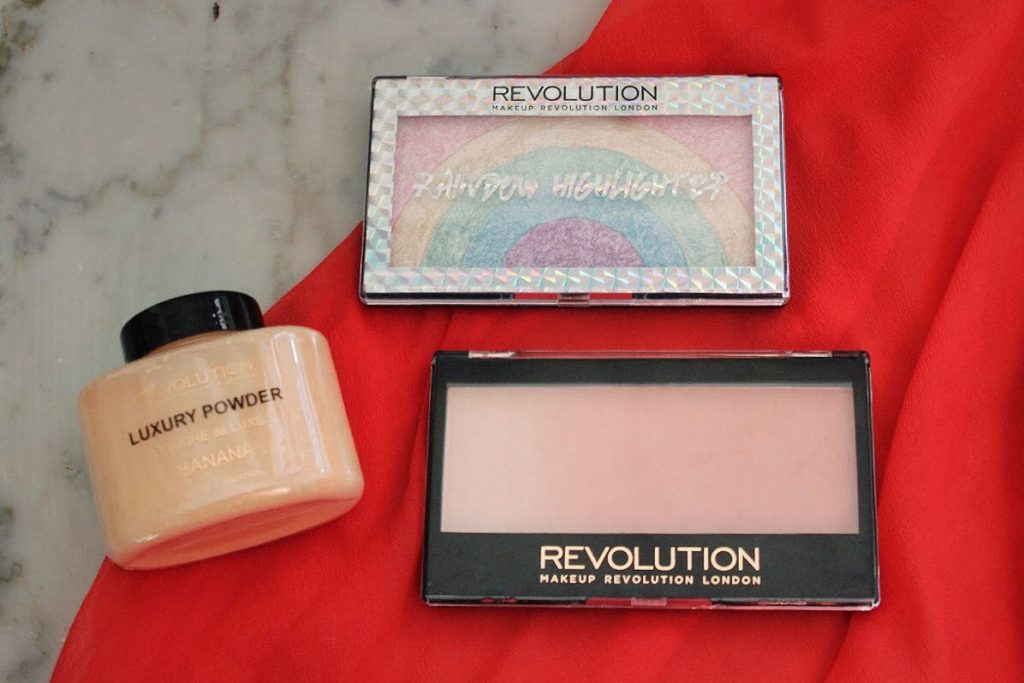 Rainbow Highlighter
You won´t believe me but a few weeks ago I was at Douglas and had a rainbow highlighter in my hands. I was thinking about buying one for a long time but again and again I decided against it. So I was pretty happy when I saw that one of these were in this packet. These five beautiful pastels shades could be used individually or together. In my opinion the coolest thing ever is to put them on your skin like a rainbow. Well to be honest this would be the only reason for me to buy a RAINBOW highlighter. The pigmentation of this product is really good. A small tipp from me; If you make your brush or make-up sponge a bit wet the colors will stand out better on your skin.
UVP: 5,99 €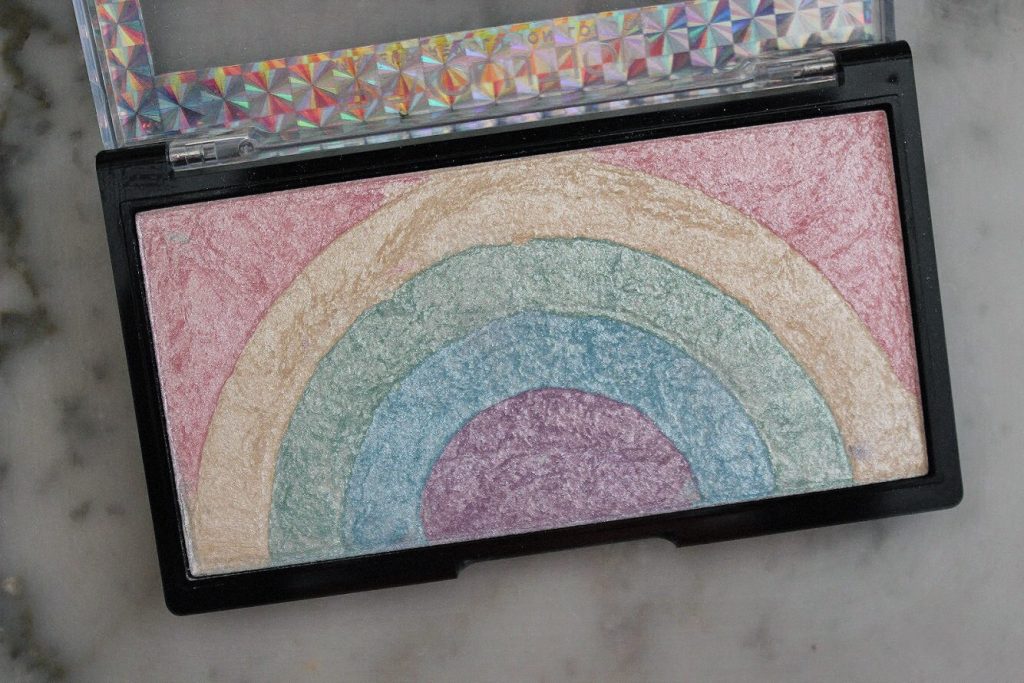 Gradient Highlighter
This highlighter is available in three different variants:
01 Sunlight Moon Lights – a mix of beautiful coral and peach shades.
02 Rose Quartz Lights – a mix of coral, pink and bronze shades.
03 Peach Mood Lights – a mix of bright and dark peach shades with different intensity.
I received number one, Sunlight Moon Lights. The first thing I want to say about this highlighter is that I really like its color. The pigmentation of it is unfortunately not as pretty it looks, in my opinion. When I applied the highlighter on my skin, half of it felt on my dressing table. I didn´t even put much color on my brush. I applied a few layers but you still couldn´t see much of the highlighter. That´s why this product failed for me.
UVP: je 5,99 €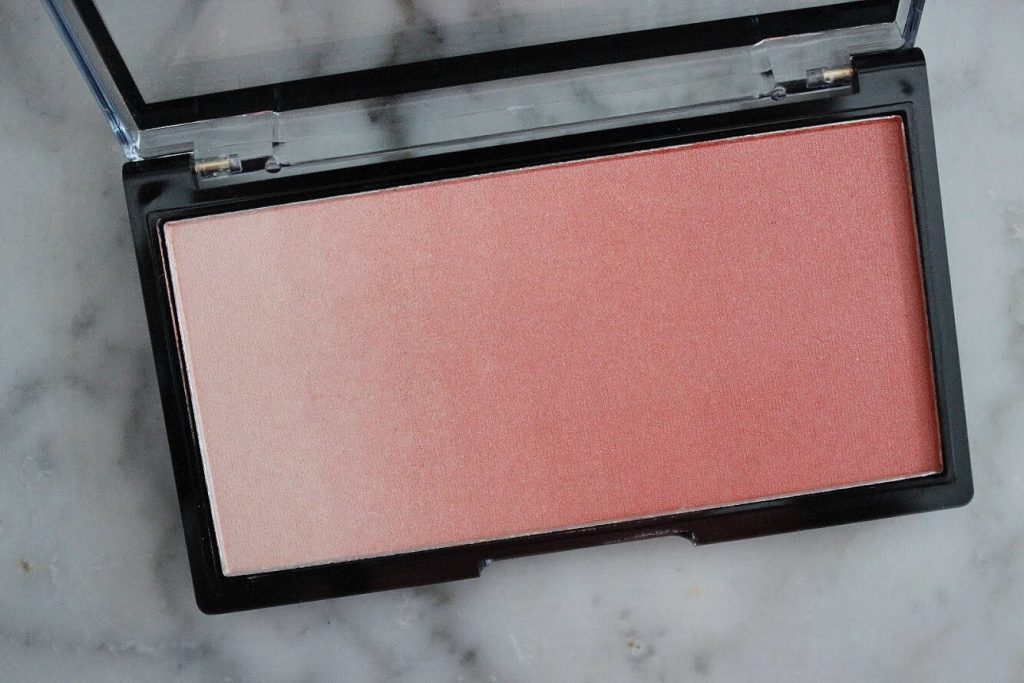 Banana Luxury Powder
Let´s come to the third and last tested product. Like I already mention it above, I never used a Banana Powder before. It should fix your make-up, reduce the skin glow and correct rashes. The integrated sieve prevented clots and provides for an easy application. I think it´s a pity that they didn't add a small sponge to the powder. Most of my powder, lose and fixed, have one. I use it only occasionally but for example when I´m on a short trip without all my pro brushes and co. I´m really happy about it. Well that´s my only point of criticism, the Banana Powder get from me a tumb up. It really does delivers what it promises. What do you want more?!
UVP: 7,99 €
I also warted to show you some on-skin pictures of the products but on the photos you could only see glitter and no colors. That wouldn´t have been a profit for anyone, so I let it be.
Thanks to Rossmann who provided these Makeup Revolution London beauty products.[:]