[:de]Die Vogue Fashion's Night Out 2017 war meine erste Veranstaltung als 22 Jährige. Sogar meine nachgeholte Geburtstagsfeier (ich hatte am 4. September Geburtstag) war erst einen Tag später. Ich werde dieses Jahr übrigens keinen separaten Geburtstags Beitrag schreiben, da dieser in dem Jahr einfach zu unspektakulär war. Hier könnt ihr aber zum Artikel vom letzen Jahr, für die, die es interessiert. Okay, fertig mit Geburtstagskram. Ich möchte euch in diesem Beitrag meine Eindrücke zur diesjährigen Vogue Fashion's Night Out mitteilen. Letztes Jahr ging ich mit meinem Freund dahin und in diesem Jahr ging es mit meiner lieben Freundin Sophia zur Veranstaltung.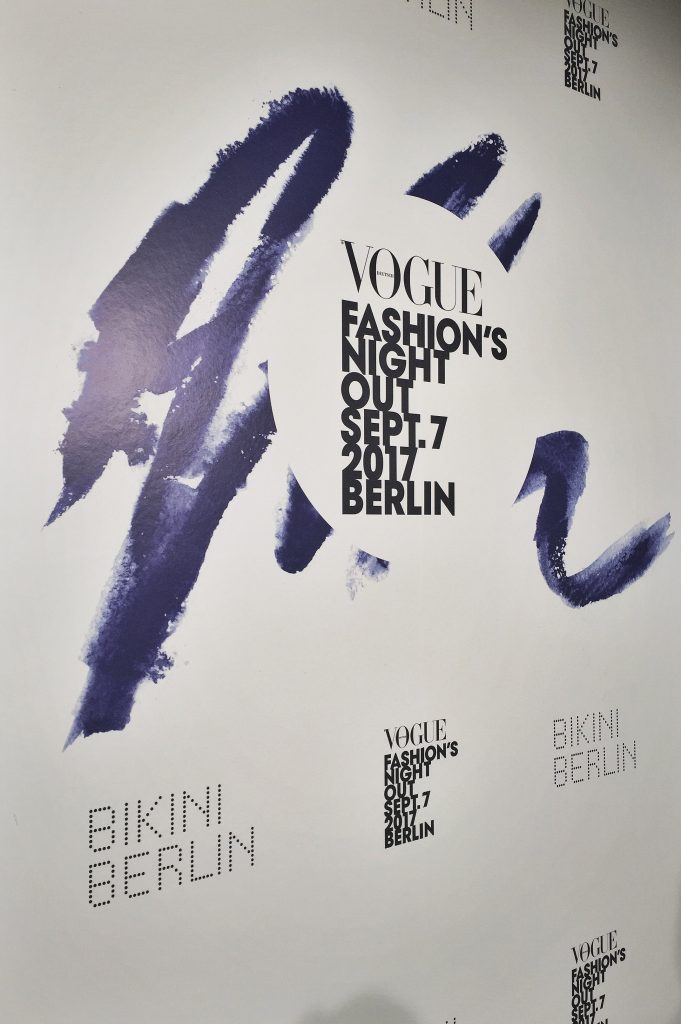 Was ist die Vogue Fashion's Night Out überhaupt?
Seit einigen Jahren wird von der Vogue in diversen Städten (z.B. Düsseldorf, Wien oder Paris) eine riesige Aktion gestartet, wo viele Marken mitmachen. Manche gewähren Rabatte, manche geben Essen aus und wieder andere verschenken etwas bei einem Kauf. Im KaDeWe und Bikini Berlin ist in Berlin jeweils am meisten los. Die Vogue Fashion's Night Out findet in Deutschland jeweils Anfangs September statt, in Berlin war es dieses mal der 07. September.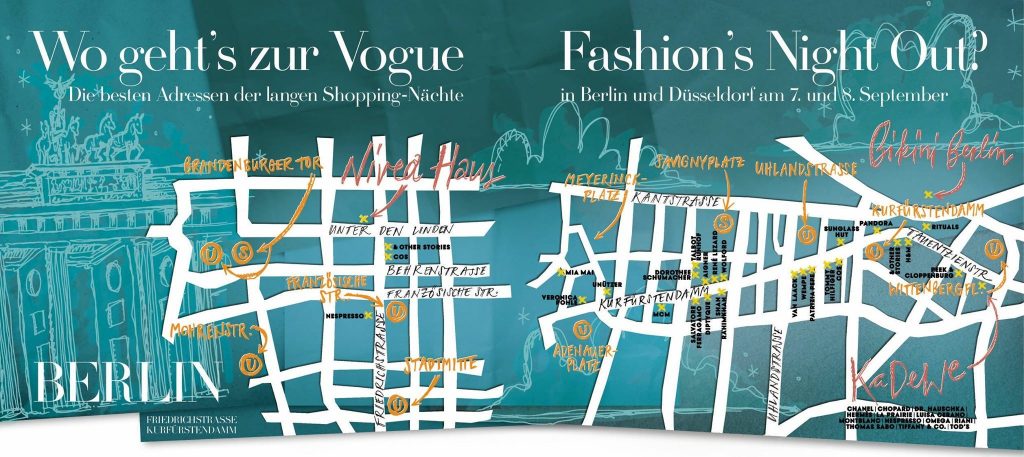 Bild Quelle: Vogue Deutschland
Dieses Jahr kamen wir etwas später zur Veranstaltung, wie letztes Jahr. Im Bikini Berlin waren nicht mehr all zu viele Menschen anzutreffen, im KaDeWe ging dafür die Post ab. Letztes mal war die Farbe des Abend Lila, dieses mal war es türkis. Vor dem KaDeWe gab es einen langen türkisen Teppich und die offiziellen Shopping Bags waren auch in der Farbe. Wir begannen unsere "Tour" im Bikini Berlin. Eigentlich wollten wir uns für 6 Euro eine Wundertüte holen, wessen Erlös sogar wohltätig gespendet wird. Die Verkäuferin meinte jedoch, dass diese schon nach 10 Minuten ausverkauft waren. Schade, schade. Bei Vans gab es wie auch schon im vergangen Jahr die leckeren Waffeln am Stiel, da die Schlange jedoch so lang war, entschieden wir uns gegen eine Waffel und schlenderten weiter. Neben vielen Rabatten gab es z.B. Fotokästen oder einen Stand, wo eine Frau einem verriet wer man ist durch seine Tasche. Da wollten wir eigentlich auch noch hin, vergassen es dann aber irgendwie und liefen in Richtung KaDeWe.
Im KaDeWe angekommen musste man sich erst mal durch eine Menge Männer und Frauen drängen die von der Sponsoren Wand nicht genug bekommen konnten. Ich sah nur wenige Fashionistas Mitte/Ende 20, die Restlichen schienen 45+ Weiber zu sein, die meiner Meinung nach im Prosecco-Rausch mit Geld um sich warfen. Einige Männer liefen wie Hündchen hinter ihnen her. Ich muss gestehen, dass ich mir im KaDeWe mit meinen Nikes und dem Porno Mantel etwas fehl am Platz vorkam zwischen den ganzen Gucci Schuhen und Louis Vuitton Taschen. Ich hatte trotzdem viel Spass mit Sophia. Wer weiss vielleicht gewinne im Lotto und darf nächstes Jahr auch mit Prada und Chanel rumlaufen und mich cool fühlen. Die Wahrscheinlichkeit, dass ich reich werde ist sehr gering aber man soll niemals nie sagen.
Ich habe das Gefühl, dass an meinem Geburtstag der letzte sommerliche Tag war. Daher kramte ich für diesen Event mein erstes Herbst Outfit heraus. Ich entschied mich für meinen senffarbenen Strickpullover und eine schwarze Skinny Jeans. Der Pullover ist "Markenlos", dass heisst ich habe ihn in der Schweiz in einem Secondhand Laden gekauft und am Pullover ist kein Etikett. Neben der Farbe und dem Schnitt gefällt mir an dem Pullover, dass er kaum erkennbar glitzert. Es wurde nicht nur senffarbener Faden verwendet sondern auch ein hauch dünner glitzernder. Die schwarze Jeans ist von Tally Weijl, die trage ich auf sehr vielen Bildern oder allgemein sehr oft, da sie einfach mein Liebling ist. Der schwarze Chocker habe ich von Primark und die Sneaker sind, gut erkennbar, von Nike. Bereits in meinem Outfit Beitrag aus Hamburg erwähnte ich, wie toll diese zum Strickpullover passen. Es ist als wären die Schuhe und der Pullover füreinander gemacht. Das Modell ist übrigens ein Nike Air Force 1 ID, dass heisst jemand hat diesen selbst "designed" und ich habe ihn dann bei Paul´s Boutique entdeckt. Der altbekannte Hexenhut von Primark durfte bei diesem herbstlichen Look natürlich auch nicht fehlen. Mein Lieblings Piece von diesem Outfit ist eindeutig der Porno-Mantel, wie ich ihn nenne. Durch das spezielle Material ist dieser ein echter Eyecatcher.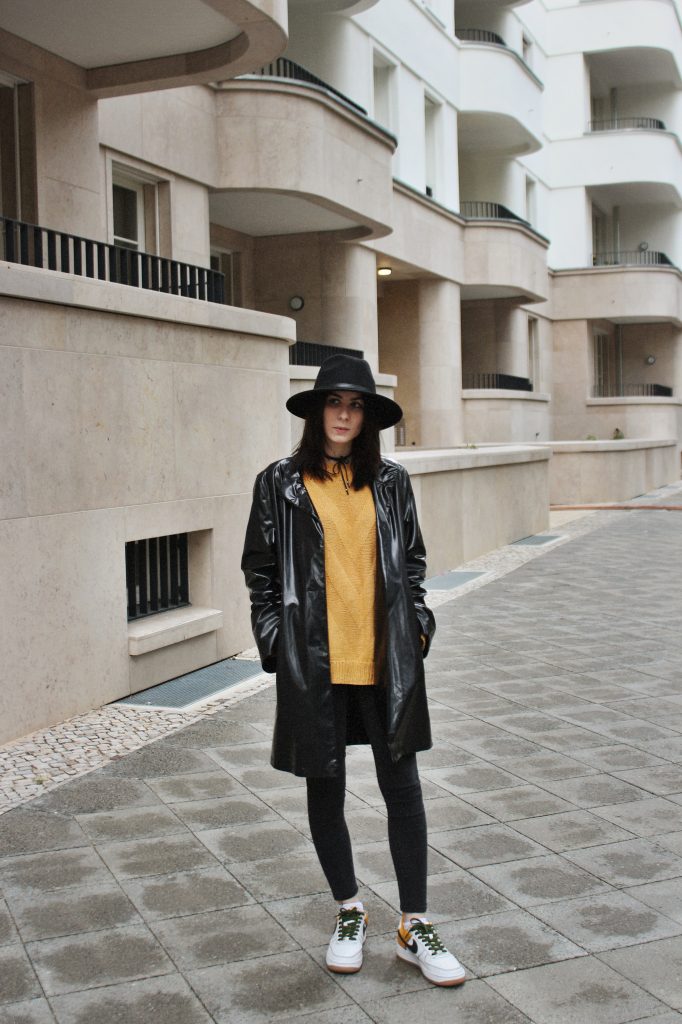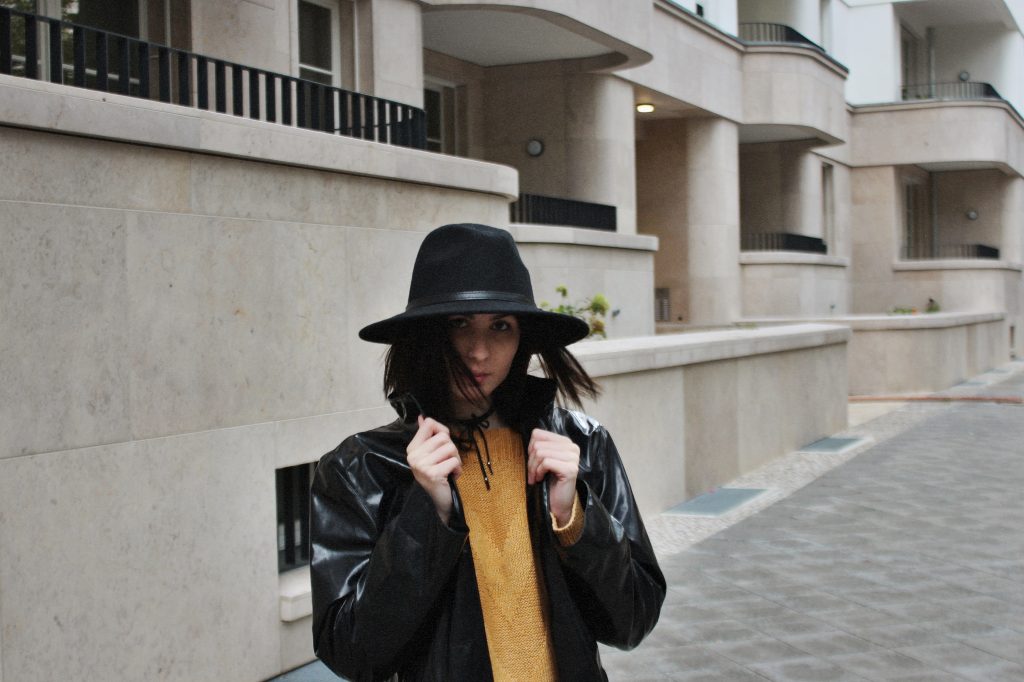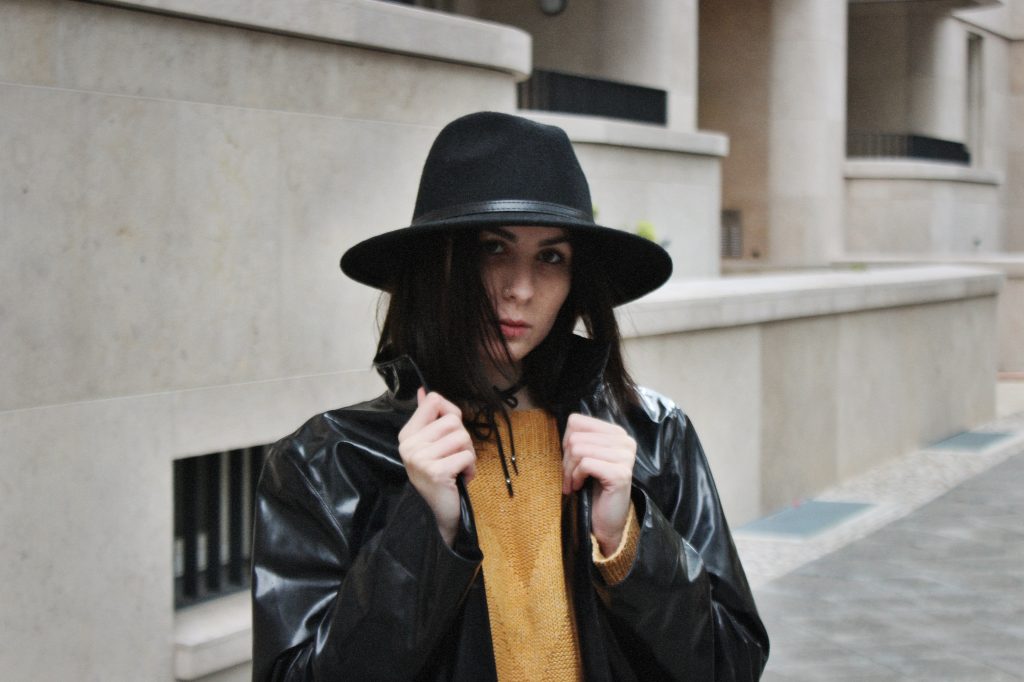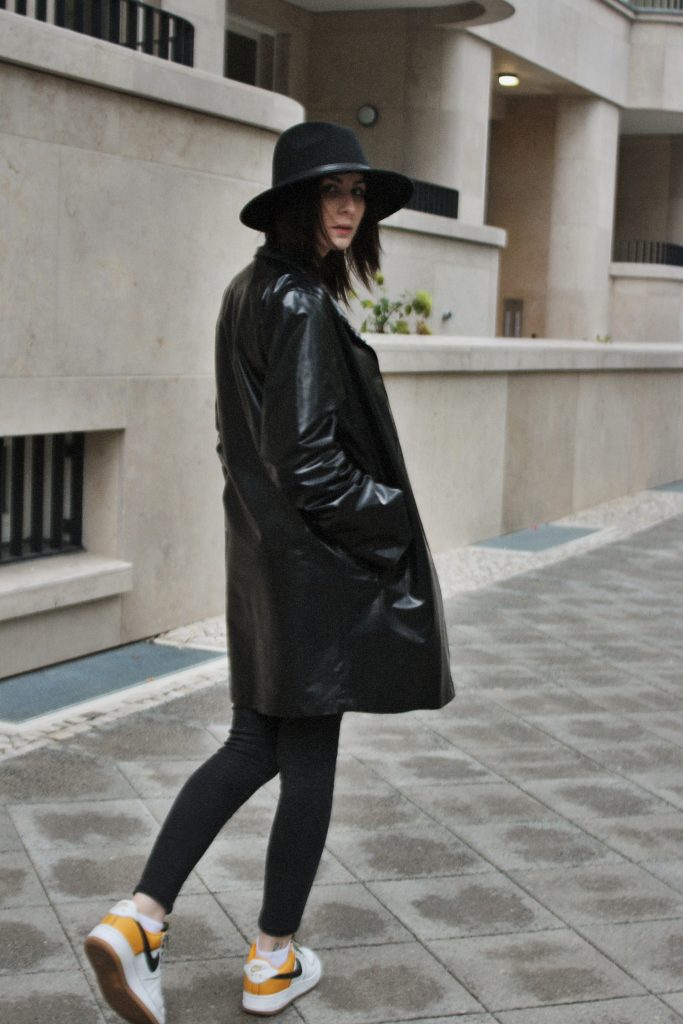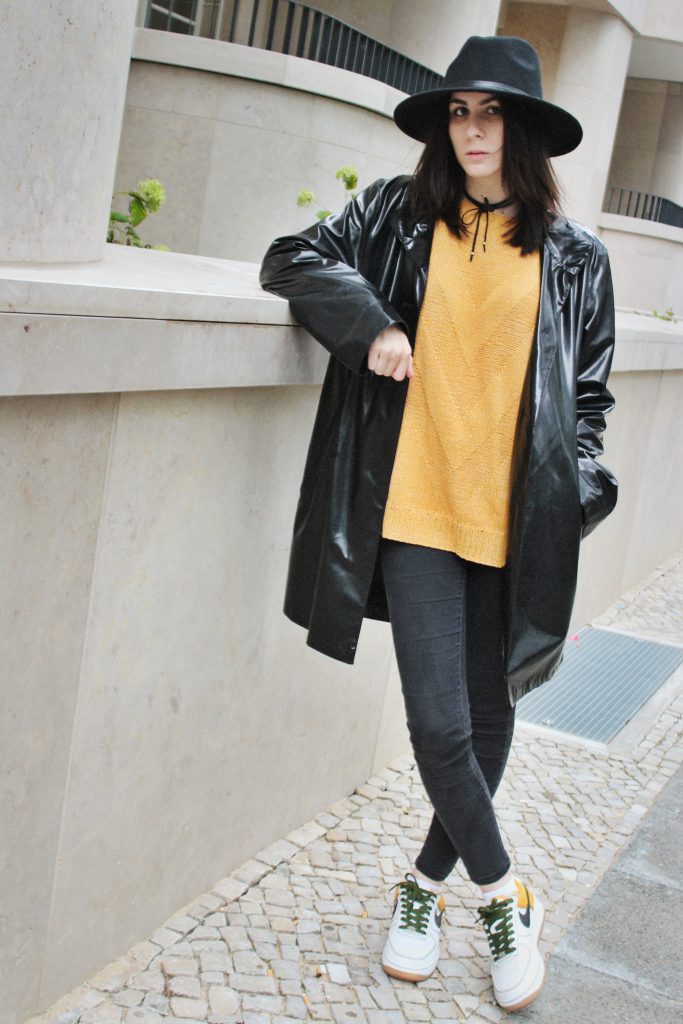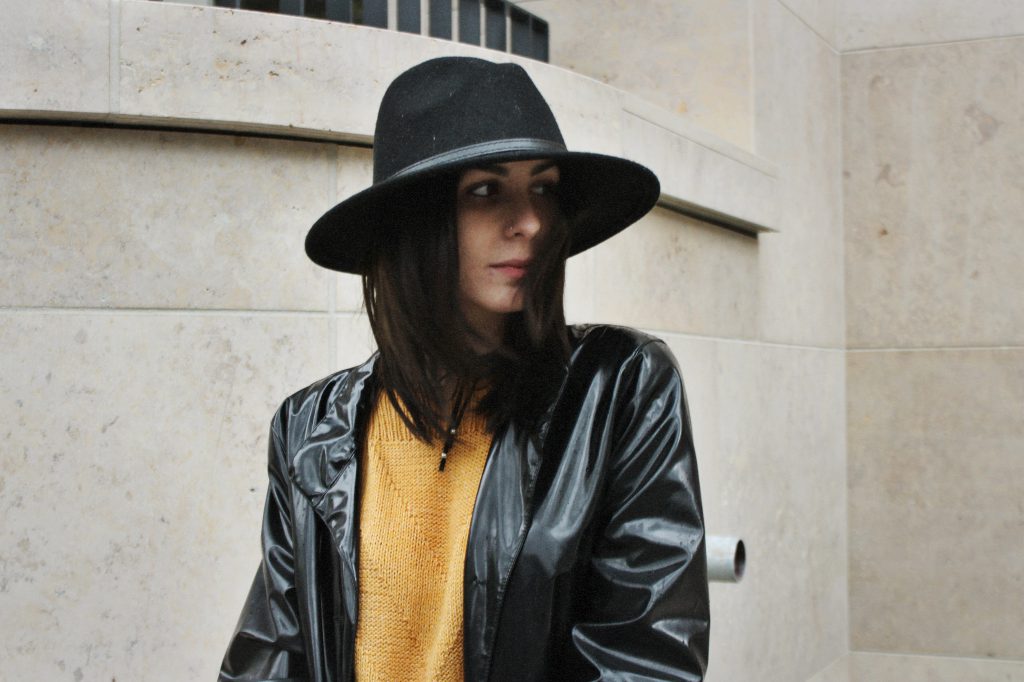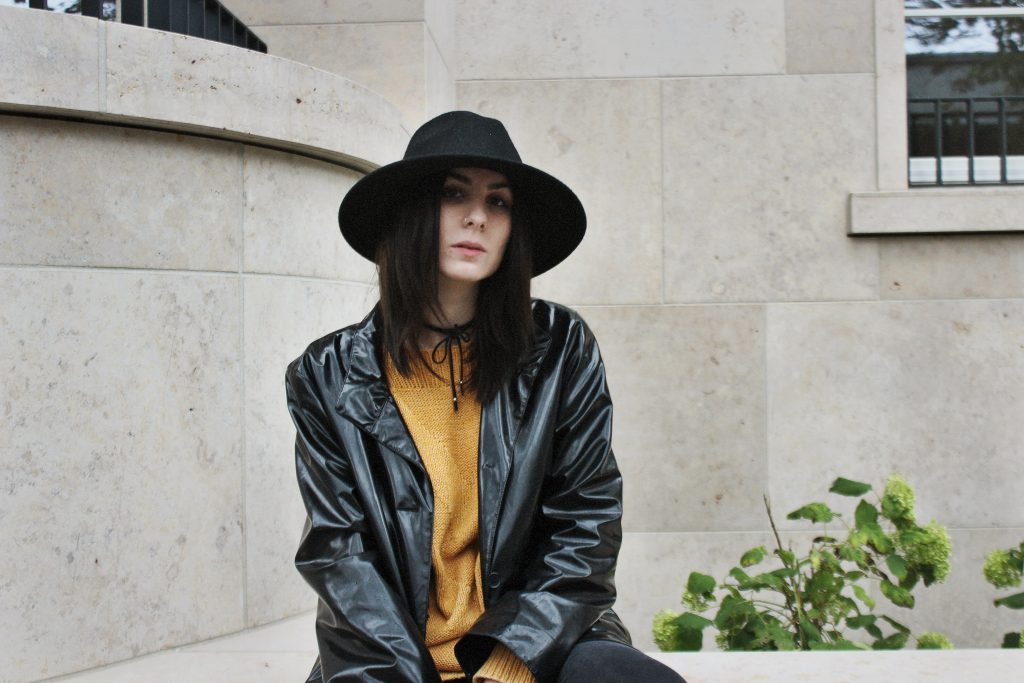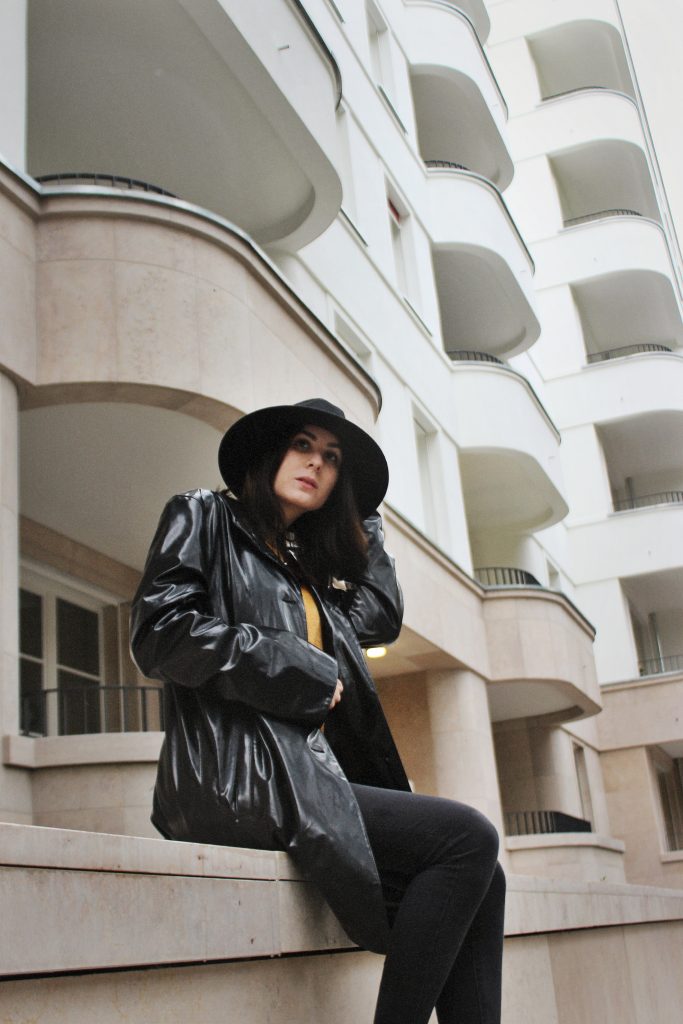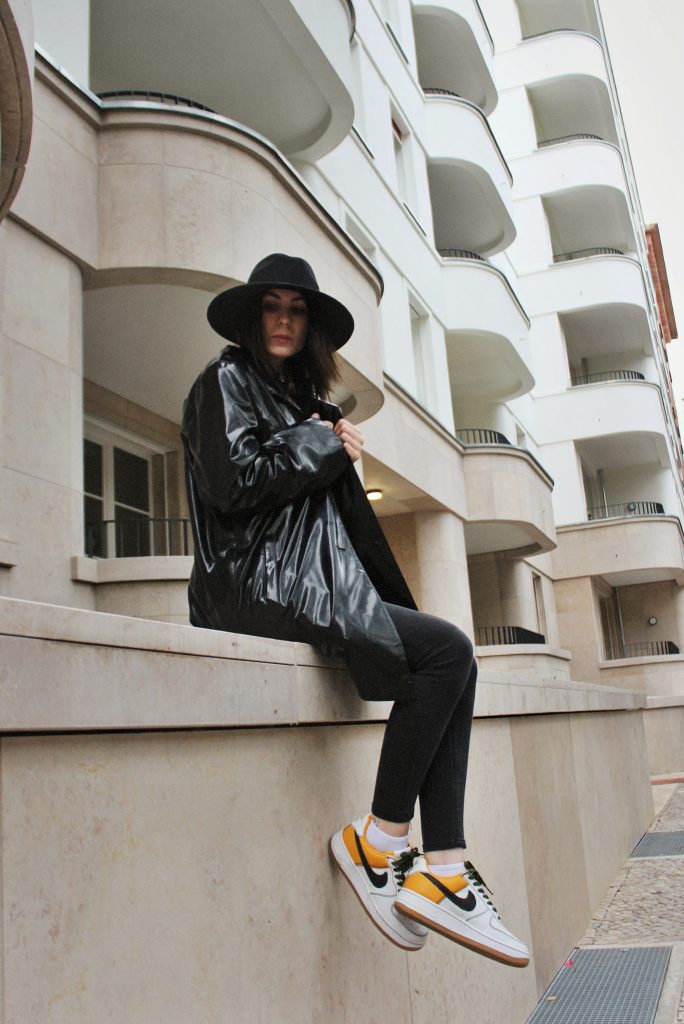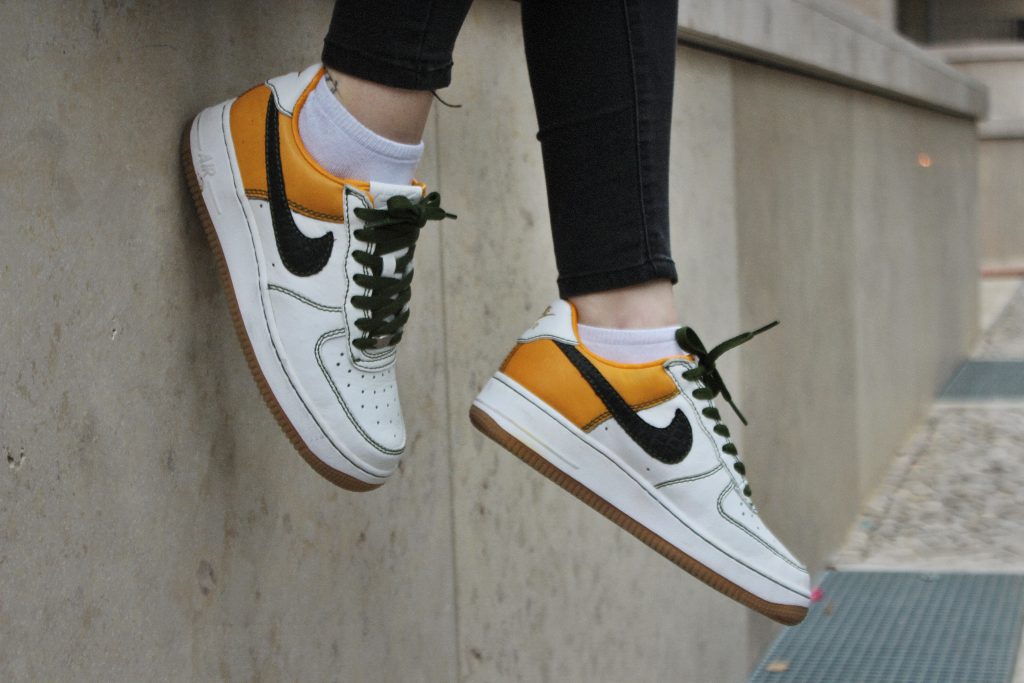 Fotos: Tristan Luckow
[:en]The Vogue Fashion's Night Out 2017 was my first event as a 22 years old. Even my birthday party was one day later (my birthday was on the 4th of September). I decided to write nothing about my birthday this year, it just happend nothing special. You can read the post from last year here, if you want. Well, no more sentences about my birthday. I wanted to present you in this blog post my impressions from this years Vogue Fashion's Night Out in Berlin. I visited this event last year with my boyfriend and this year with my dear friend Sophia.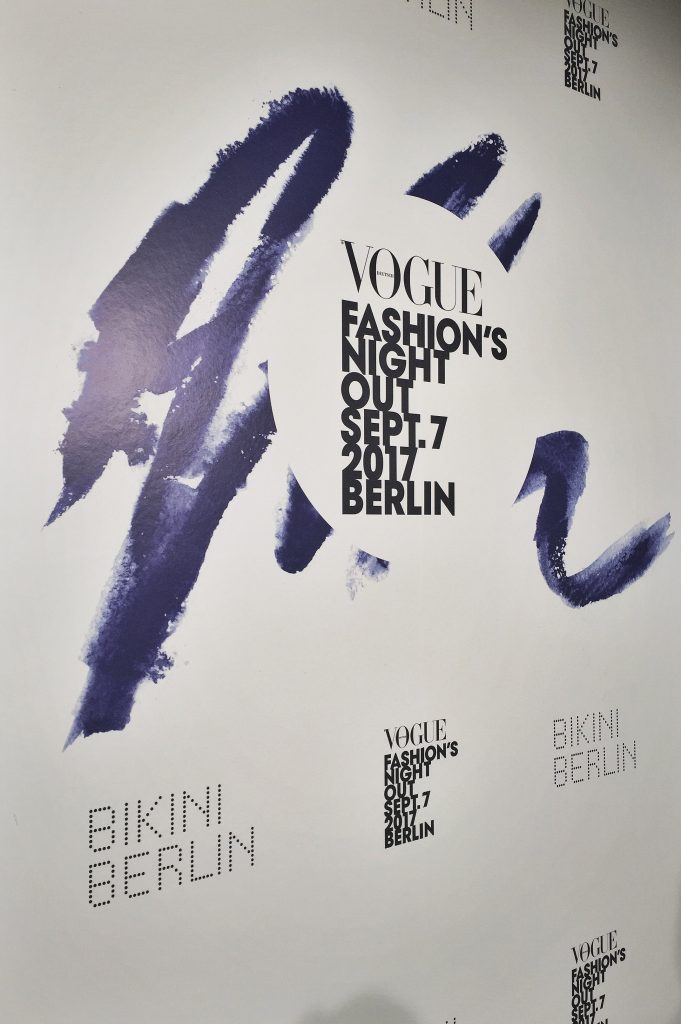 What´s the Vogue Fashion's Night Out?
Since a few years Vogue is organizing a big event for their readers in different cities (for example Düsseldorf, Wien or Paris). Many amazing brands take a part of this and make contests or give away discounts. Most stores have DJs and offer drinks and food, there are also some who give presents to their costumers if they buy something. So you see it a nice event! In Berlin are the places to be Bikini Berlin and KaDeWe. The Vogue Fashion's Night Out is in Germany always in the beginning of September, this year it was the 7th in Berlin.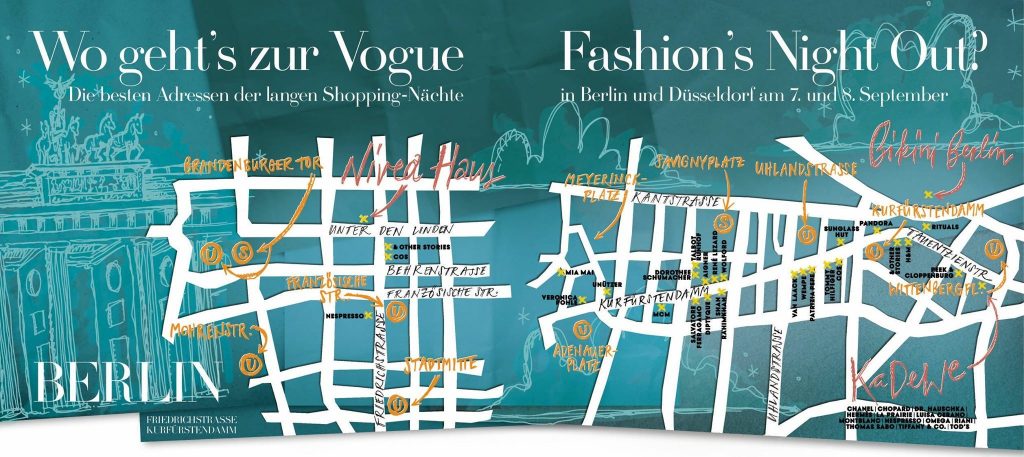 Photo reference: Vogue Germany
We came a bit later to the event this year. At Bikini Berlin were only a few people left but at KaDeWe was still a big party atmosphere. Last year was the color of the evening purple, this year was everything in turquoise. Infront of KaDeWe was a big turquoise carpet and the official shopping bag was also turquoise. We startet our "tour" at Bikini Berlin. We wanted to buy a grab bag, which proceeds will be doneted, for 6 euros. The sales women told us unfortunately that they were sold out 10 minutes after the start. Sad, sad. You could eat some waffles at the Vans store like last year, we renounced this because of the freaking long waiting line. Beside a lot discounts was one offer to get a handbag analysis, the women at this stand said that she´able to tell you who you are just from looking at your handbag. We wanted to do this on our second round through Bikini Berlin but then just forgot it.
At KaDeWe we first had to squeeze through a big crowd because everyone had to stand infront of the photowall which was right behind the entrance. At Bikini Berlin were a lot younger people but not at KaDeWe. I saw just a few which were in their mid/end twenties, the rest looked to me like 45+ ladies who spent a bit too much money on their prosecco trip. I need to admit that I felt a bit out of place with my Nikes and the porn coat, it seemed like everyone was wrapped in Gucci and Chanel. Well but I still had fun at this event and I´ll visit it next year again. Maybe I´m rich in one year and I´ll walk around with a pretty Prada dress and a cute Louis Vuitton bag too. I could win a lottery checkpot… Well, the chances are low but never say never.
I have a feeling that my birthday was the last summery day of this year. Therefore it makes sense that I wore my first autumn outfit to this event. I decided to wear my mustard kinitted sweater with my favorite black skinny jeans. The sweater is "brandless", that means I bought it in a secondhand store in Switzerland and I found no tag on the sweater. I love the small glitter strings beside the color itself and the cutting. These black jeans are from Tally Weijl, yes I know I wear them on a lot photos but it´s my favorite. The black chocker is from Primark and my sneakers are from Nike. I already wrote in my outfit post from Hamburg that I totally love the matching between the knitted sweater and these Nikes. It´s like these pieces are made for each other. By the way the model is called Nike Air Force 1 ID, that means someone "designed" them by himself. I just bought them at Paul´s Boutique and loved the color and material combination. My witch hat is from Primark and the perfect piece for starting into autumn. Last but not least my porn coat, well that´s the name I gave this coat. Because of this special material this coat is a super cool eyecatcher.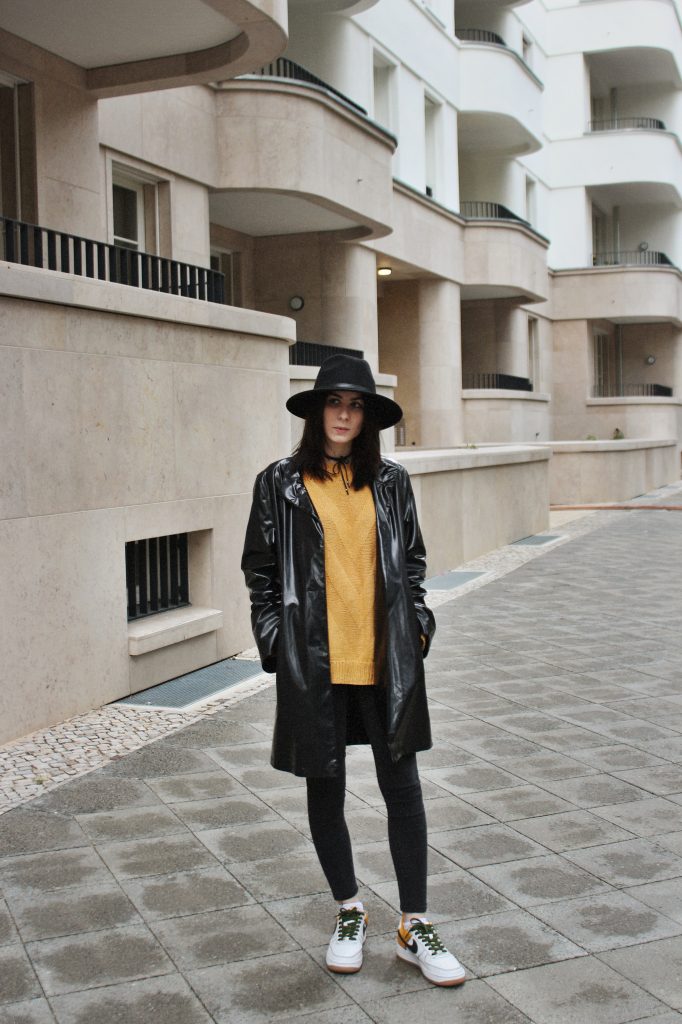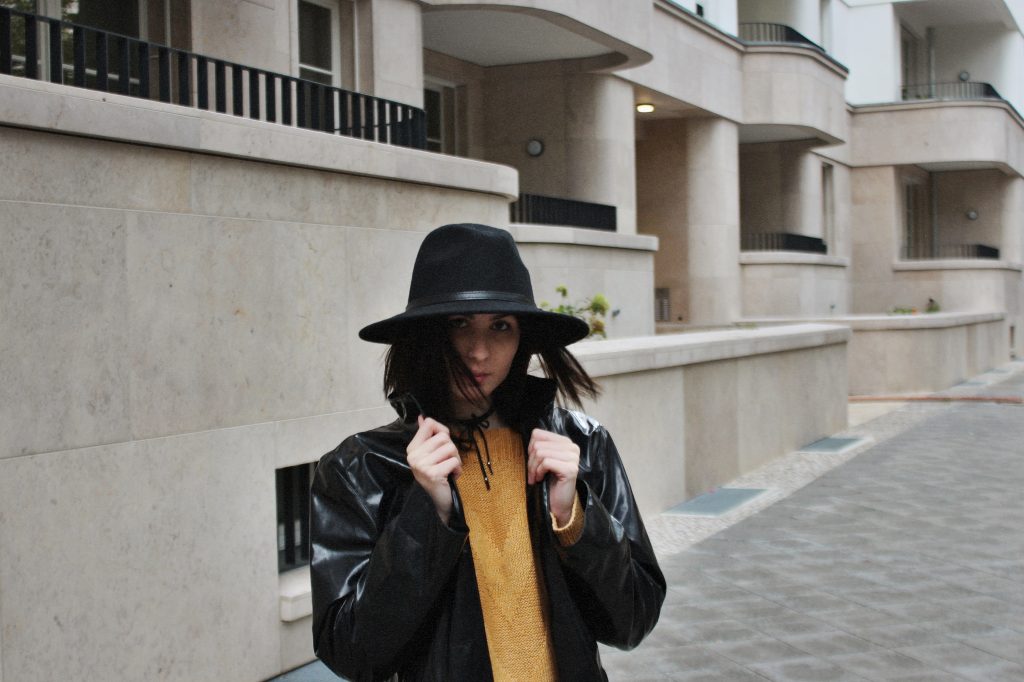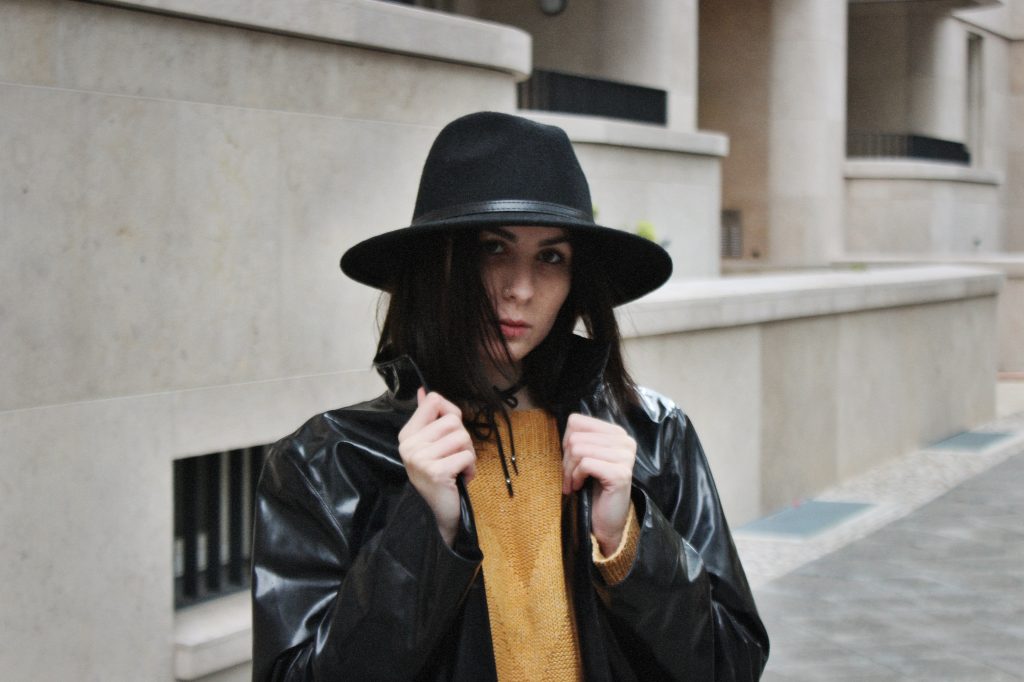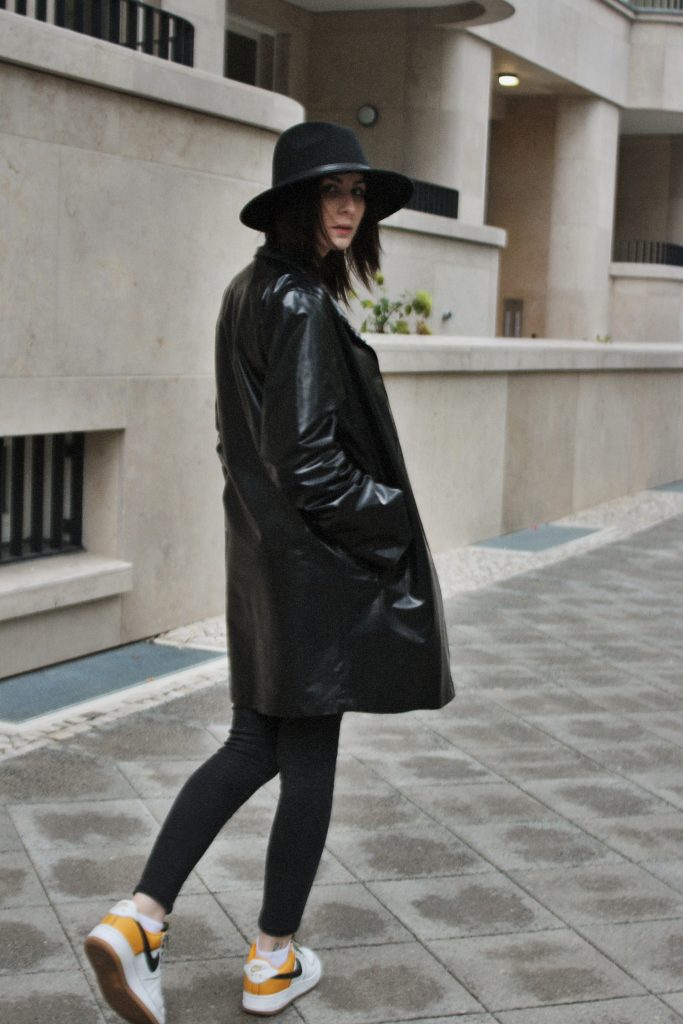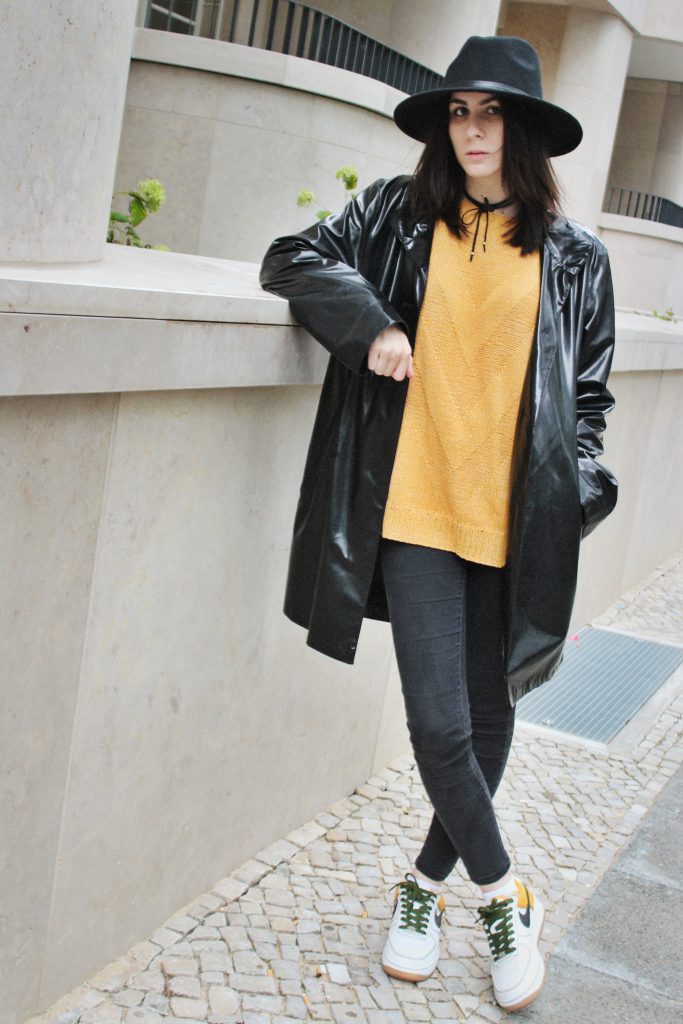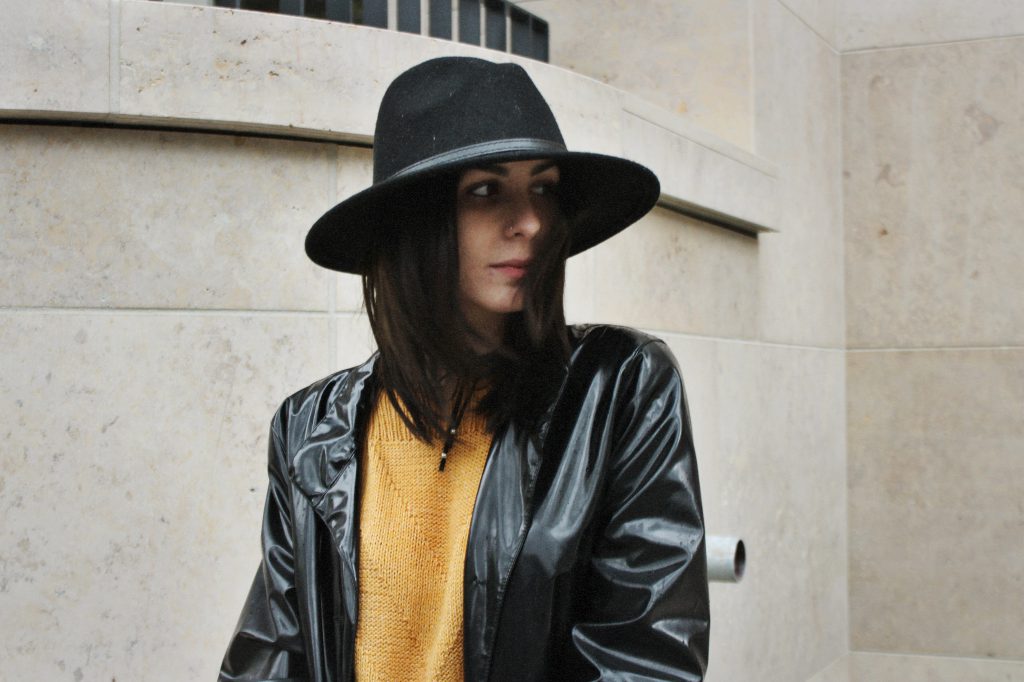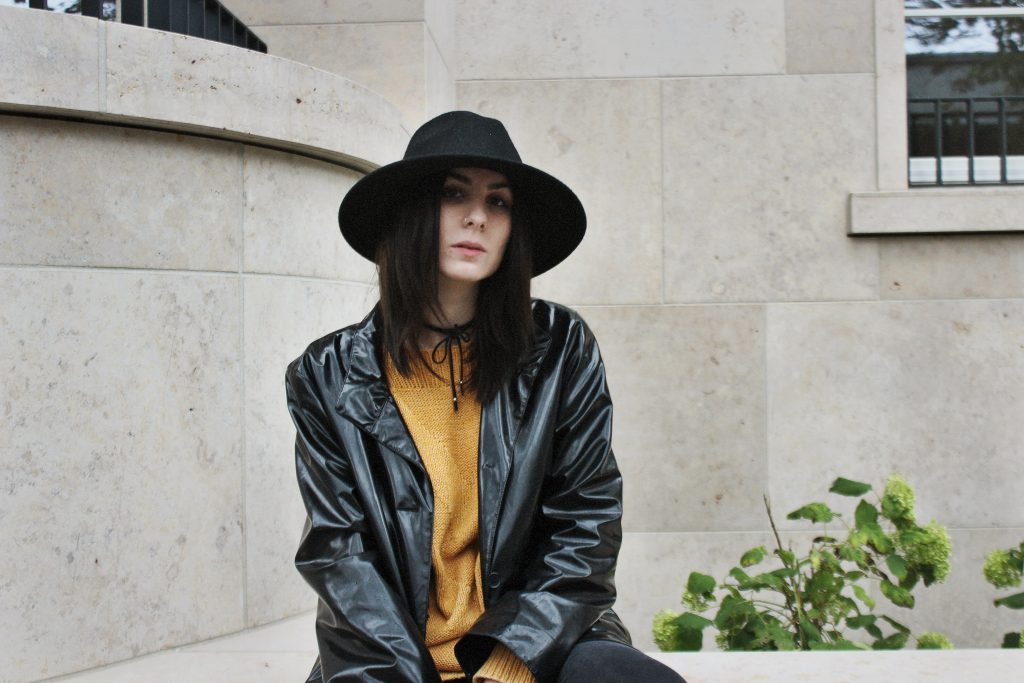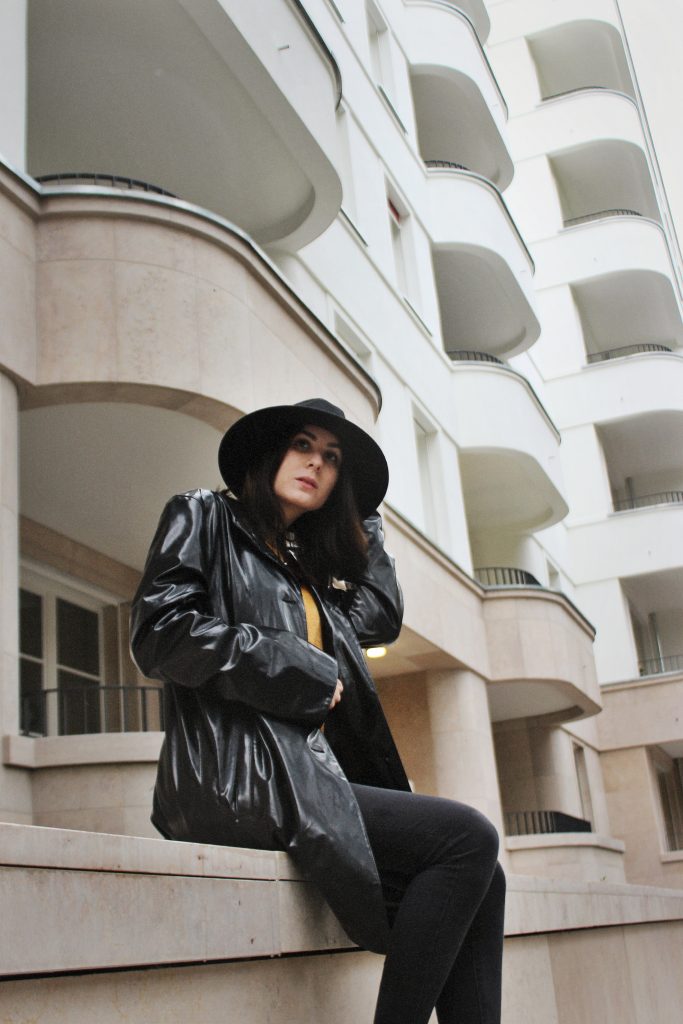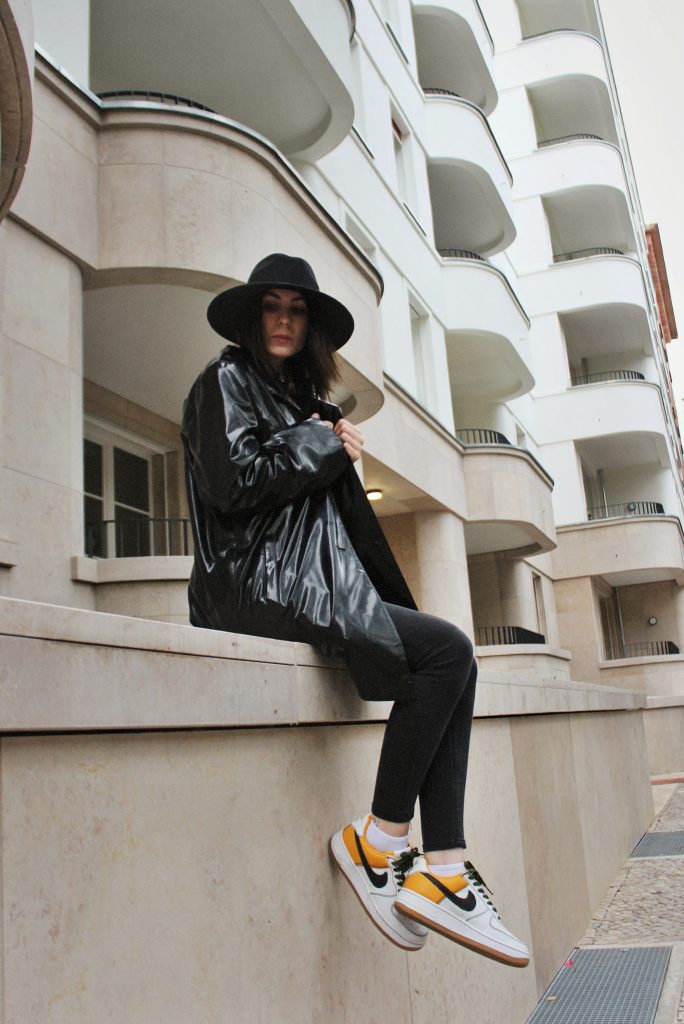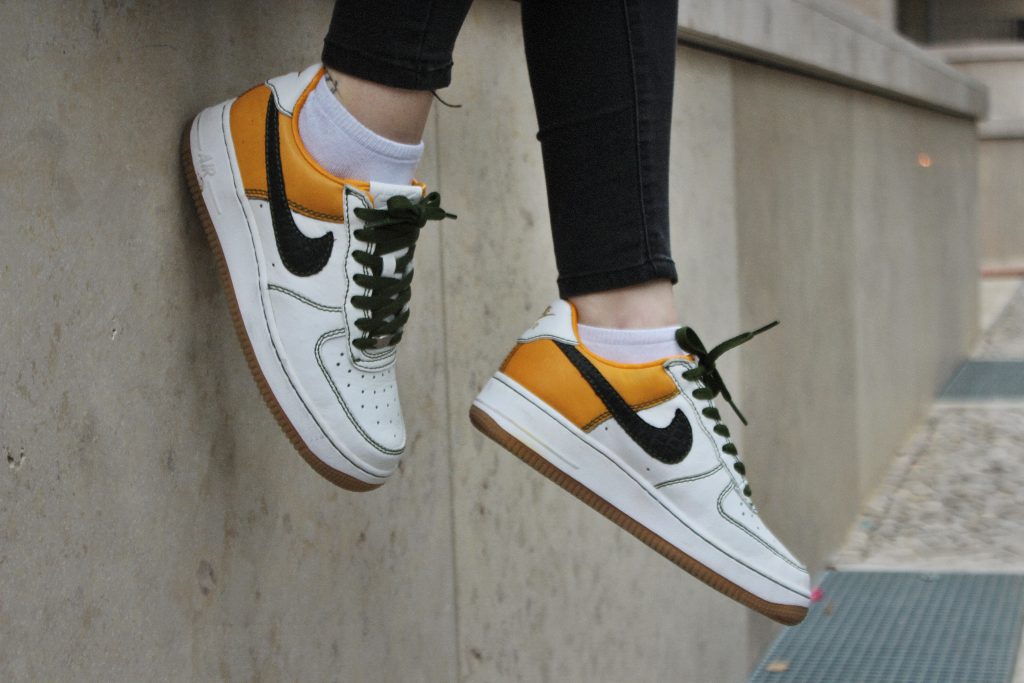 Photos: Tristan Luckow
[:]