[:de]Huch, wie die Zeit doch schnell vergeht. Zack und da steht auch schon bald Weihnachten vor der Tür. Bei meinen Eltern in Zürich soll es öfters schneien, hier im Norden Deutschlands gab es erst vor kurzem die Premiere. Bis auf dieses eine Mal schneite es aber auch nicht mehr richtig. Obwohl Berlin also nicht wirklich in Weihnachtsstimmung ist, sind die Temperaturen sehr tief. Alles wirkt so kalt und dem möchte ich mit diesem Outfit entgegenwirken. Wer sagt Berlin wäre im Winter schön, den verstehe ich nicht. Natürlich bietet die Stadt noch immer sehr viel, aber wenn ich schon Winter, Kälte und Schnee vor der Tür habe, dann doch lieber in den Bergen. Dort ist es wie in einer Schneekugel und man kann Wintersport machen, kurz gesagt: der Winter macht spass. Hier ist es einfach nur traurig und man weiss nicht recht was man machen soll, ausser auf dem Sofa zu gammeln und Serien zu schauen. Schönen weissen Schnee sieht man in der Stadt auch höchst selten, entweder ist da überhaupt nichts oder brauner Matsch. Berlin ist nicht nur kalt im Sinne der Temperaturen, auch die Launen der Menschen scheinen sich dem Szenario anzupassen und eisiger zu werden. Ich bin kein Anti-Winter-Mensch aber in der Stadt fällt mir einfach nichts ein, was mir an dieser Jahreszeit gefallen könnte. Daher freue ich mich auch sehr morgen in die Schweiz zu fliegen. Ich habe mir fest vorgenommen in die Berge zu fahren, dort habe ich dann mein "Schneekugel Winter Wonderland".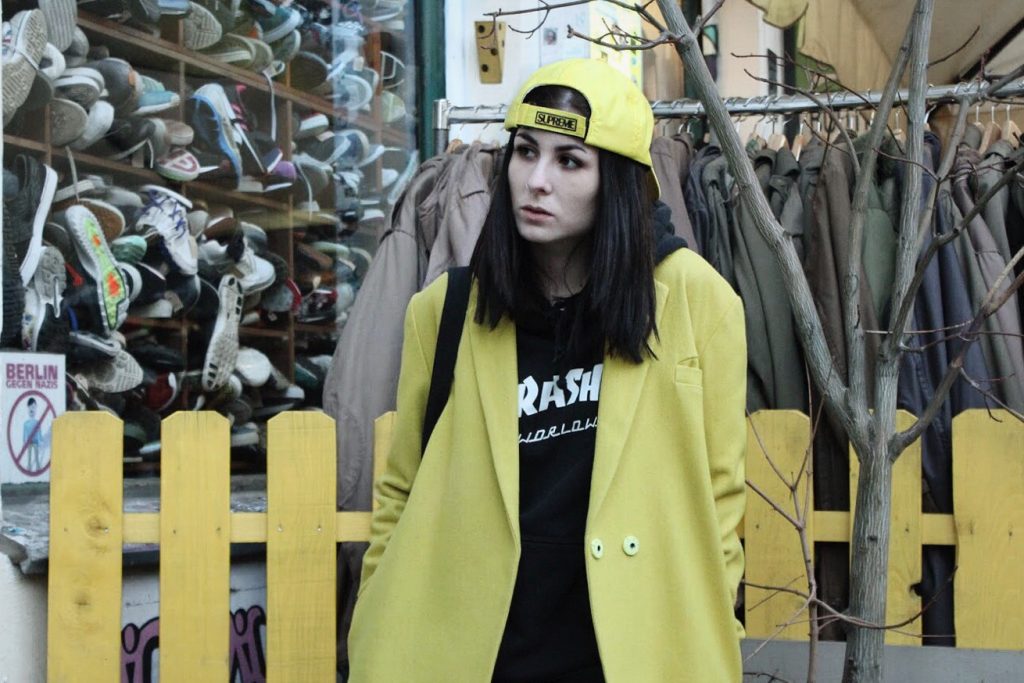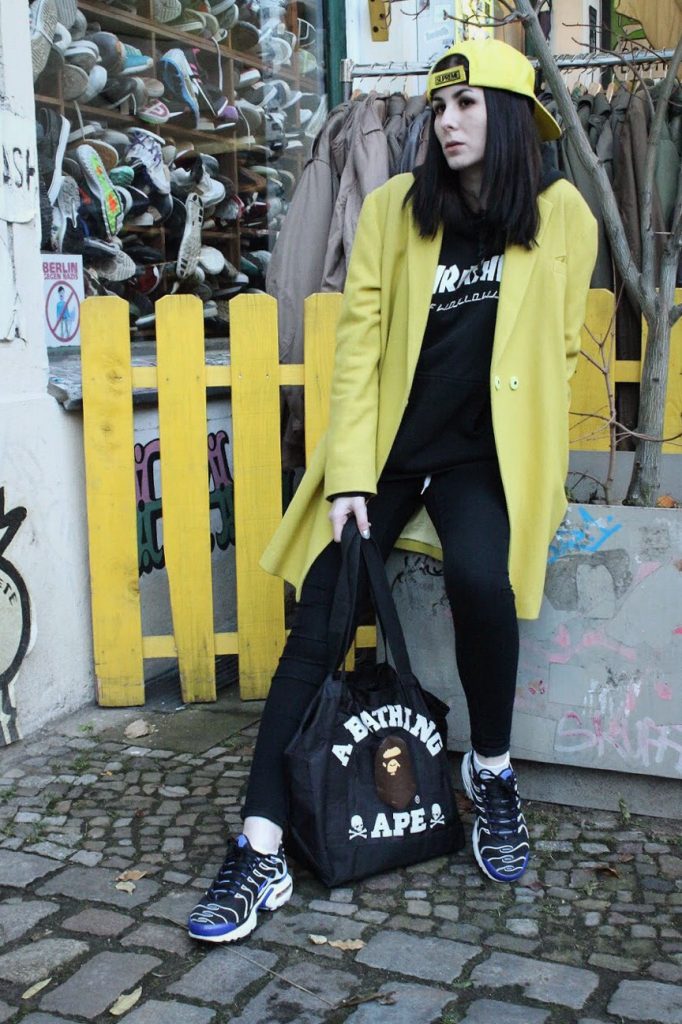 Eyecatcher Look bei Minus Temperaturen
Es scheint wohl nicht verkehrt zu sein, dass man bei so viel Kälte etwas Farbe und Wärme möchte. Daher zeige ich euch heute einen farbenfrohen Eye-Catcher Look. Den Mantel, welcher wohl das Main-Piece dieses Streetwear Outfits ist, habe ich vor zwei oder drei Jahren bei Paul´s Boutique in Berlin gekauft. Er ist von Quirky Queen und einer meiner all time Favorites. Als ich diesen das erste bei Paul´s Boutique entdeckte, war ich direkt begeistert. Aus irgendeinem Grund liess ich ihn jedoch im Vintage Store zurück. Da mir der Mantel nicht mehr aus dem Kopf ging, schaute ich bei meinem nächsten Berlin Besuch (damals lebte ich noch in der Schweiz) nochmals nach dem schönen Stück. Wie ihr an den Bildern sehen könnt, hatte ich Glück und der Mantel war noch da. In Vintage Stores, vor allem bei bekannten, wie Paul´s Boutique, ist sowas echt selten. Mein fancy Hoodie ist, wie es gross drauf steht, von Thrasher x Huf. Er ist seit Jahren einer meinter Lieblinge. Ich habe ihn damals, also vor etwa drei oder vier Jahren, bei einem Skate Shop namens doodah in Zürich gekauft. Tristan hatte den selben, dann konnten wir immer eins auf Couple Coals machen. Leider hat er den schönen Hoodie verloren also felxe ich das tolle Ding alleine. Meine schwarze Skinny Jeans ist von Primark. Ich habe sie unten abgeschnitten, da der Saum nicht elastisch war und man sonst nicht mit den Fersen durch das schmale Loch kam. Da sieht man mal wie das mit dem Thema billige Ware ist. Aber eben ich beklag mich nicht, denn die Jeans hat fast nichts gekostet und passt mir sonst wie angegossen. Meine passende gelbe Cap ist von Supreme, die ist innen so wunderbar weich gefüttert. Ich kann mir gut vorstellen, dass dies ein Luxus für Personen mit Glatze ist. Die schwarze Tasche ist von A Bathing Ape (Bape) und Mastermind, die aber ich auch schon etwas länger und ist daher ziemlich abgenutzt im inneren. Da die Tasche, wie auch der Rest des Outfits Zeitlos ist, spielt das Herstellungsdatum keine Rolle. Meine Schuhe sind ein paar Nike Air Max Plus oder auch Nike Tn "Tribute". Ich habe diese gekauft, als ich mit Tristan in Paris war. Die hübschen Treter kamen exklusiv bei Footlocker raus. Es gab bzw. gibt übrigens auch noch einige andere Modelle in dieser wunderschönen Farbe.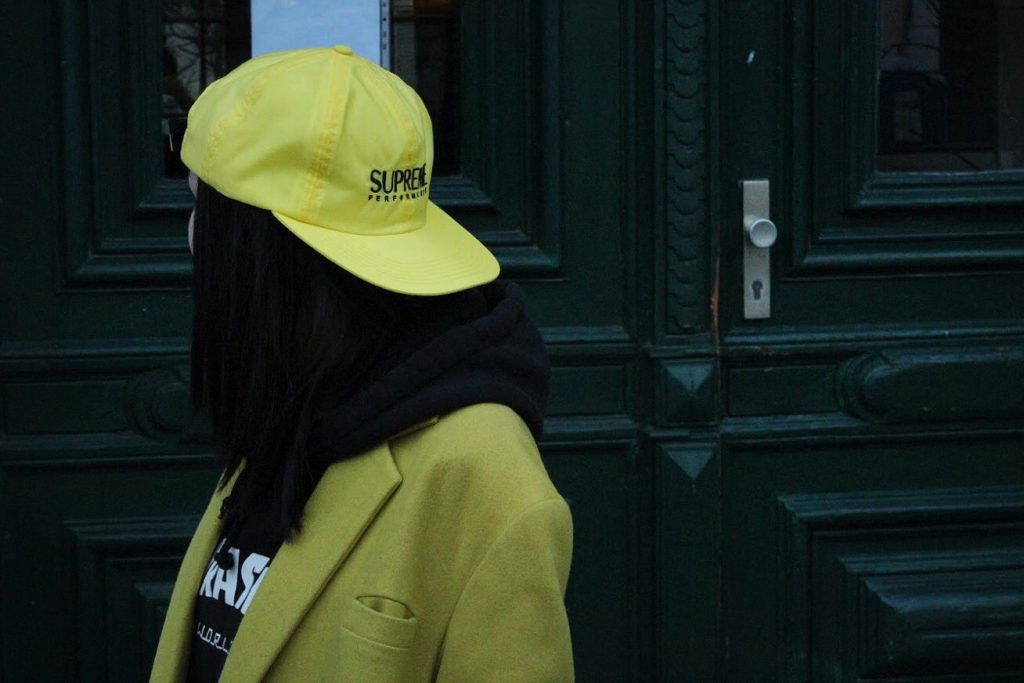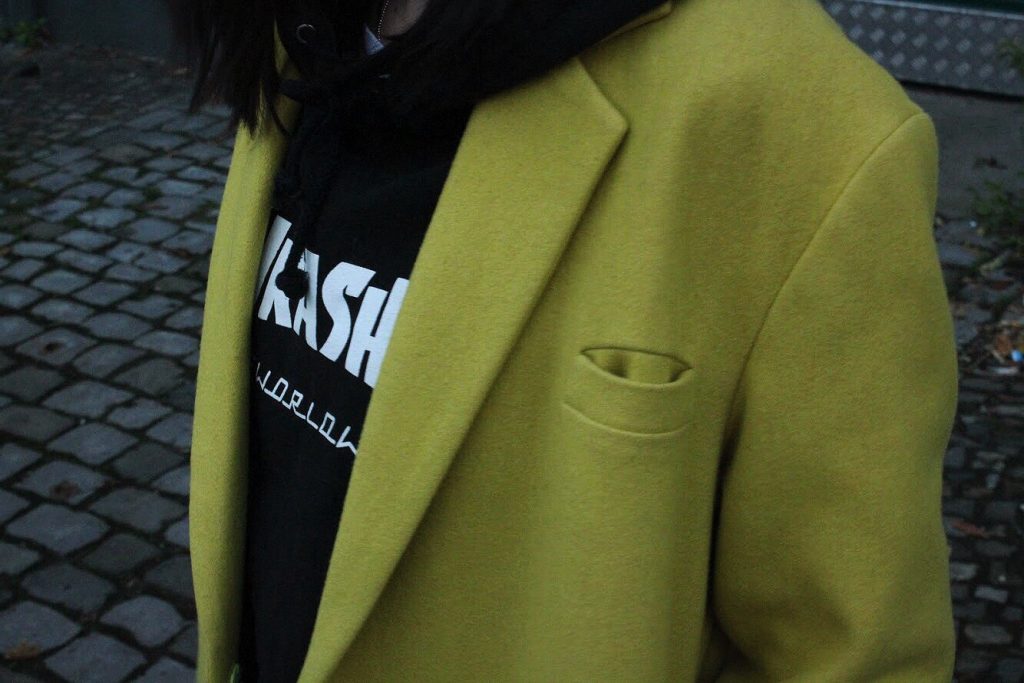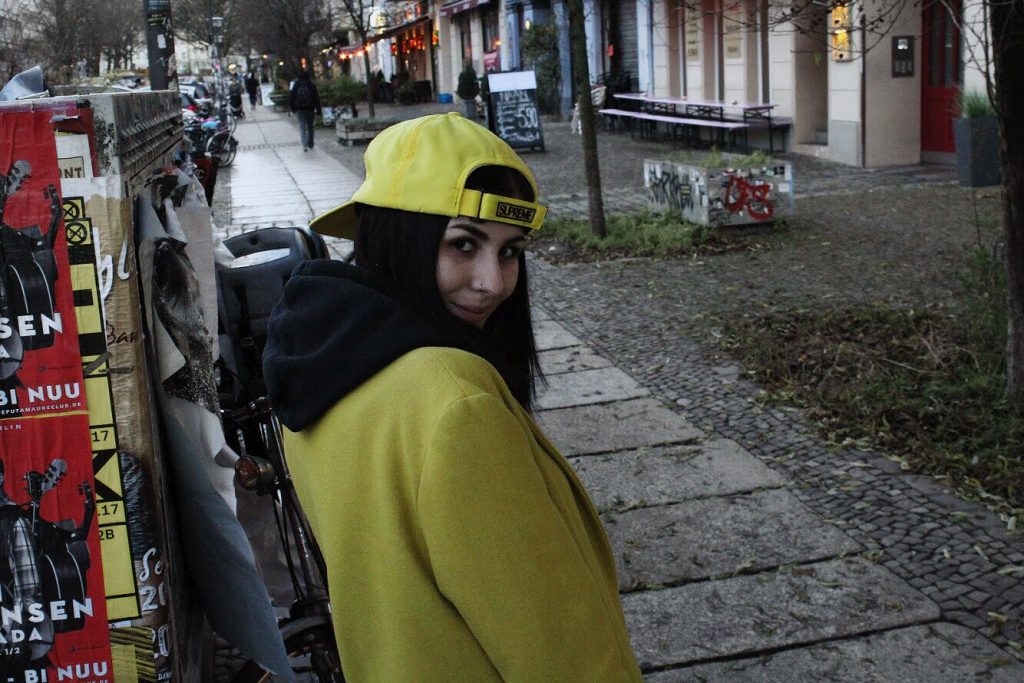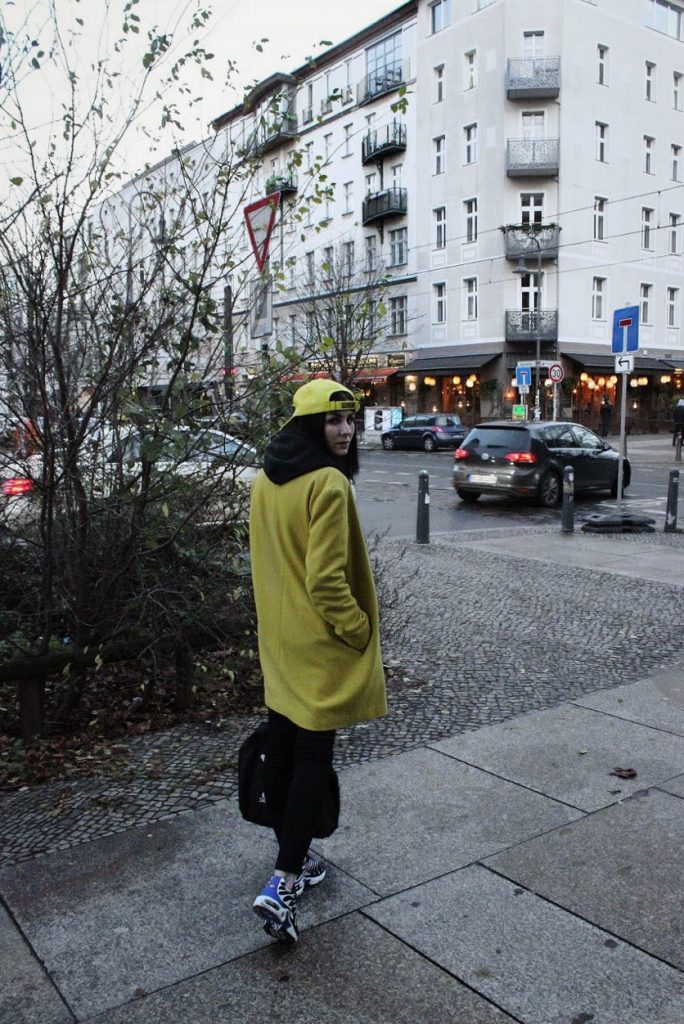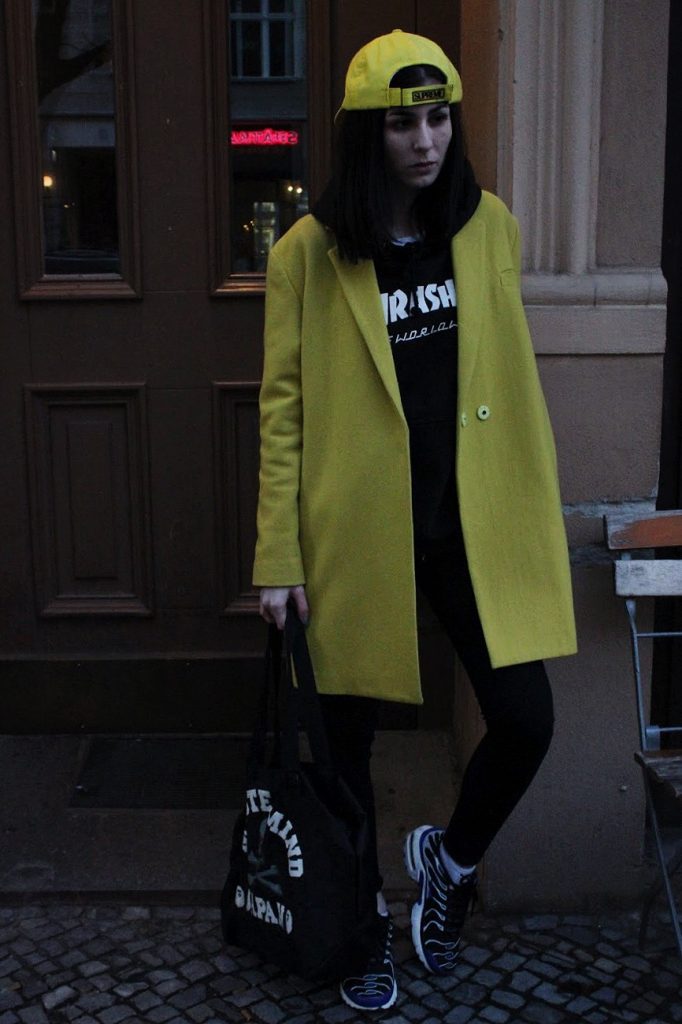 Fotos: Tristan Luckow
Shop my Style (Werbelinks*)
Ich habe euch direkt ein paar hübsche Eye-Catcher Mäntel rausgesucht. So könnt auch ihr etwas Sonnenschein in düstere Tage bringen.
Falls ihr hier keine Produkte seht, solltet ihr euren Adblocker deaktivieren.
* Transparenz: Obige Links sind Affiliate, bzw. Werbelinks. Das bedeutet, dass ich bei einem Kauf über einen dieser Links zu einem geringen Prozentsatz beteiligt werde. Euch entstehen dadurch keinerlei Nachteile oder Kosten.[:en]It´s crazy how fast time flies, soon it's Christmas eve. My parents told me that they have again and again snow. Here, in the north of Germany, it was snowing only one time. Well and sometimes there was sleet but that doesn't count in my opinion. Even if Berlin is not really in Christmas mood the temperatures are very low. Everything is cold and dreary. I don't understand people who think that Berlin is nice in wintertime. Of course Berlin is still giving a lot but if I have to deal with winter, cold weather and snow I prefer it in the mountains. There it's like in a snow globe and you can do winter sport, in short: winter is fun. Here in Berlin it's just sad and you don't know what to do except chilling on the couch and watch some series. Beautiful white snow is also a rarity, mostly you only see brown mud. Berlin is not only cold in relation to its temperature, also its inhabitants moods are icy in this season. I'm not an anti winter person but I don't see anything positive at this season in the city. So you can imagine I'm really happy to spend the next few days in Switzerland. I have planned to drive to the mountains with a friend, there I have my "snow globe winter wonderland".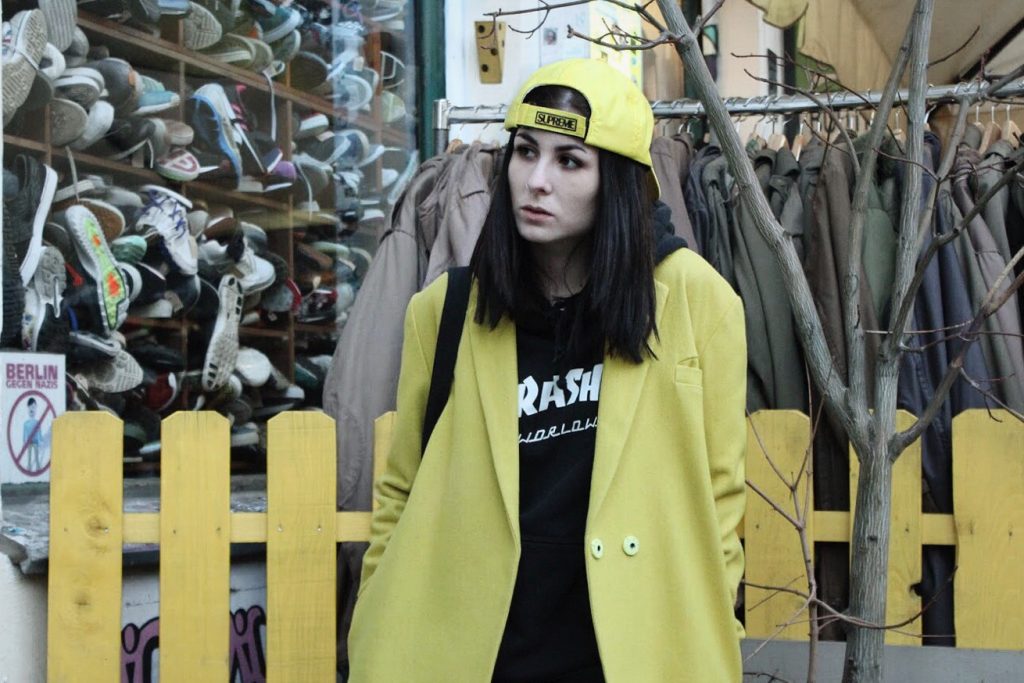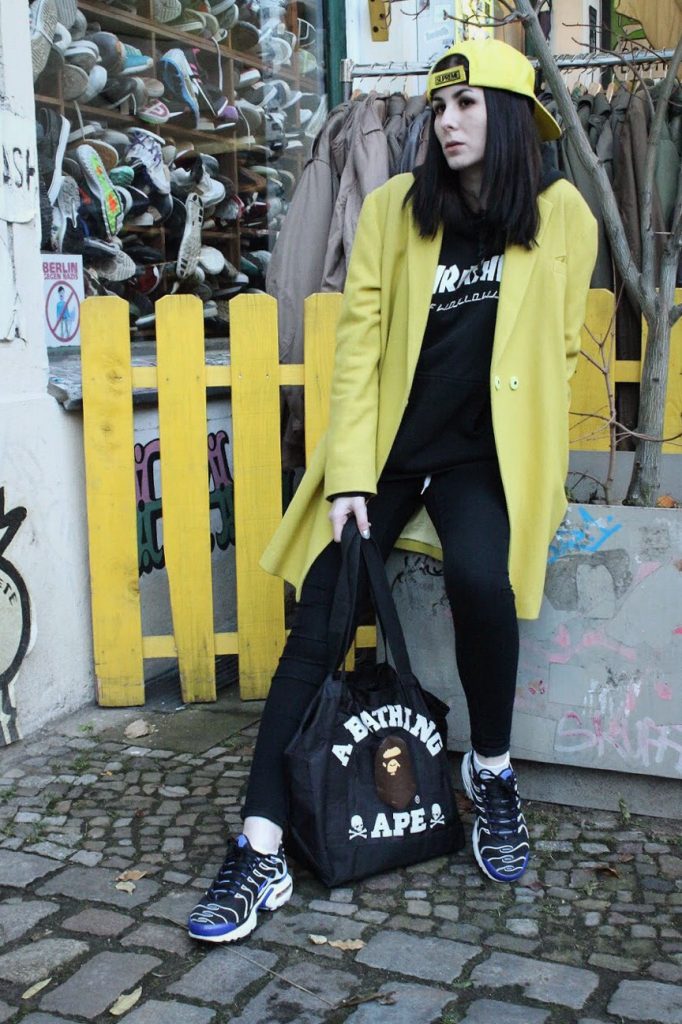 It seems not to be wrong that I want to bring a bit color into this cold time. I want to present you a colorful eye-catcher look. I bought the yellow coat, which is the main piece of this streetwear outfit, a few years ago here in Berlin at Paul´s Boutique. He´s originally from Quirky Queen and one of my all time favorites. I was so excited when I saw this colorful coat the first time at Paul´s Boutique, I don´t know why but I left him at the vintage store. The coat didn´t want to go out of my mind, so you can imagine I was really happy so see that he was still there a few weeks later when I went to Berlin again (I lived in Switzerland at this time). It´s really rare that you find nice things like this coat a few weeks later in famous vintage stores like Paul´s Boutique, normally they´re gone. My fancy hoodie is from Thrasher x Huf but I bet you already knew that because it´s written on it really big. He´s since years my favorite hoodie. I bought him about three or four years ago at a skate shop called doodad in Zurich. Tristan had the same, so we could flex together and act like we were the ultimative couple goal. Unfortunately he lost his hoodie last year… So I need to rock him alone. My black skinny jeans are from Primark. I had to cut them below because the seam was not elastic and I couldn't´t get in. But I don´t want to complain, these jeans were so cheap and now they fit so perfectly. My cap is from Supreme, it´s so cozy inside. I bet that´s totally luxurious for people with a bald head. The black tote bag is from A Bathing Ape (Bape) and Mastermind, I own this one already a few years so the condition is not the best. But the bag, and also the rest of this outfit, looks timeless so the date of manufacture doesn´t matter. My sneakers are a pair of Nike Air Max Plus or Nike Tn "Tribute". I bought them last year, when I was in Paris with Tristan. These beautiful kicks came out exclusively at Footlocker, they also had some other models in this color but this one was my favorite.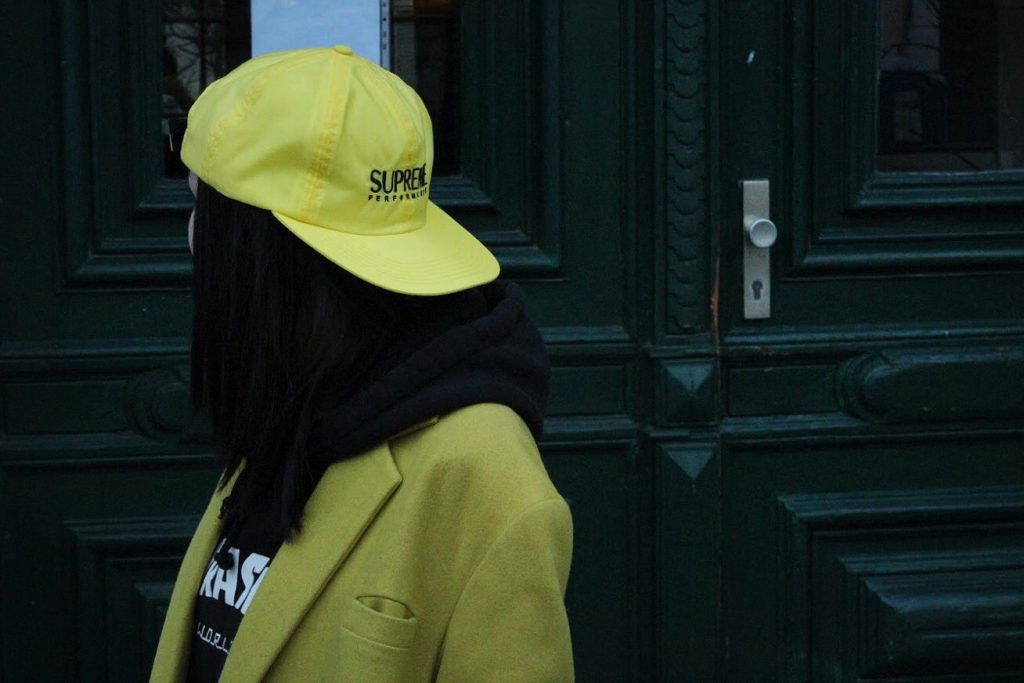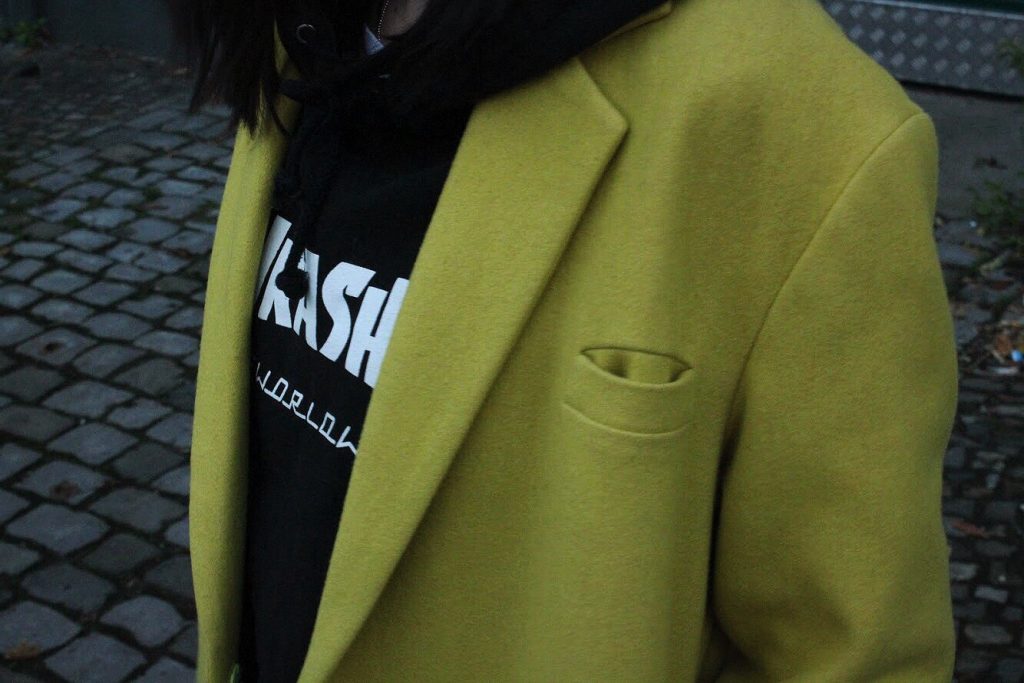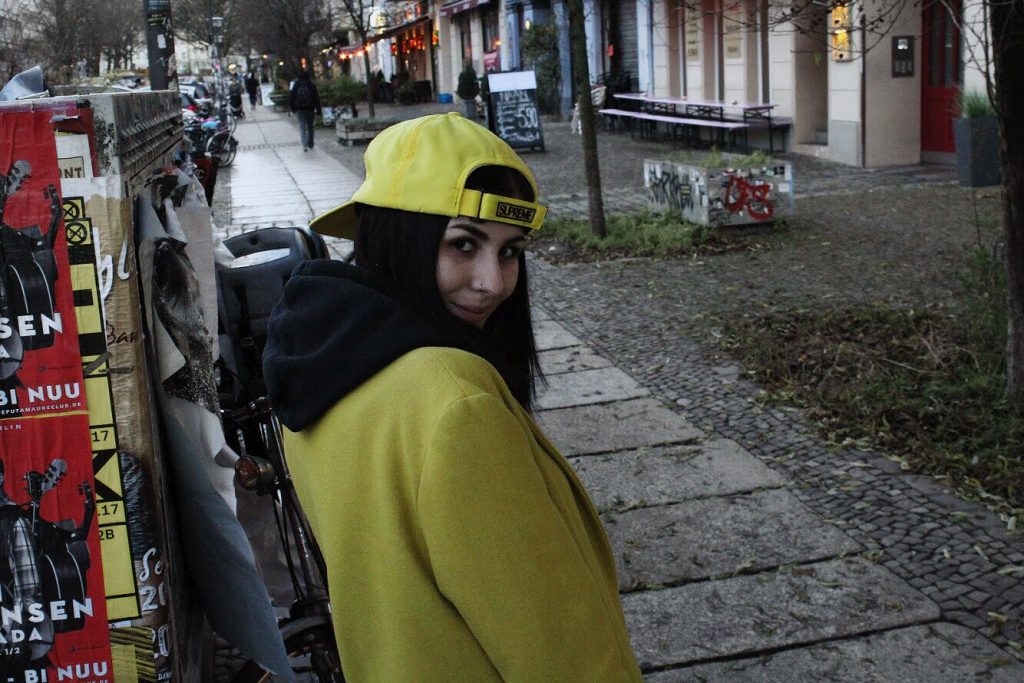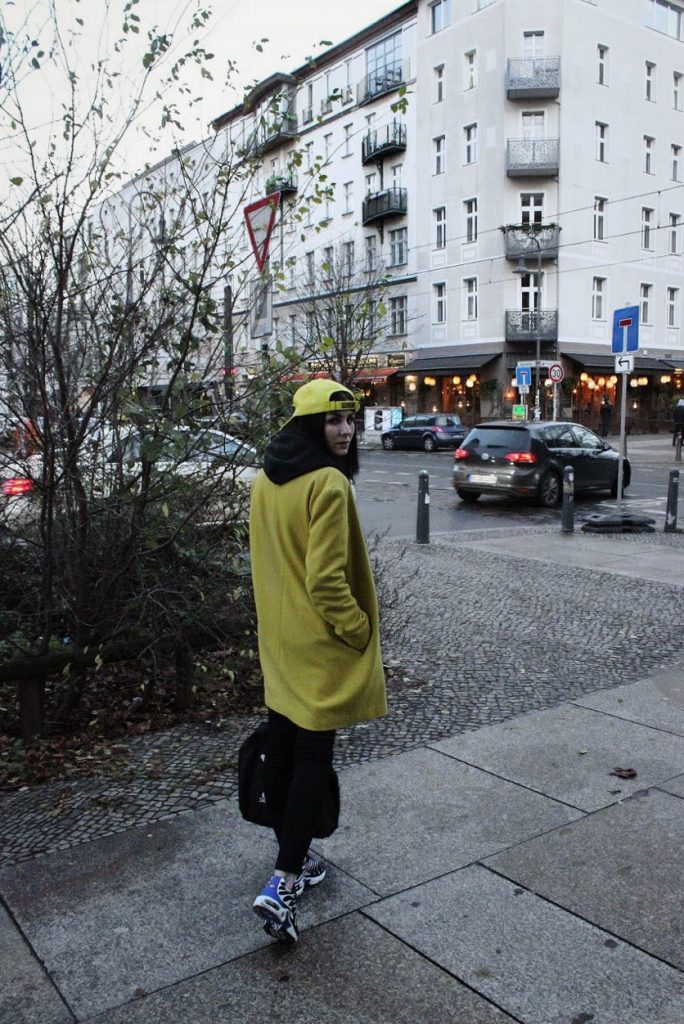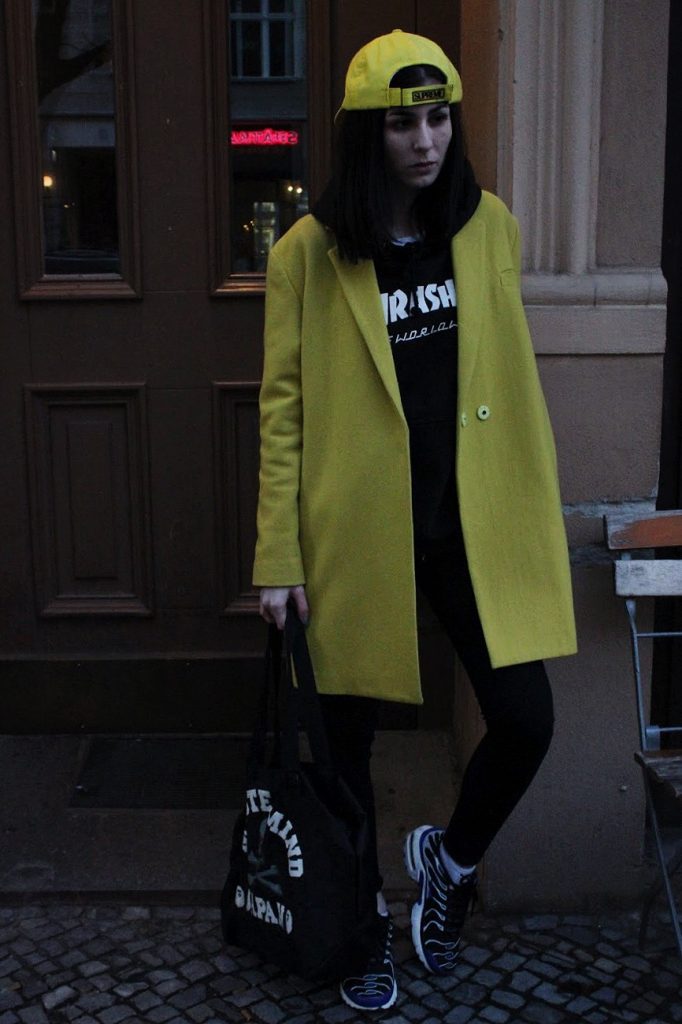 Photos: Tristan Luckow
Shop my style (advertising link*)
I have here some cute eye catcher coats. So you can also bring a bit sunshine into these dark days.
If you can´t see any products you should deactivate your adblocker.
* Transparency: The links above are affiliate or rather advertising links. That means that I get a small percentage participation if you buy something through these links. You don´t  get any disadvantage or costs.[:]