I traveled almost one month trough Bali. In the beginning I was traveling by myself and after a bit less than a week I met one of my best friends and went on with her. I summarized in this Bali and Gili Trawangan travel guide everything you need to know, in my opinion, when you visit Bali and its local area. Beside themes like taxi or money I put some hotel/hostel, trips, etc. tips togheter and what I'd never ever recommend. Especially the hotels/hostels are for budget travelers. All hotels/hostels I visited (except one) had nothing to do with luxury but most were pretty and clean and spontaniously bookable. Well you see this is a pretty big travel guide but it´s also everything in it you need to know.
Table of content:
Vaccinations
Very important! Since I had booked my trip relatively spontaneously I had to go to the Tropical Institute of Berlin to get vaccinated. If you already plan the trip about 6 months in advance, you can also go to your local family doctor. It is important to check this point as soon as possible. Of course your doctor will also advise you on which vaccinations you need for Bali. Most important is hepatitis A and B, something like rabies I have for example omitted because I like to omit everything that's chemistry from my body which does not necessarily have to be.
Taxi/ Uber
I recommend anyway to go everywhere with Uber because it is cheaper and also safe. In contrast to Germany you can only pay cash, therefore I advise always to have enough small bills with you. Often drivers try the trick with 'sorry I can not change' to dust off more tips, that is just super bold. Ubers are not allowed in cities like Kuta or Ubud but you can book them anyway. If the drivers want a higher price, as it is on the Uber App, that's fine. You should still not let yourself be ripped off, that's what they love to do. Otherwise I would say rent a scooter, that comes with about 4 euros a day even cheaper, especially since you are completely in a fix in Bali without a drivage.
Rent a scooter
I highly recommend renting a scooter, you can avoid the traffic jams most of the time, have the ultimate sense of freedom when driving and it is very cheap. Unfortunately I do not have a driving license so I had to go by foot or via Uber when I traveled alone. By foot it is just hell with this traffic and since I had no internet I could only order a Uber from my accommodations. In addition, you (not exaggerated) talked to every few meters, if you want a taxi. Or worse, people who want to sell you something and then get angry if you say no. So never walk longer distances in the end you are just angry and you should not be in this mood on vacations. As mentioned above, the average cost of a scooter is 50,000 – 60,000 IDR per day, everything over this is too expensive. Sometimes you have to walk around a bit to find out who is good and often there is even a discount if you rent the scooter for several days. Always check right at the beginning if the brakes go, because we had the problem at one day that the left brake was broken. So we had to exchange it after a short time and that took very long. The papers are usually when you fold up the seat and when the police comes you should always put the key in your pocket, because if they have it they have you in their hand. By the way, we met a guy form Germany, he had just a normal driving license whit him. The police gave him almost 100 euros penance because he had no international. The thing is that you don't need an international licence in Indonesia… So don't let yourself blow over your ear, the police officers in Indonesia are not like in Europe "your faithful friend and helper".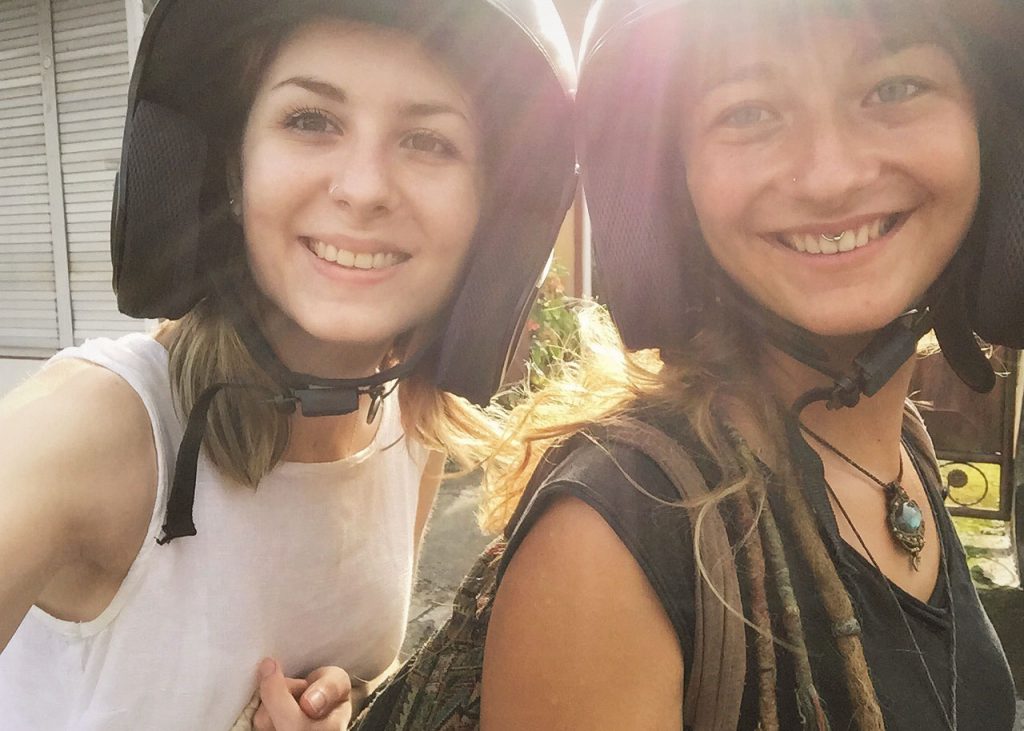 Money
Let's start with the currency, Indonesia uses Indonesian Rupees (IDR). One euro is about 16,000 IDR, of course that changes again and again. I would not take too much but rather take off again and again. The fees at the machines are very, very cheap.
Tip
I generally only give tip at the end of a service. If you only stay one or two nights and do not need room service, I think you do not have to leave a tip. I mean they did nothing, you would never give some one tip in Europe if they don't do anything for you at all. From three nights I would say that you can leave so 10,000 IDR in the room. Of course always depends on the price of the room. If you are in a luxury hotel it should be a bit more like in a hotel which just cost 80.000 IDR the night.
Accommodations
I wrote something to every hotel and hostel I vistited. Beside a rating I wrote some words down to every accommondation. It´s an easier search for you and saves some bad experiences.
Hotel Griya Sanur
I spent two nights in this Hotel and paied 30 Euros, without food. I had free wi-fi and a beautiful swimmingpool right infront of my room. The furnishings are not the newest and a bit worn-out. There were some strange stains on one of the towels, except this was everything clean. All employees are super friendly and helpful. On th tv was just Indonesian transmitters, but I was anyway not there to watch tv. This hotel has a restaurant which offers room service for a small price. In my room were two bottles of water and a kettle freely available. The light in my room wasn´t that bright, putting make-up on was a big challenge. Your 5 minutes away from the beach by car, when you walk you have about 15 minutes. I don´t recomment to walk because there is only a main road with no walkway and you need to get over this big street with six lanes which is always full with many fast cars and scooters. I had a nice stay at this hotel even it was a short stay. The location isn´t the best but when your inside of the hotel your hear nothing of the main road right beside the hotel. I can recommend this hotel with a good feeling. The price-performance ratio is amazing, I would rent a room here again.
Rating: 8/10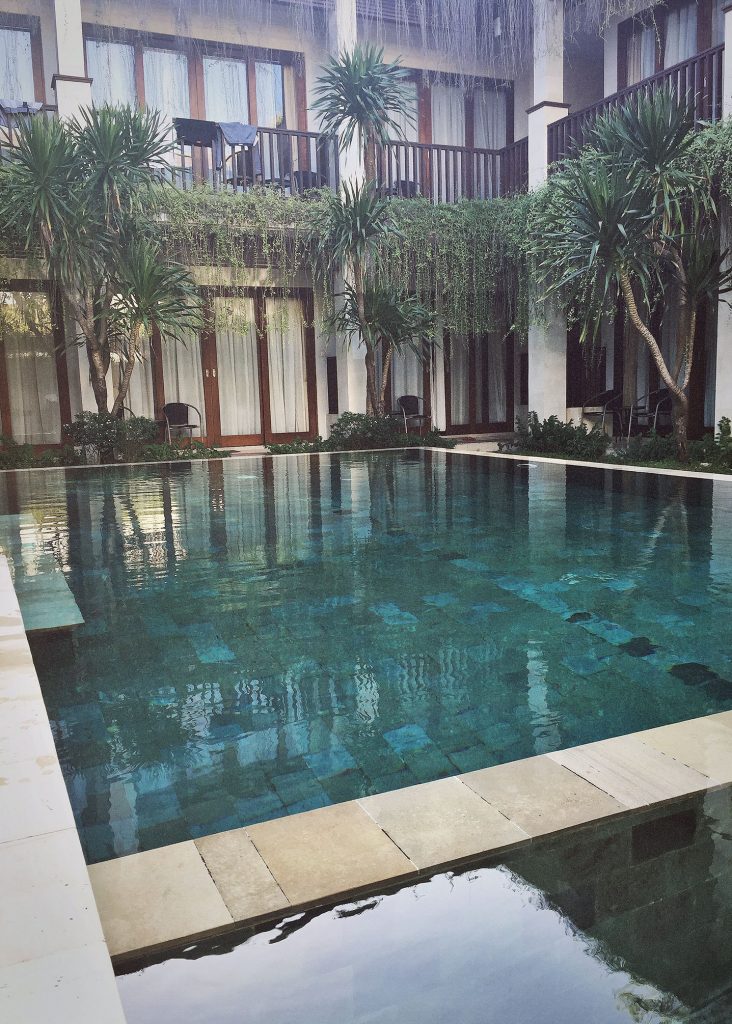 Dewi Dewi Villas, Sanur
I spent three nights in one of the Dewi Dewi Villas for a price of 48 euros. The area of this place is very small, they only have like 10 rooms. The approach was very complicated, my Uber driver was even confused. As soon as you know the way, you're fast on the main street where all restaurants are. You have only about 10 minutes to the beach by foot. The room was furnished like a one-bedroom apartment. The bedroom was also living room and kitchen, which was a big plus point for me. Strangely enough, there was no cooking pots or cooking utensils anywhere. There was only a fridge a stove and many empty shelves, although a plate and a cup were there. In this hotel I had breakfast included in the price, but I was told nothing. At half past eight in the morning I was woken up and asked when I wanted breakfast. It's not like you could have said that at the check-in or during the day before. The outdoor area was very disappointing in my eyes. There were two tiny pools, but they were separate and you only had access to one and everything seemed to be squeezed together. In addition, the outdoor area, as well as the pool was not specially maintained. The staff was friendly, but I'm not sure if they meant it, it seems a bit set up. Internet and air conditioning were available, but this is a requirement for me. What I did not really like was that the door had a crack at the bottom, so insects and especially mosquitoes could easily get into the room. I just grabbed a towel and put it in front of it (was a tip from my mom). So the room was very pretty and clean at first but on the second day everything was full of ants and small spiders. At the communication should also be worked, as generally at the cleaning. The price / performance ratio is okay, I have not really paid much but I would not come back. In addition, you should not stay longer than one or at most two nights. I could not wait to leave this place and to be honest I don't understand the good rating on the internet at all!
Rating: 2/10
Dewa Bungalows, Ubud
This hotel has cost 35 euros per night for two people. The room was very clean in contrast to the last hotels but it had no TV. To be honest it doesn't matter to me, I do not understand the Indonesian channels anyway. The pool is pretty but also a bit crowded with people. I am satisfied with this hotel. Since the place is a little more popular and the hotels are therefore more expensive, the price / performance ratio was more than good.
Rating: 8.5/10
Dian Homestay, Gili Trawangan
We spent two nights in the Dian Homestay and paid for each person 195.000 IDR that are not even 12 euros. The small room was clean but very dark. Unfortunately the lamps did not donate much light. On extras such as mini bar or hair dryer was nothing – not even a TV. The toilet or the whole bathroom reminded me of a torture chamber but to be honest all this is fine for this low price. In the same price segment was otherwise a multi-bedded room with bath in the open air…
Rating: 5/10
Ombok Sunset, Gili Trawangan
This hotel is probably one of the best in Gili Trawangan. After the rather cheap accommodations before we wanted to "grant" ourself some luxury. Our room was beautiful, I really did not know what to complain about that. Except for the bathroom light, that could be a bit lighter and the spray from the shower was quite small. The pool area, as well as the rest of the area, was just as nice as the room. As we walked from our first hotel to this, we arrived accordingly sweaty at the hotel. We were treated so generously by the reception that I can not even put it into words. The rest of the staff was polite and greeted but the receptionist was just horrible. The guy should really be fired, I mean who the fuck he think he is. Anyway, the breakfast was included in the price and really great. In addition to the breakfast there was afternoon tea and pastries for all. Otherwise everything was just more expensive, like a few meters next to the hotel. The bicycles e.g. cost here 75.000 IDR and normally you pay 40.000 IDR. The food and all the cocktails were extremely expensive. Unfortunately the internet was also very bad. But since we had made such a "bargain" I can not grumble at the price / relation ratio. Therefore there is also the rather high rating. As I said the location was a dream but there were some things which are not okay for a luxury.
Rating: 8/10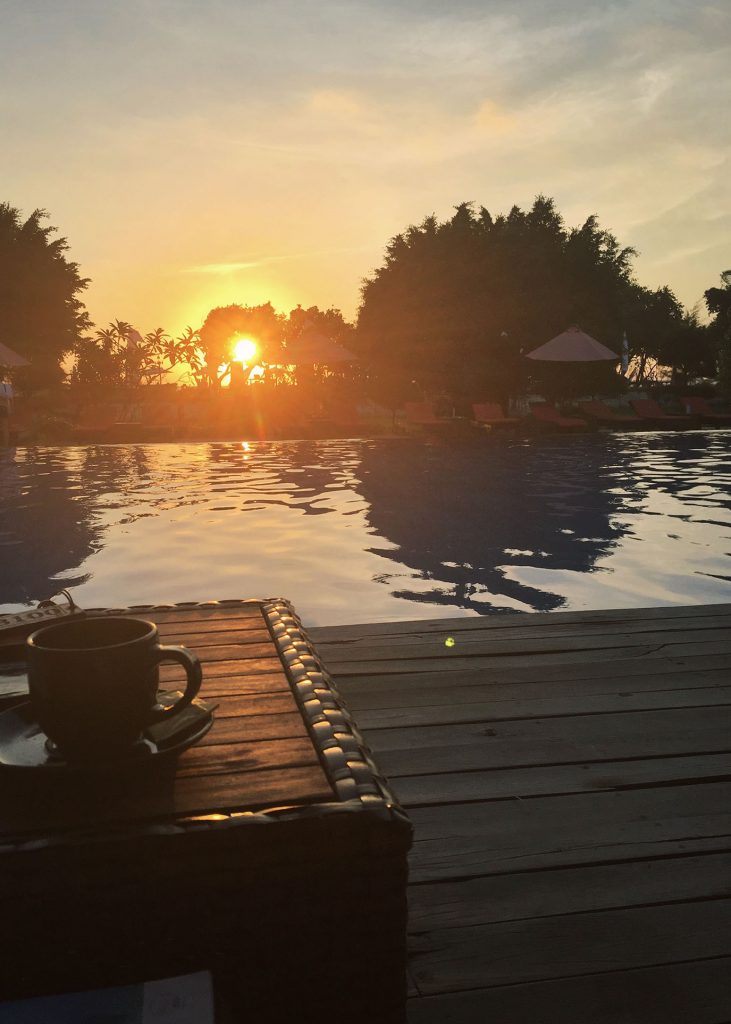 Halaman Depan, Ubud
In this hostel we clearly paid the least, 40.000 IDR per night that means 2.45 euros. It was clean and housed many nice people. This hostel was a bit out of town. It had a restaurant directly infront of the hostel, the food was cheap and good. The stuff was always nice and every bed has a reading light and a socket. It was also really cool that every bed had a curtain so you had a bit privacy. The only thing that was not so cool was that all backpacks and suitcases needed to be locked infront of the door. There was no luggage alowd in the rooms.
Rating: 7.5 / 10
Canggu Beach Hostel, Canggu
The first thing we had to do, and what I thought was the stupidest thing about this hostel, was that we had to put the clothes we needed in a plastic bag. It was about the fact that no bed bugs from the backpacks and suitcases come in the rooms. Actually it's a good idea, but if the bedbugs are in the clothes then they'll come anyway in the rooms. Even if this was pretty stupid the rest was okay. The pool area for example was really cool and we had excess to a gym like 10 minutes by walking down the street. Food and drinks were very expensive and there was not much in the area, which was not great but what they offered was really delicious. The cleanliness and decor were also a big plus. It was all relatively modern. My highlight was the bathroom, the shower was like home with wonderful warm water. The rooms were quite small with four-story bunk beds. In total there were 12 beds in one room. Everyone in this hostel was very friendly and open, it was easy to meet new cool people. The offered wi-fi was very good at the pool, but up to our rooms it was not really enough.
Rating: 7.5 / 10
TZ Party Hostel, Kuta.
The location of this hostel is really great, it is right next to the Skygarden and costs just over 85.000 IDR per night. We had actually booked a four-bedroom but since they were all full we got an upgrad. Of course we were really happy to have some more privacy. Breakfast was included there was tea, coffee and pancakes. There were two pools on the area, both of them were pretty. Oh, and you can play billards for free. So far everything sounds good… But I bet you already noticed the bad rating. So, the rooms are faulty. They are very run-down and do not look really good, but what do you expect for 85.000 IDR? A luxury hotel certainly not. I hurt myself one day, that was not cool. At the front pool was a plate loose and I crashed. Fernanda brought someone who should fix it. He really did not change anything and didn't even apologized for what happend. So who goes there and wants in the first pool, take care with the plates around the pool. The whole thing is called Party Hostel but it was more of relaxation from the big city noise than anything else. Party was only heard at night as the club (SkyGarden) was very loud. Even if you went back to Hostel at three AM, when most people were gone, the music booms through the walls until the morning hours. Free wi-fi was also available but only at one of the pool areas – the connection was actually very good for Balinese standards.
Rating: 6.5 /10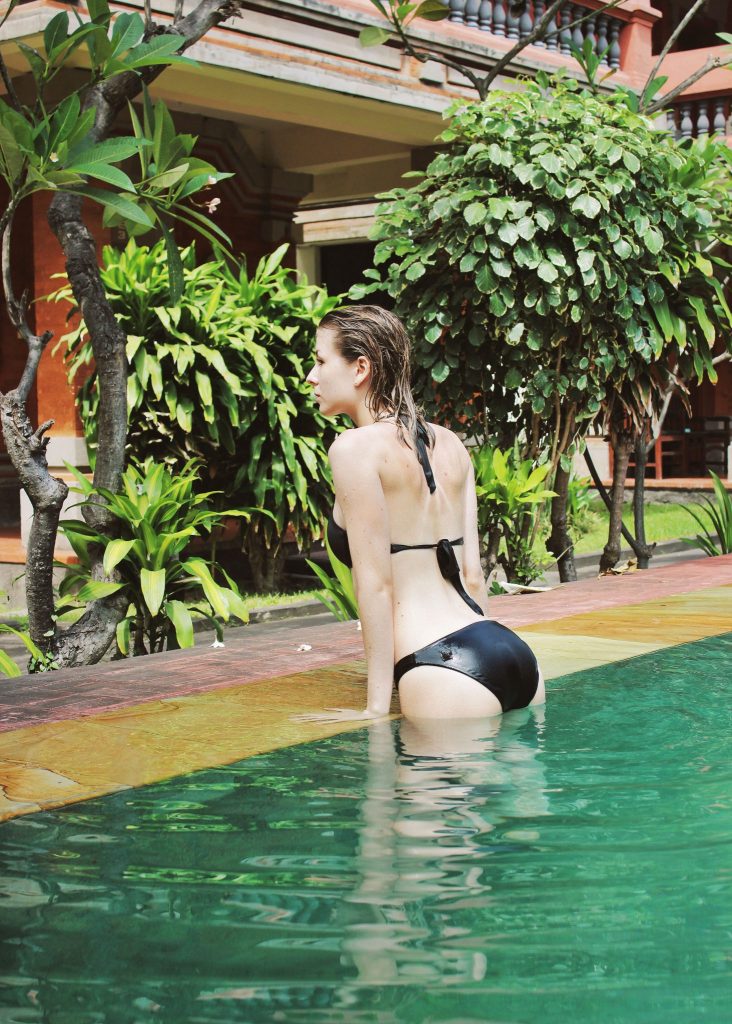 Mirah Hostel, Kuta
I highly recommend this hostel. There is a sweet pool and a big bathroom with nice showers and clean toilets. Unfortunately there was not always toilet paper, luckily I had a roll with me. Breakfast was inclusive until 10 o'clock and no min later. Water and tea were for free the whole day. There was a curtain in front of each bed and you had your own socket and a reading light. It was great to have so much privacy despite mass beat! We paid 80.000 IDR per person per night and 10.000 IDR for the key card per person (you got the 10.000 IDR back when you checked-out). On the outside area was very good internet connecten, in our rooms unfortunately not. We even could watch a movie next to the pool, that was cool.
Rating: 9/10
Accommodations
Pantai Semawang, Sanur
The nearest beach of my two Sanur accommodations was the Pantai Semawang. The beach is very pretty but nothing special from the optical. Which is cool, the length. You can walk endlessly along the beach. The highlight should be the sunset, which can be seen from there amazingly. I never saw him because I did not want to be alone in the dark on my own. Some people were even during the day scary enough. The only stupid thing about this beach is that it's full of hotels. You have to search really long to find a piece where you can just lay down in the sand without 50 tourists around you. A few sweet restaurants or bars would not be bad either. When you walk for such long time you get hungry and thirsty.
Monkey Forest, Ubud
I highly recommend the Monkey Forest in Ubud, you just have to see it. For an entrance fee of 50.000 IDR for adults and 40.000 IDR for children you can see little cute monkeys where the eye can see. If you buy a banana you can also put a monkey on the shoulder and take cute pictures. You should not touch the animals without a guard whos watching as they are snappy. Especially if you go to the little ones, the parents can be very angry. By the way the little monkeys are more skilled than you think, so take care of your stuff. One of the baby monkeys stole a cinnamon oil from the outer pocket of Fernandas backpack and even opened the vial.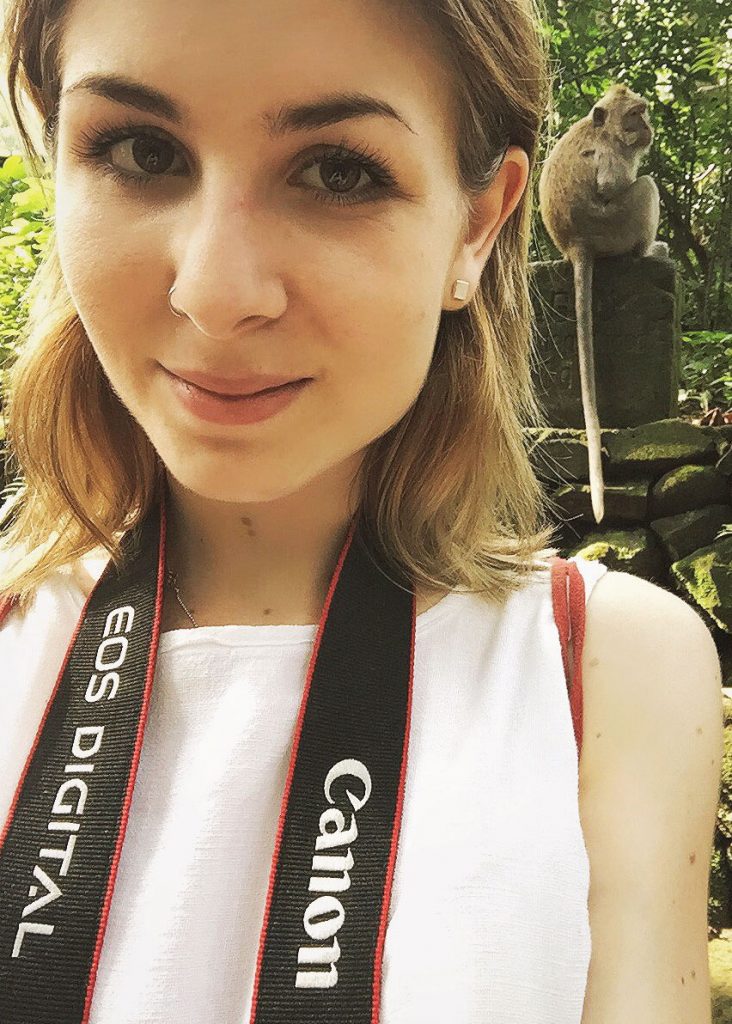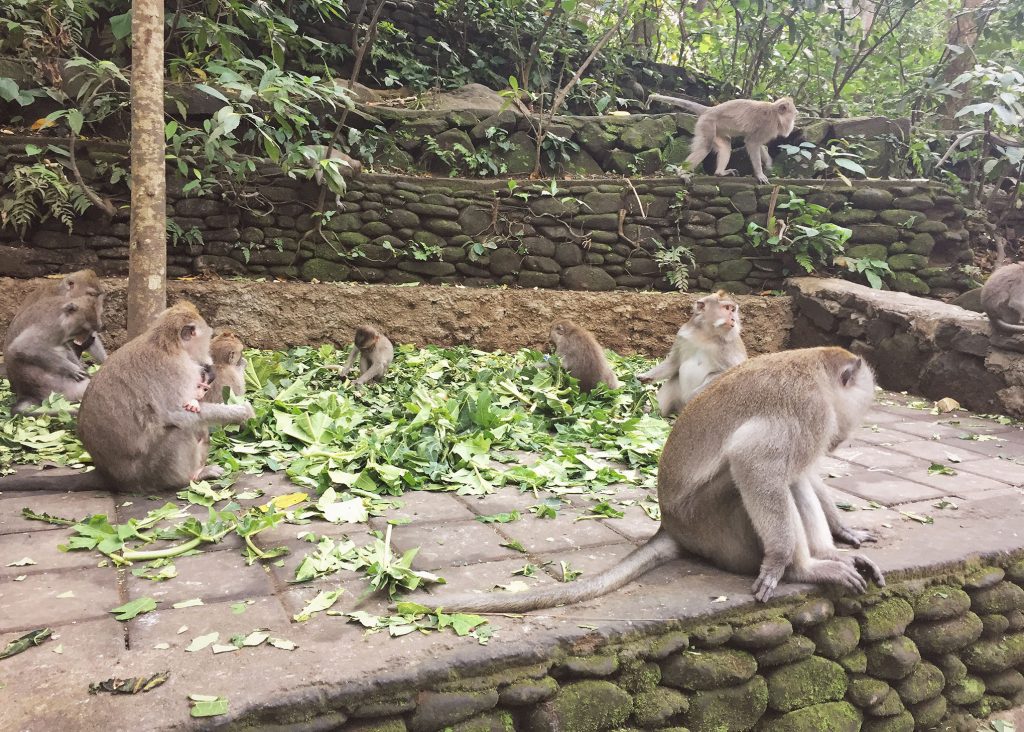 Rice fields
As soon as you're outside of the cities, rice fields can be found everywhere. This is so beautiful and recommended. The best thing to do is to rent a scooter and drive around. You have the ultimate feeling of freedom when you do this. The most beautiful rice terrace is probably in Tegallalang, but is also the most visited one. You will meet there a lot tourists and if you want to walk through the rice fields you need to pay like 20.000 IDR.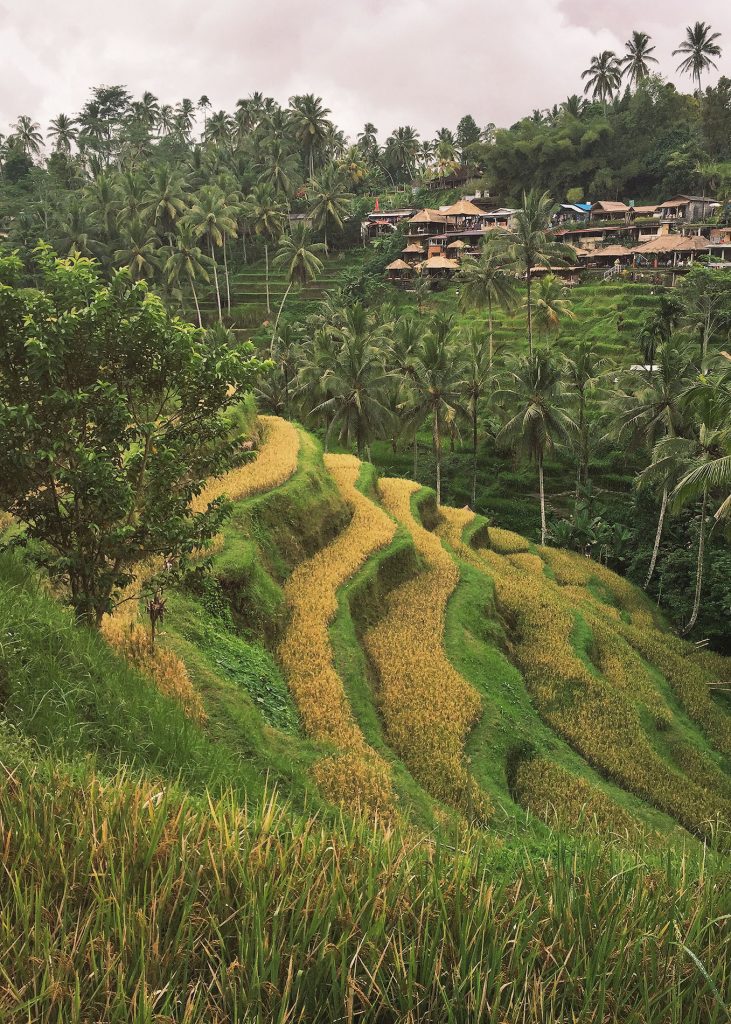 Sea swings, Gili Trawangan
In front of the Hotel Pinkcoco is probably the most famous swing of Gili Trawangan. As soon as sunset stars people stop by to take a picture on this swing. Also at our second hotel, the Ombak Sunset, were swings. However after you did this once the magic is over, I just took one evening some photos on a swing. In addition, the swing at Pinkcoco is also pink and that's a bit cooler than normal wood. Waiting and taking some pictures during the sunset is definitely worth it. I still enjoy to look at these beautiful pictures.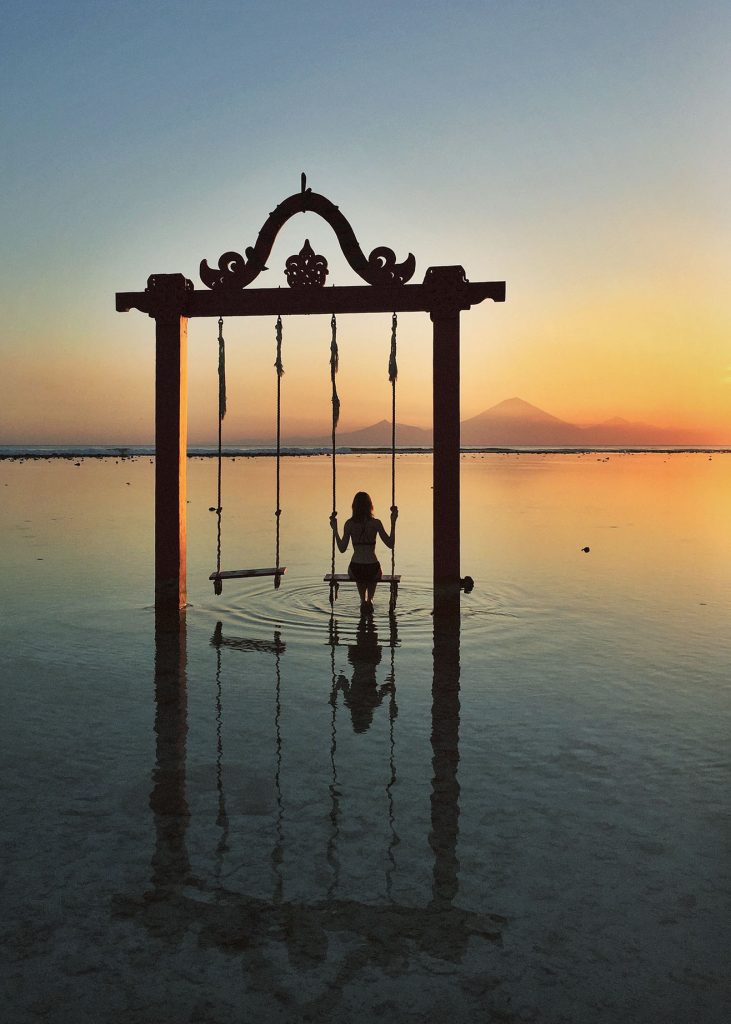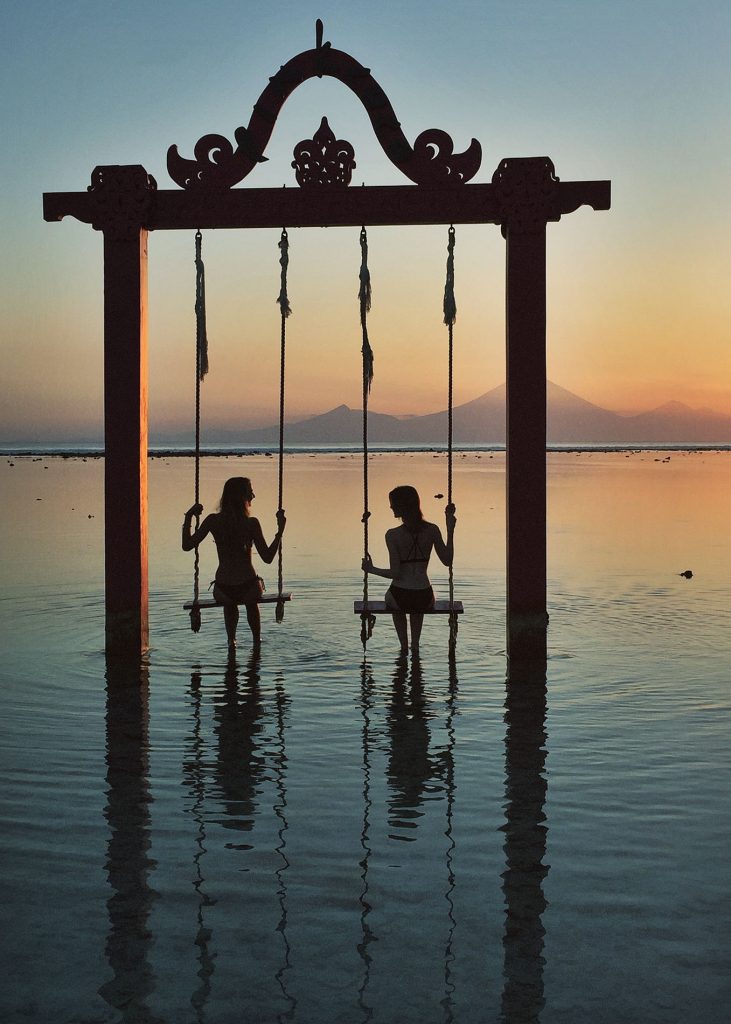 Bicycle tour, Gili Trawangan
On Gili T are no cars or motorcycles. On the whole island you can travel on small carriages, on foot or by bicycle. I recommend to rent a bicycle for 40.000 IDR a day and driving around the whole island. So you can discover every corner of this paradise.
Lonely bay, Boneo
When Fernanda had to extend her visa, we could decide to wait three hours in the office hall or explore the area. Of course we decided to explore the area. If you walk on the big beach (in Boneo) with all the hotels to the left until the end you come to a park. When we were there a jazz festival took place there. Relatively at the beginning of the park you can turn right and you get to a beautiful sandy beach, which is right next to a small temple. There were no people at this bay and the beach was very clean. So I can really recommend this! If you need a bit of relaxation and rest from everyone you can get it here. Besides that, you can also take beautiful photos. I also shoot an outfit post there with Fernanda.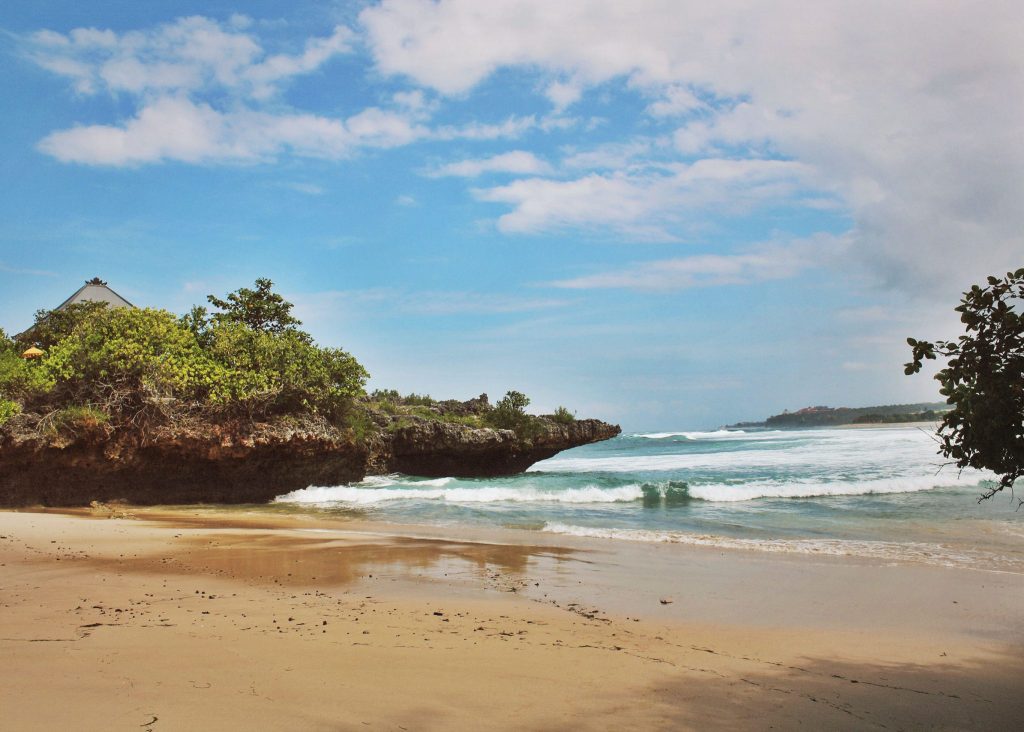 From Bali to Gili Island/Lombok
Ferry: over 8 hours way via Lesbar
Fast Boat: 450.000 IDR round trip including transfer in air-conditioned bus (for example easygili.com), about one hour way from the harbor
I heard that you can also go with a helicopter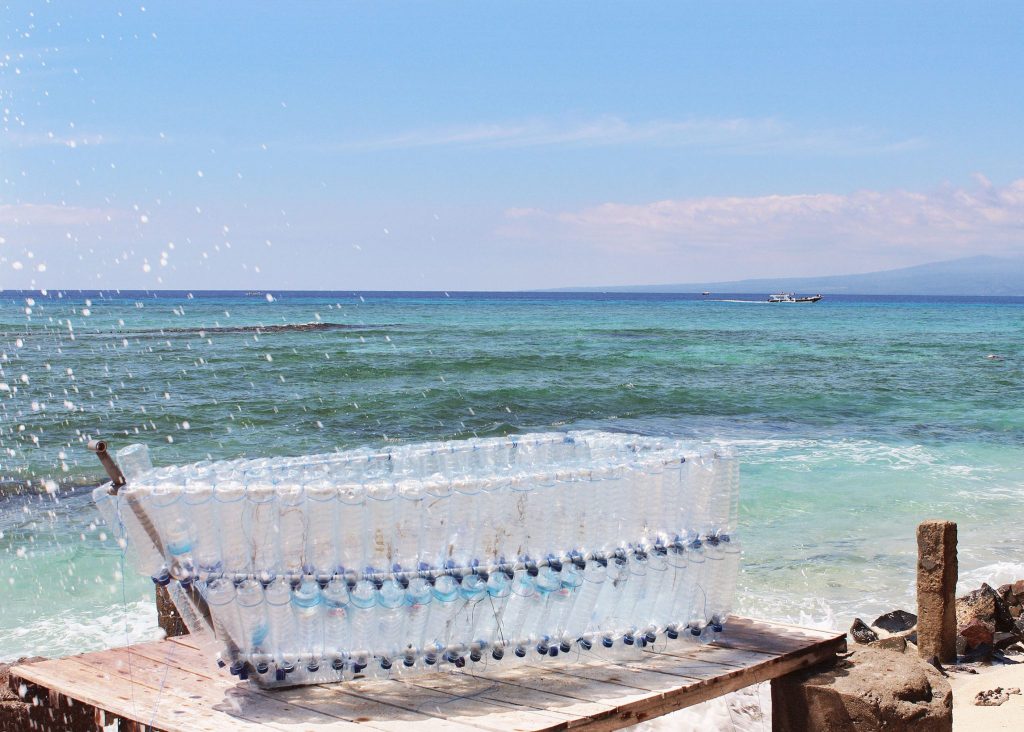 Restaurants
Soma, Ubud
Soma is a bit more expensive compared to other restaurant in Bali (for me, of course, still cheap compared to Germany). The atmosphere and the service are amazing. I felt very comfortable right away in this restaurant with the babbling little fountain in which sweet fish were swimming. I paid 7.000 IDR for a water with Lemon Oil and 79.000 IDR for a main course, which is about 6 Euros. Most dishes are vegetarian and vegan. For people like me are also fish and pizza on the card. By the way, you can have breakfast at Soma and there is free WIFI. Something was a bit over the top… When we wanted some bread to our sauce and had to pay four euros for it. The funn/dumb thing is that this bread wasn't even brad it looked like a pancake and tasted like nothing.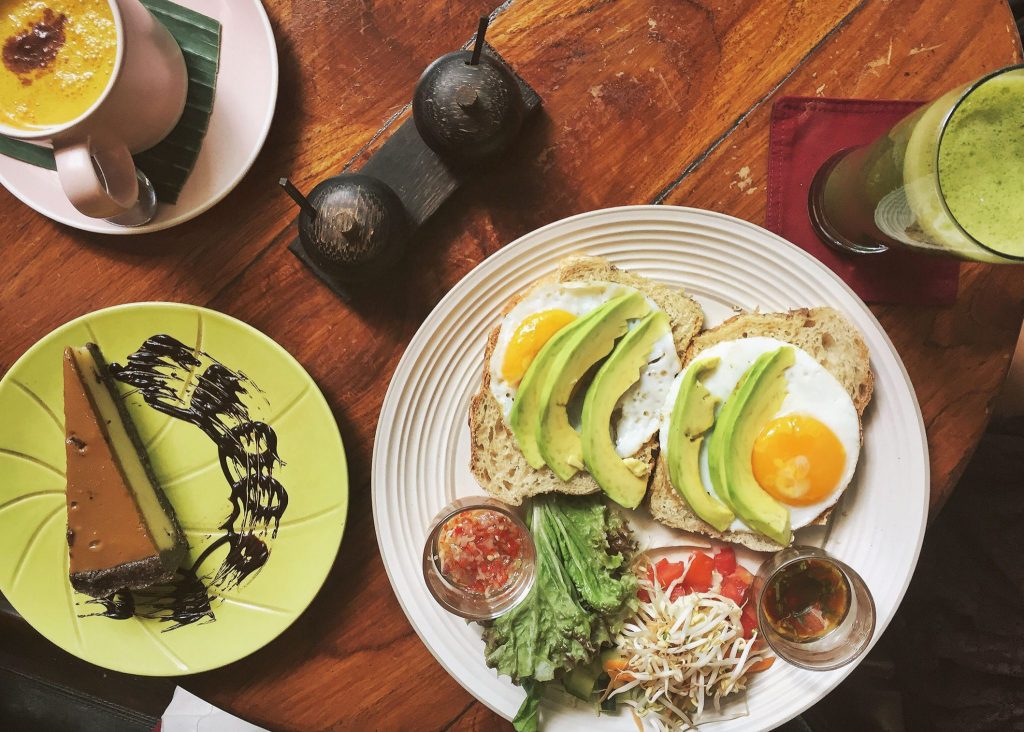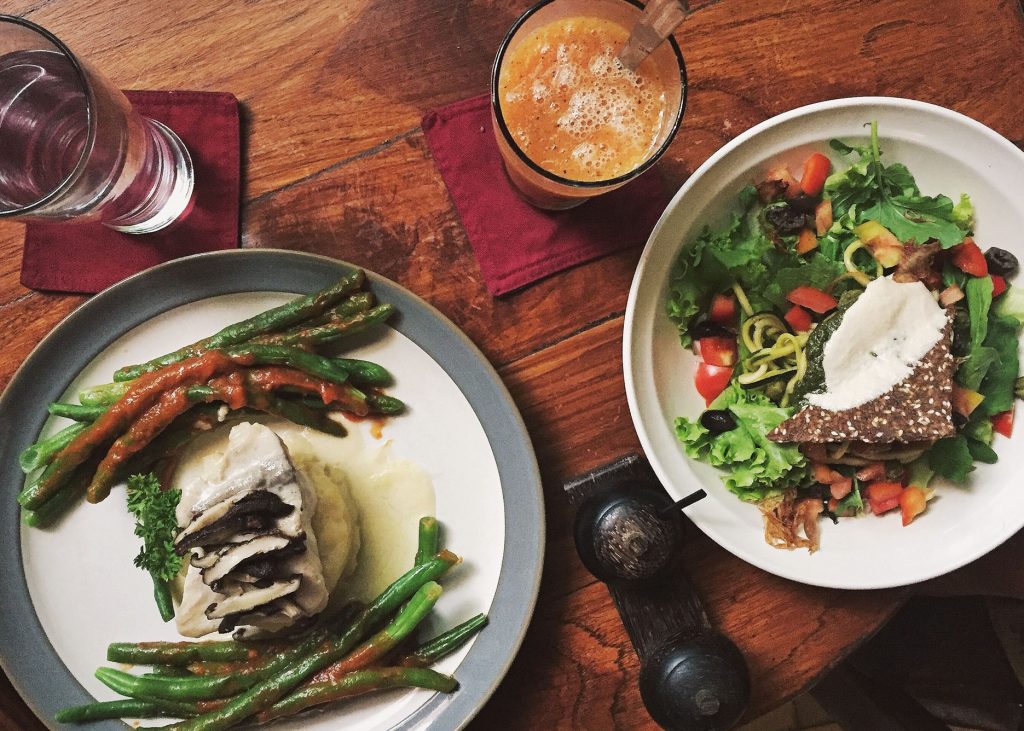 Gelato Secrets, Ubud
Beside the sweet furnishings Gelato Secrets serves delicious ice cream and waffles. A scoop of ice cream costs 25.000 IDR, a waffle 15.000 IDR and if you still want a topping you pay 5.000 IDR on it. Anyone who likes sweet cafes should definitely go there.
Pizza Bagus, Ubud
We went for dinner to Pizza Bagus when we were in Ubud. The location is not the best as the restaurant is right beside the main street. However, the prices are pretty good especially for Ubud and the food tastes good too. There is also free wi-fi in this restaurant but it did not work for me. Right in the restaurant is a shop with Italian specialties, that is really cool.
Diversia, Gili Trawangan
Fernanda and I were at Diversia for breakfast. The location, like most of the Gilis, is gorgeous with sea view. The food is delicious and the price performance is okay. In the small restaurant is free wi-fi, that is really cool.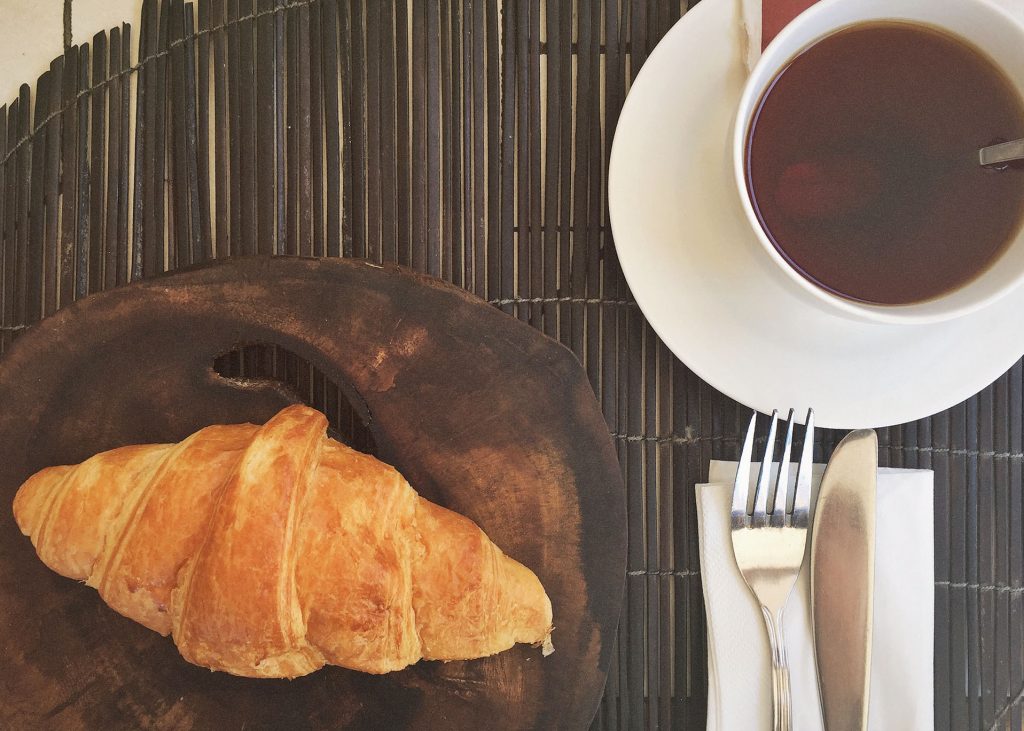 Juku, Gili Trawagan
The price / performance ratio is really great, as well as the food and the location. You can eat in small pavilions which are equipped with pillows. In addition, the restaurant is right on the beach. The only thing that was a little silly… One evening when we were eating there I said several times that I do not want onions on my spaghetti and then I was brought a serving of onions. When I went to complain I was ridiculed which I was not okay.
Party
Irish Pub und Jilly Bar, Gili Trawangan
Since both bars are pretty much the same, I took them together and would like to give a few other party tips on Gili T. Both bars have good music, great people and cost no entry. The party is, as with all bars, mostly outside on the beach. Every night is in another bar party until about four o'clock in the morning. All others close at midnight.
Unfortunately I do not remember exactly which bar it was, but it was right next to the restaurant Juku, where you could play Beer Pong. This is really funny and a great start into the night. My little tip for the Gili T regarding alcohol is to buy it in a "kiosk". There he is the cheapest, in the bars are shots and other alcoholic stuff like 100 times more expensive.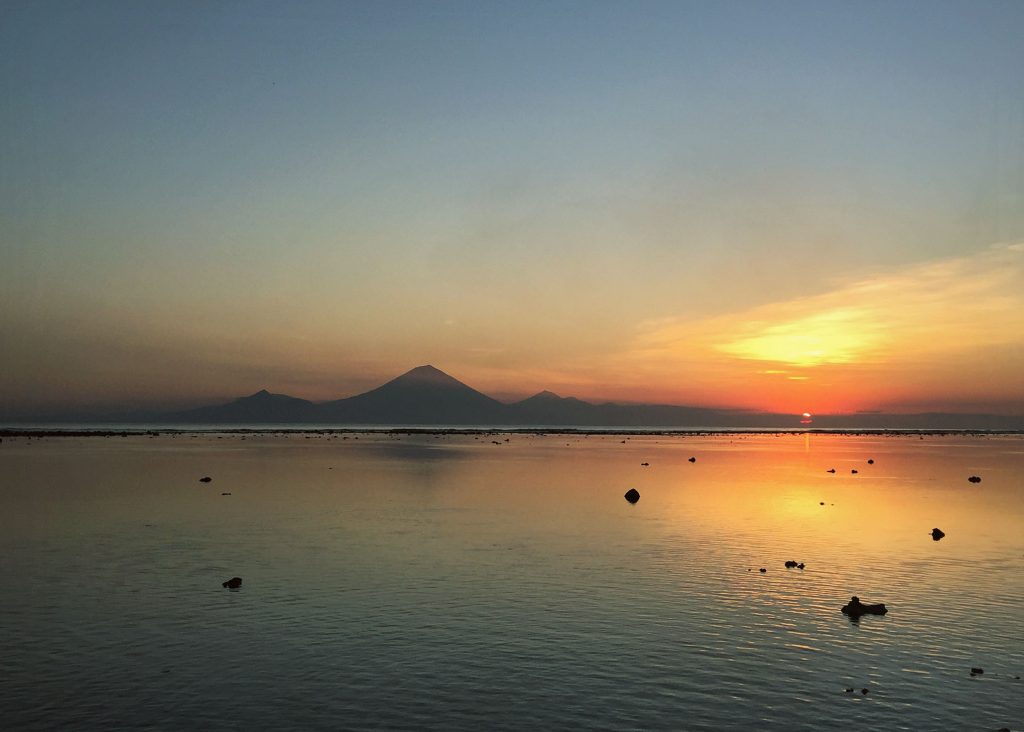 Oldman's Bar, Canggu
In Canggu the IT restaurant is the Oldman's Bar. After surfing (which I unfortunately did not do) a beer is drunk there. When the bar closes it goes straight to the beach and the party continues right there. Or I would say that it is only then really going off. The later it became the more horny everyone was, which was a bit disturbing for people like me who have a boyfriend at home. In the bar and at the party you did not have to pay admission.
SkyGarden, Kuta
If you're in Kuta and want to celebrate you should definitely visit the SkyGarden. For 115.000 IDR, in addition to free drinks until nine pm, there is a huge buffet with themed food. After that, the rooftop party will be held until the morning, with a total of four floors spread throughout the building.
Conclusion
The Gilis are a totale must, you just need to visit them if you´re in Bali. It´s like paradise and everyone is so nice there. Kuta whereas is the worst city I ever visited. People are unfriendly, aggressive and someone wanted to steal my bag really noticeable. Anyway this was the best time of my 22 year old life. I hope I can visit this beautiful country soon again!
P.S. Don´t forget to take all cables and electrical equipment with you. It´s really hard to find an electrical shop in Bali. And sorry because of the bad quality iPhone photos, my SD card with all the photos is broken.