Berlin Fashion Week is already over and in this article I want to present you my street styles. The designers showed everyone their FW2020 collection and I want to show you what I like to wear at the moment.
Outfit 1/3: Late 90s Pastel Look
I just can't decide what my personal style ist. At the moment I'm totally in love with cute pastel outfits which has a touch of the 90s. There are so many nice aesthetics! For example if you play aroud with this one you get easily into the style of the early 2000s.
I got the pink fake fur jacket from Primark a few seasons ago, I have to say that the quality for the little money I spent is really great and I never was cold while I wore it. On my head I was wearing a vintage off-white Kangol hat and a long sleeve from Supreme. I pulled a pink tank top over the long sleeve, which I also bought at Primark a while ago. If I remember correctly, it was on the same day or at least it was bought around the same time as the jacket. My wide high waisted jeans are from Tally Weijl, which I got during the Black Friday sales and the glitter belt is, who would have thought, from Primark.
Yes, yes I somehow buy too much from Primark but I have to be honest that I do not see that I pay 5x as much for the same basic products with certain well-known brands if the quality is almost the same. All these allegations against Primark are no longer justified in my opinion, they have more and more sustainable products and even vegan make-up, I can't see that the big players change that much.

My boots are from Dr. Martens x Lazy Oaf, I just got them recently and I'm totally in love! The quality of them is really good and they are just super cute. What I also find cute is my bag with the imprint "j'adore", which I got at some point in my childhood from my mom. Since it is quite small and reminded me of a child's bag for years, it was just lying around. When I put this outfit together I thought that it actually fits perfectly.
For the accessories, I opted for a pair of Juicy Couture heart earrings and a rubber bear necklace, which I ordered from Aliexpress. To top it off, I put on a pair of black sunglasses, which I had bought years ago – I honestly don't know where, but you can find such models in almost every shop since they're pretty popular for more than a year already.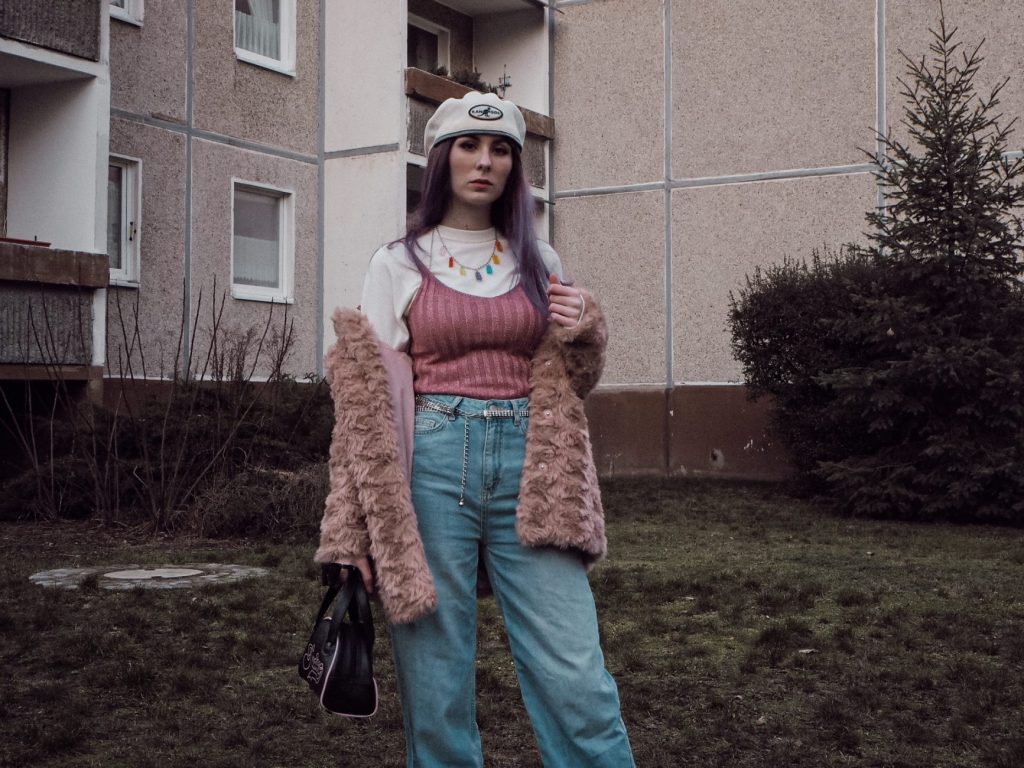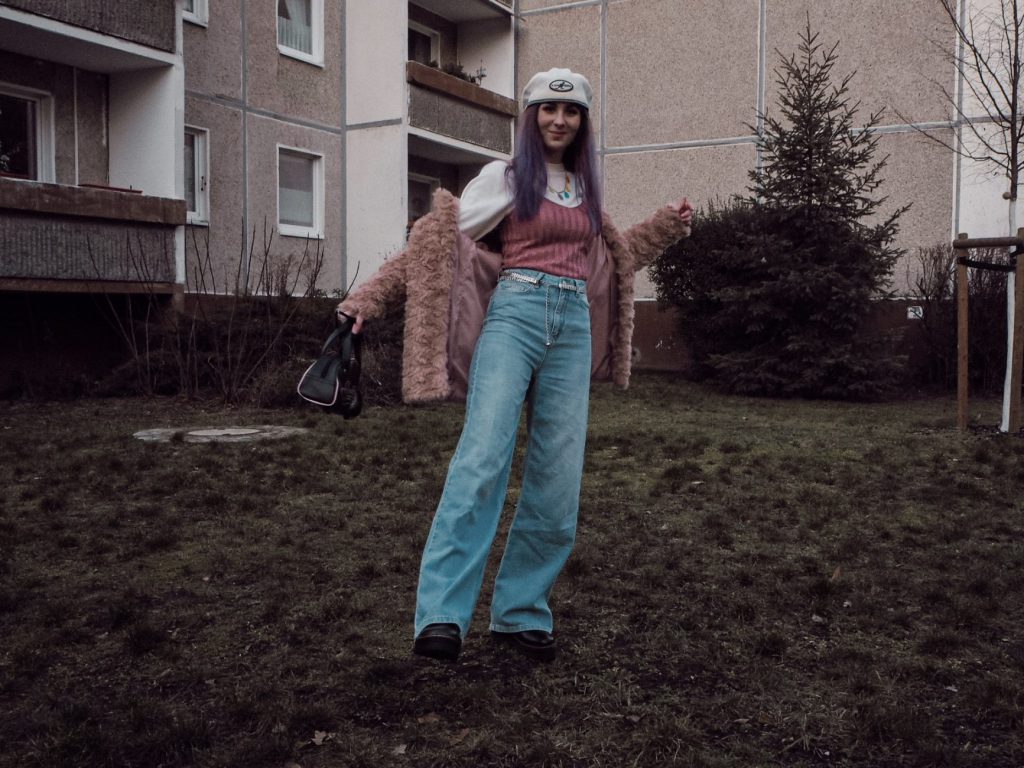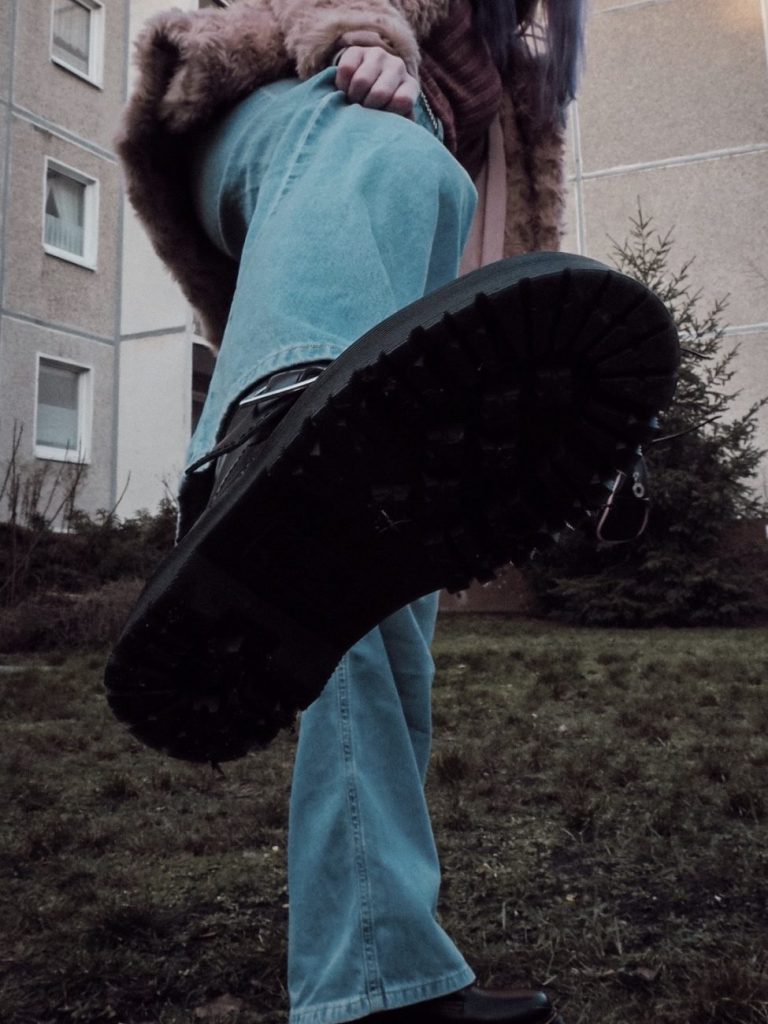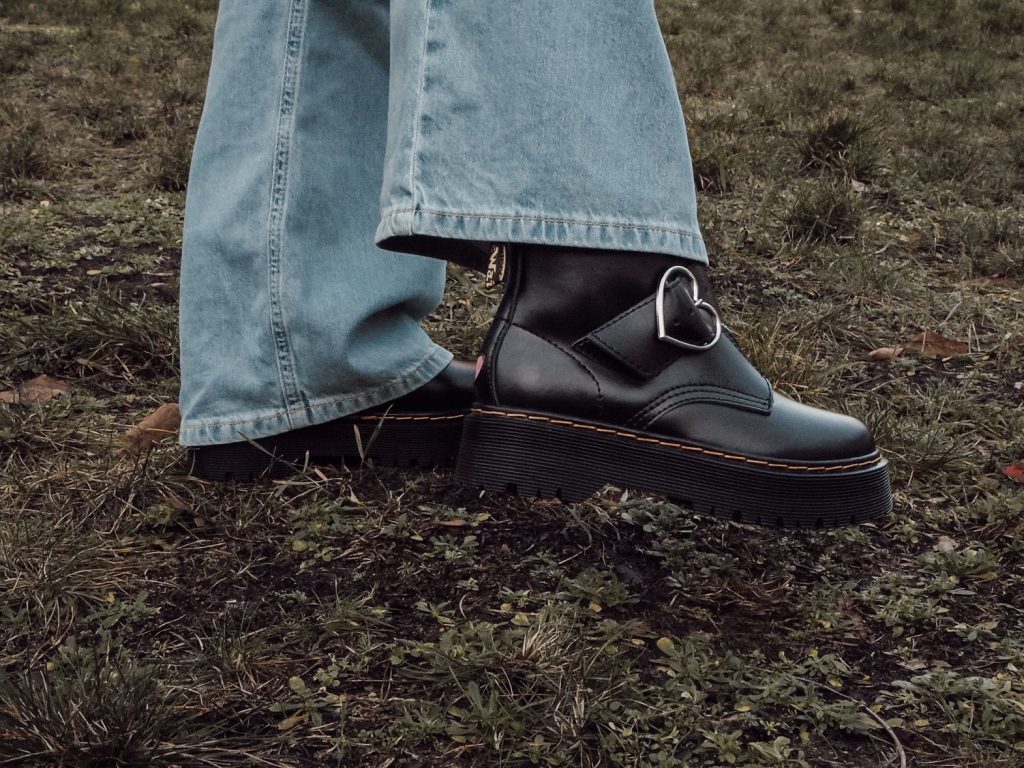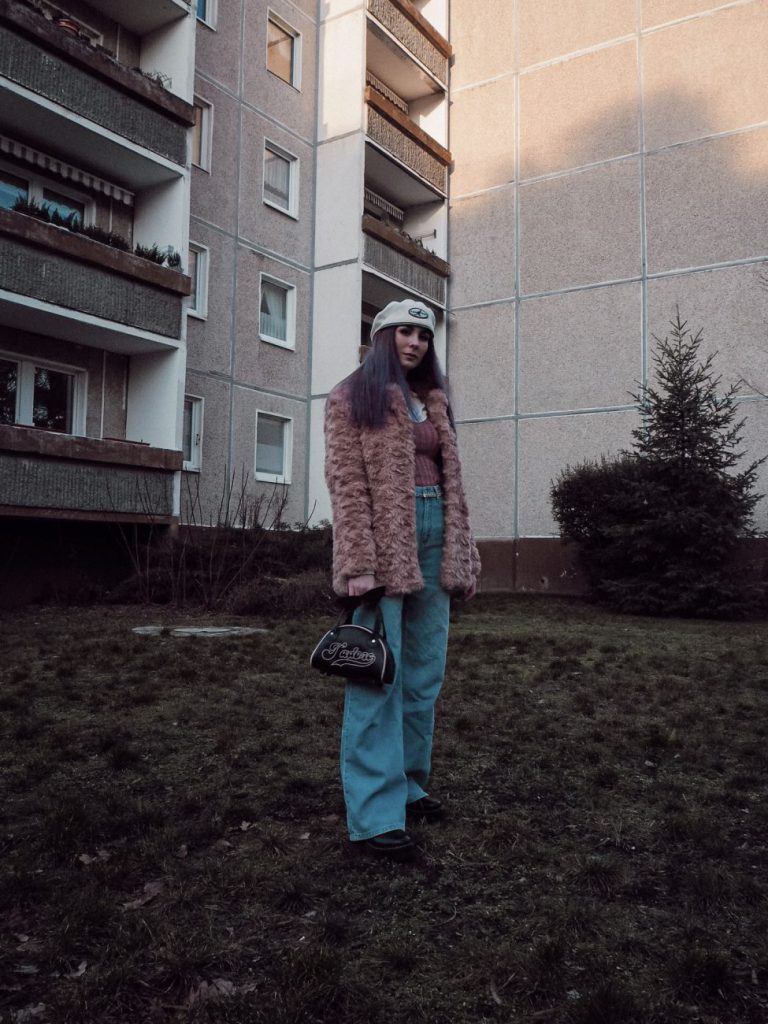 Outfit 2/3: All Black Streetwear Look With A Pop Of Purple
The second outfit for this seasons Berlin Fashion Week was actually very simple with the basic color black, due to the purple accents here and there, which were great with my new hair color, it still didn't look boring. I have said it a thousand times and I would like to do it again, I love it when I have colored hair to incorporate it into my outfit.
Despite very cold weather and sensitive ears, I decided against a beanie and for a bucket hat, well the correct name for this model is bell hat. I bought the hat 5/6 years ago in London at the Supreme store, I still think it's super chic. My jacket is also not the newest, I got it from a buddy a few years ago, it is from Nike and yet it looks quite thin it's enough for winter temperatures. Underneath I'm wearing a hoodie from the Lil Peep Merch collection and a pair of cargo pants from a Chinese brand that I bought through Aliexpress.
I wear a pair of black Converse on my feet and high socks by Huf x Thrasher underneath. The cute little bag, which of course also matches the color perfectly, is from Tod's. I bought this one, like most of my luxury bags, second hand. Unfortunately in the crowd between the shows somebody came too near with something sharp, I noticed in the evening that my poor baby had a small hole.
I also wore jewelry, if only two pieces. On the one hand it was a silver ring and on the other hand it was a pair of purple cross earrings.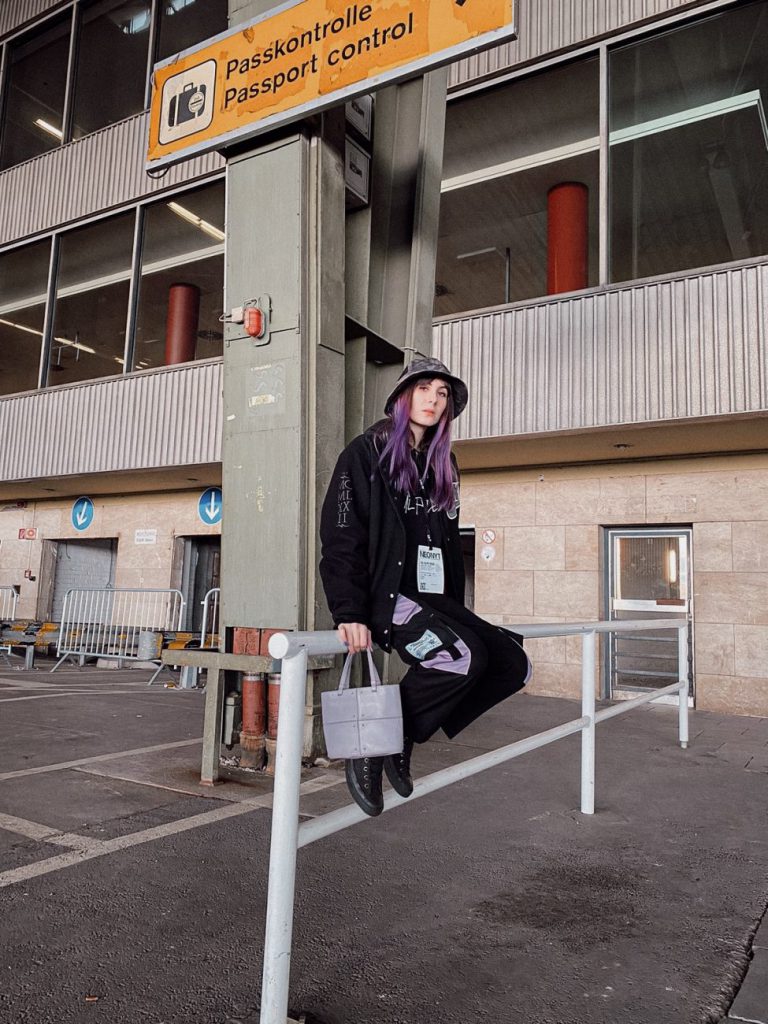 Outfit 3/3: Casual All White Look With A Pop Of Black
Something completely different was actually planned for the last day of Berlin Fashion Week. I wanted to put on a dress and a couple of old cowboy boots from my dad. With thin stockings, however, I would have frozen to death and I only had normal tights in dark colors, which you would have seen well under the dress. So I quickly threw the whole idea over board.
You can see the spontaneously thrown together Plan B outfit for Berlin Fashion Week day two here. All white with individual black accessories. It is simple, comfortable and stylish. Actually perfect for fashion week. I mean, of course, I like to dress a little more special, but on these days it is much more comfortable to walk around like you do every day than with high heels and dresses which are not made for driving with public transport.

Let's start with the head again; I'm wearing a normal white beanie without a logo, brand or what do I know. The coat is from my granny, everyone should know it by now and I got the scarf from Zara, I bought it while I was still in my appreticeship – now I'm no longer a big fan of the brand. Funnily enough, the scarf is really my favorite, even though it already has some burn holes and looks a bit shaggy, but it's just so cozy.
My top consists of two layers. The t-shirt is from Supreme and the sweater underneath from vince. I think this combo is really cool. Why should I refrain from wearing my t-shirts in winter when there is such a simple and stylish solution.
Like on day two, I got my pants from a Chinese label that sells its pieces through Aliexpress. The black belt is from Brandy Melville and the nice chain on the pants is also from Aliexpress. My bag is a Valentino from the 90s and on my feet I wear a couple of white Dr. Martens.