Whoo, I just came back from my holidays in Switzerland. I spent seven of the ten days with my family in the mountains, or to be more exactly in Davos. Most of my time I was on the slopes or you could find me relaxing on cute spots from my stressful everyday life. In between, I have also shot some photos of my winter outfits, the cold season is not over yet and it will not be so fast. I have to admit I'm already buying some pieces for my spring outfits but the focus is still on cuddly hoodies, hats and co. I just take it for granted that everyone else who doesn't live by the beach thinks like me.
In contrast to the white snow, I chose a colorful look. The bright orange pullover and the violet puffy jacket are from H&M. In addition to the great color, the pullover looks like he's slightly cropped. Most sweaters I own are oversized and almost reach me to the knees. This one reaches my hips, that's a nice alternative. For the colored sweater I opted a simple high waisted skinny jeans from Tally Weijl.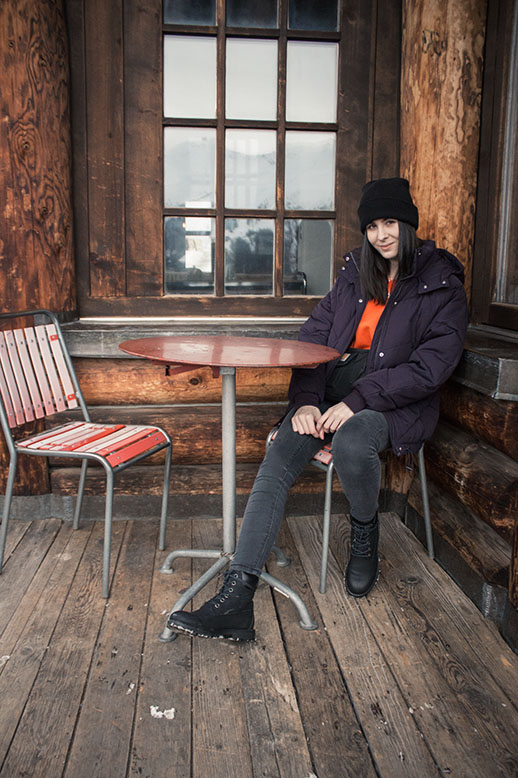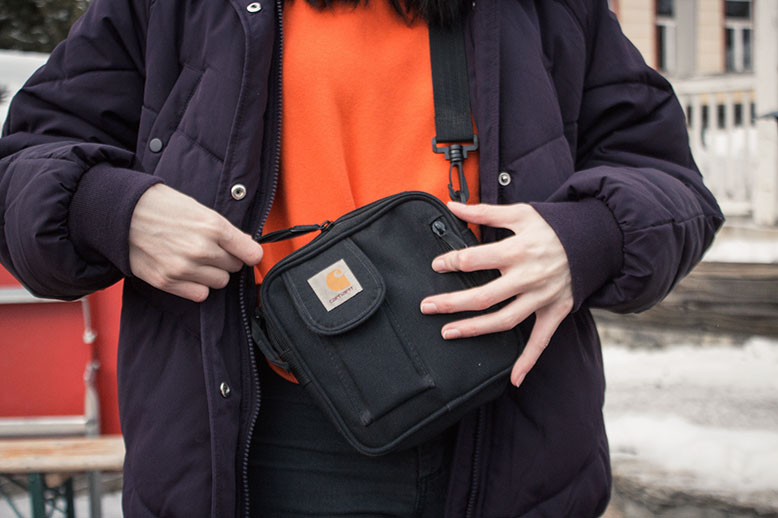 The winter shoes are from Landrover, I bought then on my last stay in Davos. The shoes cost only 19.90 CHF at Dosenbach (Deichmann in Germany) and even when I go out for longer walks in the snow I get no cold or wet feet. Oh and I need to write some more word about the puffy jacket from H&M. I bought the jacket directly in Davos this week and I am thrilled with the quality! Even at freezing temperatures, it's warm and can easily keep up with my The North Face down jacket.
Okay, back to the rest of the outfit. I "stole" the black beanie for years from my father, he had it somehow since forever but I have no idea where it's from. Anyway, I have a slightly smaller head and it just fits me perfectly. Most beanies make me look like a smurf because the half sticks out at the top. The small black shoulder bag is from Carhartt, everything fits in perfectly. Cigarettes, wallet, make-up and what else you need in everyday life.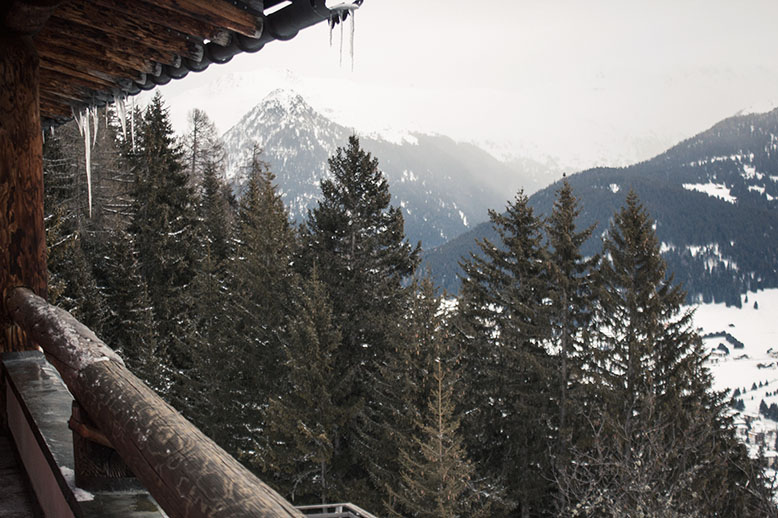 Schatzalp – a magical place
By the way; everyone who goes to Davos, should definitely go to the Schatzalp. The view is breathtaking and the former health resort offers a lot of delicious food and drinks. If you are already there, you should take a closer look at the old resort, the Art Nouveau building is as enchanting from the inside as from the outside. People who have more to do with literature know the place perhaps also from Thomas Mann's "The Magic Mountain". So I can only say it again, take a look at it. After a yummy hot chocolate you can tobogganing down the mountain. Well, I stop swarming, in my Travel Guide to Davos you can read all about it. This is supposed to be only a cozy winter look post but I think that I'll just mention it briefly since it's the location of this shooting.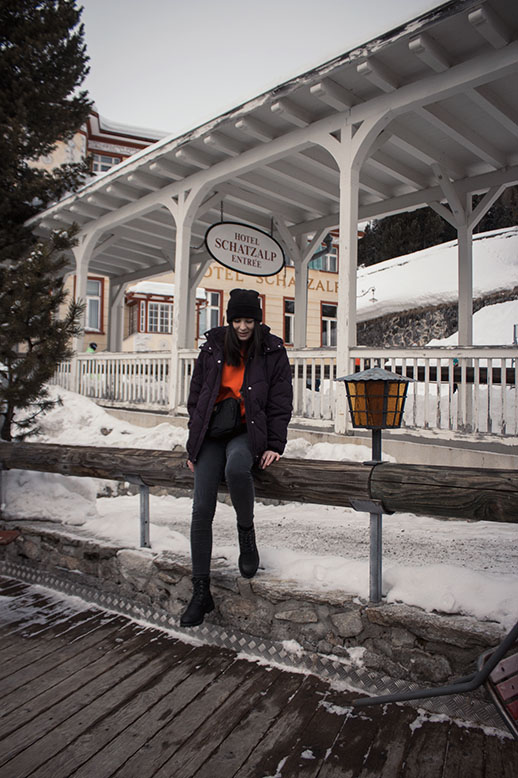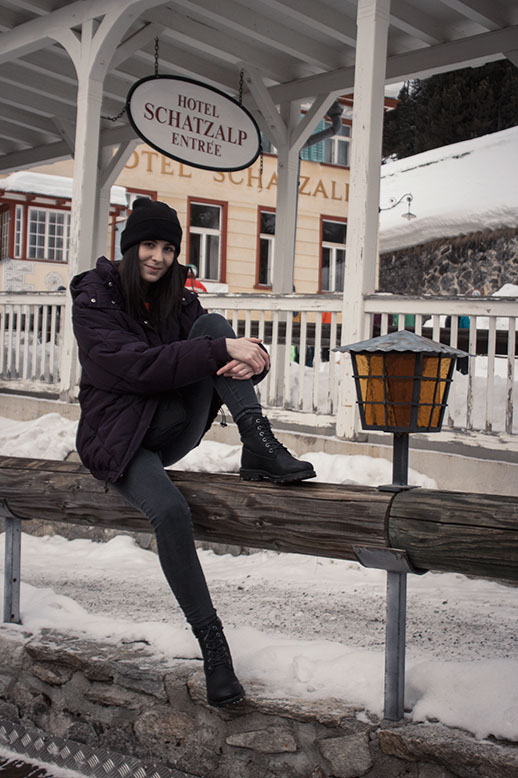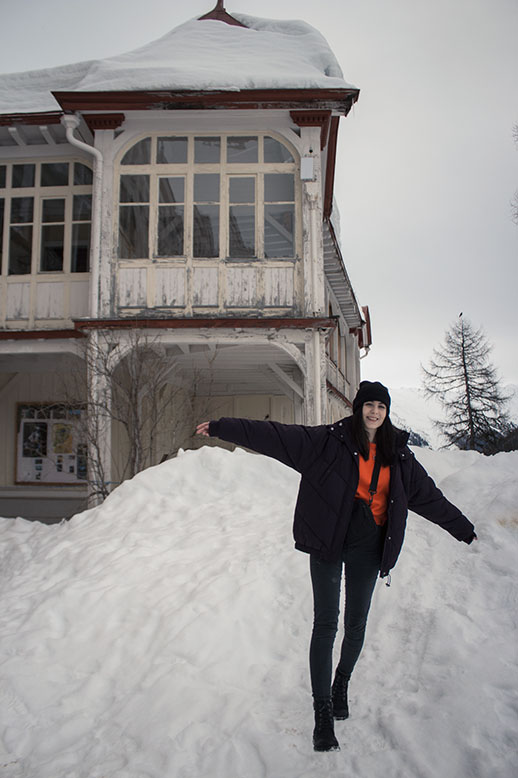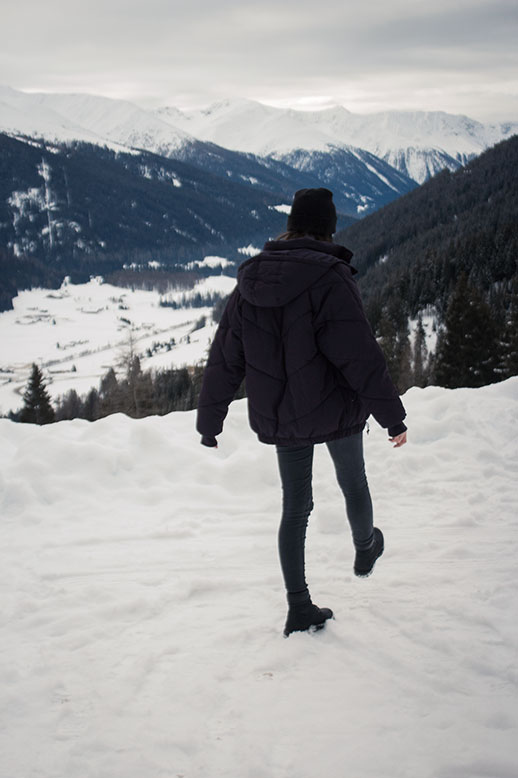 Photos: Mama
Shop my Look at Peek & Cloppenburg | Advertising
As mentioned above, I assume that y'all are also still in the winter clothes shopping fever. Therefore, I have picked out a few pieces with which you can easily style the look I wear in this winter outfit post. Somehow it's strange, a few years ago I was able to walk around with a leather jacket and T-shirt at this time (end of February, beginning of March). This is just inconceivable for me at the moment.
By the way you can find more great articles for this season at Peek & Cloppenburg.
The "Shop my Look" part in this post was created in a friendly cooperation with Peek & Cloppenburg.