Since I didn't wrote about many events I visited recently, here comes a blog post about the latest event I attended. My dear friend Laura and I went spontaneously to the OMR (Online Marketing Rockstars) Festival in Hamburg. I got the tickets a few days before the event from ad publica. I will answer the biggest question from most of you directly at the beginning.
What is the OMR Festival?
The OMR Festival is an online marketing fair. It's not designed in the classic "boring" style but with music and many cool side events. So if you are interested in online marketing, you should not miss the fair next year. The fair or festival lasts two days, this year it was the 22nd and 23rd of March (Thursday and Friday). On both evenings there are even concerts, that's really cool! In addition, you can meet high-level people from the industry as well as big bloggers which of course is really exciting for me. What I find also quite cool is that next to a card, where name and company are written on for around the neck, you get a real festival ribbon.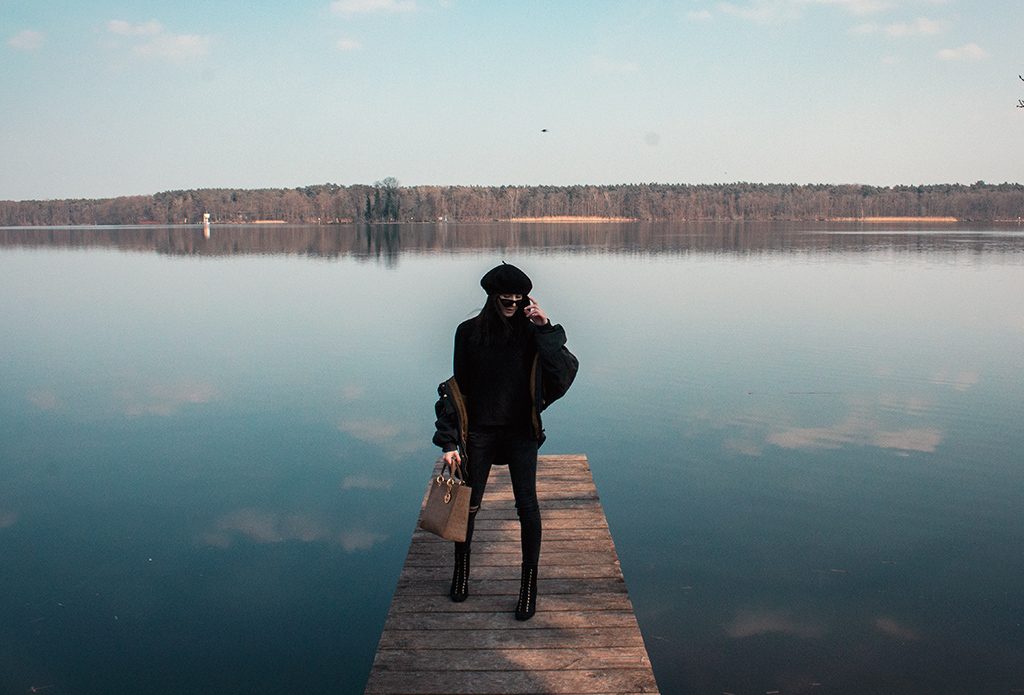 Laura and I didn't start too early in the morning at Berlin Central Station. After four hours of a train journey we arrived shortly after one o'clock in the afternoon in Hamburg. Since we had already eaten in the train we went straight to the OMR Festival. I have to say that I had imagined the whole thing a bit bigger. In total there were four halls. One of them was an exclusive hall only for conference attendees. On the whole, I liked the event pretty well. I think it would have been a bit more interesting for us if we had registered for workshops or already went to it on Thursday. On Thursday, the concerts were for everyone and on Friday only for the conference participants.
If you are in Hamburg and have some time before you need to go home of course you use it. So we took some photos and strolled through the city. As with my last visit with Tristan, the weather was bad. Well not really, really bad, it did not rain but it was pretty cold and gray. Does this city ever have good weather at all or am I just unlucky? If it's bad next time too, I take it personally. Of course not, I'm just kidding.
Outfit of the day
My outfit for this excursion to Hamburg consisted of my beloved vintage (from the 90s) Lady Dior bag, with whom I have been through a lot in a short time. Only until I could finally pick it up from the customs office it took a month and the intervention of my lawyer. At least I know now to 1 million percent that it is an original, as the lawyer of Dior has informed me about it in a writing. Yes, yes dear customs office I told you this when we had our first contact. As if I would buy fakes, never ever. Anyway, that's the heart of the presented outfit. As another accessory, I put on my everyday Gucci watch and some nice black sunglasses that I recently bought on eBay. Since the brand name was only on the label and I throw it in the trash, I do not remember what the brand name is. Anyway, they come from somewhere in Japan. Even though it's officially spring now the temperatures do not really want to go up, so a big winter jacket was needed. In this case, I chose my vintage MCM ski jacket. To be honest I found out that it is actually a ski jacket just a short time ago. Before that, I just thought it was a hooded bomber jacket. After some research I was taught the better. The black jeans are from Tally Weijl and the black sweater is from Polo. I bought the beret, which protected me well against the cold, a few months ago on eBay and it is still one of my favorites. To complete my (almost) all black look I put on some black ankle boots, these are from Dosenbach (or Deichmann here in Germany). Everyone who is following my Instagram should have seen them in some of my stories. Wohoo and that was my outfit of the day. Incidentally, the photos were not taken in Hamburg but at home, the weather was just not ideal for photos at our exploring day.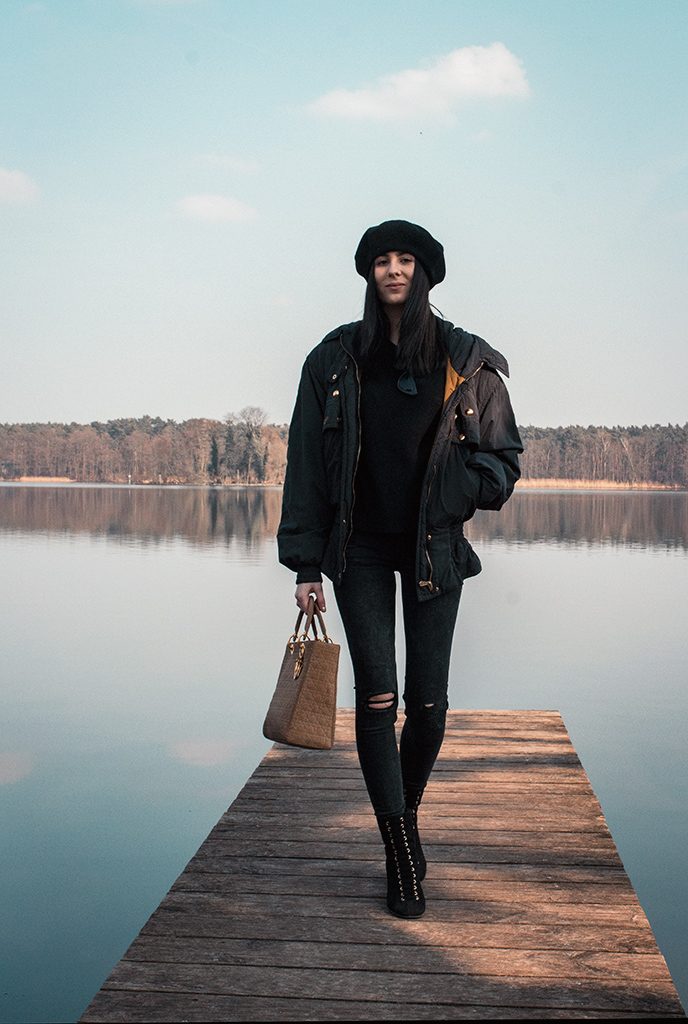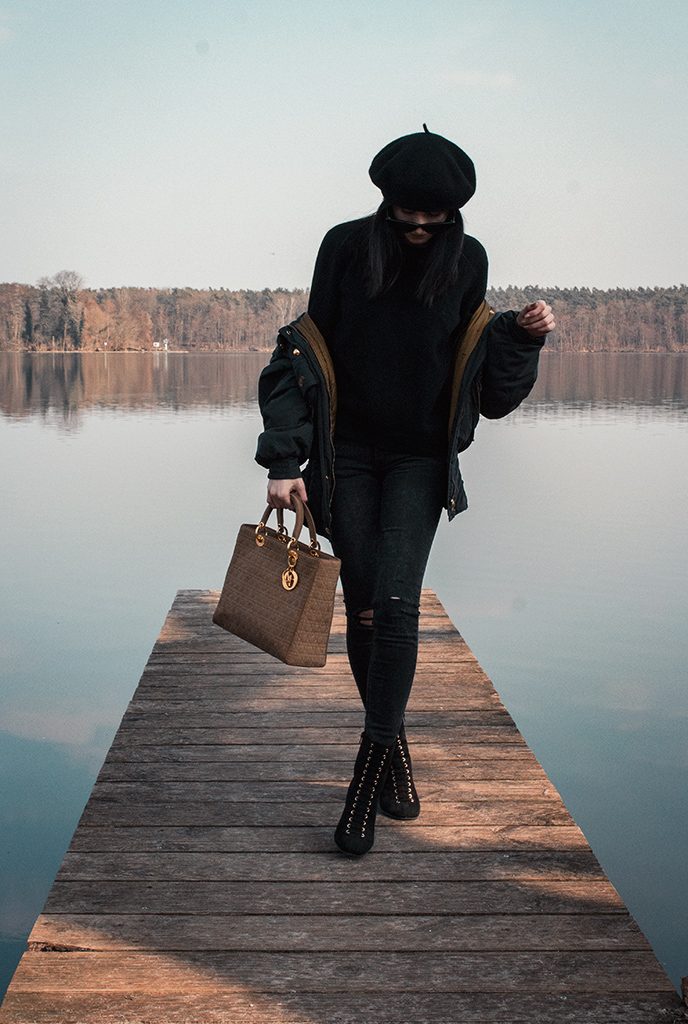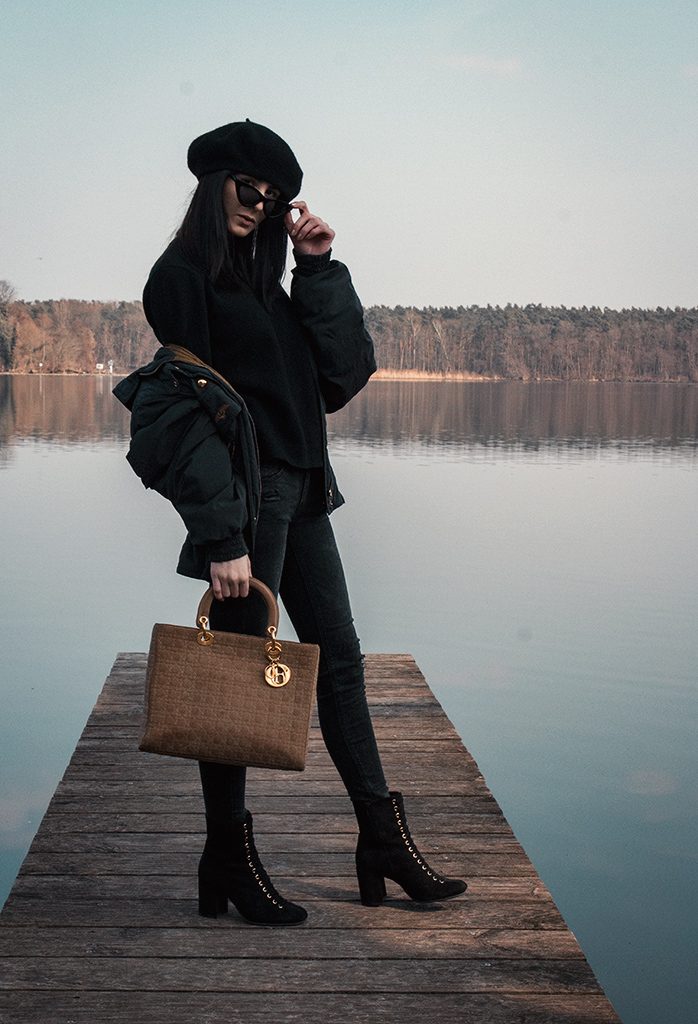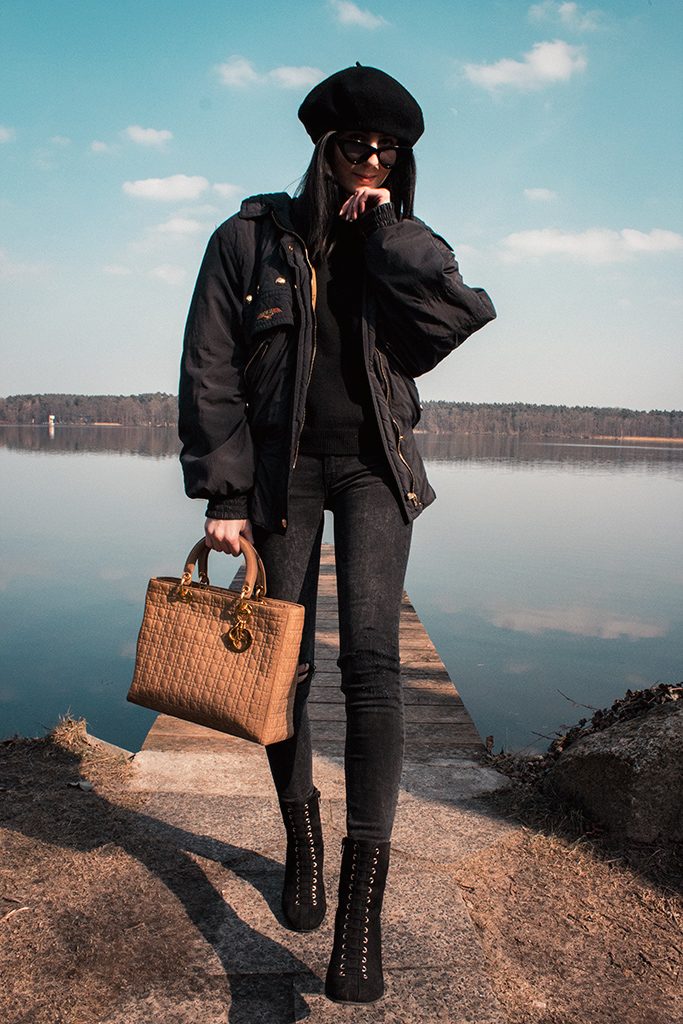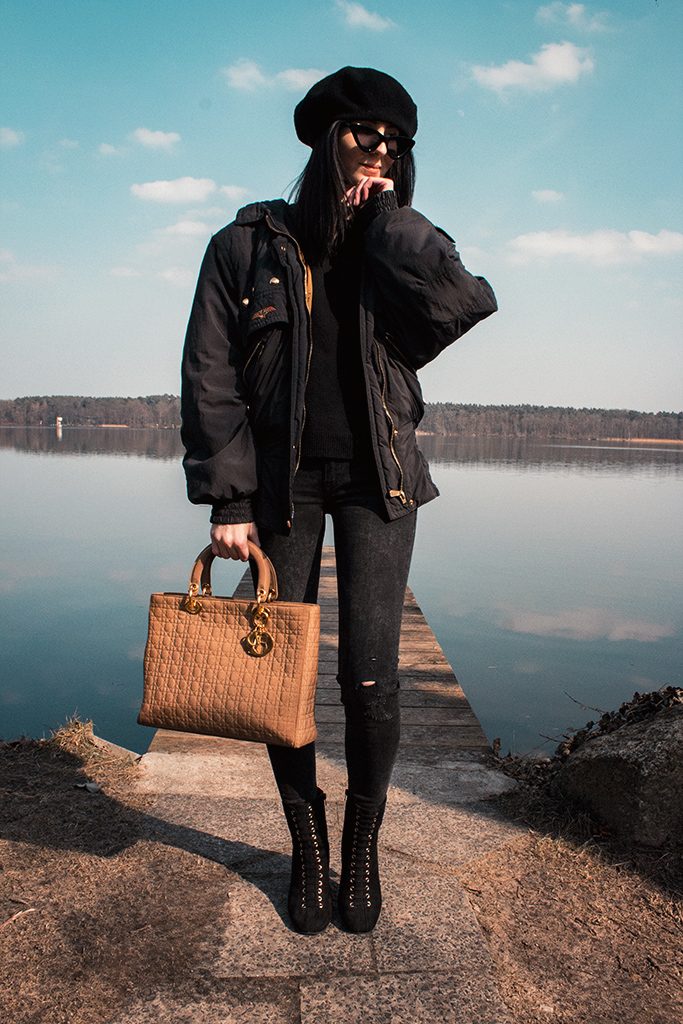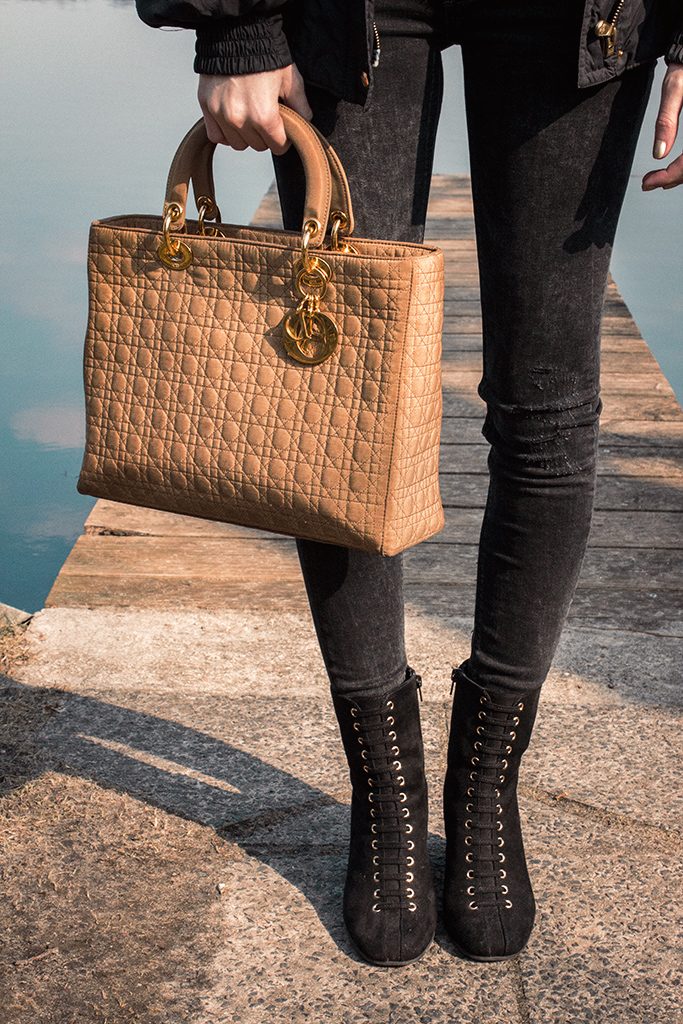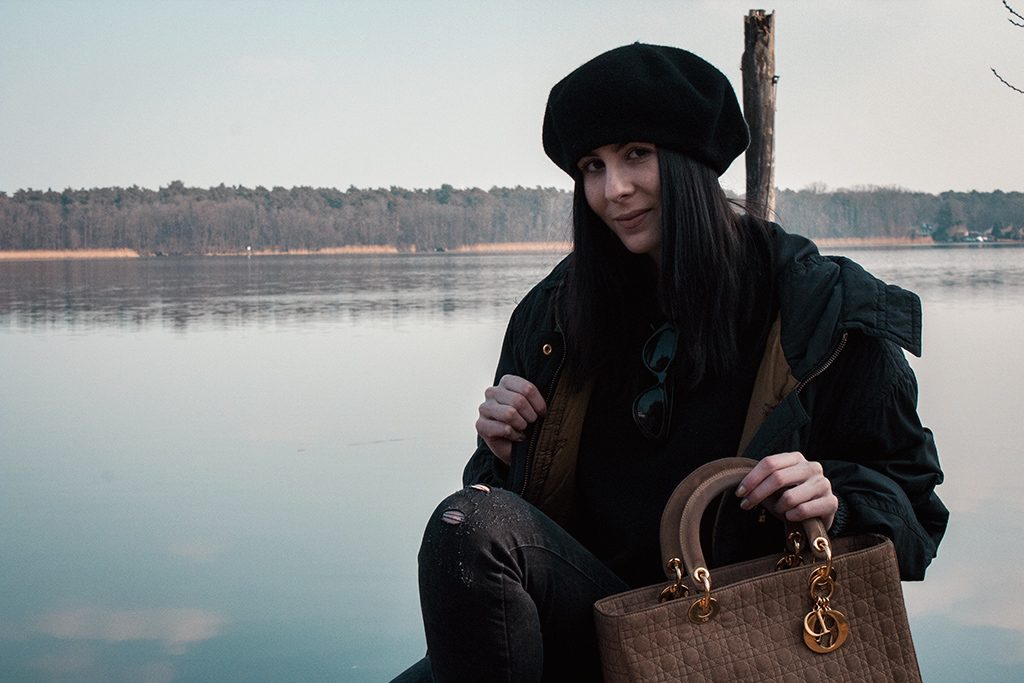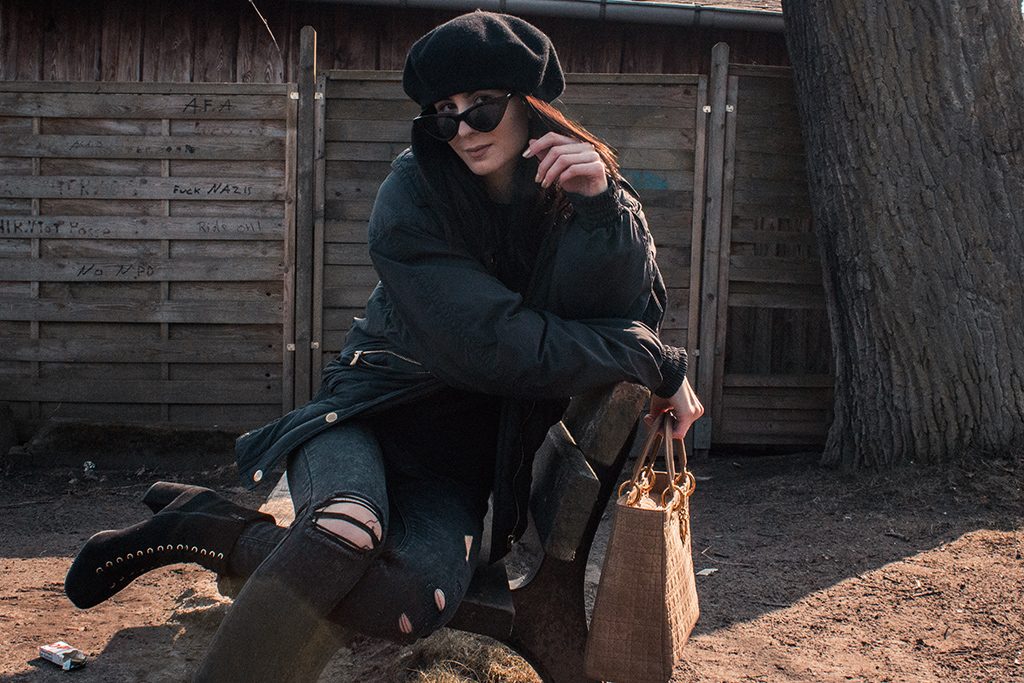 Photos: Tristan Luckow