My boyfriend and I were almost one week for August in Ibiza. This was a gift to Tristan from me for our 4th anniversary (so we bought everything). We stayed 5 nights on this beautiful island by the Mediterranean Sea and had a hotel with half-board which was just a few minutes away from the beach (Playa d'en Bossa). It was always over 30 degrees, day and night. By day, however, it felt like 50 degrees which made the exploration of the island without a car a little difficult. So we decided not to go too far away from the hotel but still experienced a lot. Among other things, we were at the castle in Eivissa or shopping. Despite half-board, we went often to cafes, bars, and Co. I have summarized my tips for Ibiza in addition to the travel diary for you in this post.
The last time I was in Spain was many years ago, I was there with my parents. Back then we were in Mallorca (not the Ballermann side), which was quite nice. As Tristan has not been to Spain for a long time too, I decided to take this destination as a birthday present. Overall, the holiday cost about 1,300 euros, I booked the flight in April and the hotel in May. I'll start this travel diary with the hotel review and then follow things, such as attractions or clubbing:
Hotel Can Bossa or Can Bossa Club
Rooms
We had one of the renovated rooms in the second building of the hotel. It was simple but cute and very clean. The room had a bathroom with tub and shower, a TV, a balcony (sea view is only on the top floors), a desk, a fridge, and of course a bed, closet, mirror, etc. Oh yes and there was air conditioning, that was my life-saver in the heat. The only thing that was a bit annoying, was that the rooms have thin walls. If guests on the balcony or in the room, which is close to yours, are loud, you can hear that well.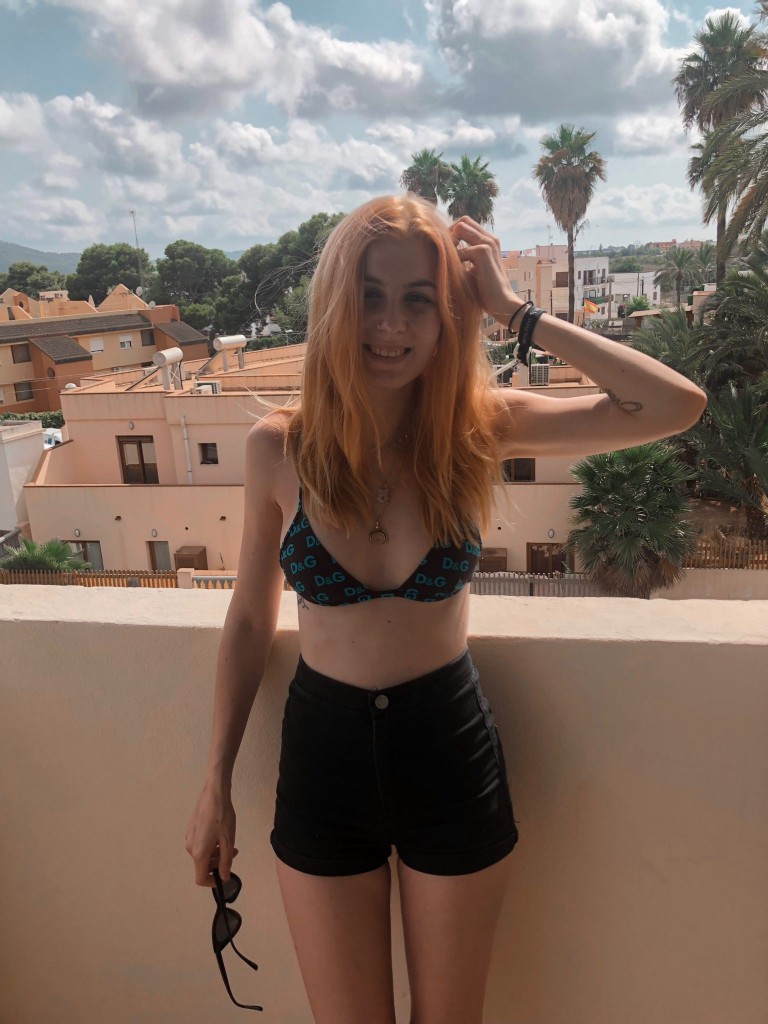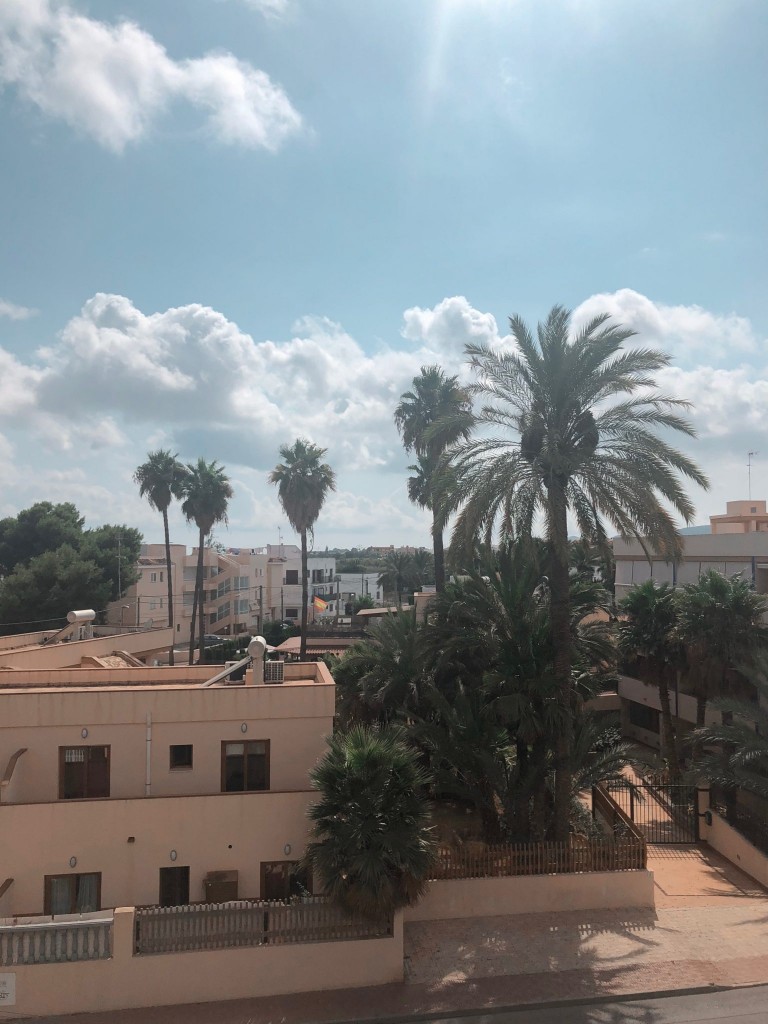 Food
As already mentioned, we had booked a half-board, which means we got breakfast and dinner. There was a buffet, where you always found something that tasted okay. Nevertheless, this point is one of the bad things about the hotel. The food tasted just as thawed. There was also a small bar, where you could buy snacks at prices that were all right for Ibiza – Ibiza is a very expensive island. Many guests also used the bar for lunch, as there was no buffet for lunch at all (there is no full board in this hotel available). Among other things, the bar offers pizza, ice cream, or panini – the paninis are delicious.
Entertainment
For entertainment, the hotel offers a pool, pool tables, and a ping pong table. Something like an animation team does not exist and also the pool has no chute or something like that. But I do not think that's bad, meanwhile, I also like to have some peace to be able to relax.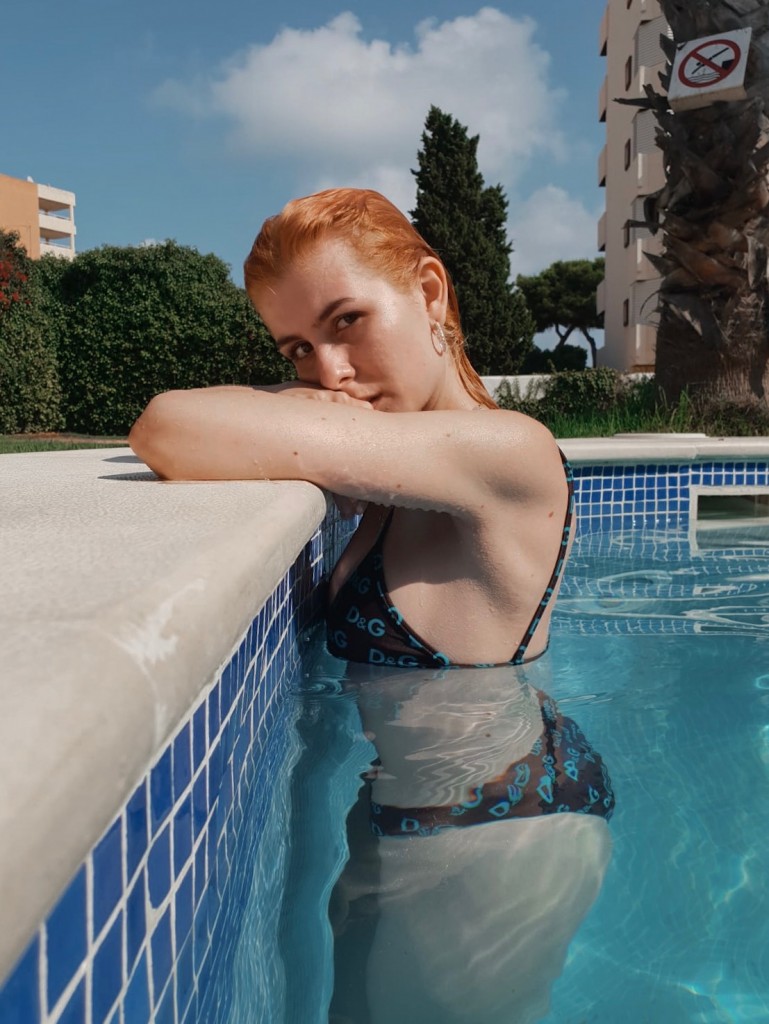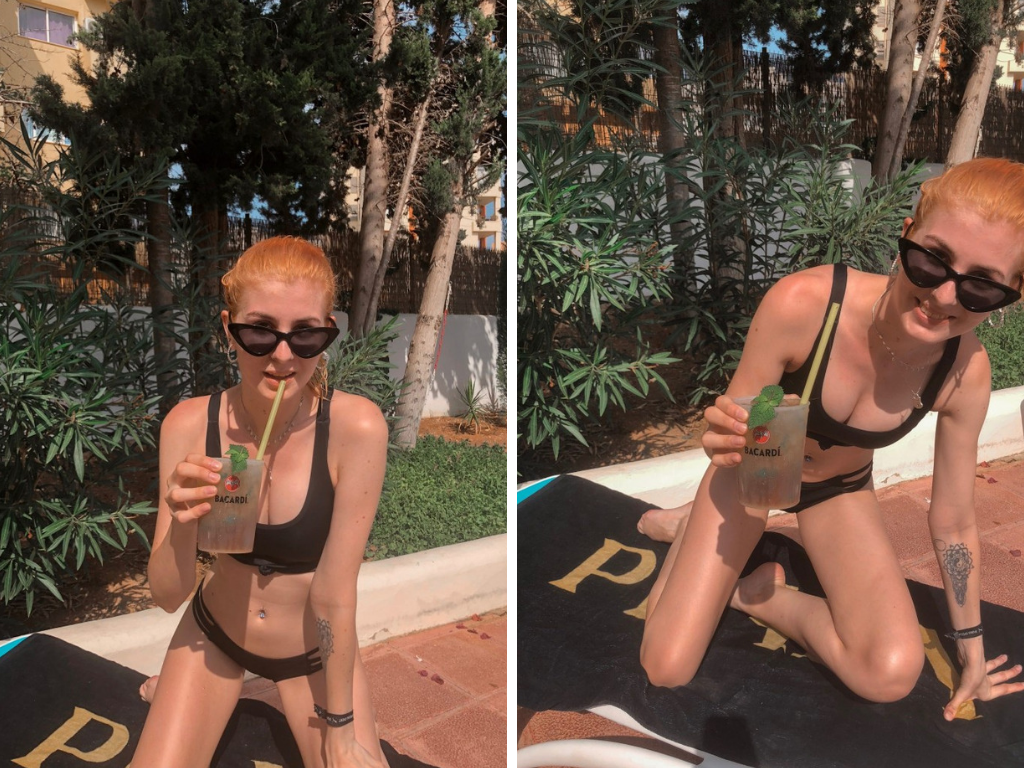 Atmosphere
In the hotel are mostly young people, many are just there to party. Unfortunately, as mentioned before, the walls are very thin so you are, whether wanted or not, right in the middle of the "home parties". Otherwise, everyone was very friendly during our stay. Most people came from Germany and Switzerland, I found that neither annoying nor cool.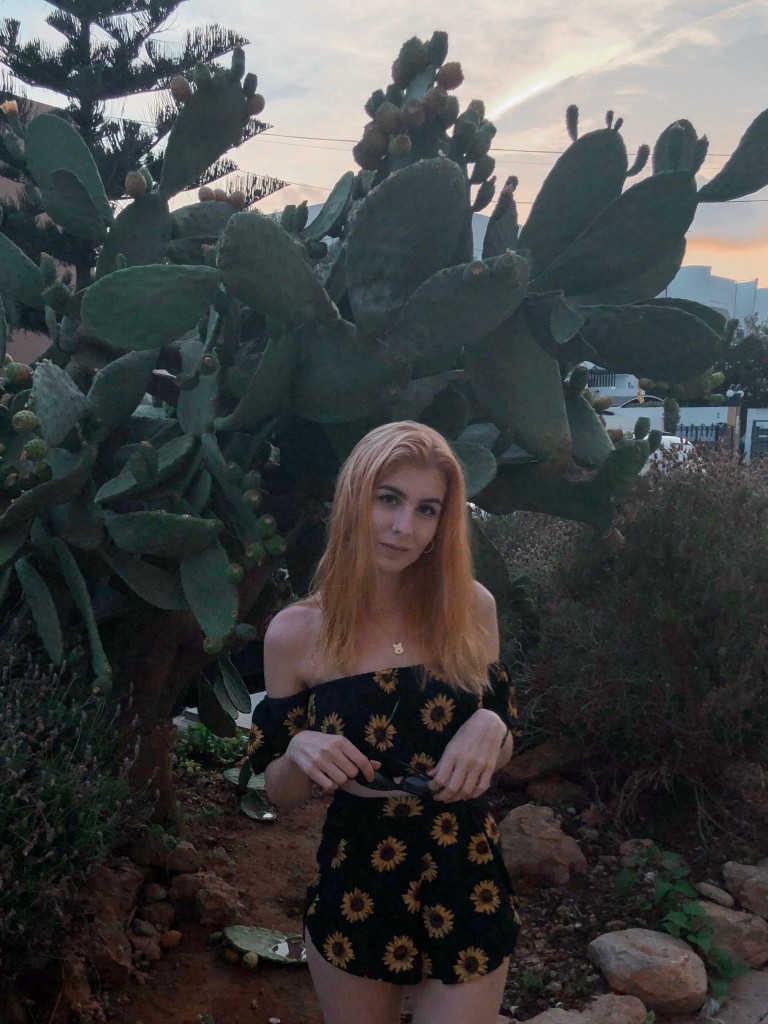 Attractions
Despite the great heat, we often made trips that did not just lead to the beach – I still take the beaches into this category, hihi.
Castle of Ibiza + old town
One day we got up a bit earlier because we wanted to go up to the castle in Eivissa. The earlier getting up did not help, because I was still dying because of my health. It seemed like the other people there did not mind the heat. You had to go through the old town to get to the castle and there were countless sweet restaurants and cafes where people sat and looked like it was a warm spring day and not a freaking hot day in the desert. For me, it was too warm to even sit somewhere. But I need to say that these cute restaurants are perfect for dinner when you're like me. If you're not there are even more cute places to eat lunch.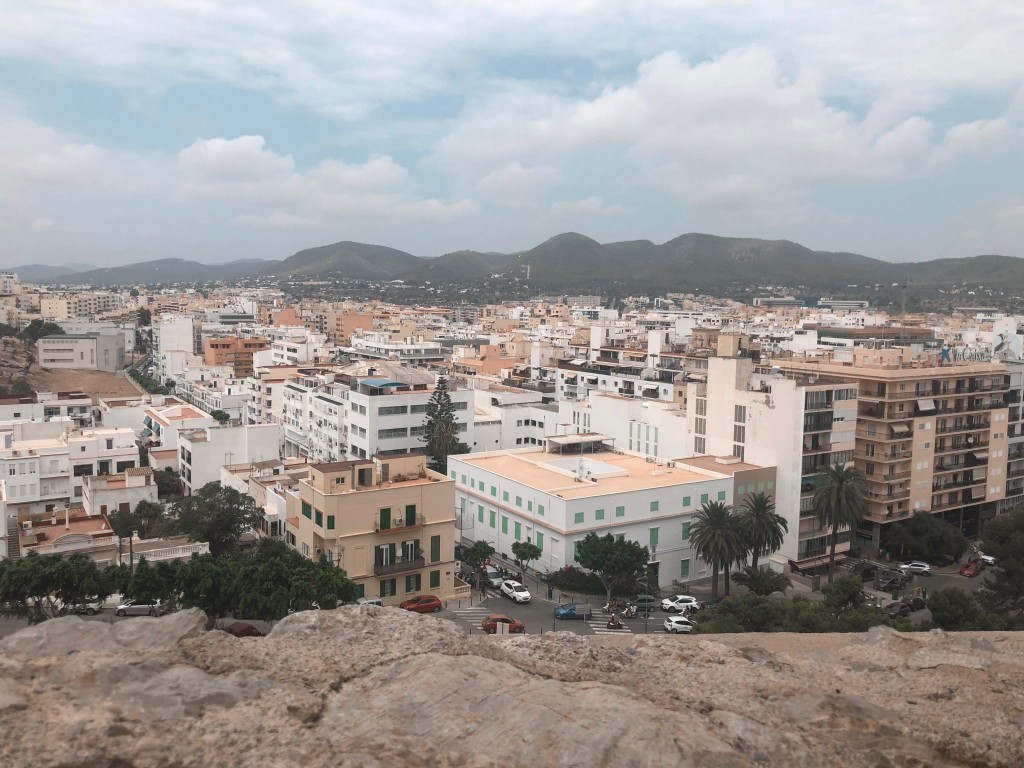 Shopping in Eivissa
At the small harbor of Eivissa, you can go shopping very well. In addition to the well-known shops such as Bershka or Zara, some small sweet boutiques offered a bit more variety. The shops with great air conditioning systems also offer some cooling in the high temperatures.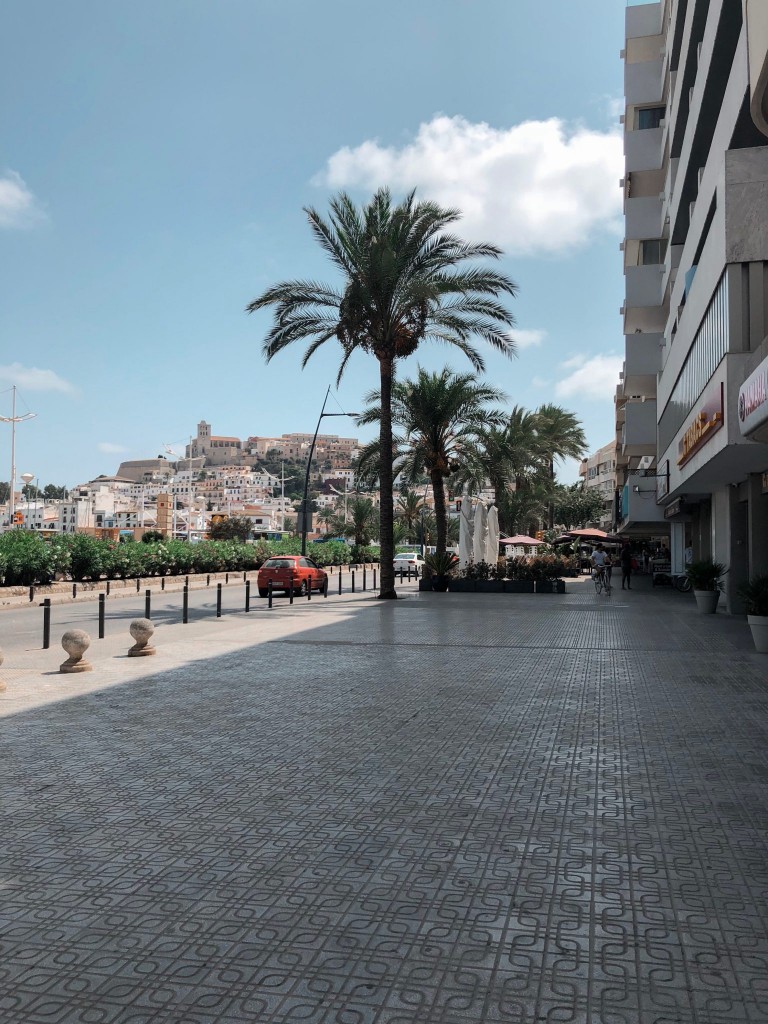 The Hippy Market
In the middle of the club culture on Playa d'en Bossa, you can find a super cute hippy market. The people there sell self-made pieces like jewelry or art. I can recommend this little place.
Beaches
The beaches in Ibiza are really beautiful, well at least the spots we saw. From Playa d'en Bossa you can almost walk over to Eivissa (we did this one day) and cool off in the ocean whenever you want. The beaches we saw had all dark (not black) sand and wonderful turquoise waters. The evening before the last one we walked in the other direction until all the hotels were gone and you could wonderfully see the starry sky. A tower on a hill was our endpoint, I think you could have climbed over there, and then it would have gone on but in the dark, that was first a bit heavy and secondly a bit scary.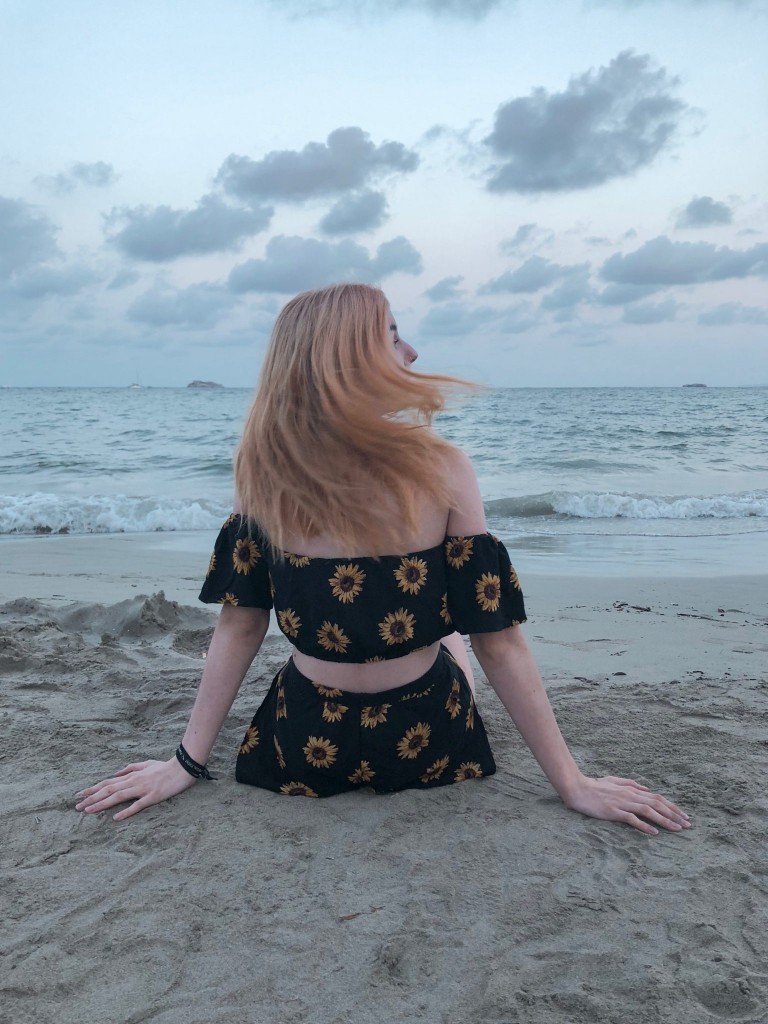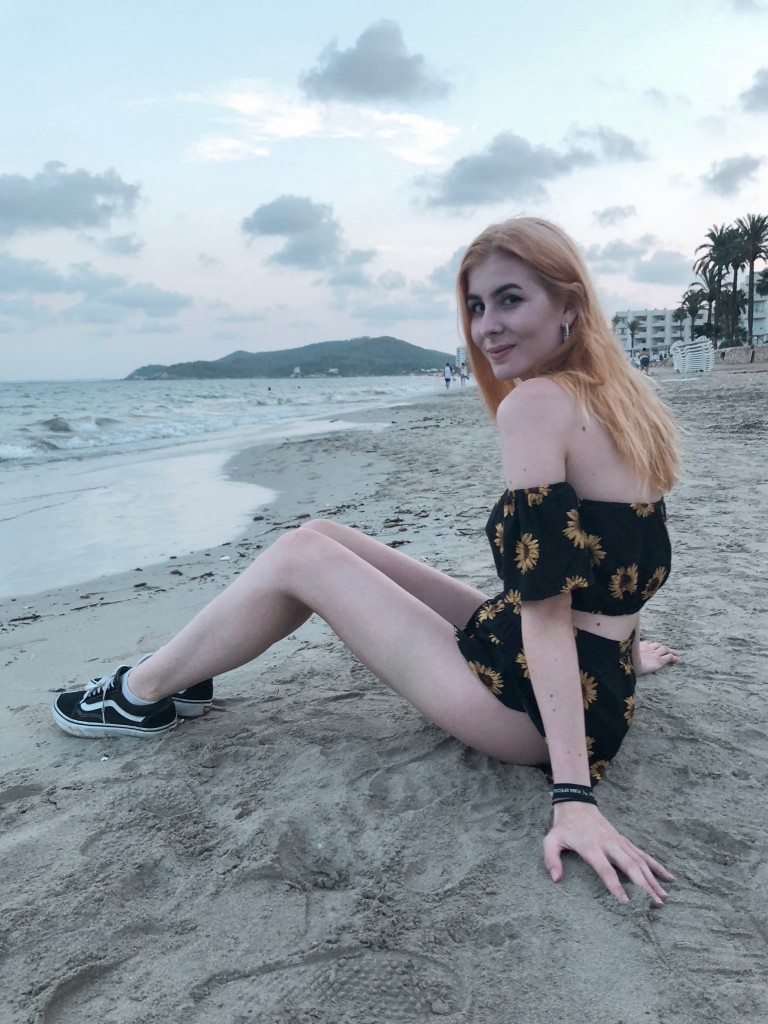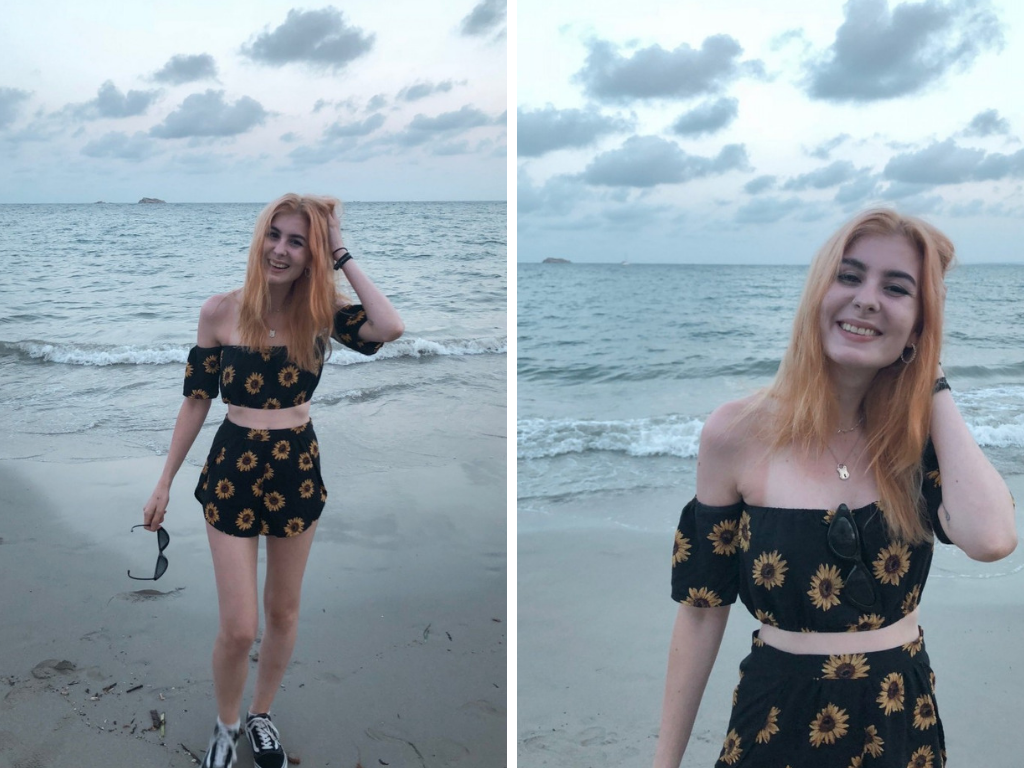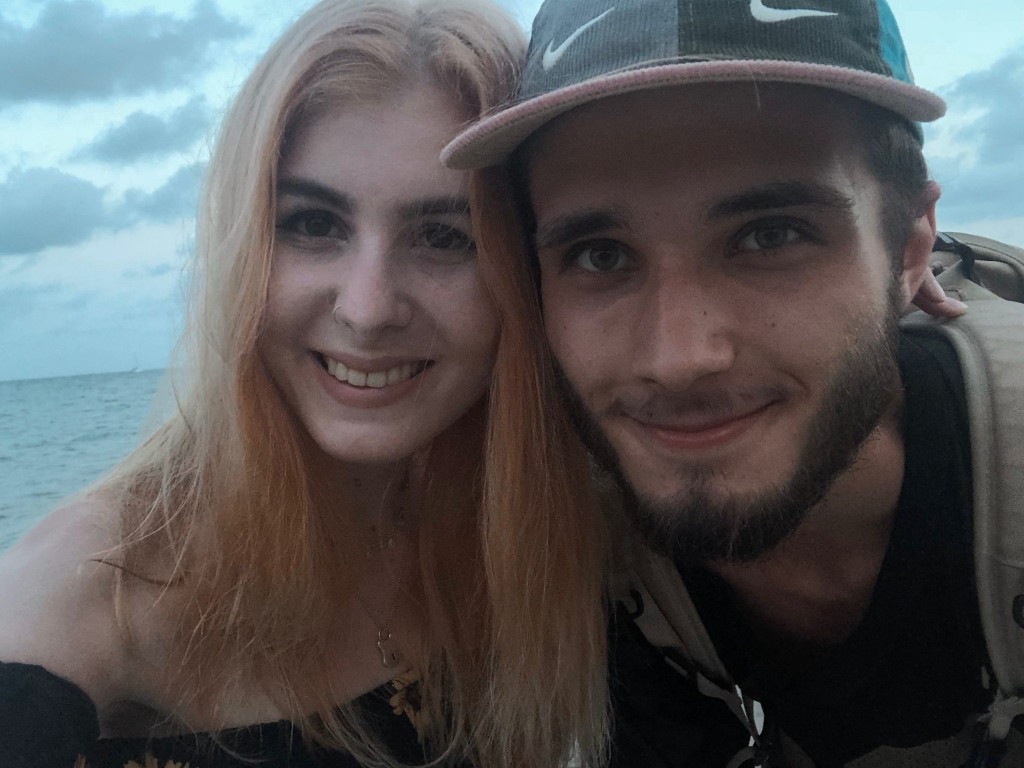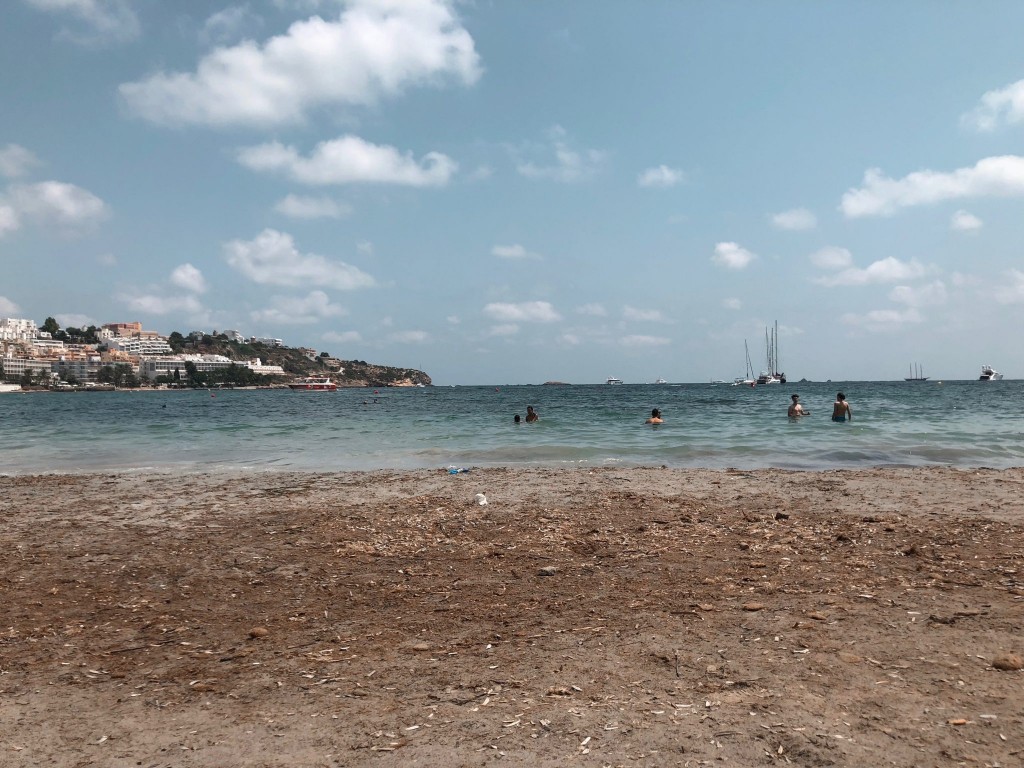 San Antonio
This was actually on our excursion plan but then did not come off. Maybe one of you can do it and can then give me some feedback if it's worth going there or not. Anyway, this is the port in the north of Ibiza, where all the cruise ships arrive and it should be a very nice destination.
Cafeès and restaurants
As well as bars and clubs, there are plenty of cute cafes and restaurants in Ibiza. I have picked out some sweets for you here. Some are also hotels, you can eat and drink there without being an actual guest.
Restaurante Los Parasols: This restaurant is next to the beach and offers beside a great view a tasty Mediterranean kitchen.

Montauk Steakhouse Ibiza: This restaurant is also right by the beach and well offers steaks for example.

Paradiso Ibiza Art Hotel: Besides the amazing food, this hotel offers the perfect location for some cool photos.

Maison Le Vrai: If you want some yummy breakfast or brunch you should visit this place.

La Bodega: Tapas, tapas, tapas.

Nobu Hotel Ibiza Bay: My lunch and relaxation recommendation!

Vivi's Creamery: You can't miss ice cream in summer and this place is a super cute ice cafè.
Clubbing in Ibiza
To be honest, I was only celebrating once in a club, because Tristan is not really into things like this. Nevertheless, I can tell you a lot about it. First, I can tell you that at Playa d'en Bossa there comes one bar after the other and there are also many clubs. I honestly can not recommend any special bars to you, as everything is pretty much the same. Party music, many people, and high alcohol prices. Before midnight, one or the other offers cool actions, where you get 2 for 1 or something similar. If you come to Ibiza to party, I recommend going in the main season. I've heard that it is rather quiet and some clubs are even close. Of course, the most blatant DJs are part of the program only during the main season.
Ushuaïa
The one time we went to a party, we squeezed ourselves into Ushuaïa. Squeezing, because it was just so full at the entrance to get in. However, despite many people, everything went very fast and when we were inside it has been well distributed. We did not set off until 8 o'clock because Martin Garrix, who was the main DJ that night, did not show up until 10 pm anyway. Before that was already in a good mood but the prices inside were just too expensive for us. one water was about 10 euros, that's so sick. If we had been there since 5 p.m., we would have spent all our money that was planned for the holiday on drinks and food. Anyway, it was except the drink prices (which are very high everywhere in Ibiza) extremely great. I can only recommend it to everyone to go there at least once, he's not for nothing in the top 10 clubbing list of the world. The atmosphere was stunning, it seemed like everyone was super happy – like at a festival. Even Tristan danced, that is super rare! We danced for sure 3 hours at a time without a break, at some point you will not feel your legs anymore. We went to the back end of one of the small pools, so we had a great view of the stage as no one stood in front of us.