In mid-April, my boyfriend and I went for a week to Tunisia or more precisely to the island of Djerba. Little fun fact without fun, Djerba is the largest island in South Africa. We "begrudge" ourselves a relaxing all-inclusive vacation to be able to switch off from the stressful everyday life.
In our case, an all-inclusive holiday was not "just lying around the pool". We went a lot out of the hotel and discovered the island. We often went out of the hotel and explored the island. Among other things, we visited an abandoned hotel and made a day trip to the Sahara. This island has something for everyone and I'm happy to give you some advice in this Djerba travel guide. It does not matter if you want to lie on the beach and drive a banana boat or if you want to broaden your knowledge through culture, everyone will find something he loves.
Oh, by the way, the beaches in Djerba are gorgeous! They are very clean and have white sand and turquoise blue water. Has something of the Caribbean, only it costs a fraction.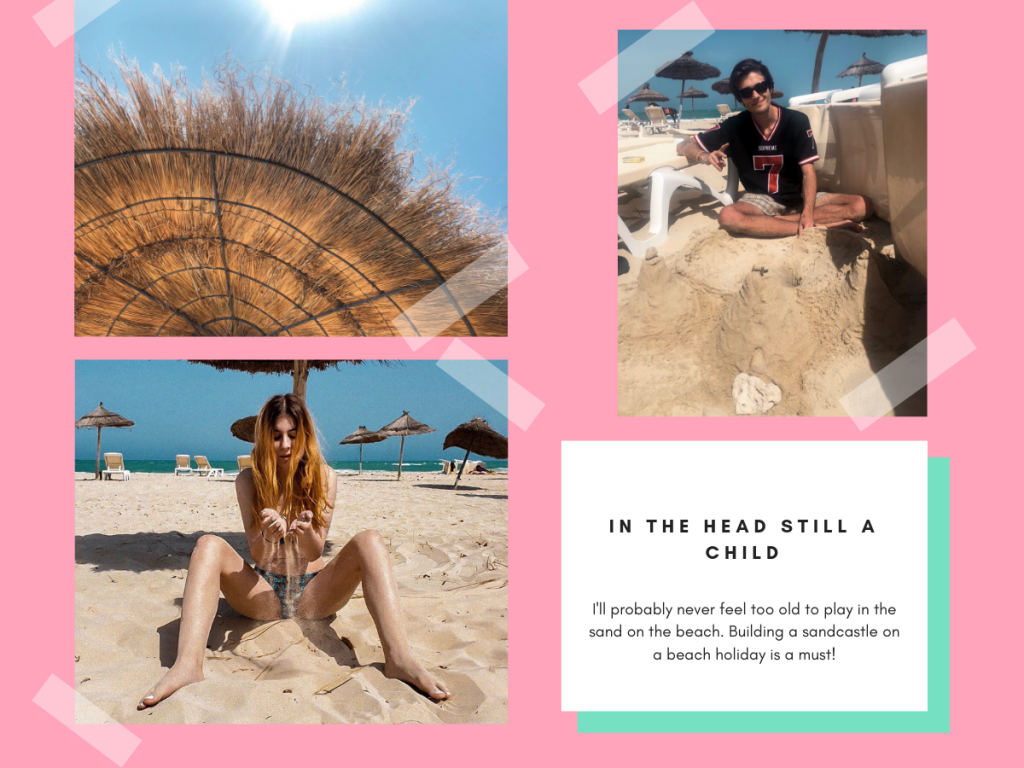 Table of content
Arrival
Flights to Djerba are available from many European cities. We chose a direct flight from Berlin Schönefeld with Tunisair. The flight duration is about three hours, depending on the place of departure. Mandatory is a valid passport, but that should be logical since you leave the EU. Incidentally, there is no need for specific vaccinations for entry like I had when I went to Bali.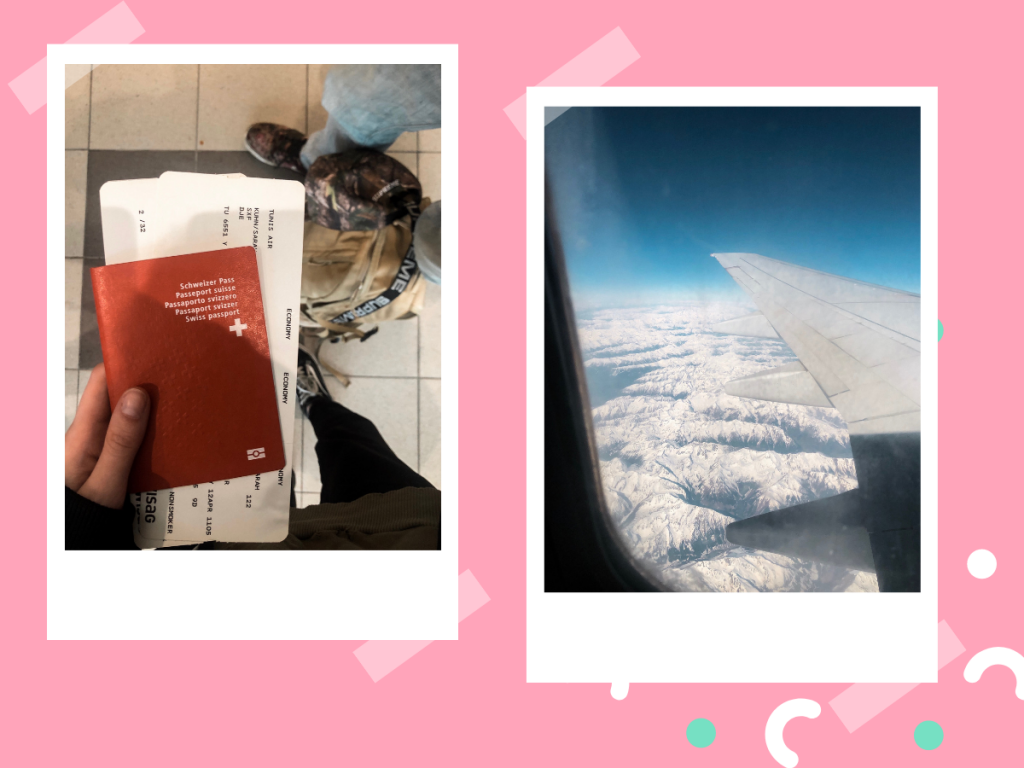 Weather in Djerba
In April are maximum temperatures of 25 degrees, so it is not ideal for swimming. Of course, we dared to go into the cold water, I mean when you're at the sea… For a beach holiday, however, I recommend going between June and September to Djerba, then you have perfect summer temperatures.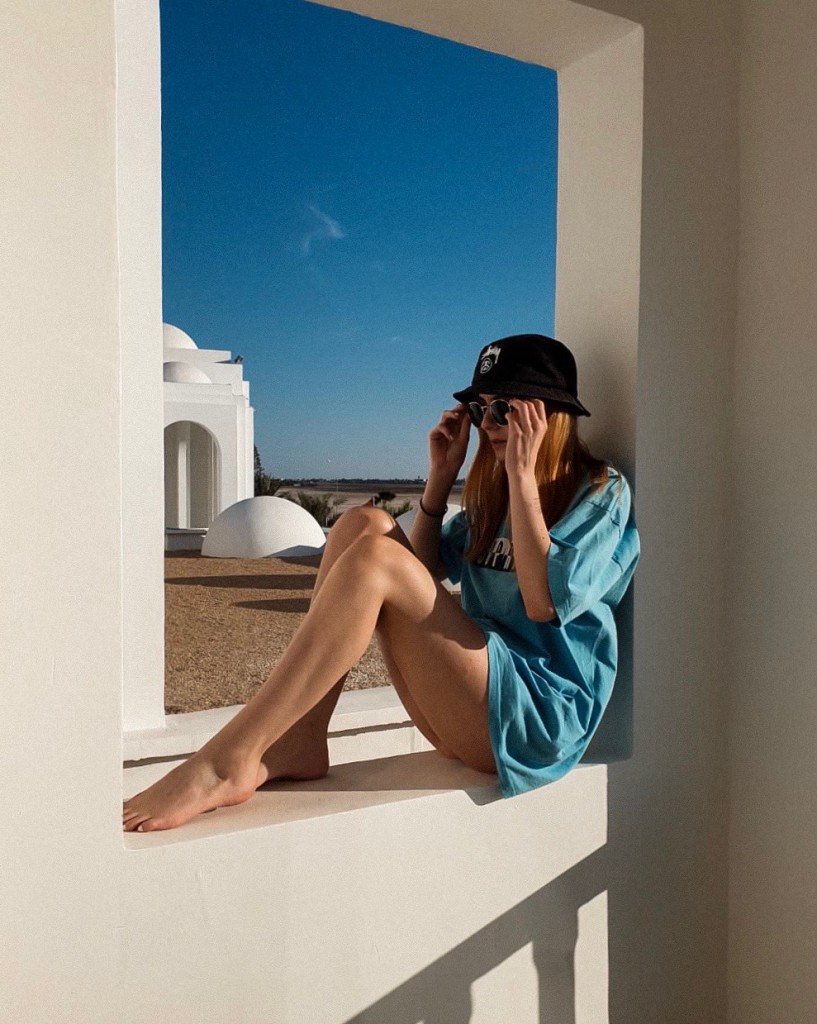 Money
The currency unit is the Tunisian dinar, divided into 1000 millimeters. Bank, hotel, or airport – the exchange rate is the same everywhere. There are banknotes at 5, 10, 20, and 30 dinars, coins at 5, 10, 20, 50, 100, and 500millimeterss, 1 and 5 dinars.
Money is exchanged in every bank and almost every major hotel. In larger cities and most hotels are ATMs where you can withdraw money with Visa or Mastercard. For changing money in banks and hotels you need a passport.
Most stores have fixed prices. You only have to trade in the markets and bazaars, so never accept the first offer there. Outside the tourist zones in Tunisia, everything is cheaper than in Europe. 
Tip
Initially, baksheesh was a gift to show your gratitude for proven hospitality. Today, tipping is important to many tourism workers as salaries are low. The porter expects a tip, but also the friendly waiter and the attentive receptionist. So it's best to have just a few dinars ready, the usual 10 percent.
National languages
Tunisians have focused heavily on foreign visitors. In the tourist zones everyone we met – except for one man – could speak German, at least a bit. The national language is Arabic, but French is already taught to residents in elementary school.
I felt safe, whether on the island or the mainland. The smaller crime you should, as everywhere else, even prevent yourself: Don't let valuables things lie around in the rooms or the car and the dense crowds of markets take care of your pockets. Also, I would recommend not leaving alone the hotel at night, especially alone as a woman. Even if I felt safe all the time, I know not to like Europe.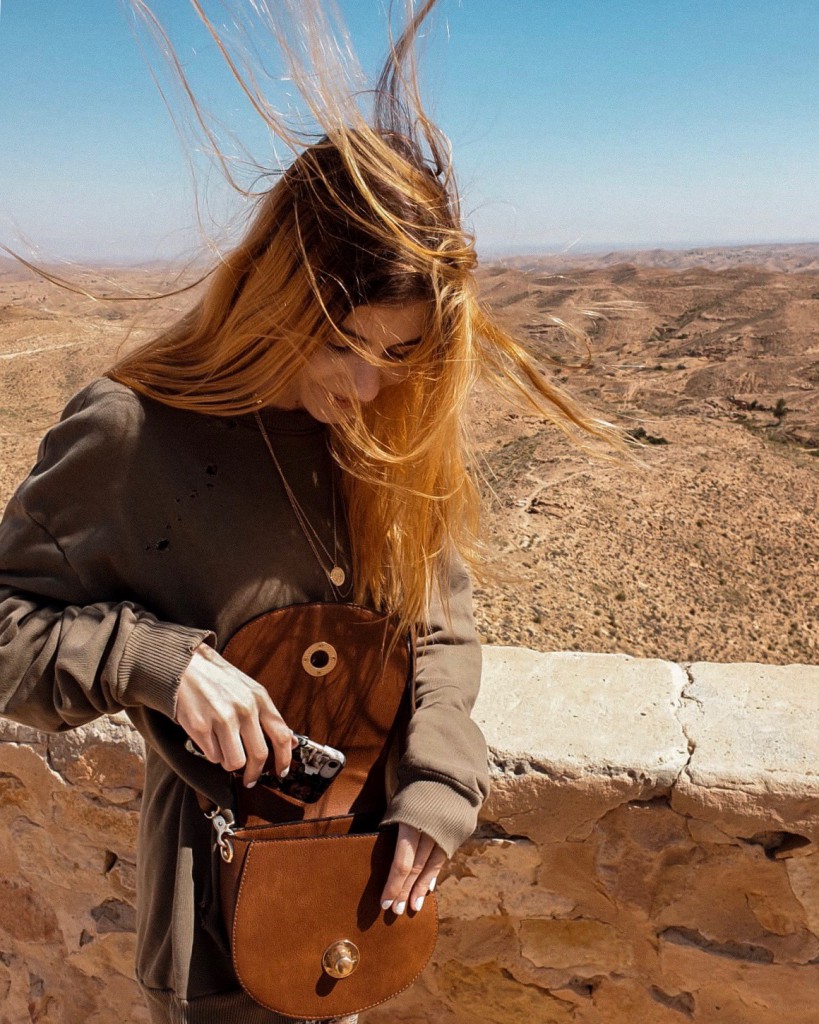 Rent a car
International companies are represented everywhere. You can rent a car directly from your travel agency or on the island at a local shop. Mostly the local providers are cheaper. Since I (still) do not have a driver's license, I have not rented a car and therefore do not know what the prices look like. However, after some research, I came across a few numbers. A rental car should cost about 50 to 60 euros per day. The tariff includes the insurance with own participation of approx. 400 euro.
Crossing the mainland
If you want to go to the mainland, it is best to use the car ferry. This runs from Ajim on Djerba to Djorf on the mainland daily from 05:30 to 20:30 every 30 minutes, from 20:30 to 23:30 every hour, and also at 1, 3, and 4:30. When we made the trip to the Sahara we also took this route, which the tour guide described as the best. The price is 0,800 TND per car, people pay nothing and the journey takes about 15 minutes.
The slightly longer way but also very nice would be on the other side of the island on the Roman dam. This has the name since it was built by the Romans, who were also in Tunisia and settled back in the days.
Taxi
The small yellow taxis are equipped with a taximeter and drive within the places. None of Djerba's taxis is allowed to land and vice versa. If you want to take a taxi to the mainland, you have to change it. The basic fee is about 0,400 TND. Four people can ride. The transport of large luggage should probably cost extra again, but we did not try this. The transfer we had e.g. was included in our All Inclusive package.
Travel pharmacy
I advise you to take medicines for an intestinal upset. We are usually not used to the spices. Otherwise, there are no "diseases" that do not exist in Europe either. Painkillers are recommended, as well as sun and mosquito repellent. If you have forgotten something, you will find it mostly in the hotels themselves or the village pharmacy.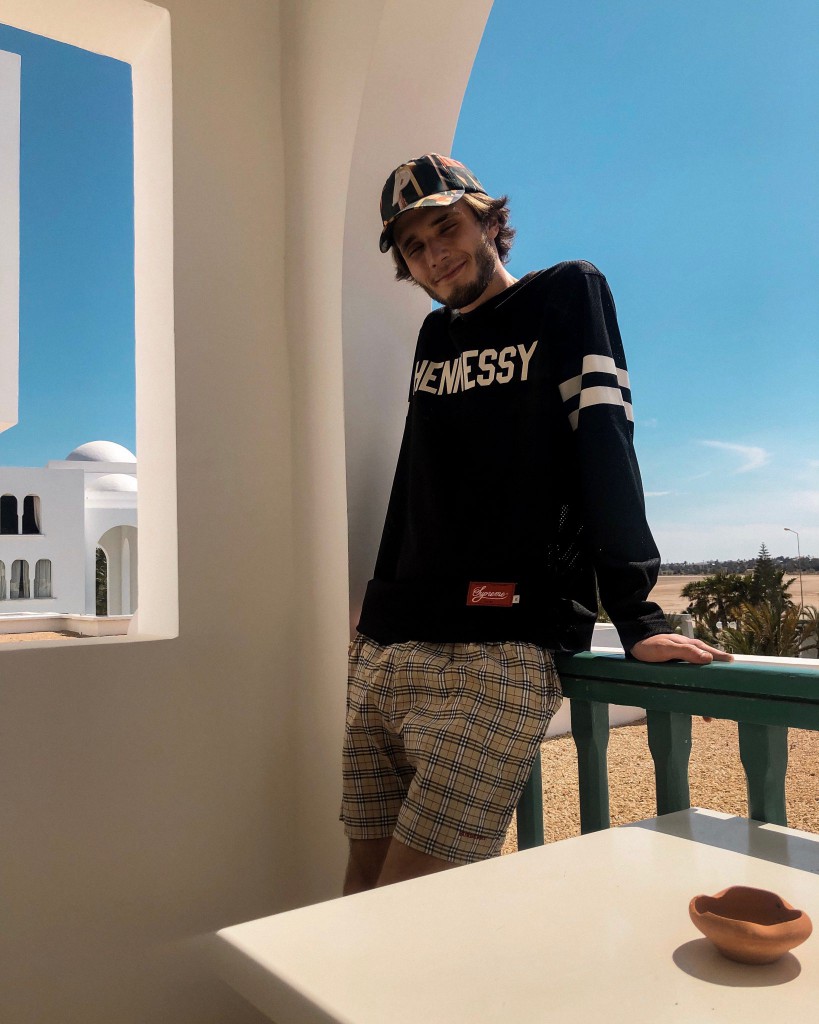 Trips
Let's get to our tips for a perfect Djerba vacation! As I already mentioned you can do much more than just lay at the beach and get a tan.
Market Midoun and Hamout Souk
Every Thursday afternoon and Friday morning a market takes place in Midoun. There you will find everything from fresh spices to pots and vintage clothes to old fake designer bags and t-shirts. Midoun was the closest town to our hotel, we resided in the Hotel Vincci Helios Beach and by the way were very happy, and is the second largest city in Djerba. Bigger then is only Hamout Souk, there is also a market, on Monday and Thursday. The difference between the two is that Hamout Souk is more touristy, which means more people who want to sell things to me I don't need – I recommend the market in Midoun.
Pirate ride to the Flamingo Island
You can either book a tour for 70 TDN (about 20 Euro) or go directly to the harbor and buy a ticket for the various pirate rides. The rides are all more or less the same. From Hamont Souk you head to Flamingo Island. Already when I was in Djerba 10 years ago, you could do it. We never did such excursions and the weather was too cold during this stay, however, I heard a lot of good things about this day trip. In addition, I think that you can not go wrong since this only cost 20 euros.
Quad, buggy, camel, horse, whatever tour
In each hotel, at least 5 different people will offer you a quad,  camel/horse tour. If you want to do something like this I can recommend you book the tours through your tour operator. There you are safe if something does not go as planned. From the sellers at the beach, I advise you off, because you have zero insurance. The hotel staff told my friend and me that they often make promises but they do not comply. For example, you pay for 30 minutes of riding but in the end, you only have 20 minutes or you want more money for it.
The tour guide would have paid us so much:
Buggy tour about 1,5 h: 150 TDN – about 45 Euro
Quad tour about 1,5 h: 70 TDN – about 20 Euro
Quad tour about 2,5 h: 130 TDN – about 40 Euro
Caravan (horse, camel, carriage) about 1,5 h: 70 TDN –  about 20 Euro
Jetski about 1,5 h: 300 TDN – about 90 Euro
Segway tour about 1 h: 100 TDN – about 30 Euro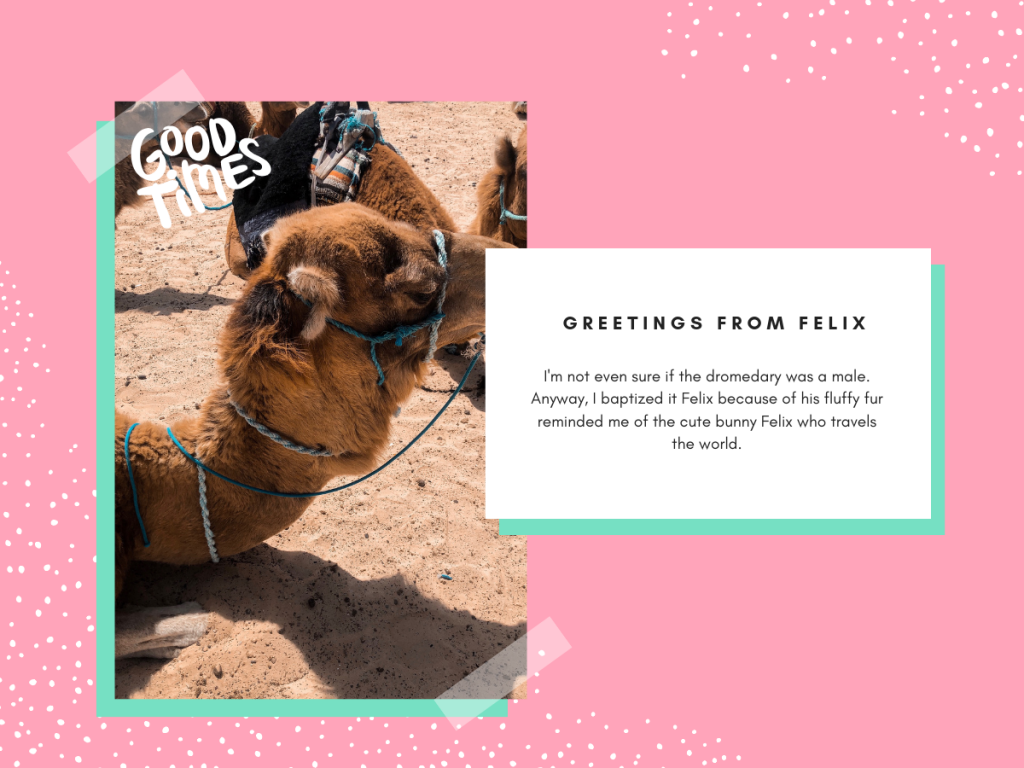 Pottery village

Guellala
Every market has many hand-made bowls and jars. The pottery belongs to Djerba, as the cheese belongs to Switzerland. In the pottery village of Guellala, you can not marvel at how art is made, but there is also a museum dedicated to the traditions of Djerba.
Djerbahood
Anyone interested in street art should take a look at Djerbahood. In the summer of 2014, several national and international artists came to beautify the village of Erriahd with their art.
Djerba Explore Themepark
Directly behind our hotel was Djerba Explore, which is a kind of crocodile farm. Besides the animals, there are cafes and souvenir shops. After seeing the pictures of the animals' attitudes, I did not want to go there anymore. However, I think that it is very exciting for people who have never seen crocodiles.
There is a tour offered, which costs about. If you are in Vincci Helios Beach or in one of the adjoining hotels I advise you to go there alone, it is much cheaper. The entrance fee is only about 1.50 Euro per person and you are in about 15 minutes walk or 2/3 minutes by taxi there.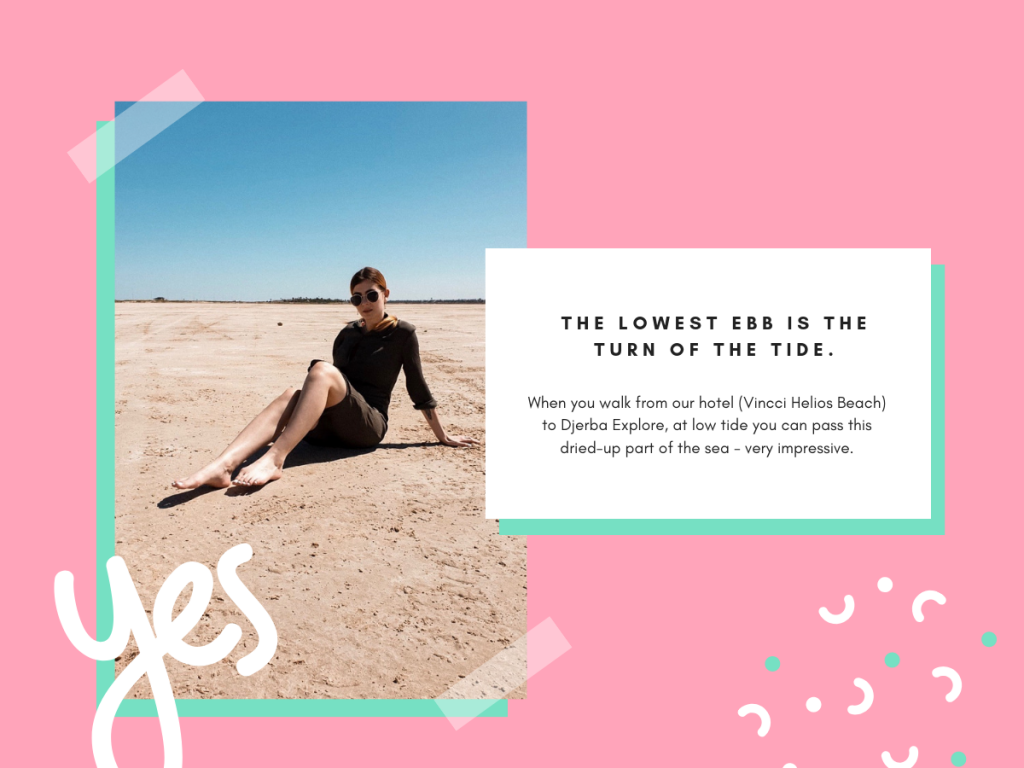 Day trip to the Sahara
For about 60 euros per person, I and I have made a day trip to the Sahara. There is also one for two days, of course, you can see more but I would personally only do that if you are more like a week on Djerba. We started at 6 a.m. and came back at 7 p.m. – lunch was included, as well as a dromedary ride in the Sahara.
I have to say that I had imagined the Sahara a bit bigger and no, I mean not the area but the height of the dunes. However, since you are in Douz almost at the gateway to the Sahara, it is more than logical that everything is a little smaller there. Also, the sand is not, as in most pictures orange but yellowish. I think by now that this simply depends on the region. After all, our grass is not the same everywhere green.
Anyone who is a Star Wars fan should do the trip, in Matmata some scenes were filmed. In addition to the mountain landscape, one also examines the Hotel Sidi Driss, which is very well-known in circles, as it also played some scenes in it.
That's not to say that this is a Star Wars Tour. You can easily consider it a plus if you like movies. I've never seen a part of the Star Wars series in my life.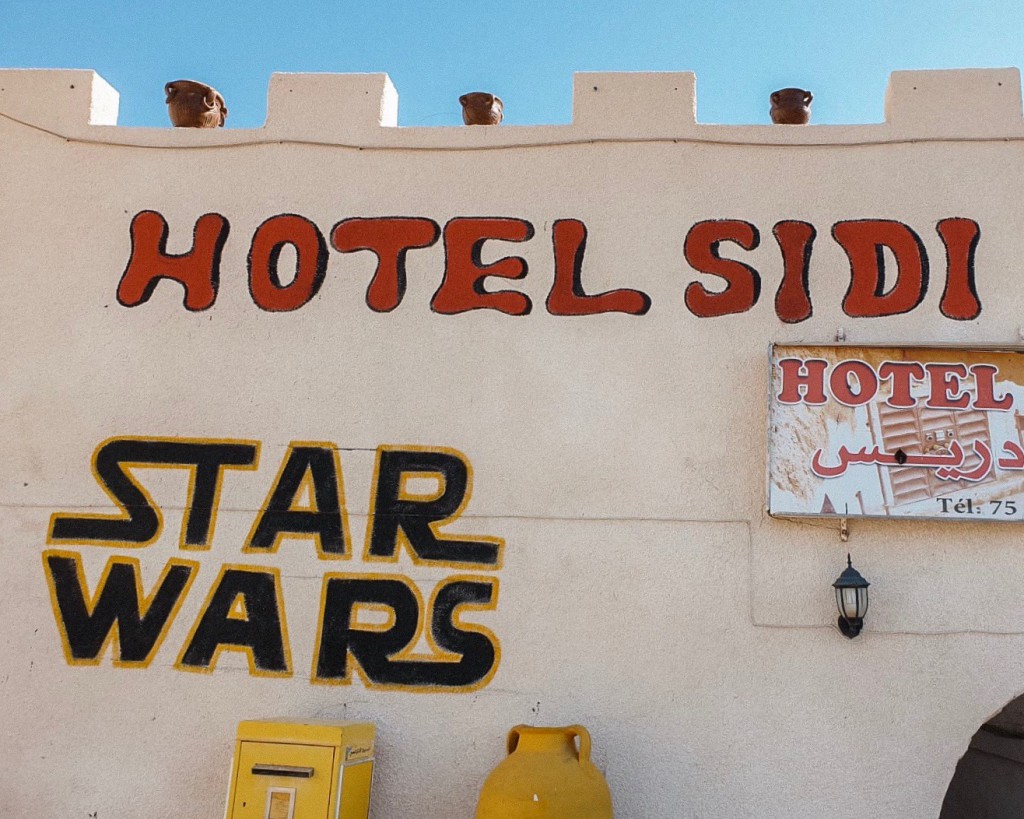 Lost Hotel Tanit
This is more or less a trip. In the middle of our vacation, we went for a walk and came after about 10 minutes to an abandoned hotel. The hotel is guarded by guards who are very friendly and will show you the grounds if you ask nicely. They do not charge for admission but we generously tipped the guide. Salah, one of the guards, told us that the hotel used to be known as Tanit and that its name grew over the years. It opened in the 70s as Hotel Tanit and closed in 2003 as Hotel Coralia Club. In the hotel are even documents and stuff like menus. If the hotel was still open, I would have booked my next vacation right there. It is surrounded by water from both sides and the bungalows are located on the seafront and it has this vintage charm where you do not need WIFI and TV but just sun, beach and a good book.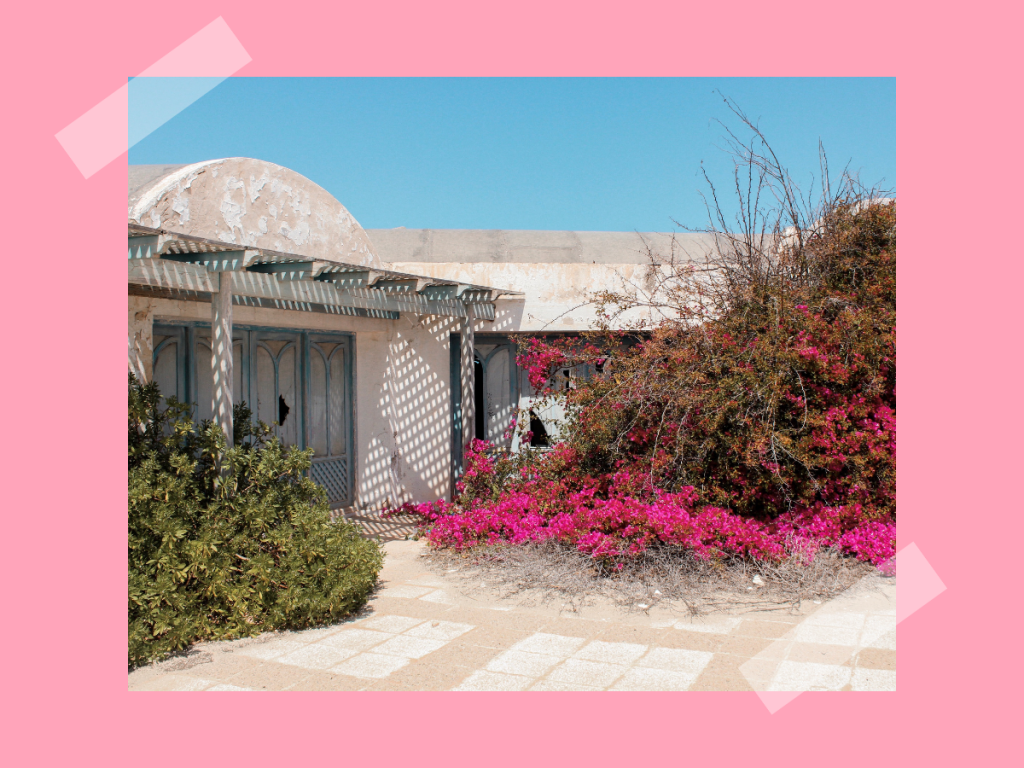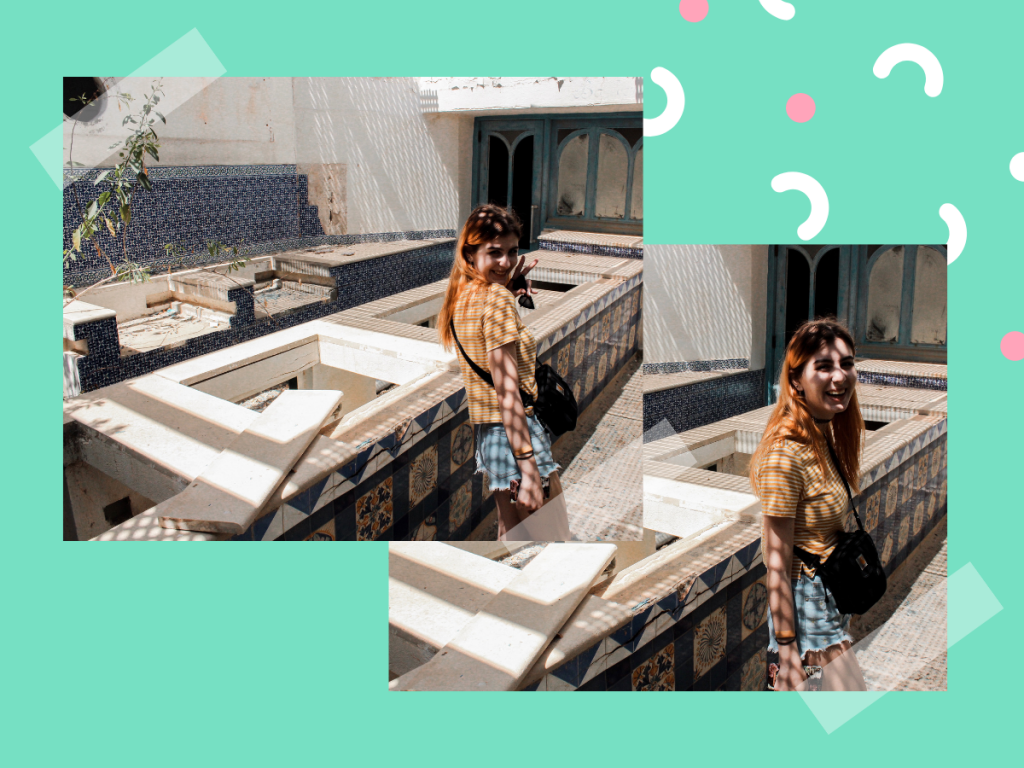 You can find more photos and information (for example about the rooms or the disco) in the Djerba exploring article!
My boyfriend and I paid 440 euros all inclusive per person, which I think is a really good price for 7 nights during the aster holidays. If you are looking for a budget relaxing holiday, I can recommend Djerba. Maybe not during – if it is not during the school holidays, but at this time it is no matter where (Ibiza, Crete, whatever) very crowded. In addition, it's much cheaper if you go outside the holiday period If you look around you can easily find an offer for two people à 440 euros all inclusive.
Small tip: When salespeople come and want to sell you something you don't want you should always definitely but friendly reject. If you don't say strictly no they may weave you anymore.