Before I finally settle for fall season, I would like to present you a last summer outfit. The pictures were taken during my short trip to Sanremo, in the wonderful old town. More specifically, these were snapped on our last day when we were on our way back from the weekly market. My outfit is pretty simple but totally typical for me. The old town offered a lot of pretty spots for pictures. We opted for a side street with wonderful lighting conditions and colorful apartments.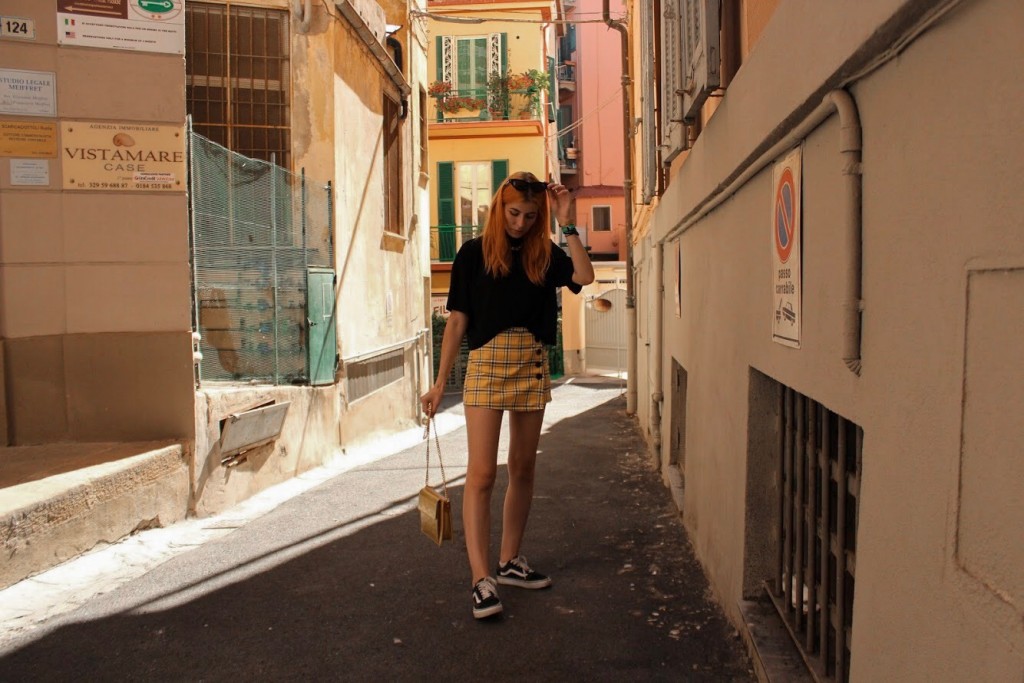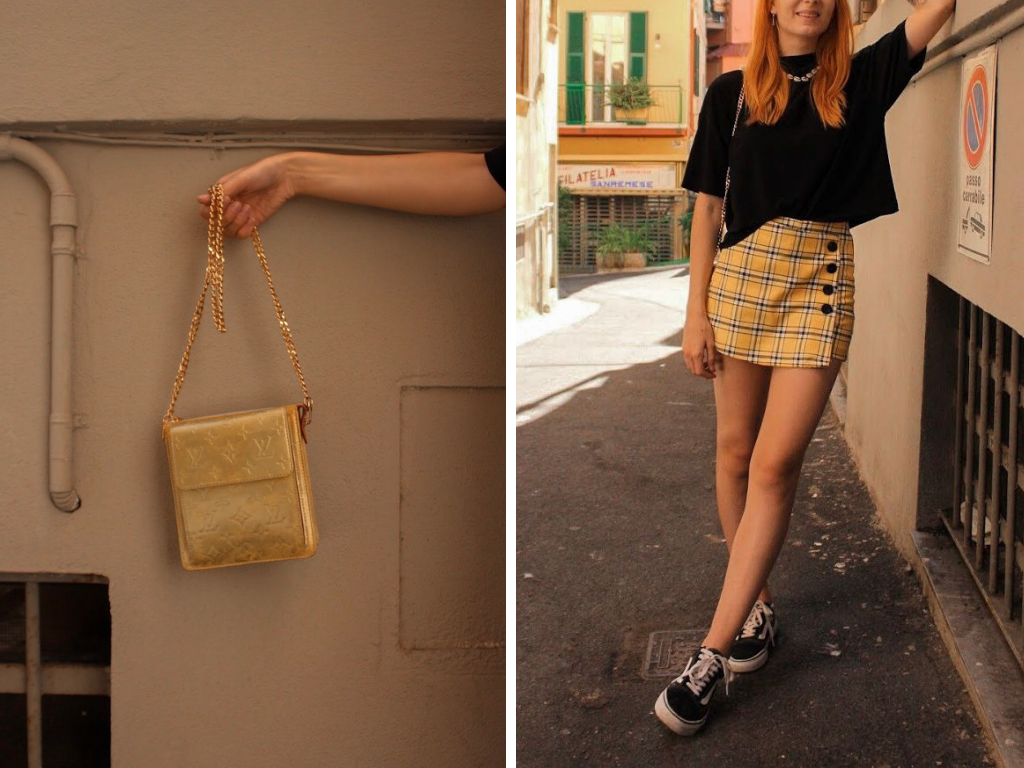 Since we only traveled with hand luggage, as in Ibiza, I only took flip-flops and a pair of sneakers with me. Once again I decided to go for my everyday sneakers, which are some low Old Skool Vans. Is actually funny… I have so many shoes at home and choose always or mostly the same. Quite simply for the reason that they look pretty, are totally comfortable and look good to almost every outfit. If I'd decided to take some expensive shoes with me, I would have had to be careful not to ruin them. This is not easy if you make a bike trour or climb over rocks.
I bought the shell necklace like an hour before these pictures were taken at the market for just one euro. Otherwise, I have not many accessories, I mostly wear just a few pieces. Beside the chain I'm wearing a gold watch from Mockberg (PR sample from a previous blogger event), a gold ring from my mom, my festival ribbons, a hair tie (I wear it 24 hours a day) and no name sunglasses from Japan – Monki and Co. have these too – they're just more expensive there. Not to forget, of course, my wonderful new / old Louis Vuitton Vernis Mott bag. By the way, the strap is not original, it's just a normal golden one from another bag. The original strap would be made of leather and is very short. I think this long and golden one looks way better. As you maybe already know, if you follow me for a longer time; I love, love, love vintage designer pieces with which I have no guilty conscience if I change one / two things to my liking.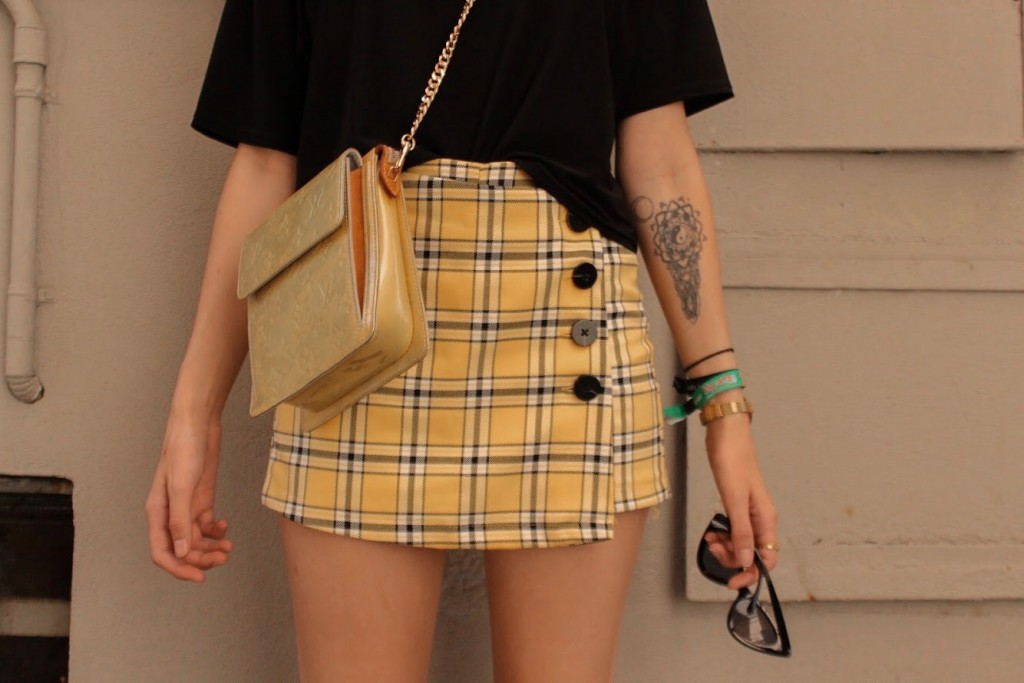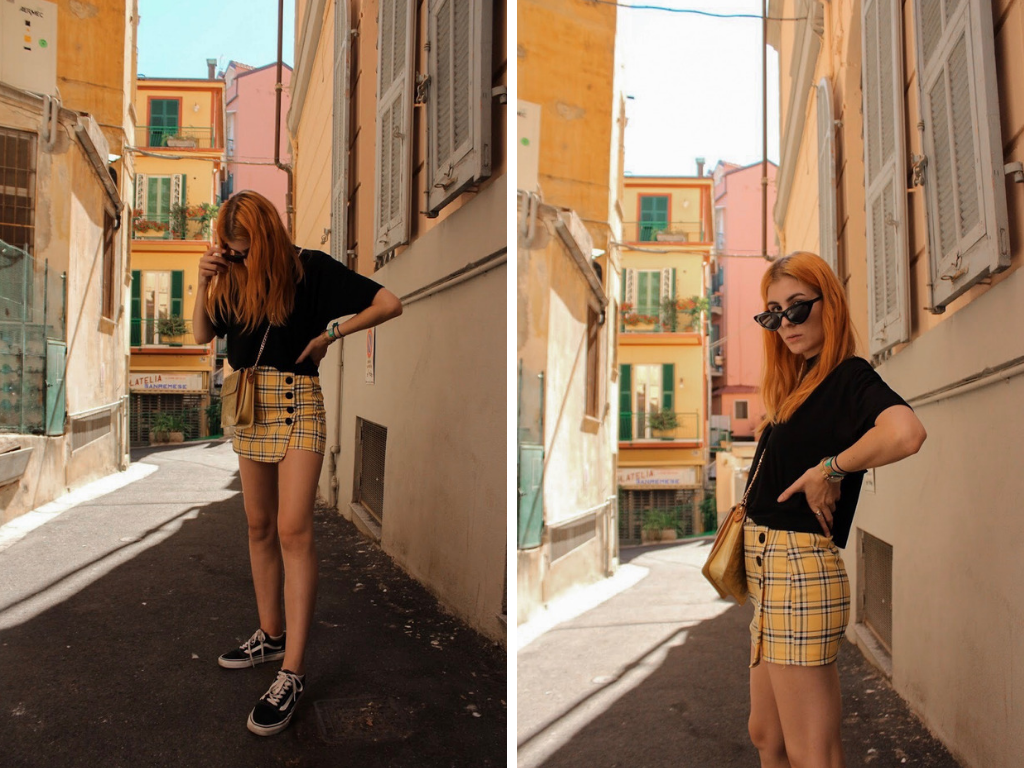 I bought the black top a few years ago at Urban Outfitters in Berlin. The fabric is quite stretchy and lightweight, so it's perfect for warm summer days. Since the crop top is not tight, you do not feel hemmed in and sweat a lot less then in normal t-shirts. Also if you should sweat in the sun, nobody will notice it. I first discovered this pants skirt at the beginning of summer at the Ku'damm in the Bershka store. There was only one piece left and that was exactly one size too small for me. Normally, a 32 always fits me perfectly in my pants and skirts. Bershka tailors the pants somehow smaller so I need a 34. Anyway, there was only one piece left, it was too small for me and I thought about buying the model which was just a skirt. Since I was not really happy with the alternative, I did not buy it. A few days later, I saw by chance that there was a re-stock in the online store and yeah, I could order it. Luckily I listened to my feeling and left the alternative in the store.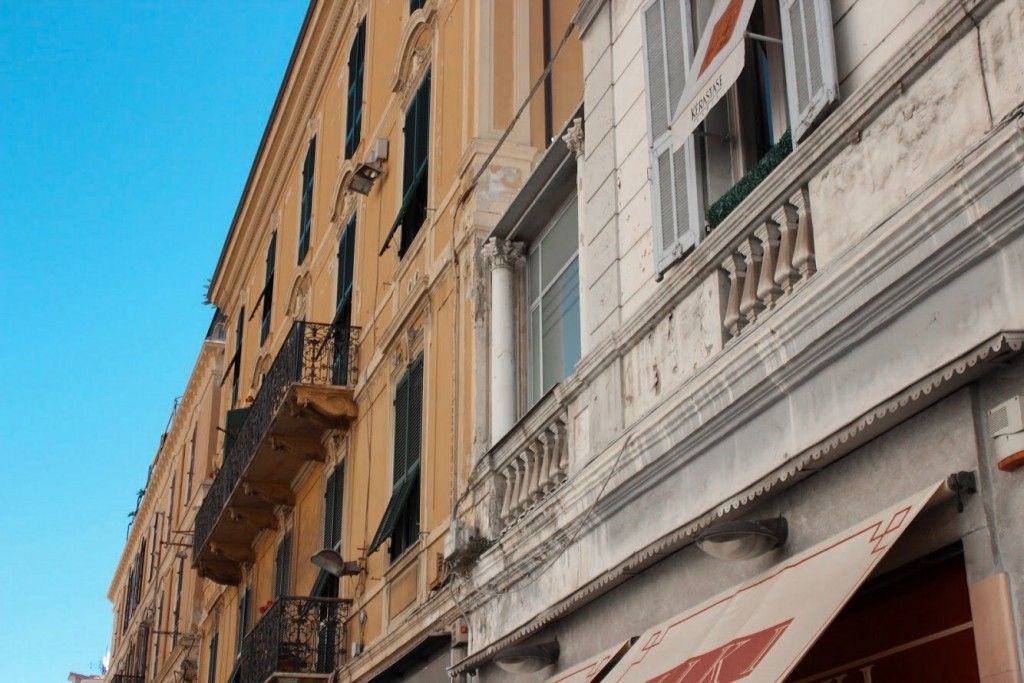 That's it with the outfit post, I hope you liked my last summer look for 2018. I also try to finish the travelogue about my stay in Sanremo as fast as possible. In addition to the text and the pictures, this also includes a VLOG. Since I rarely edit videos and my MacBook is very slow (strangely only with iMovie) it takes a little longer. Travel contributions are also always more extensive, but I bet you already noticed this because of the length and stuff.
Photos: Tristan Luckow