[:de]Bei (fast) täglichen 20 Grad und mehr kann man wohl sagen, dass der Frühling auch in Berlin angekommen ist. Deshalb stelle ich euch heute mein erstes offizielles Frühlings Outfit vor. Ich kann nicht oft genug betonen, wie sehr ich den Frühling liebe. Ich finde es gibt keine besser Jahreszeit für Mode (und eigentlich für überhaupt alles). Im Winter muss man tausende lagen tragen und im Sommer fühlt sich eine oft schon nach zu viel an. Im Frühling aber liegen die Temperaturen im T-Shirt und Jeans Bereich, was einfach nur fantastisch ist meiner Meinung nach. Ausserdem sieht man in dieser Jahreszeit am meisten Blumen und die motivieren doch gleich noch ein Stück mehr neben den wärmenden Sonnenstrahlen.
Die Fotos wurden im Herzen von Berlin geschossen, nach einer kleinen Vintage Shopping Tour mit meinem Freund. Das Wetter war einfach perfekt, ich meine was will man mehr, wie 23 Grad und Sonnenschein?! Mein Outfit ist ziemlich simpel. Durch die Statement Hose mit orangenem Camo Muster aber doch ein ziemlicher Hingucker.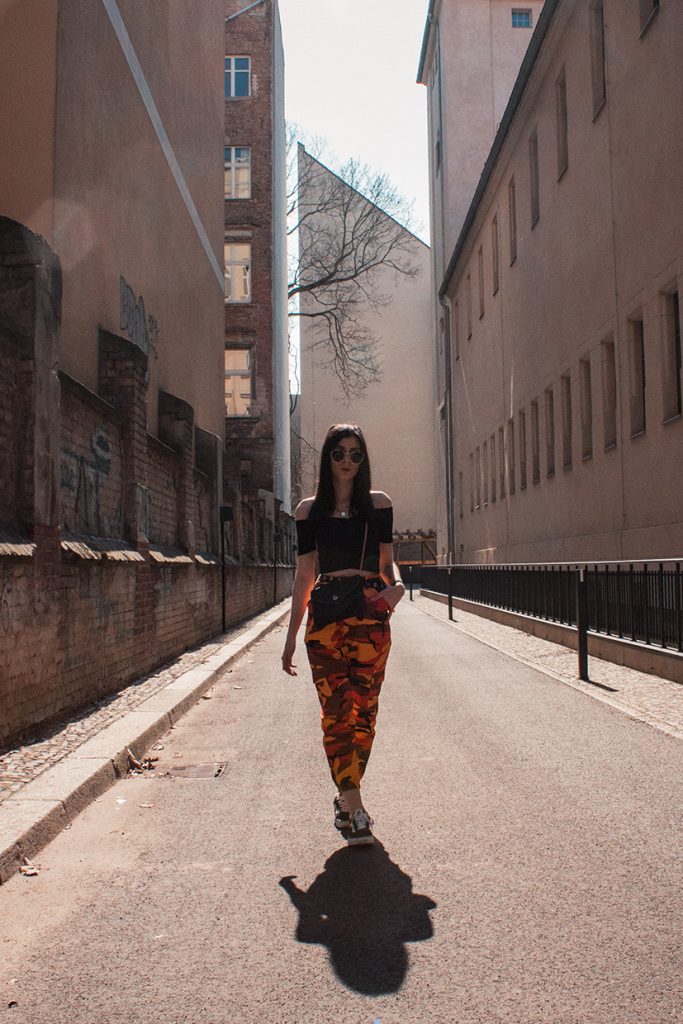 Diese Camo Pants gehört eigentlich auf die Hüften und sind daher etwas zu kurz bei den Beinen. Ich finde jedoch, dass sie mir High Waisted um einiges besser stehen. Die orangene Hose habe ich übrigens bei eBay gekauft, wie so vieles momentan. Ich muss sagen, ich steh total auf eBay und nein, dass sage ich nicht, weil ich dafür Geld bekomme. Es ist einfach online shopping für coole Vintage Pieces und Vintage ist bei mir (meistens) mehr angesagt, wie neue Teile. Ich denke, dass diese orangenen Camo Pants allgemein  zu meinen Favoriten gehört für den Frühling 2018. Die ist übrigens nicht Vintage, sondern war noch schön verpackt. Das Etikett war aber Japanisch also keine Ahnung von welcher Marke die wirklich sind. So viel wie ich aus Japan bestelle, sollte ich mal ein paar Wörter lernen.
Damit die Camo Pants auch da bleiben, wo sie sein sollen, habe ich einen Gürtel von Brandy Melville drum gebunden. Diesen kaufte ich vor kurzem in Zürich. Dazu habe ich ein bauchfreies Off-Shoulder Top in schwarz von Primark gewählt. Meine Schuhe sind ein paar tiefe Old Skool Vans, die passen einfach perfekt zu dem ganzen Look – ja, ja ich trage die zur Zeit echt oft. Die kleine schwarze Umhängetasche ist von Dior und meine Sonnenbrille habe ich erst grade letztes Wochenende bei Primark geholt, wie auch die goldenen Creolen. Den orangenen Ring, der einfach super zu Hose passt, habe ich von einem Arbeitskollegen bekommen. Der ist wohl aus einem Kinderüberraschungsei oder so aber mir gefällt er auch als Erwachsene Person.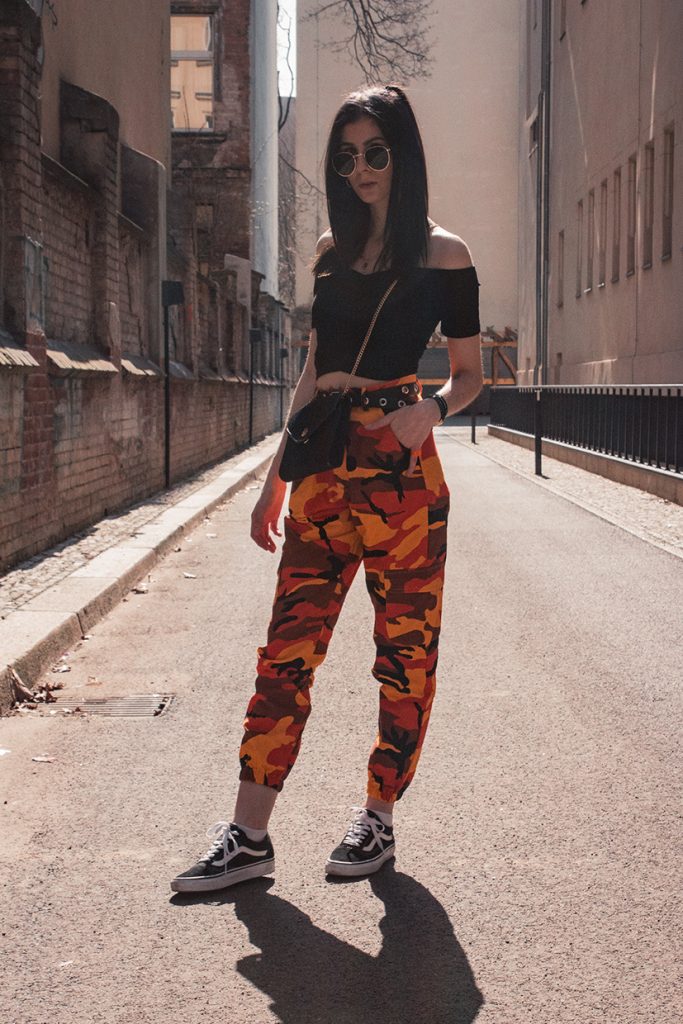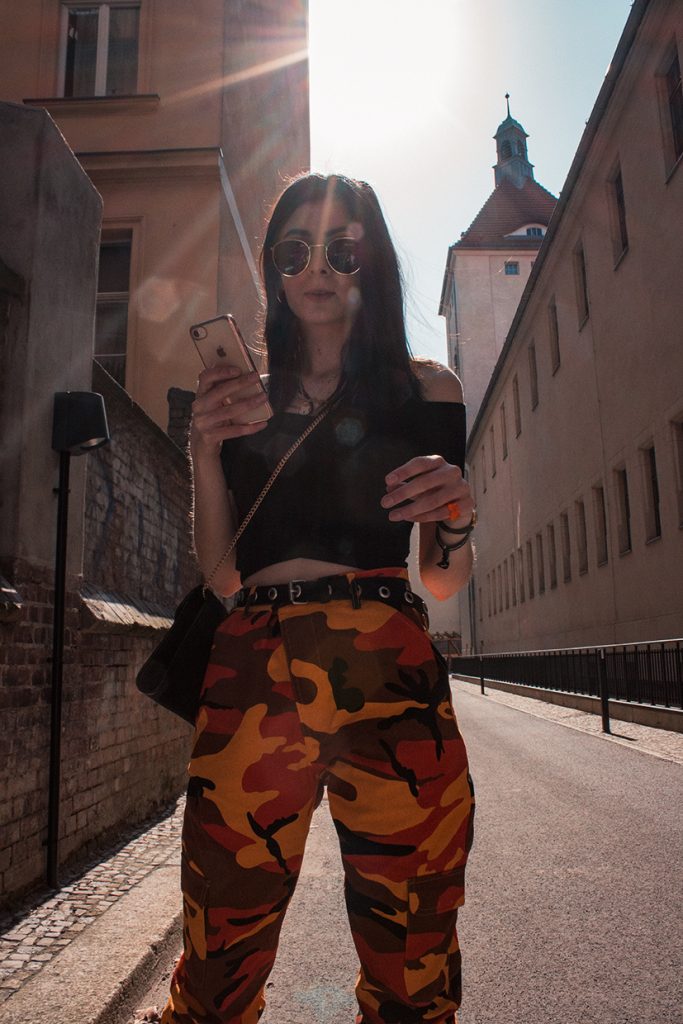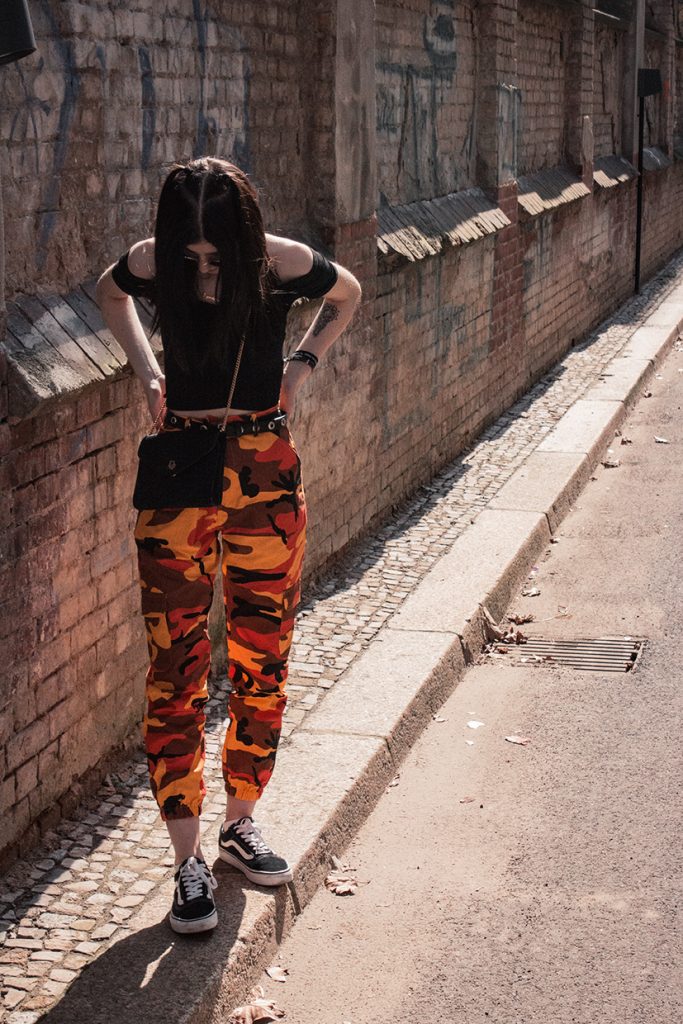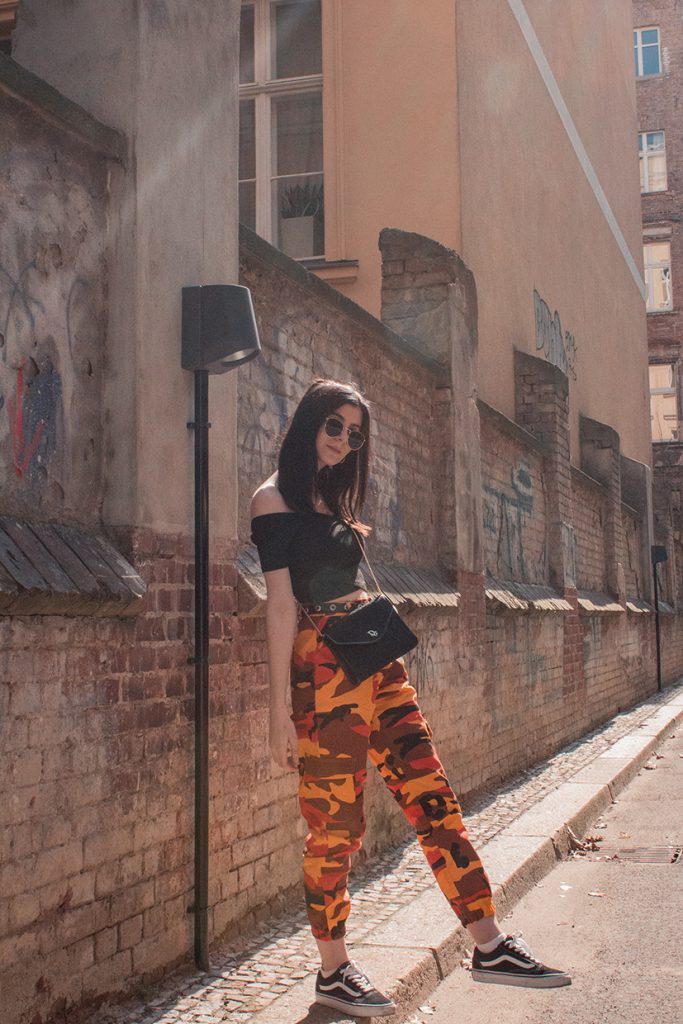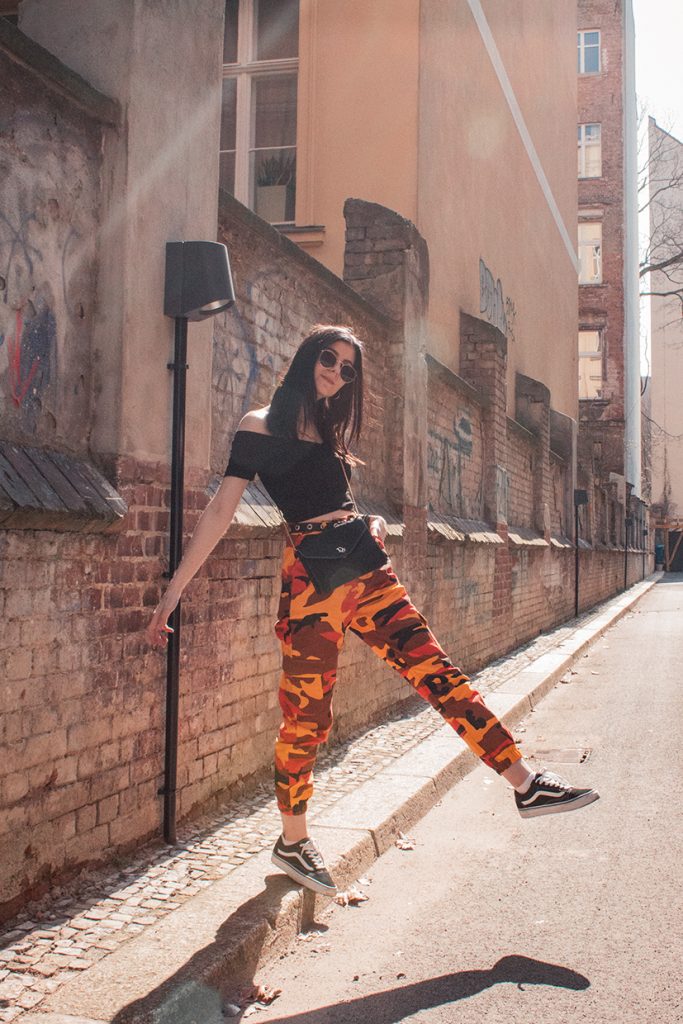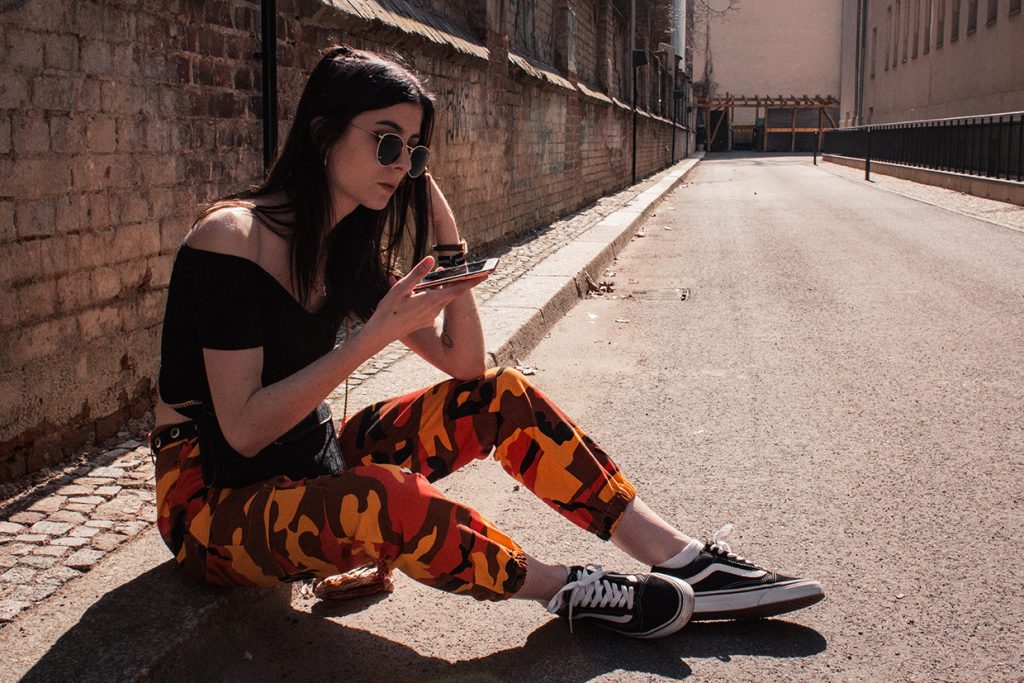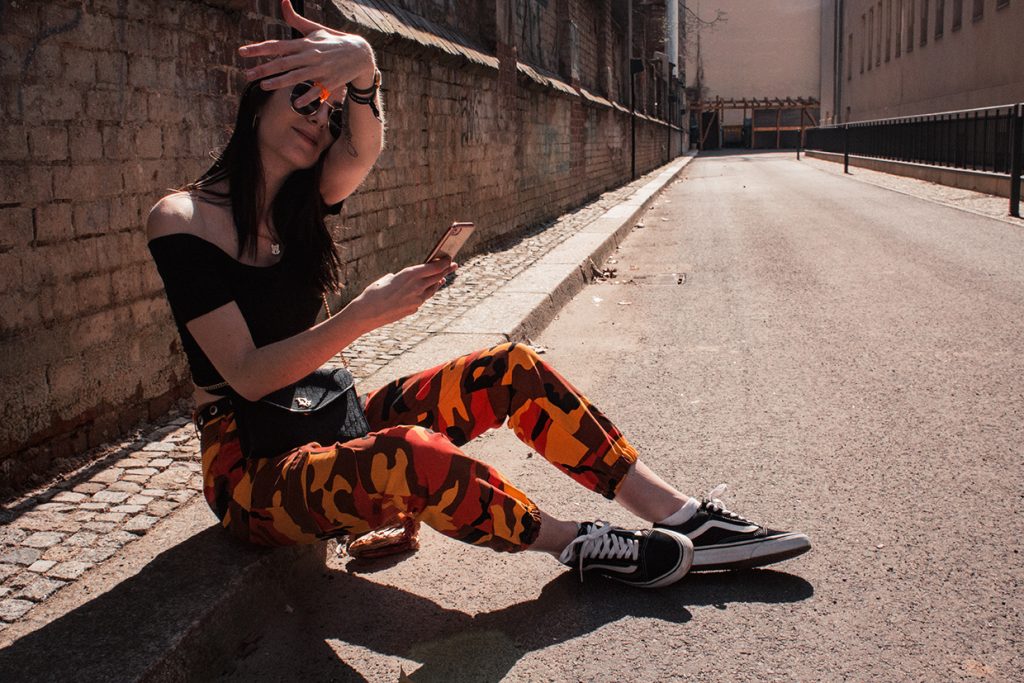 Fotos: Tristan Luckow
Shop my Style (Werbelinks*)
Ich habe euch hier direkt mal ein paar ähnliche Teile rausgesucht. So könnt ihr meinen Look ganz einfach nachstylen.
Falls ihr hier keine Produkte seht, solltet ihr euren Adblocker deaktivieren.
* Transparenz: Obige Links sind Affiliate, bzw. Werbelinks. Das bedeutet, dass ich bei einem Kauf über einen dieser Links zu einem geringen Prozentsatz beteiligt werde. Euch entstehen dadurch keinerlei Nachteile oder Kosten.[:en]With (almost) daily 20 degrees and more, you can say that spring has arrived in Berlin. That's why today I present you my first official spring outfit of 2018. I can't write enough how much I love spring. I think there is no better season for fashion (and to be honest everything). In winter you have to wear thousands of layers and in summer often even one feels like it's too much. Spring, however, the temperatures are in the T-shirt and jeans area, which is just fantastic in my opinion. In addition, you can see at this time of the year most flowers and they motivate just a bit more next to the warming sunbeams.
These photos were taken in the heart of Berlin after a little vintage shopping tour with my boyfriend. The weather was just perfect, I mean what more could you want than 23 degrees and sunshine?! My outfit is actually pretty simple but because of the statement pants with orange camo pattern quite an eye catcher.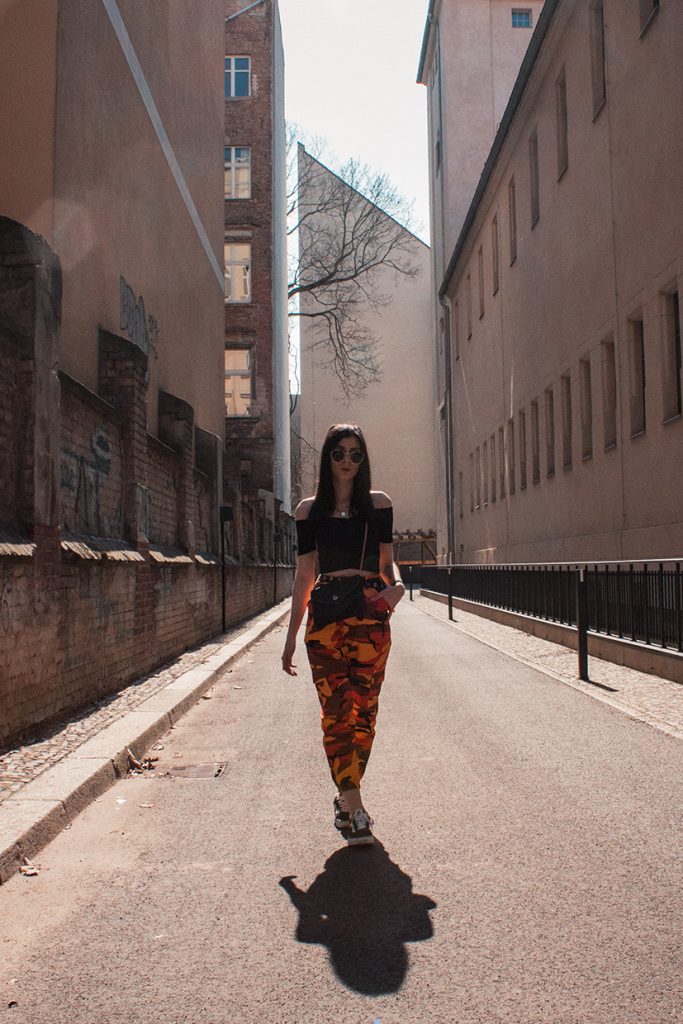 The pants are actually to wear on the hips and are therefore a bit short on the legs. But I think they look a lot better on me high waisted. Incidentally, I bought the pants on eBay, like so many things right now. I have to say I'm totally into eBay at the moment and no I do not say that because I get money for it. It's just online shopping for cool Vintage Pieces and Vintage is most fashionable to me right now, like new. I think that these camo pants will probably be one of my favorites for this season. By the way I bought them as new pants, they're not vintage. The label was Japanese so I have no idea what brand they really are. As much as I order from Japan, I should learn a few words maybe.
To keep the pants where they should stay I took a cute belt form Brandy Melville. I bought this one a short time ago in Switzerland. Beside the camo pants I have chosen a cropped off-shoulder top in black from Primark. My shoes are a pair of low Old Skool Vans which just match perfectly with the whole look – yes, yes I know I wear them very often at the moment. The small black shoulder bag is from Dior and I got these sunglasses just last weekend at Primark, as well as the gold hoops. The orange ring, which fits just great to the pants, was a gift got from a colleague. He is probably from a Kinderüberraschungsei or something like this but I like this ring really also as an adult person.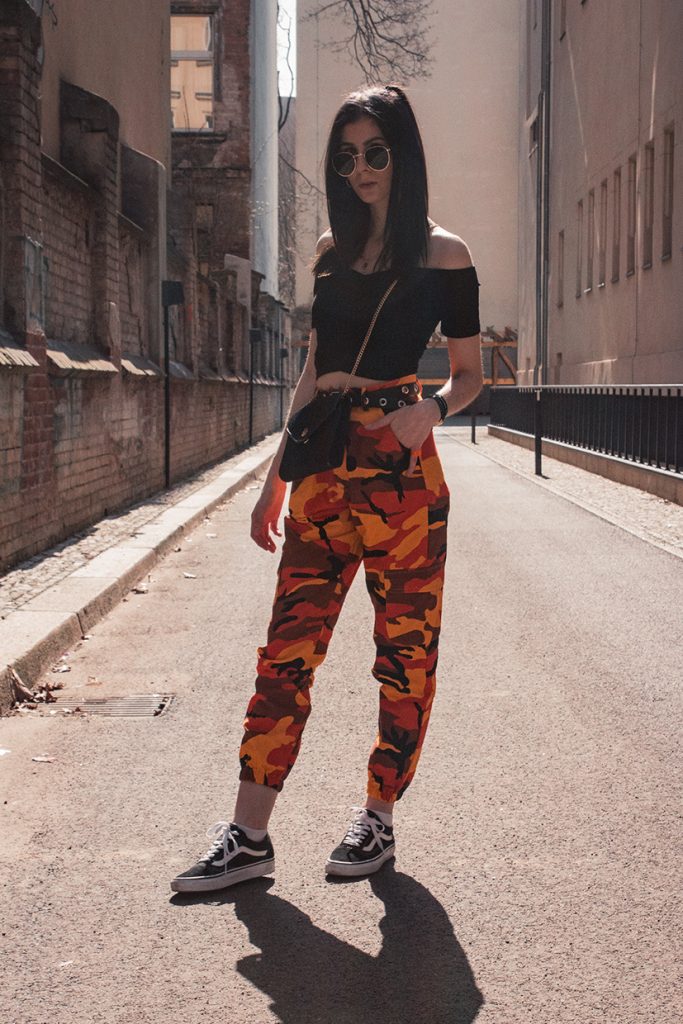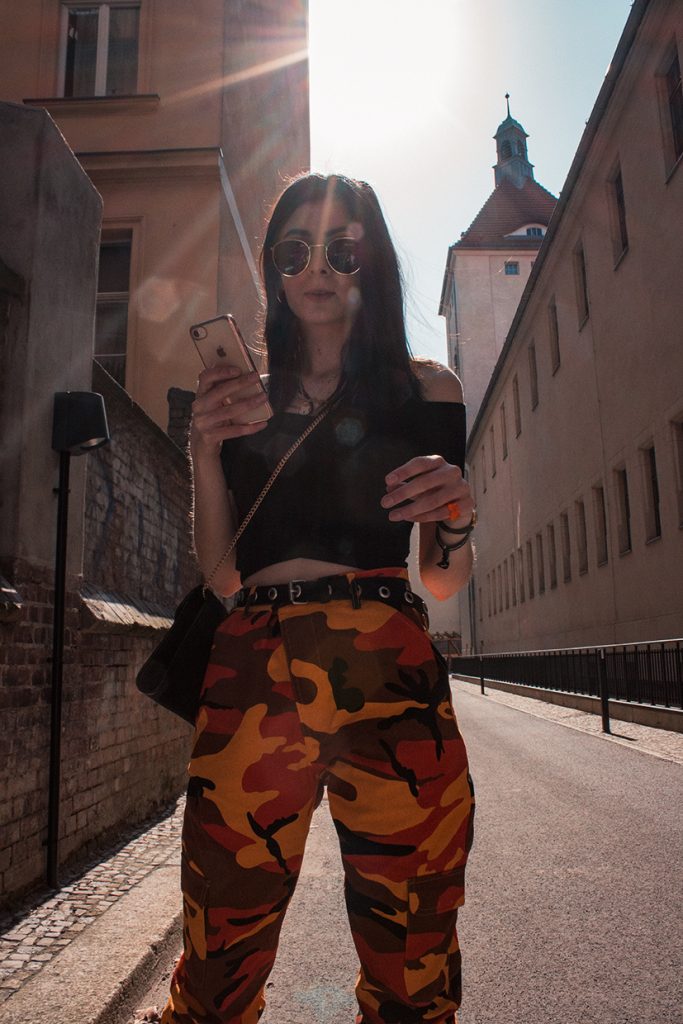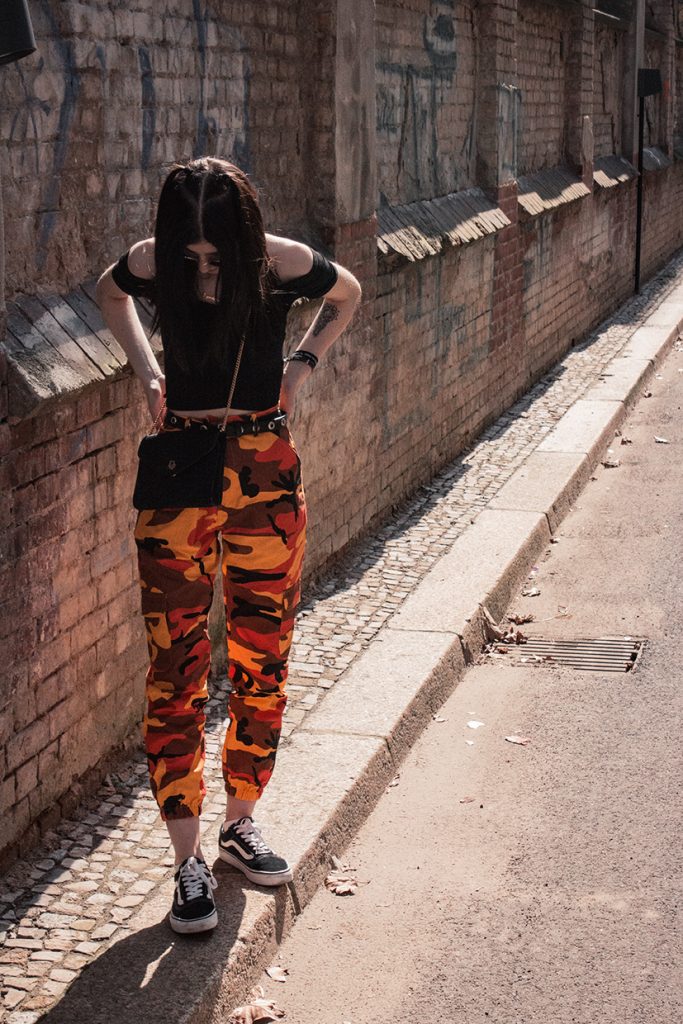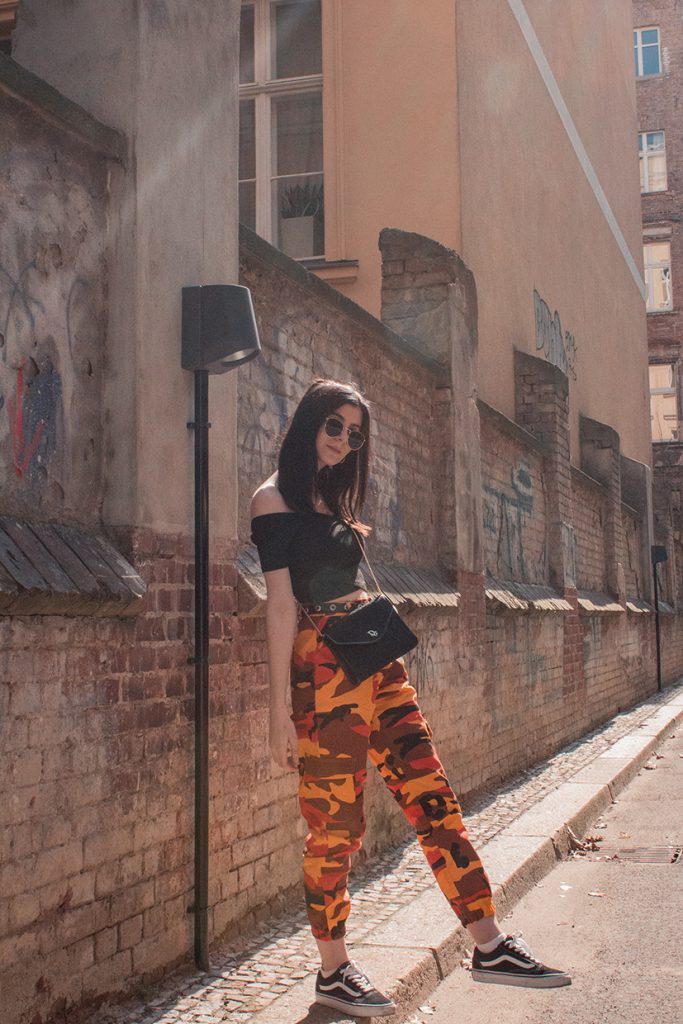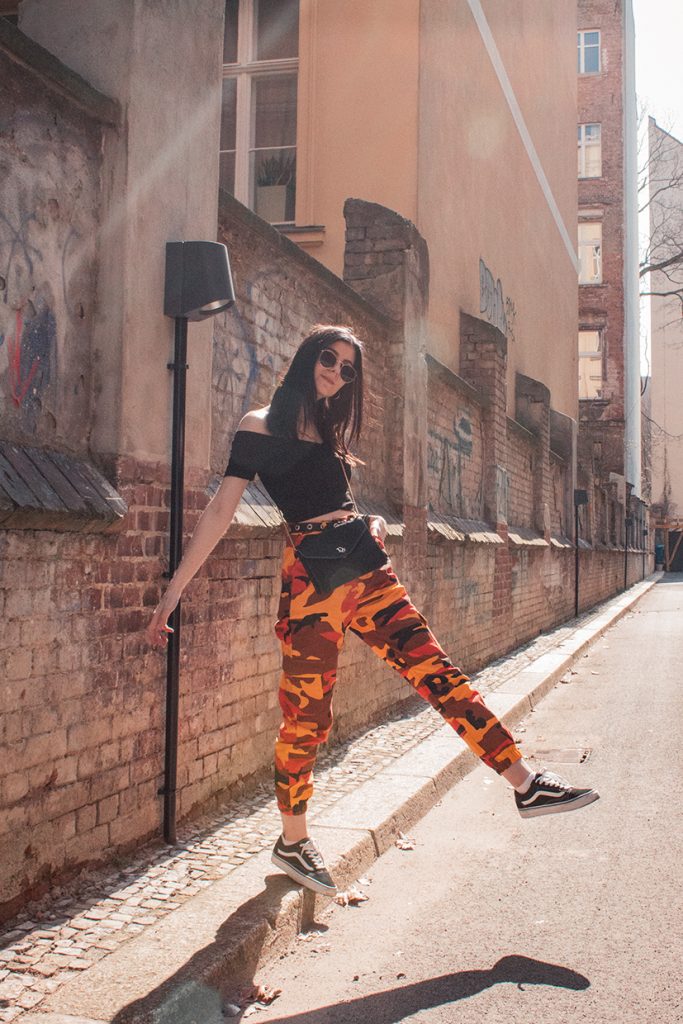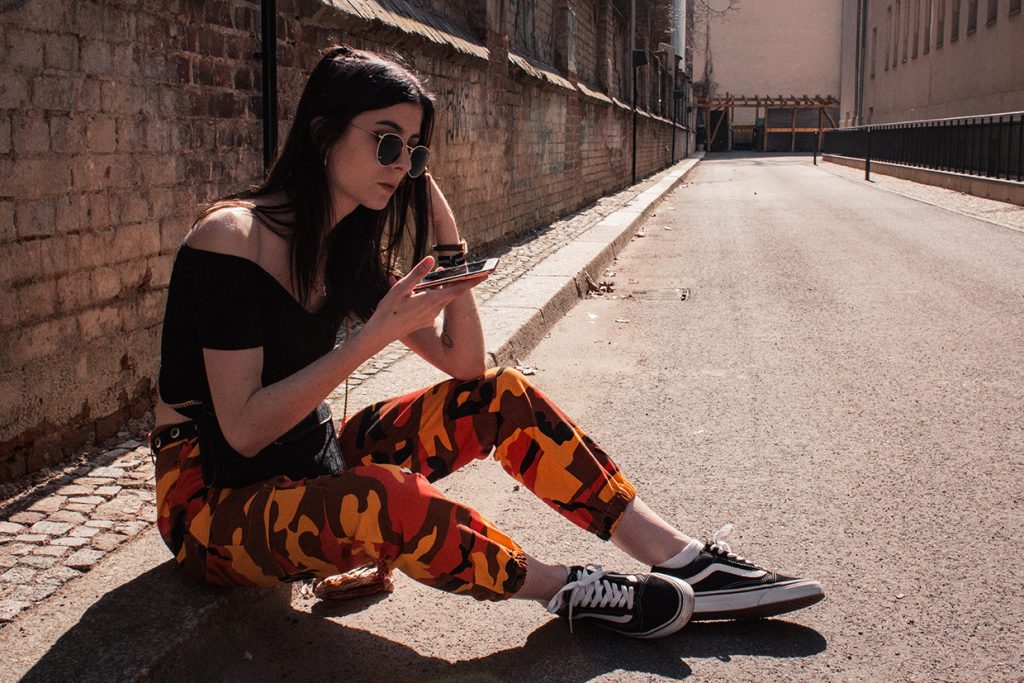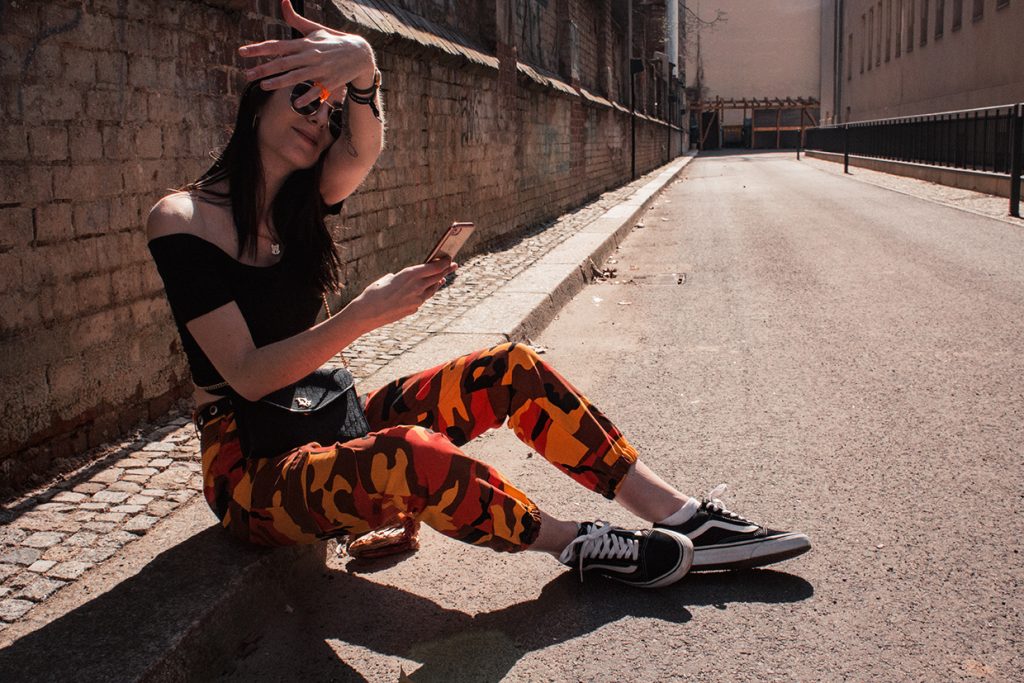 Photos: Tristan Luckow
Shop my style (advertising link*)
I have here some similar piceses, so you can style the look I just presetnted you.
If you can´t see any products you should deactivate your adblocker.
* Transparency: The links above are affiliate or rather advertising links. That means that I get a small percentage participation if you buy something through these links. You don´t  get any disadvantage or costs.[:]