[:de]Der Sommer ist nicht bloss bei mir in Indonesien gerade ein Thema, auch in Europa steigen die Temperaturen und Urlaube stehen vor der Tür. Passend dazu habe ich für euch einen neuen What's in my bag Beitrag erstellt (hier kommt ihr zum letzten). In diesem Beitrag erfahrt ihr, was auf keinen Fall im Pool/Beach Bag fehlen darf.
Sonnencreme
Da ich sehr helle Haut habe, darf die liebe Sonnencreme auf keinen Fall in meinem Pool/Beach Bag fehlen. Ich habe einmal eine für den ganzen Körper mit dem Lichtschutzfaktor 20 von Nivea. Die gibt es als Spray, was etwas einfacher zum auftragen ist in meinen Augen. Davon habe ich auch noch ein Sonnenöl, dieses benutze ich jedoch erst, wenn ich schon etwas angebräunt bin. Für mein Gesicht und Dekokte benutze ich eine Sonnencreme mit Lichtschutzfaktor 30 von DM (PR Sample). An dieser gefällt mir besonders, dass sie mattierend ist. Wenn ich schon kein Make-Up trage, glänze ich wenigstens nicht. Wenn wir grade beim Thema Kosmetik sind, will ich noch kurz anmerken, dass ich allgemein beim Pool/Beach nicht auf Make-Up stehe. Weder bei mir noch bei anderen, ich meine wer will bitte in Wasser mit Make-Up schickt schwimmen?! Das einzige, was ich verwende ist manchmal Wasserfeste-Wimperntusche.
Sonnenbrille
Eines der Dinge die man schnell verliert, die Sonnenbrille. Also immer gut darauf aufpassen, aber nicht die ganze Zeit tragen sonst hat man schnell einen unschönen Abdruck im Gesicht. Die Sonnenbrille auf dem Bild ist übrigens nicht von Ray-Ban, wie das Etui, sondern von H&M. Ansonsten habe ich jedoch nur noch ein Etui für meine normale Brillen, daher ist dieses von Ray-Ban der Schutz für alle meine Babies.
Lesestoff
Ob Buch oder Magazin, hier bietet sich die Gelegenheit den inneren Bücherwurm rauszulassen. Für Tabletts und co. ist es meistens sowieso zu Hell draussen, daher empfehle ich zu Print Produkten zu greifen. Ich habe mich dieses mal für die neuste Ausgabe von Grazia entschieden, da ist eine gute Mischung aus Mode und Stars drin.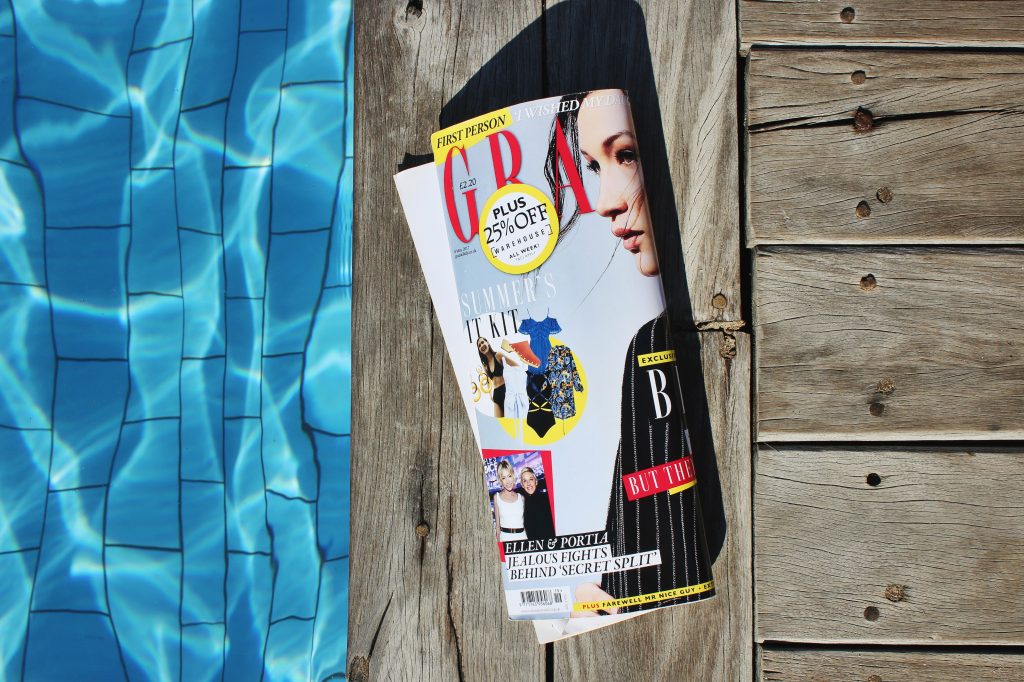 Musik
Neben dem Lesen ist Musik super, egal an welchem Ort. Bereits in meinem Travel Must-Haves Beitrag habe ich dies wohl mehr als klar gemacht. Wenn man dann noch bei tollem Wetter am Pool bzw. am Strand liegt, kann man die Musik erst recht geniessen. Ich habe mir für den Sommer gleich eine Playlist bei Spotify erstellt, welche ich 90% des Tages rauf und runterspiele. Die Kopfhörer sind übrigens von Panasonic, dies ist ein günstigeres Modell da ich die dumme Angewohnheit habe meine Kopfhörer schnell auseinander zu reissen, natürlich nicht absichtlich.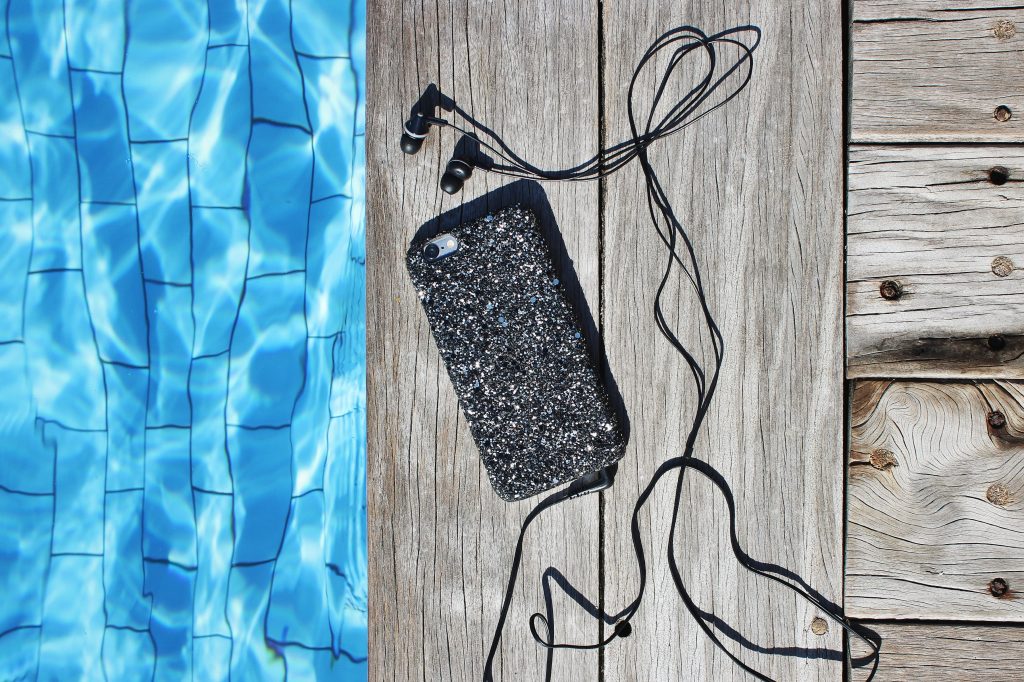 Badezeugs
Neben einem Handtuch darf man selbstverständlich nicht das Bikini, die Badehose, das Monokini oder whatever vergessen. Es sei denn man geht an einen FKK Strand, dann kann das einfach weggelassen werden. Da ich aber nicht der Typ für FKK bin, ist ein Bikini oder Einteiler immer mit dabei. Jahrelang trug ich bloss Bikinis, dieses Jahr habe ich mir jedoch endlich mal wieder etwas neues geholt, nämlich einen schneeweissen Einteiler von American Apparel. Ich dachte eigentlich das die Kett eingegangen wäre, aber der Store in Berlin hat noch immer ein grosses Sortiment an Lager. Die Badelatschen hatte ich mir vor einigen Monaten bei TK Maxx geholt, ich- bin so dankbar, dass es diesen Laden gibt. Ich finde jedes mal wundervolle Sachen, wenn ich vor Ort bin. Die Marke selbst der Badelatchen heisst übrigens TRUFFLE COLLECTION.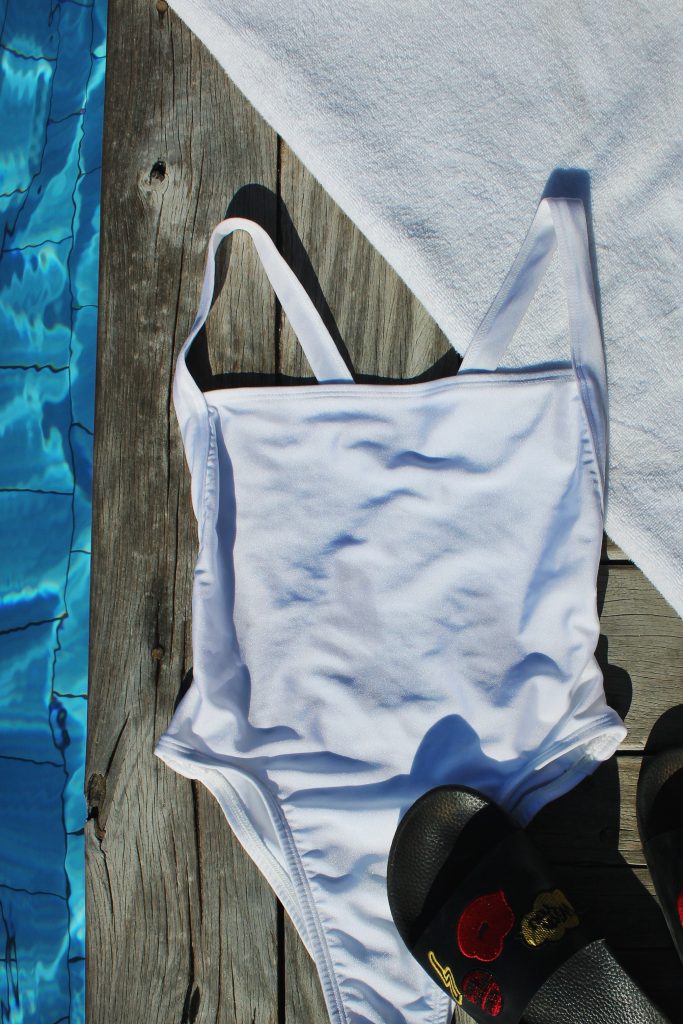 [:en]Summer isn't only in Indonesia a big theme right now. The temperatures in Europe go also up and vacations rise the corner. Matching to this I made a new What's in my bag post (here you'll find the last one). Read here about the things I always have in my pool/beach bag.
Suncream
Like y'all know I have really pale skin so I can't forget taking some suncream with me. For my body I use a spray from Nivea with the SPF factor 20. I think it's really cool that this is a spay it's way easier than a tube to put the cream on the skin. I also use sunoil but that's nothing for Bali beacause it's too light. I only use it if I'm already a bit tanned. For my face I use a suncream from DM with the SPF factor 30 (pr sample). It's a tarnishing one so if you already don't wear make-up the whole day to make the skin look flawless your skin isn't shiny. By the way please girls don't wear make-up, except you have some which is waterproof, when you go to the beach or pool. It's not cool to swim in make-up but I think must girls know this and think like me.
Sunglasses
One of the things I loose really fast, sunglasses. Well, look carefully for them and don't wear them too often because you'll can get an imprint on your face. The sunglasses in this picture are incidentally not from Ray-Ban, like the case, they're from H&M. I just own two cases this one and another for my regualar glasses, so I use the case in the picture as a protection for all of my sunny babies.
Reading material
It doesn't matters if you take a book or a magazine to the pool/beach but you can let your inner bookworm out when you go to one of this places. It's mosty too bright for tablets etc. so I recommend to buy a print product. I decided to take a Grazia with me, it's a beautiful mix from fashsion and stars.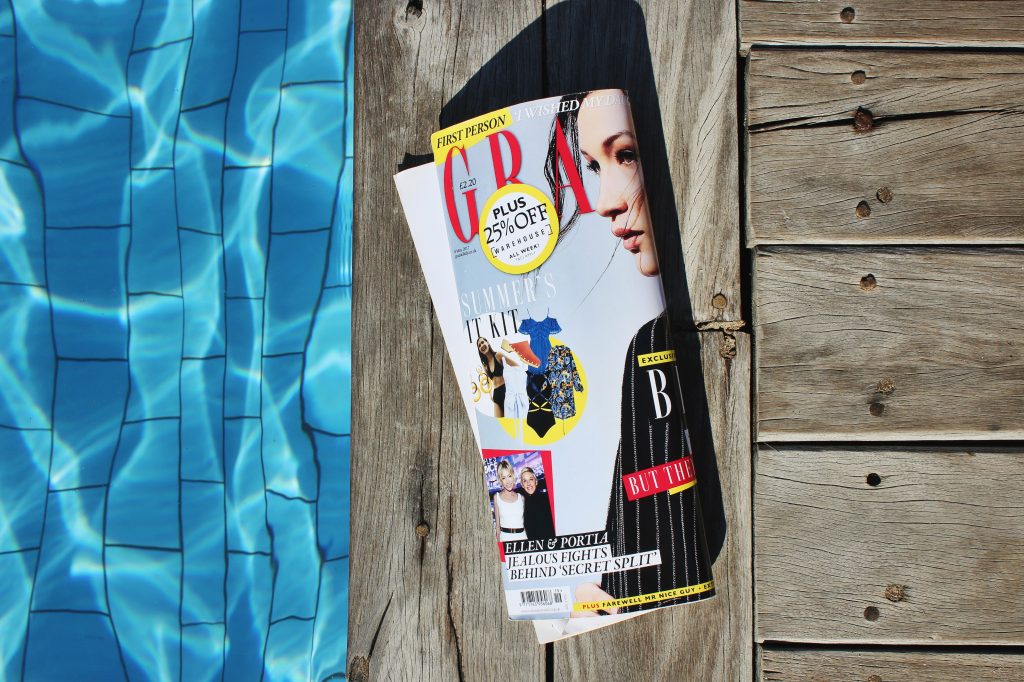 Music
Beside reading is music the best, like everywhere. Already in my travel must-haves post I wrote that I could never live without it. If you have good weather, lay by the pool or the beach you can enjoy the sounds of your favorite songs above all. I put a (in my eyes) great summer playlist together on Spotify. I listen to it like 90% of the day. The headphones are incidentally from Panasonic, it's a cheaper modell because I break mine really fast unfortunately.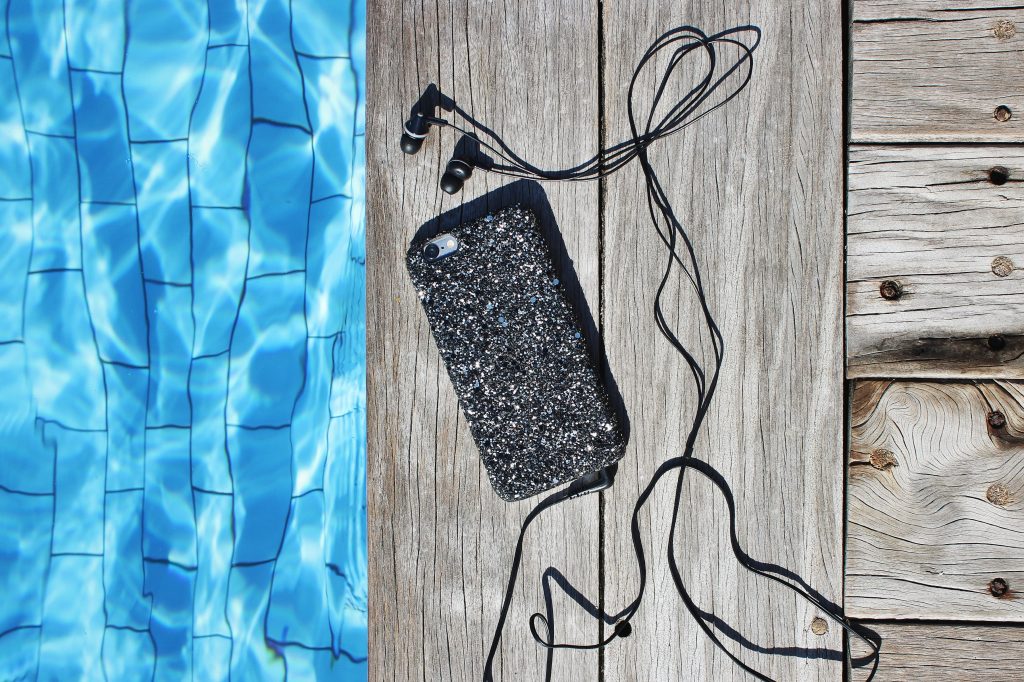 Swimming things
Beside a bath towl you totally need a bikini, swimsuit, tankini or whatever you prefer. Except you go to a naturism pool/beach… Well but I'm not the type of person who does this so I always take swimming clothes with me. I wore for years only bikinis but this year I bought myself a swimsuit and I totally love it. It's from American Aparell by the way. I thought this chaim went bankrupt and closed all stores but the one in Berlin is still open with a lot of clothes no end in sight. Oh last but not least my beach slides they're from a brand called TRUFFLE COLLECTION.  I bought originally some months ago at TK Maxx, I'm so thankful for this store I always find something for myself.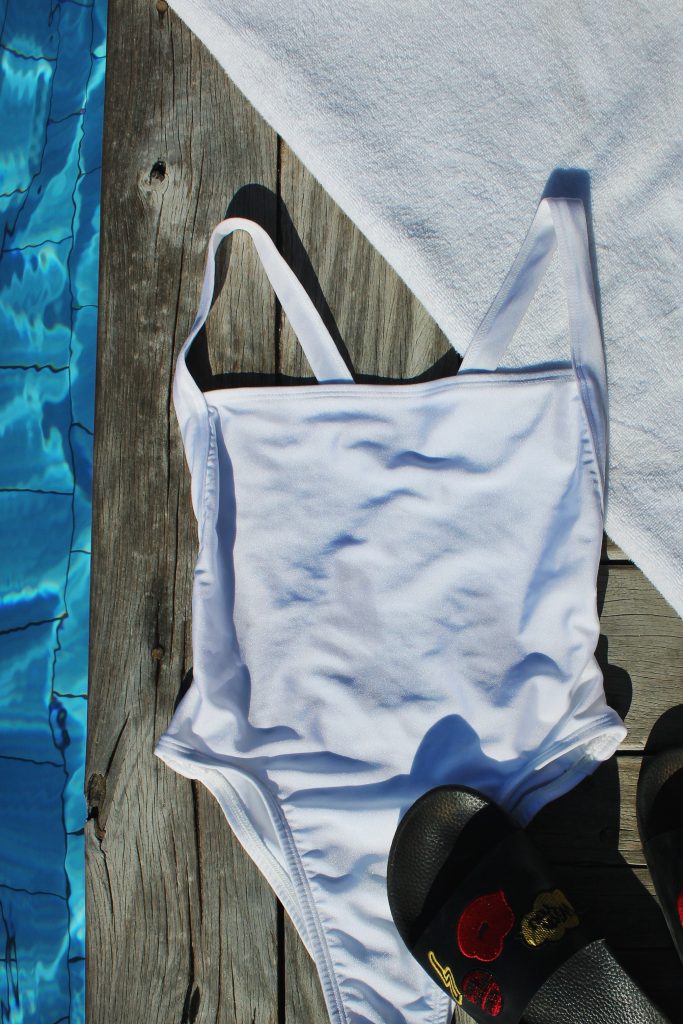 [:]