[:de]Seit dem letzten Sommer war ich nicht mehr richtig krank, vor kurzem hat es mich dann doch wieder heftig erwischt. Gefühlt die hälfte aus meinem Büro lag ebenfalls flach und auch in meinem Freundeskreis hab ich zu der Zeit besonders oft gehört, dass man sich so lange nicht gemeldet hat, weil es einem nicht gut ging.
Jedenfalls war ich nach einer Woche zum Glück wieder fit und so konnte auch der Ski Urlaub am letzten Wochenende mit meinem Vater wie geplant stattfinden. Wie auch in den letzten Jahren ging es nach Davos. Dieses Mal jedoch ohne den Rest der Familie, nur zwei Tage und statt in die übliche Ferien Wohnung "gönnten" wir bzw. "gönnte" mein Vater uns ein Hotel. Im letzten Jahr habe ich über Davos eine Travel Guide verfasst, wer also mehr über die tolle Ortschaft erfahren möchte, sollte sich DIESEN Artikel durchlesen.
Mein Outfit habe ich am Donnerstag letzte Woche in der Mittagspause aufgenommen, ich stelle euch hier also einen fancy Allrounder Look vor. Das Outfit ist nicht nur Bürotauglich sondern auch sehr bequem um zu fliegen oder shoppen und mit Freunden zu chillen.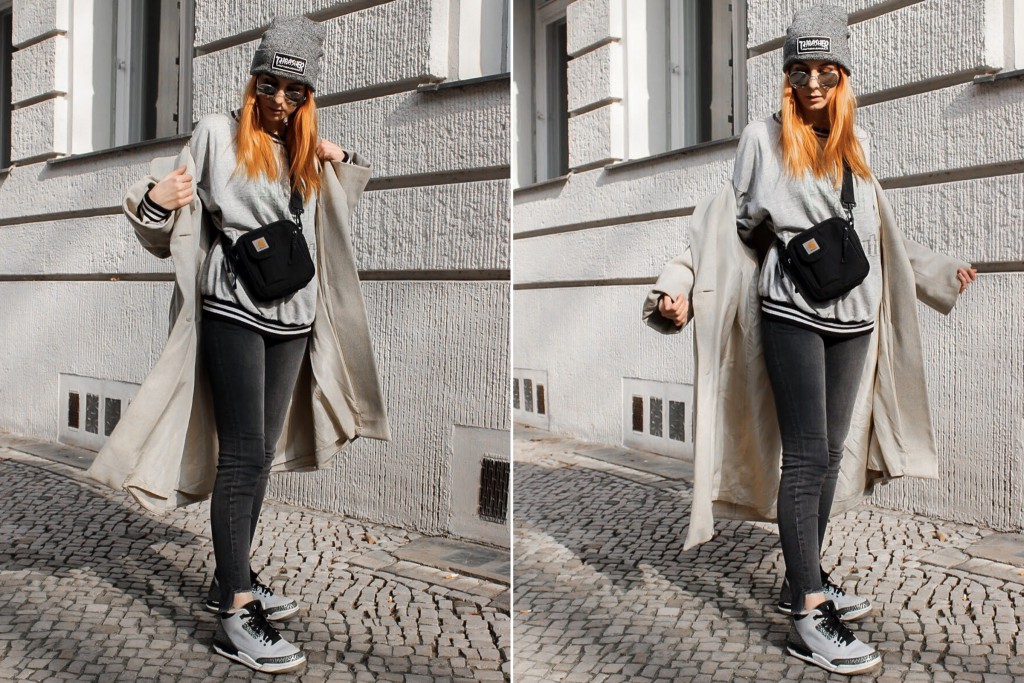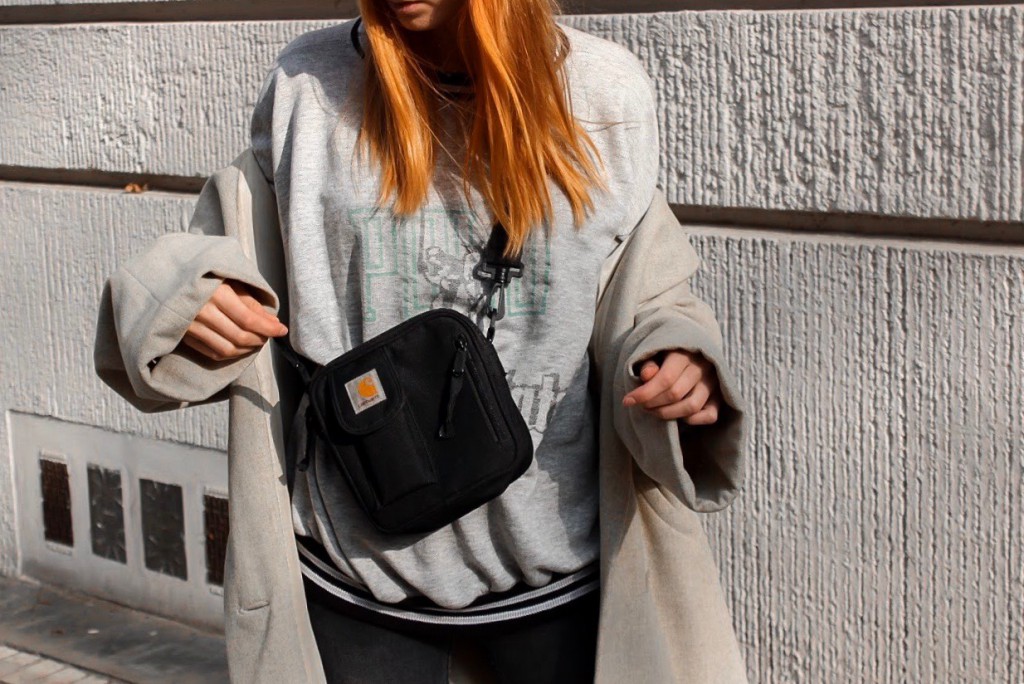 Da ich die letzten Tage krank war, hatte ich keine grosse Lust auf knallige Farben also wurde dies ein grauer Mäusschen Look – was natürlich nicht direkt langweilig bedeuten muss. Ich würde dieses Outfit als Casual / Sporty bezeichnen. Der oversized vintage Sweater von Polo ist definitv Casual, wie auch die Skinny Jeans mit den coolen Hosenbeinen von Pieces und der alte Mantel von meiner Oma. Übrigens habe ich am Wochenende herausgefunden, dass meine Oma den selbst geschneidert hat. Mein Opa von der anderen Familienseite war ebenfalls Schneider, man kann also sagen, dass mir Mode im Blut liegt. Wenn wir grade beim Mantel sind, muss ich auch direkt mal was zur Farbe sagen. Irgendwie ist das ja eine Mischung aus grau und beige, wie nennt man das denn?! Die Beanie, von Thrasher in einer Kooperation mit Huf, ist für mich jedenfalls eine Mischung aus beidem also Casual und Sporty und die dreier Jordans in Wolf Grey, wie auch die kleine Carhartt Tasche sind definitv sportlich.
Wenn euch dieser Look zu fade ist, kann euch euch mein Neon Outfit oder das in komplett Rosa empfehlen –  hat ja jeder seinen eigenen Geschmack. Ich mag es meine Klamotten meiner Laune anzupassen. Wenn es mir also besonders gut geht, spiele ich mit verschiedenen Farben und wenn es mir eher schlechter geht, greiffe ich zu dunklen Klamotten.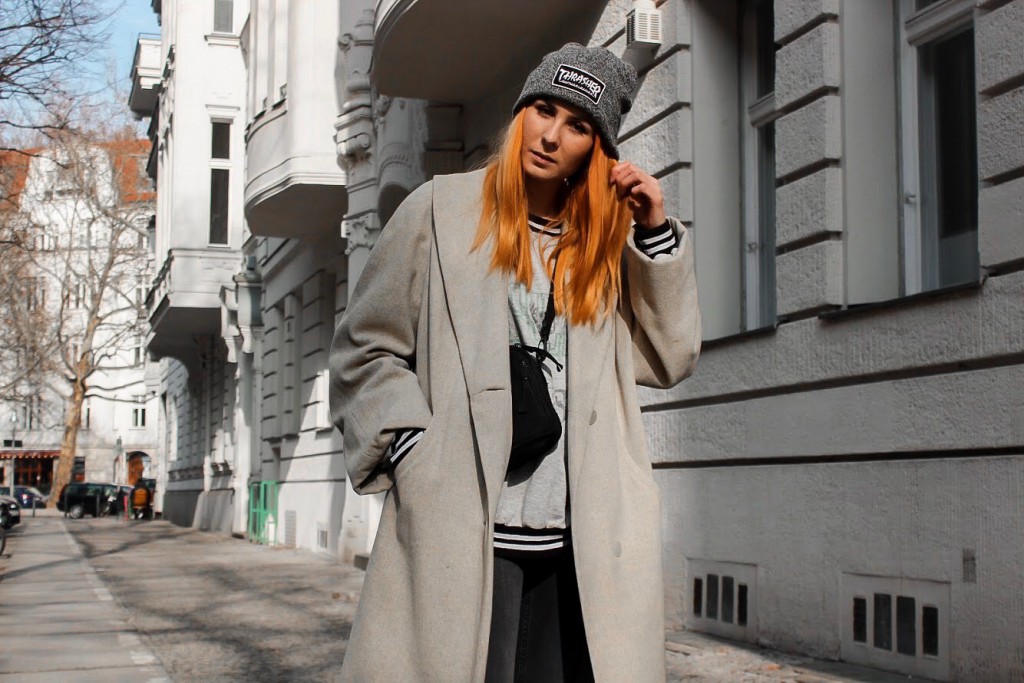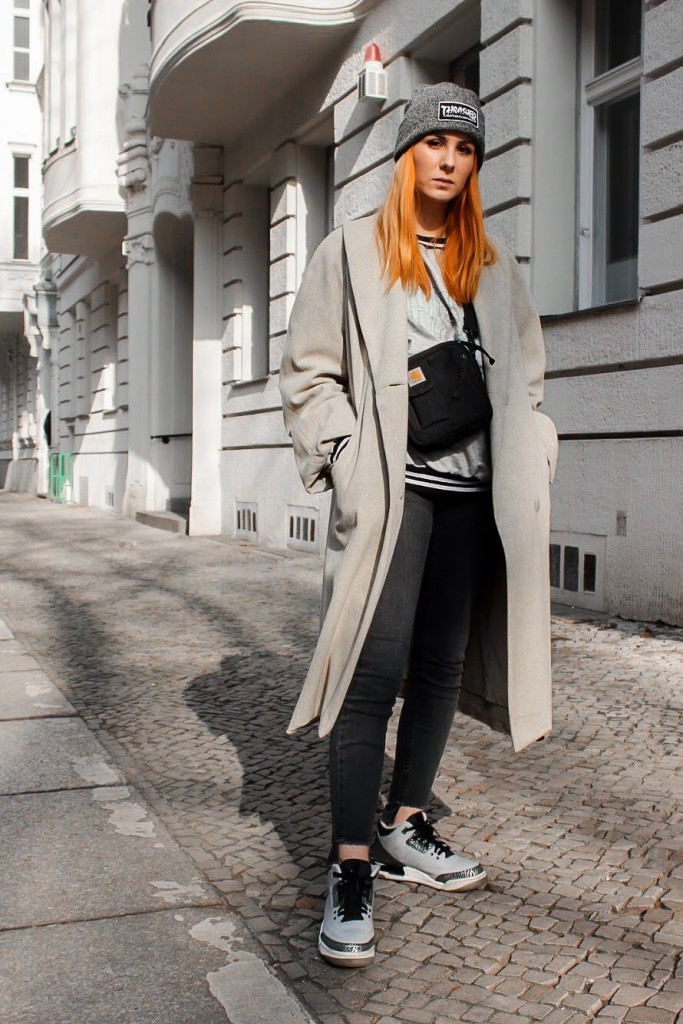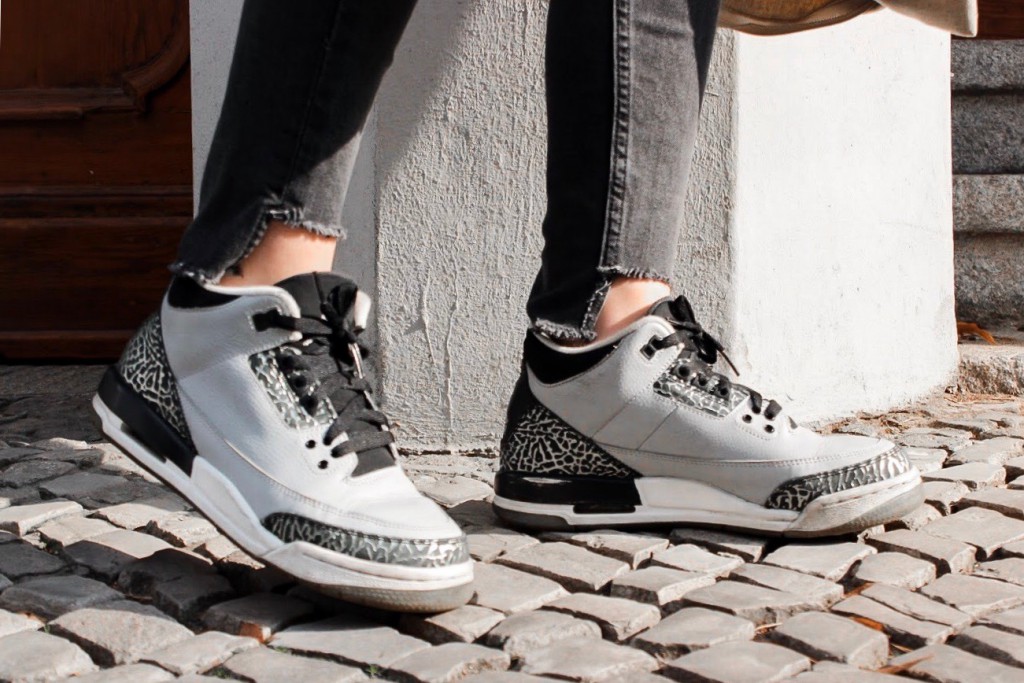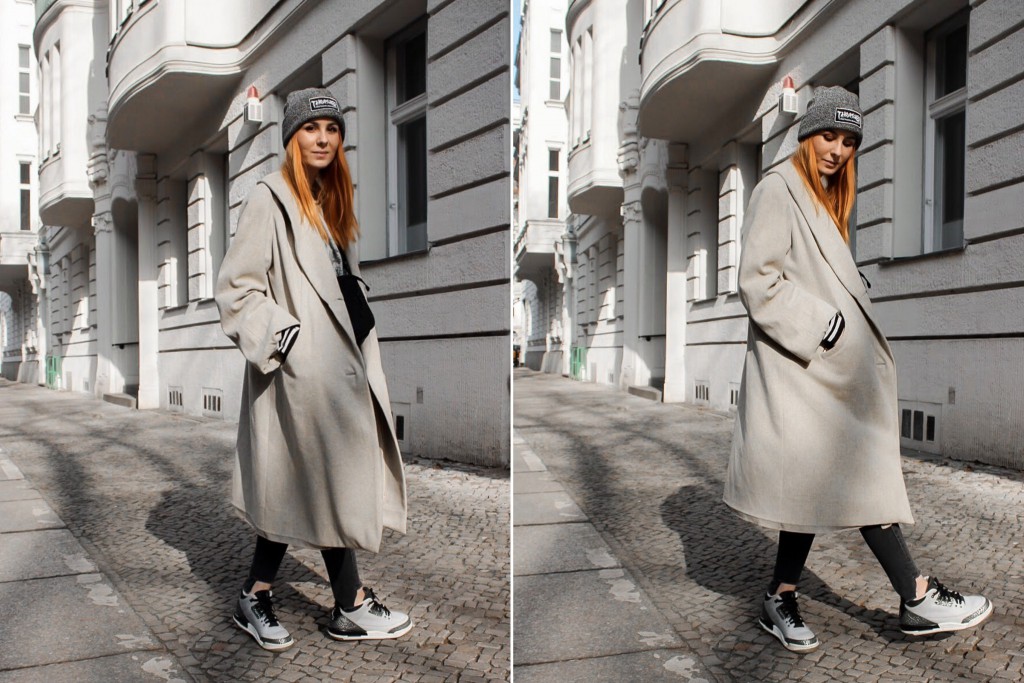 Fotos: Tristan Luckow
[:en]Since last summer I was never really sick, a cold here and there but that's it – recently I got caught again.  About half of my office was also sick and I've heard during this time especially often in my circle of friends that they have not reported so long, because they didn't feel well.
Anyway, I'm fortunately fit again since Thursday last week. So I could go, like planned, to the Swiss mountains with my father. As in recent years, we went to Davos. This time, however, without the rest of the family, only two days and instead of the usual holiday apartment we "begrudge" or my father "begrudge" us a stay in a nice hotel. Last year I wrote a pretty big travel guide about Davos. So if you want to know more about this great place, you should read THIS article.
We took the pictures of my outfit last Thursday during lunch break, so I introduce you to a fancy all-rounder look. The outfit is not only office suitable but also very comfortable to fly or shop and to chill with friends.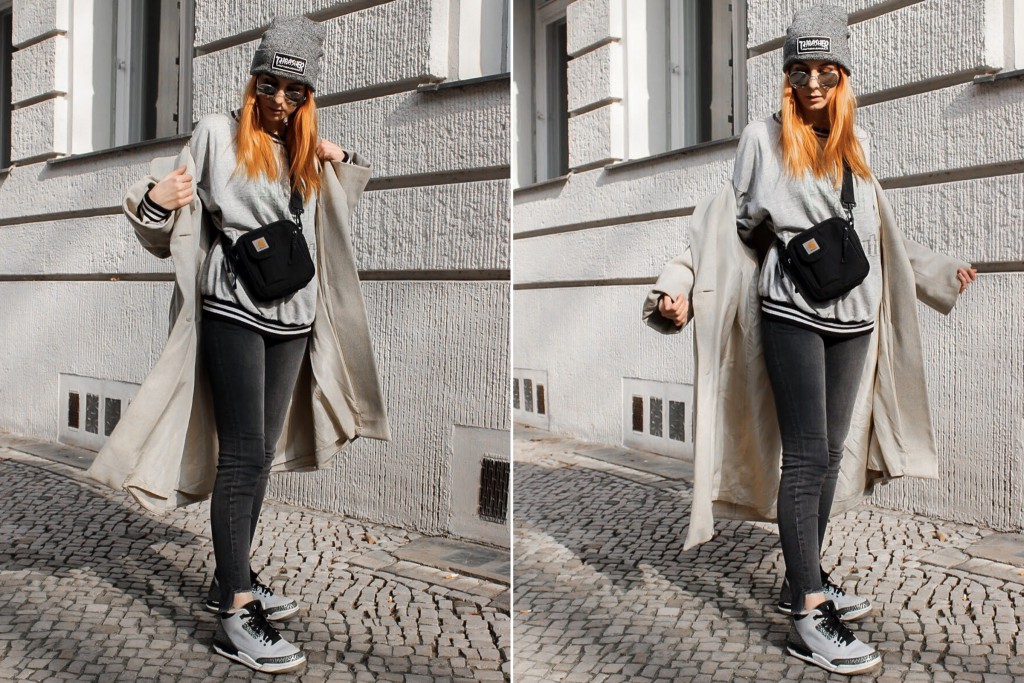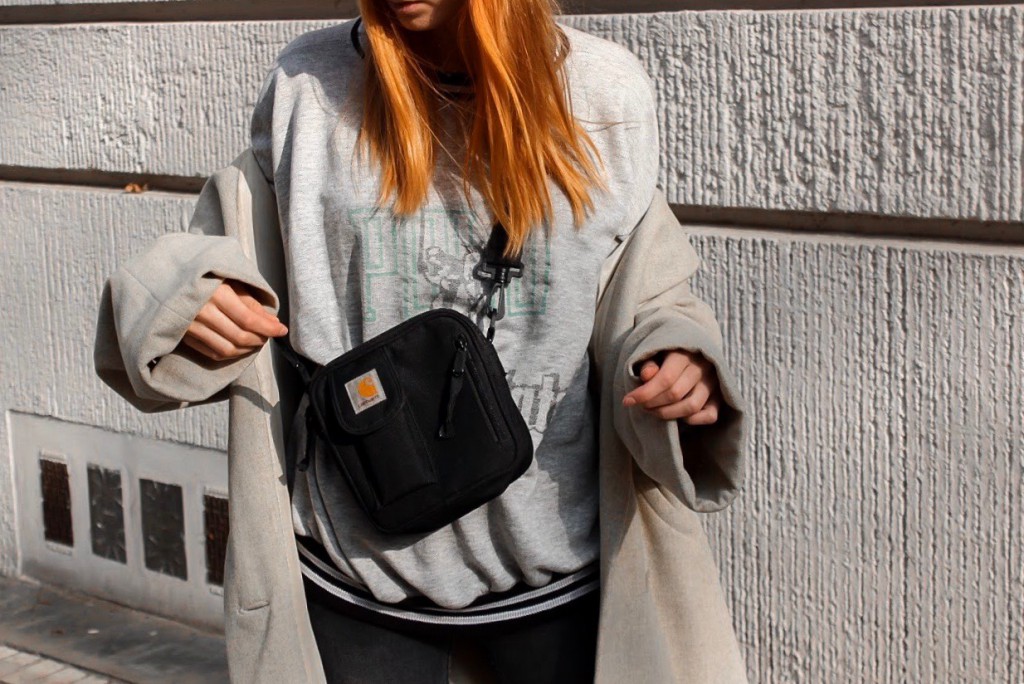 Since I've been sick before the shooting I did not have much desire to wear bright colors so this was a grey mouse look – which of course does not have to mean boring directly. I would call this outfit casual / sporty. The oversized vintage sweater by Polo is definitely casual, as are the skinny jeans with the cool legs of Pieces and the old coat of my grandma. I also found out during my trip to my family that the coat was made by my grandma. By the what is a color between grey and beige called, since this coat has this color?! Anyway the beanie, from Thrasher in a collab with Huf, is a mix of both for me casual and sporty and the Jordan 3 in Wolf Grey as well as the little Carhartt bag are definitely sporty.
If this look is too bland for you, I can recommend my neon outfit or that one in total pink – everyone has their own taste. I like to choose my clothes to my mood. So if I'm feeling very good, I play with different colors and if I feel bad, I'll go for dark clothes.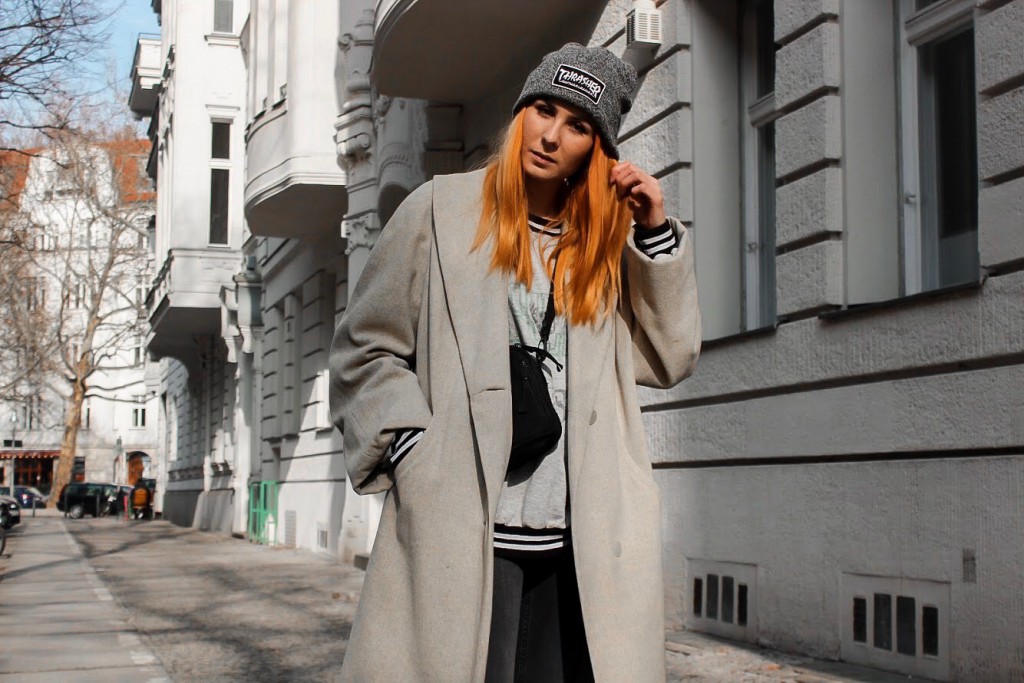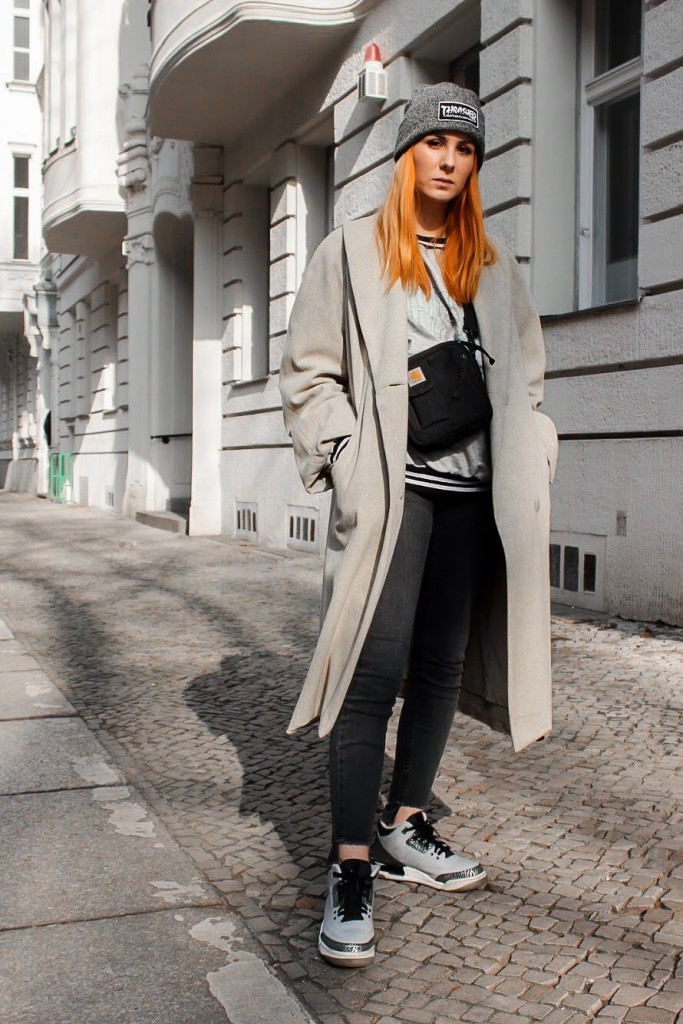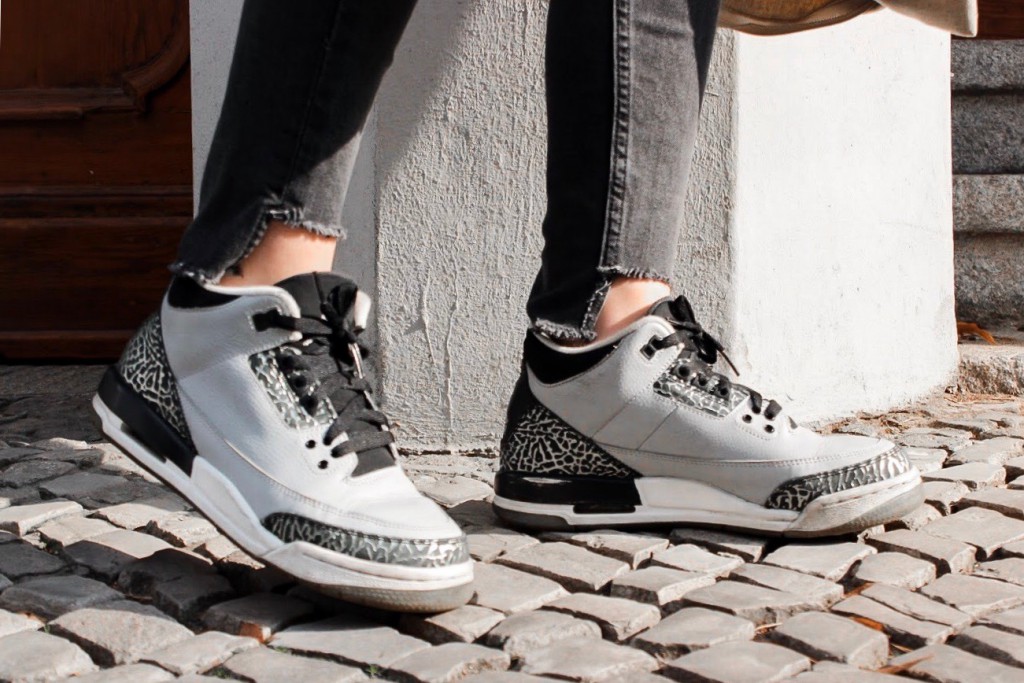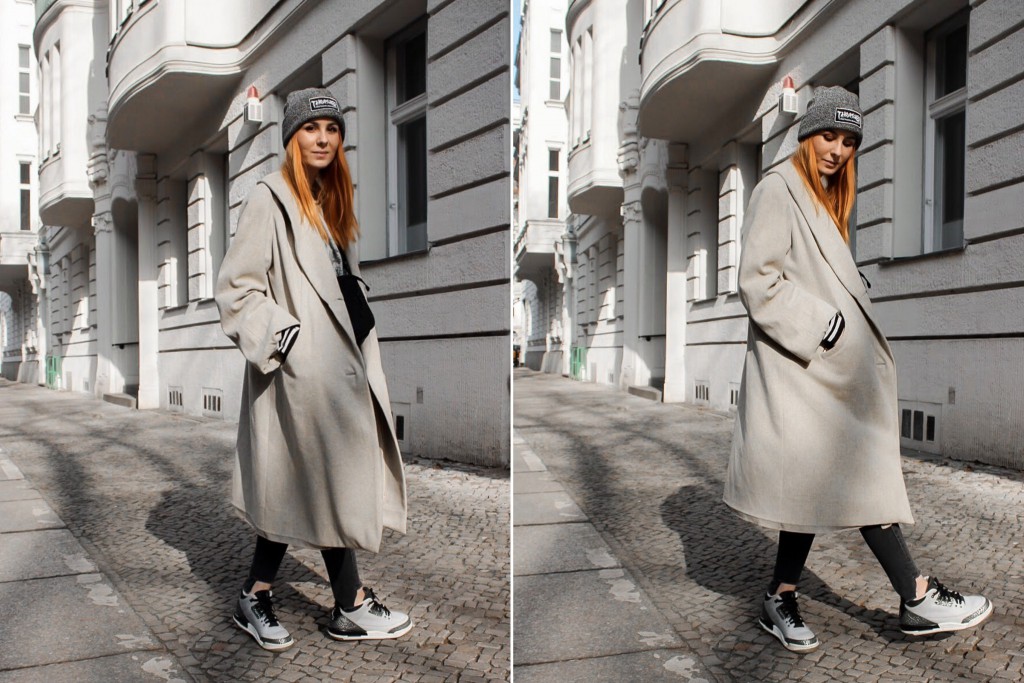 Photos: Tristan Luckow
[:]