[:de]Nachdem ich euch in meinem "What is in my bag – work edition" Beitrag zeigte, was ich alles mit zur Arbeit nehme, möchte ich euch heute eines meiner typischen Arbeitsoutfits vorstellen. Kleine Info vor ab, ich arbeite im Büro in der Marketingabteilung eines Immobilien Start-Ups.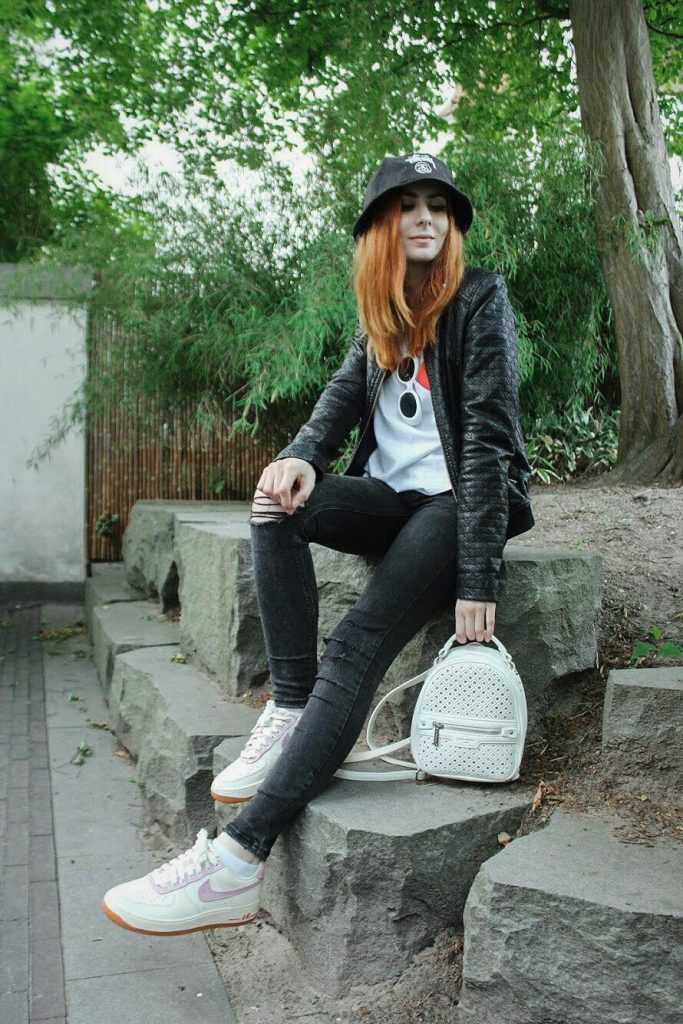 Müsste ich jeden Tag in einer Uniform zur Arbeit kommen oder mich ganz chic anziehen, wäre ich eindeutig in der falschen Branche, denn da würde ich mich sehr unwohl fühlen. Ich trage gerne Skinny Jeans, Print Shirts und vor allem Sneaker – eben alles was bequem ist. Natürlich habe ich auch Tage, besonders im Sommer, wo ich gerne mal zu einem Kleid oder einem Rock greife. Auch die Taschen und Rucksäcke wechseln des Öfteren aber im Grunde sieht man mich meistens mit der eben erwähnten Kombination. Ach ja, wenn es nicht gerade 30 Grad im Schatten sind, findet man mich meistens auch noch mit irgendwas auf dem Kopf vor. Ich fühle mich sonst so nackig, um ehrlich zu sein. Ich weiss noch, als ich in der Ausbildung war und wir unser Abschiedsapero von der Firma hatten, da meinte die Lehrlingsverantwortliche auch, dass es fast keinen Tag gab, wo ich nicht eine Mütze, Cap oder was auch immer auf dem Kopf hatte. Wahrscheinlich krieg ich dafür früher Haarausfall, aber da ich sowieso immer was aufm Kopf habe, wird man das sowieso nicht sehen. LOL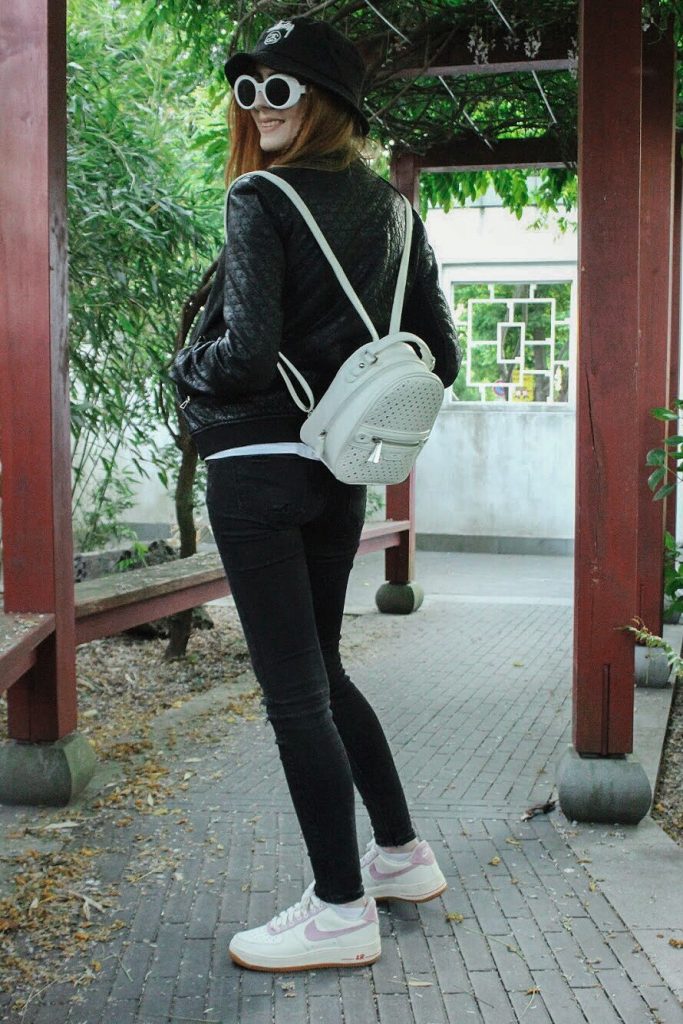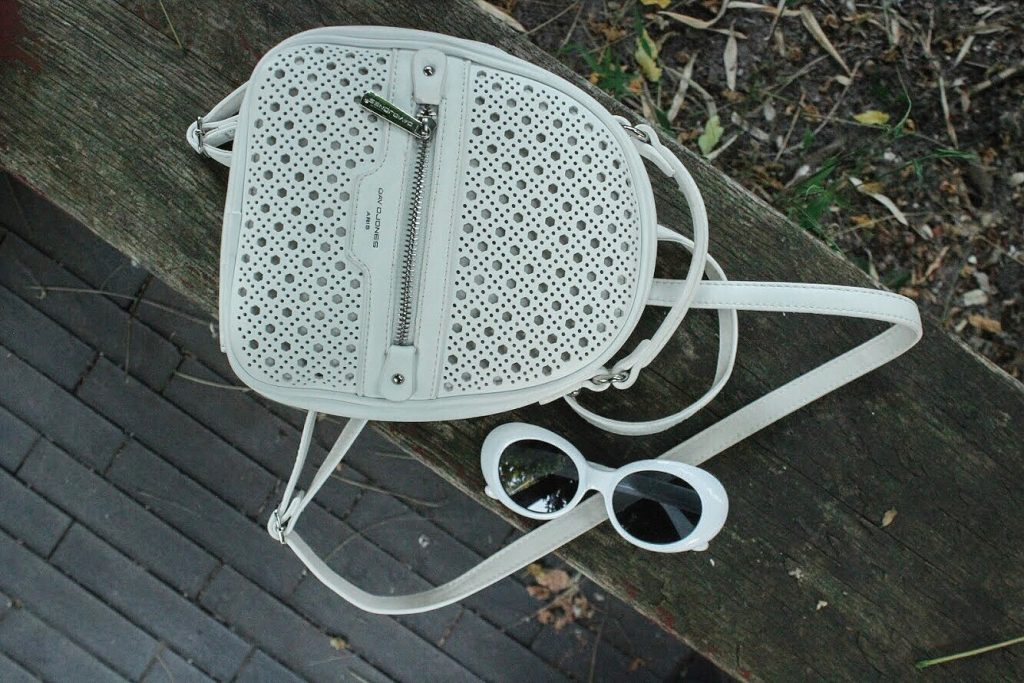 Für dieses Outfit habe ich als Oberteil ein Print Shirt von Only gewählt, ich finde die beiden Herzen über der Brust süss als auch etwas provozierend. Fürs Büro aber keines Falls zu provozierend, denn das wäre mit einfach nur unangenehm. Mit einem tiefen Ausschnitt oder zu kurzen Shorts/Röcken würde ich mich niemals im Büro blicken lassen. Die ausgewählte ripped Jeans ist von Tally Weijl, ich weiss, ich weiss ich habe mindestens 5 weitere Jeans die fast genau gleich aussehen, aber das zieh ich einfach am liebsten an. Ich finde, dass ein paar schwarze enge Denims einfach zu allem passen. Bei den Schuhen habe ich mich hier, passend zum T-Shirt, für ein paar Nike Air Force 1 "Seersucker Pack" von 2014 entschieden. Dieser Schuh kam in drei Colorways raus (blau, schwarz und eben rot) aber jedes mal ist dieses gestreifte Muster wo anders. Bei dem blauen zum Beispiel ist der Swoosh einfach weiss, dafür ist der ganze Rest gemustert. Des weiteren habe ich noch meine Gucci Uhr an, die ist auch fast täglich an meinem Handgelenk und einen Haargummi. Ich habe meine Haare immer zum Pferdeschwanz hoch gebunden im Büro, ich kann es nicht ab wenn mir strähnen dauernd ins Gesicht flattern. Als Accessoires wählte ich ein paar kleine Creolen von Primark und eine Kurt Cobain Sonnenbrille, die ich mir bei eBay bestellt hatte – no Name Produkt. Der alt bekannte Bucket Hat ist von Stussy und leider schon etwas ausgebleicht, ich müsste ihn demnächst mal wieder dunkler färben. Oben erwähnte ich, dass ich gerne auch mal meine Taschen bzw. Rücksäcke wechsle, zur Zeit ist mein stetiger Begleiter mein neuer mini Backpack von David Jones Paris. Den habe ich mir bei TK Maxx geholt und wer es noch nicht wusste, dem sage ich es jetzt. Ich bin ein riesiger TK Maxx Fan, ich finde da einfach immer was, eigentlich mehr als nur etwas, meistens sogar viel zu viel. Ein paar Monate hatte ich nun nach einem süssen mini Rucksack gesucht der nicht ein halbes Vermögen kostet und dann sah ich den und wuschhh Liebe auf den ersten Blick.
[alert style="warning"]Das war mein typisches Arbeitsoutfit; Wie zieht Ihr euch zur Arbeit an?[/alert]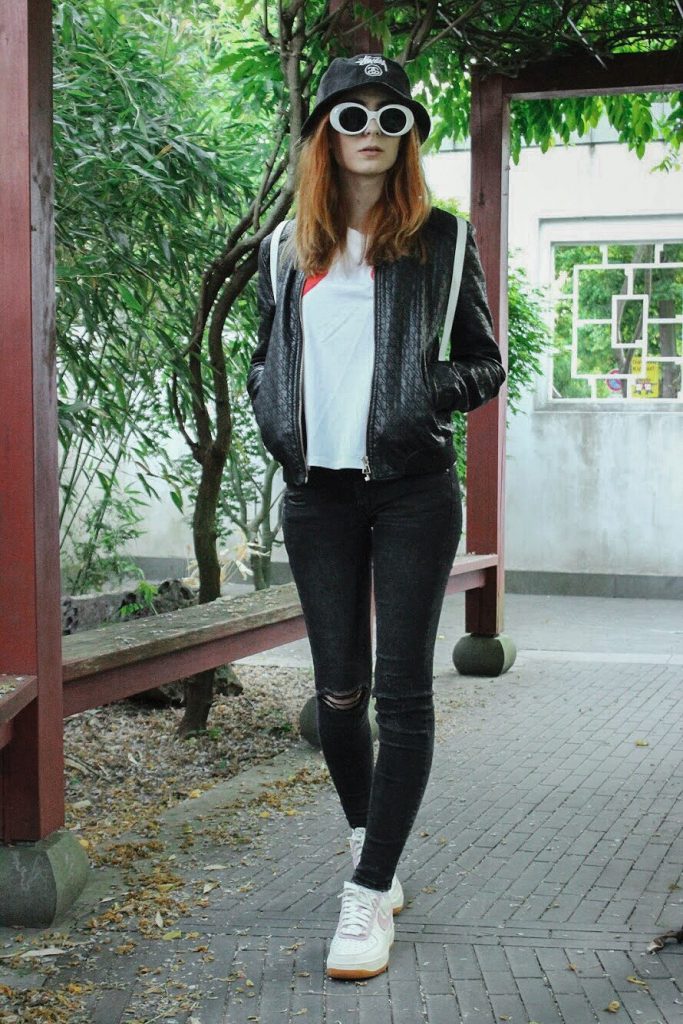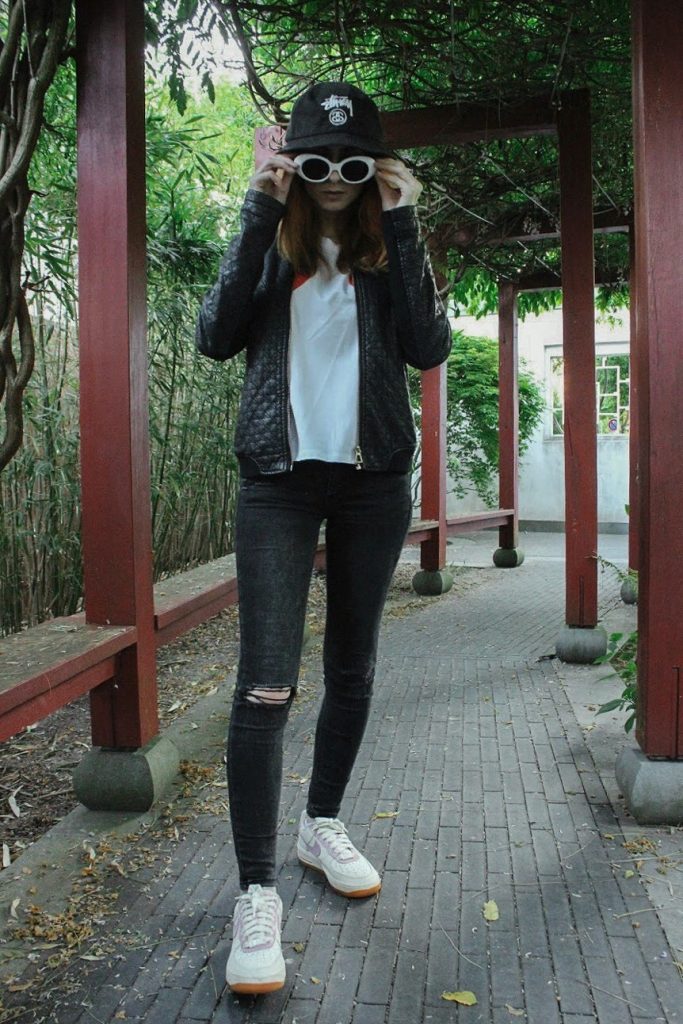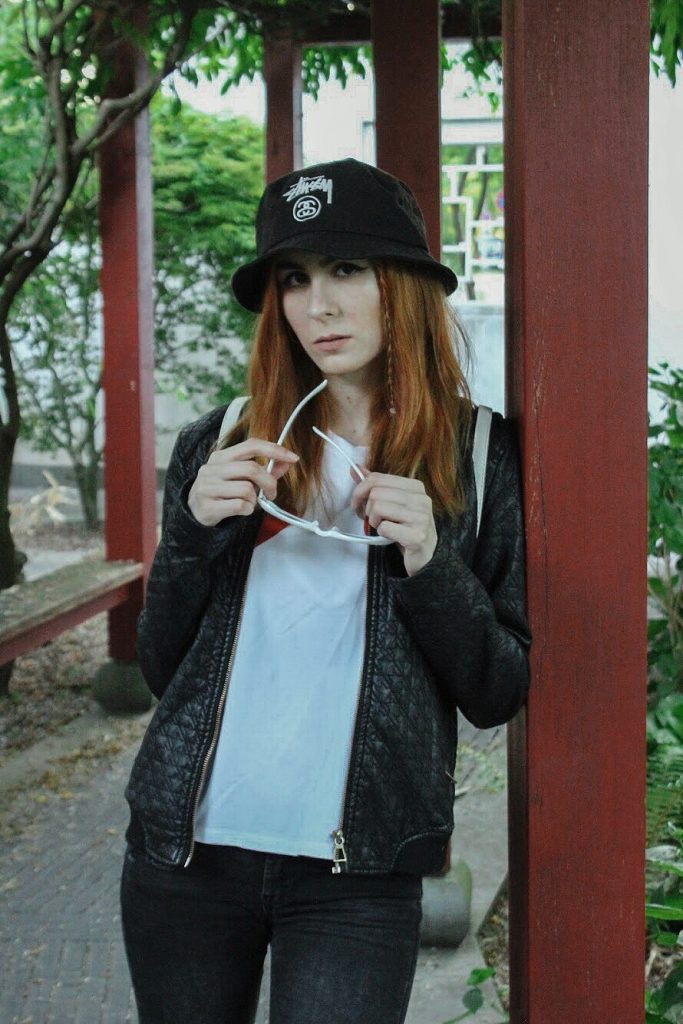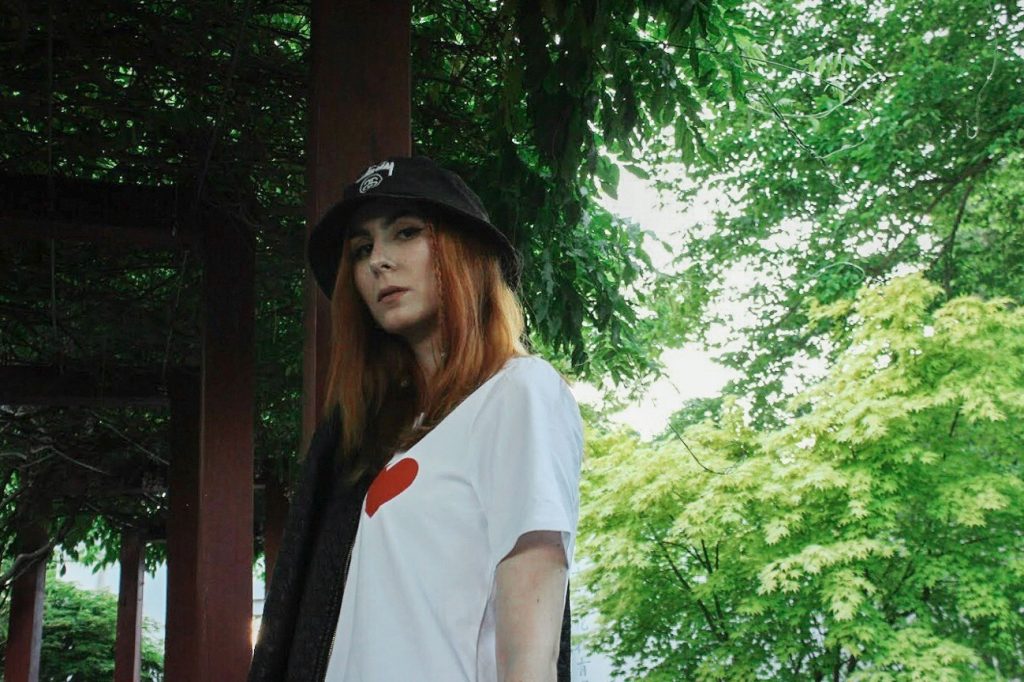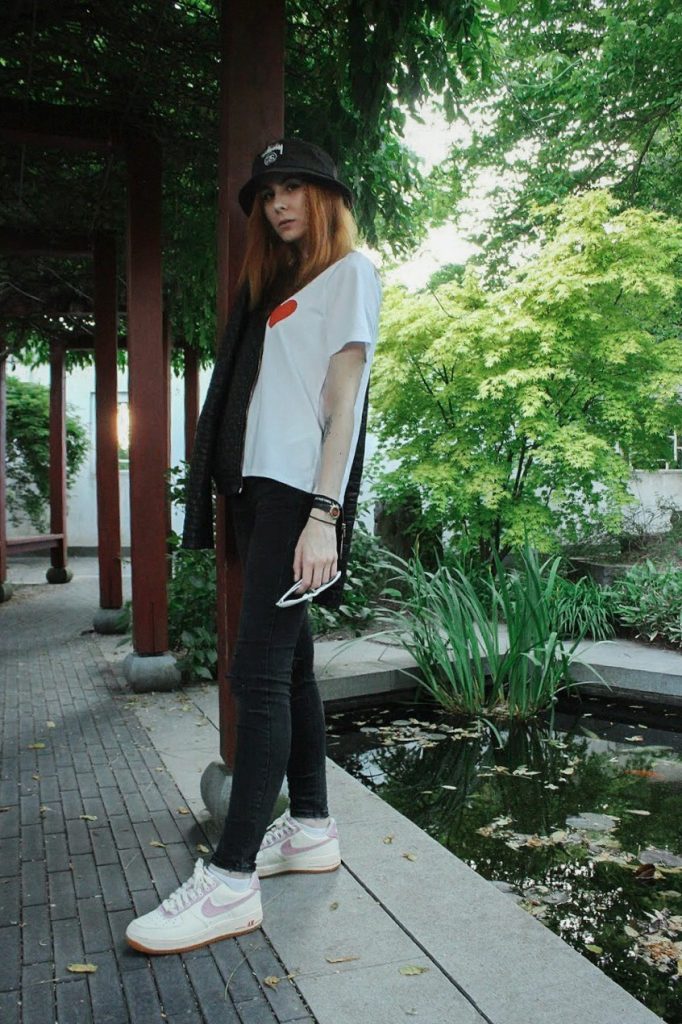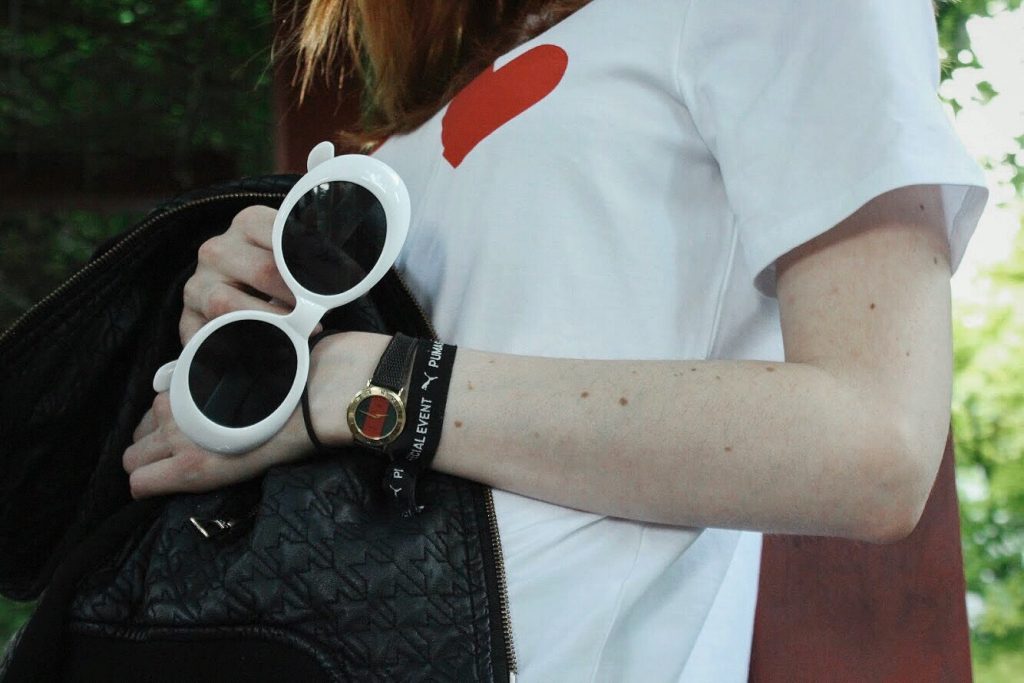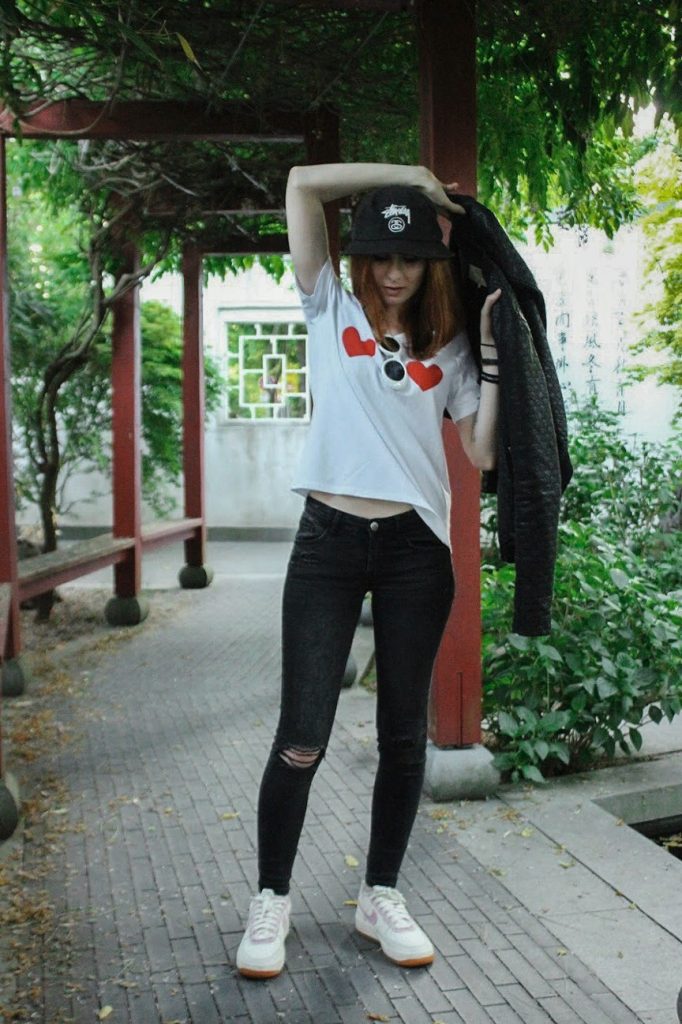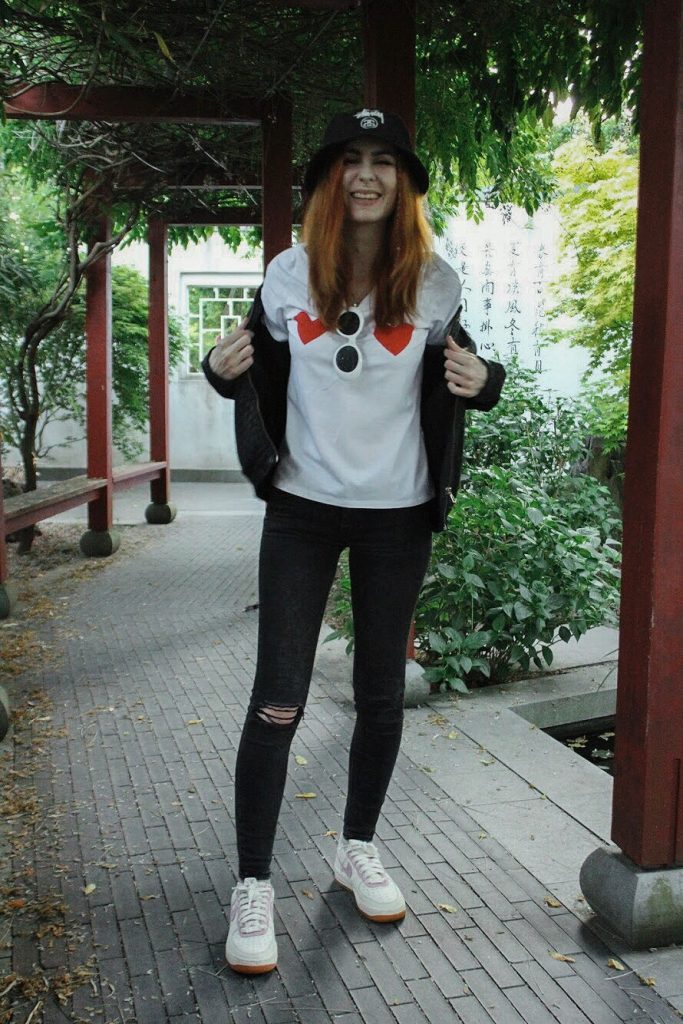 Fotos: Tristan Luckow
[:en]After the "Whats in my bag – work edition" blog post I want to show you one of my typical work outfits. Small info before I start, I work in the office in the marketing department of a real estate start-up.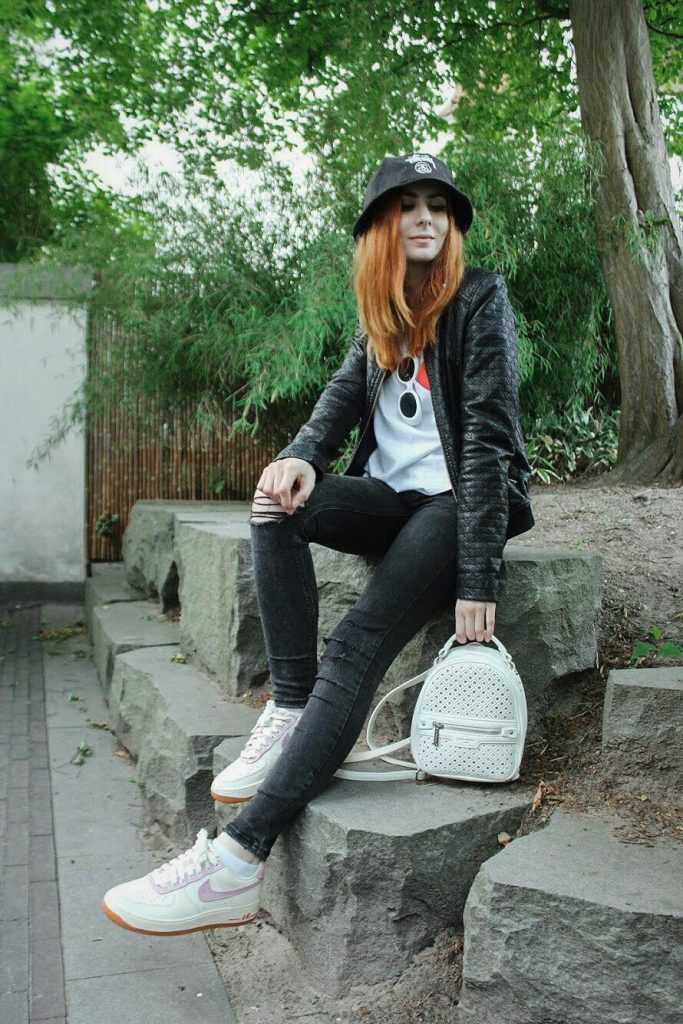 If I had to come to work in a uniform every day or dress up very chic, I would be in the wrong branch, because I would feel very uncomfortable. I like to wear skinny jeans, print shirts and above all sneakers – everything that is comfortable. Of course I also have days, especially in the summer, where I like to grab a dress or a skirt. The bags and backpacks change frequently, but basically you can usually see me with the combination just mentioned. Oh well, if it's not 30 degrees in the shade, you can usually find me with something on my head. Otherwise, I feel so naked, to be honest. I still remember when I was in my apprenticeship and we had our farewell apero from the company, the apprentice responsible also said that there was hardly a day when I did not have a hat, cap or whatever on my head. I'll probably get hair loss earlier, but since I always have something on my head, you will not see it anyway. LOL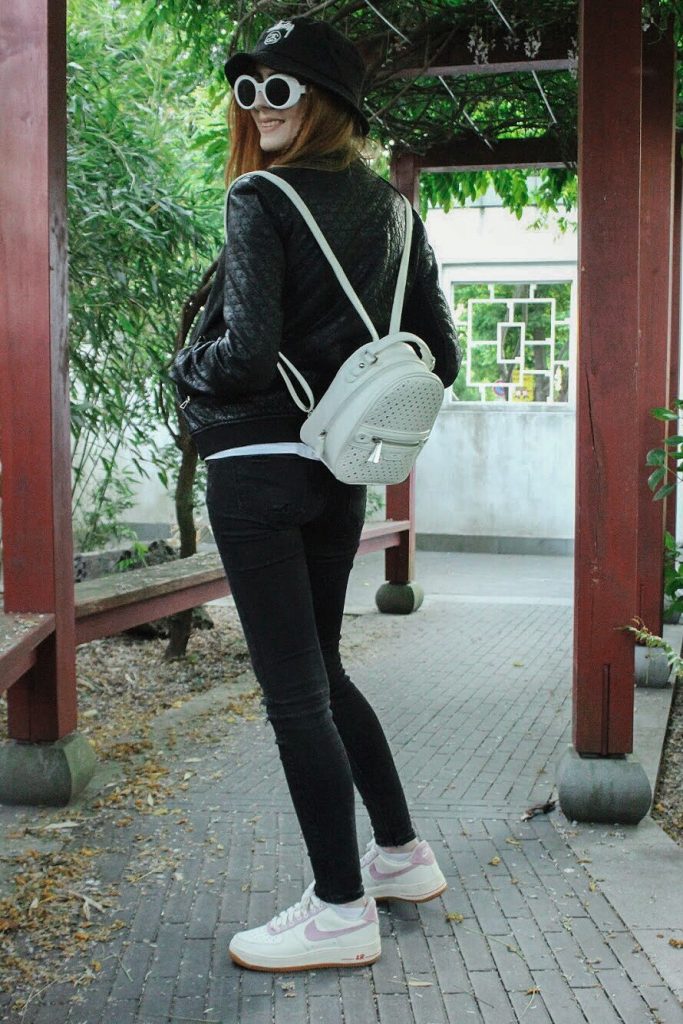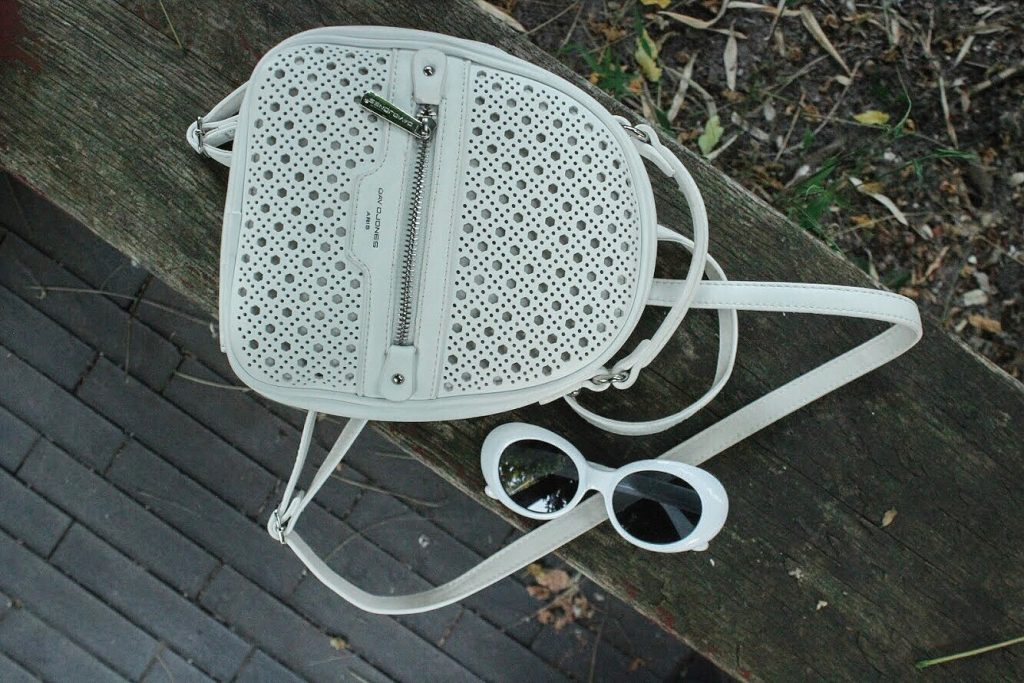 For this outfit I chose a print shirt by Only as the top, I think the two hearts above the chest are somehow cute but also a bit provocative. But for the office not too provocative, because that would make me feel uncomfortable. With a low neckline or too short shorts / skirts, I would never go to the office. The selected ripped jeans is from Tally Weijl, I know, I know I have at least 5 more jeans that look almost exactly this one but that's what I like to wear the most. I think some black tight denims are just a perfect combo with everything. For the shoes, I've chosen a pair of 2014 released Nike Air Force 1 "Seersucker Pack" which are matching perfectly to the t-shirt. This shoe came out in three colorways (blue, black and red) but every time this striped pattern is somwhere different. With the blue, for example, the Swoosh is simply white, but all the rest is patterned. Furthermore there is my Gucci watch, which is also almost daily on my wrist like a black hair tie. I always have my hair tied to a ponytail in the office, I can not stand it when they're fluttering constantly in my face. As accessories (beside the watch) I chose some small hoops from Primark and Kurt Cobain sunglasses which I ordered on eBay – no name product. The well-known Bucket Hat which is unfortunately pretty bleached is by Stussy, I need to color him dark again soon. I mentioned it already above that I like to change my bags or backpacks really often but at the moment my steady companion is my new mini backpack by David Jones Paris. I got it at TK Maxx. I'm a huge TK Maxx fan I just always find something there, actually more than just something mostly even way too much. I had been looking for a sweet mini backpack for a couple of months now, which does not cost half a fortune and then I saw this one and it was just love at first sight.
[alert style="warning"]That was my typical work outfit; what do you wear to work?[/alert]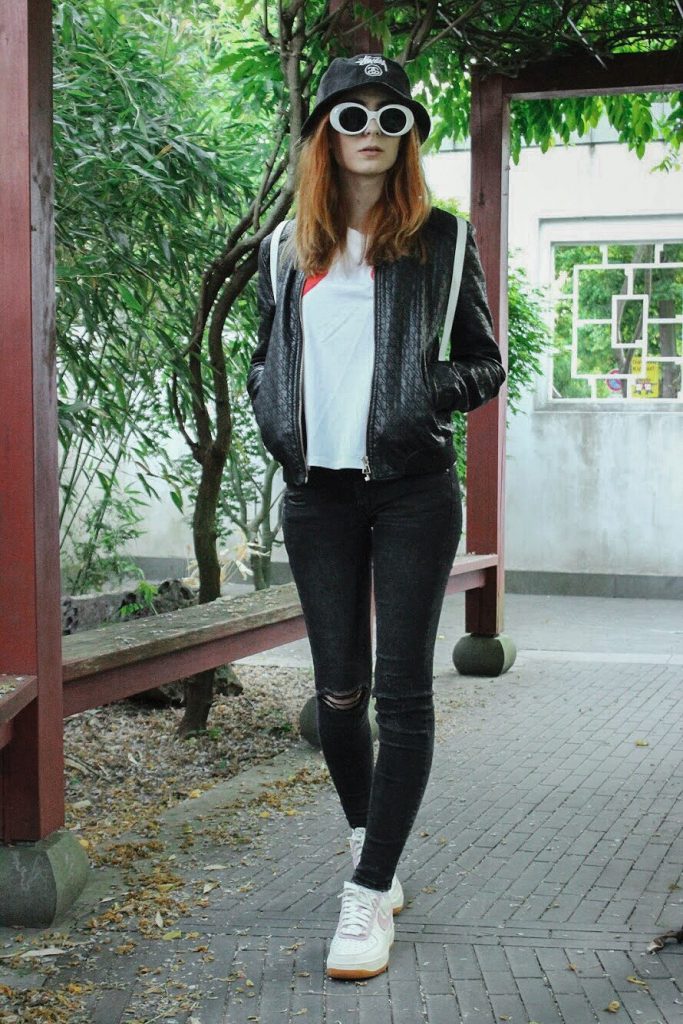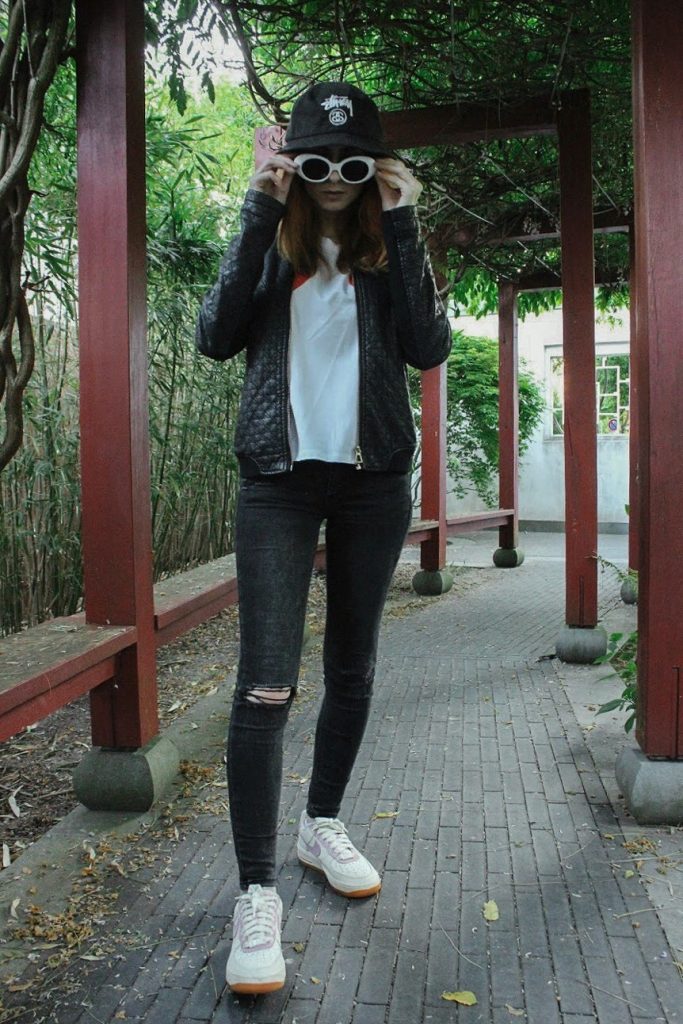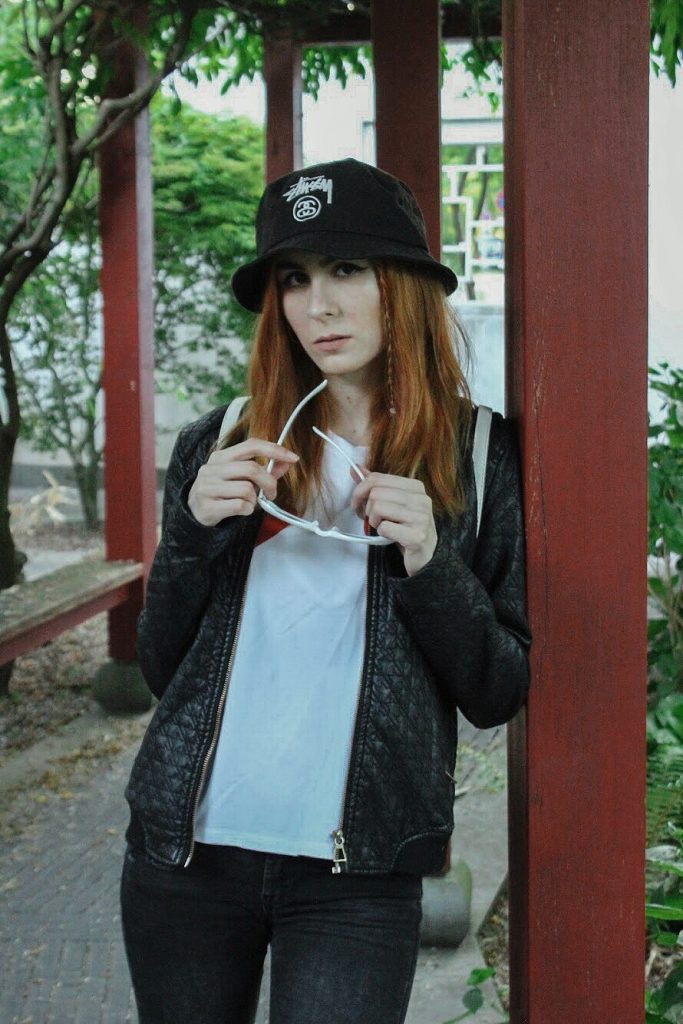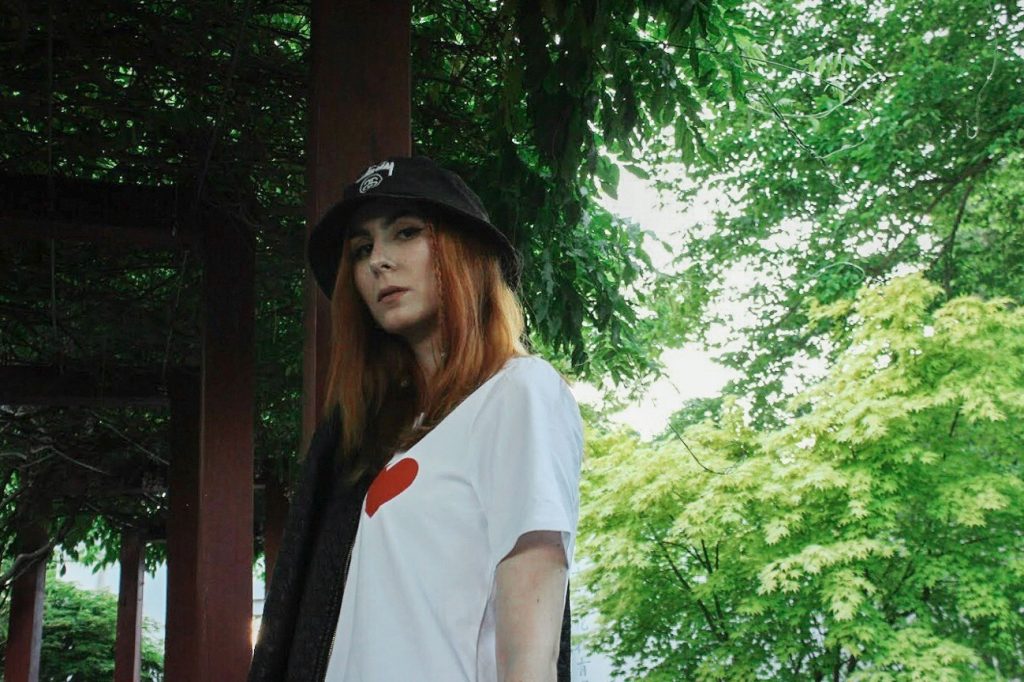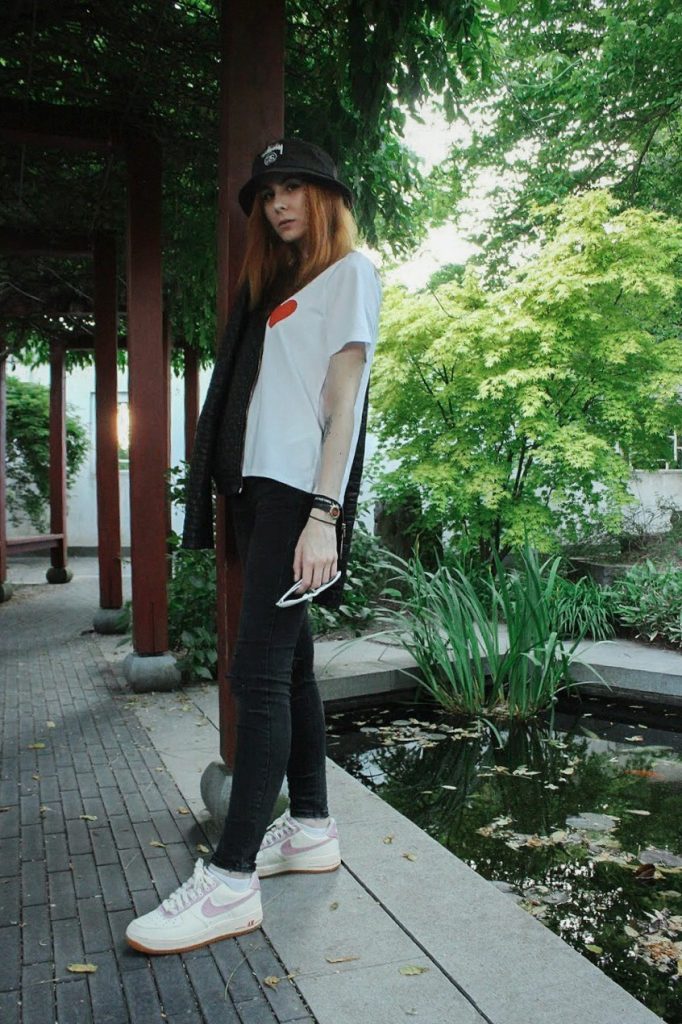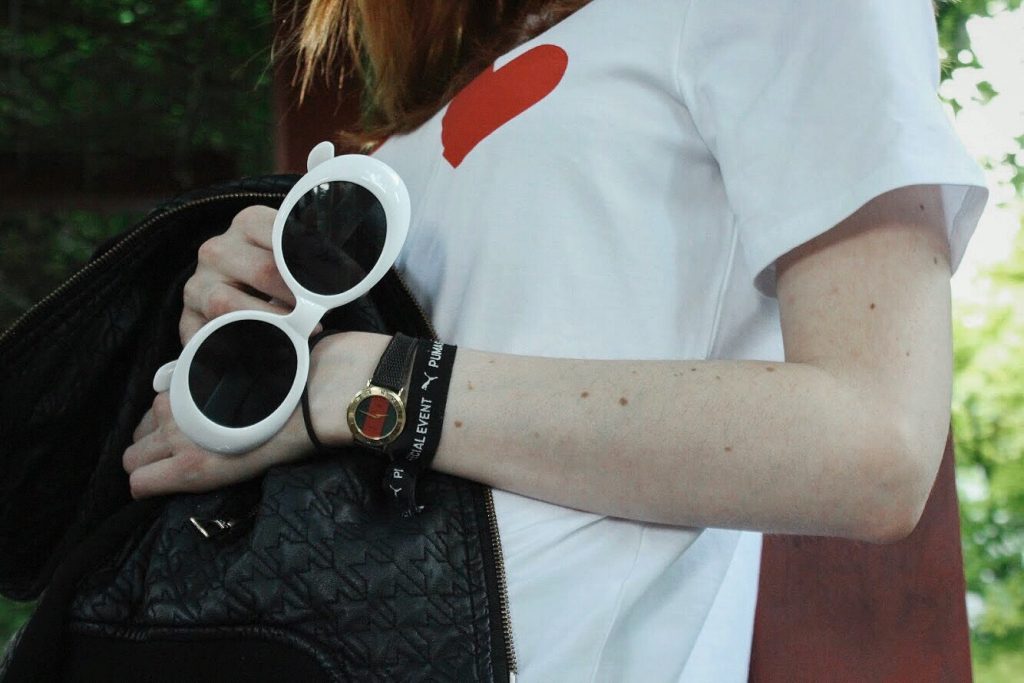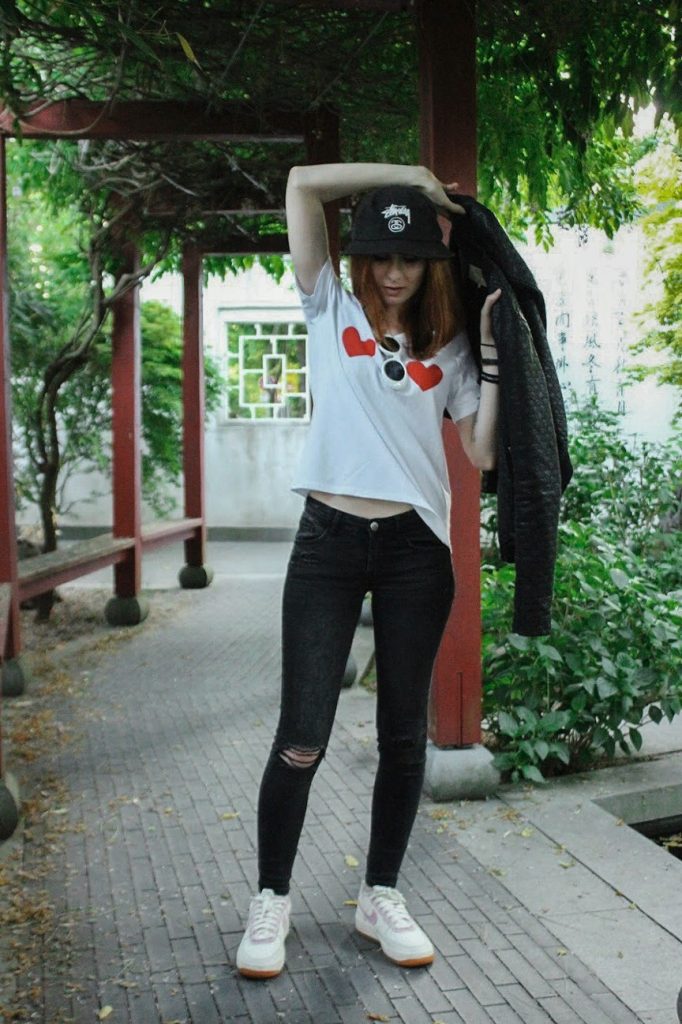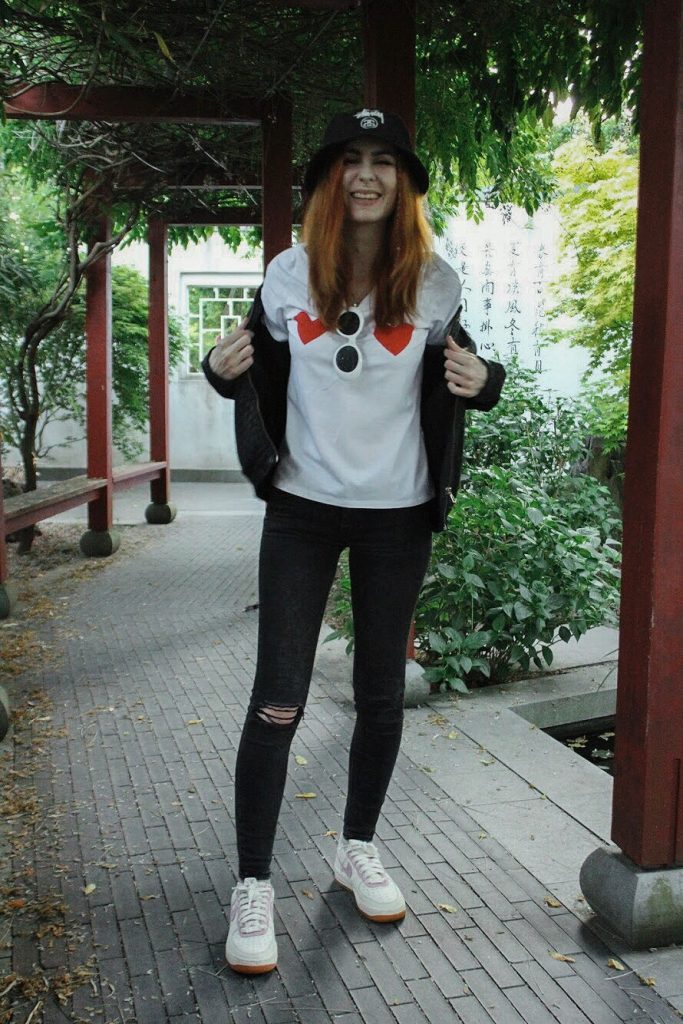 Photos: Tristan Luckow
[:]