[:de]Mein Berlin Fashion Week Outfit Nummer drei ging wieder mehr in Richtung Streetwear. Bewusst hielt ich es sehr minimalistisch aber dafür bunt, denn es waren über 30 Grad und mit einem extravaganten Outfit wäre ich bestimmt umgekippt. Zum Glück war Mittwoch nicht ganz so anstrengend, wie Dienstag. Bei der Hitze wär es aber auch nicht möglich gewesen einen Tag mit viel Stress zu überstehen. Hätten wir ein Hotel in der Stadt gehabt oder ein Auto mit Klimaanlage wahrscheinlich schon aber mit ÖV und ohne dazwischen kurz sich hinzulegen, no way. Wir waren an dem Tag bloss bei der Seek und der Bright (zwei Messen, Richtung Streetwear), einem Meeting und der Maison Common Show. Ach und zum Abschluss ging es noch in die HashMAG Blogger Lounge. Also im Gegensatz zum Dienstag ein echt chilliges Programm. Ich erzähle euch aber alles noch ganz genau in der Berlin Fashion Week Review.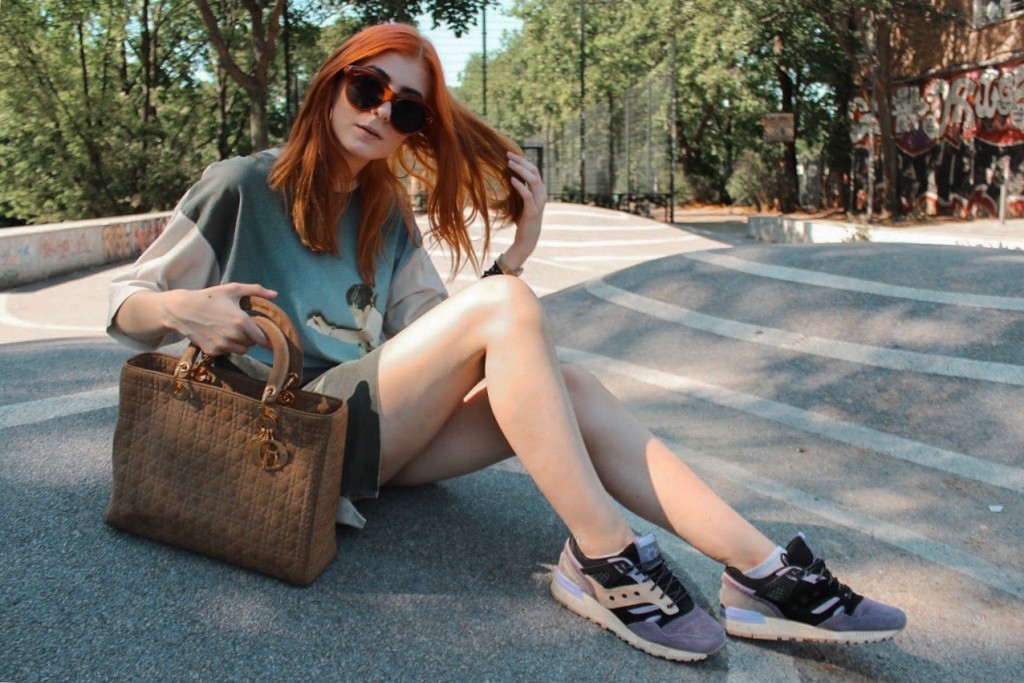 Nun gut, kommen wir zum wichtigen Teil des Beitrags; mein Berlin Fashion Week Outfit Nummer drei mit Thema "Minimalismus". Ich entschied mich also für ein etwas älteres oversized T-Shirt von Supreme und nahm darunter eine schwarze Hotpants, die man jedoch nicht sehen konnte (galt nur der Sicherheit). Eine Sonnenbrille durfte bei dem Wetter natürlich auch nicht fehlen, zu diesem Look weihte ich meine neue von Givenchy ein. Die passt einfach perfekt zu meiner Gesichtsform und aktuellen Haarfarbe. Das ist wohl die teuerste Sonnenbrille, die ich je gekauft habe aber sie ist das Geld 120% Wert. Ich bin sonst eher nicht der Sonnenbrillen-Typ auch wenn ich einige besitze, diese von Givenchy passt jedoch als wäre sie nur für mich gemacht! Bei den Schuhen habe ich meine aller liebsten Sneakers gewählt, dass sind wohl die bequemsten und schönsten Schuhe die ich besitze. Würde ich die nochmals in meiner Grösse finden, würde ich sie direkt erneut kaufen. Doppelt hält besser. Diese Sneaker von Saucony kamen vor einigen Jahren einer Kooperation mit Sneaker Freaker raus und heissen "Kushwhacker". Meine Tasche habe ich passend zur Sonnenbrille und irgendwie auch zum off-white des oversized T-Shirts gewählt, da es eine Mischung aus beidem ist. Die Lady Dior hat eine ganz schöne Geschichte, wenn ihr diese noch nicht kennt, könnt ihr sie gerne bei dem Beitrag nachlesen. Auch bei diesem Outfit konnte man mal wieder sehen, wie gerne ich doch kleine Details matche. Ich denke in der Zukunft muss ich das gar nicht mehr gross erwähnen, denn ich mache es bei fast jedem Outfit und mittlerweile solle dies auch jeder wissen.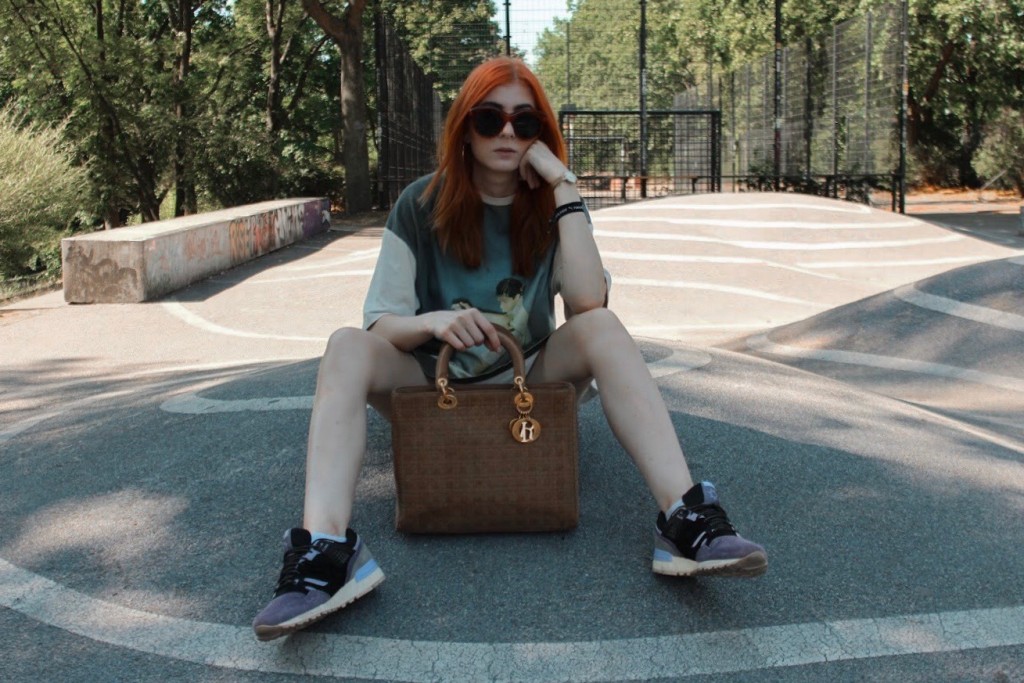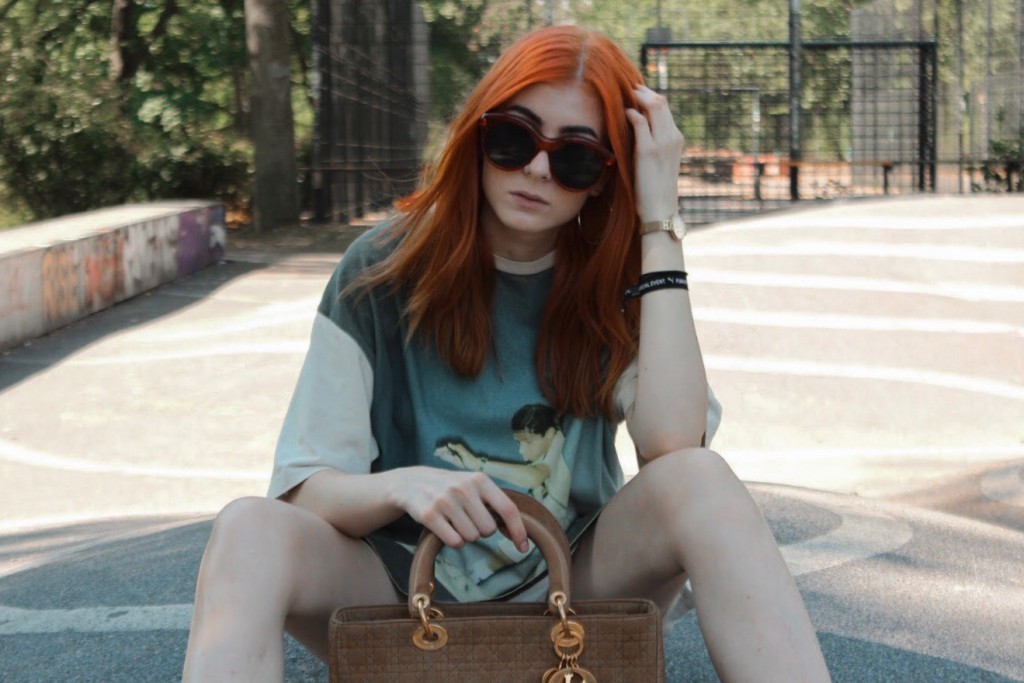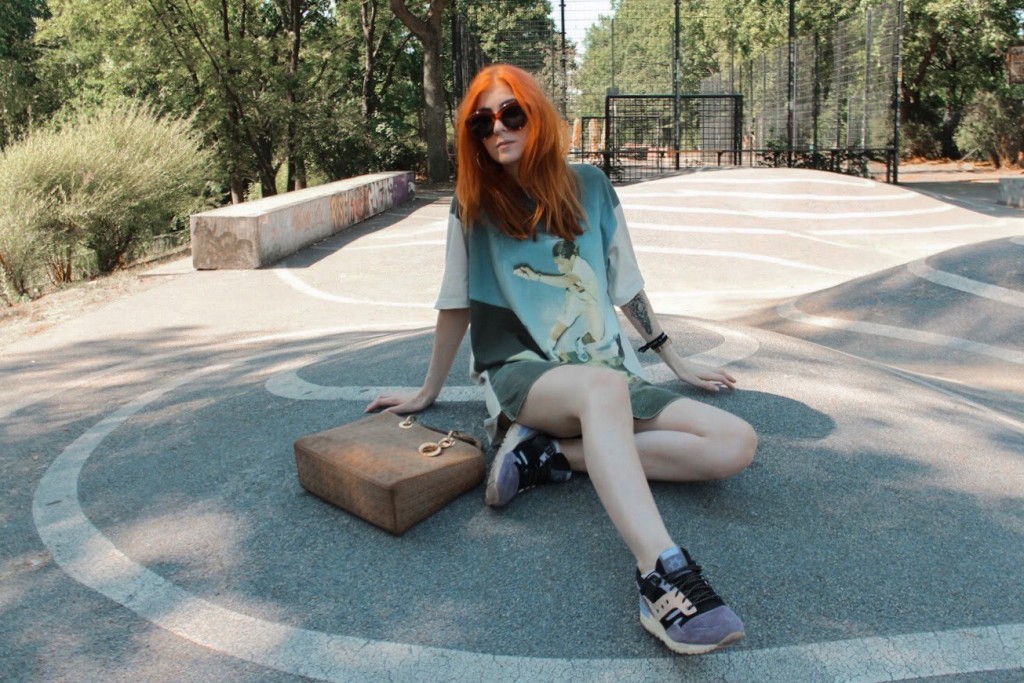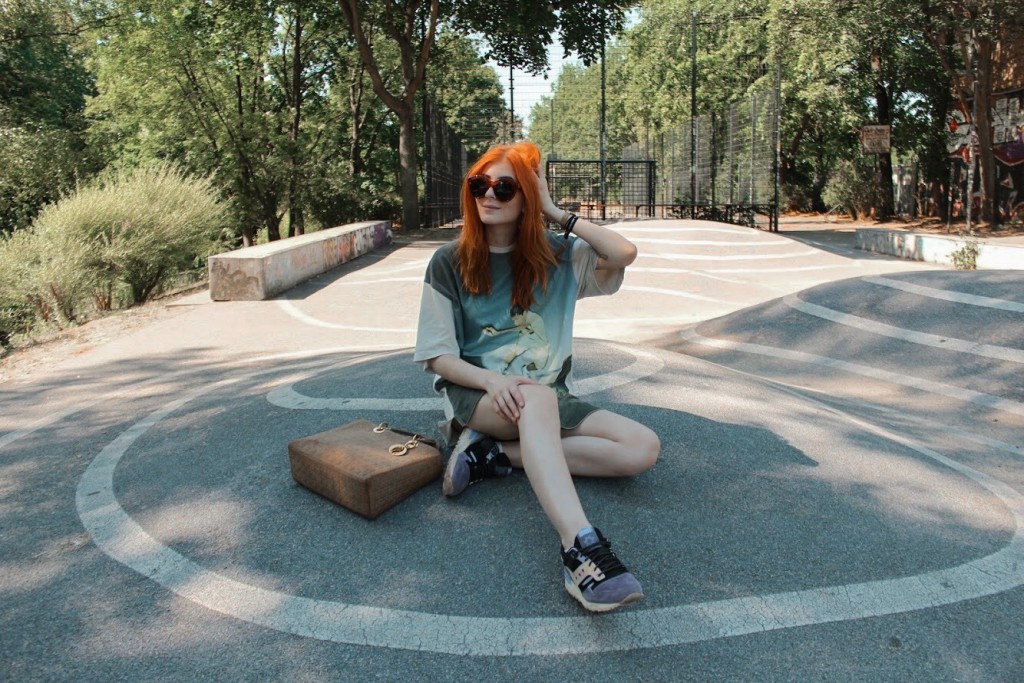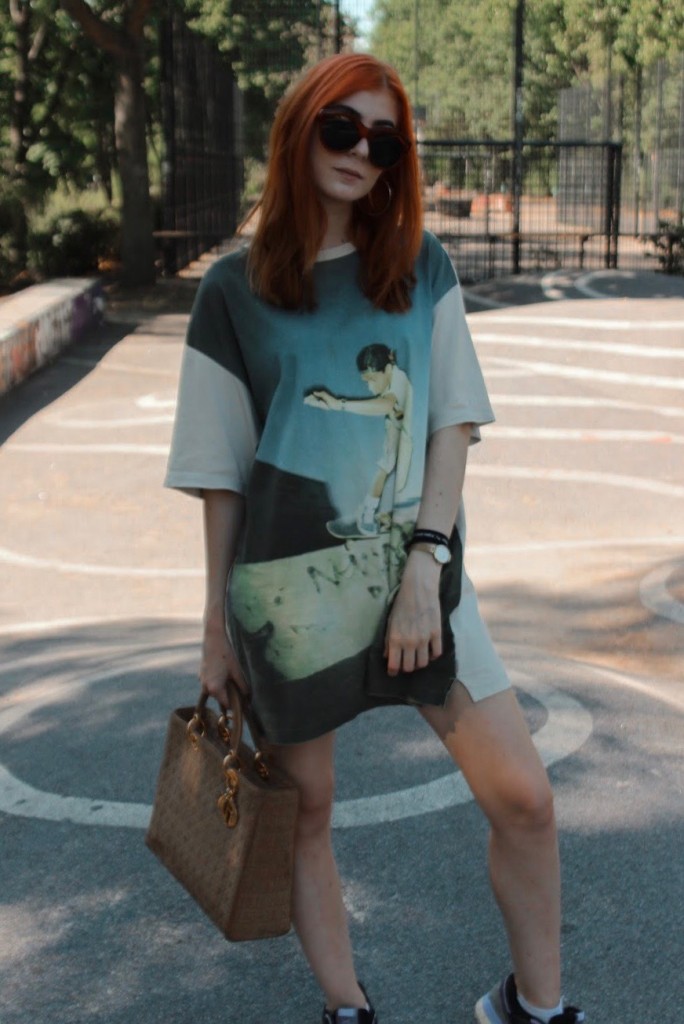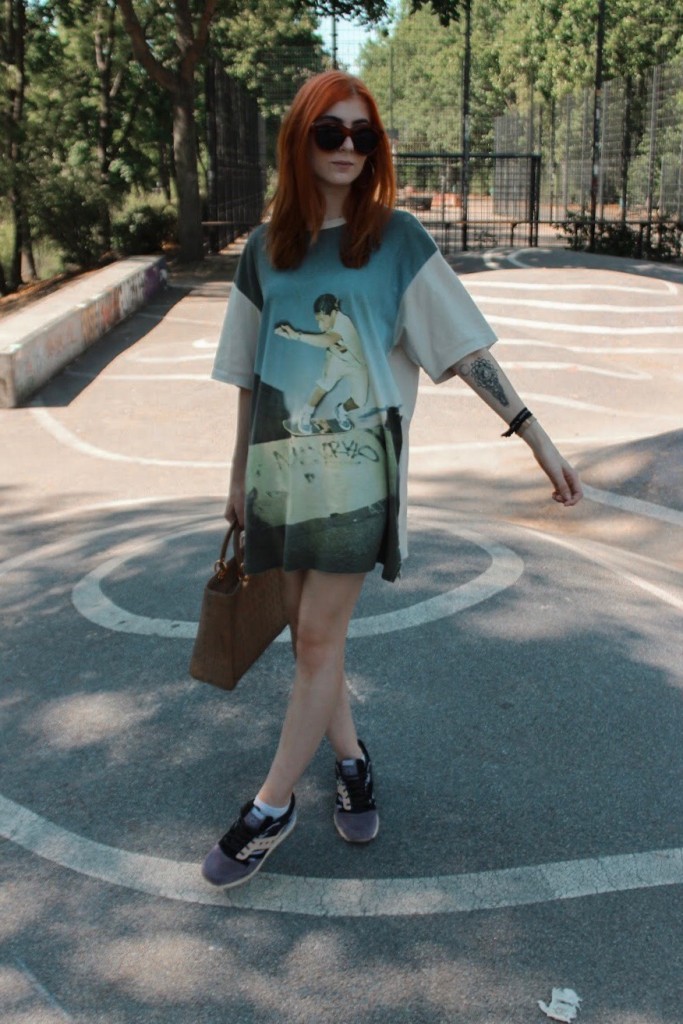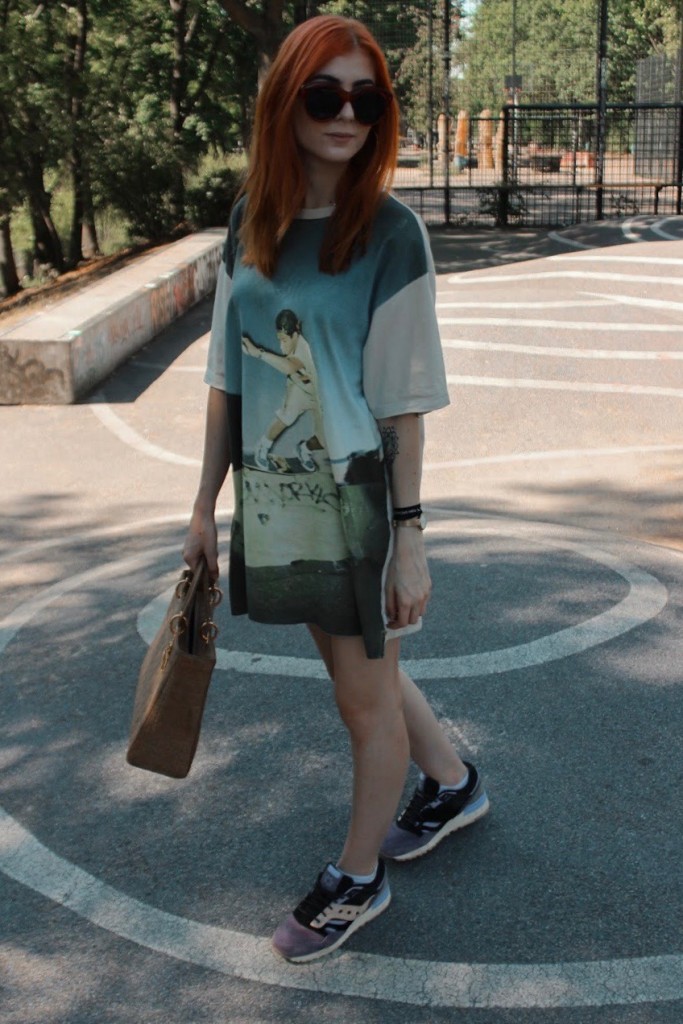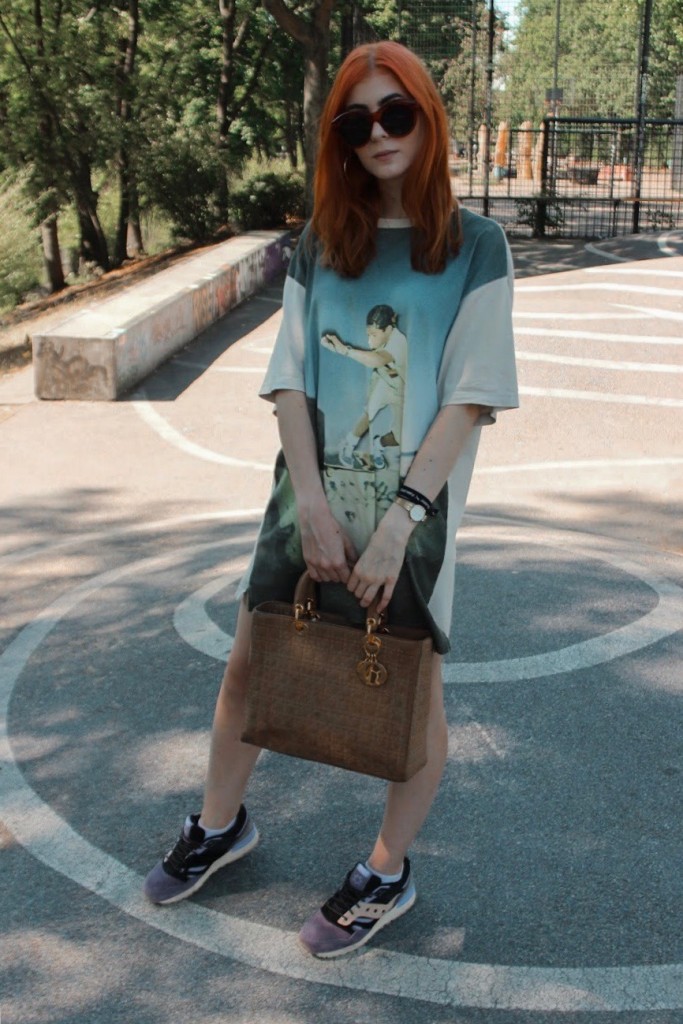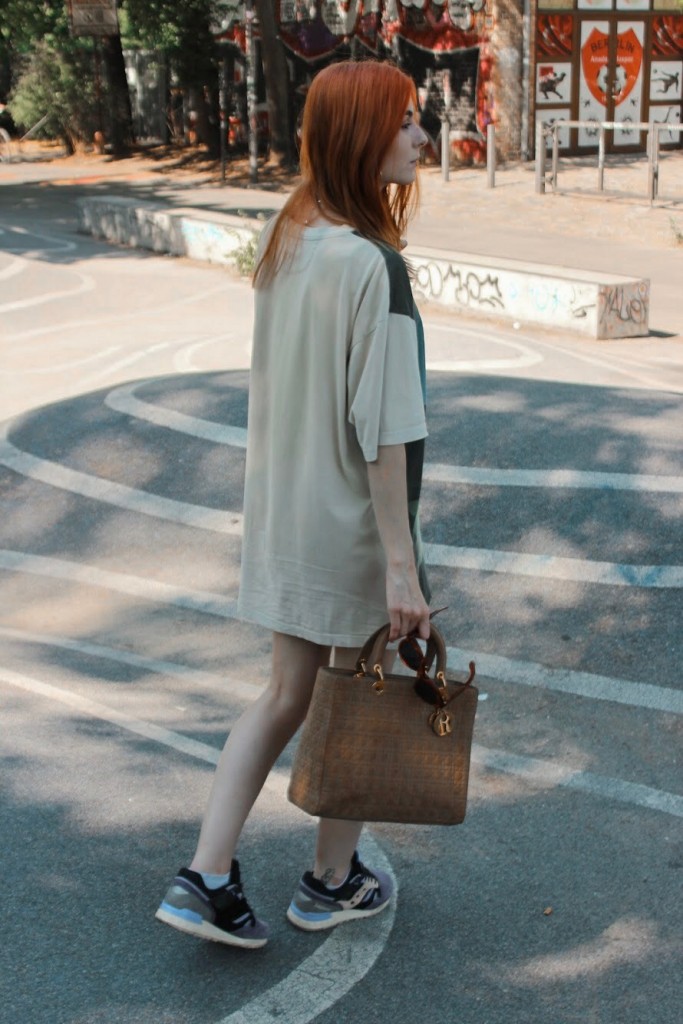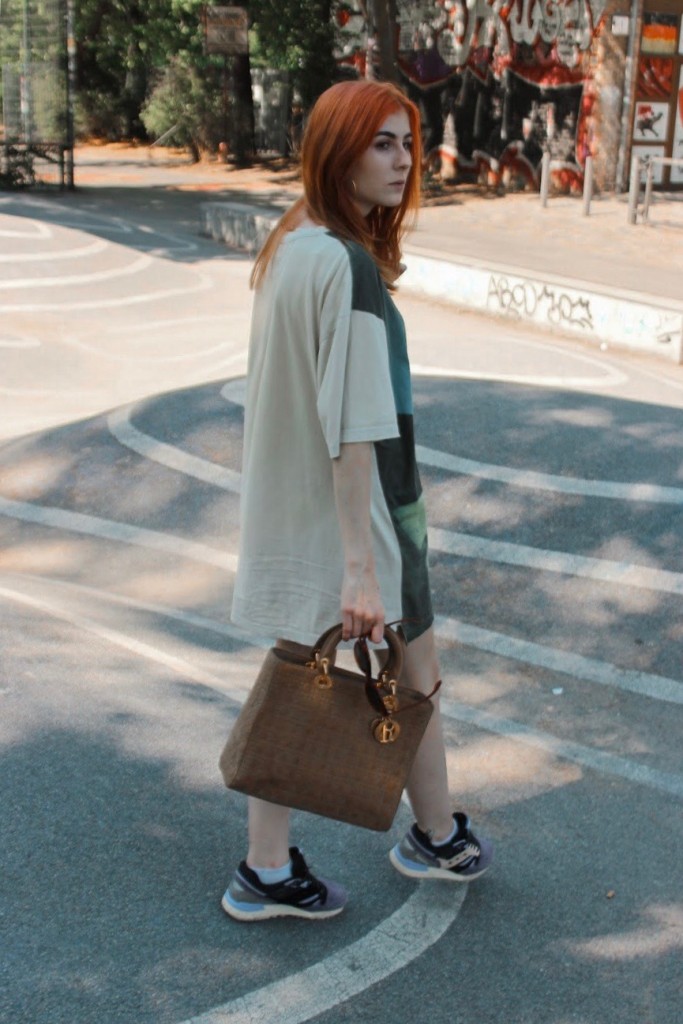 Fotos: Tristan Luckow
[:en]My Berlin Fashion Week outfit number three went more into streetwear. It's a minimalistic but colorful look, I could not wear anything extravagant at this day it was way too hot – over 30 degrees. Fortunately, Wednesday was not quite as exhausting as Tuesday. It would not have been possible to survive a day with a lot of stress and that heat. If we had a hotel in the city or a car with air conditioning probably a stressful day could be done but with public transport and without a short lie down, no way. So, we were only at Seek and Bright (two streetwear fairs), a meeting and the Maison Common show. Oh, and before we went home we also went to the HashMAG Blogger Lounge. So in contrast to Tuesday it was a really chilled program. But I'll tell you all about it in the Berlin Fashion Week Review.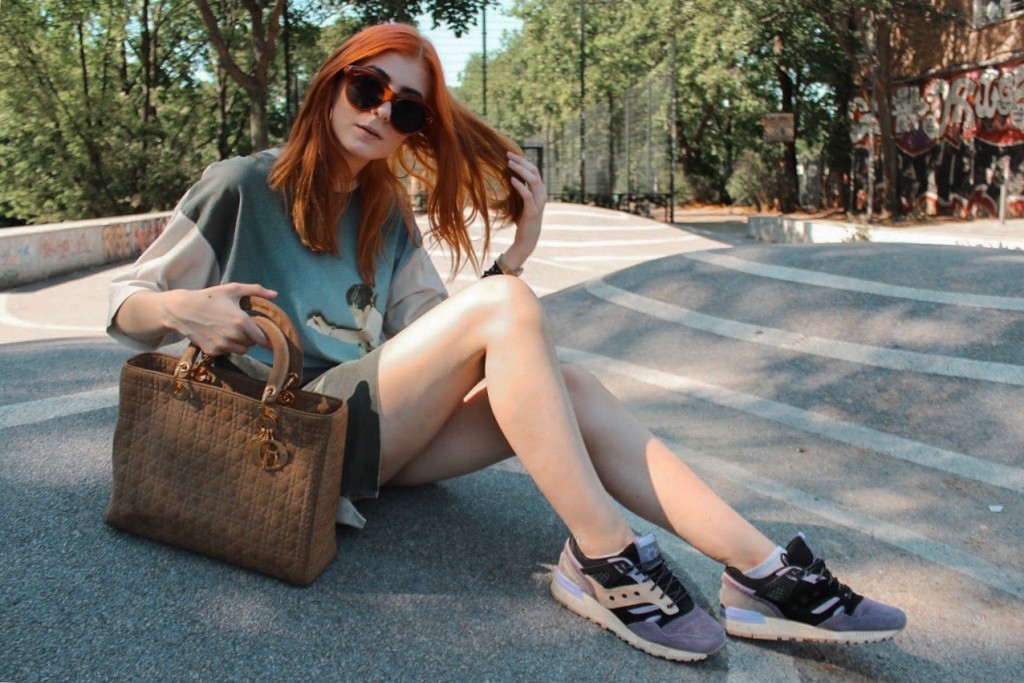 Alright, let's get to the important part of the post; My Berlin Fashion Week outfit number three with the theme "minimalism". So I opted a slightly older oversized t-shirt from Supreme and took under it black hot pants, which you could not see (was only for the safety). Of course I also had to take a pair of sunglasses with me so I dedicated to take my new one from Givenchy, which simply goes great with my hair color and face shape. These are probably the most expensive sunglasses I've ever bought but they're 120% worth the money. Otherwise, I'm not the type of sunglasses, even if I own many, but this one fits like it's made for me! For the shoes I have chosen my favorite sneakers, which are probably the most comfortable and beautiful shoes I own. If I'll find them again in my size, I will buy them directly again. Two is better. These sneakers from Saucony came out a few years ago in a cooperation with Sneaker Freaker and are called "Kushwhacker". I have chosen my bag to match the sunglasses and somehow the off-white of the oversized t-shirt, it's a color between these two. The Lady Dior bag has a very nice story, if you do not know it already, you can read it in this post. Again, you could see how much I like to match small details. I think in the future I do not have to mention that again because I do it in almost every outfit and I bet everyone know that.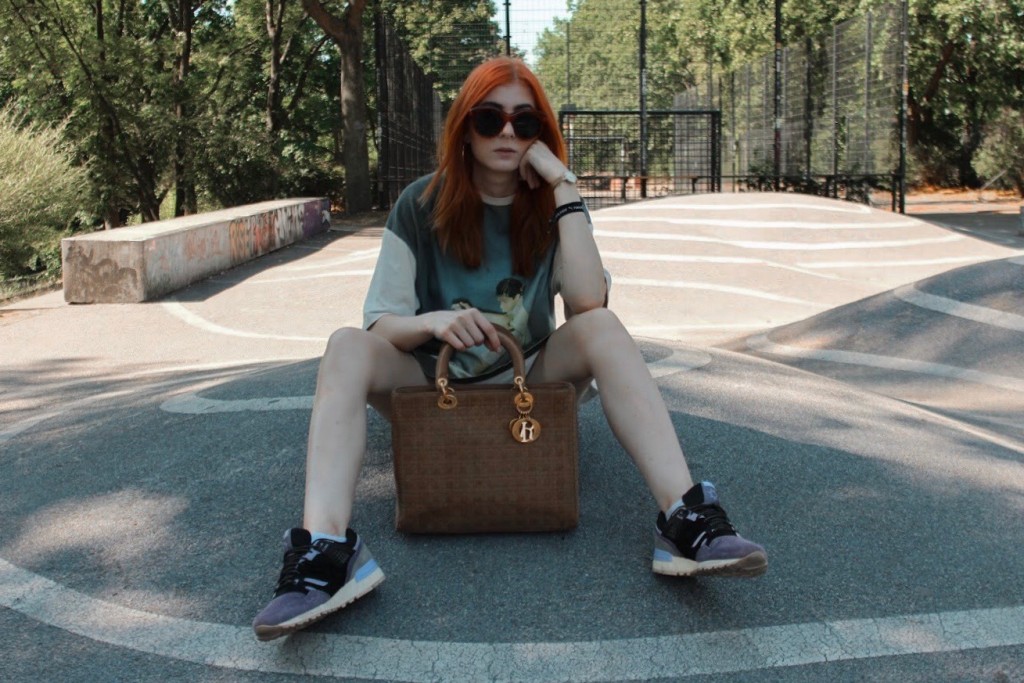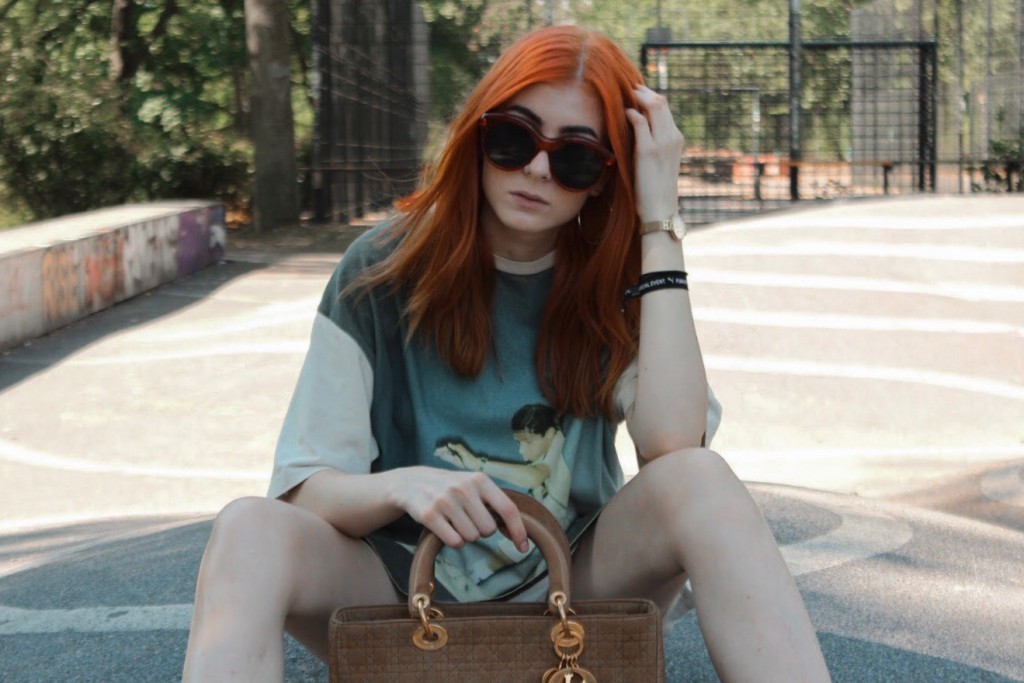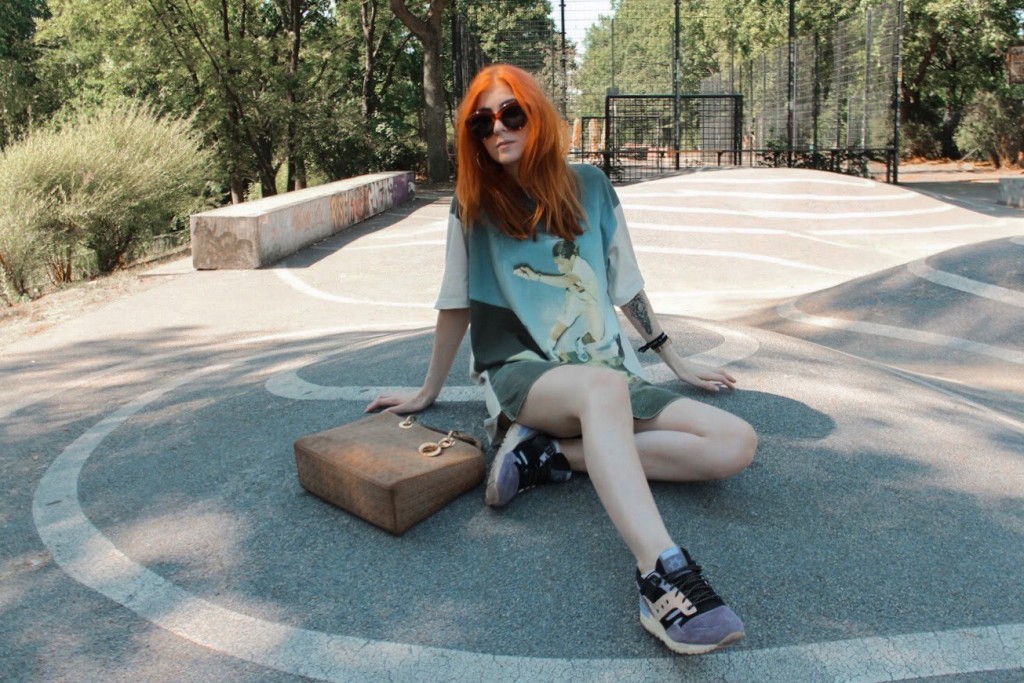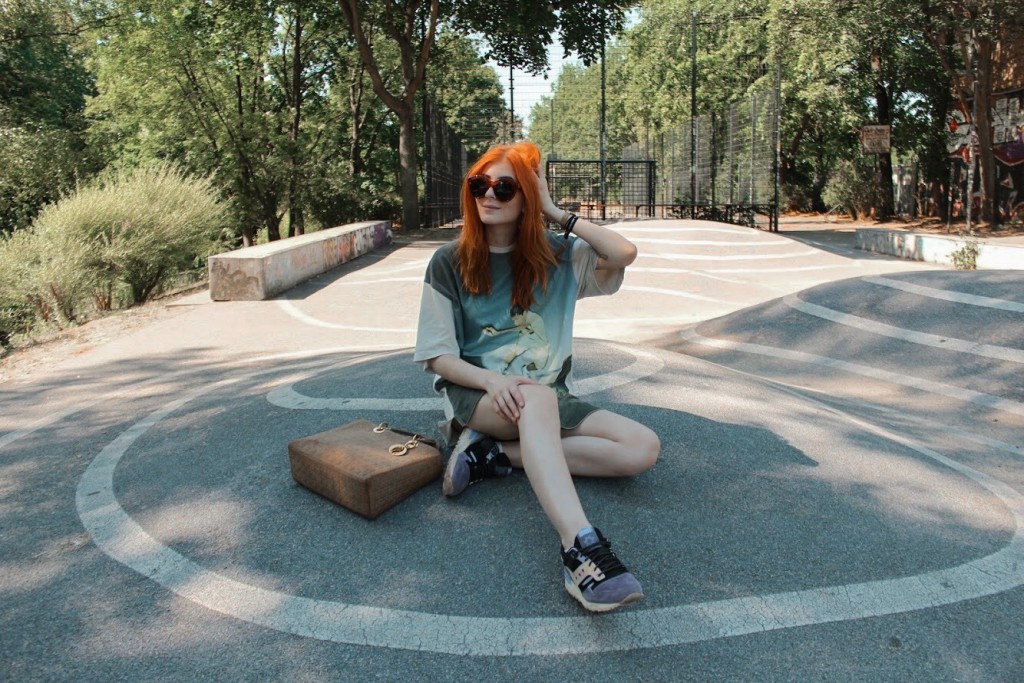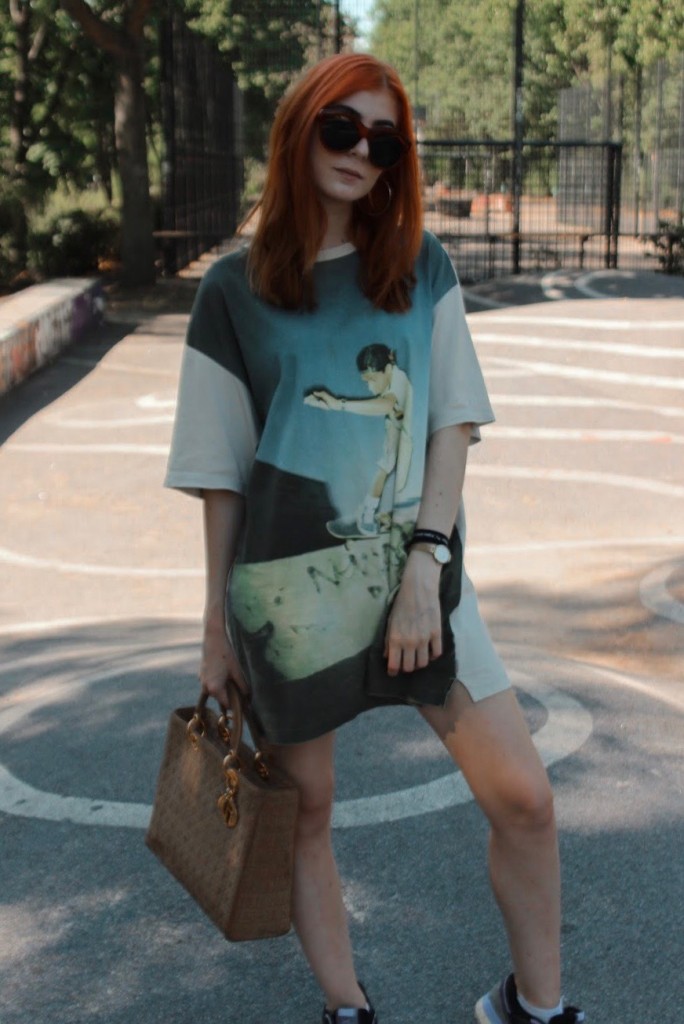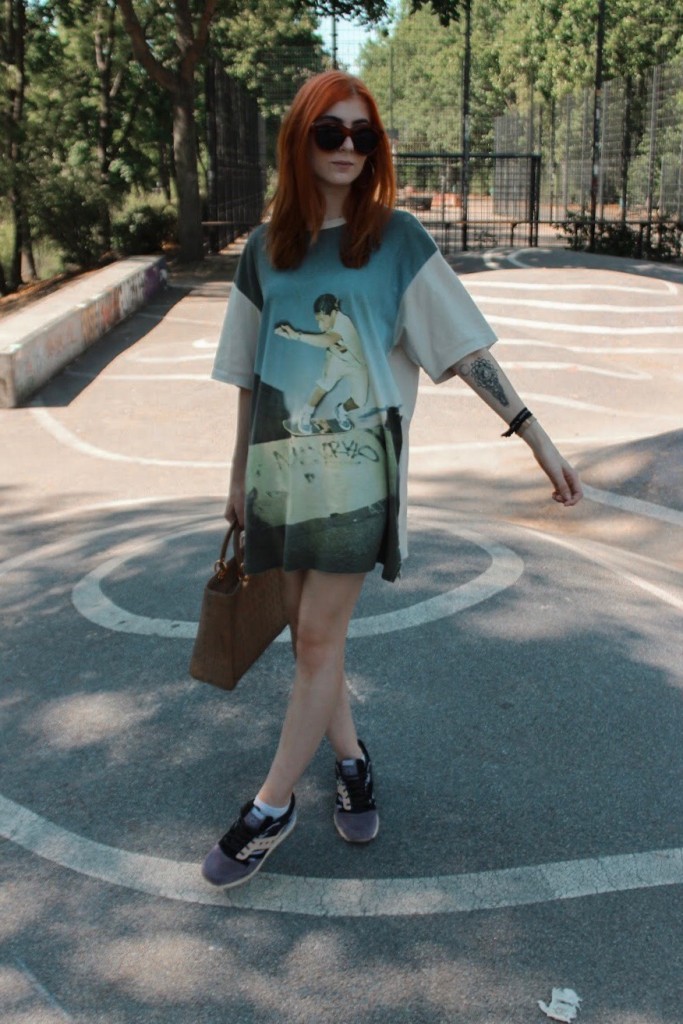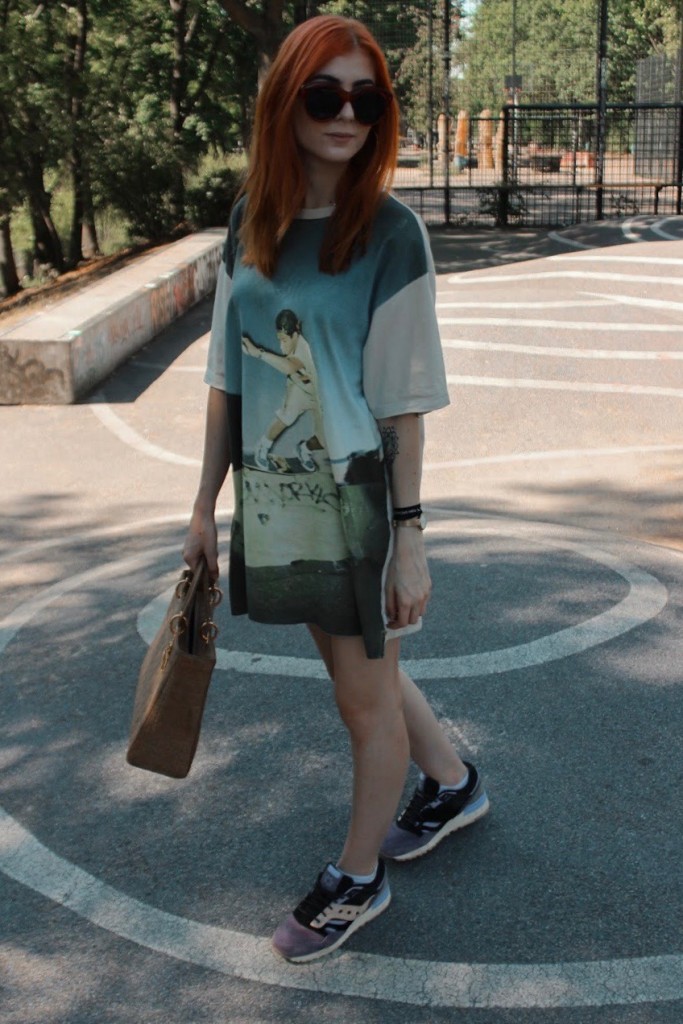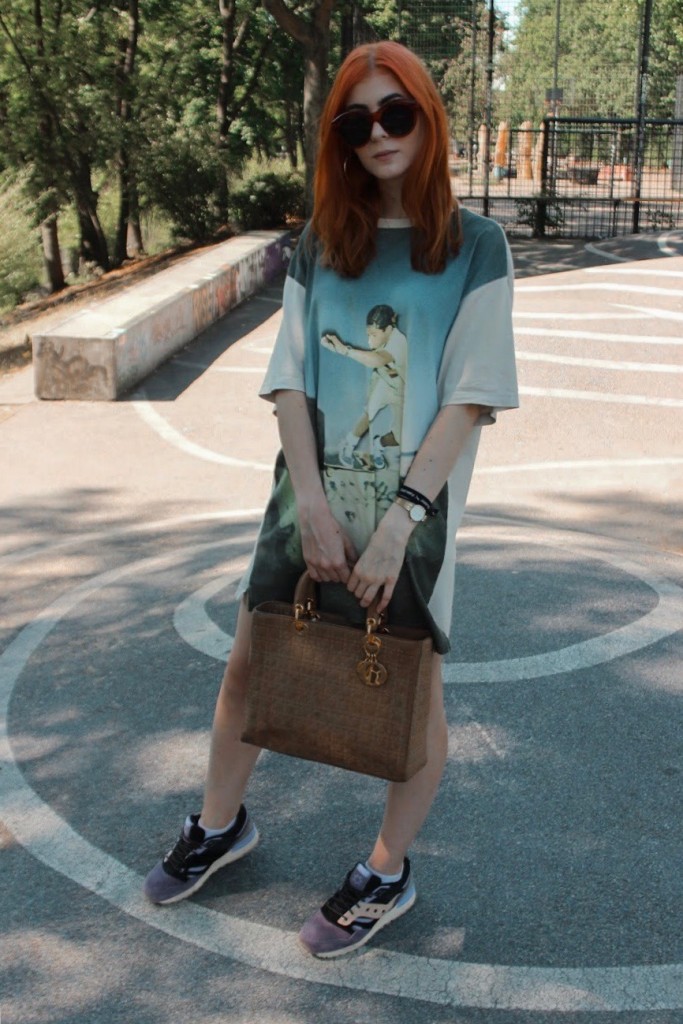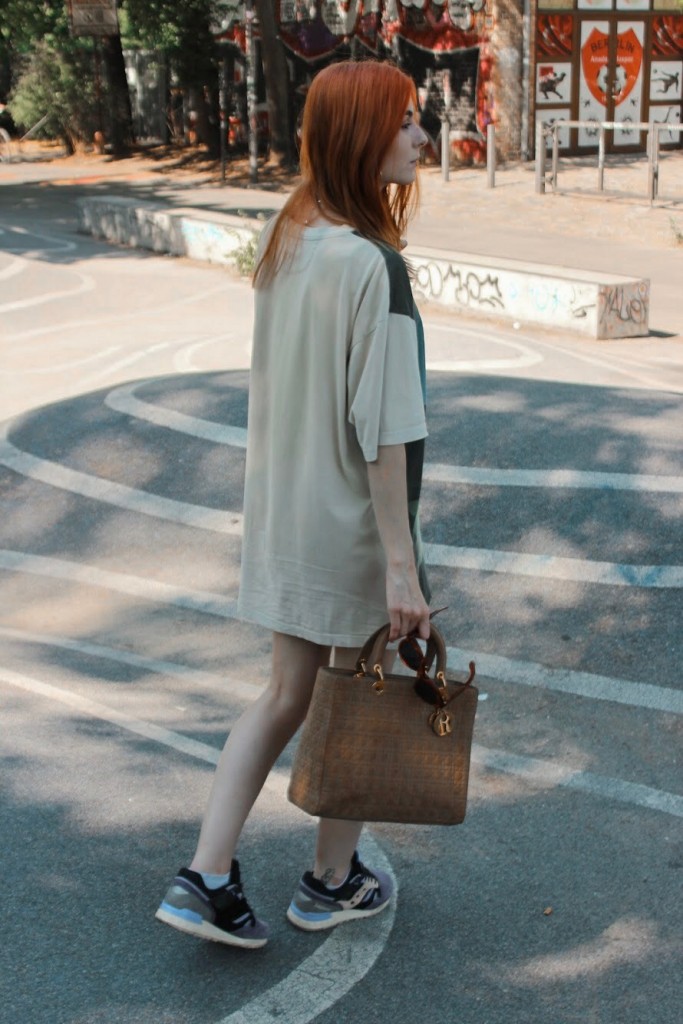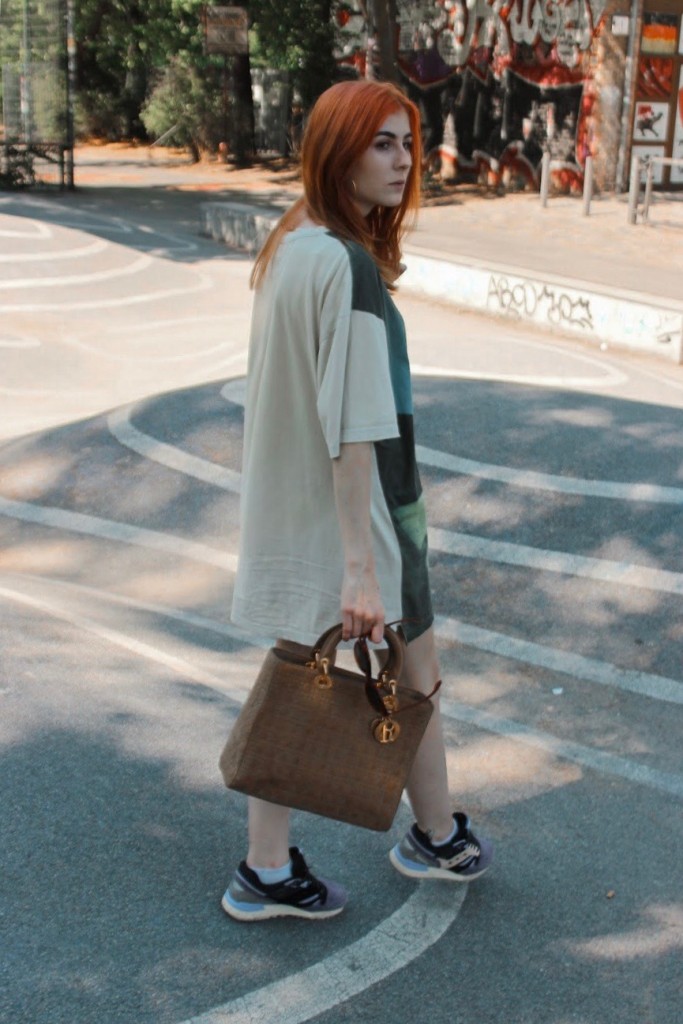 Photos: Tristan Luckow
[:]