Pretty in pink; in this outfit post the focus is on the color pink. There is no color which is more girly. Especially when I wear a fluffy coat in this color, I feel like a princess. When I wore this outfit my first thought, when I saw my self in the mirror, was: pretty in pink – that´s also the title of a 80ies cult movie. Without further ado I decided to dedicate this outfit post to this movie. By the way, everyone who likes romantic comedies should watch this timeless classic.
Like you´ll see or already saw in the preview picture, this look is a bit more elegant. You rarely see an everyday outfit of me which has not at least one streetwear piece in it. First I didn´t even noticed this but when I stand styled infront of my big mirror I felt a bit different, in a good way. I think it´s okay to expand your personal style. By the way my cute hairy companion is Maggie, my boyfriends dog. I´m not a dog person but this one is so lovely you can´t dislike her.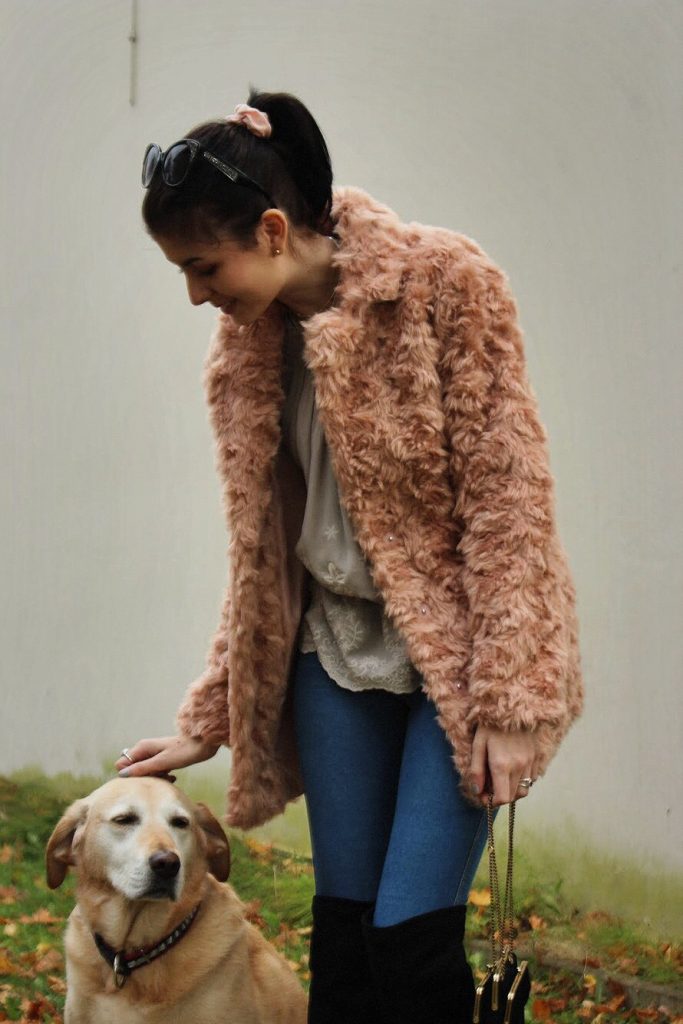 The heart of this "pretty in pink" look is the beautiful fluffy coat in dusky pink. I bought him in the middle of October at Primark. It was love at first sight when I saw him on a clothes rail. He´s a real eye-catcher and as the saying goes:
Life is too short to wear boring clothes.
Fittingly I had already an old school fabric scrunchy in the same color. I couldn´t resist and put my hair with it in a ponytail. I have the fabric scrunchy already for a while and can´t remember where I bought it. But I can tell you that you´ll finde scrunchies like these in every shop for jewelry and accessories. My chic sunglasses, also from Primark, with the sexy cat-eye shape give every look a touch of elegant and arrogant. Beside my silver Tiffany & Co. necklace, which I wear everyday, I wear a fine necklace with two lines from C&A. In addition I wear two ring, also in silver. The one with the moonstone is from Brandy Melville, I bought him a few years ago in Zurich. The other one with the purple stone is a present from my dear friend Fernanda, this one has a special personal meaning. My beige off-shoulder top is from Dtlm – Don´t label me and harmonizes perfect with the skinny jeans form Bershka. When I saw this top for the first time, I directly felt in love with its beautiful fabric and fancy embroideries. The overknee shoes in suede are from Manfield Schuhe (pr sample). First they're really comfy (that´s the most important) and second they look beautiful. What do you want more?! Last but not least; my bag which fits perfect to the overknees. I have this one surely like 10 years, if not longer. She´s from Jane Shilton and I bought it back then in a second hand store in Switzerland. I use her unfortunately rarely because her storage space is very small. But I´m nevertheless in love with her and her cute fringes. By the way you can take this bag as a hand bag and as a shoulder bag, the chain is multifunctional.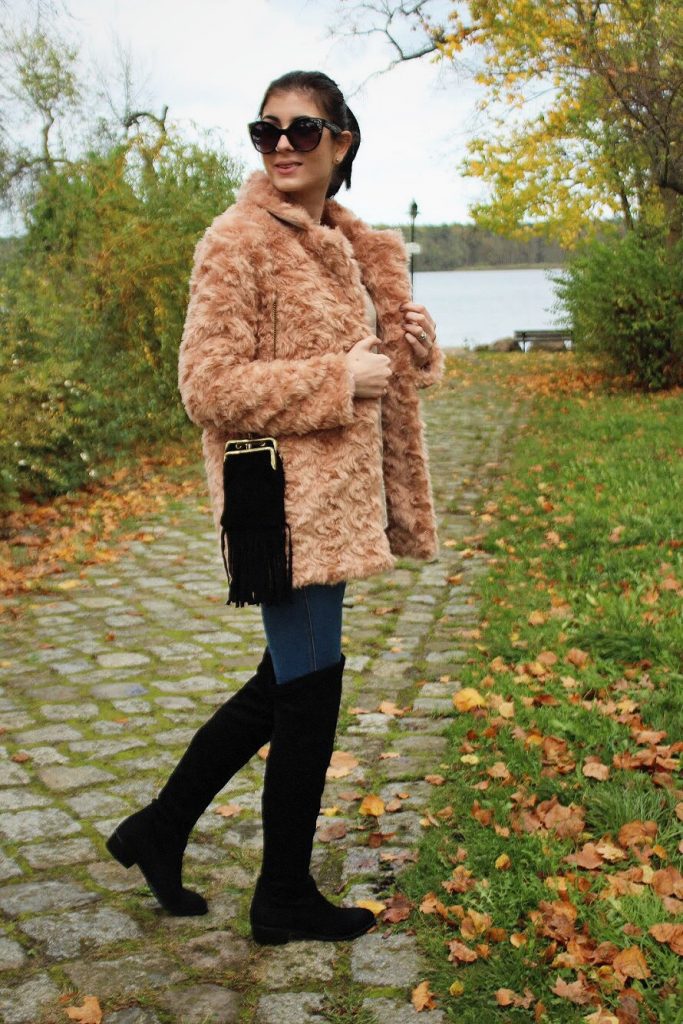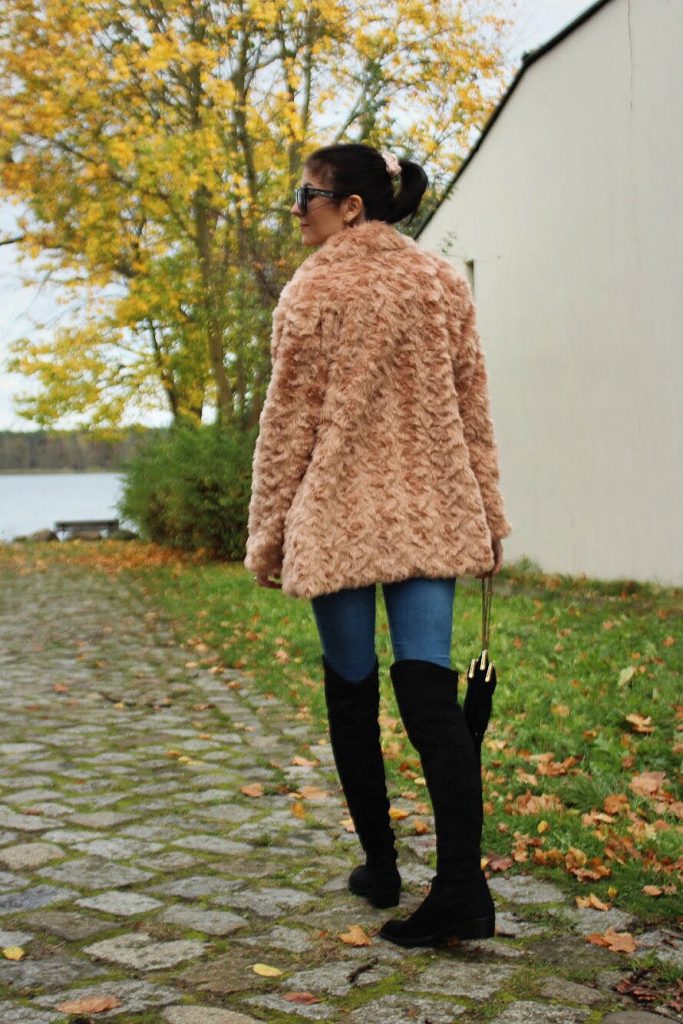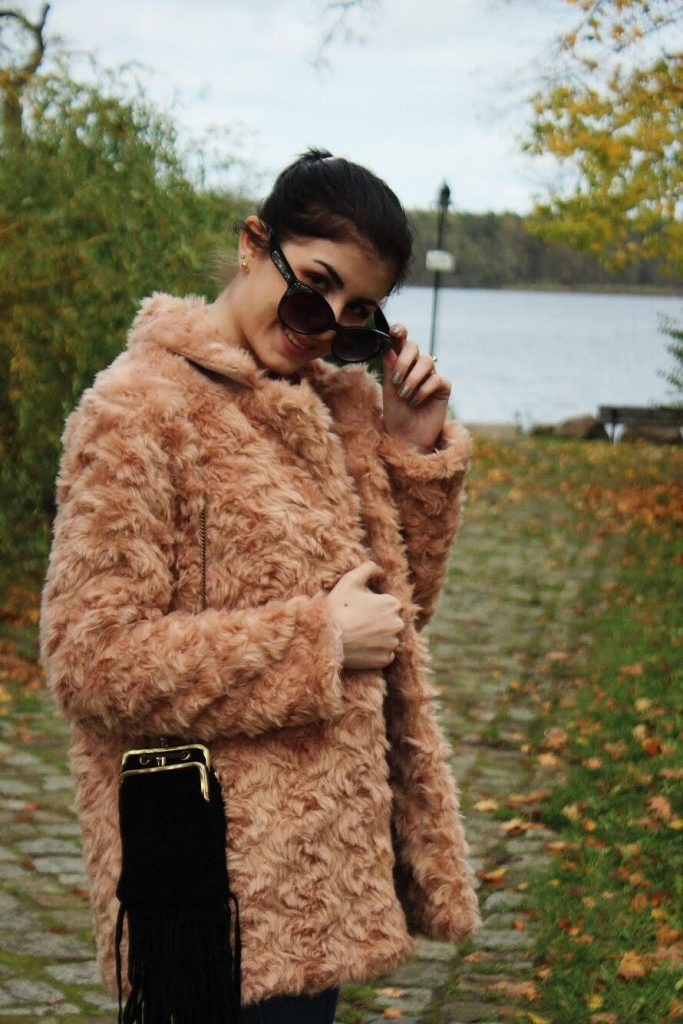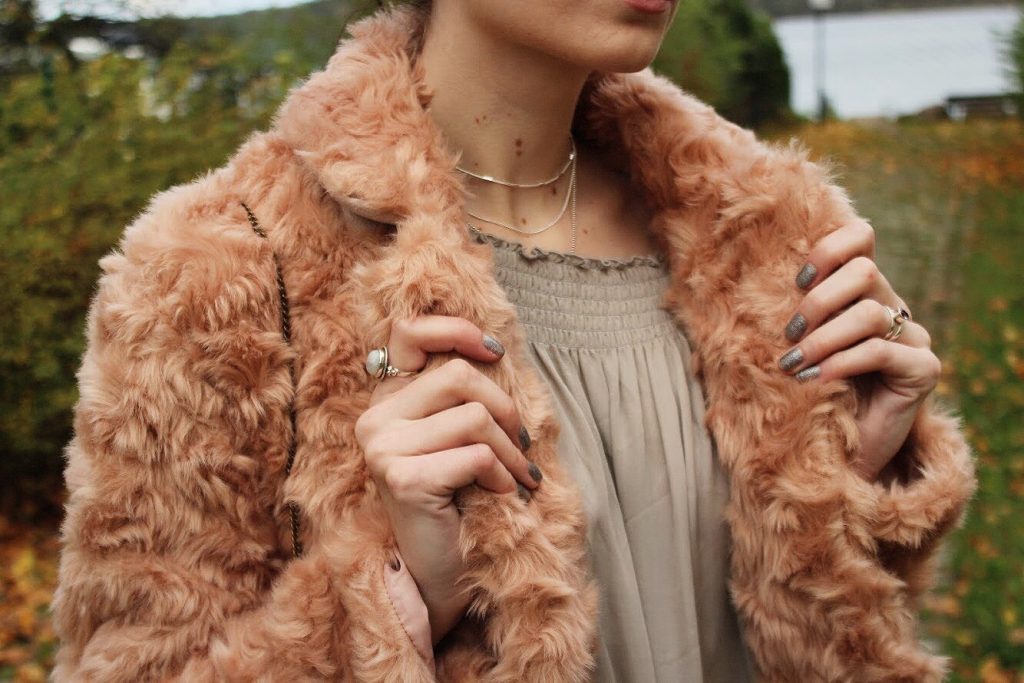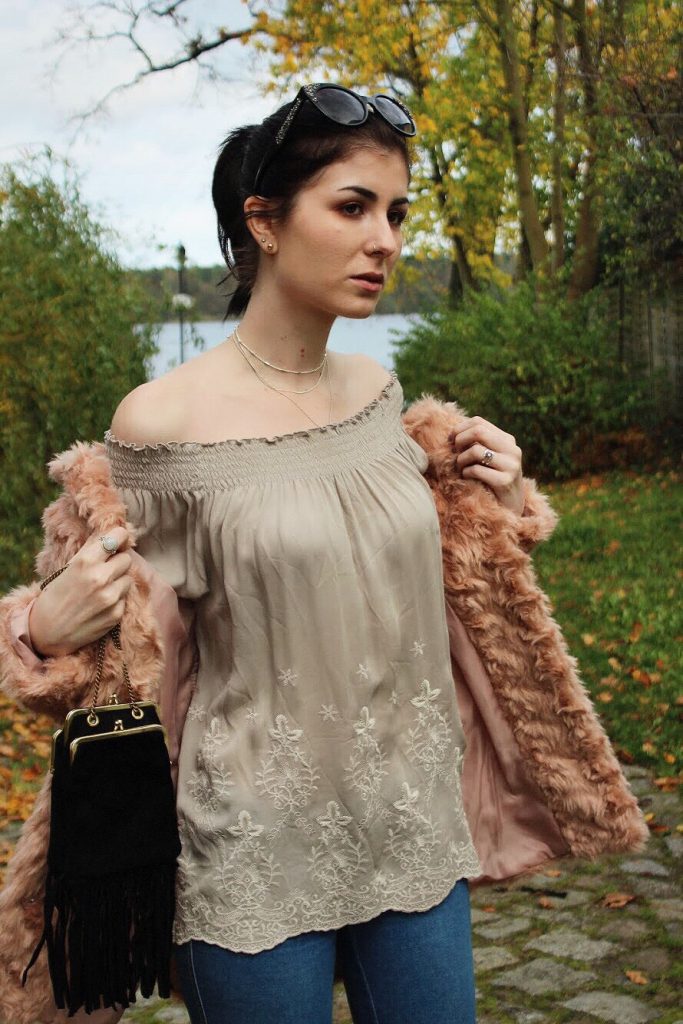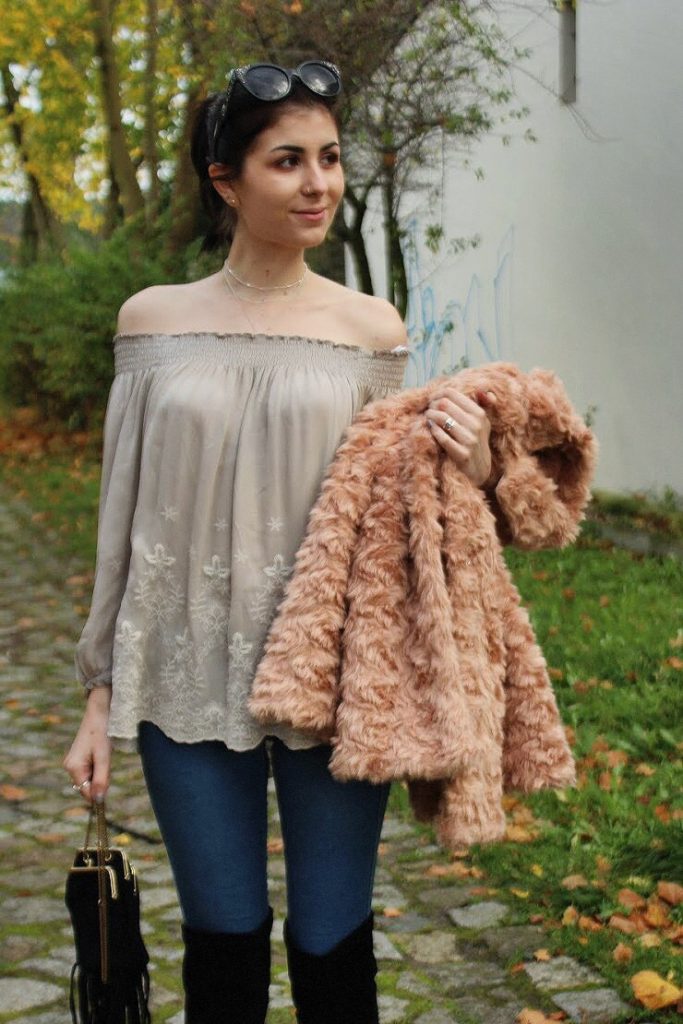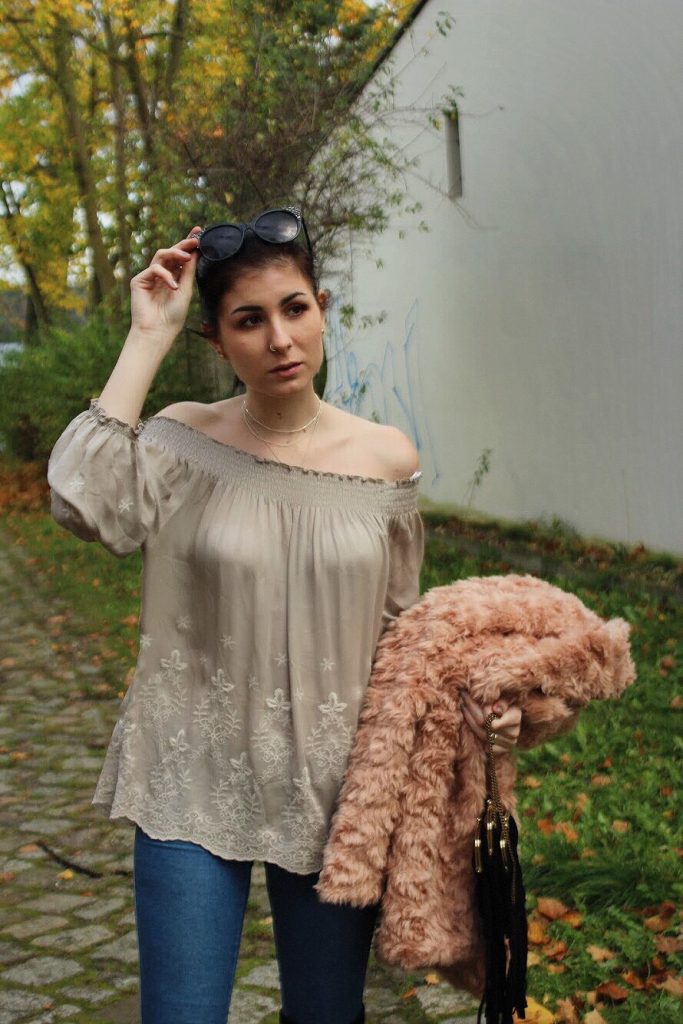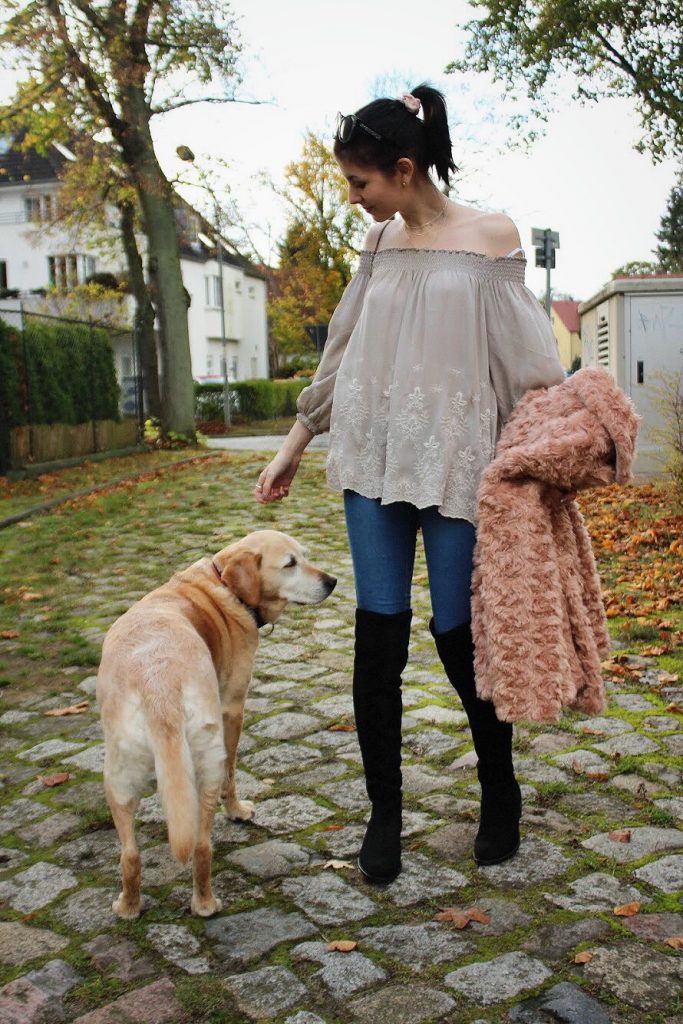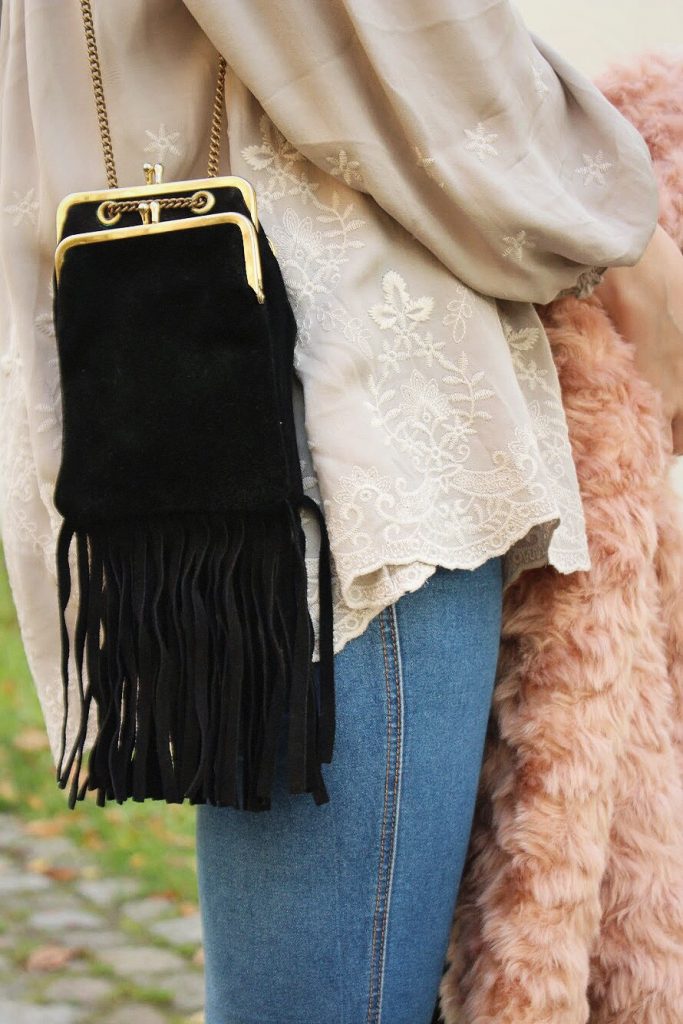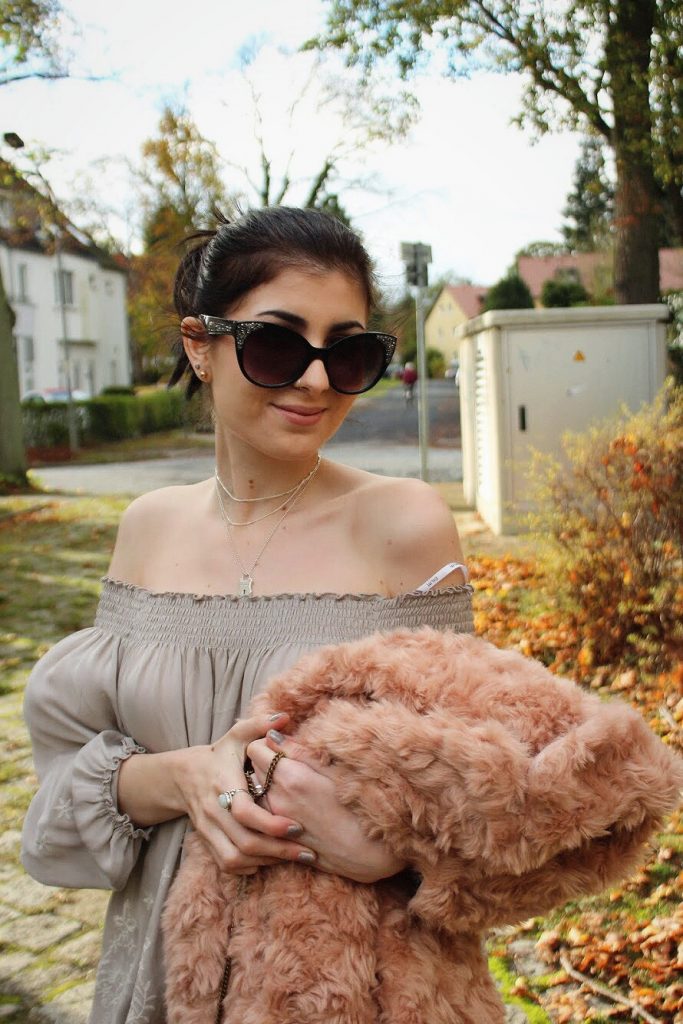 Photos: Tristan Luckow
If you want to see more autumn outfit inspos, you can click here or here.