[:de]Ich glaube mittlerweile weiss jeder, dass die Überganszeit von Frühling auf Sommer meine absolute Lieblings Zeit im Jahr ist. Die Möglichkeiten einen grandiosen Look zu kreieren in dem man sich Wohl fühlt ist gefühlt grenzenlos. Im Winter läuft man ja irgendwie immer gleich rum, mal ein anderer Mantel oder ein anderer dicker Pullover aber in der aktuellen Jahreszeit kann man einfach alles nutzen: lange Hosen, kurze Hosen, lange Röcke, kurze Röcke, lange Kleider, kurze Kleider oder doch lieber alles in Midi Length? Wie gesagt die Auswahlmöglichkeit ist sehr umfassend – jedenfalls hier in Berlin.
Dieses Outfit ist gut für chice, wie auch lässige Anlässe geeignet. Ich habe es selbst an diesem Tag zur Arbeit und zu zwei Blogger Events getragen. Durch die Mischung aus edlem Midi Length Rock mit Vintage Designer Handtasche und sportlichen Sneaker mit elastischem Crop Top ergibt sich eben diesen Sporty Chic Look der für jeden Anlass passend ist. Ich würde mit diesem Look sogar an eine Hochzeit gehen, nicht an meine eigene natürlich aber an eine. Ich habe schon darüber geschrieben, dass es im Club nicht immer High Heels sein müssen und mal im ernst Mädels auch bei einem Anlass, wie einer Hochzeit muss nicht jeder mit hohen Schuhen rumstöckeln. Es gibt einfach Frauen die stehen nicht auf High Heels. Lange Rede kurzer Sinn; dieses Outfit ist ein totaler All Rounder und für praktisch jeden Anlass geeignet.
Bei diesem sommerlichen Outfit habe ich mich für einen Midi Lengh Rock von Margiela entschieden. Der Rock hat nicht nur eine tolle Farbe sondern ist auch multifunktional. Entweder man trägt ihn einfach lang und flatterig oder man benutzt die Druckknöpfe und knöpft ihn sich hoch. Ziemlich coole Idee muss ich sagen. Ich finde High Waisted Jeans und Co. immer praktischer, man kann einfach mehr damit kombinieren z.B. ganz reinstecken oder halb reinstecken oder einfach drüber baumeln lassen. Ich habe mich bei diesem Look fürs drüber baumeln lassen entschieden, da das Top etwas gecropped ist, verlängert es meine Beine optisch. Bei meinen 1,63 cm ist eine optische Verlängerung ehrlich gesagt auch nötig. Mein Top ist übrigens von Urban Outfitters. Auch wenn das schwarze Top einen Turtleneck hat ist es doch auch bei hohen Temperaturen schön zu tragen durch seine Luftigkeit (ist Luftigkeit überhaupt ein Wort?). Bei den Schuhen habe ich passend zum Rest des Outfits meine Nike Janoski "Digi Florals" ausgepackt, die Farben harmonieren wunderbar. Bei den Accessoires hielt ich mich bei diesem Outfit ziemlich zurück. Obwohl die Vintage Tasche von Gucci in Krokoleder ja auch nicht gerade nichts ist. Jedenfalls habe ich nur ein paar mittelgrosse goldene Creolen von Primark angezogen und eine goldene Uhr von Mockberg, die ich bei deren Blogger Brunch geschenkt bekommen habe – also ein PR Sample. Ausnahmsweise habe ich bei diesem Outfit keinen Hut oder was auch immer auf dem Kopf, dafür trage ich eine dünne Sonnenbrille, welche mich stark an die frühen 2000er erinnert. Vintage Vibes hier, Vintage Vibes da.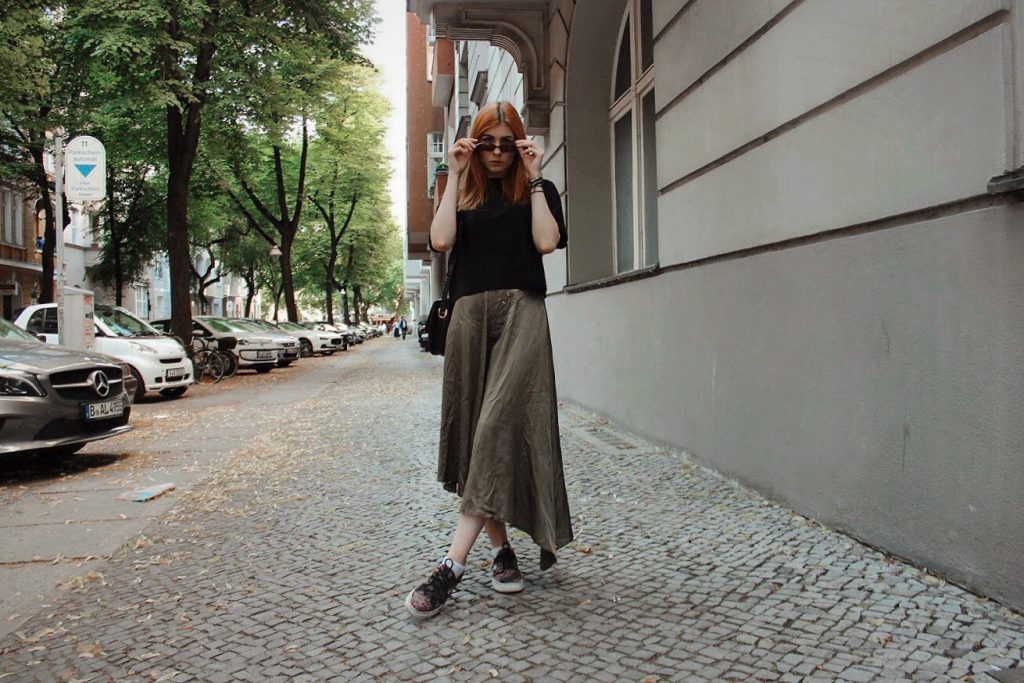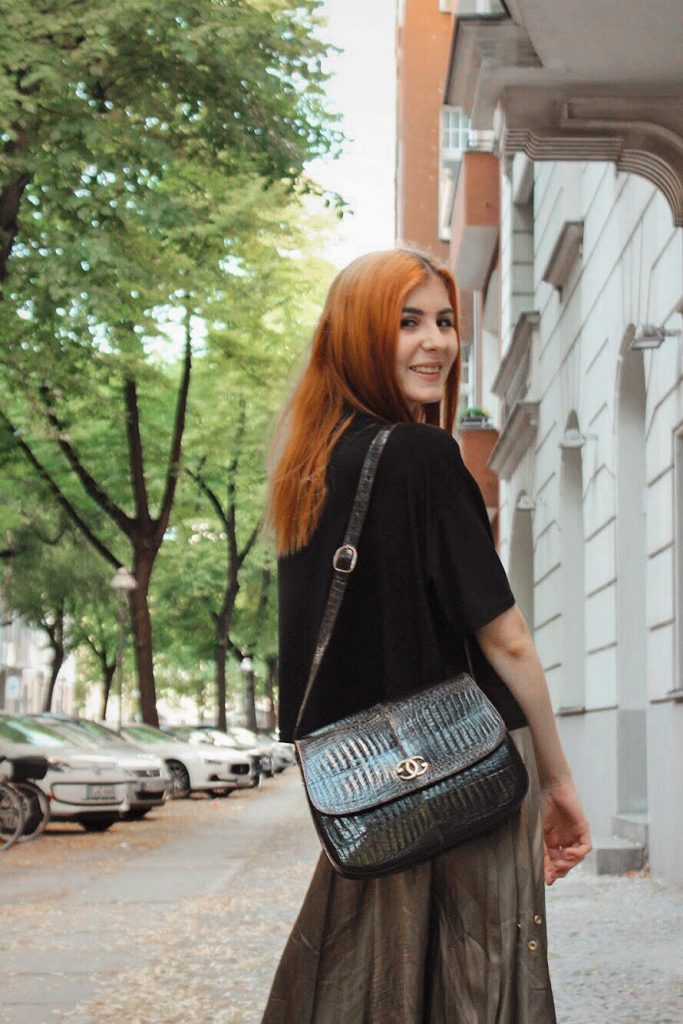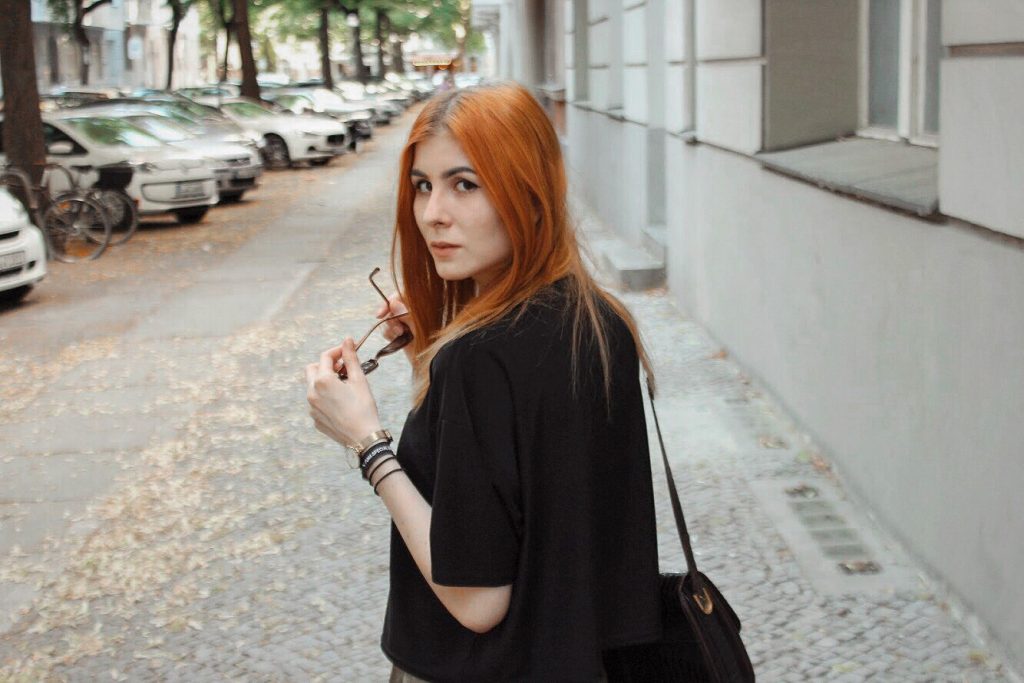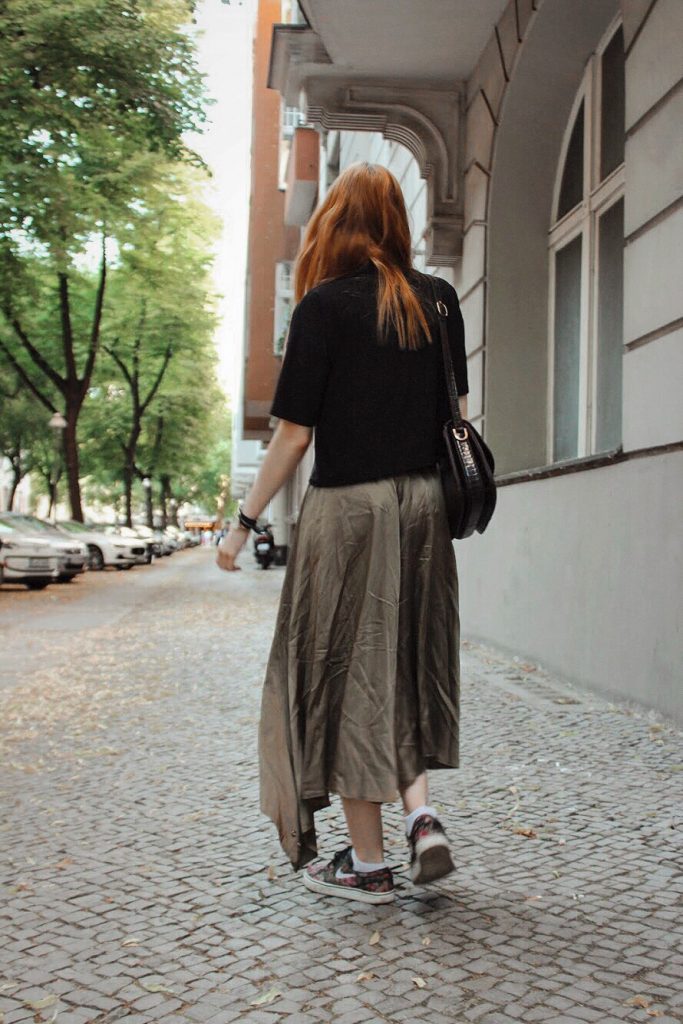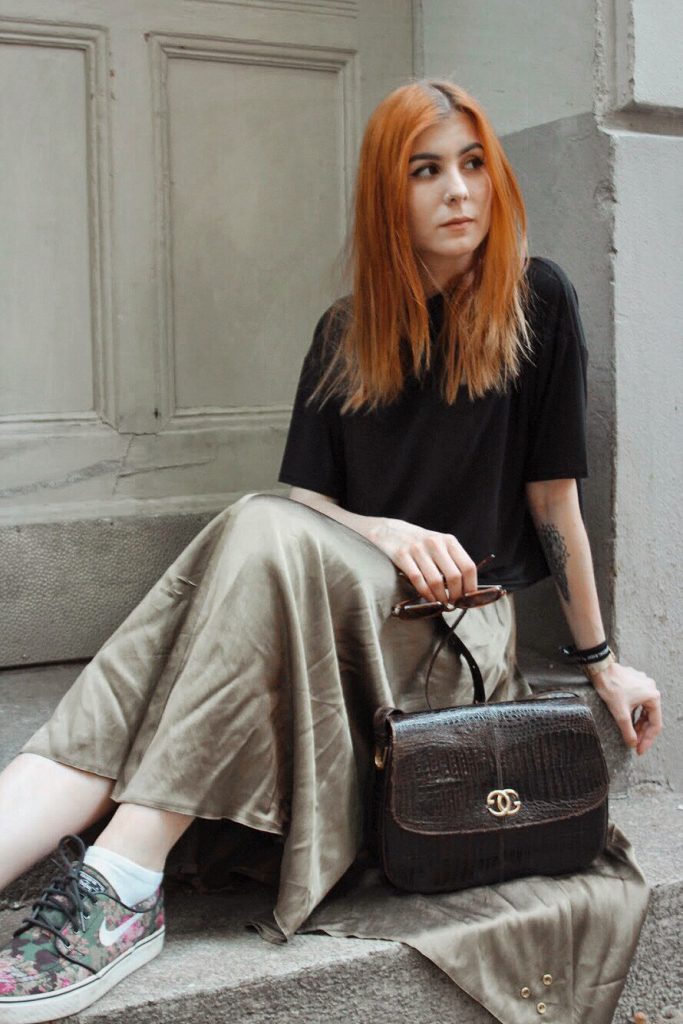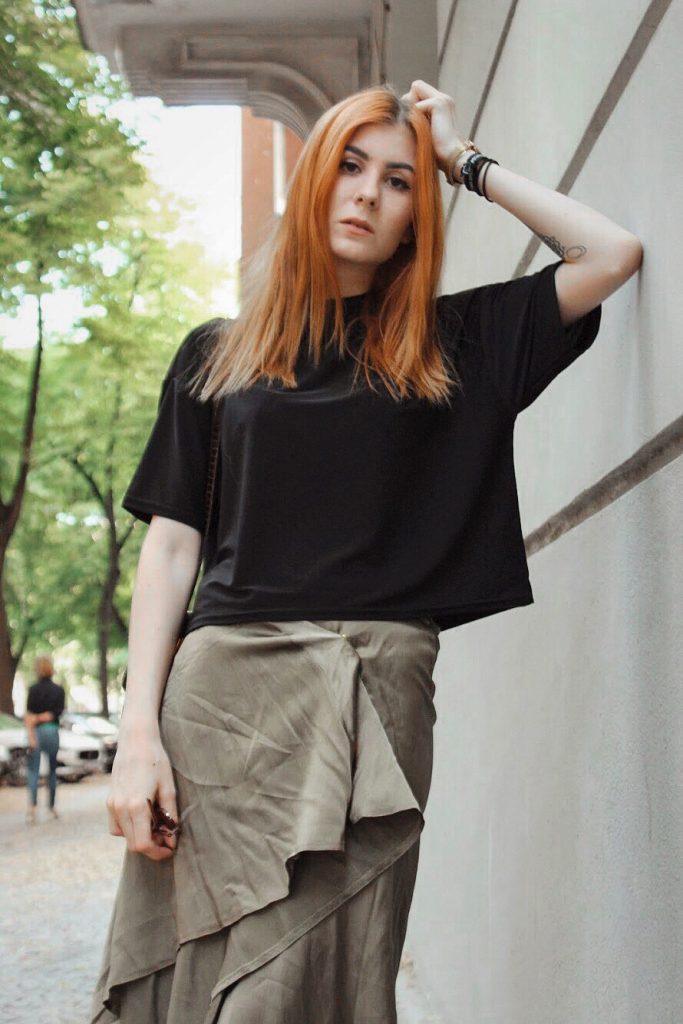 Fotos: Tristan Luckow
[:en]I think by now everyone knows that the transition from spring to summer is my absolute favorite time of the year. The possibilities of creating a fabulous look in which you feel pretty is boundless. In winter, somehow you always run around in the same style; sometimes another coat or another thick sweater but in the end it's always really similar. In the current season you can just use everything: long pants, shorts, long skirts, short skirts, long dresses, short dresses or rather everything in midi length? As I said the choice is very comprehensive – at least here in Berlin.
This outfit is good for chice, as well as casual occasions. I even wore it to work that day and to two blogger events. The mixture of noble midi length skirt with a vintage designer handbag and sporty sneaker with an elastic crop top gives us this sporty chic look that is suitable for every occasion. I would even go to a wedding with this look, of course not my own, but to one as a guest. I've already written about the fact that you don't have to go to the club always in high heels as a women. Sometimes girls feet just don't want or can walk around in high heels even at elegant events and that's totally okay. Long story short; This outfit is a total all rounder and suitable for virtually any occasion.
In this summer outfit, I opted for a midi length skirt by Maison Margiela. The skirt not only has a great color but is also multifunctional. Either you just wear it long and fluttery or you use the snaps and button it up. I have to say that's a pretty cool idea. I also find high waisted jeans and co. are more practical, you can simply combine more with it, for example put it in completely or put it in half or just let it dangle over it. For this look I decided to dangle the top over the skirt. Since the top is cropped and the skirt high waisted, this outfit extends my legs visually. Whit my 1.63 cm is an optical extension, frankly, also necessary. By the way, my top is from Urban Outfitters. Even if the black top has a turtleneck, it is still nice to wear at high temperatures due to its airiness (is airiness even a word?). For my feet I have unpacked my Nike Janoski "Digi Florals" because they match amazing to the rest of the outfit, the colors harmonize wonderfully. For this simple outfit I didn't take a lot accessories. Although the vintage bag by Gucci in crocodile leather is a freaking eye catcher. Beside the bag I just put on some medium sized gold hoop earrings from Primark and a gold watch from Mockberg that I got on their blogger brunch – so it's a PR sample. For once, I have no hat or whatever on my head but I wear a pair of thin sunglasses, which reminds me strongly of the early 2000s. Vintage vibes here, vintage vibes here.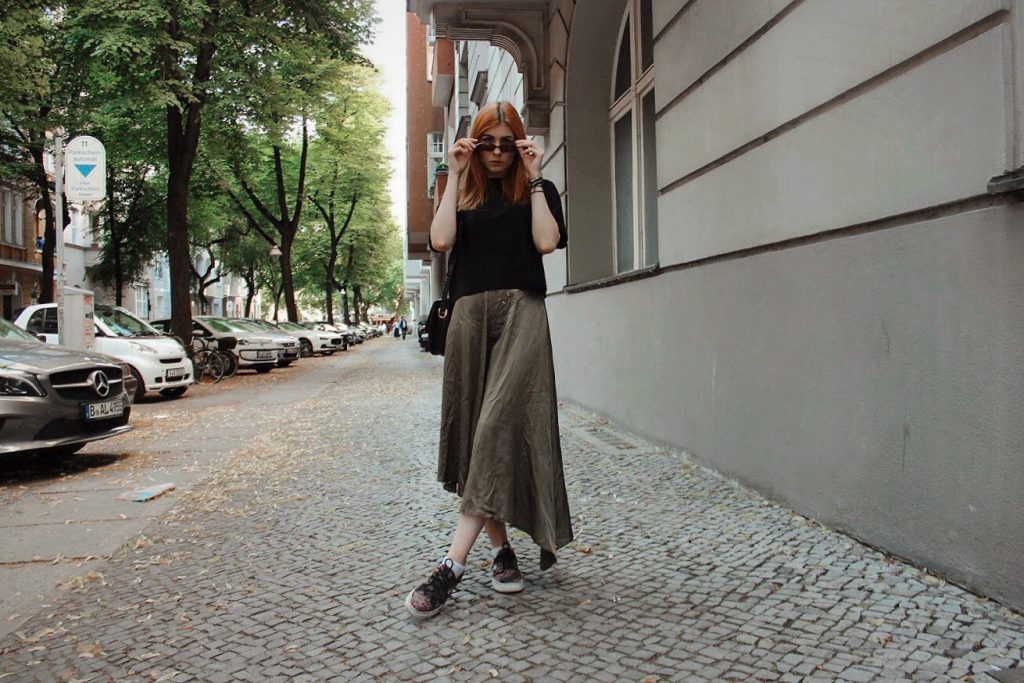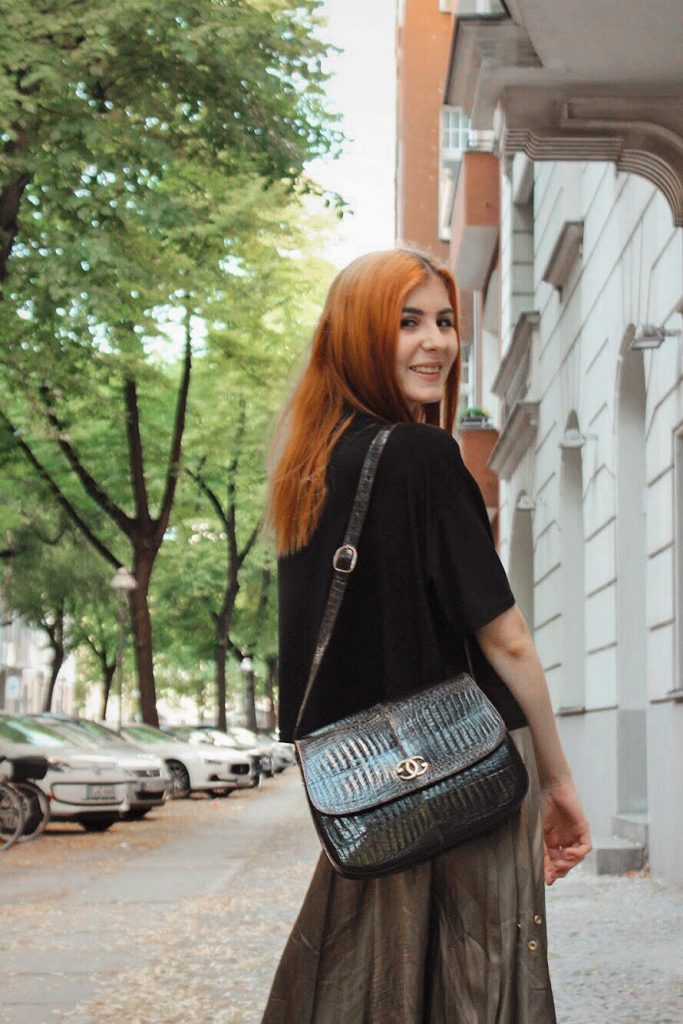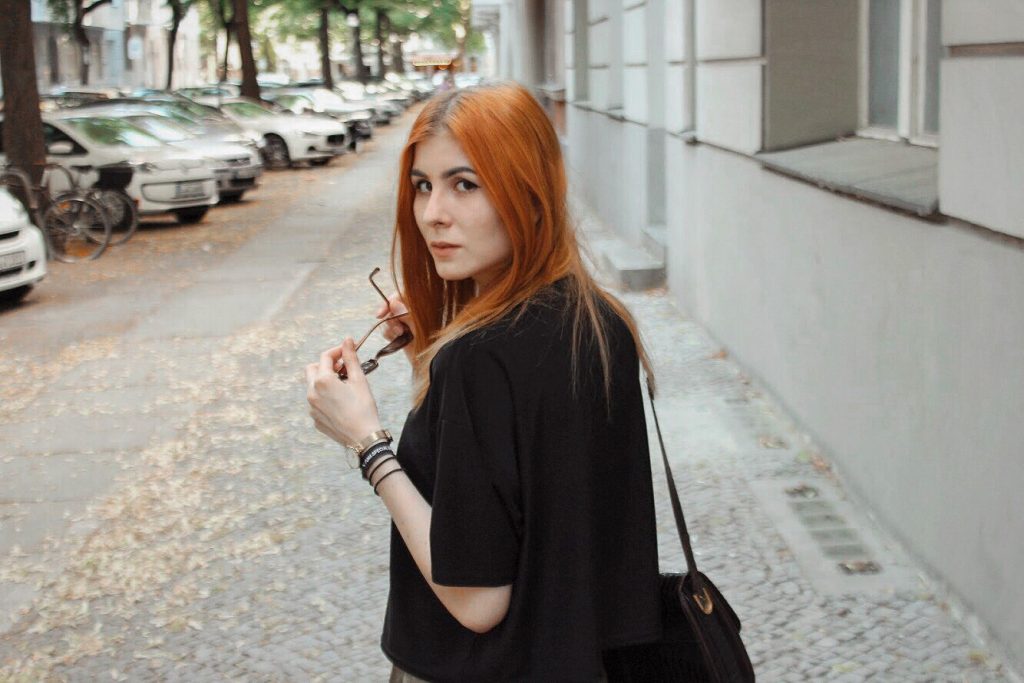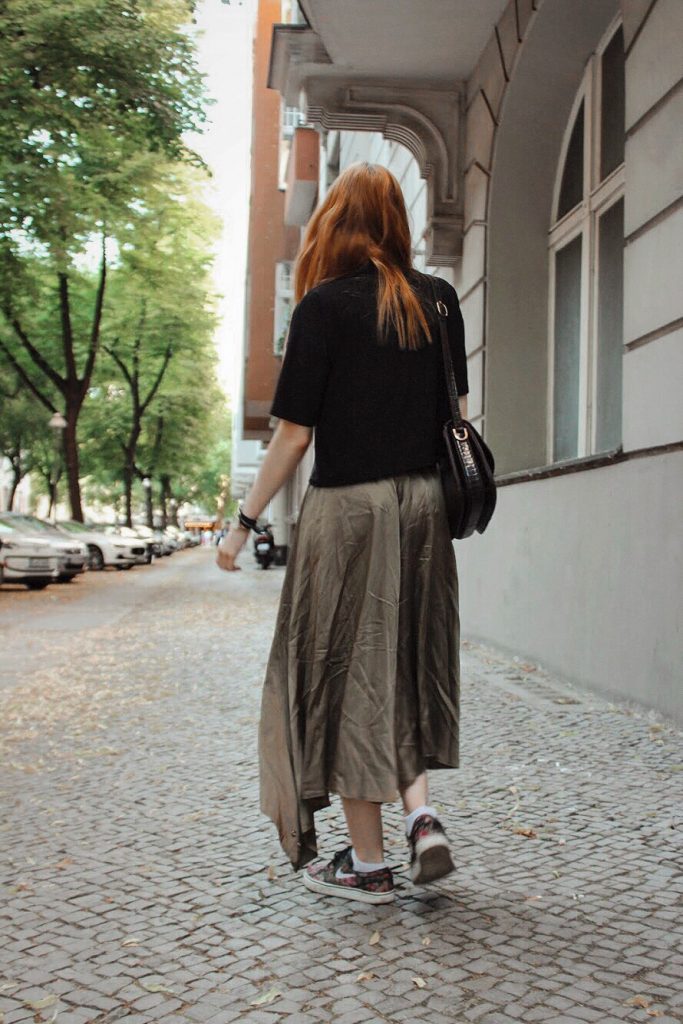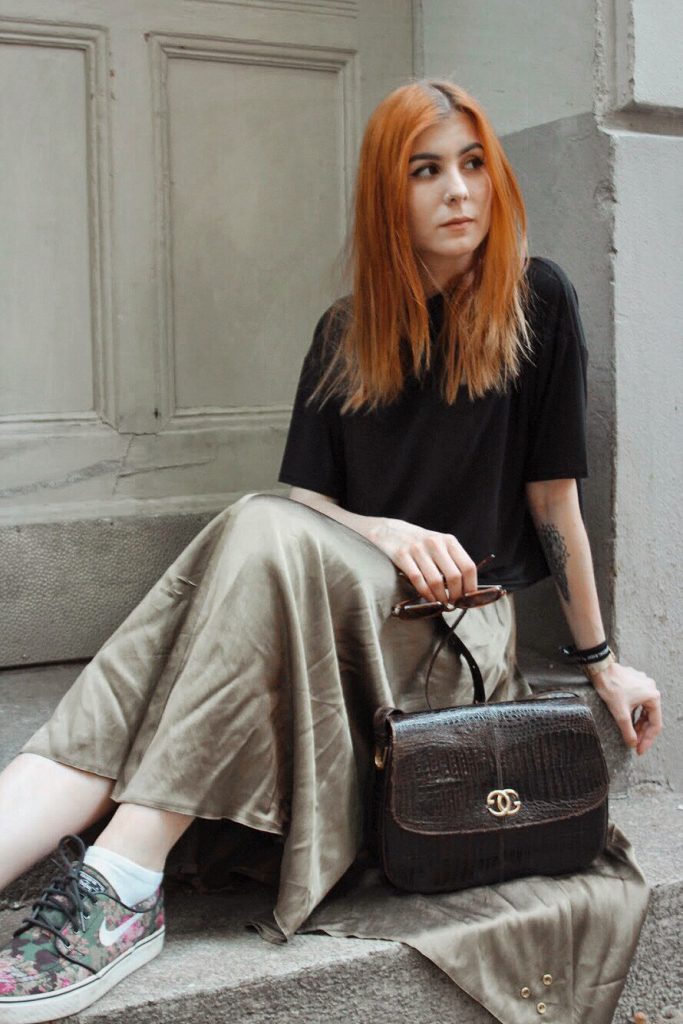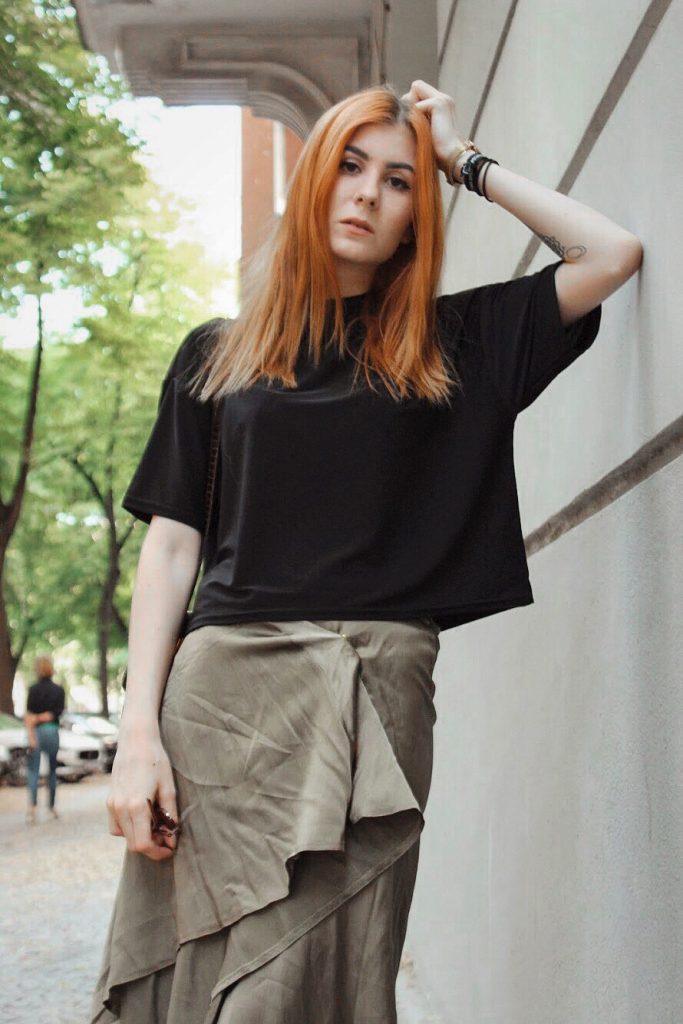 Photos: Tristan Luckow
[:]