It´s already time for fashion week again in Berlin. Like last year it started for me with the Fashion Hall Part 7. Here you´ll come to the post about the show from last year. Last time the event was in a chic hotel this time it was the Erika Hess skating rink. I really liked this location, I general love special locations. Sometimes locations like these are more amazing than normal conference rooms or exhibition halls. Unfortunately the entrance was really hard to find. We saw a lot of people walking around lost so I know I´m not the only one with this opinion. We found the back entrance first and they told us that we need to walk around the building, which included 2 football fields. Luckily the waiting line was really small and we came into the skating rink really fast. My boyfriend and I got ourself something to eat and drink. With it we sat down on the terrace. Right after I said how cool it is to watch a fashion show from a terrance the presenter said everyone should come down. Too bad, that would have been so cool. I don't want to nag because we had really good seats downstairs. I liked it that the show was without unnecessary comments between each designer. Last year the whole event was really lengthy and that was a bit tiring. By the way the second designer was my favorite, all dresses were in the 50ies style.
We also received a small goodie-bag at this event. Beside a magazine with a lip stick sample from Avon there were a lot flyers, a sticker from one of the designers, toothpaste pills and a toothbrush. The pills should replace a normal toothpaste, I didn´t try it out yet but I think it sounds really cool.
Last but not least my outfit of the evening. The leather jacket is from Zara I bought it some years ago in Switzerland. This jacket always spends the perfect amount of warmth! The t-shirt is from Ann Christine, I bought it when I was the first time in Berlin. Unfortunately the store was replaced by Sparkasse. I thought the quote on the t-shirt was really suitable because it was Monday. The pants are also from Zara, they remind me of circus and popcorn. So I´m happy to present you my happy mood pants. The shoes are just some black Converse, they´re great and the only black shoes which are not high heels, fucked up or a failed purchase. My well known hat is from Primark and in the last years I still didn´t find a better one. The pink-transparent backpack is from Brandy Melville and fits perfect to my circus pants. I just packed the most important things in it like my key, the camera, my wallet, cigarets and some make-up (lipstick and powder).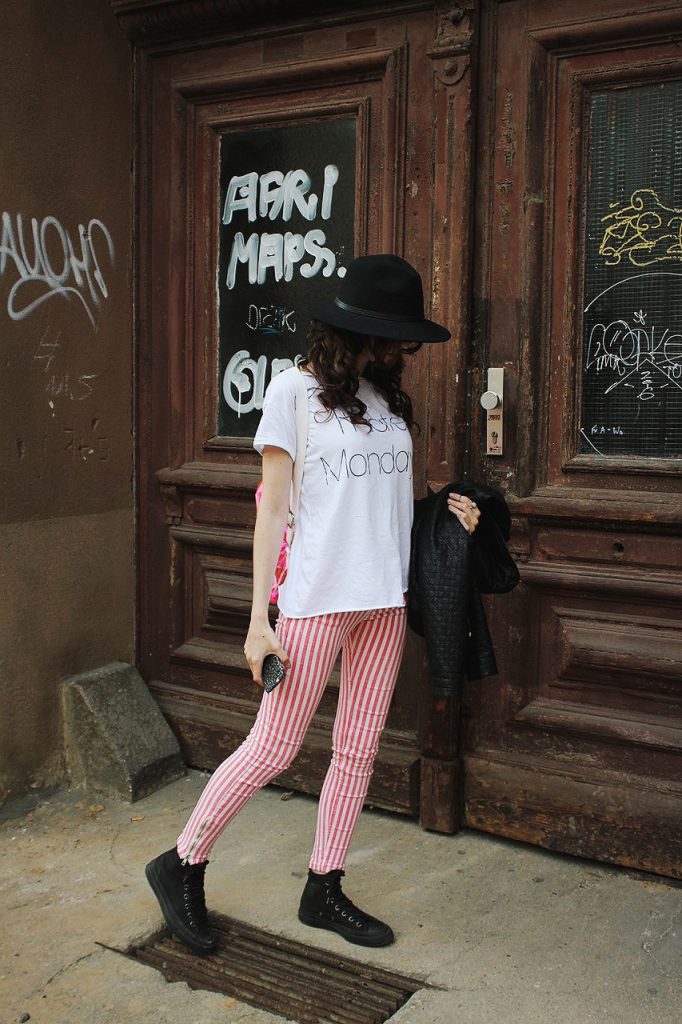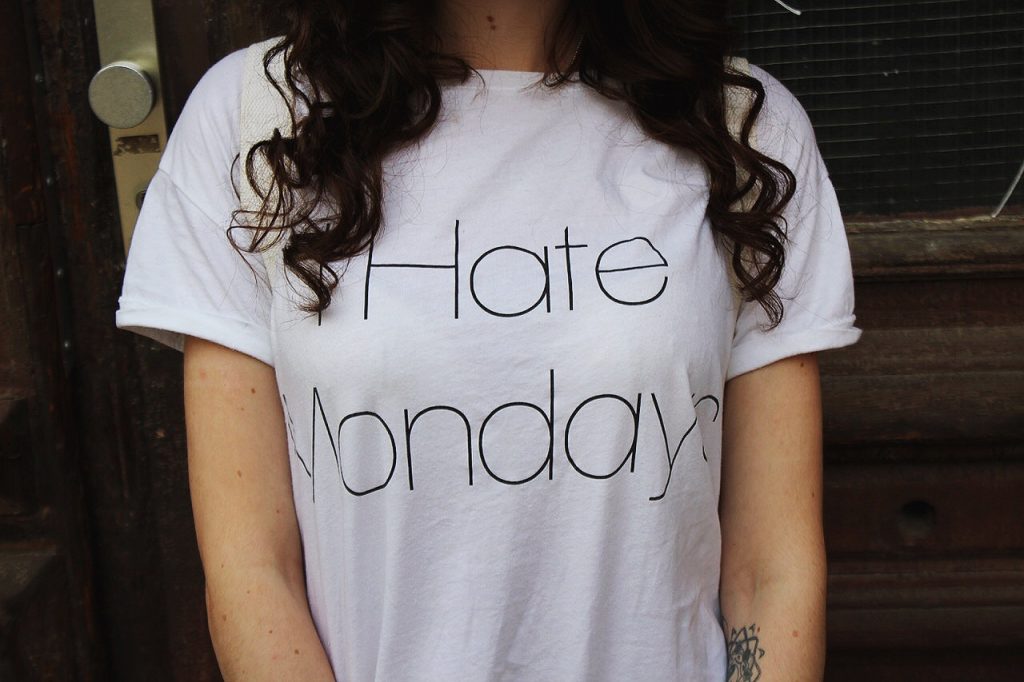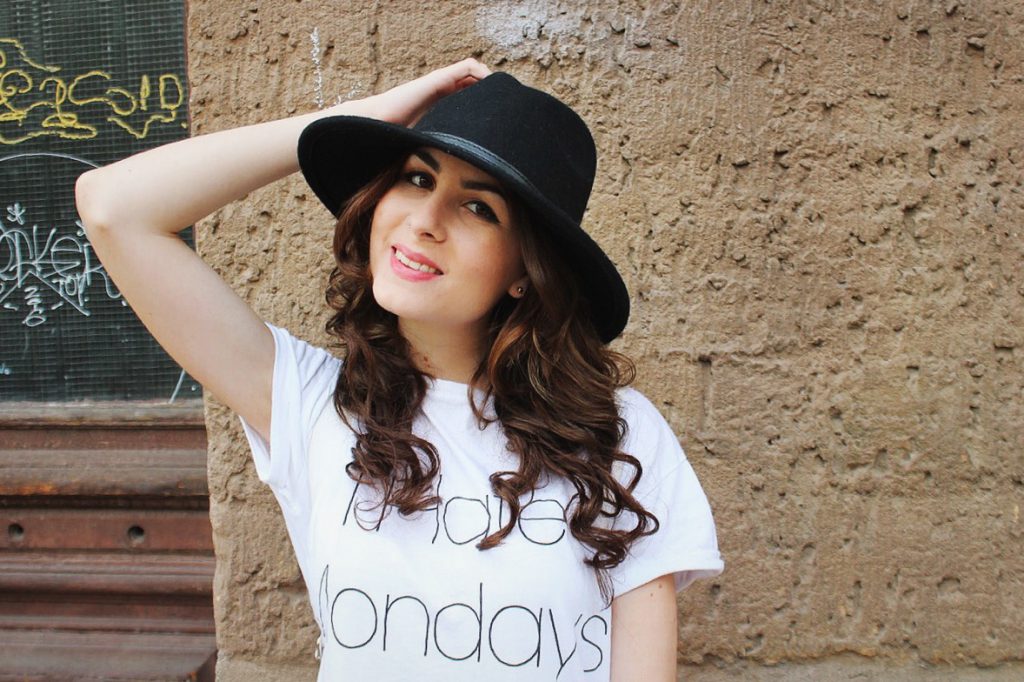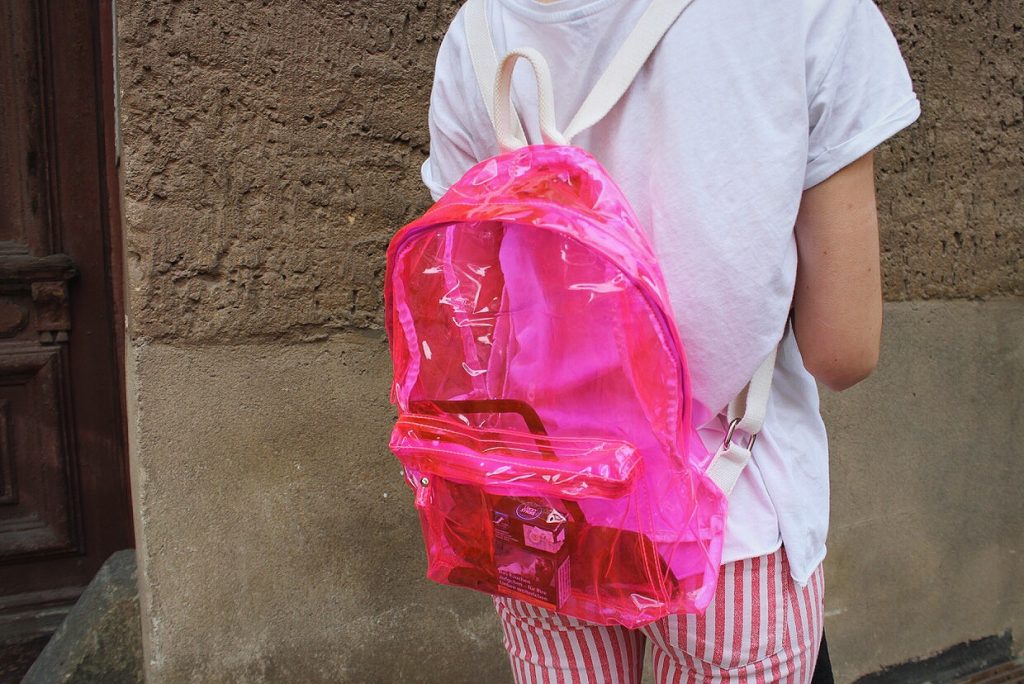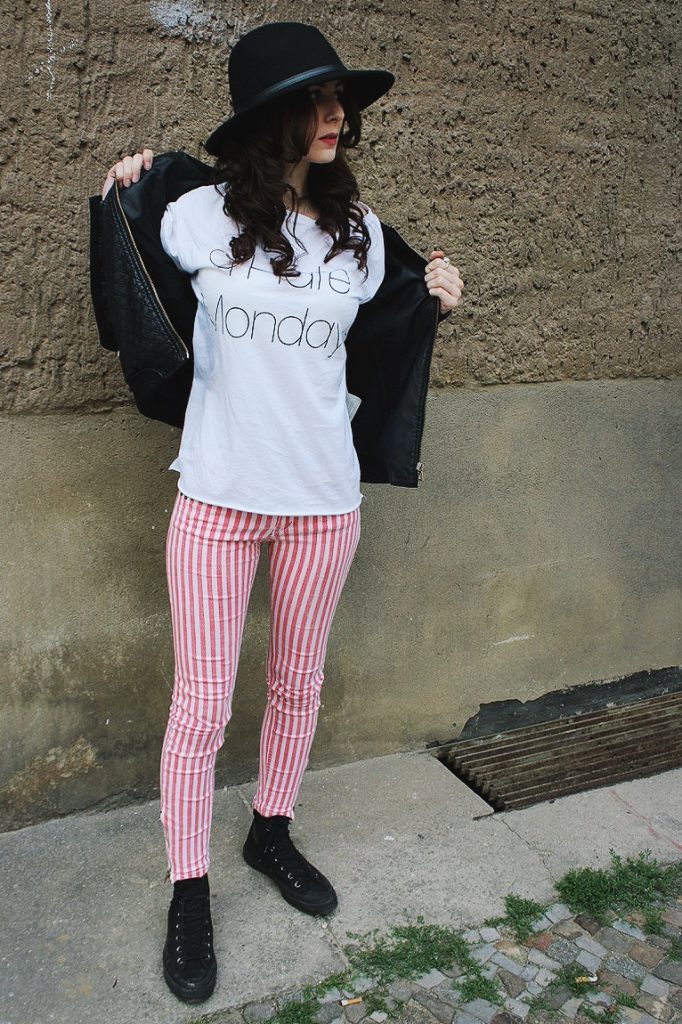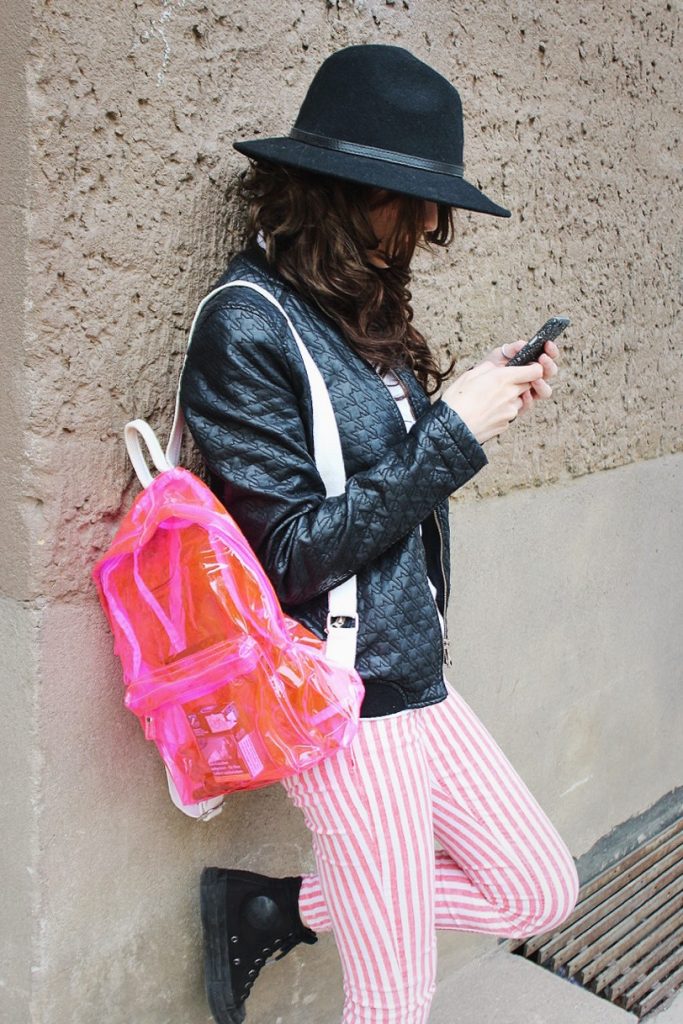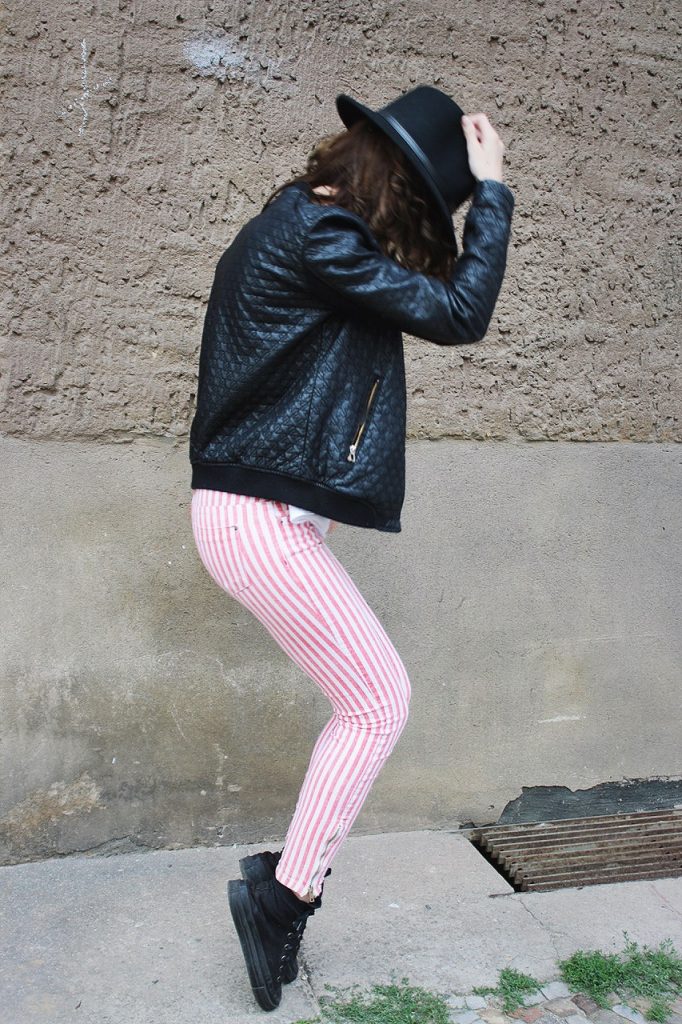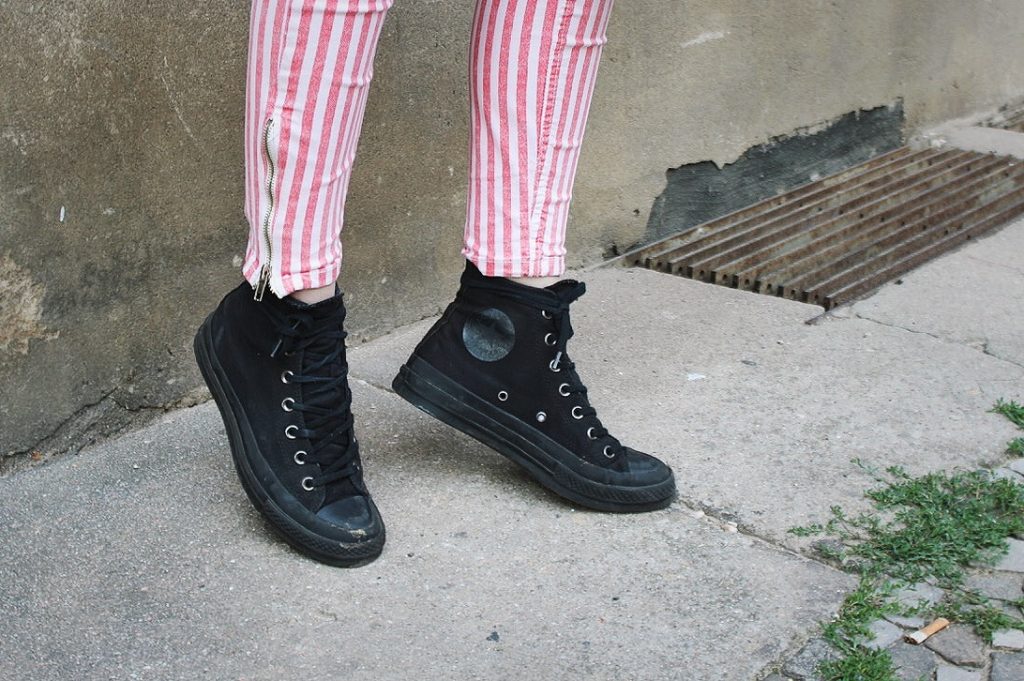 Photos: Tristan Luckow
And here you can see what was inside of the goodie-bag. Like I wrote above there were a lot flyers in the goodie-bag. I know it´s the cheapest way for companies but this makes a really negative impression in my opinion. These flyers go straight to the trash can so it´s just environmental pollution. I mean what should I do else with it. I´d rather have no goodie-bag than one which ist full of trash and I mean this general not only for the Fashion Hall Part 7 event.