As always, since I live in Berlin, the new year starts directly turbulent with the berlin fashion week. I think that I have now found the optimal format to write about this event and do it as in the previous season. First, the outfits and then the big review with a few words about the individual shows and side events.
I made my plan for the week a bit airier so I don't have too much stress – it worked. Maybe I'll take place in more events in summer but this is depending on my mood.
Day 1: Fashion Hall and InfluencerCafé "The Relaunch"
Fashion Hall
Anyone who has read my contributions to the last few seasons already knows that my fashion week experience always started with the Fashion Hall. At this event, various designers from different countries show their creations. Unfortunately, we were not able to see all the shows because we had also to go to the Influencer Café "The Relaunch" at Bikini Berlin.
We sat in the second row this time and had a good look at the creations. There were tight seating arrangements, as at most shows. But many people just could not stick to it. It felt now and then like we were in the zoo. Certain people hissed at each other and put a demeanor on the table, where one could think that they are descended from monkeys. I and Tristan just had to laugh about it.
InfluencerCafé "The Relaunch"
The events from Styleranking during the fashion week are very popular. The normal concept with the FashionBloggerCafés has now been thrown over the table and for this the InfluencerCafé "The Relaunch" takes place. High-reach "internet celebrities" have already been invited to dinner and the normal bloggers like me to the subsequent party. I think it's great that previous participants of the event were also invited and not just the "big ones". Incidentally, I went to both events with my favorite Tristan. At the InfluencerCafé we met Kim with whom I was spending my time during fashion week almost every day.
The event was nice. However, the number one concern was that more people were invited than the room in Bikini Berlin could hold. It was very, very narrow and therefore it was also very warm inside. I can also renounce unwanted group cuddling. For the bar alone we needed at least 20 minutes because the snake moved only a few minutes one centimeter forward. The drinks were delicious and there were some other treats. Stands, as on the previous FashionBloggerCafé did not exist but it was a party so they were not missing. However, when I compare the InfluencerCafé with the HashMAG Blogger Lounge I am a bit disappointed. In the previous years, this event always stood out and this time I found that the HashMAG event was much fancier.
Day 2: Anja Gockel Runway Show
On Tuesday I freed myself and shot before anything else my outfit of the day. At 5 pm I was allowed to go to the runway show of Anja Gockel, which took place at Hotel Adlon. Tristan should have come along today, but he had to work. Therefore, my dear friend Sophia came with me, which accompanied me in the last few seasons to some events.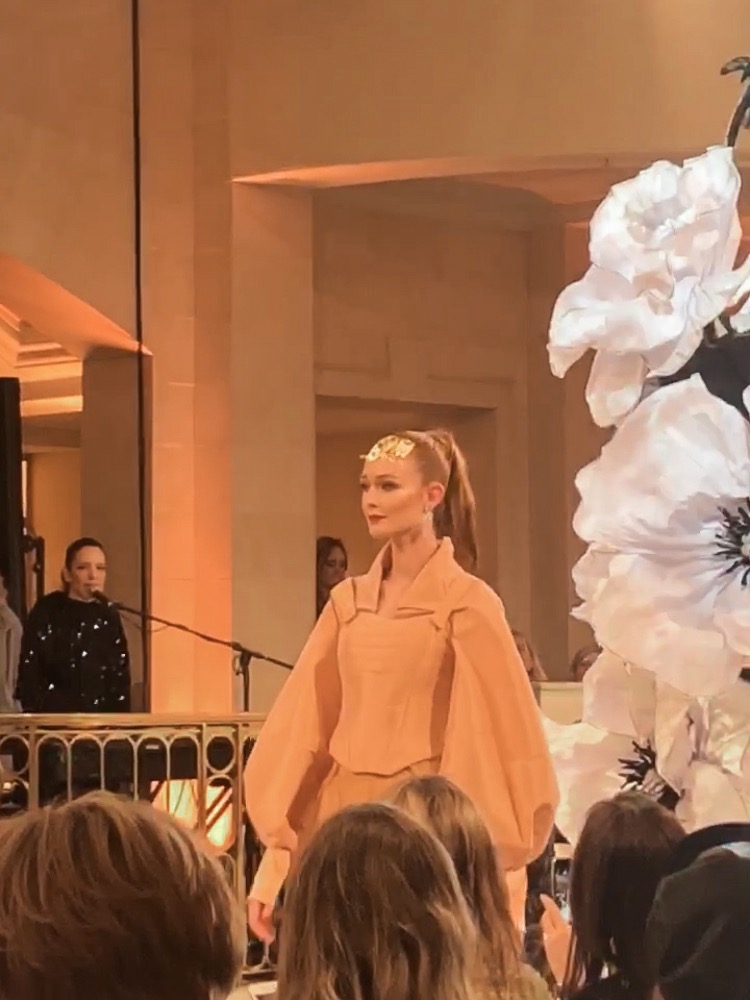 Sophia and I wanted to go to a trade show after the runway show. When we got there, they just closed so we went to KFC to eat some delicious hot wings.
Day 3: Rebekka Ruetz Runway Show and HashMAG Blogger Lounge
Rebekka Ruetz
Day number three started with the runway show by Rebekka Ruetz to which I was invited by Skechers. At first, I thought what the two brands probably have in common when the show started was soon clear. All models wore a pair of fancy sneakers from Skechers. We, all the girls which were invited by Skechers, sat in the second row right at the beginning of the runway. The seats were really good, so you could see every little detail.
I liked the show very much, I also found many designs very nice. I especially liked the oversized hoodies, in combination with the midi skirts it was not only casual but at the same time chic. Otherwise, as with Anja Gockel, much emphasis was placed on metallic.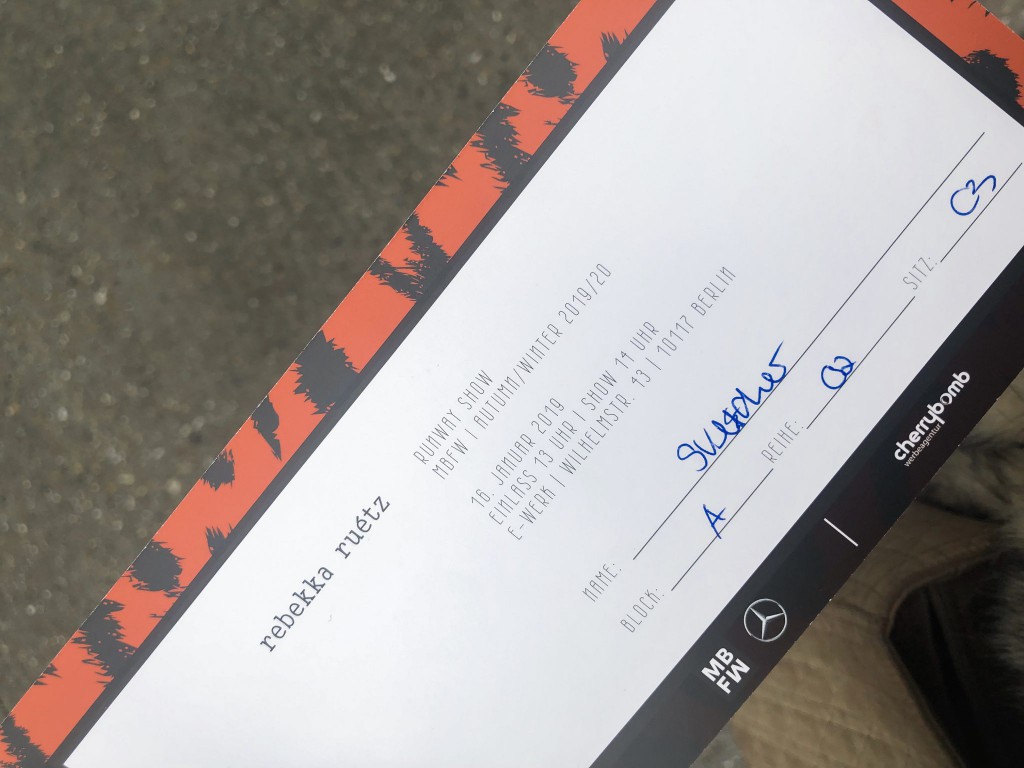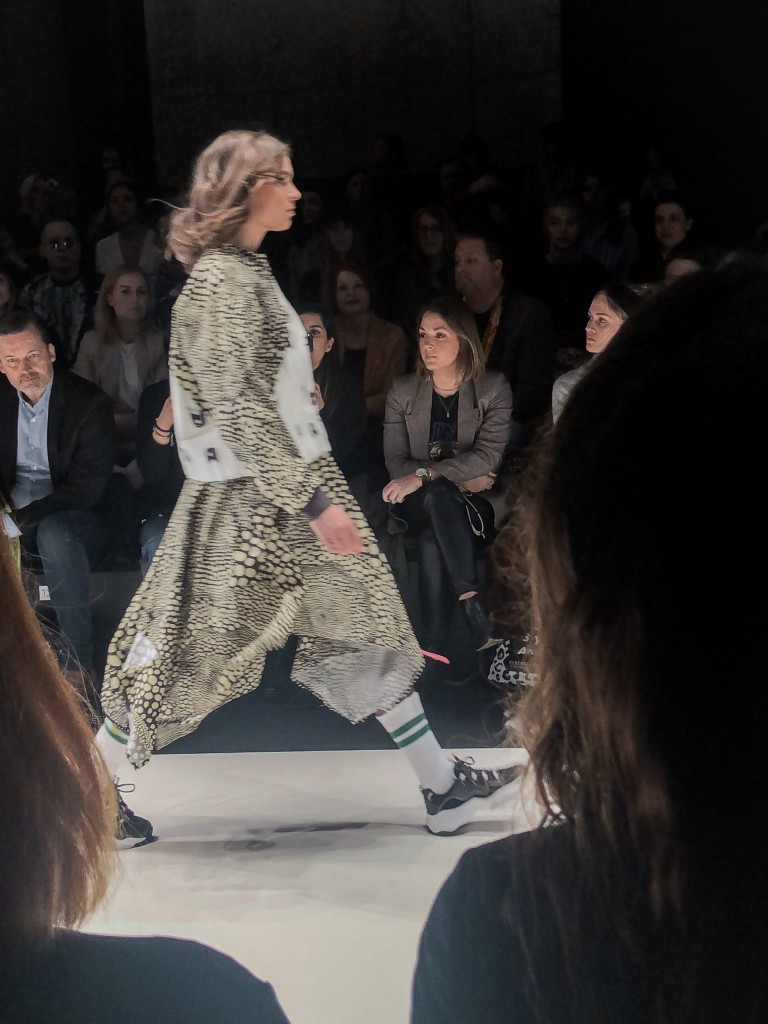 After the show, some pictures were taken with Skechers, who had their photographer. When that was over, I made some photos in front of the building with Kim. I love how fast we wore done with shooting. She is also the type to push the trigger a few times and then there will be something good if not it's not meant to be. So many people go out and shoot for hours even if half of the photos look almost the same.
HashMAG Blogger Lounge
After the show Kim and I went to the HashMAG Blogger Lounge, that was the time when Tristan joined. My boyfriend and I wanted to go to the Beautysuite by PR Sugar after that, but there were a few personal problems which prevented us from going to it. In contrast to the last event in summer, this one was so much better. The motto was a circus and a fortuneteller even predicted the future. On the whole, the event was great and the visitors seemed to be more relaxed this season as well.
The only thing that has not changed much is the PR ladies from the individual brands. Some are very nice, like those from the TRY FOODS stand or the Rossmann's gift wheels. Others, like the ones who distributed champagne, looked like they were going to bite off your head, even if you just look at them. Another disappointment was Tally Weijl. Anyone who follows me and my blog for a while know that I almost only run around in pants of this brand – simply because they fit great with my slim figure.
Anyway, they already had a stand last season and were not nice. Since I like their clothes I was like; let's change business cards. A few days after fashion week I wrote this girl from the brand and got no answer, after some weeks I wrote her a reminder, and again: no answer. I mean okay if you think I don't fit your brand or my reach is too "small" I think you need to be at least respectful and answer that request. If I would do this at my work I would get fired so fast! This time Tally Weijl was back and the girls who represented the brand were even worse, they were just talking to each other and completely ignoring the people around – not only me and my friends. I do not understand such behavior… Well, I'm done with spreading bad vibes but you have to mention even the worse things. I'm not another peace, joy, pancake blog.
I still have a few great things to tell, besides the cool fortuneteller, there was a crepes stand and fresh popcorn. You just got me with this kind of tasty food. Sweet things always work! In addition to the food was my highlight the super fancy decoration and the great people with whom I was there.