The Berlin Fashion Week is me every season again a nice experience. Being part of one of the "Big Four" Fashion Weeks is even more exciting. Tristan and I just sniffed 2 days of Milaof n Fashion Week air but even that was an unforgettable adventure.
Day 1 of #MFW: Arrival and Fashion Vibes Caviar Cocktail Party
Early in the morning our flight went from Berlin Schönefeld to Milan Malpensa. Since we decided spontaneously to follow the invitations, the booking of the flight and the accommodation came at short notice and accordingly more expensive. Normally you fly with RyanAir for about 25 euros to Milan, we paid almost 70 euros for a flight with EasyJet. Also, the selection of the cheaper hotels and apartments was quite small.  A tip to myself: planning something like this is not that spontaneous, it will be stressful and expensive.

Unfortunately, the first day was anything but rosy for me. Already when I woke up early in the morning, I noticed severe abdominal pain. When I sat on the plane it started, I had to vomit almost 10 times over the whole day. I honestly do not know what that came from. Maybe it was the few hours of sleep (i had only 3 hours) or I had eaten something bad during the day, which I could honestly not imagine. The fact is; I was feeling sick and had to skip shopping and a show and stay in bed instead – because health is still the most important thing.
Caviar cocktail party by Fashion Vibes
When I felt a little better in the evening, we found that if we could not see the Fashion Vibes show, at least we had to go to the caviar cocktail party. The on-site buffet was small but nice and I even had the chance to try caviar for the first time in my life. My statement to Caviar: the hype is way too big.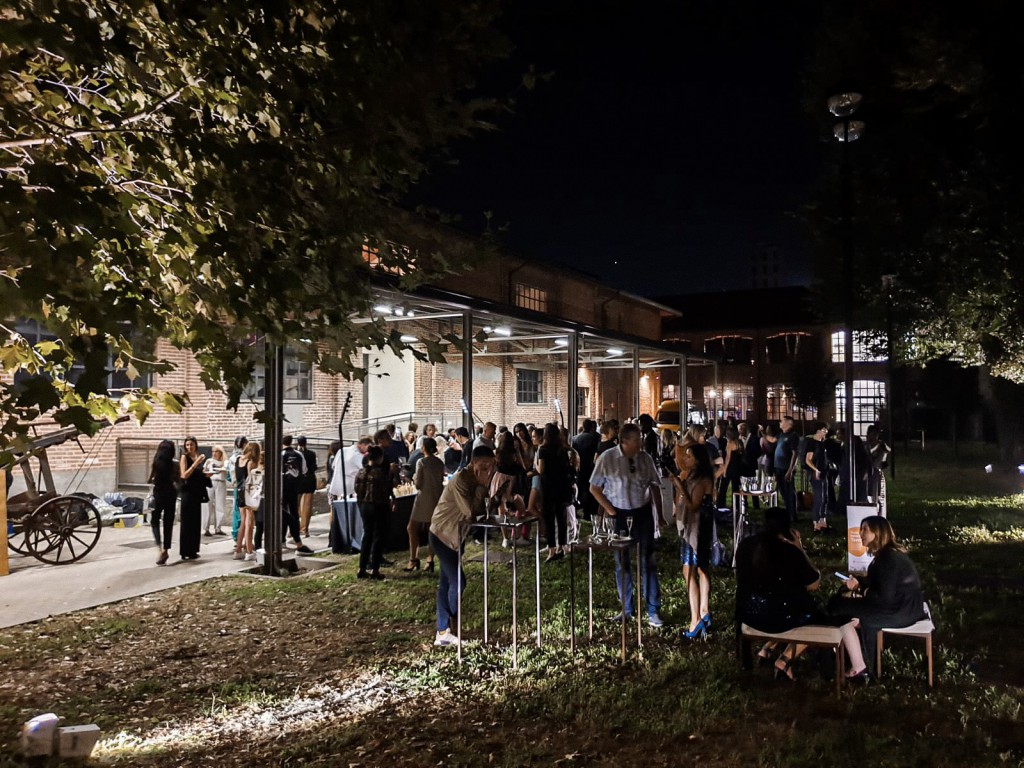 After the party of Fashion Vibes, we decided to make a detour to the Milan Cathedral. Tristan had never been to Milan and we did not know if we would manage to get there the next day. Of course, we also looked directly at the Galleria Vittorio Emanuele II, which is right next to it. Then it was already time to go back to our apartment, we had eaten in our Airbnb a few homemade tortellini. As our Airbnb was very close to the cathedral, we were within 20 minutes by walking back to our bed.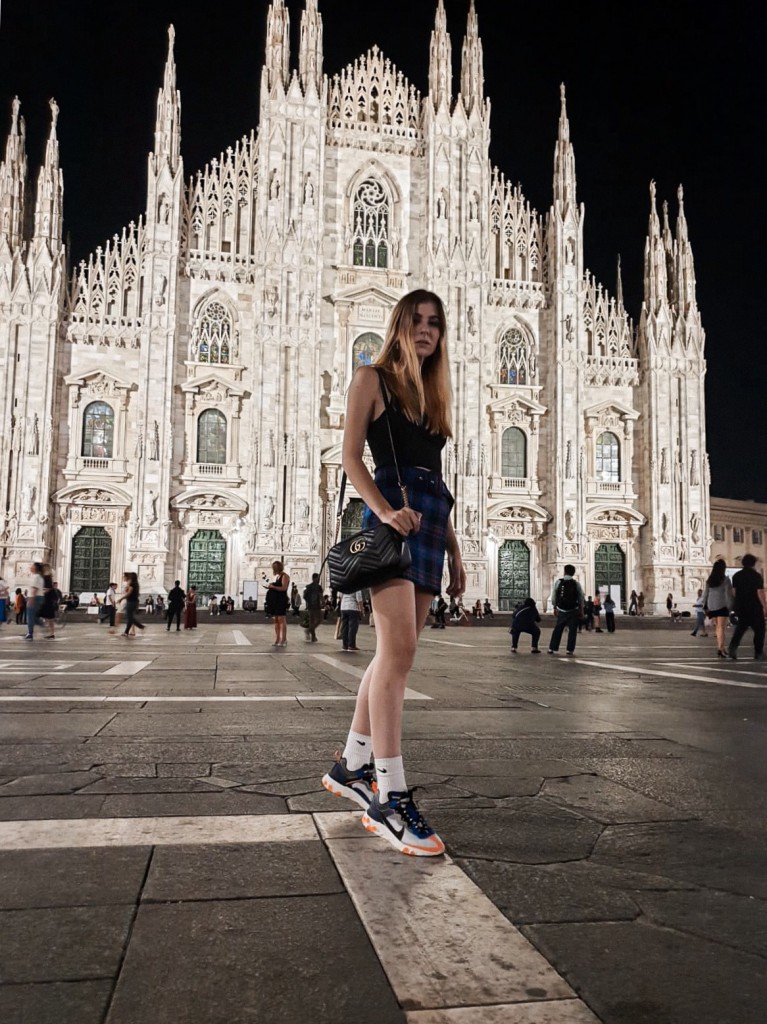 Day 2 of #MFW: Angel Chen Runway Show and Dee Ocleppo Cocktail Party
Our second day in Milan started at 10:30 am with a perfect runway show by Angel Chen. It was also the first official show on the Milano Moda Donna SS2020 program (as Milan Fashion Week is called in Italy) – organized by the Camera Nazionale Della Moda Italiana, by the way. I've been to Fashion Week in Berlin many times but when you're comparing it to Italy it's worlds apart. Milan is just another league. Above all, I love that it's really about fashion and the people who are in the outfits are secondary. In Berlin it's just about who has the most followers, the first thing I'm asked when I talk to someone in Berlin is, how big my reach is – in Milan, I was not even asked once. Also, it was very strange (in a good way) when several photographers came and asked me to pose for them.
Since it was the first day of the official Fashion Week, not too many events were on the list, so it was a bit harder for a small blogger like me to get accredited for several shows. If we wouldn't depart on Thursday morning but arrived then, I think that would have looked a little different. So we had exactly two events on Wednesday. The show in the morning by Angel Chen and the cocktail party in the evening by Dee Ocleppo, who incidentally is the wife of Tommy Hilfiger – just if you didn't know.

Angel Chen's runway show aka best show I've ever seen so far
I liked the show by Angel Chen very much. Especially the accessories (sneakers and bags) I would have preferred to take them directly with me. Besides the big shows, where I would never have come in anyway, attending the show by Angel Chen was at the top of my wish list. In Asia, especially China, Angel Chen is already one of the big players. Their designs go in the direction of streetwear and are therefore exactly my thing. The show included many different styles so you could not say that it was mostly print or whatever. The show started with looks that were inspired by old newspapers, then turned into gaudy neon outfits, after this came designs in pastel colors and animal print looks were also included. So you see a very broad and above all creative spectrum was presented.
Angel Chen has also partnered with H&M in Asia, which launches in late September 2019. I am really sad that this is not coming to Europe because it is just awesome. For example, the typical sneakers by Angel Chen are part of the collection, the shoes cost normally around 500 euros and at H&M cooperations this model will be way cheaper.
Besides the Richert Beil show a few months ago, this was the best runway show I've ever seen. Also, I found it very nice that there were only three rows – we sat in the second. So everyone could see and document everything well. In Berlin, it is the case that it graded 5 rows, and then it is so difficult to make decent photos.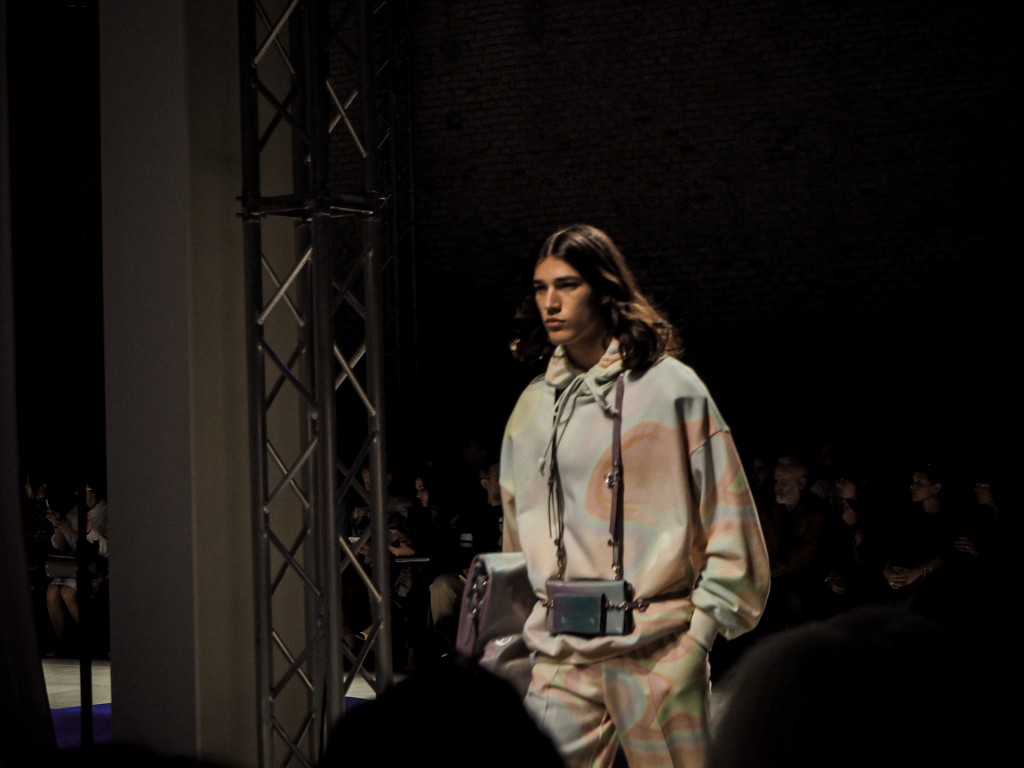 After the Angel Chen Show, we first went to brunch and after that, we shoot my outfit. We found a wonderful spot just a few blocks from the show location. Right around the corner was a beautiful park where we lay down and enjoyed the weather. In Berlin, it is already autumn and from 25 degrees you can only dream.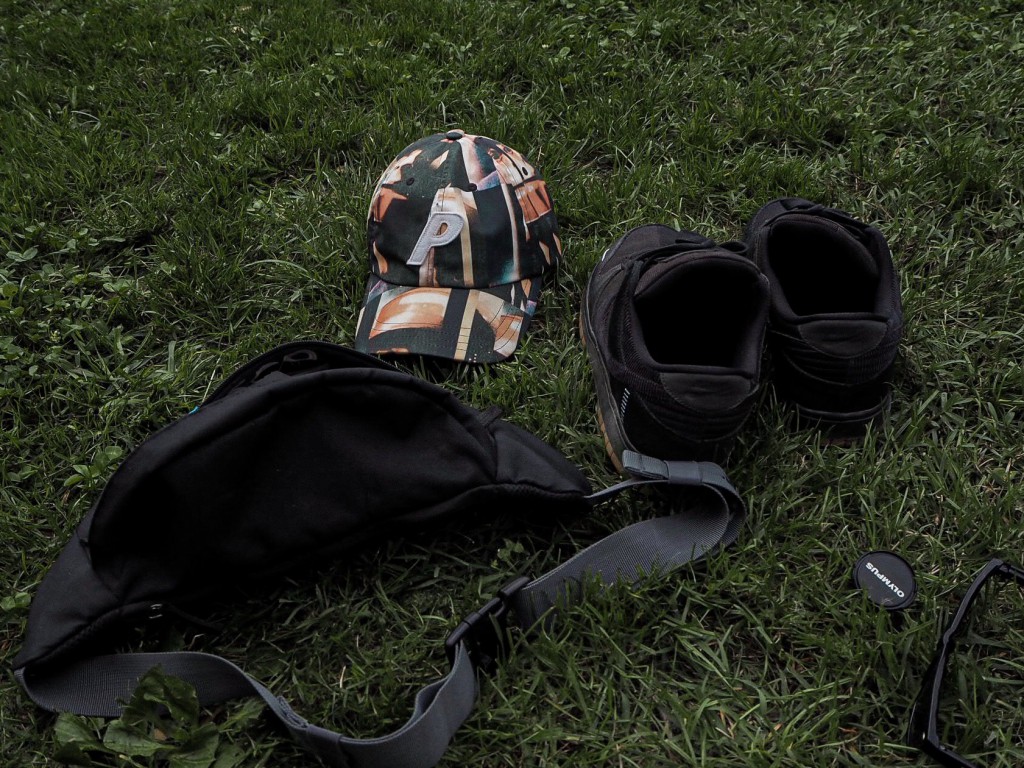 After our little break, we wanted to go back to our apartment and change for some shopping before we had to go to Dee Ocleppo's cocktail party. Right next to the metro station was a pizzeria and because we were hungry again, we preferred to sit in there and spend our money on food rather than on clothes.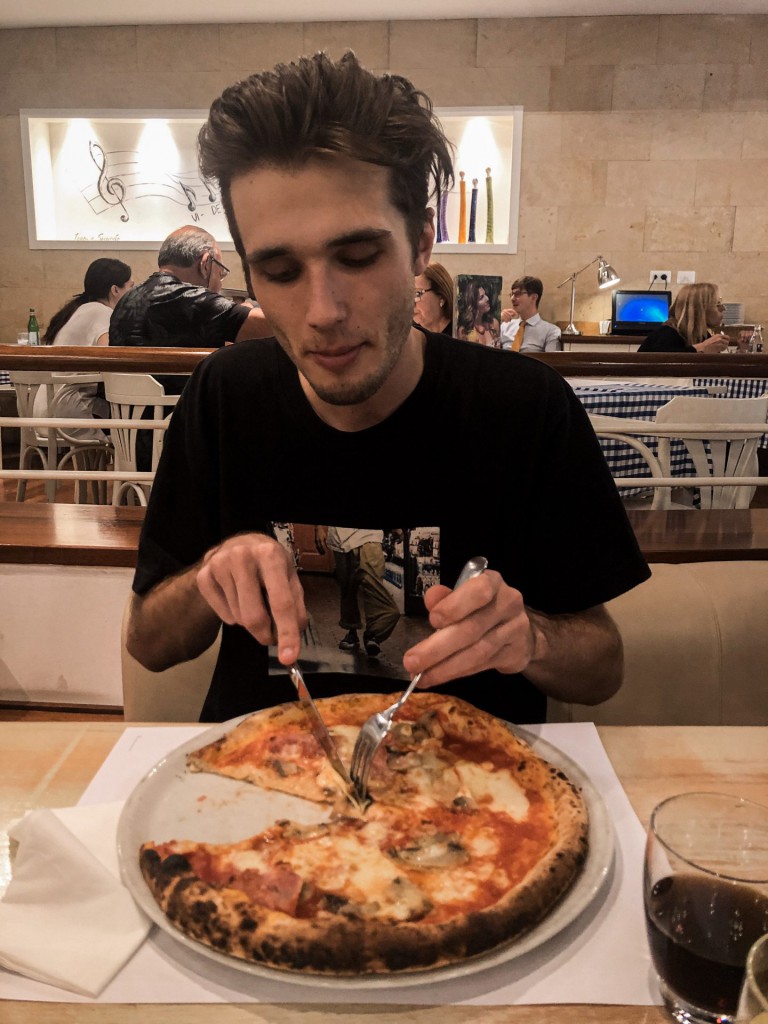 When we arrived at the apartment, I just fell asleep. Even though I was feeling better, the previous day's illness had not completely disappeared. Then I went to freshen up and changed for the party. Before we went to Dee and Tommy Hilfiger we shot my outfit of the night during golden hour.

Cocktail party at the showroom of Dee Ocleoop
When we entered the showroom of Dee Ocleppo, we took a glass of prosecco and first considered the dreamlike collection. The first thing I noticed was a few high heels with a matching bag that almost screamed for Cinderella. The other two highlights for me at the Dee Ocleppo showroom were a pink mini bag and a plain white bag with brown straps, which you could adjust. Tristan was particularly impressed by some high heels that had a transparent block heel with splashes of paint inside.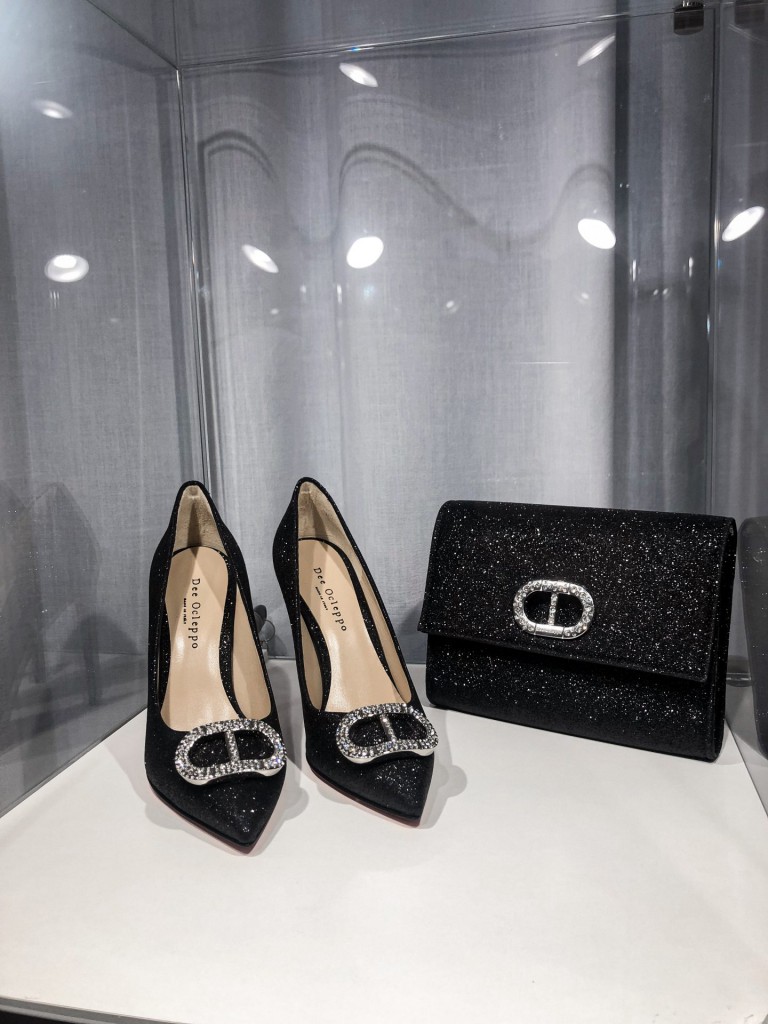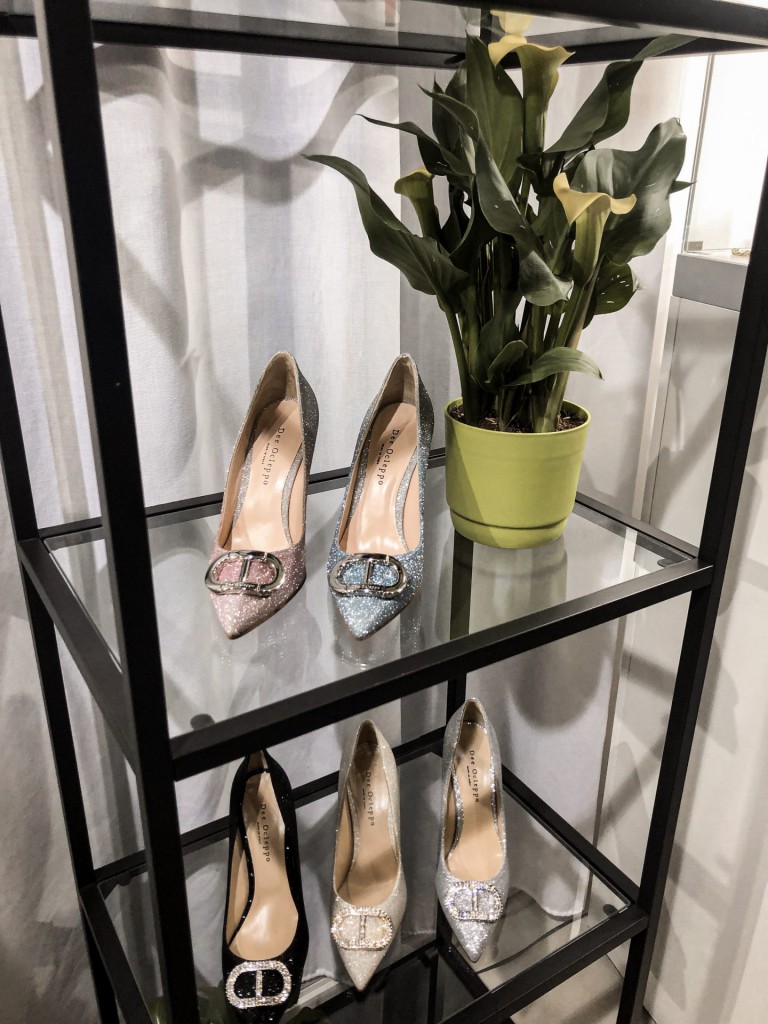 The round was not too big and my highlight of the whole Milan Fashion Week was when Tommy Hilfiger came to introduce himself to us. He also asked if we wanted to take a picture and especially those of Tristan and Tommy are just amazing. He was so nice and down to earth, I never thought that. If I should ever become famous and important, it would be a dream to bring out a collection with him – just as Gigi did or Zendaya recently.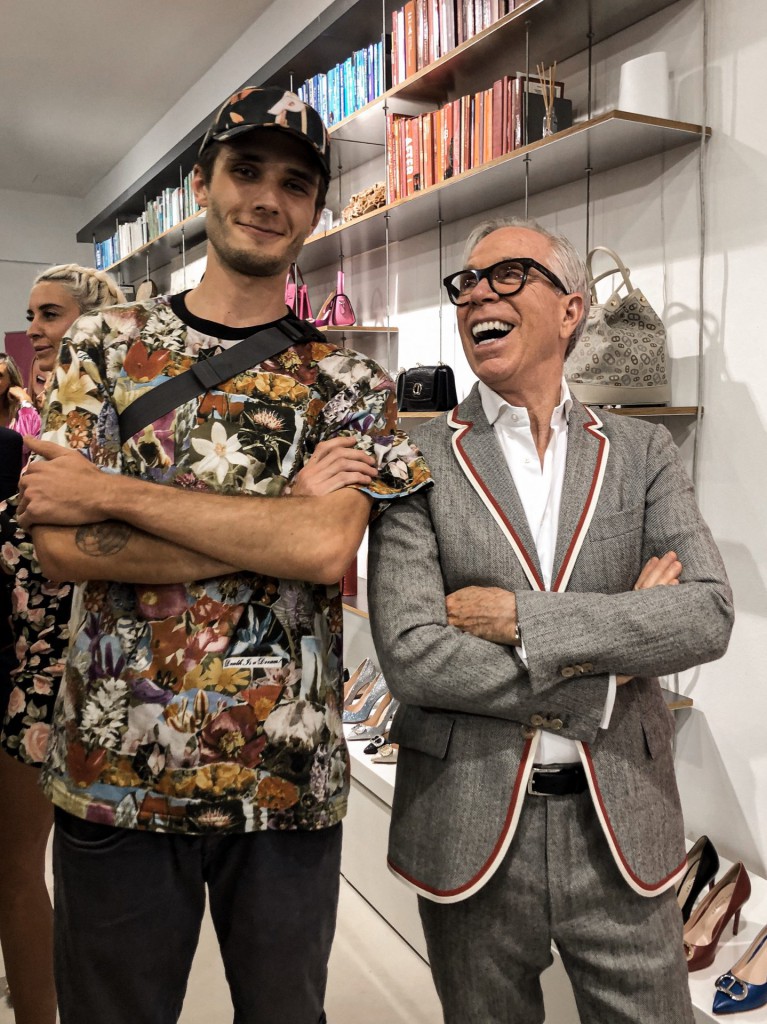 Conclusion about the Milan Fashion Week Women's SS2020
Even if we just saw a small part of the Milan Fashion Week, it was more than just great. Since we were also in another country than our own, we felt less pressure and took everything chill. Anyway, next year, 2020, we'll come back – but then more prepared and longer.
My highlight was definitely that I met Tommy Hilfiger, that was so special. Also, I loved the atmosphere in the whole city, not just at the events. Everyone was very friendly to us, the people in Milan were like the opposite of the people in Rome where we were a few months ago. I can recommend visiting this city, it's perfect for a weekend trip when you miss the sun and want to buy some new clothes – shopping in Milan is amazing!