Two days, two outfits for Milan Fashion Week Women's SS2020 – well, actually three, but one look did not fit as I thought – so there are only two looks I'd like to show you. Should I ever go to a fashion week, that does not take place in my home towns, I must take a large suitcase with me. We traveled this time only with hand luggage and EasyJet has this dumb regulation that you can only bring one piece with you – no matter how big it is.

The two outfits could not have been more different. One is sporty with sneakers and the other is elegant. Little Fun Fact on the edge; I wore the same top to all the events because it matched perfectly every look.
Outfit No. 1 for #MFW – Streetwear: It's a match!
The first outfit is pretty sporty and striking. The base, the clothes themselves, are kept pretty simple with a black crop top by Zara and a dark plaid high-waisted skirt by Bershka. For this outfit, I preferred eyecatcher accessories like the gaudy cap from Anti Social Social Club or the transparent Pelican Bag by Supreme with matching socks that I bought at Primark. The basis of the outfit was probably the sneakers, the Nike React Element 87 Thunder Blue / Total Orange because with these I started to build the look.
I love it when everything matches in color, so I'm more than happy with this look. The colors harmonize perfectly with each other. All colors are available at least a second time in another garment or accessory.
Orange: cap, skirt, sunglasses, and sneakers
Neon green: cap, bag, and socks
Blue: skirt and sneakers
Black: crop top, skirt, and sneakers
White: bag, socks, and sneakers
Yes, I had to write it down on a list because I'm excited.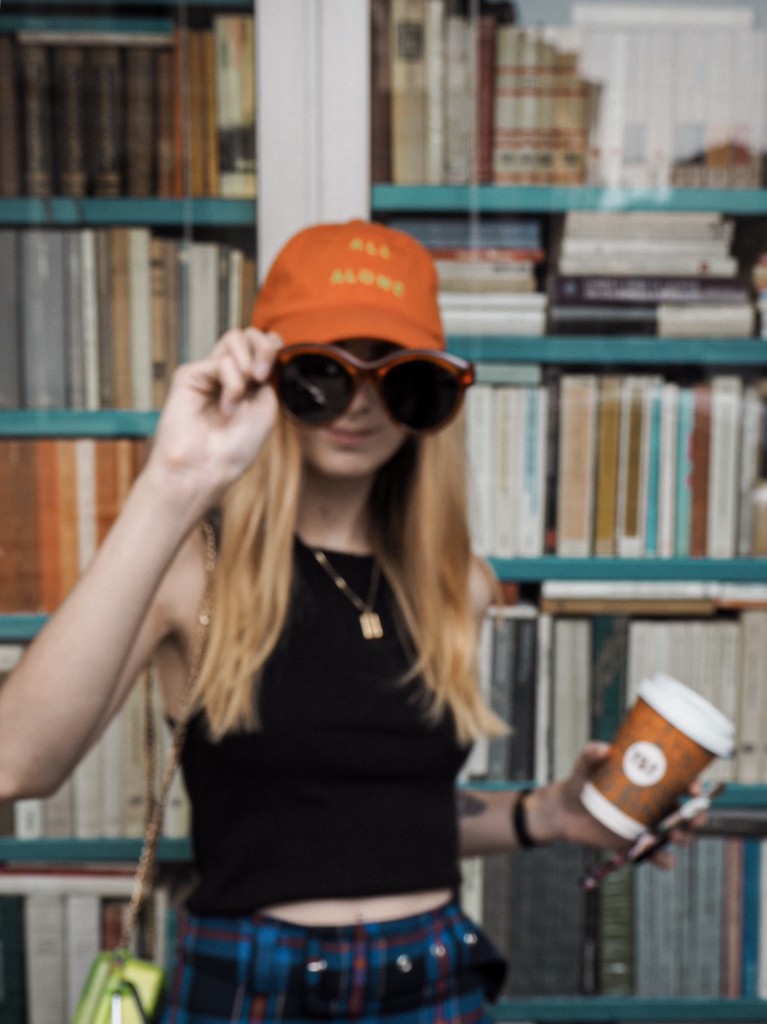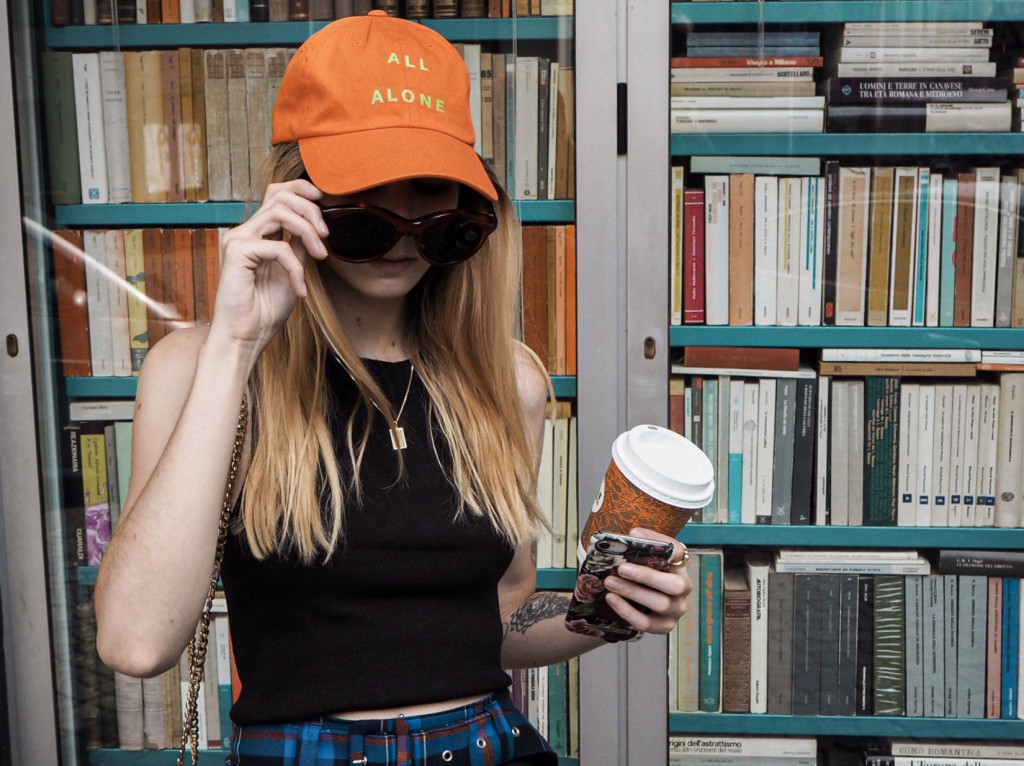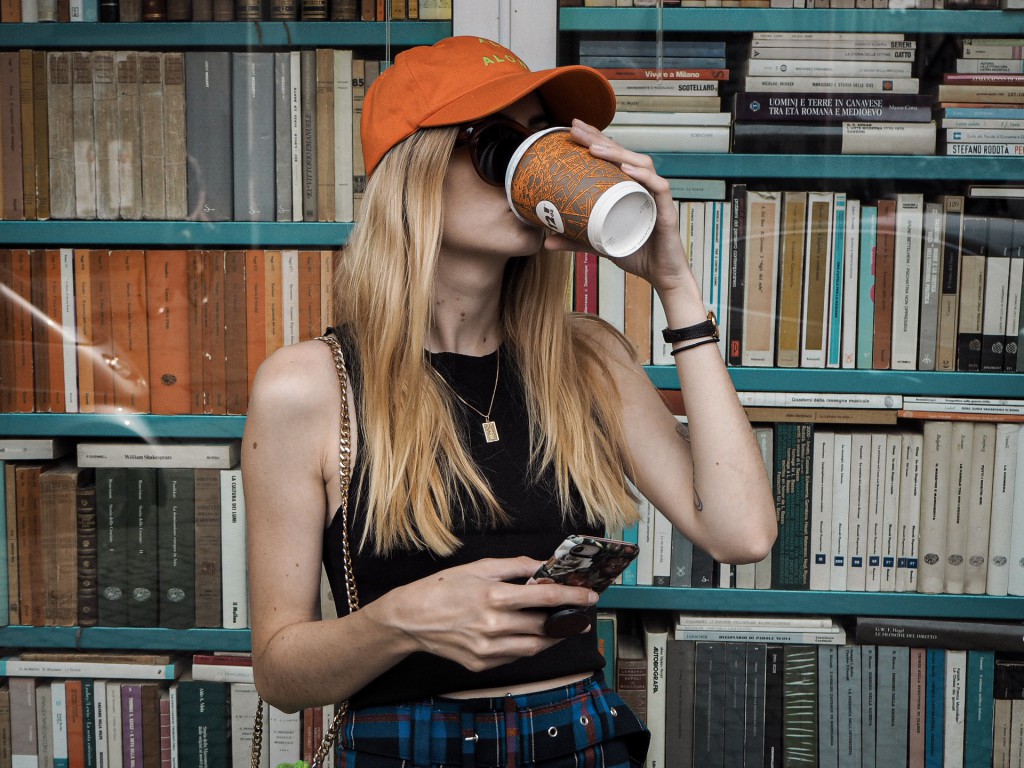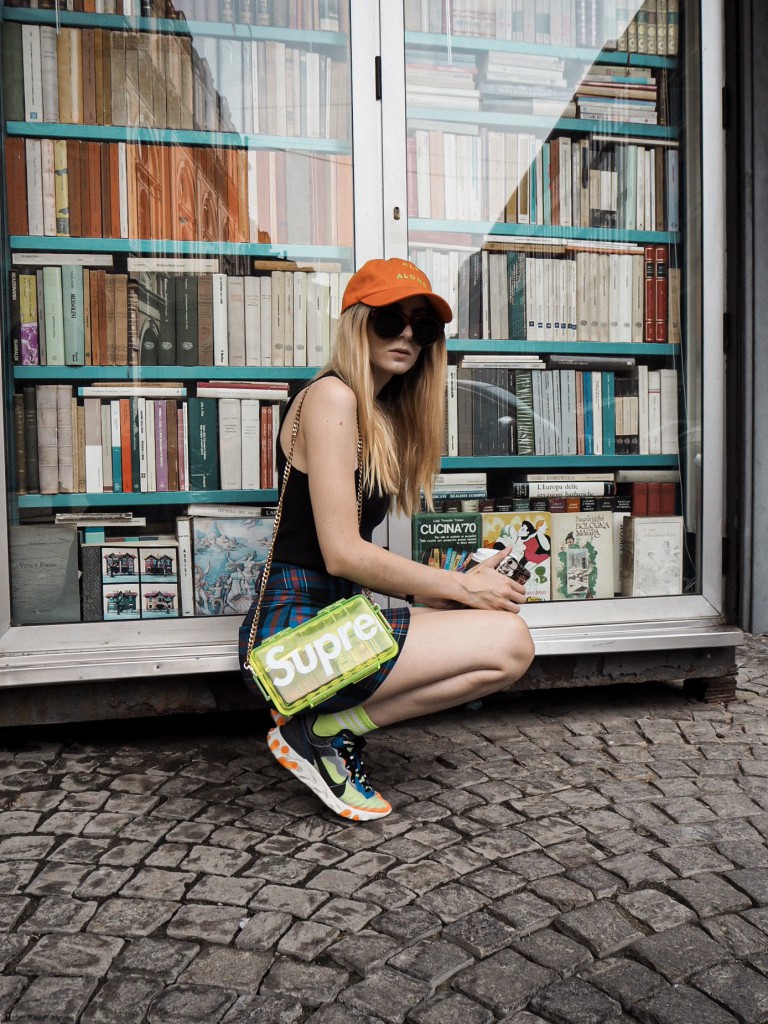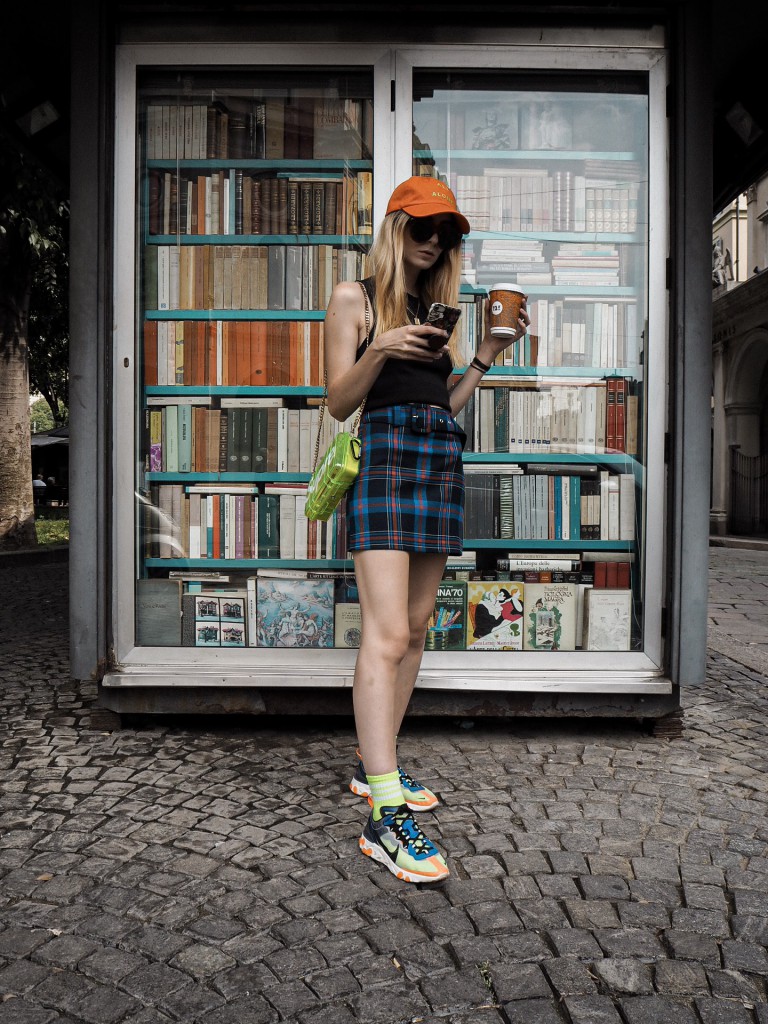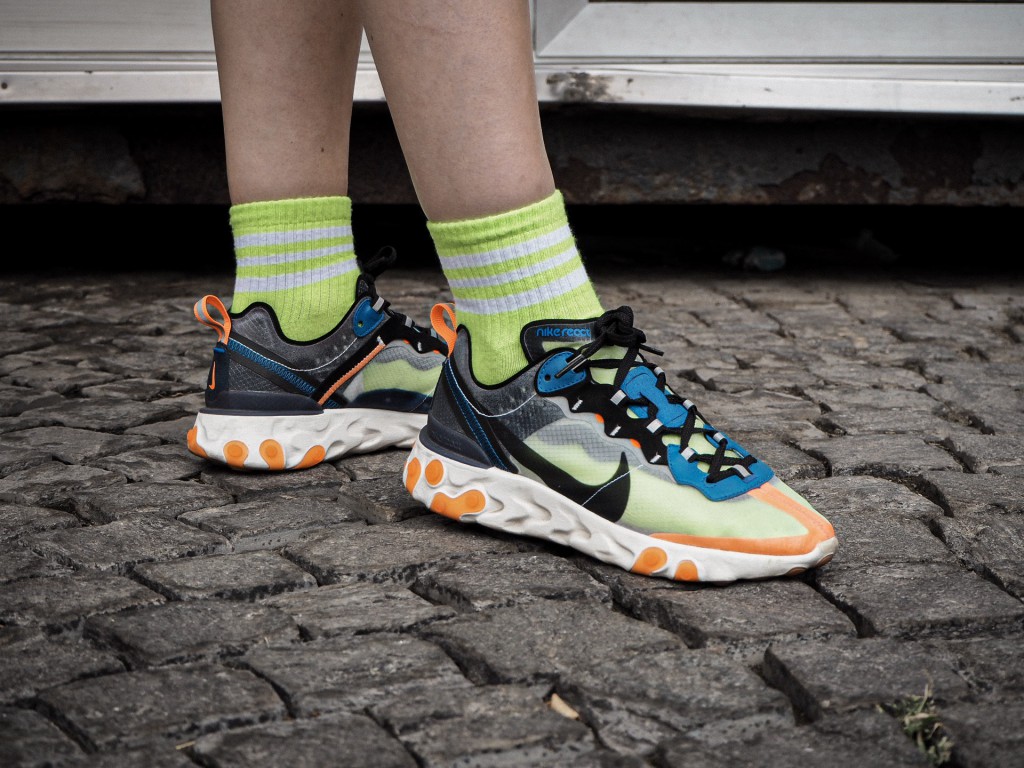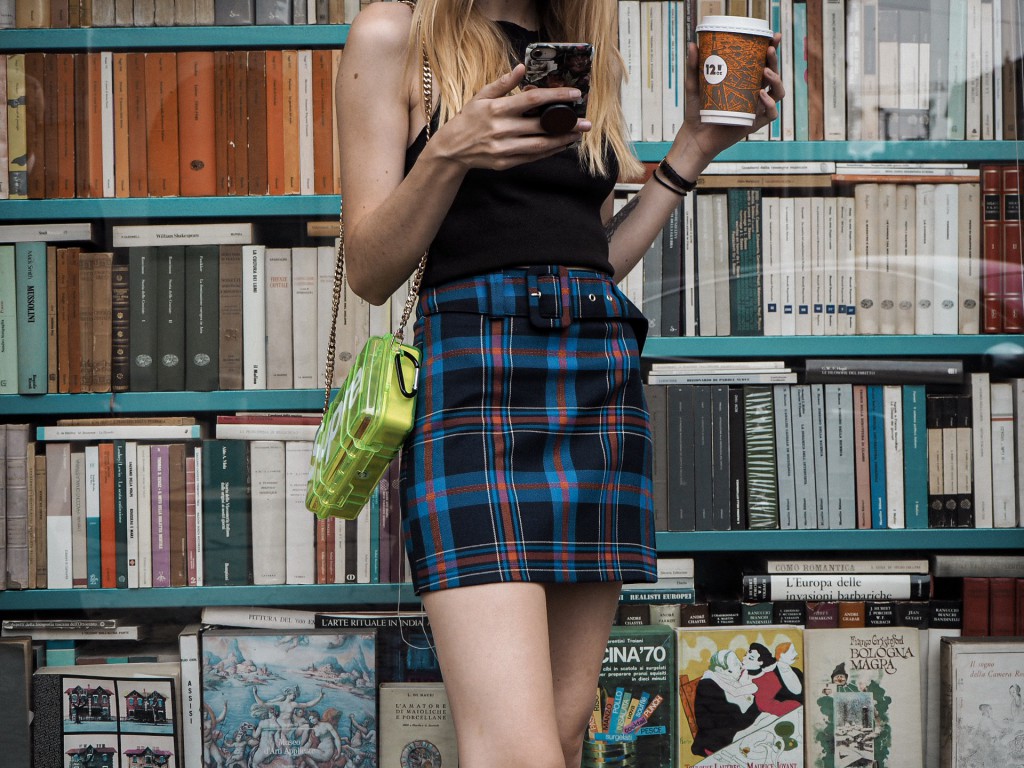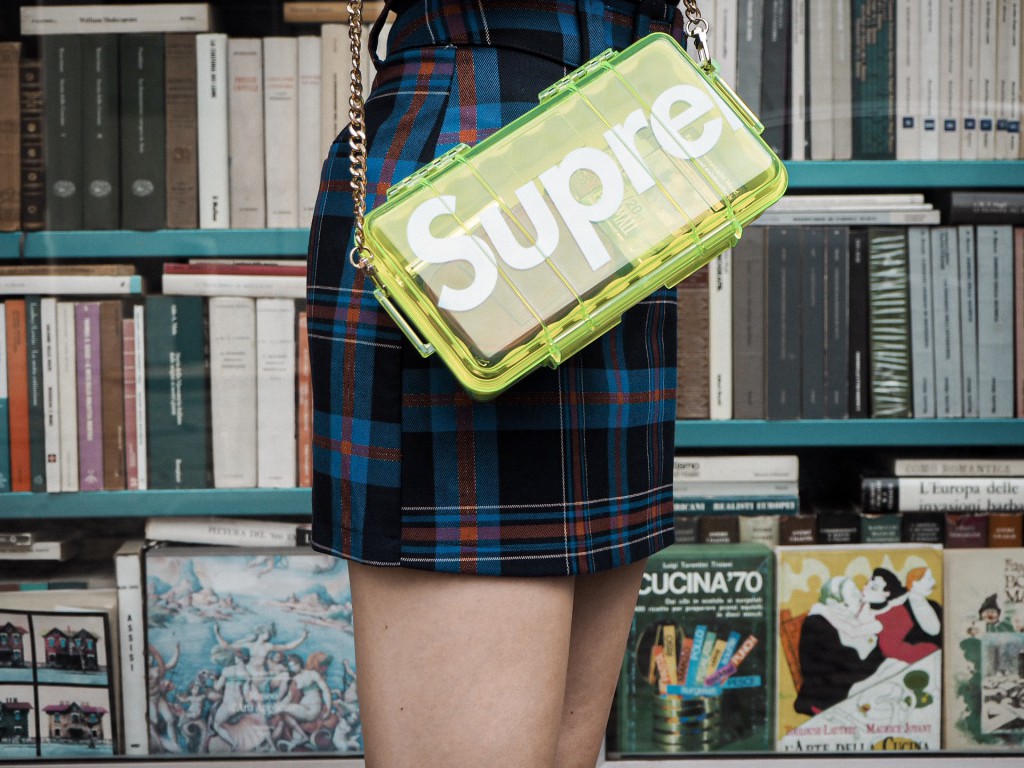 Outfit No. 2 for #MFW – Elegant: Simple but Chic
Same top, completely different look. Since this outfit was destined for an evening event of Milan Fashion Week, I wanted to dress a little more elegantly. You can wear this kind of outfit of course also during the day, you would not be overdressed but for my standards that is a pretty chic look.
My mama bought me the two-parter from Moschino, she found it for a very, very good price in a vintage store in Zurich, and luckily it fits me like a glove. From further away or in pictures the set looks black/white. However, if you take a closer look at it, you will see that it is off-white and dark blue. It was the first time that I wore this two-parter, I'm a bit scared when it comes to combining dark blue. During fashion month I'm a bit braver at trying out new things. The zippers on the skirt and zip hoodie both have a peace sign, as well as the suede boots (also from Moschino) – I always hope that people on the street will notice my love for details. Unfortunately, I did not find any information about any of the pieces, but I assume that they have to be from the late 80s / early 90s.
The black sunglasses are some no-name product from Asia and my bag is a Gucci Marmont Camera Bag – probably the most expensive bag I own. I must say I love the bag and I would not give it back but it would be great if you could adjust the strap more. For me, it goes up to the legs and I just like it better when a bag goes just to my hips.
What I like about the outfit is that it looks pretty simple at first glance. However, if you look closer, you can see many details. For example, there would be the aforementioned peace signs on the zipper of the Moschino set or you can remove the sleeves of the jacket. Also, the golden "patches" on the suede boots fit perfectly with all metallic in this look.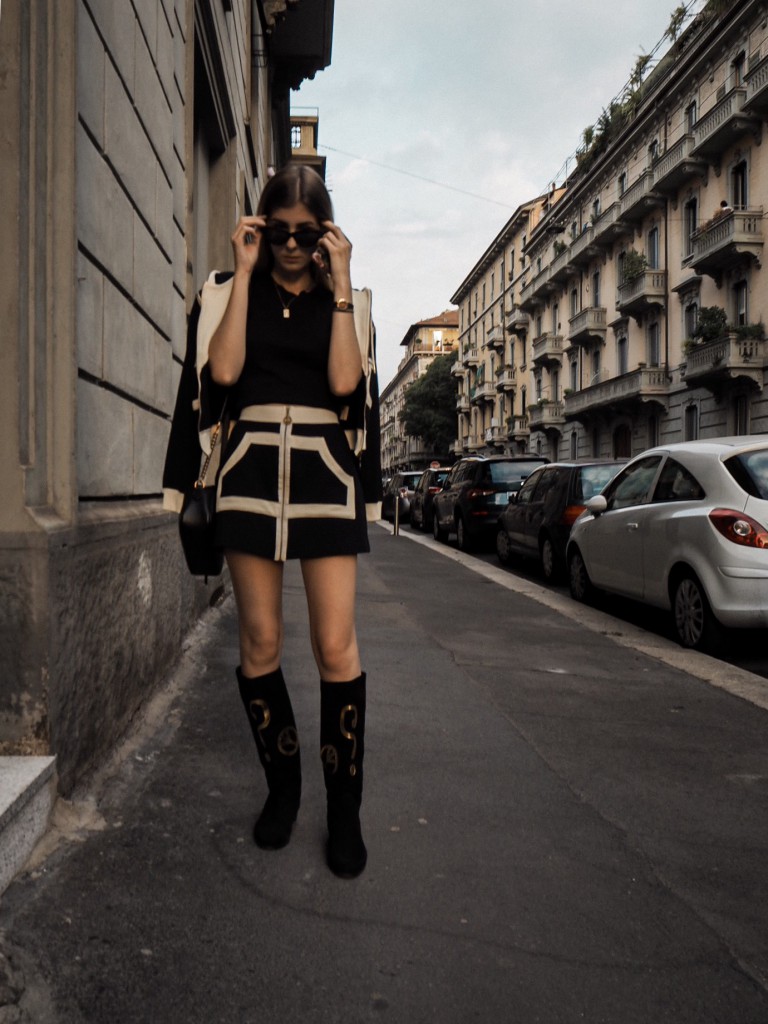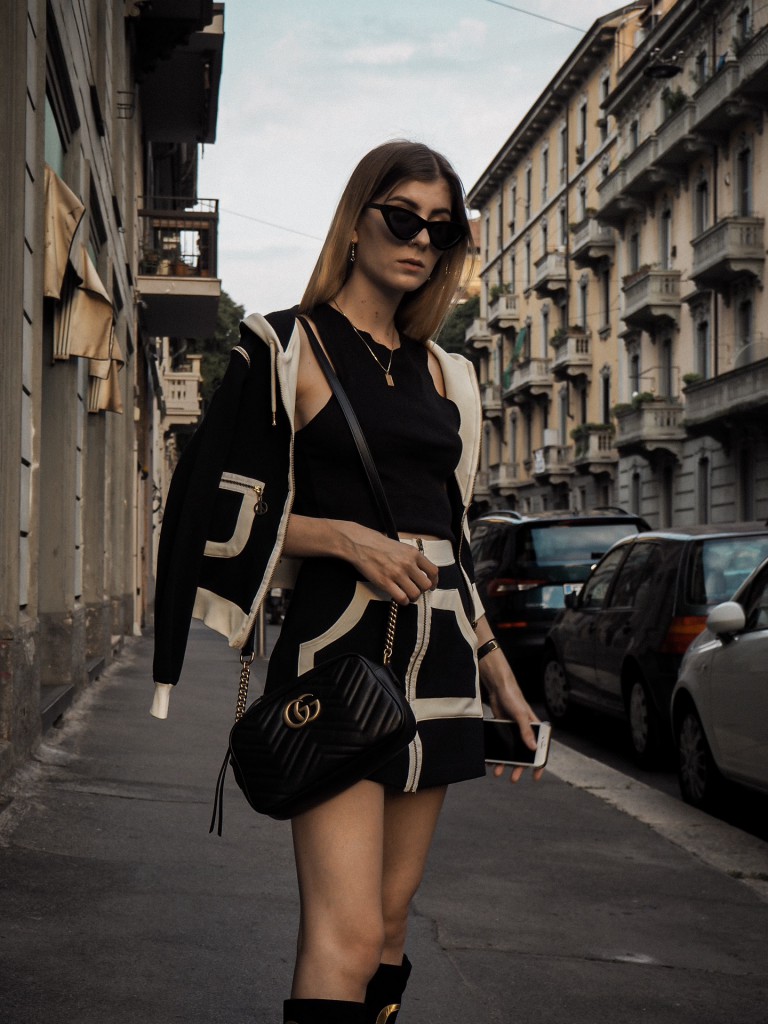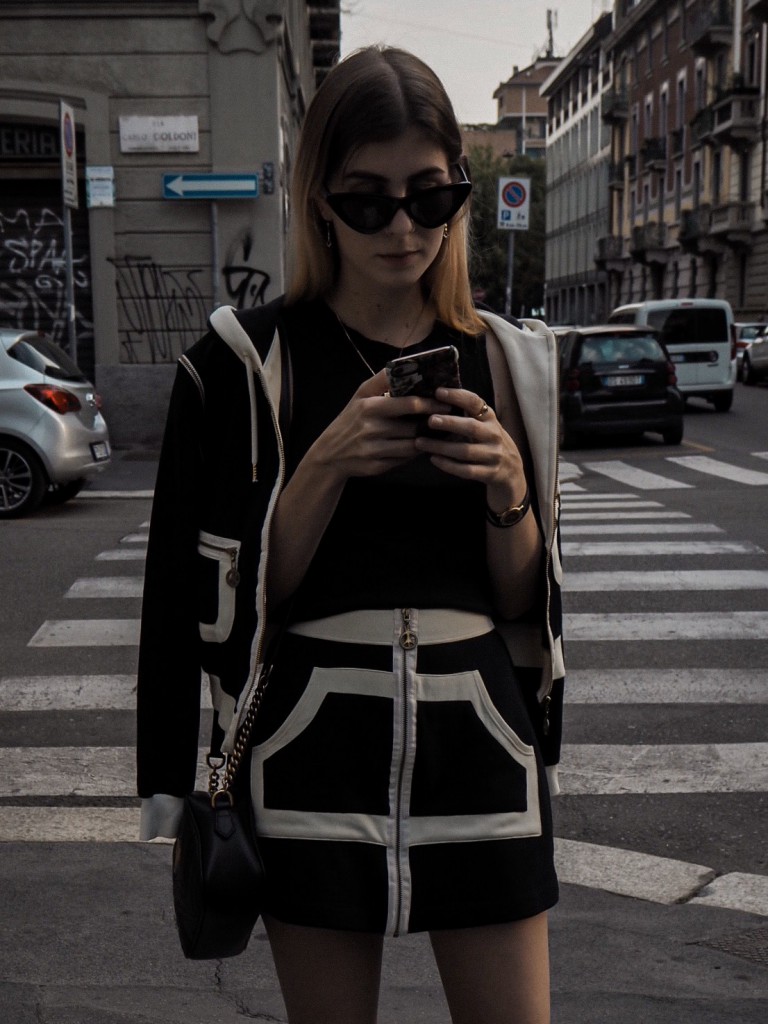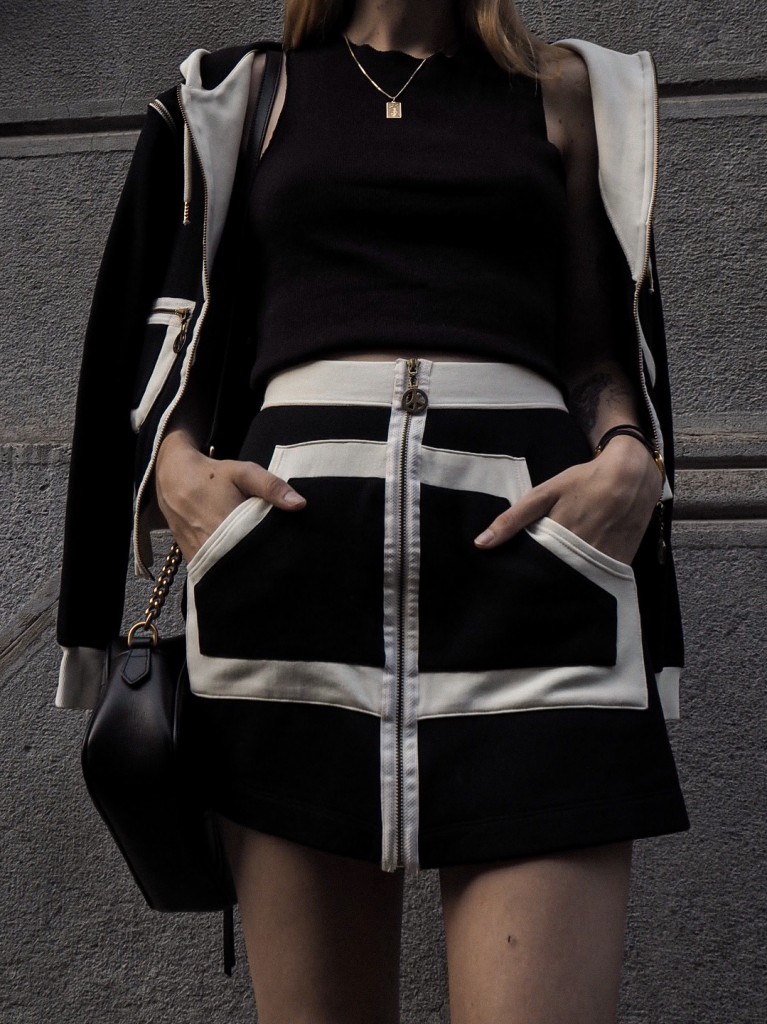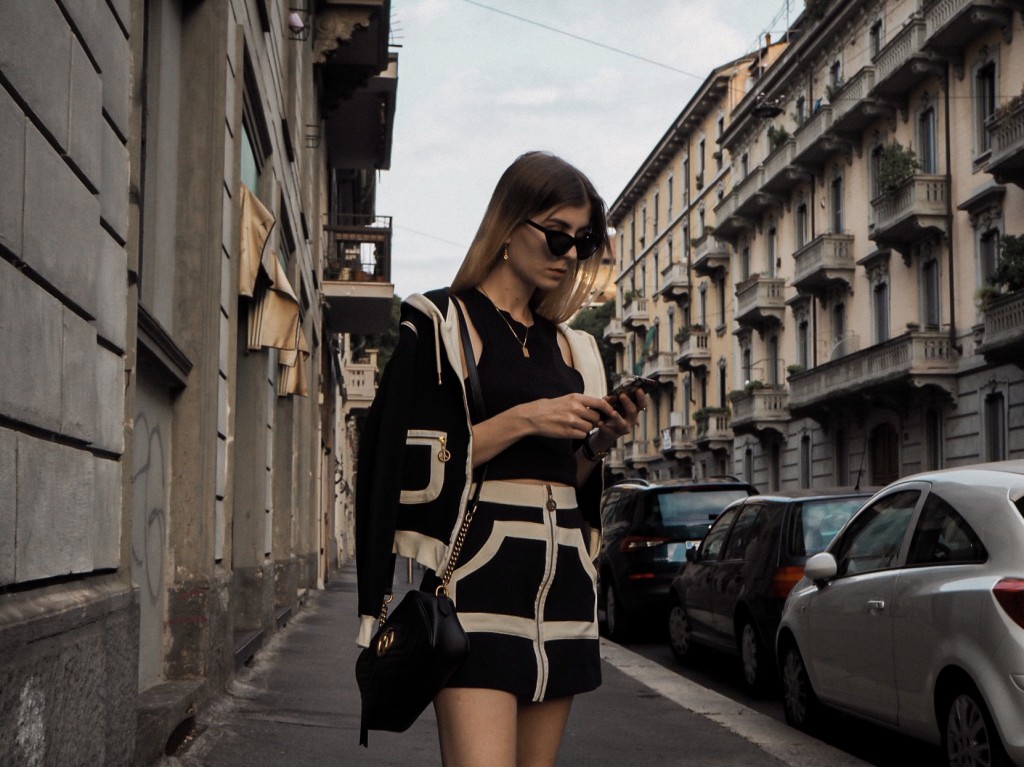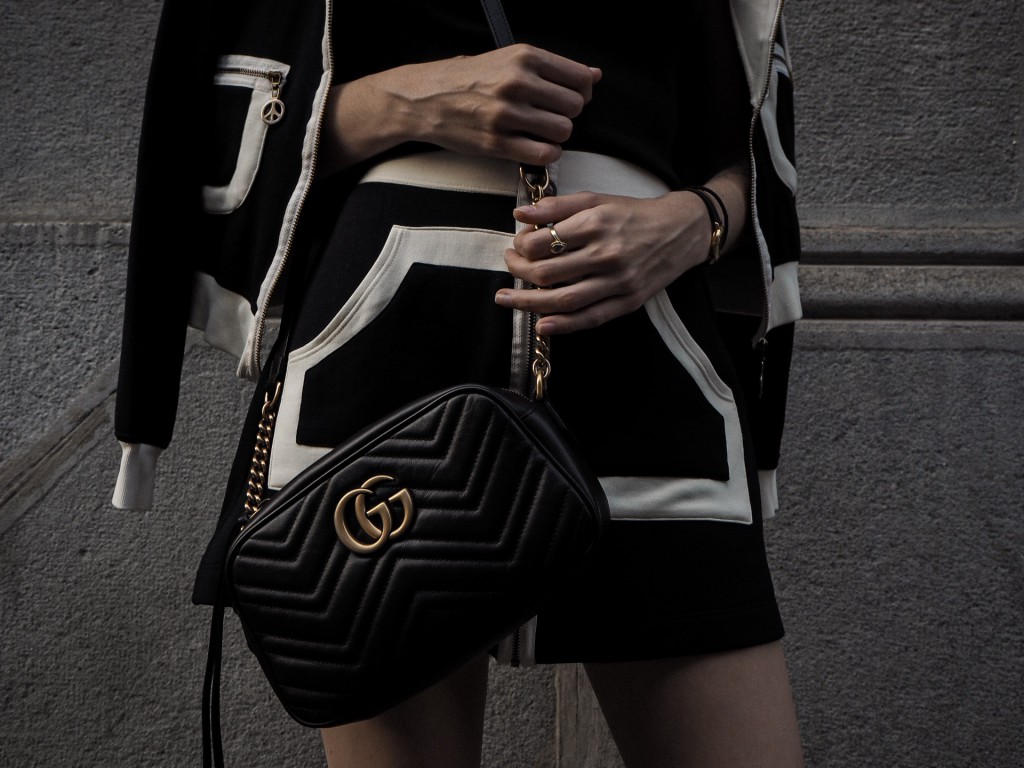 Photos: Tristan Luckow
Self-esteem stinks but I have to say that I'm really happy with the two Milan Fashion Week Women's 2020 outfits. I hope that the looks will not only make me happy but also inspire others.
P.S. Note also my lavishly designed cover picture, which was created in boredom with Paint – I even draw with my computer mouse and not a graphic tablet.