Unexpectedly, the weather had not played as intended. At my Berlin Fashion Week SS2020 outfit planning, I assumed summery 30 degrees, the reality was like 10 degrees cooler. Short dresses were exchanged within a very short time with pants and jackets.
MBFW Outfit Day1: Streetwear Look With My Lady Dior Bag
On the first day, I decided, quite spontaneously, to wear a streetwear look with a chic vintage designer bag. My T-shirt is from Supreme, I took it from Tristan, so it's just slightly oversized. After a long time, I wore my Nike Stefan Janoski Digi Florals again. My baggy pants are from Shein, they remind me of a few rain pants. They're perfect for cool summer days as they're super thin. The eye cater of this outfit was my beloved beige Lady Dior. I take the bag with me every fashion week since I got it, the bag has just the perfect size and looks good with almost everything.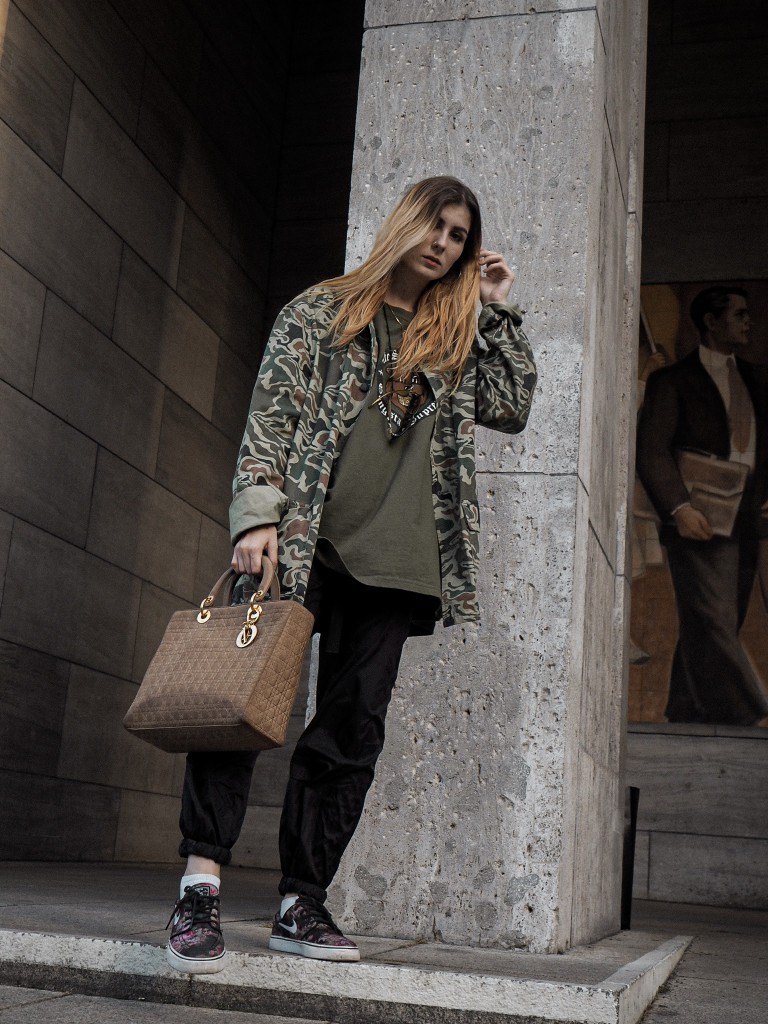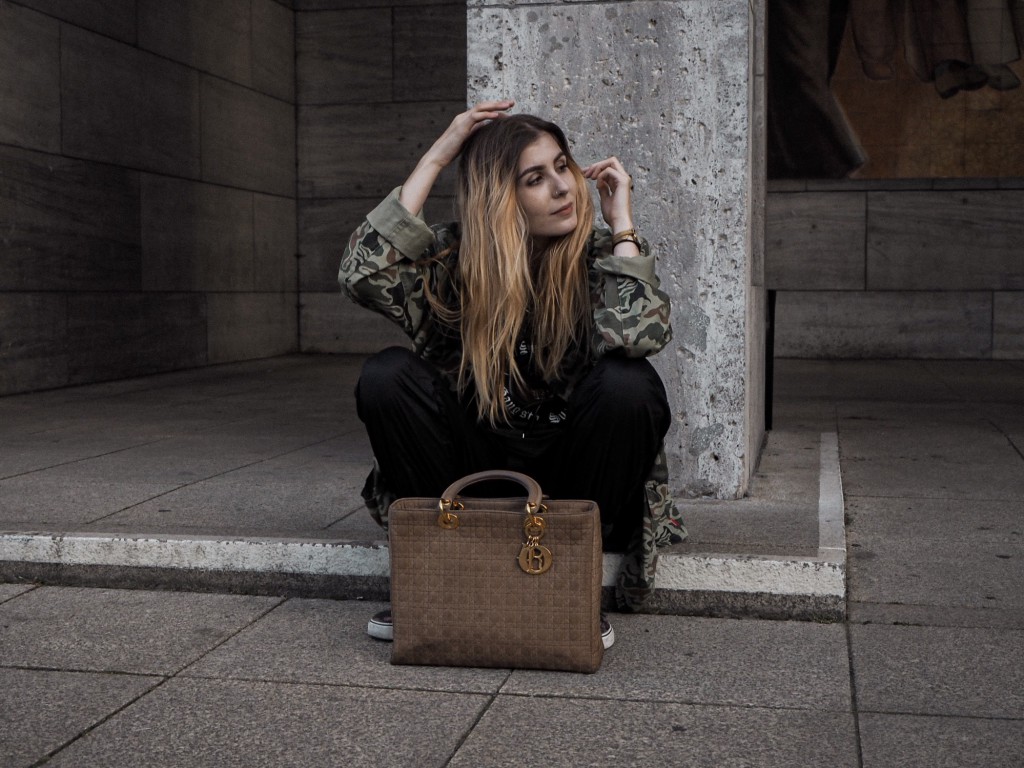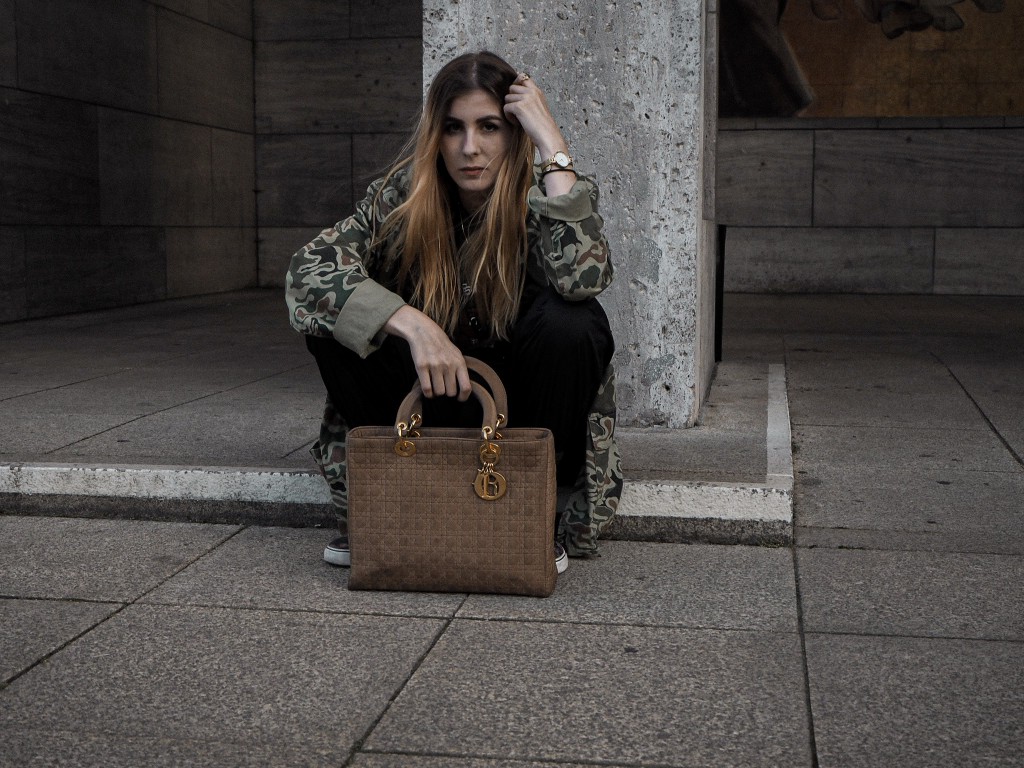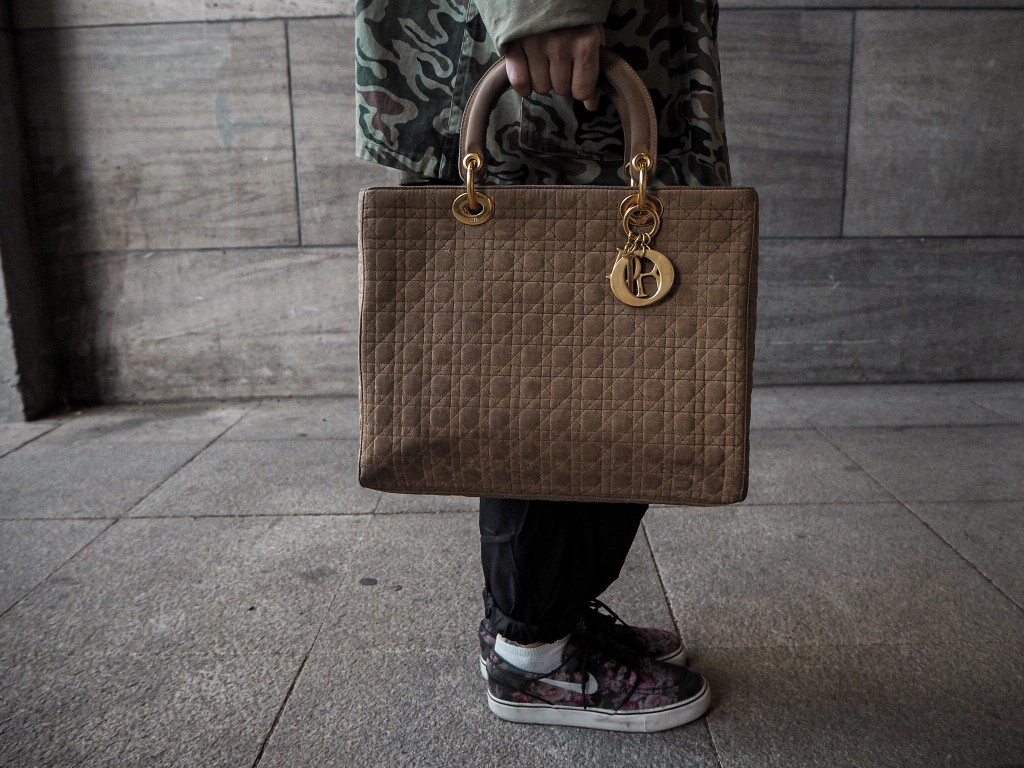 MBFW Outfit Day 2: Let's Go Down To The Tennis Court
My outfit on day two included a white American Apparel tennis skirt. Something really stupid happened to me with it. At the HashMAG event, we created a batik shirt together with Orsay and of course, I directly messed up my skirt. Luckily it's not too bad and with bleach, the stains should disappear, but at the moment – when it happened – it felt dumb. My t-shirt is also white and from Thrasher. I had inherited the jacket from my grandmother, which is part of a Tracksuit of Canon. I wanted to put on a bucket hat, I just did not find the right one and I was looking for a long time. Anyway, the bag is a Gucci Marmont Camera Bag, this is one of my newest more expensive achievements. Last but not least; my sunnies are some cheap but chic ones from Primark and my Boots are a pair of Dr. Martens, the socks you can see are from Palace.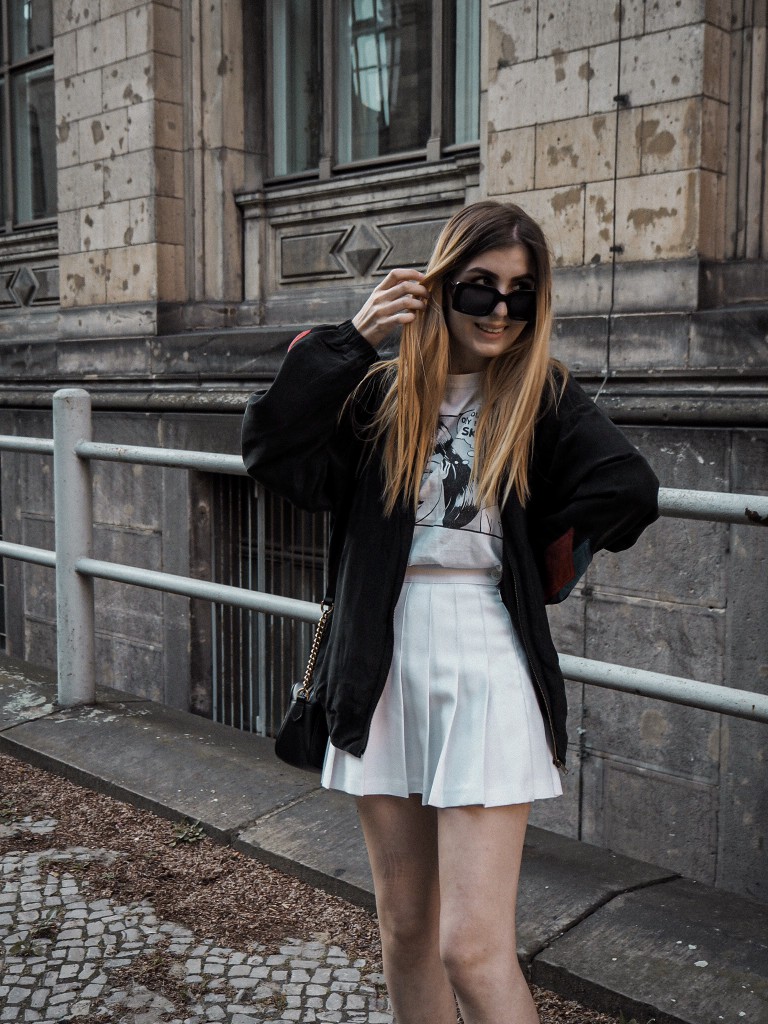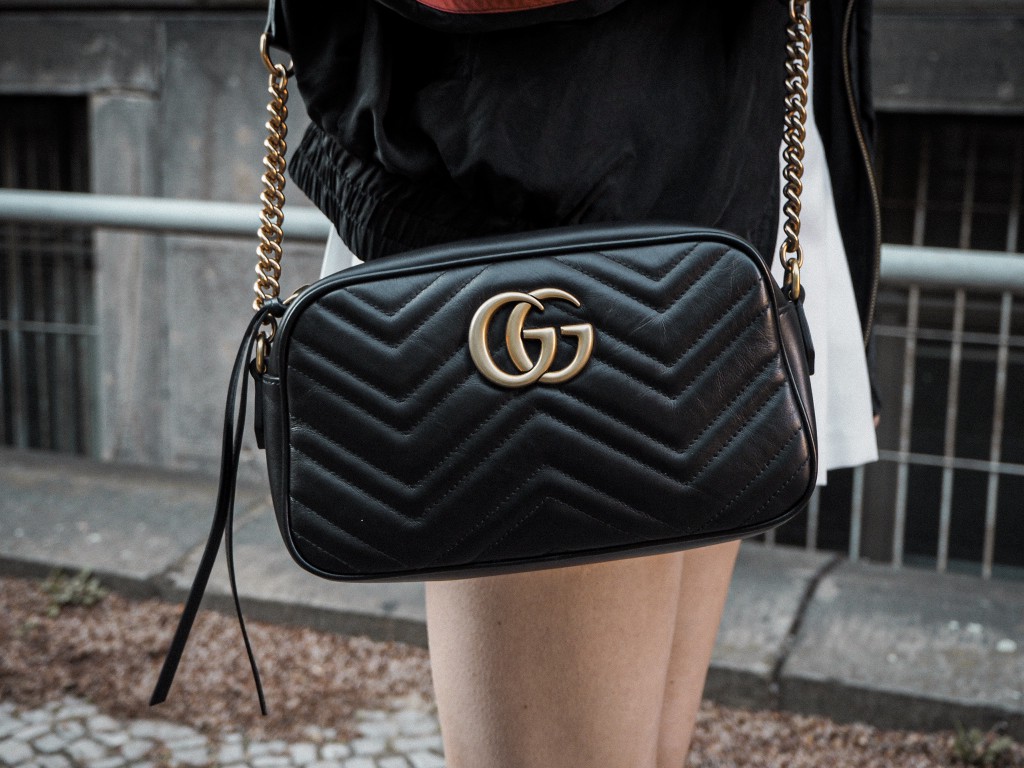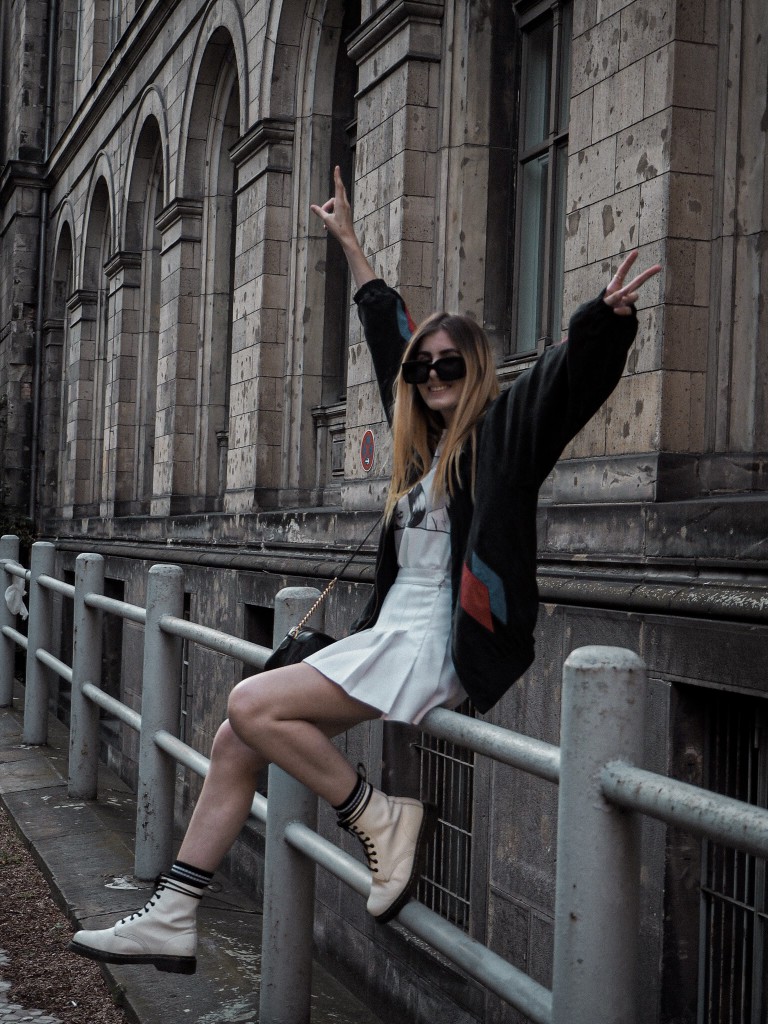 MBFW Outfit Day 3: Casual In A Leo Jumpsuit
Since I was not starting my Fashion Week adventure on Monday, there are only 3 outfits this time. If you ask yourself now, what's up with Friday… There's never much going on on the last day so I rather go to work. Well, on Thursdays I wore as my last outfit a nice leo print jumpsuit from Alisha & Chloe which I discovered a few months ago at TK Maxx. The patent leather belt is vintage from my mom and I found the bucket hat on my first openair – it was muddy and the visitors left a lot of clothes and shoes at the festival area. The jeans jacket is from Burberry and the sunglasses are from Primark. To be honest most of my sunglasses are cheap just because I lose them so fast. Last but not least; my Louis Vuitton Vernis Mott and the platform boots from Buffalo. I have to say that I felt very comfortable in this outfit. Maybe it's because it was the most casual one of the week.