Like in the last season I was also this time at the Berlin Fashion Week and of course, I will tell you how it was. If you have not seen the already posted outfits for the SS2020 shows, you should make up for it as soon as possible.
As planned as I am, I put my Rome holiday exactly so that I came back on the evening of the first Fashion Week Day. Since we landed right before midnight, the first day was canceled completely. So the Fashion Week started for me this time on Tuesday.
Despite my belated accreditations and the fact that the first day was canceled because of Rome, this was probably the most exhausting Fashion Week Experience I ever had. There followed one event after another and I had to create a very tight schedule. Despite the stress, I had a really good time with much fun. In winter I will take it easy again.
Berlin Fashion Week, Day 1
Irene Luft Show
Once again I went to the show by Irene Luft. The creations were as always a dream. We had free seating, but our timing was so perfect that the lady from the event sent us straight to the second row from where we got a great view of the creations. As much as I love the baggy style and sneakers, when I see such princess dresses in pastels and tulle, I melt away.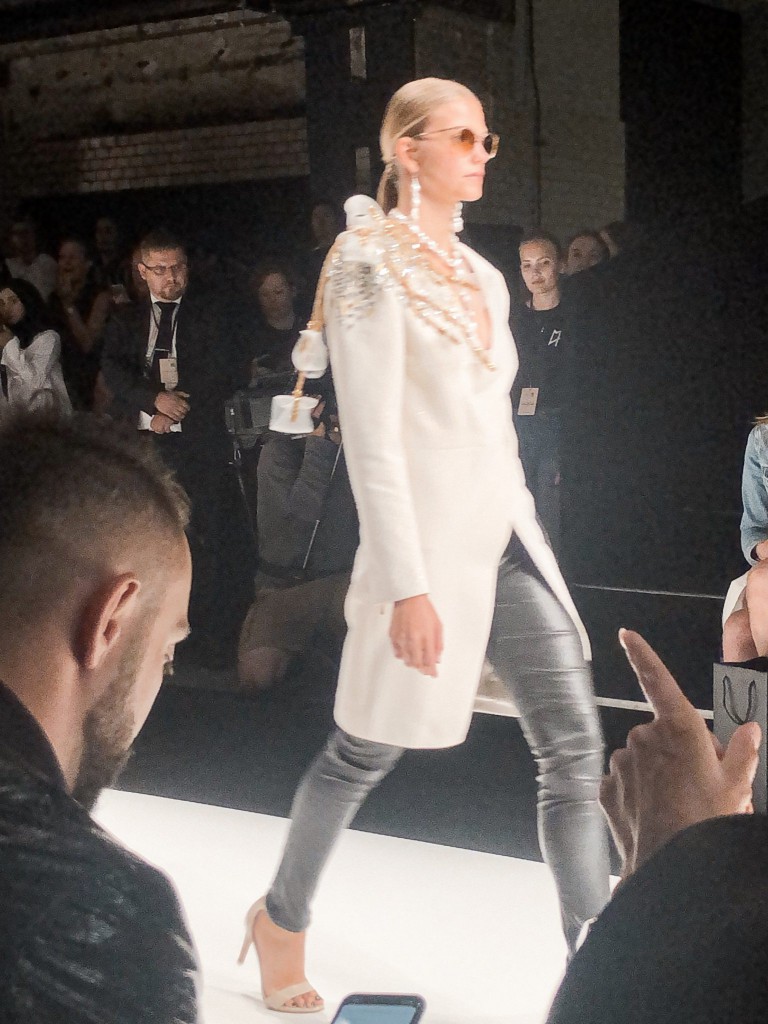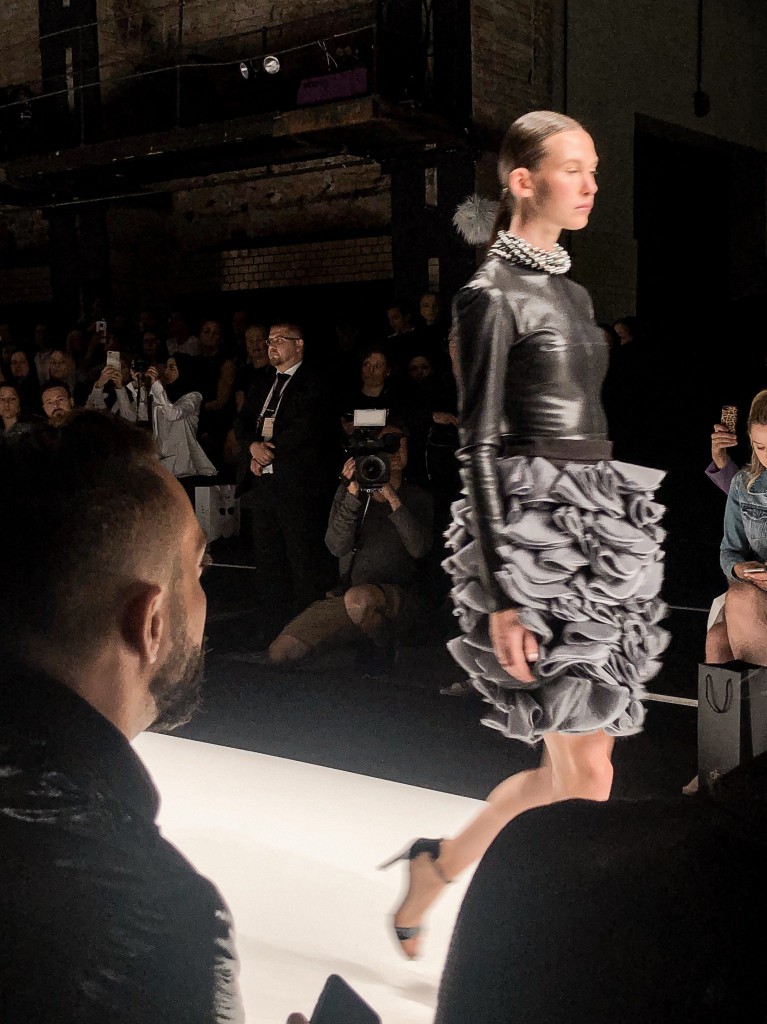 InfluencerCafé "The Boat"
The events of Styleranking during Fashion Week are very popular. This year's InfluencerCafé took place on a rooftop terrace of the nhow hotel, directly on the Spree. Despite a lot of wind the location and the numerous partners enthused all guests. The highlight was probably a boat trip over the Spree. Unfortunately, I could not attend because I had not much time for this event since the next show started only an hour after the last one.
In addition to Skechers, with whom I already had cooperation in January for Fashion Week, were represented for example Lillet or skin. At Watercult, for example, you could get a drawing of yourself, which was my favorite booth. Not because of the drawing, which I did not even let do, but because of the presented collection, which I found simply magical.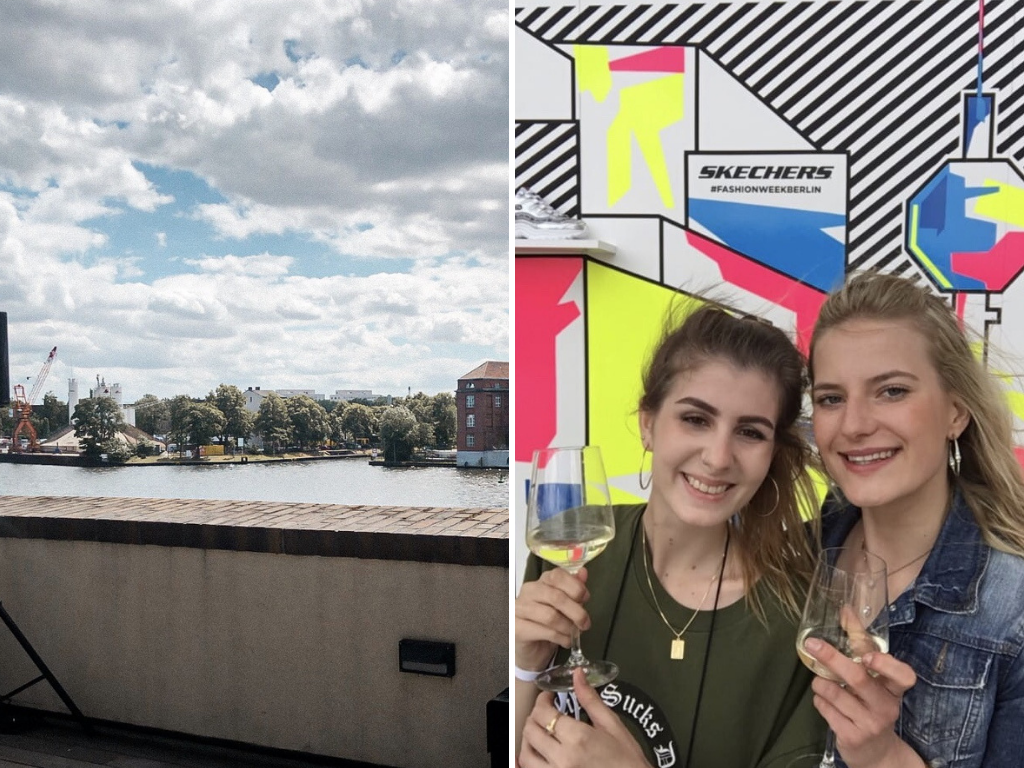 Maisonnoée Show
At Maisonnoée not only womenswear was shown but also something for kids. I can not do anything with kids' fashion, but many other viewers have been able to do that. Even though I will not have kids in, at least, the next 5 years I liked the designs. The sporty part of the women's collection was exactly my style, I could imagine wearing these designs.

What I also found very cool was the live act. I must confess that I do not know who that was but it sounded nice.
Unfortunately, I do not have any good photos to show here, we did not sit too far back (row 3) but it was the block at the very end of the runway. For some reason, the models did not run back to us, so it was almost impossible to get some good snapshots.
Maxwell Scott Bags Event #MyCityMyBag
The Maxwell Scoot Bags Event took place in the Wilden Mathilde, which lies directly between Alexander Platz and Spree. The location was simply magnificent, inside it looked like an old carousel. In any case, I will go there privately again.
In addition to the cool location, there were appetizers and the latest collection of Maxwell Scott to examine. The leather bags are just beautiful, especially a black crossbody with chains as a stripe had done it to me. We took some photos and were allowed to live out something creative.  We could design a cute heart-shaped bag freehand or with templates according to our wishes.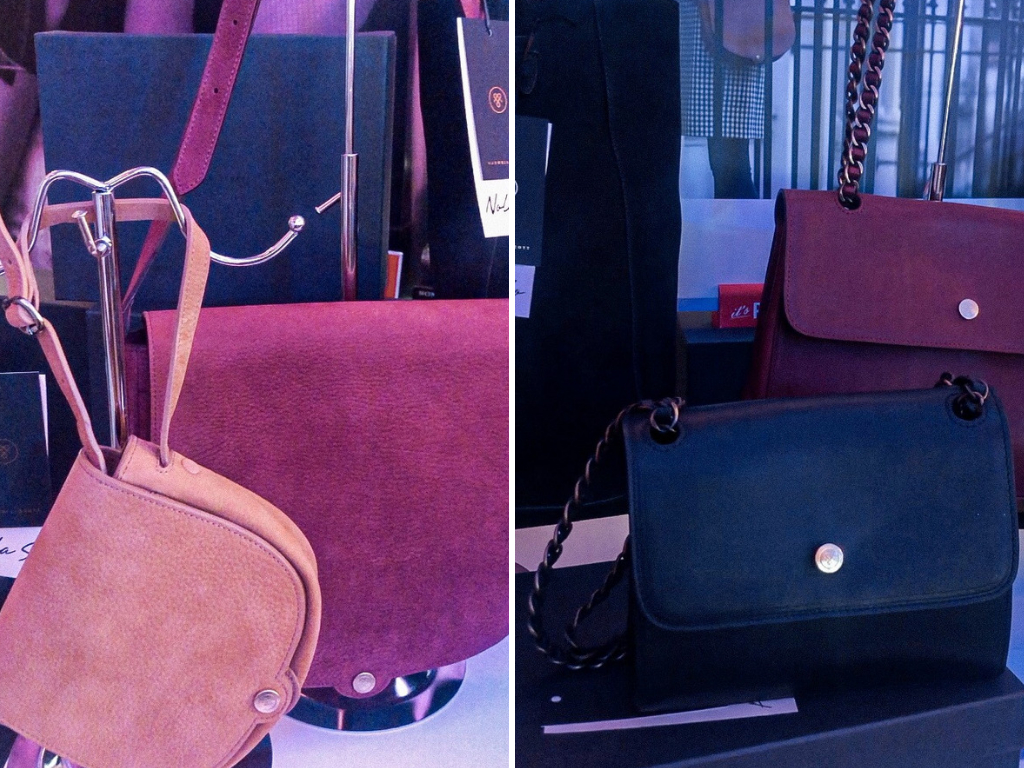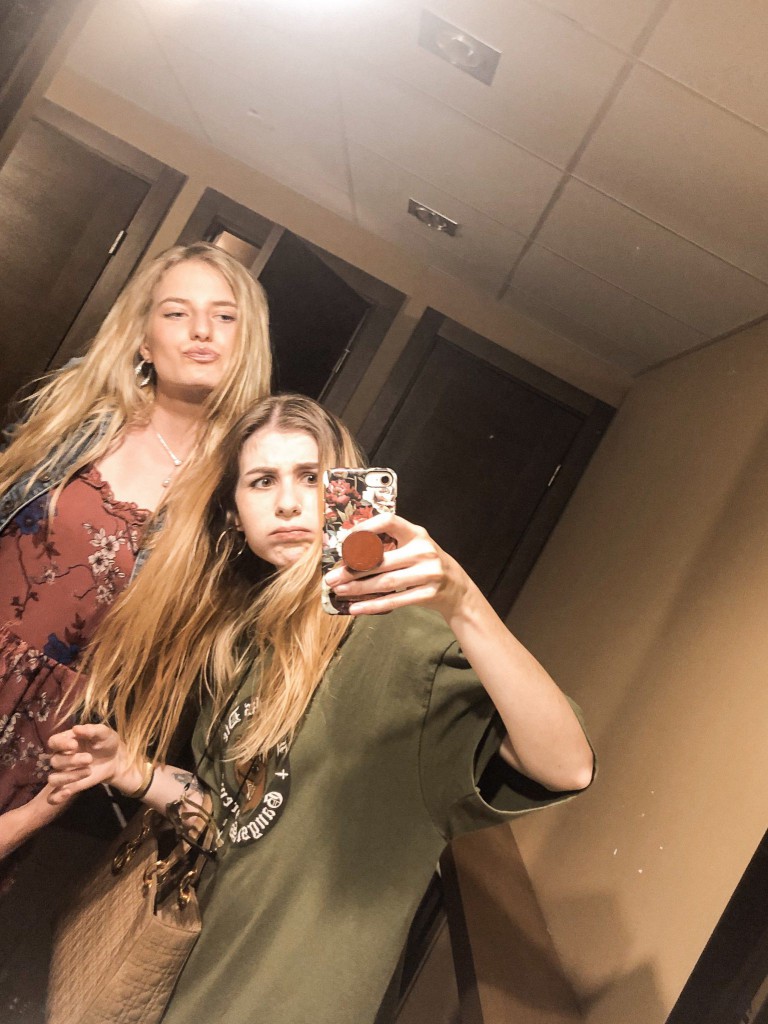 Richert Beil Show
The Richert Beil Show was one of the most impressive shows I've seen in my time at Fashion Week. It was deep, had a message, and was very creative. Of course, I also like Airy Girl Dreams but this is gloomy with the Unisex Models, where you could not tell if it is a woman or a man and the creations themselves left more impression on me. What I also found very exciting, was the expression on the faces of the models, which was indifferent – as well as the movements, and that all of them had shaved their heads.
My favorite part was probably when three people with a "box" on their heads walked down the catwalk. With the dark music, it looked like a movie. I also really liked the last look which consisted only of a silver jacket and a thong.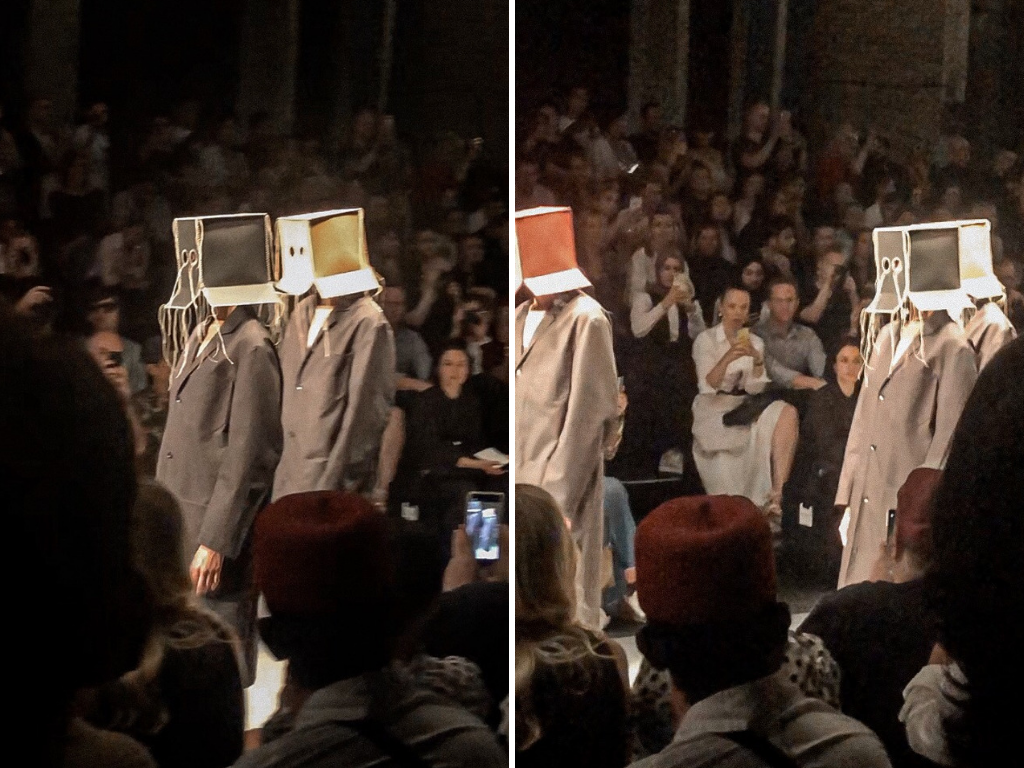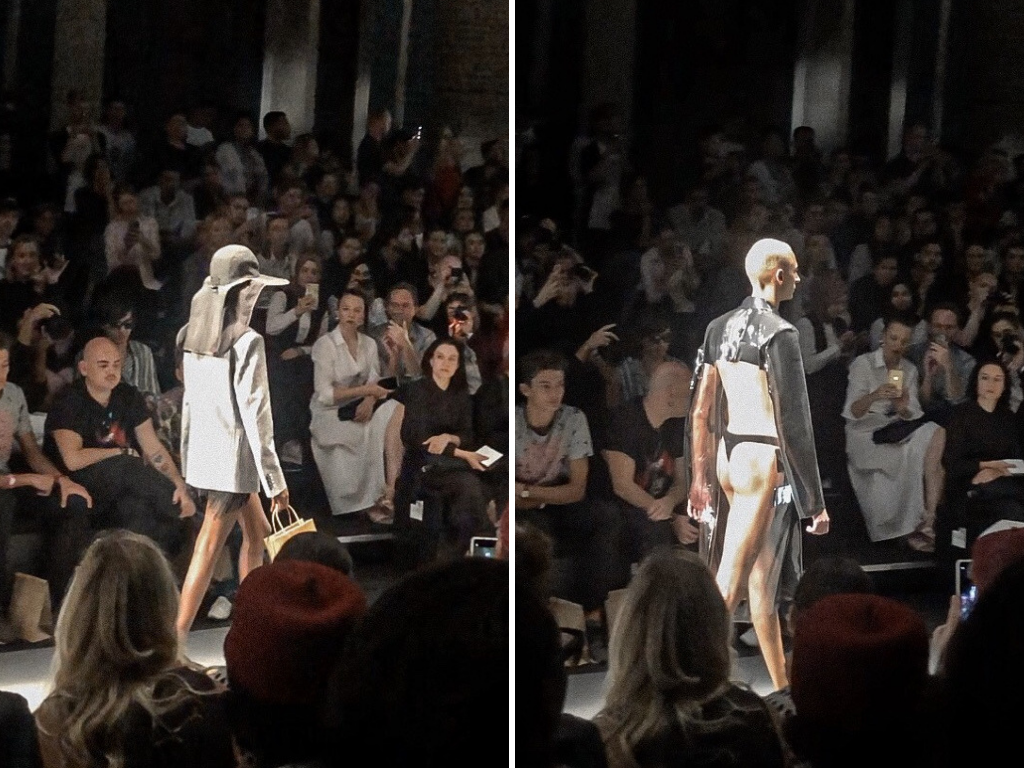 Berlin Fashion Week, Day 2
Rebekka Ruetz Show
I know that not everyone can sit in the front row and some people are just more important for the brand than others but when you sat in the 2nd row a few months ago and then suddenly in the last you ask yourself what went wrong. I would also like to show you more beautiful pictures but my camera just couldn't handle the bad light and the heads in front of me since I'm a pretty small person… These were the worst places I ever got at Fashion Week but as I said, the collection itself was amazing. My favorite part of the show was the statement pieces as you can see in the two shots below. I also really liked how they did the hair of the models and the rolled-up sleeves gave me so many 2014 Tumblr vibes. What I didn't like that much was the neon color but this is kinda personal since I liked this trend a bit too much last season and now I got bored of it.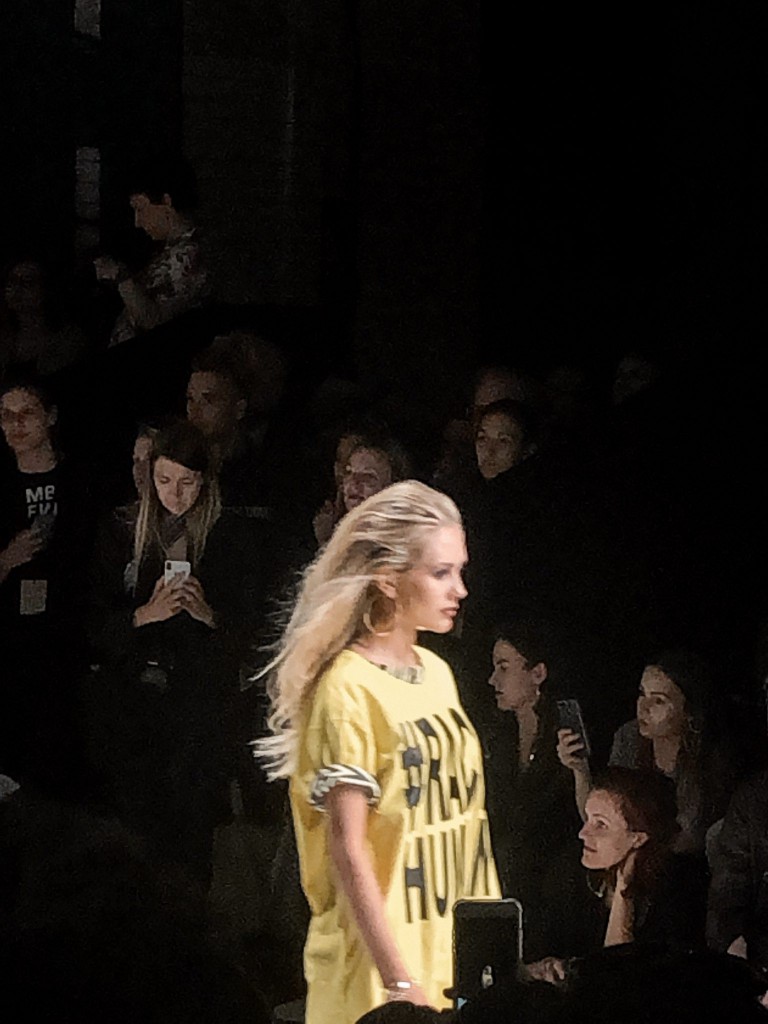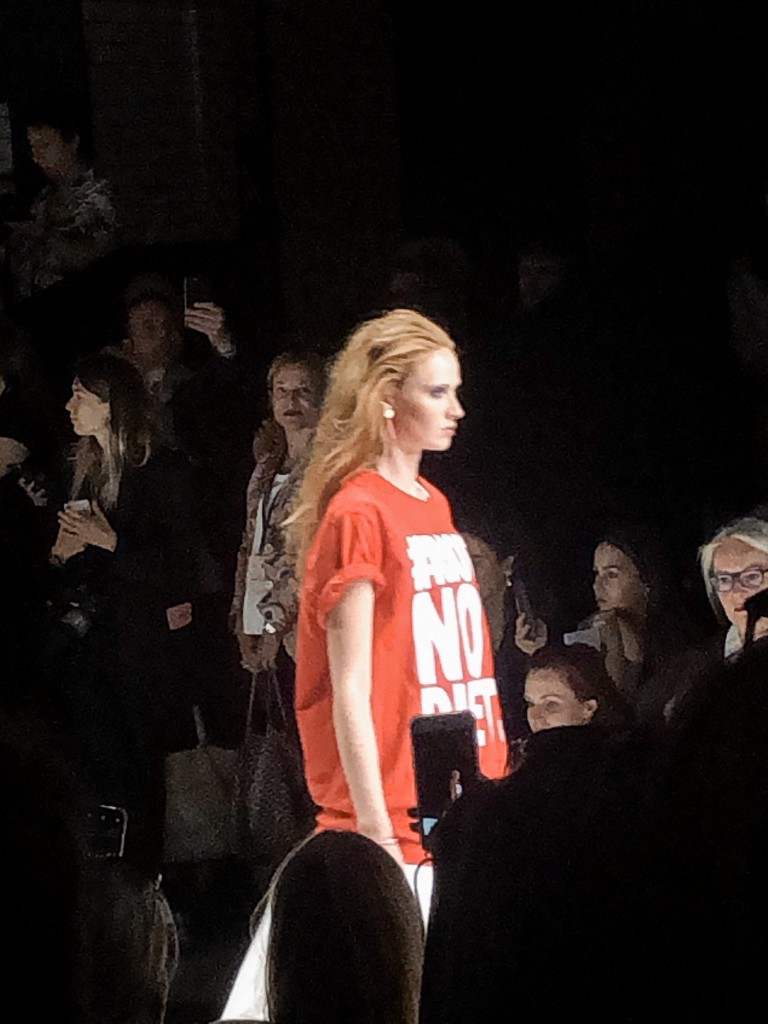 HashMAG Blogger Lounge "Splish Splash – Mermaid Bash"
When we went to the HashMAG Blogger Lounge, we completely forgot the time and had to skip a side event. There was too much to discover at Berliner Freiheit. In addition to various competitions, such as Rossmann or Picard, there were some photo stations. Of course, you could as almost everywhere, get nice make-up – but I let it go. Otherwise, there was plenty to eat and drink. I met some girls that I knew from past events, which is always nice. My highlight of the activities was probably the booth of Eis.de and Orsay. At Eis.de you could make bath bombs by yourself in penis or breast form and at Orsay, you could design your batik shirts.  I had a lot of fun, the only stupid thing was that I splashed the color also on my white skirt while making the batik shirt.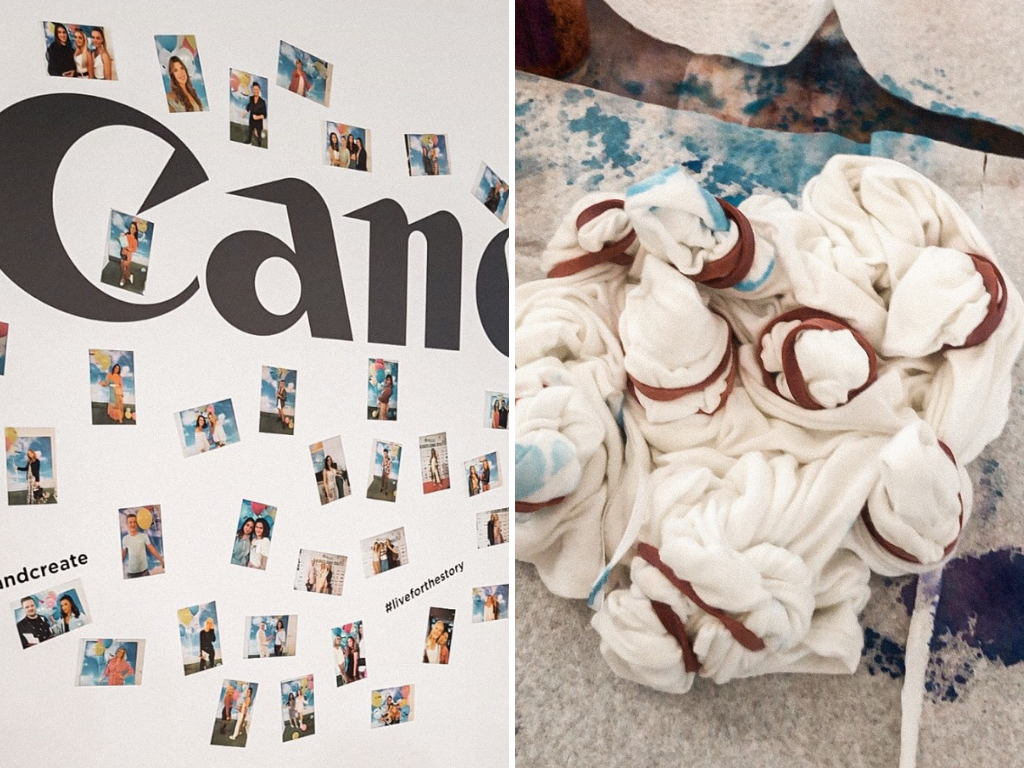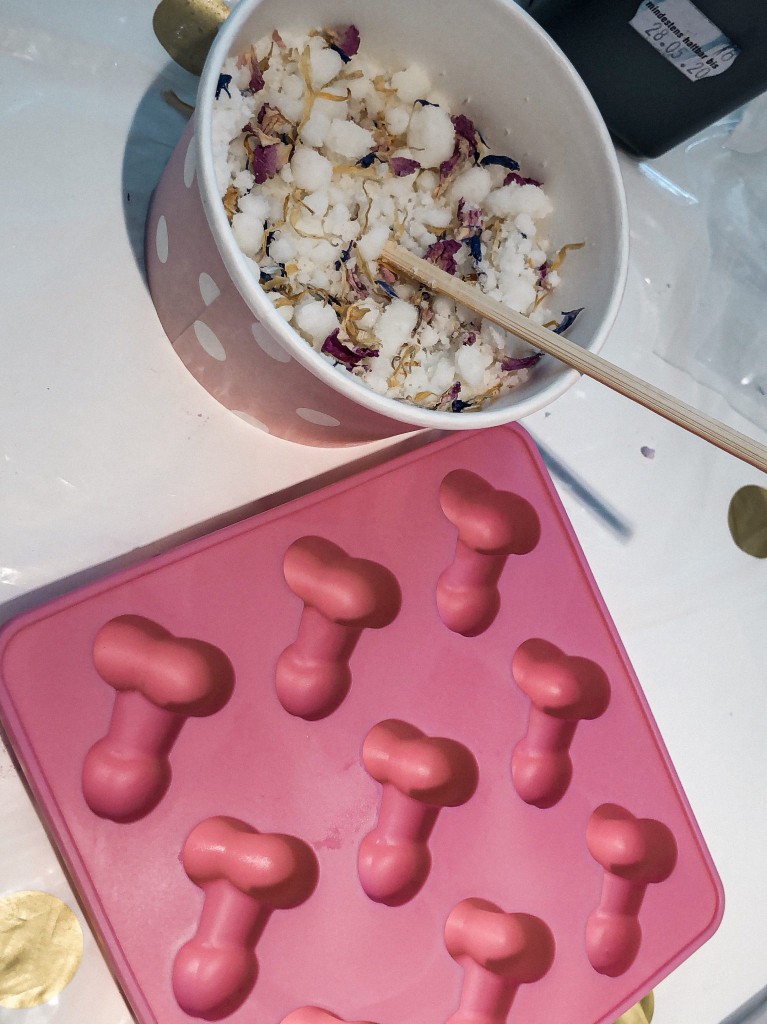 Reichert+

VIP Beauty & Fashion Lounge
The Reichert + VIP Lounge has been around for several years, but it was my first time to attend for me. I saw some girls that I already knew and was also able to get to know exciting new people and brands.
After the VIP Lounge by Reichert +, we wanted to go to the Beauty2GoLounge, but since we were accidentally too long at the HashMAG event, we had just no time to go to this lounge too. I sincerely hope to have the opportunity to visit the Beauty2GoLounge next season.
What also was canceled were the three after-parties that I wanted to visit. Since I did not manage to eat anything right during the whole day I had to make up for it after the Reichert + VIP Lounge. When we finally finished it was, as already on the first day, just too late. The construction works at the Schoenefeld line took stupidly longer so we had an even longer way home as usual. When we left at 9 pm after dinner, we were still home at 11 pm.
Berlin Fashion Week, Day 3
YOONEEQUE digital fashion show
The last event for the Berlin Fashion Week was the digital show of YOONEEQUE. Yes, you heard right; digitally. The show took place at a big building next to the Berlin Cathedral and was not the way to imagine a classic runway show. Just started with the designs, these are not created by humans but by computers. I visited the YOONEEQUE show last season, where the designs were still shown on vibrant models, but this time the collection was digitally presented. There was popcorn and drinks and I have to say that you felt something like in a movie theater. In any case, I liked the presented piece very well and I found it fascinating to get a show completely different presented.