[:de]Gerade bin ich aus meinem 10 tägigen Urlaub in der Schweiz zurück gekommen. Sieben von den 10 Tagen verbrachte ich mit meiner Familie in den Bergen, besser gesagt in Davos. Den Grossteil meiner Zeit verbrachte ich auf der Piste oder ich habe mich etwas vom Alltagsstress entspannt. Zwischendurch habe ich aber auch einige Fotos von meinen Winter Outfits geschossen, denn die kalte Jahreszeit ist noch nicht vorbei und wird es auch nicht so schnell sein. Ich muss zugeben ich bin auch schon einige Stücke für meine Frühlings Outfits am zusammen kaufen aber der Fokus liegt bei dieser Kälte noch immer auf kuschligen Pullovern, Mützen und Co. Ich nehme jetzt einfach Mal an, dass dies beim Rest der Welt auch der Fall ist.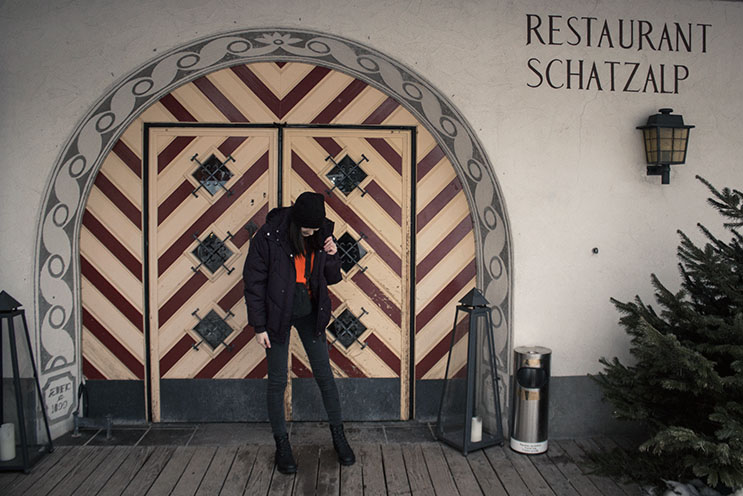 Im Kontrast zum weissen Schnee habe ich einen farbigen Look gewählt. Der knallige orange Pullover ist von H&M wie auch die violette Daunenjacke. Am Pullover gefällt neben der tollen Farbe, dass er etwas gecroppt ist. Die meisten Sweater die ich besitzen sind komplett oversized und reichen mir fast bis zu den Knien. Dieser hingegen reicht mir bis zu den Hüften, dass ist eine schöne Abwechslung. Zum farbigen Pullover habe ich mich für eine schlichte high waisted skinny Jeans von Tally Weijl entschieden. Die gefütterten Winterschuhe sind von Landrover. Die hatte ich bei meinem letzten Aufenthalt in Davos gekauft. Die Schuhe haben grade mal 19.90 CHF bei Dosenbach (Deichmann in Deutschland) gekostet und auch bei längeren Schneespaziergängen krieg ich keine kalten oder nassen Füsse. Da muss ich auch noch kurz was zur Daunenjacke loswerden. Ich habe diese direkt in der Woche in Davos gekauft und bin von der Qualität begeistert! Auch bei Minusgraden gibt sie schön warm und kann locker mit meiner The North Face Daunenjacke mithalten. Okay, zurück zum Rest des Outfit. Die schwarze Beanie habe ich seit Jahren meinem Vater "geklaut" die hatte er irgendwie schon immer aber keine Ahnung woher. Jedenfalls habe ich einen etwas kleineren Kopf und die passt mir einfach perfekt. Bei den meisten Beanies sehe ich aus wie ein Schlumpf, weil die hälfte oben absteht. Die kleine schwarze Umhängetasche ist von Carhartt, da passt alles was man halt so braucht rein. Kippen, Portemonnaie, Schminke und solche Sachen halt.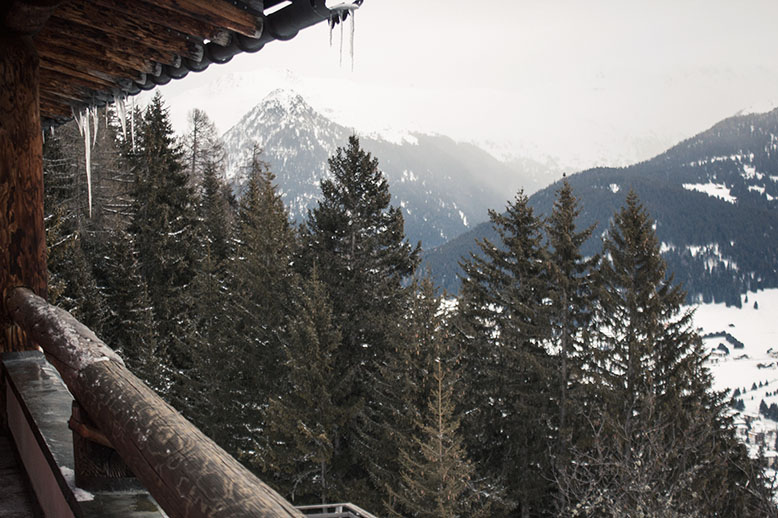 Übrigens; wer mal nach Davos geht, sollte unbedingt auf die Schatzalp gehen. Die Aussieht ist atemberaubend und das ehemalige Kurhotel bietet viel leckeres Essen und Getränke. Wenn man dann auch schon mal dort ist, solle man sich das Kurhotel etwas genauer ansehen, das Jugendstil Gebäude ist von innen genauso bezaubernd wie von aussen. Leute die mehr mit Literatur zu tun haben kennen den Ort vielleicht auch noch aus Thomas Manns "Der Zauberberg". Also ich kann es nur nochmals sagen, schaut es euch an – alles. Nach einer warmen Ovomaltine kann man dann auch gleich den Berg runter schlitteln. Nun gut ich höre auf zu schwärmen, in meiner Travel Guide zu Davos könnt ihr dann alles genau nachlesen. Hier soll es ja eigentlich bloss um meinen cozy Winter Look gehen. Ich dacht aber, dass ich es einfach mal kurz erwähne, da es schliesslich die Location ist.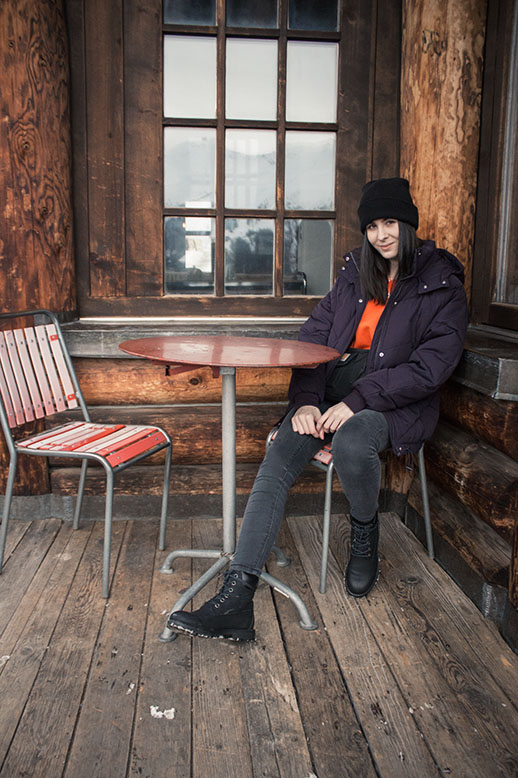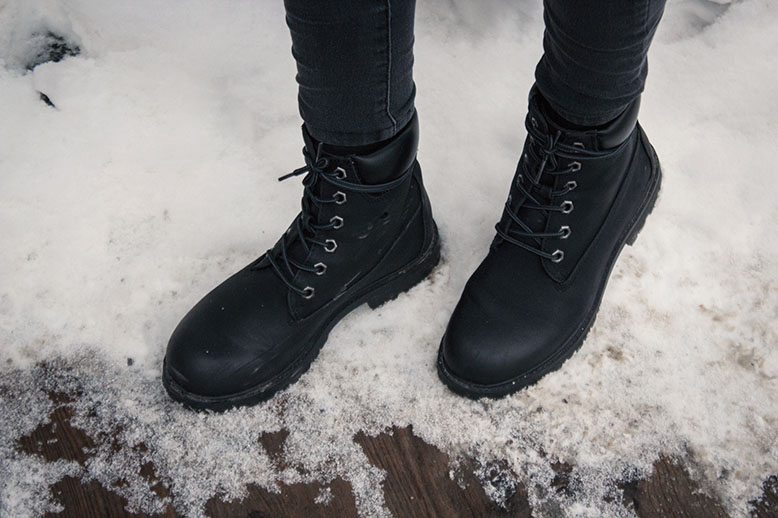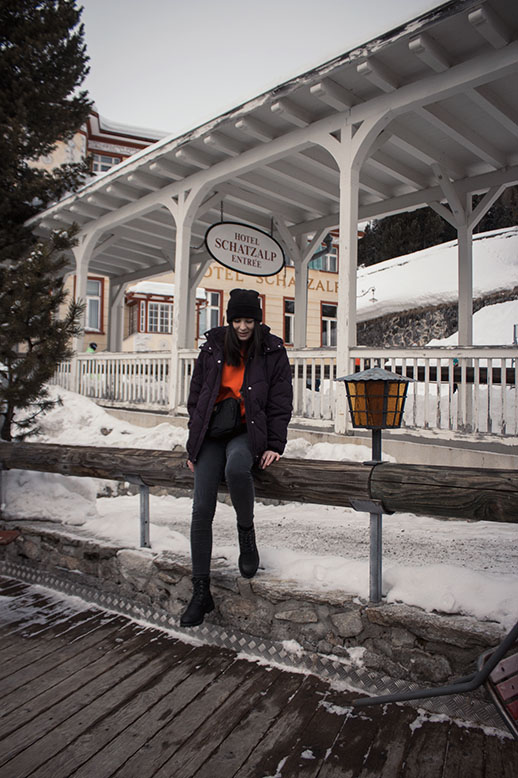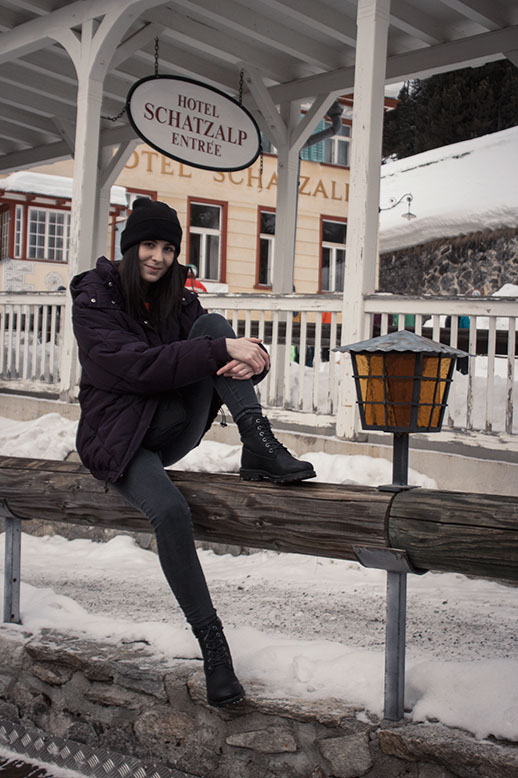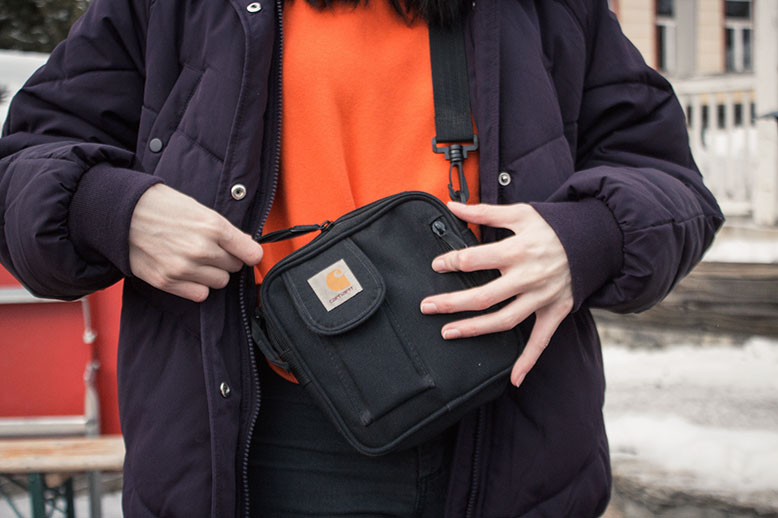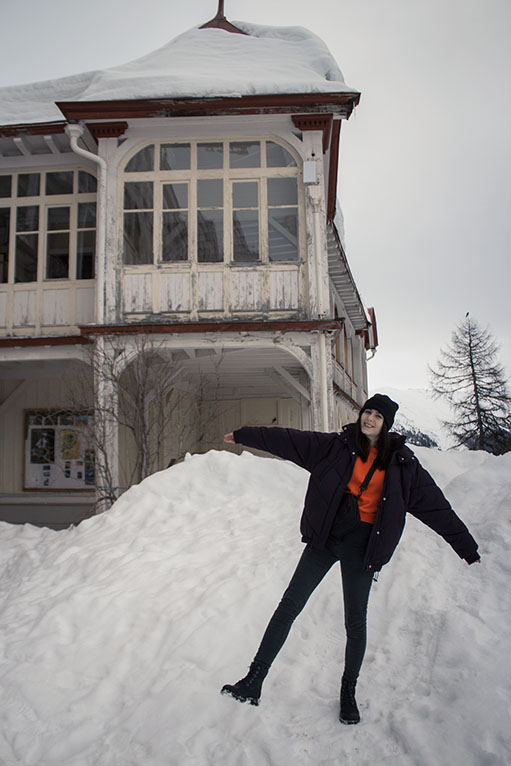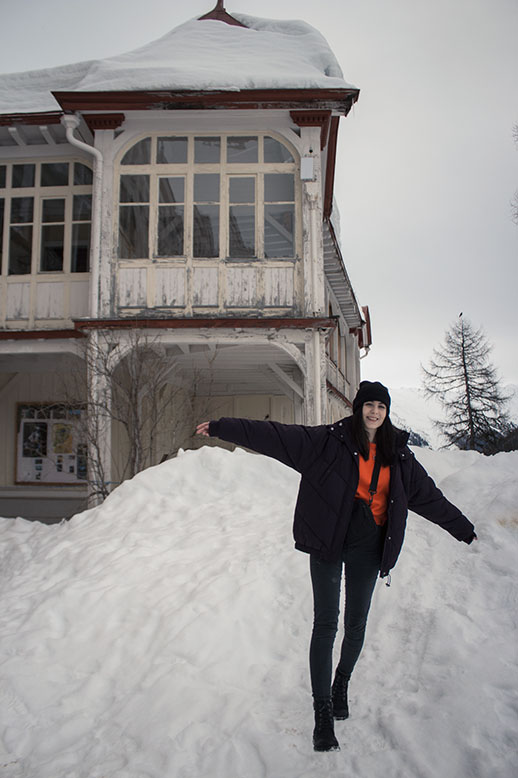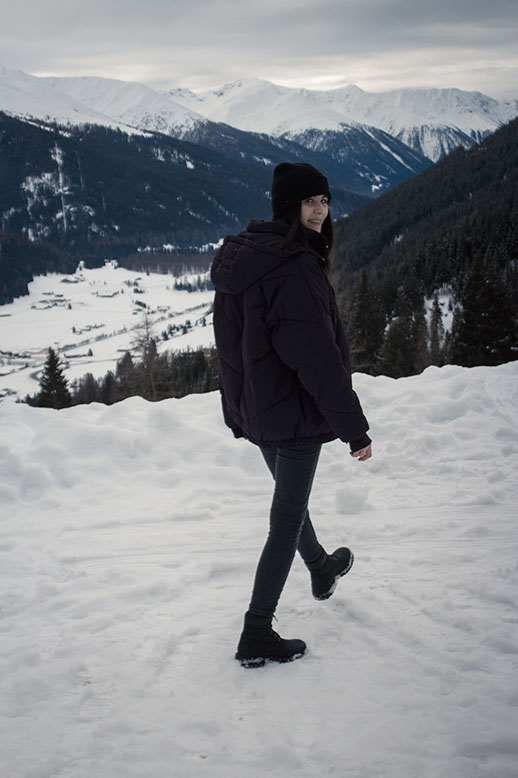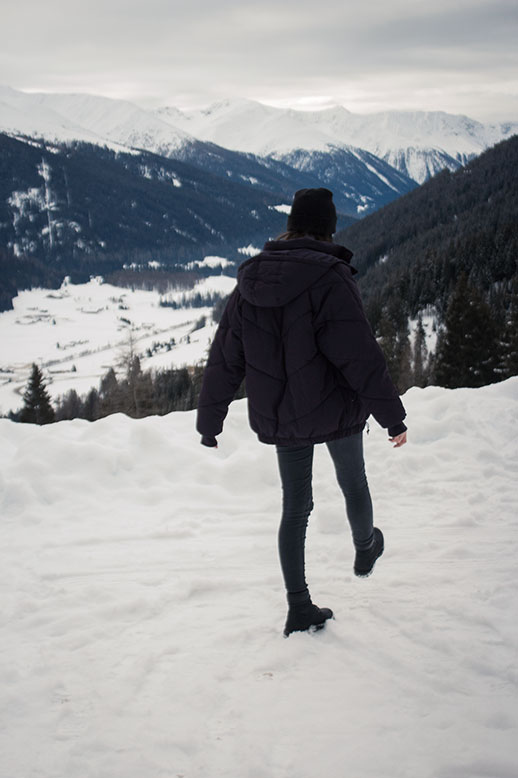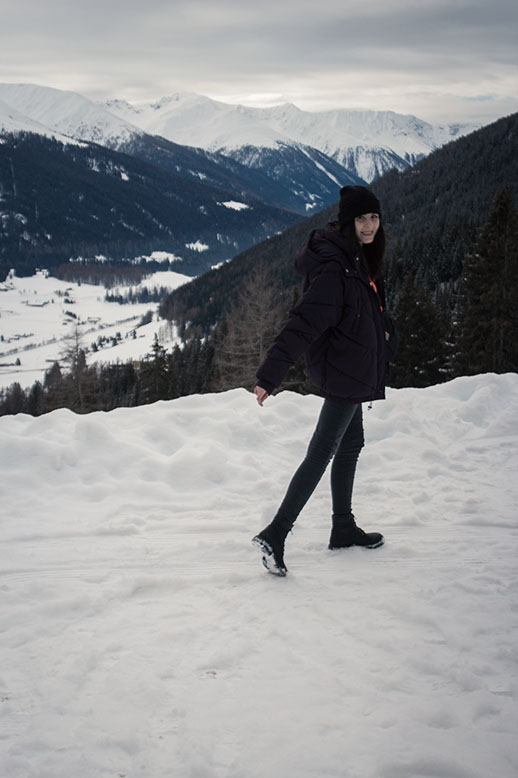 Fotos: Mama
Shop my Look at Peek & Cloppenburg | Werbung
Wie oben schon erwähnt gehe ich davon aus das auch ihr noch im Winterklamotten Shopping Fieber steckt, es ist schliesslich Februar. Ich habe euch daher gleich mal ein paar Teile rausgesucht, mit welchen ihr mein Outfit ganz einfach nachstylen könnt. Irgendwie schon seltsam, vor einigen Jahren konnte ich um Ende Februar Anfangs März bereits mit Lederjacke und T-Shirt rumlaufen. Gerade ist das unvorstellbar für mich.
Übrigens gibt es auf Peek & Cloppenburg noch viele weitere coole Artikel für diese Jahreszeit.
Der "Shop my Look" Part in diesem Beitrag entstand in einer freundlichen Kooperation mit Peek & Cloppenburg.[:en]Whoo, I just came back from my holidays in Switzerland. I spent seven of the ten days with my family in the mountains, or to be more exactly in Davos. Most of my time I was on the slopes or you could find me relaxing on cute spots from my stressful everyday life. In between, I have also shot some photos of my winter outfits, the cold season is not over yet and it will not be so fast. I have to admit I'm already buying some pieces for my spring outfits but the focus is still on cuddly hoodies, hats and co. I just take it for granted that everyone else who doesn't live by the beach thinks like me.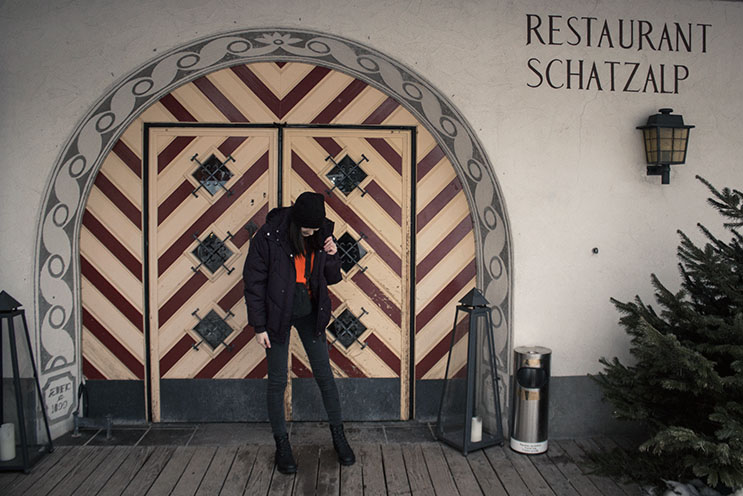 In contrast to the white snow, I chose a colorful look. The bright orange pullover and the violet puffy jacket are from H&M. In addition to the great color, the pullover looks like he's slightly cropped. Most sweaters I own are oversized and almost reach me to the knees. This one reaches my hips, that's a nice alternative. For the colored sweater I opted a simple high waisted skinny jeans from Tally Weijl. The winter shoes are from Landrover, I bought then on my last stay in Davos. The shoes cost only 19.90 CHF at Dosenbach (Deichmann in Germany) and even when I go out for longer walks in the snow I get no cold or wet feet. Oh and I need to write some more word about the puffy jacket from H&M. I bought the jacket directly in Davos this week and I am thrilled with the quality! Even at freezing temperatures, it's warm and can easily keep up with my The North Face down jacket. Okay, back to the rest of the outfit. I "stole" the black beanie for years from my father, he had it somehow since forever but I have no idea where it's from. Anyway, I have a slightly smaller head and it just fits me perfectly. Most beanies make me look like a smurf because the half sticks out at the top. The small black shoulder bag is from Carhartt, everything fits in perfectly. Cigarettes, wallet, make-up and what else you need in everyday life.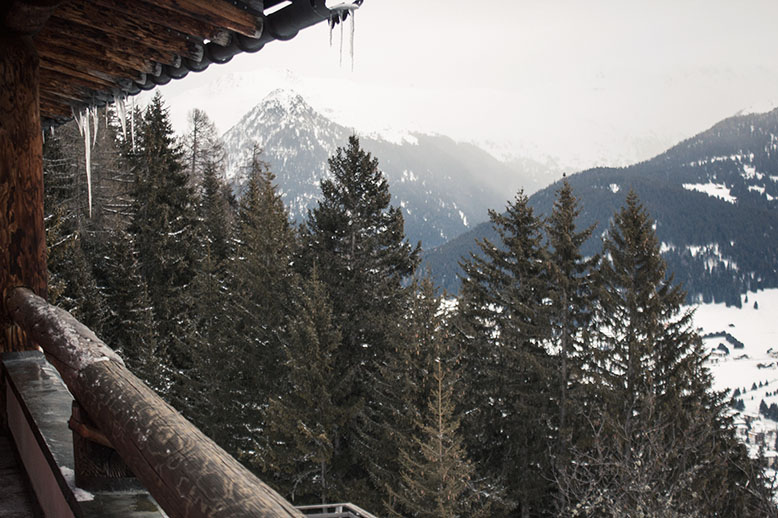 By the way; everyone who goes to Davos, should definitely go to the Schatzalp. The view is breathtaking and the former health resort offers a lot of delicious food and drinks. If you are already there, you should take a closer look at the old resort, the Art Nouveau building is as enchanting from the inside as from the outside. People who have more to do with literature know the place perhaps also from Thomas Mann's "The Magic Mountain". So I can only say it again, take a look at it. After a yummy hot chocolate you can tobogganing down the mountain. Well, I stop swarming, in my Travel Guide to Davos you can read all about it. This is supposed to be only a cozy winter look post but I think that I'll just mention it briefly since it's the location of this shooting.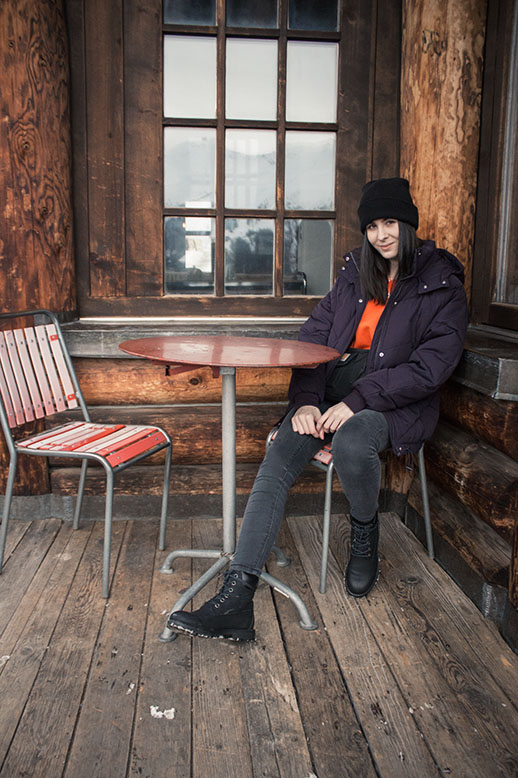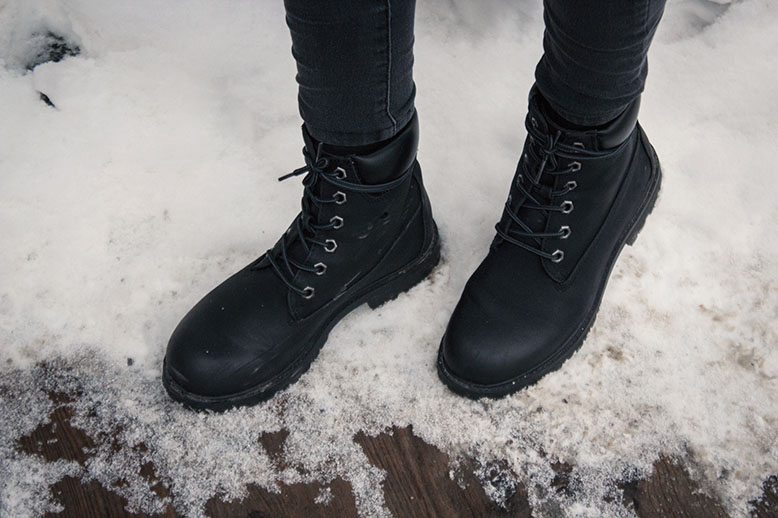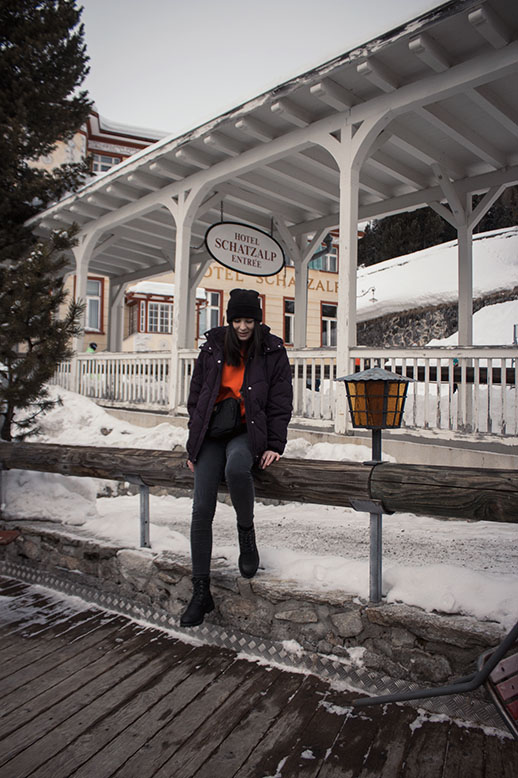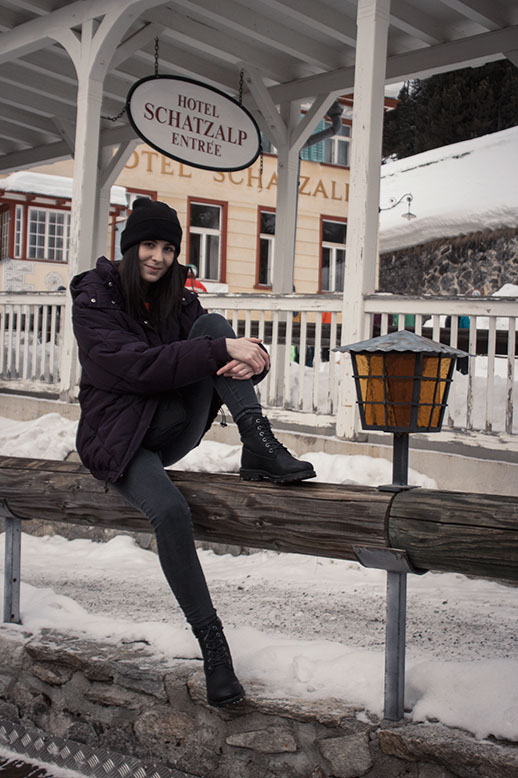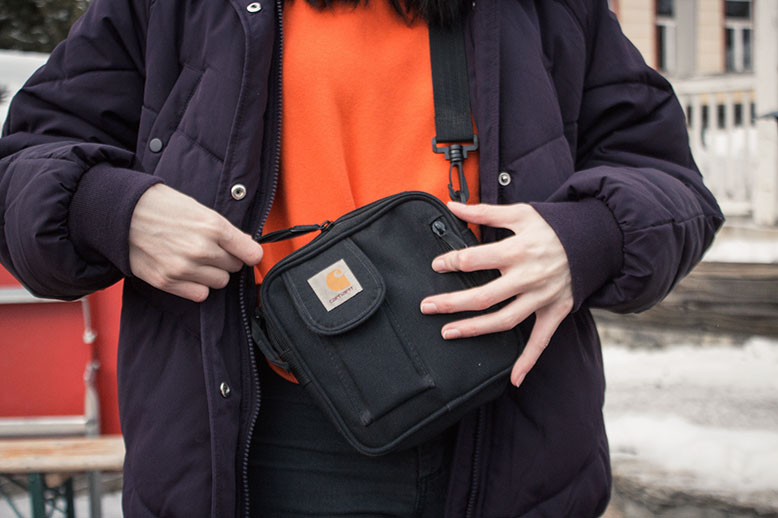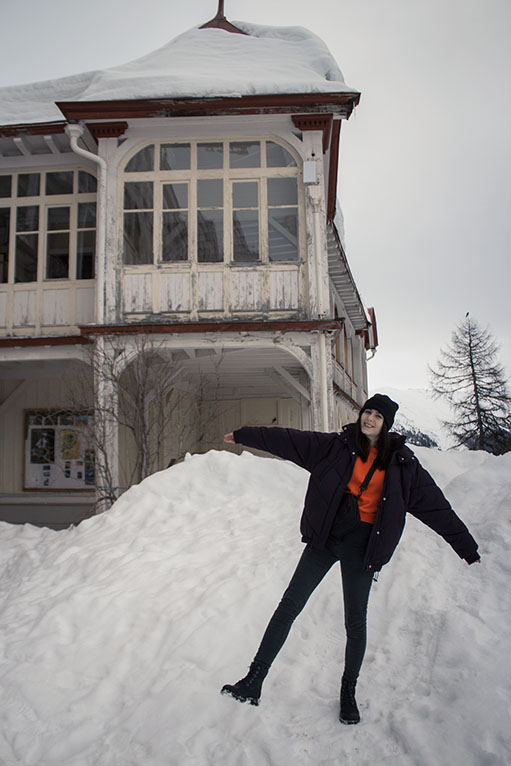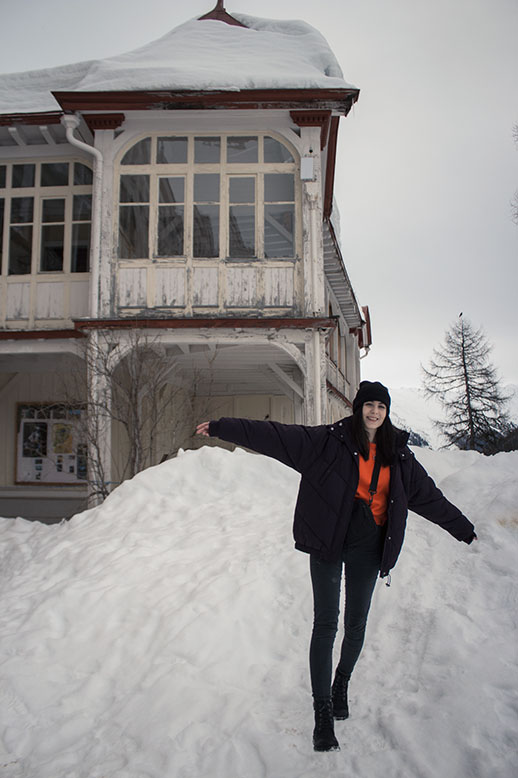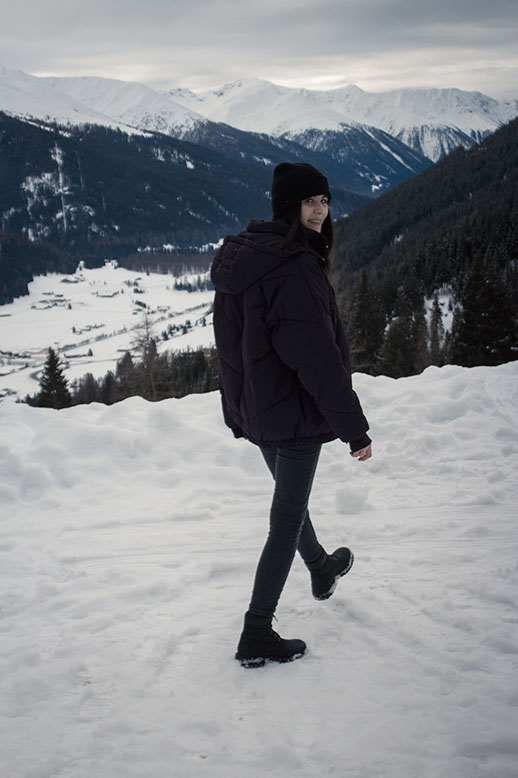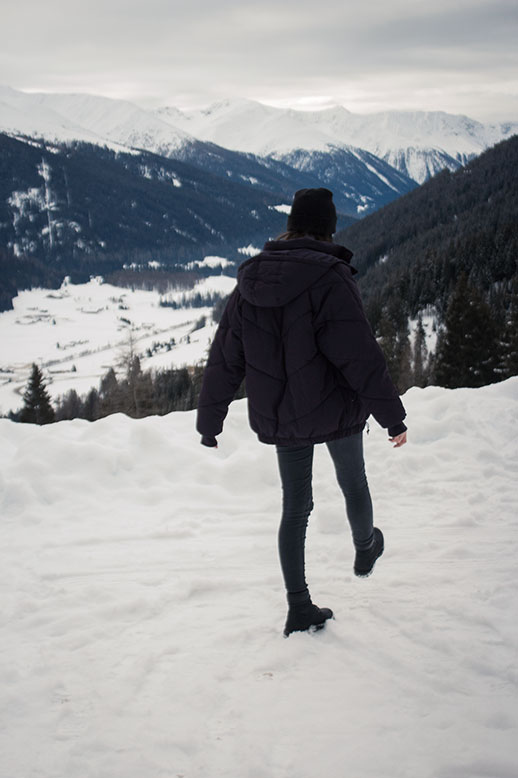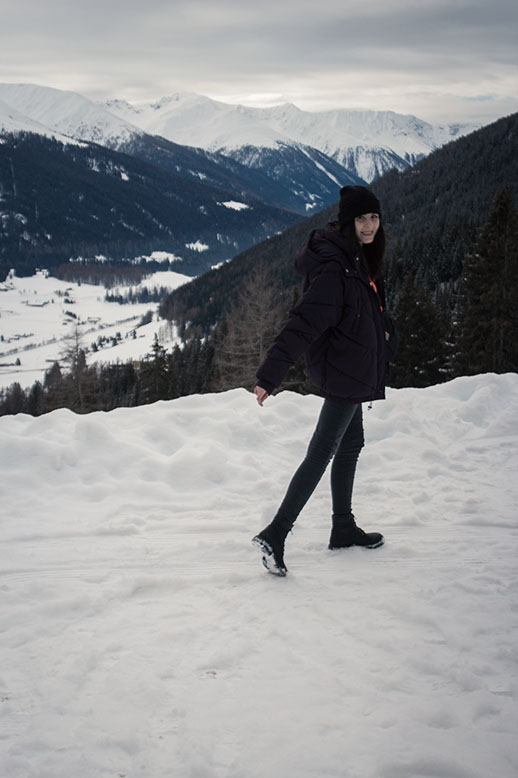 Photos: Mama
Shop my Look at Peek & Cloppenburg | Advertising
As mentioned above, I assume that y'all are also still in the winter clothes shopping fever. Therefore, I have picked out a few pieces with which you can easily style the look I wear in this winter outfit post. Somehow it's strange, a few years ago I was able to walk around with a leather jacket and T-shirt at this time (end of February, beginning of March). This is just inconceivable for me at the moment.
By the way you can find more great articles for this season at Peek & Cloppenburg.
The "Shop my Look" part in this post was created in a friendly cooperation with Peek & Cloppenburg.[:]