In this blog post every thing is about the theme feeling of freedom, from my chatter to my fall outfit and the shooting location.
I think that everyone (sometimes more, sometimes less) has a drive for the feeling of freedom. Freedom exists in different shapes for example not to work, come out of the prison or move out of your parents house. For me freedom means being able to creat everyday spontaneous, having no specific daily routine. The first step into freedom was for me when I went out in the evening without looking on my watch. When I could decide by myself what I want to do during my free time with no time limit. My next step in to freedom was moving out of my parents house into my own appartment. Well that was a big step I didn´t just move a few citys further, I moved into a new country. Moving from Zurich to Berlin was also a step into freedom because Zurich is pretty stuffy and Berlin is like the opposite. My biggest expirience with the feeling of freedom yet was my time in Indonesia respectively Bali. I could do whatever and whenever I want it. There was no work, no appointments just me and my wishes. You can bring a bit of this kind of freedom into your everyday life. For example when I lived in Switzerland I loved to go to the mountains even if it was just for a few hours. You have only an hour by car till you´re there from Zurich. If you stand right next to a turquoise tarn you forget your worries and turn on the relaxing mode. Here in Berlin are unfortunately no mountains but even this field which is just like 10 minutes away from my apartment set off the feeling of freedom in my. As soon as I get my driving license, what should be in December, I want to drive once in a while to the Baltic Sea. You´re pretty fast there by car and a sea gives you, like mountains, the ultimately feeling of freedom.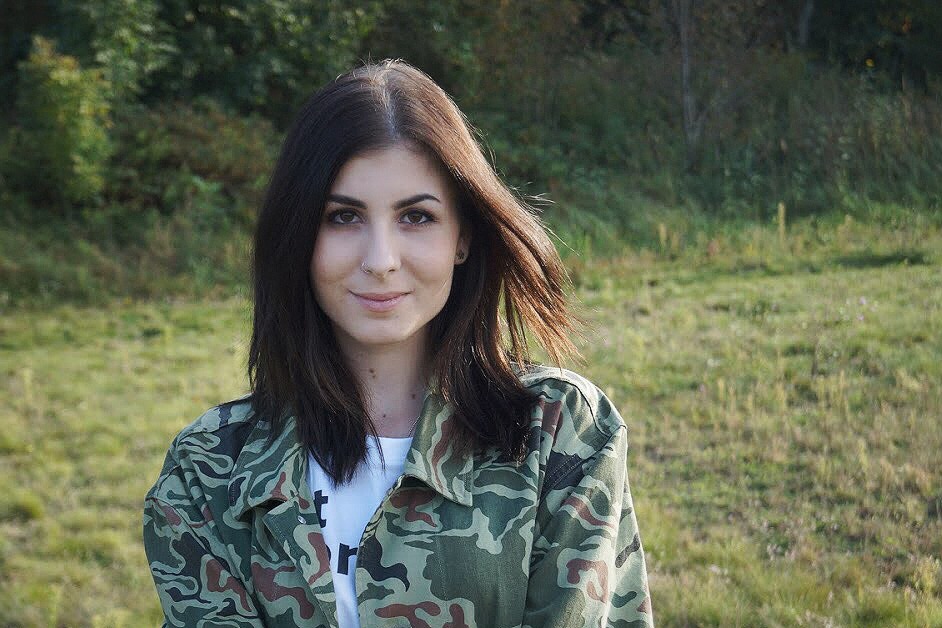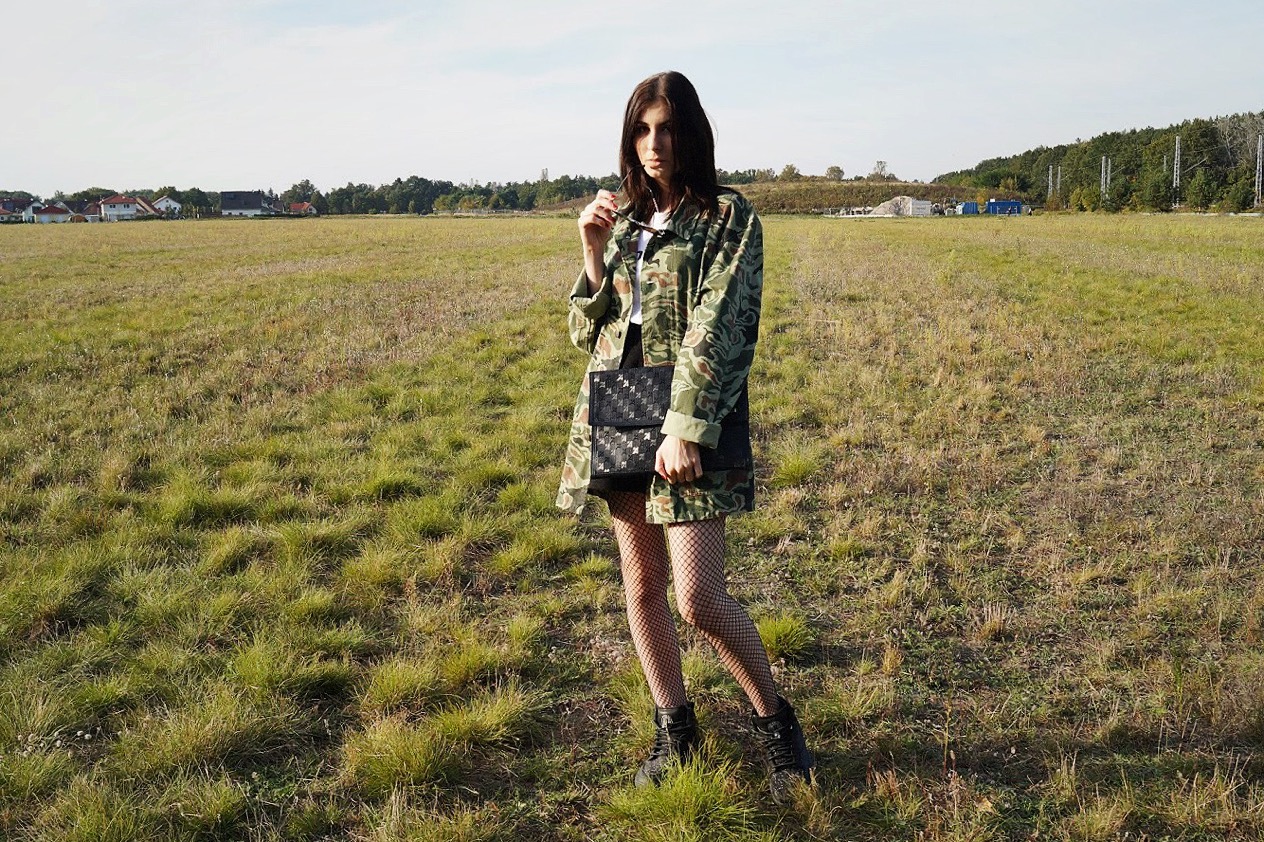 As I said it already above everything is related to the theme feeling of freedom, so let´s  come to my freedom fall outfit. I decided to wear a camo coat by Supreme which isn´t really a coat. It´s originally a thicker shirt which was a part of my boyfriends birthday present some years ago. Well I borrow it sometimes and use this thick shirt as a thin coat. My vintage sunglasses are from an eBay auction from last summer. I really like the pattern on the nose part. You can find sunglasses like this in secondhand stores or like I did it on eBay. The notsponsored statement shirt is from Yeay (pr sample) and point out the fact that so many posts on Instagram, Youtube or blogs are sponsored.
I made a video to this blog post which is also for the Yeay app where you can buy these shirts. If you buy one of these shirt through mine or another ones video you can make also a video and everytime someone buys a shirt through it you get 10 euros. This is not a sponsored post! I tell you all these details because I just want that everyone gets the background story. If I don´t say this I´ll maybe get post from the revenue office with a written warning because they think I break the rules. Okay, this doesn´t belong to a positive post about freedom because it´s the totale opposite. I´ll talk about this big thing another time. Back to the things I wanted really to talk about. This campaign is in my opinion really similar to the one form edited I presented some weeks ago. It´s a win win situation for brands and costumers.  I also thought about making more often videos like this one. I think some beind the sceen videos of my fall outfits would be interesting for y´all because you see the whole fall outfit better.
My black high waisted skirt is from H&M, I bought it some years ago in Switzerland but I still see some similar skirts when I go to H&M. I pimped the whole look a bit up with some fishnet tights, I bought them somewhere online. I don´t know the brand anymore but you´ll find at Primark for example the same tights. My sneakers are some Nikes in a collboration with Pigalle. In my opinion are these shoes art. The cut-out on the back is super fancy and the leather laces are also an eye catcher. They´re very comfy what makes them even more attrative for me. Last but not least my big navy clutch. It was a present and is from Assima. I really like the size, there is a lot space and it looks still elegant.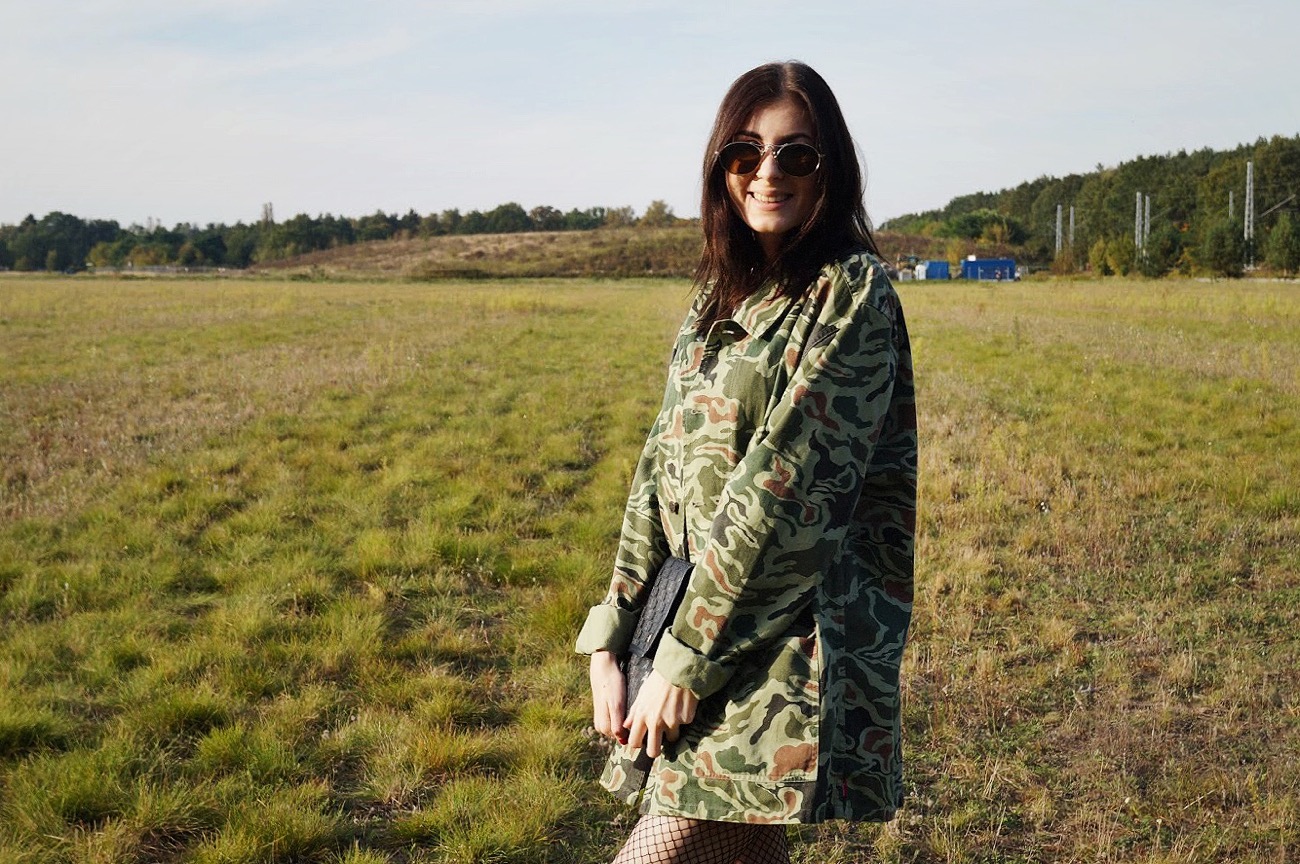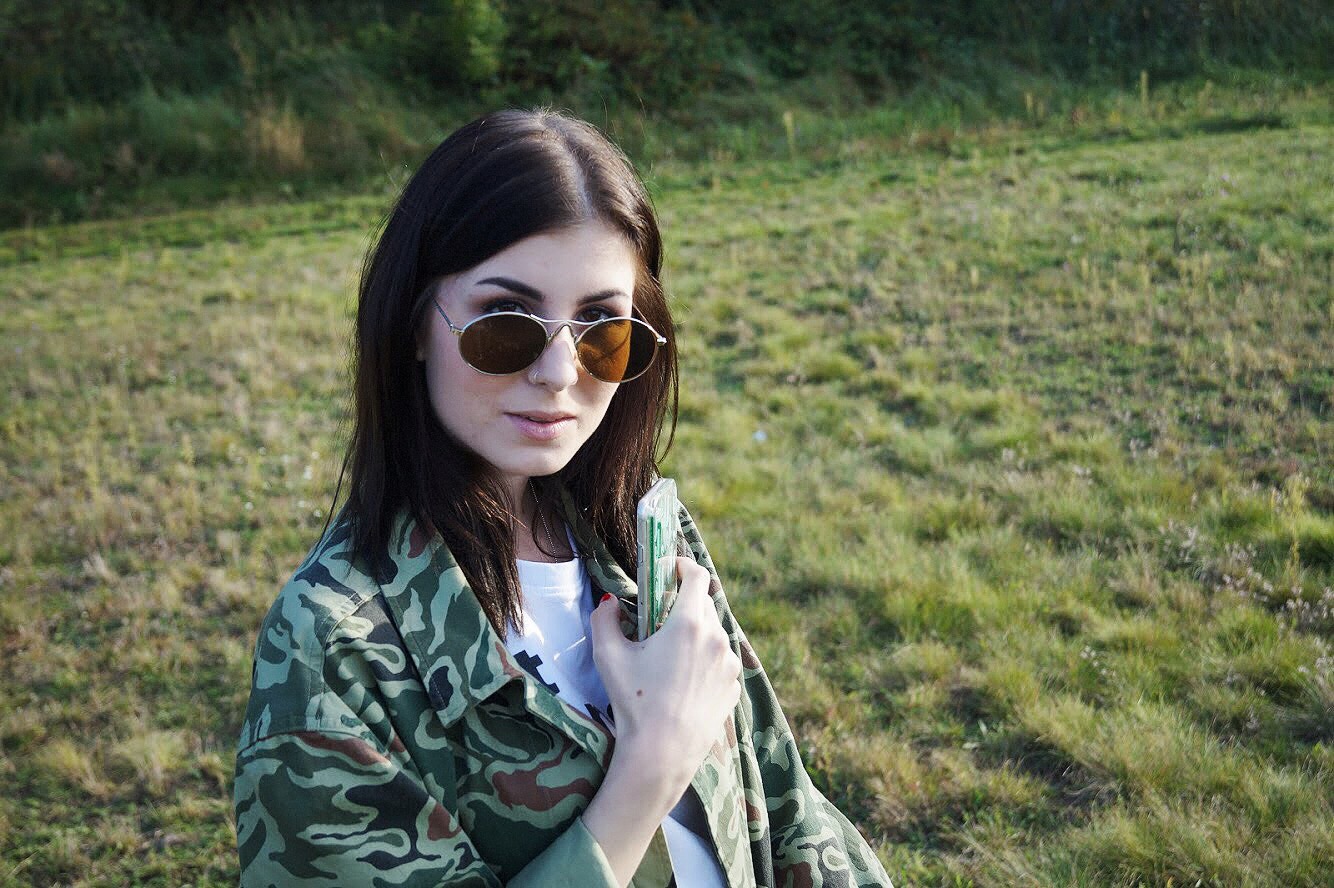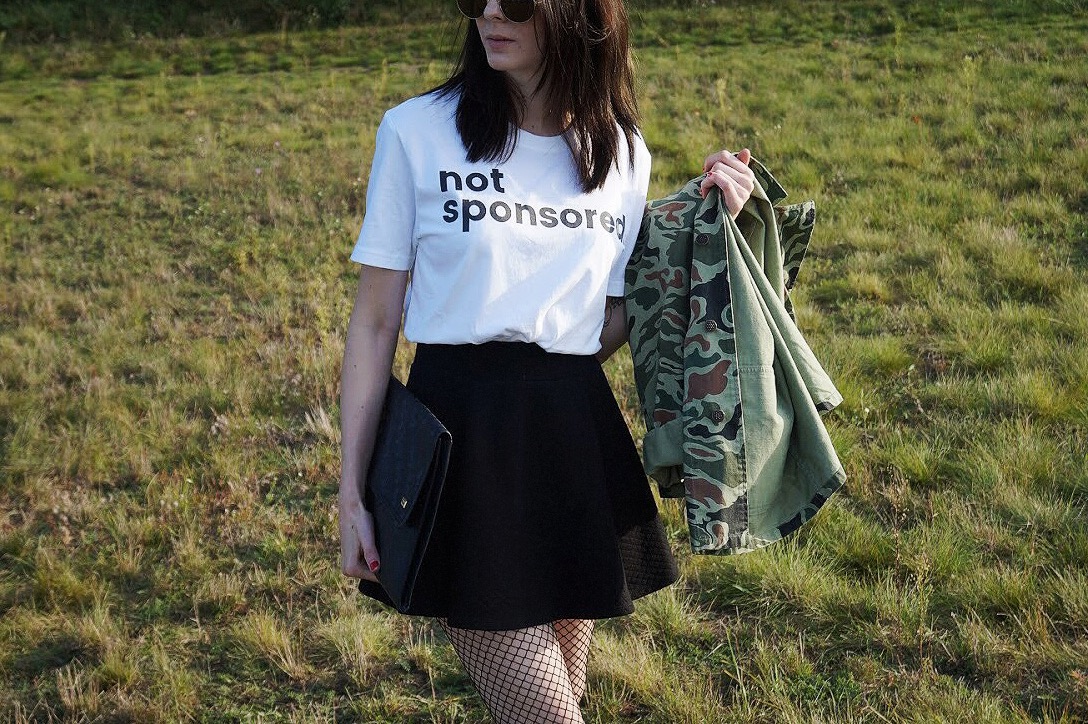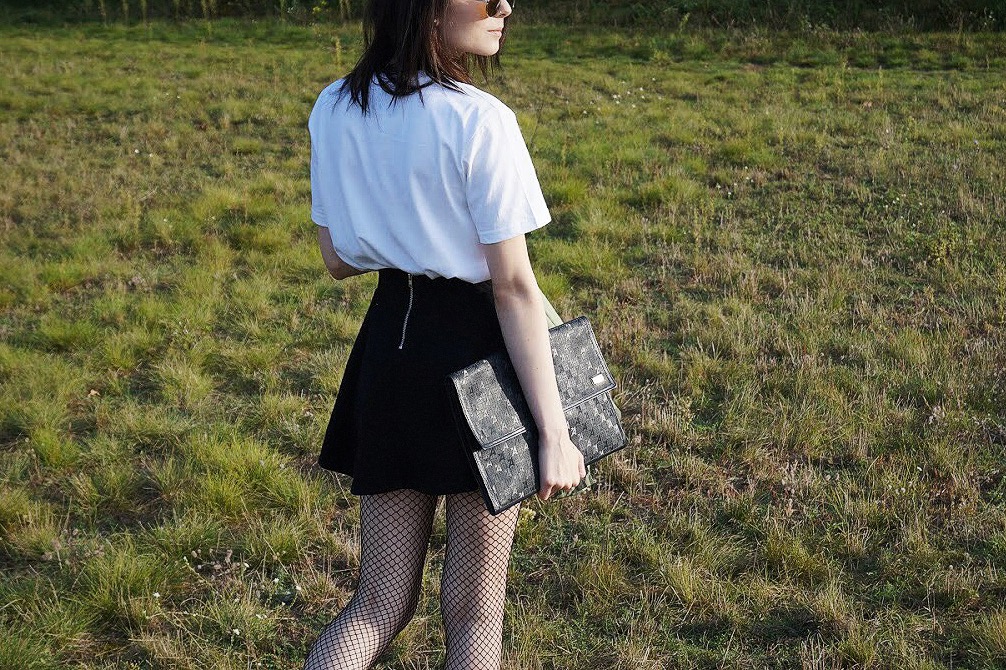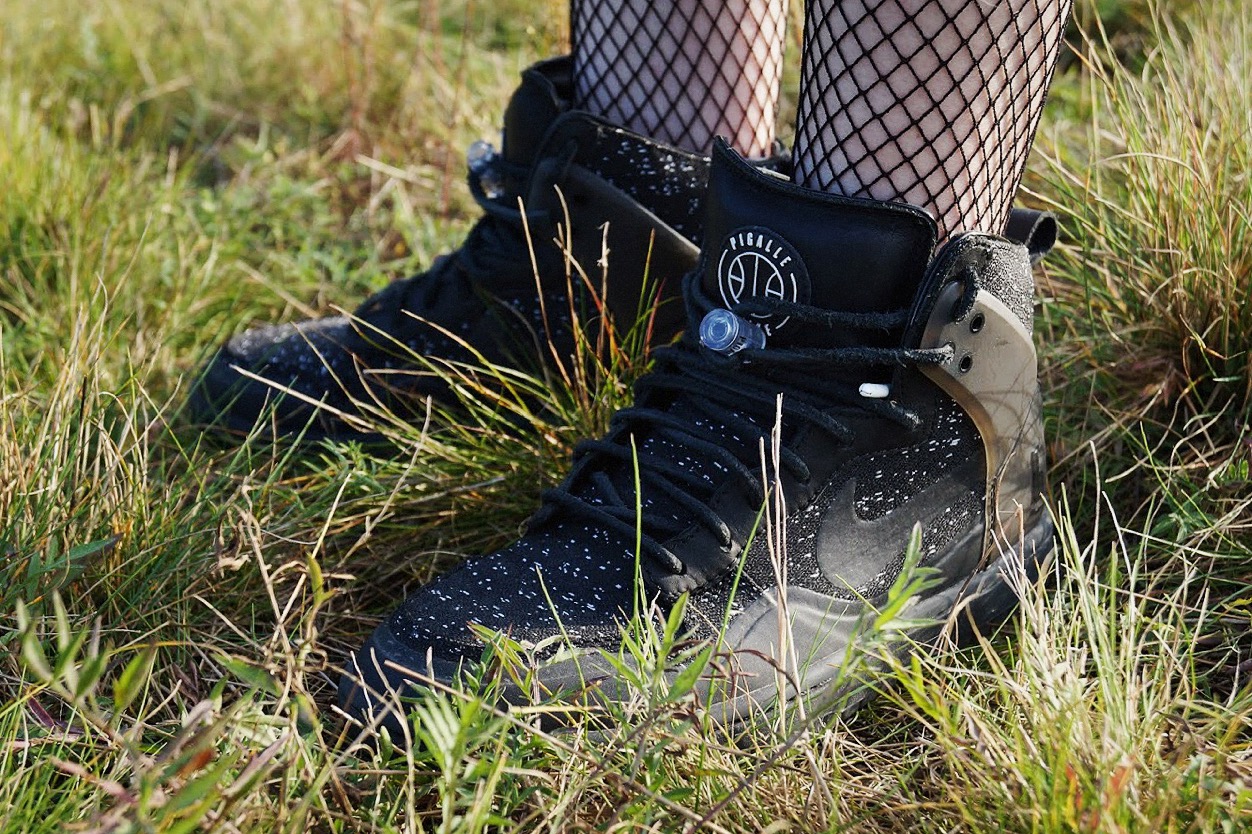 Photos: Tristan Luckow
A big thanks goes to Yeay who provided the statement shirt.