Advertisement | Everyone who knows me and has followed my style for a while knows for sure that there is rarely a Sarah without sneakers on her feet. Even where others go with chic shoes or even high heels you will find me with some fancy kicks. In addition, sneakers do not always have to be only "comfortable and sporty" there are a lot pretty models that you can wear well on events which are a bit more elegant. For example in the club or at parties.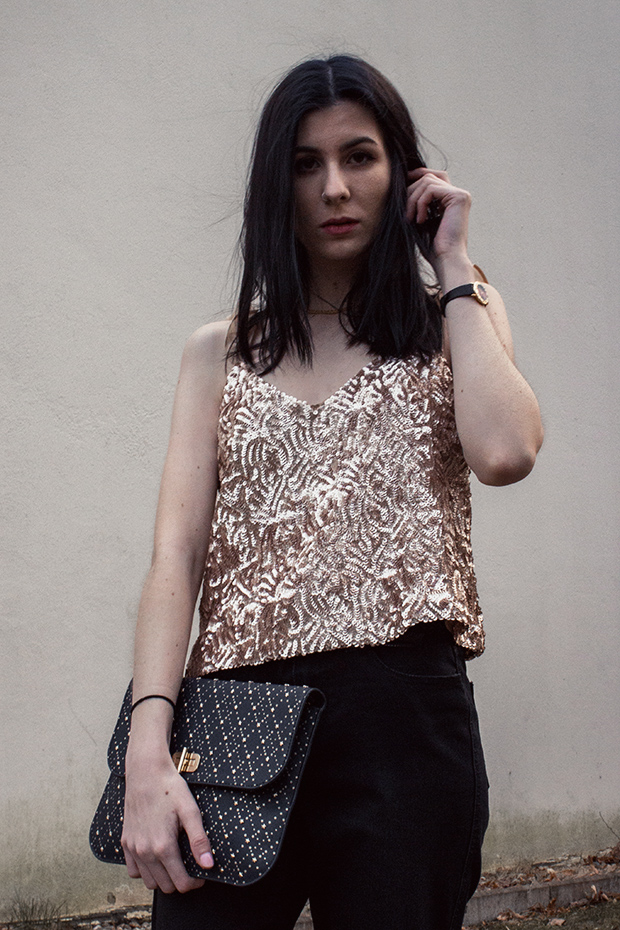 It's really funny how my attitude towards clubbing has changed in the last years, especially since I moved from Switzerland to Germany. In Switzerland I went with my friends to a club or a party twice a weekend and here in Berlin, where the night scene is actually better, you rarely see me dancing. Maybe because of the fact that my boyfriend can not stand clubbing and I, now that the long-distance relationship is over, take also consideration of him and make more often something else then going to clubs. However, I could not live without going out at all, with the big everyday stress this is the point in my life where I can forget everything around me. What I totally miss by the way are home parties, at my age no one is doing them any more. I mean, I can understand well why no one whats to make a home party but I still have to say that I really miss them.
Of course, like any other girl, I'm starting to think in advance about what I'll wear to an upcoming party. I must confess that I usually do not do this in my dressing room but in the train – on my way home. Unfortunately, my head is not in such a good condition, as I could put outfits together in my thoughts. That's where the Otto Style Creator comes into play. There I can effortlessly put my outfits on the train, on my cell phone or sometimes on my tablet, together and see what fits is looking good. If one of my clothes does not appear in the online catalog, I just take something similar. And if I find something that fits perfectly with the outfit but can not be found in my dressing room, I can easily have it delivered to my doorstep.
Incidentally, I also created this outfit, which I wear on the photos, with the Style Creator and you can easily shop it directly at Otto.
The best is when I write, as always, a few words to my outfit selection. In the club or generally at parties, I like to wear something more special, usually in the form of a cool top. Also with this look, I chose an eye-catcher top from Mango. In addition to the radiant sequins in rose gold I especially like the ruffle straps. To "devalue" the whole thing, I opted for black jeans with cool fringes from Noisy May. The dark bag from Tomy Hilfiger is also perfect for a party evening and especially for this outfit with its sweet golden accents. This bag also has a strap, but since it's a bit too long for me I prefer to use it as a clutch. I also chose my jewelry in relation to the bag. First there's my Gucci watch, which I wear almost every day and second there are some statement earrings in gold like the cute necklace. The necklace is actually a long one but I took it twice around my neck. I'm more into it when it's closer to the neck as when it's long. For the shoes I have chosen some classic low old skool Vans. Vans have been one of my favorite shoes for years. They are not only super comfortable but look great with (almost) every outfit.
How is it with you? Are you more into team sneakers or team high heels for clubbing?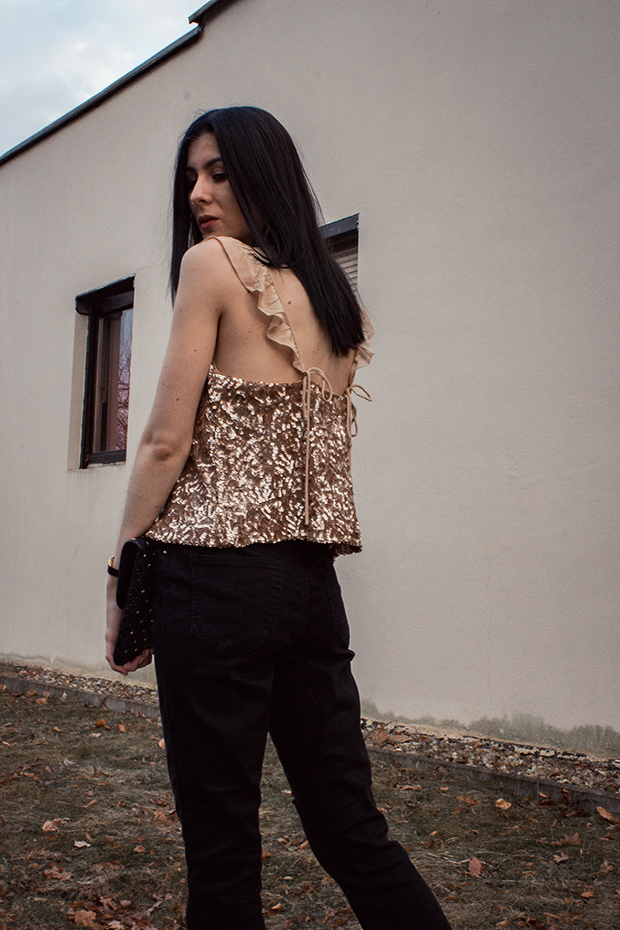 Photos: Tristan Luckow
OTTO Style Challenge Contest
Last but not least: Among all participants of the Otto Style Challenge will be a weekend in Hamburg including a styling with YouTuberin Eylem refashion by OTTO or one of four OTTO vouchers worth at least 100 € raffled!
Incidentally, here you can see my collages to the theme "party outfit with sneakers". If you have participated in the Style Challenge, please write me the link to your collage in the comments, so I can get some inspiration from you. To get to the Style Creator, you can simply click on the image directly below this text.
This blog post is written in a friendly cooperation with Otto.