[:de]Nach dem ich euch alle meine Berlin Fashion Week Outfits (eins, zwei, drei, vier) vorgestellt habe, komme ich nun zur Reviews der MBFW für die Spring/Summer 2019 Shows und Events. Seit ich zur Berlin Fashion Week gehe, war dies wohl die stressigste Saison für mich aber irgendwie auch die schönste.
Wie versprochen habe ich dieses mal auch den VLOG hingekriegt. Ich habe wieder zu wenig gefilmt aber man ist ja irgendwie auch noch mit anderen Sachen beschäftigt, da denkt man nicht immer daran alles aufzunehmen. Auch ist die Qualität nicht die beste, eine GoPro ist aber grade auf dem Weg zu mir also werden die nächsten Videos 100% besser! Trotzdem hoffe ich, dass euch der kleine Einblick in meine Woche an der Berlin Fashion Week gefällt.
Tag eins: Fashion Hall
Wie jedes mal begann auch diese Fashion Week für mich und meinen Freund mit der Fashion Hall. Wie vor genau einem Jahr fand die Veranstaltung im Erika Hess Eisstadion statt und ebenfalls wie vor genau einem Jahr waren manche Designer, meiner Meinung nach, cooler und andere eher weniger.
Die Kreationen von Aspara zum Beispiel gefielen mir sehr gut, die orientalischen Designs erinnerten mich direkt an meinen Marokko Trip den ich leider absagen musste. Jedenfalls war dies der Einstieg in die Modewoche, Tags über ging ich ins Büro und am Abend eben zur Fashion Hall. Entspannnnt.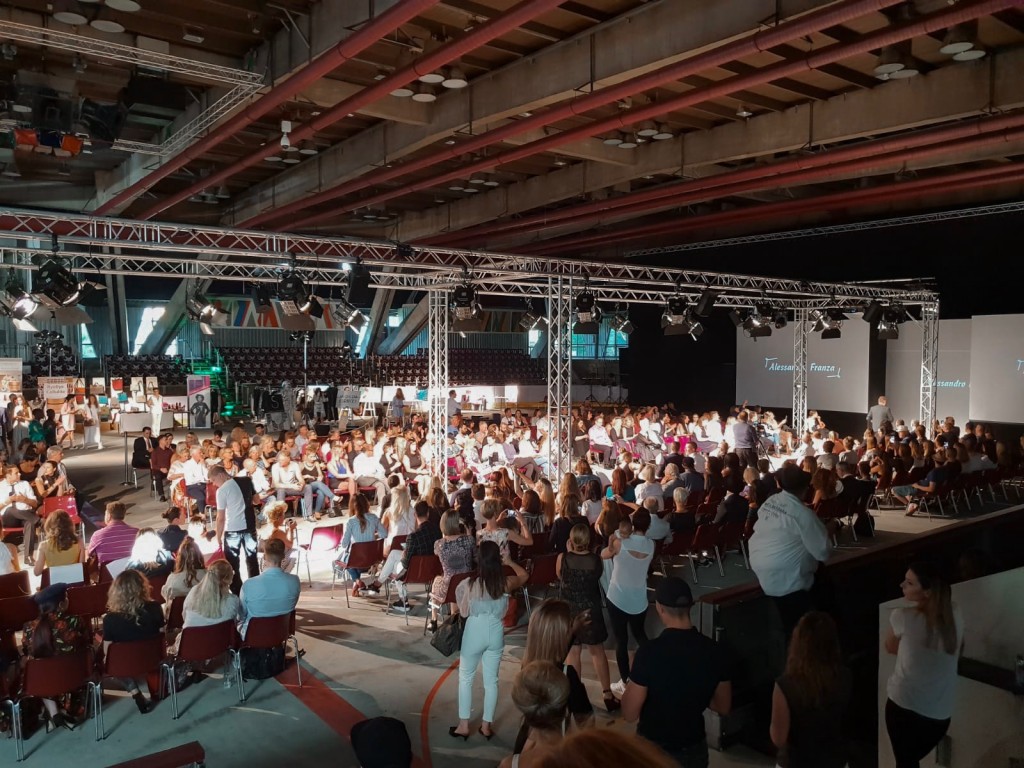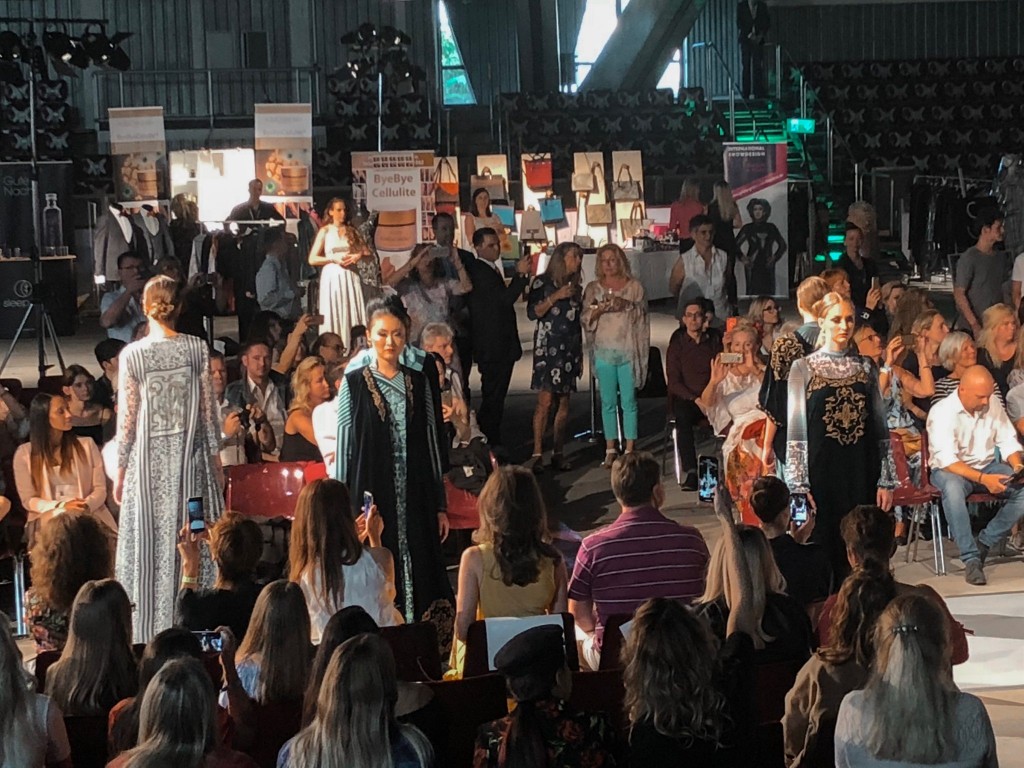 Tag zwei: Etsy Christmas Event, Fashion Blogger Café, Ipanema Fashion Night und Irene Luft Show
Etsy Christmas Event
Der zweite Tag war eindeutig mein anstrengendster. Ich traf mich eine Stunde später als geplant mit der lieben Selina beim Hackeschenmartk. Wie nicht anders zu erwarten hatte ich drei Bahnen verpasst und dann hatte die, die ich dann nahm auch noch starke Verspätung. Jedenfalls ging es für uns zu erst zum Etsy Christmas Event. Dort wurden Geschenkideen für Weihnachten präsentiert. Es war alles wirklich wundervoll eingerichtet und die Stimmung unter den Leuten war angenehm. Schade fand ich ein bisschen, dass das Thema Weihnachten nicht mehr thematisiert wurde als das ein Tisch mit "Geschenken" da stand und etwas Weihnachtsdekoration. Ich hätte das Thema komplett durchgezogen und finde die Idee auch richtig cool, also Weihnachts-Event im Sommer. Kekse, Tannenbaum und Weihnachtslieder hätten die Veranstaltung perfekt gemacht.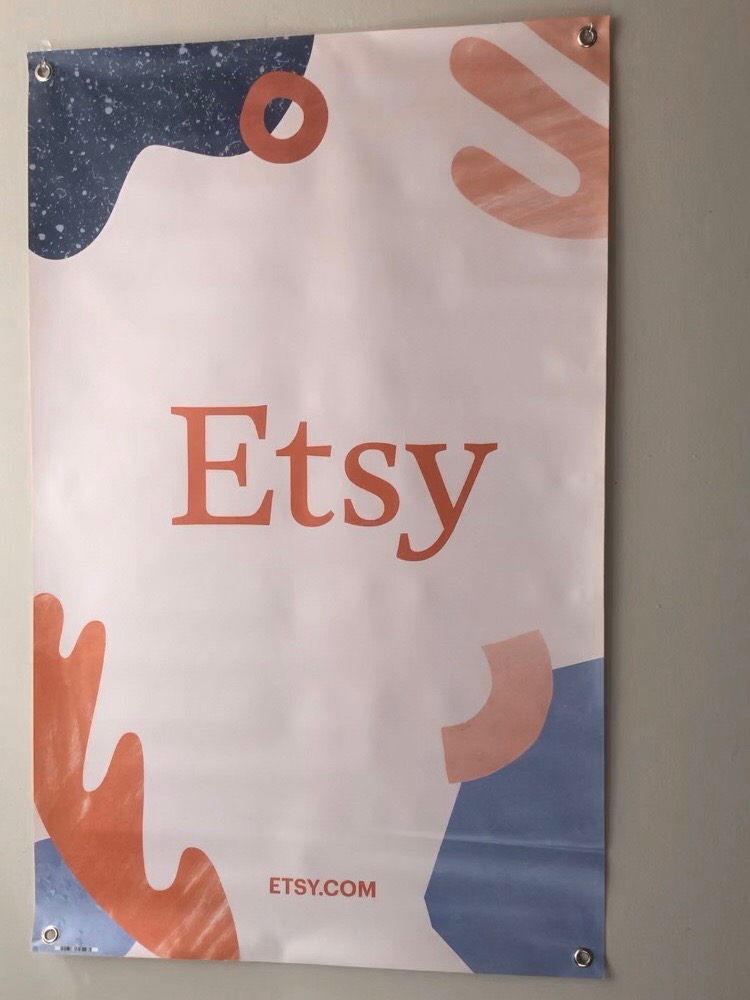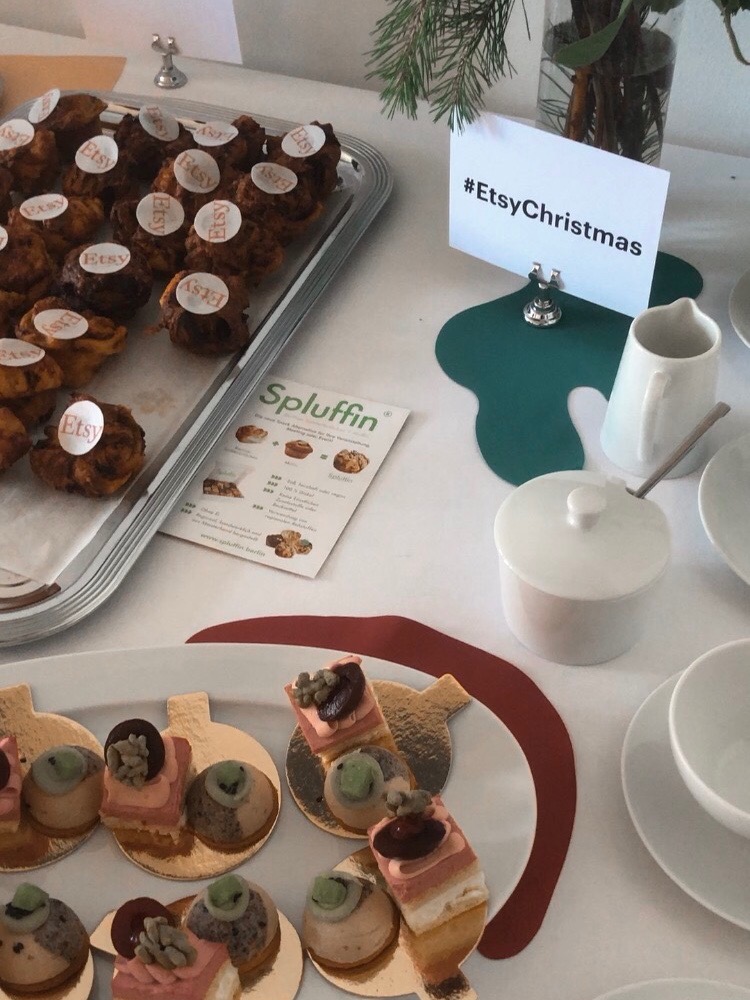 Fashion Blogger Café: Ultra Violett
Nach dem Etsy Event ging es mit Selina weiter zum Fashion Blogger Café, welches in dieser Saison unter dem Motto Ultra Violett stand. Ziemlich cooles Motto, schliesslich ist es laut allen Modezeitschriften die Trendfarbe des Jahres. Meine persönliche Trendfarbe ist orange, hehe. Ich hatte schon in meiner Review vom Januar geschrieben, dass mir das Event ein bisschen mehr Spass gemacht hatte als die Male davor. Dieses Mal war es noch besser, lag eventuell einfach daran, dass ich eine Begleitung hatte. Aber wenn ich das Event einzeln betrachte, hätte ich wohl auch alleine mehr Spass gehabt, da man sehr viel machen konnte. Selina und ich waren über zwei Stunden vor Ort und haben fast alles ausprobiert, was es zum ausprobieren gab. Zuerst holten wir uns von den Sponsoren die für die Getränk zuständig waren einen Drink; Selina ein Lillet und ich ein Wasser. Dann ging es zum Fotoautomaten, der ein Spiegel war. Mega cool, ich wünschte ich hätte sowas zu Hause. Der Stand war zum neuen Parfüm von Helene Fischer. Man konnte das Parfüm natürlich direkt testen. Es roch ganz okay aber eher Standard blumig und nicht herausragend. Jedenfalls hat das Foto knipsen viel spass gemacht. Die nächste Station war der Stand von Bruno Banani. Dort konnte man eine Unterhose designen am Modell (ein hübsches Mädel in Unterwäsche und zwei Jungs bzw Männer oben ohne). Die Unterhosen waren nur für Männer also machte ich meinem lieben Freund natürlich auch eine. Bei Dress Up wurde uns das coole Konzept erklärt und man konnte sich direkt ein Kopftuch binden – scheint wohl grade im Trend zu sein, vor nicht all zu langer Zeit konnte man das auch bei einem anderen Event machen. Ein Schminkstand gab es natürlich auch aber den nutzen wir nicht. Man konnte sich zeichnen lassen aber auch dies machten wir nicht, wir malten lieber selber – am Stand von ArtNight. Mein "Kunstwerk" kam total anders raus als geplant und ich bin mir jetzt zu 1000% sicher das ich nie Künstlerin werde. Aber ihr könnt es ja selbst beurteilen, unten habe ich euch das Bild mit rein gemacht. Da sich das Event nach dem Malen langsam zu Ende neigte wollten wir noch ein Armband personalisieren lassen. Wir standen an und dann haben die einfach andere Aussteller vorgelassen. Eigentlich war es ja einfach eine Messe, die Firmen sind die Aussteller und der Rest war Besucher. Ich will hier eigentlich nicht lästern (deshalb nenne ich auch den Namen der Firma nicht) aber irgendwie muss man ja auch die negativen Dinge erwähnen. Wir standen da echt schon lange und wenn ich sage lange dann meine ich lange. Ich will auch nicht bevorzugt werden aber die wollen ja irgendwie etwas von uns Besuchern, wenn man zu so einem Event geht. Jemanden dann zu benachteiligen ist nicht gerade schlau. Jetzt habe ich einen schlechten Eindruck von der Marke und kann mir auch in Zukunft wegen diesem Verhalten keine Kooperation vorstellen. Im Endeffekt sind wir dann einfach gegangen aber ich denke egal wo man ist, wenn man ansteht und dann kommen irgendwelche die dort arbeiten und drengeln sich vor, dass ist nicht okay. Die wollen doch einen guten Eindruck hinterlassen aber so irgendwie ja nicht. Hat was mit anstand zu tun. Aber eben bis auf das, was ja auch ganz am Schluss war, hatten wir eine tolle Zeit.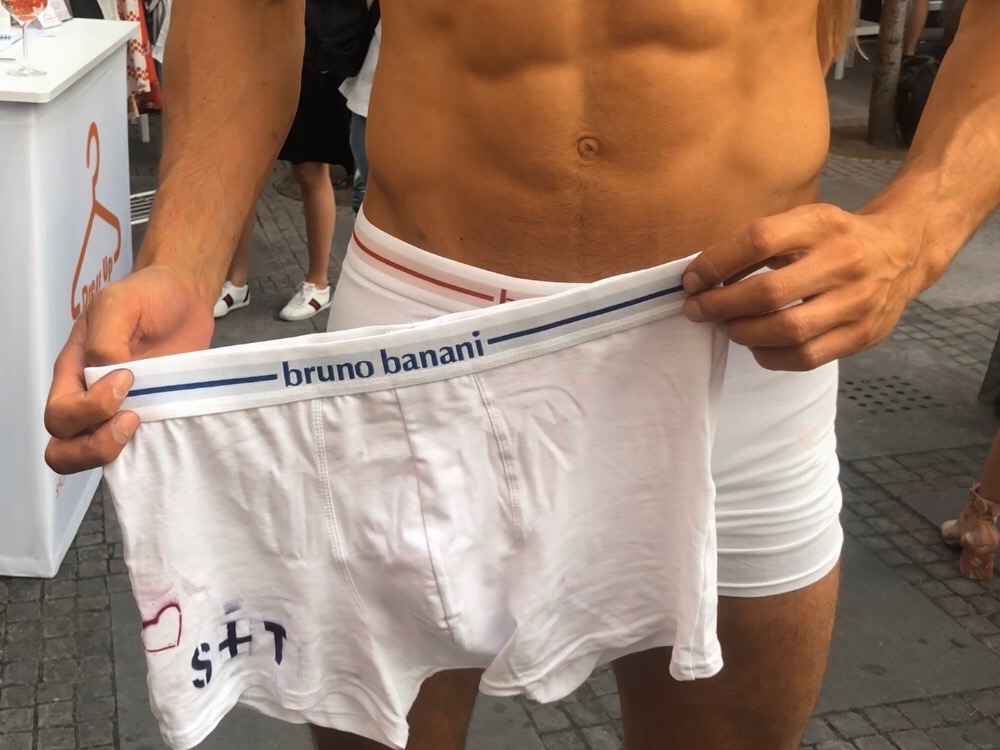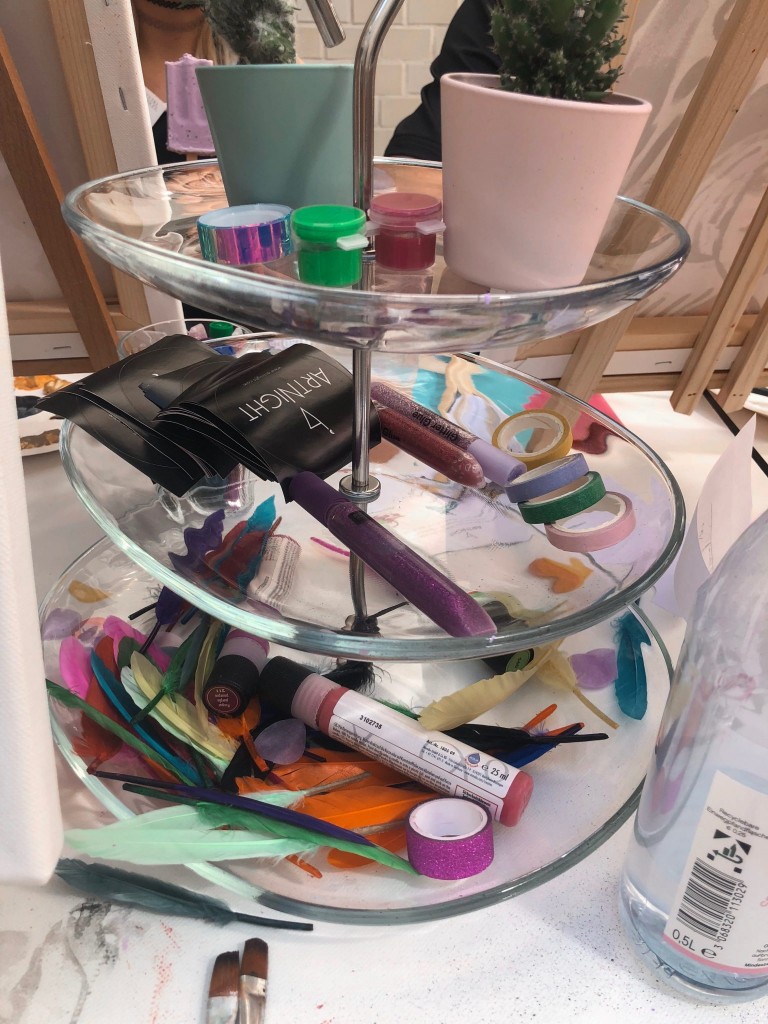 Ipanema Fashion Night
Bei der Ipanema Fashion Night waren wir leider nicht all zu lange. Diese fand im Hotel Amano beim Hauptbahnhof statt. Es war nicht die Dachterasse aber sehr weit oben inkl. Terasse, so dass man bei leckeren Drinks und guter Stimmung ausgelassen chillen konnte. Es gab auch ein Buffet an dem wir uns stärkten. Unter anderem wurde Lachs in einem Bananenblatt angeboten, das war soooo lecker!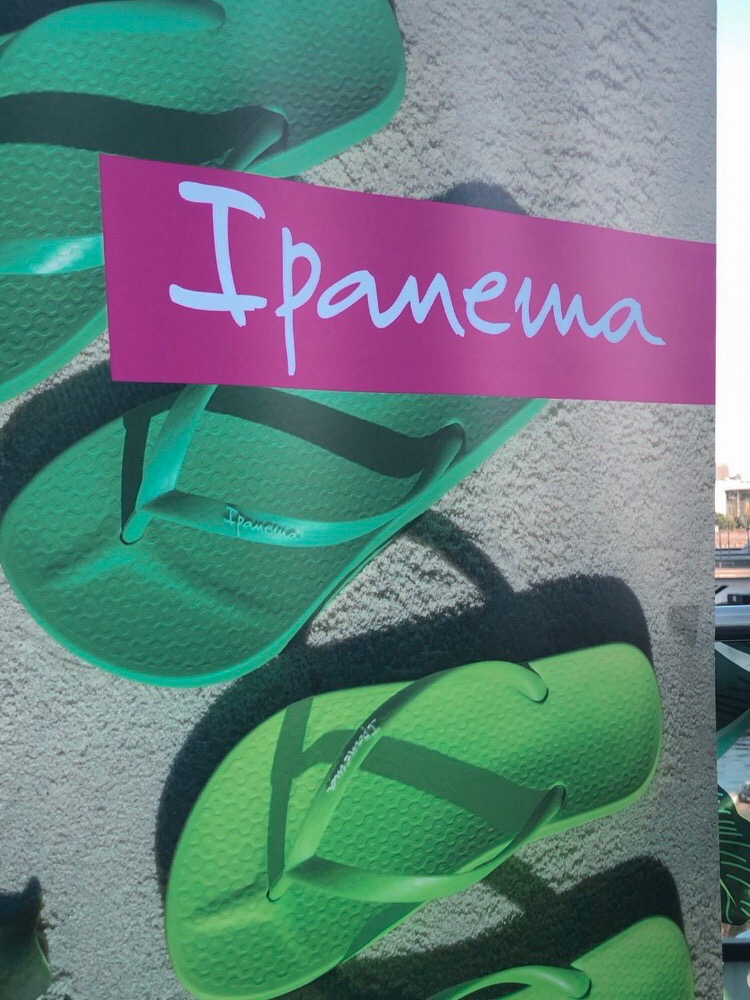 Irene Luft Show
Wie auch im letzten Jahr habe ich mich erst wieder verlaufen auf dem Weg zum E-Werk. Wir kamen von einer anderen Seite und da ich mich nicht auskannte folgte ich einfach dem was Google Maps mir sagte. Leider wurde ich wieder zum falschen Eingang geführt, da wir puffer Zeit eingeplant hatten war dies jedoch nicht all zu schlimm und wir kamen noch rechtzeitig zur Show. Wir hatten Stehplätze aber da einige nicht kamen hätten wir wohl auch welche zum Sitzen bekommen, dass haben wir aber erst begriffen, als alles schon vergeben war. Naja, da kann man nichts machen für die nächsten Shows weiss ich jetzt dafür Bescheid, wie das abläuft, wenn man keinen Sitzplatz hat. Die Show fand ich super, schon letzte Saison war ich mit einer Show von Irene Luft und war begeistert von den Designs. Es wurde auch dieses Mal auf eine Mischung zwischen Schick und Rockig gesetzt. Besonders beim Make-Up und der Schuhwahl stach das Rockige hervor. Kombiniert war dies meistens mit hübschen Kleidern. Es gab sehr viele Transparente Stücke die vorgeführt wurden. Am besten gefiel mir als ein Hoodie in Kombination mit einem Tüll-Rock präsentiert wurden.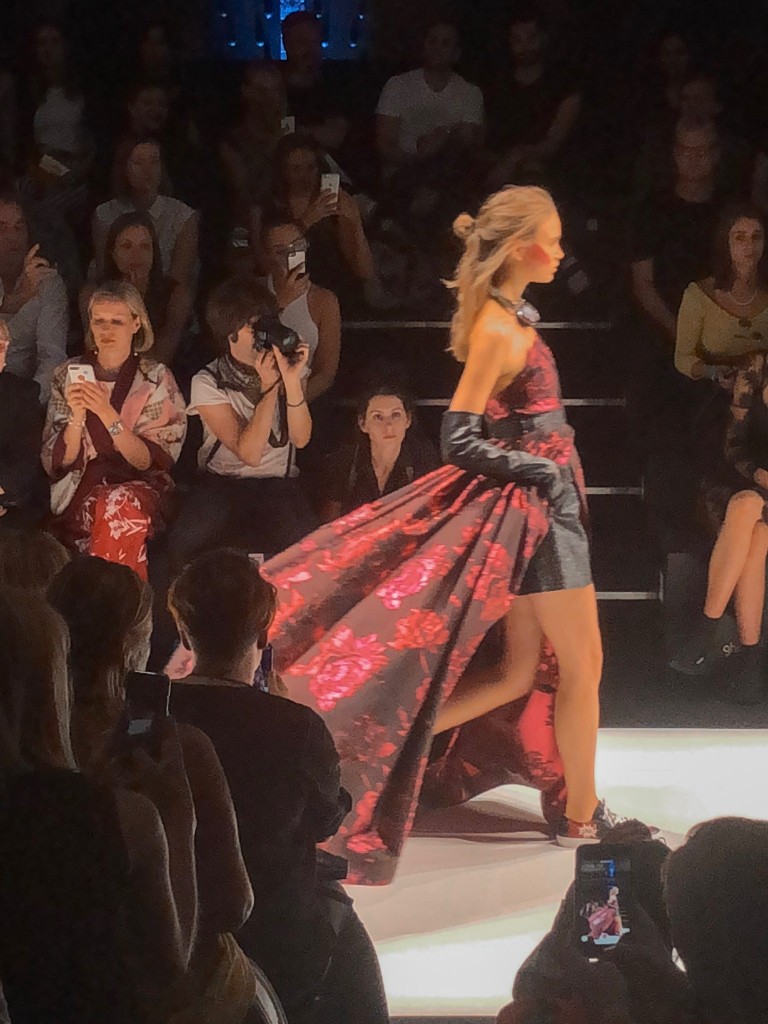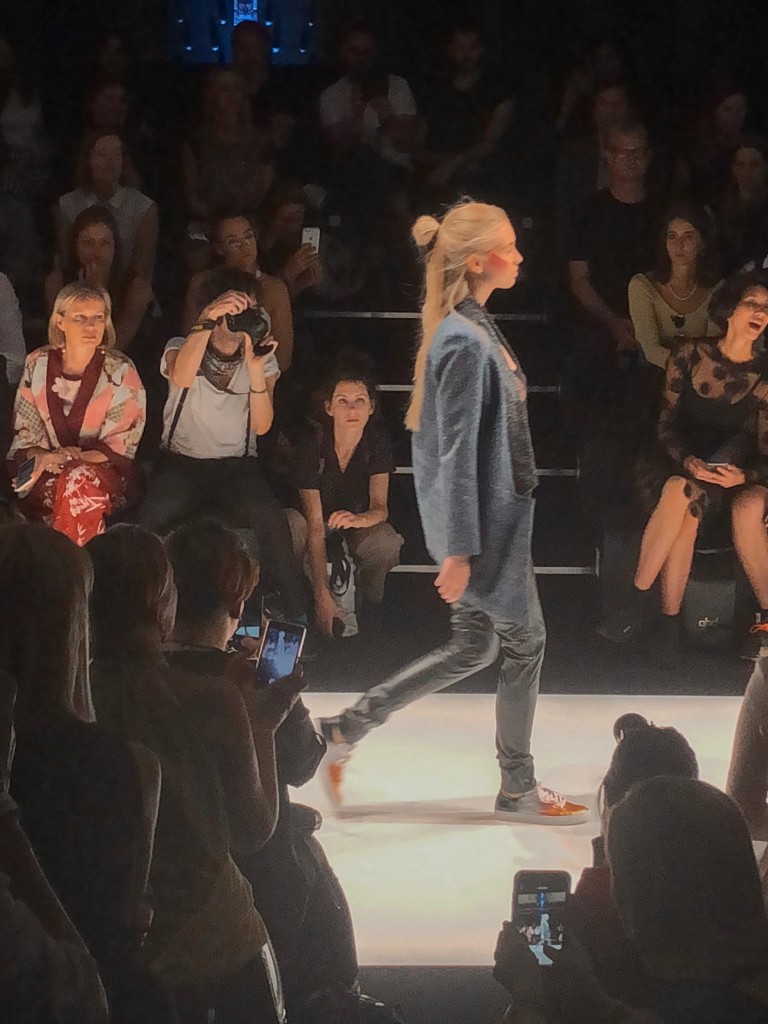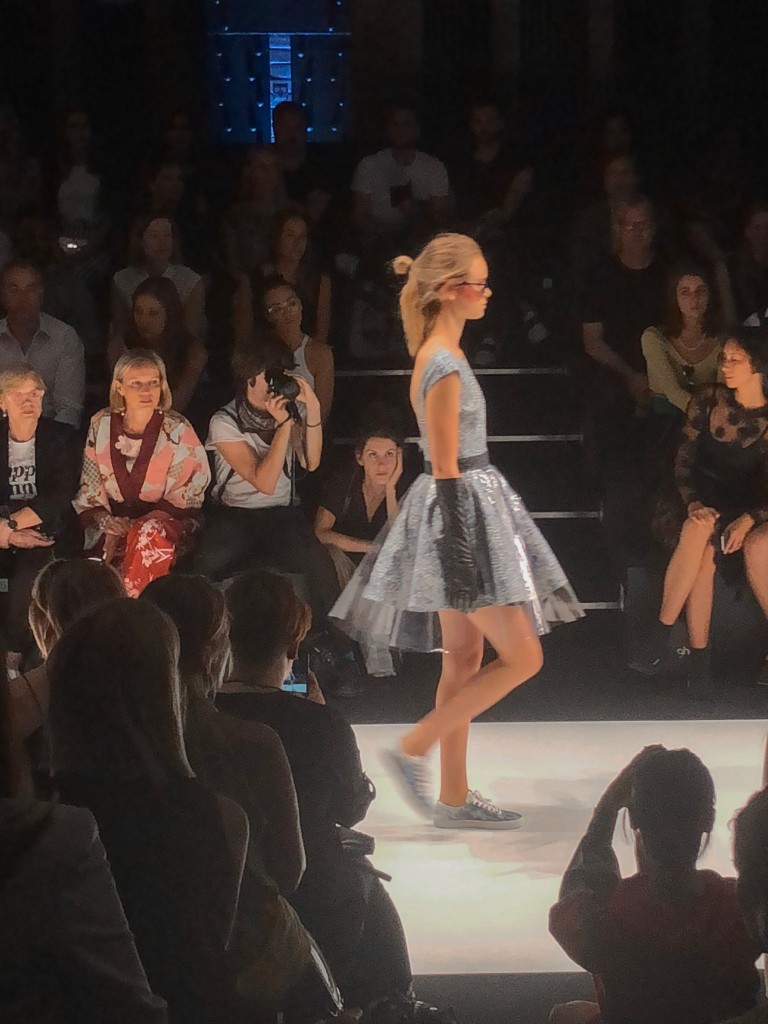 Tag drei: Seek & Bright, Maison Common Show und HashMAG Blogger Lounge
Seek & Bright
Im Gegensatz zu den letzten Malen schien es mir, als wären die Messen geschrumpft, vor allem die Bright war irgendwie bloss die Hälfte der Halle. Jedenfalls konnte ich auch dieses Mal einige Dinge entdecken, die mir gefielen. Umgehauen hat mich jedoch nichts. Eventuell war ich auch einfach etwas müde und die Hitze, die in den Hallen herrschte war auch nicht gerade ein Stimmungsaufheiterer. Irgendwie hätte ich mir die Messe in diesem Jahr schenken können, ausschlafen wäre definitiv eine bessere Option gewesen.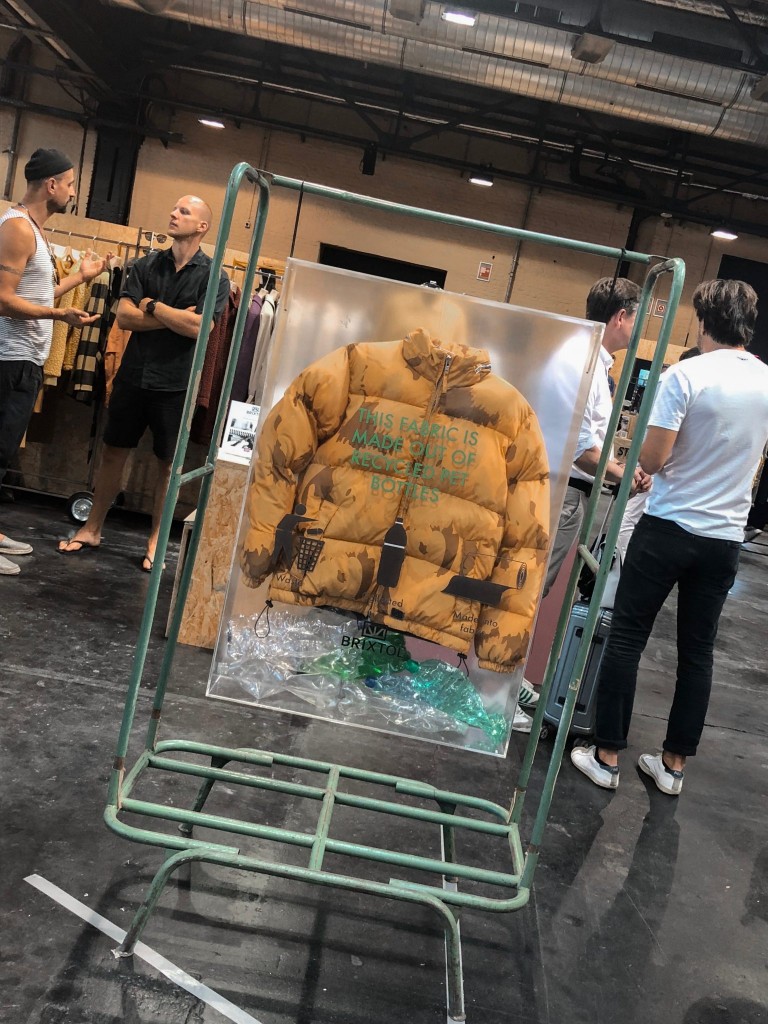 Maison Common Show
Beim zweiten Anlauf verliefen wir uns nicht mehr und kamen zur perfekten Zeit beim E-Werk an, genau als der Einlass zur Maison Common Show begann. Wir hatten tolle Plätze in der dritten Reihe und konnten die Show von da aus super verfolgen. Wie auch bei der Show von Irene Luft sah man hier viel transparentes. Ansonsten waren Streifen ein grosses Thema! Die Kollektion war sehr, sehr sommerlich und erinnern einem direkt an Urlaub. Mir hat auch diese Kollektion sehr gefallen!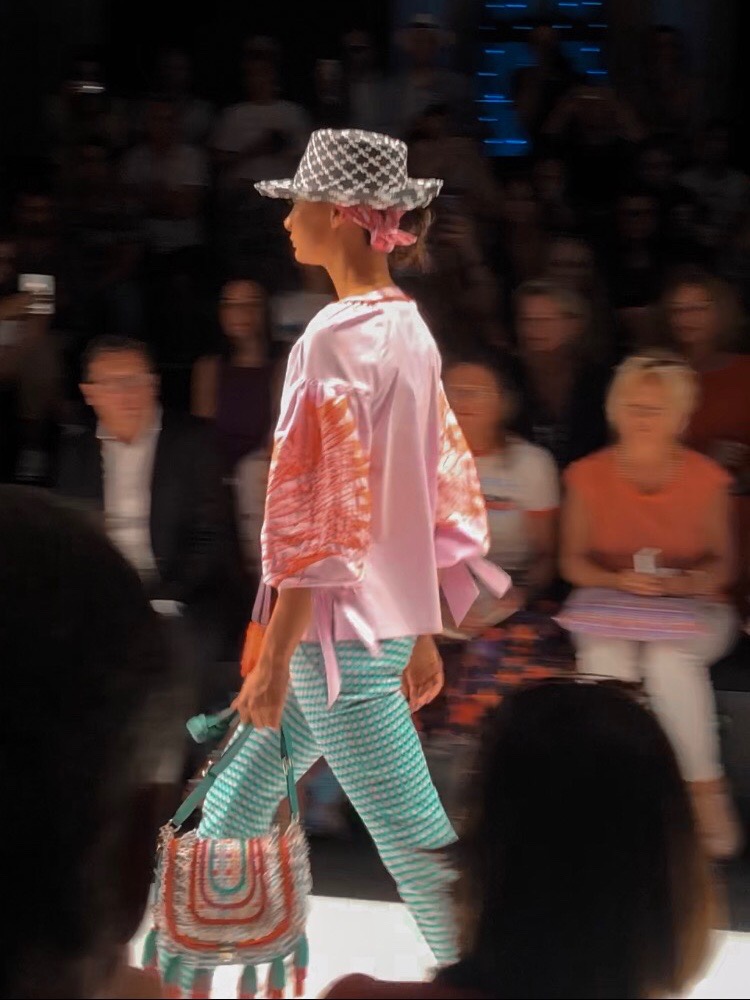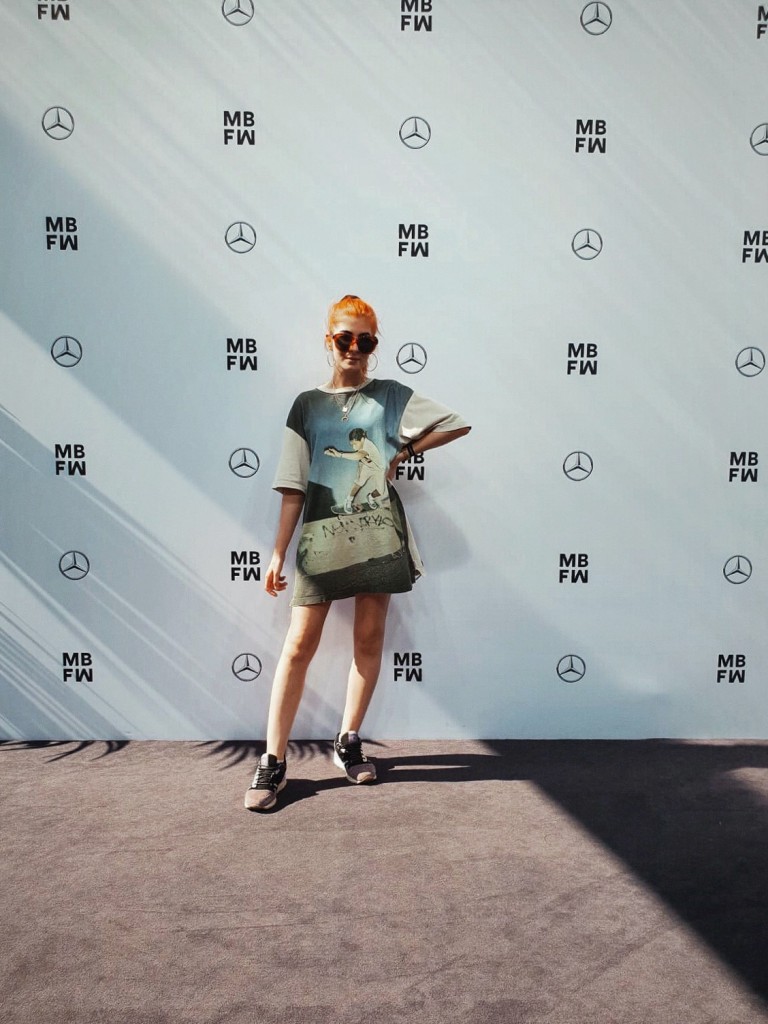 HashMAG Blogger Lounge
Wie auch bei der Seek & Bright, war dieses Event etwas ernüchternd. Ich weiss nicht, ob es mir nur so vorgekommen ist aber alles waren ziemlich schlecht gelaunt. In den letzten Saisons herrschte ein lockerere Stimmung. Ich habe das Gefühl, dass nun auch hier dieses Einteilen in grosse und kleine Blogger angekommen ist, was ich persönlich ja ziemlich schade finde. Ausserdem waren viele Brands da, die schon bei den letzten Malen anwesend waren z.B. Sebamed oder Lidl. Ich finde es etwas schade, dass die hälfte der Aussteller schon bekannt sind. Ich habe mit diesen schon geredet über die Marke und Co. also habe ich um die direkt einen Bogen gemacht, somit war ich ziemlich schnell durch. Auch bei Bijou Brigitte wird es langsam langweilig, zum dritten mal in folge konnte man nun irgend einen Schmuck basteln ich finde das ist etwas unkreativ. Ich habe auch einige Blogger an den Shows darüber reden gehört, dass sie mittlerweile die ganzen Goodie Bags nerven. Es wäre nur noch Müll drin und vielleicht etwas, dass man wirklich gebrauchen kann. Irgendwie haben die da nicht mal so unrecht. Ich habe auch einen ganzen Müllbeutel mit Papier und unnötigen Verpackungen gefüllt. Das war echt viel Arbeit und die Handcremes häufen sich bei mir mittlerweile auch wieder an. Ich bin mittlerweile dabei vieles zu verschenken. Meine Freundinnen freuen sich immer über Dinge, die ich nicht gebrauchen kann. Es ist einfach so dass da auch Sachen drin sind, die ich nicht vertrage oder schlicht und einfach nicht gebrauchen kann. Ja jedenfalls mag ich die HashMAG Blogger Lounge eigentlich sehr und hoffe, dass sie wieder etwas mehr zu ihren Wurzeln findet. Weniger glämmer mehr coole neue Marken und lustiges beisammen sein.
Tag vier: HashMAG Blogger Lounge und I' VR Isabel Vollrath Show
HashMAG Blogger Lounge
Ich habe euch ja eigentlich schon alles erzählt dazu aber ich war an Tag vier tatsächlich nochmals kurz vor Ort und weil ich es schon erwähnt hatte in meinem letzten Outfit Posting, wollte ich euch doch noch diese kleine Geschichte erzählen. Den ganzen Tag war ich arbeiten und hatte mit dem Tätowierer vor Ort (ja man konnte sich Tattoos stechen lassen) am Tag zuvor vereinbart, dass ich um 18:00 Uhr vorbei schauen würde, wenn ich weiss was ich als Motiv möchte. Ich war dann sogar etwas früher da und wartete und wartete. Er meinte dann zu mir das es doch schlecht aussehen würde, da hat die die als nächste dran war gesagt, dass sie gerne ihren Platz an mich übergeben möchte. Der Tätowierer meinte zu ihr okay und sagte mir im nächsten Zug, dass es doch nicht gehen würde. Keine Ahnung wieso nicht. War wohl wichtiger, dass erst noch ein paar andere tätowiert wurden die mehr Follower hatten (reine Spekulation). Ich muss sagen, dass mich das echt pissig gemacht hat. Nicht nur auf ihn sondern auf diese ganze Scheinwelt. Aber so ist es nun mal ich bin kein grosser Fisch ich bin ein Baby Fisch im Teich und der Baby Fisch hat nichts zu melden und ist nicht so viel Wert wie pastellfarbene andere Fische. Ich könnte mich ja verstellen und so aber das würde mich im Endeffekt auch unzufrieden machen. Ich könnte auch ganz aussteigen und wieder nur für mich bloggen aber ich glaube da würde ich auch irgendwann denken, dass ich eine grosse Chance in meinem Leben verspielt hätte. Oke, oke genug Deeptalk.
I' VR Isabel Vollrath Show
Nach dem mich Tristan von der HashMAG Blogger Lounge abgeholt hatte, gingen wir Abendessen und danach zur Show von I' VR Isabel Vollrath. Vor anderthalb Jahren war ich mit Tristan dank einem Gewinnspiel von Air Berlin an ihrer Show, damals noch im Kaufhaus Jahndorf. Dieses Mal durfte ich dank meines Blogs hin. Mich erinnerten die verspielten Designs nicht nur an das Thema selbst, was Venedig war, sondern auch an die Kleider des Barocks. Da die meisten jedoch kurz waren eher an eine Moderne Version davon. Es war eine sehr schöne und abwechslungsreiche Show, für jeden Anlass war etwas dabei.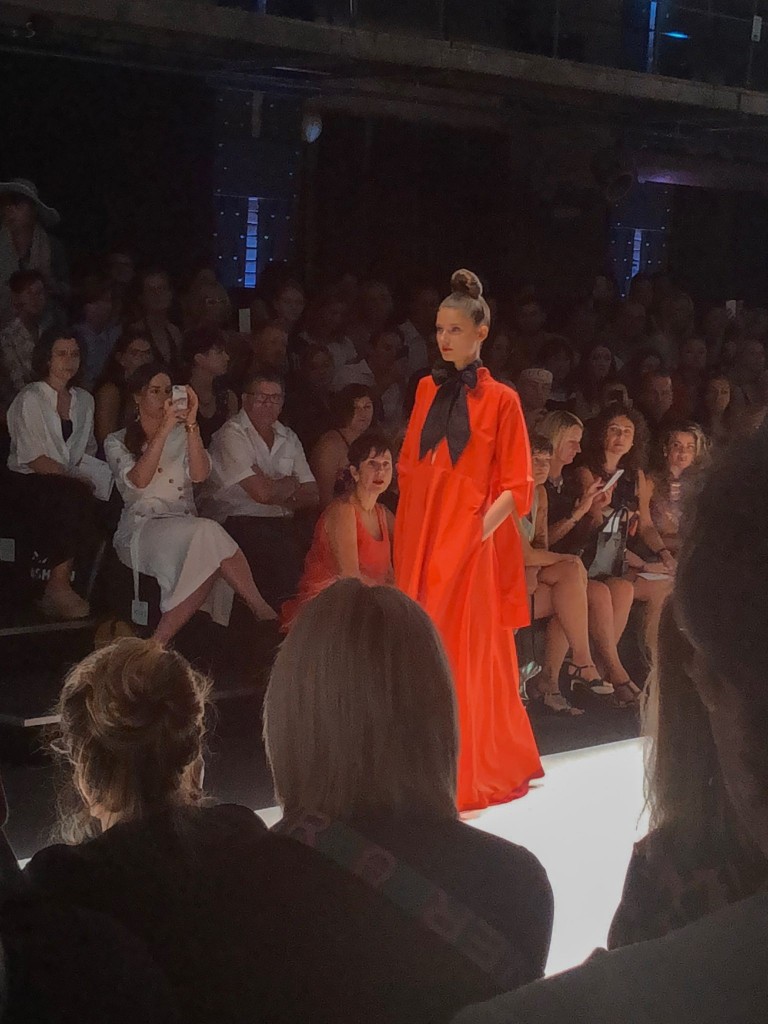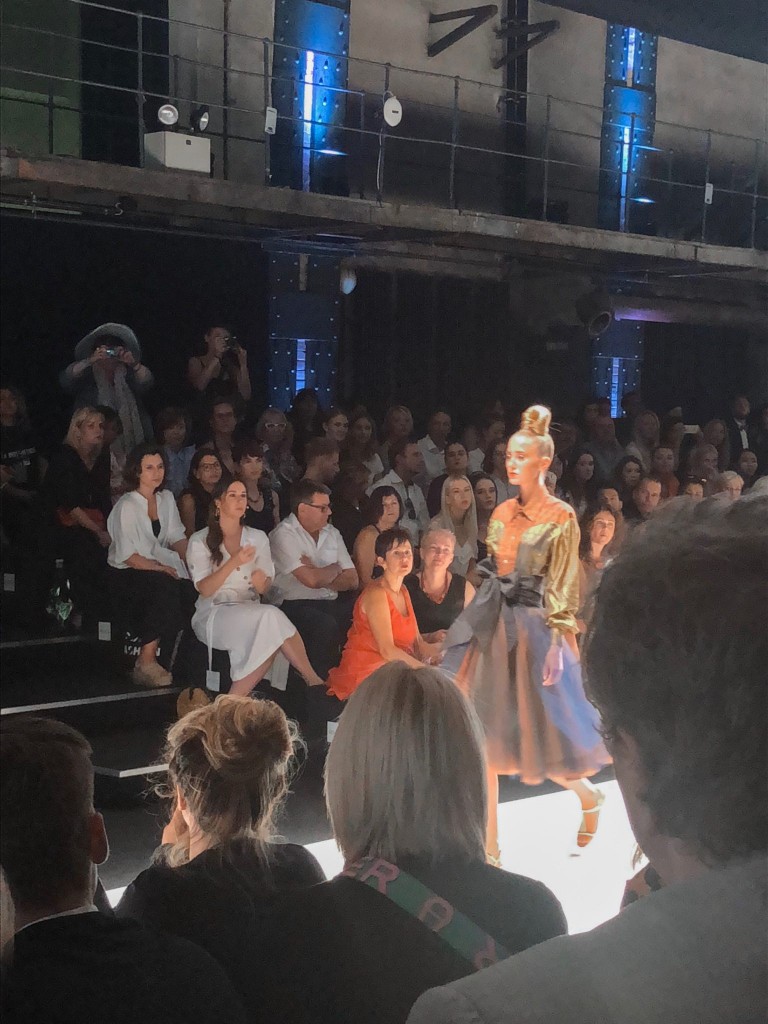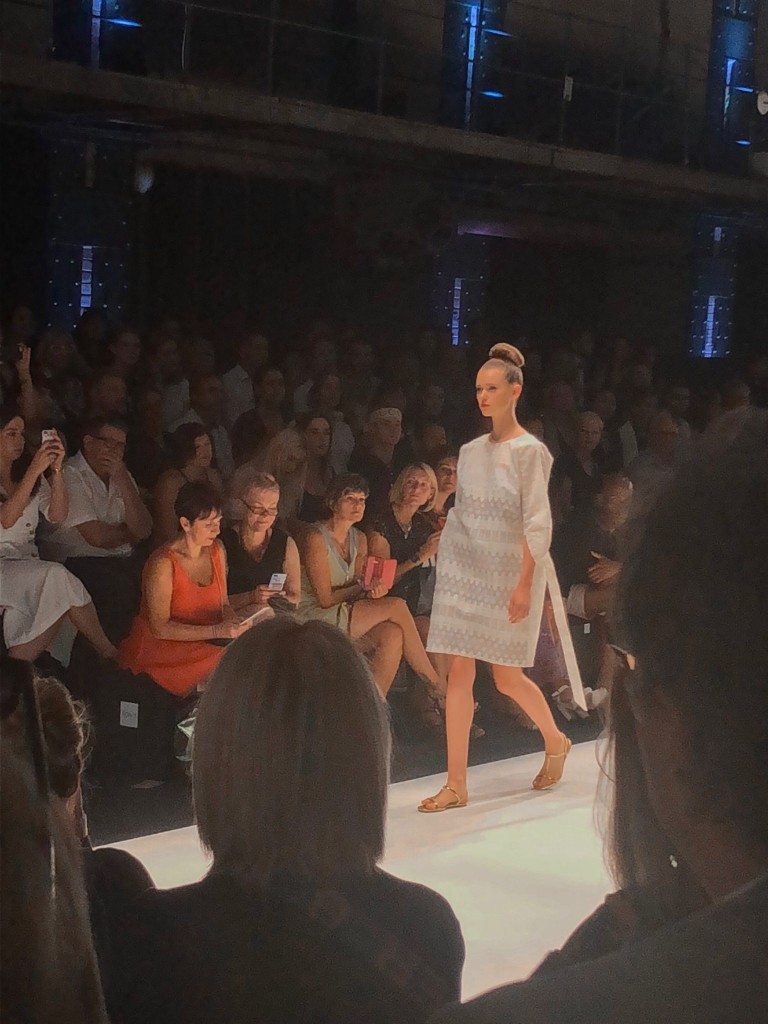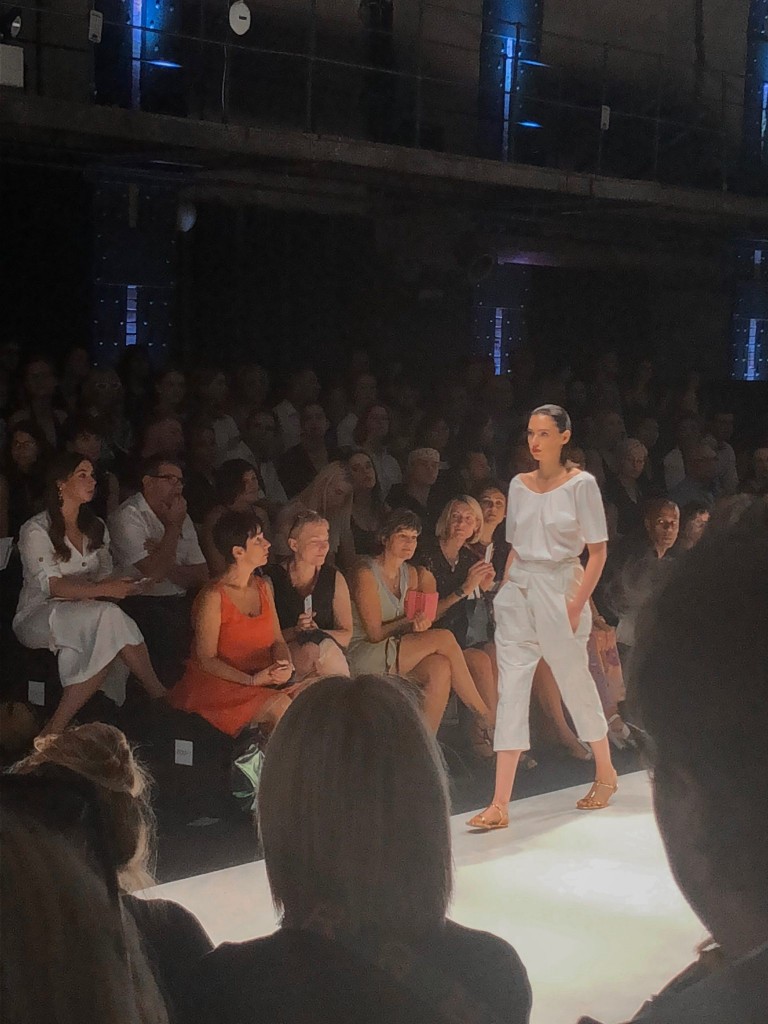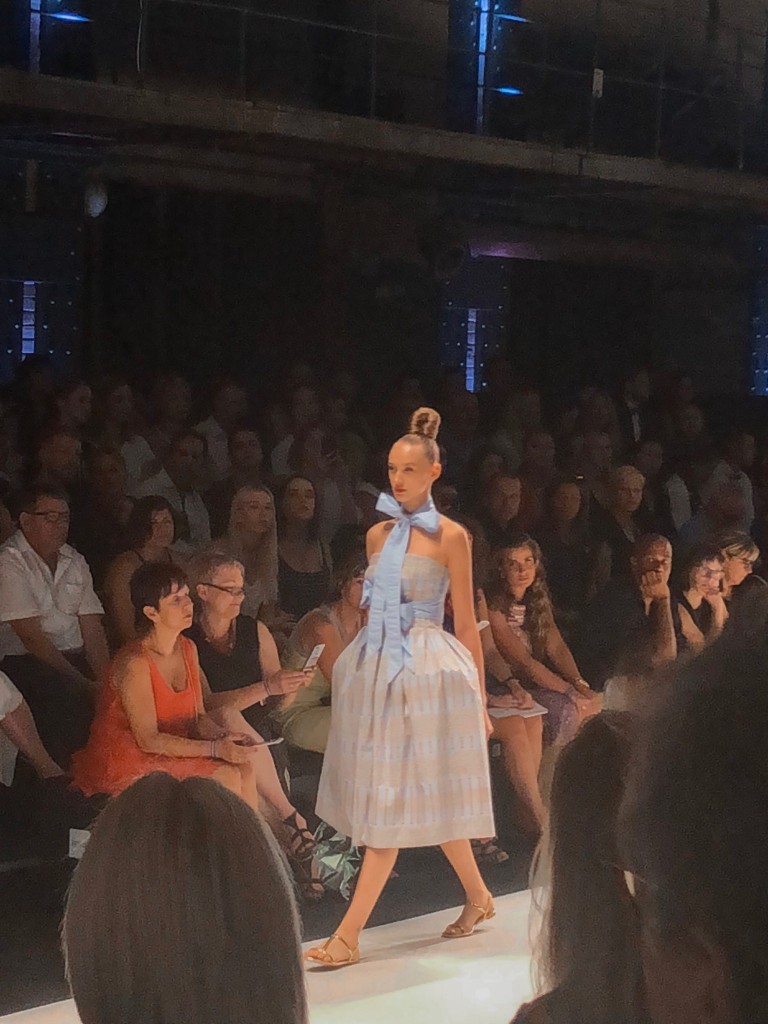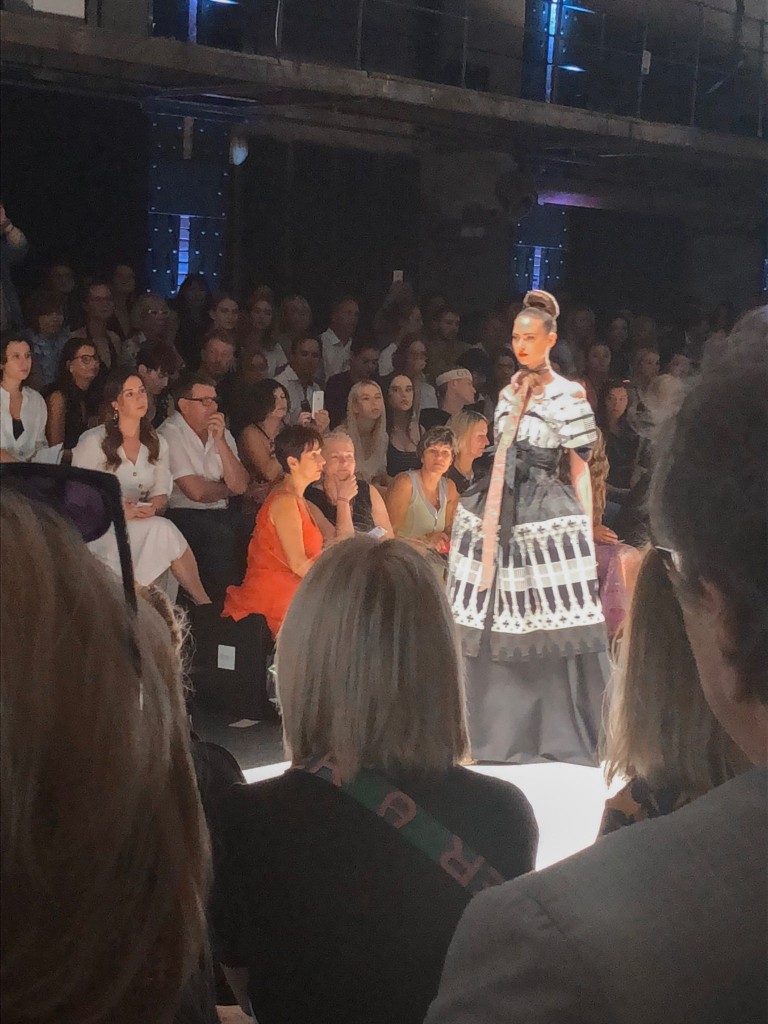 Fazit MBFW Berlin
Mir ist aufgefallen, dass viele dieses Jahr die Berliner Modewoche ausfallen lassen haben. Die grössten der grossen waren an den Haut Couture Shows in Paris und schauten nur kurz in Berlin vorbei und die, die schon länger dabei sind haben sich (wie ich mitgekriegt habe) lieber einen Urlaub gebucht, anstatt sich stressen zu lassen. Es ist schwierig das ganze einzuschätzen, zum einen wir die MBFW Berlin immer grösser aber geht zugleich auch mehr bergab habe ich das Gefühl. Ich weiss nicht, ob ich nächstes Jahr hingehen werde oder ob ich einfach Ski fahren gehe. Ist ist halt schon viel Stress. Nicht nur das herum rennen ist Stress auch der ganze Small Talk mit Leuten die dich grösstenteils belächeln, weil sie denken sie wären was besseres mit ihren paar Tausend Followern mehr bei Instagram – welche sowieso offensichtlich gekauft sind. Oder auch die Brands, die dich überhaupt nicht ernst nehmen, wenn ihnen dein Gesicht nicht bekannt vor kommt oder auf deinem Kärtchen kein Big Fisch Name steht. Sollte es hier irgendwo noch Mädels geben, die gleich über diesen Zirkus denken wie ich, dann könnt ihr mir gerne schreiben. Wo seid ihr lieben Menschen, die nicht in einer Pastell-Welt leben und Menschen nicht von oben herab behandeln?[:en]After introducing you to all my Berlin Fashion Week outfits (one, two, three, four), I come to the MBFW reviews for the Spring/Summer 2019 shows and events. Since I go to the Fashion Week, this was probably the most stressful season for me but somehow the most beautiful.
As promised I got a VLOG this time. I filmed too little again, but somehow you are still busy with other things, because you do not always think about taking everything. Also the quality of the video is not the best, I'm really sorry for that – the next one will be way better because my GoPro is already on the way to me. Nevertheless, I hope that you like the little insight into my week at the Berlin Fashion Week.
Day 1: Fashion Hall
As always, Berlin Fashion Week started for me and my boyfriend with the Fashion Hall. Exactly one year ago, the event took also place at the Erika Hess Ice Stadium, and just like exactly a year ago, some designers were, in my opinion, cooler and others less so. The creations of Aspara, for example, were really cool. The oriental designs reminded me directly of my Morocco trip which I had to cancle because of some personal problems. Anyway, this was the entry into the Berlin Fashion Week Spring/Summer 2019 for me. I went to the office during the day and in the evening to the Fashion Hall.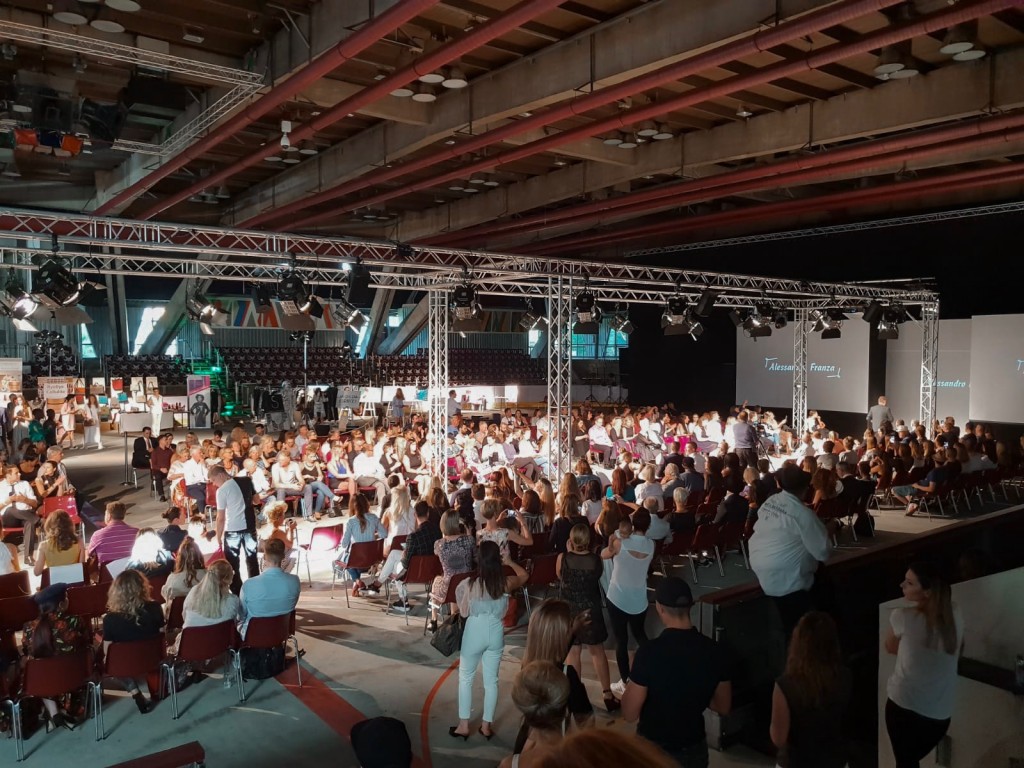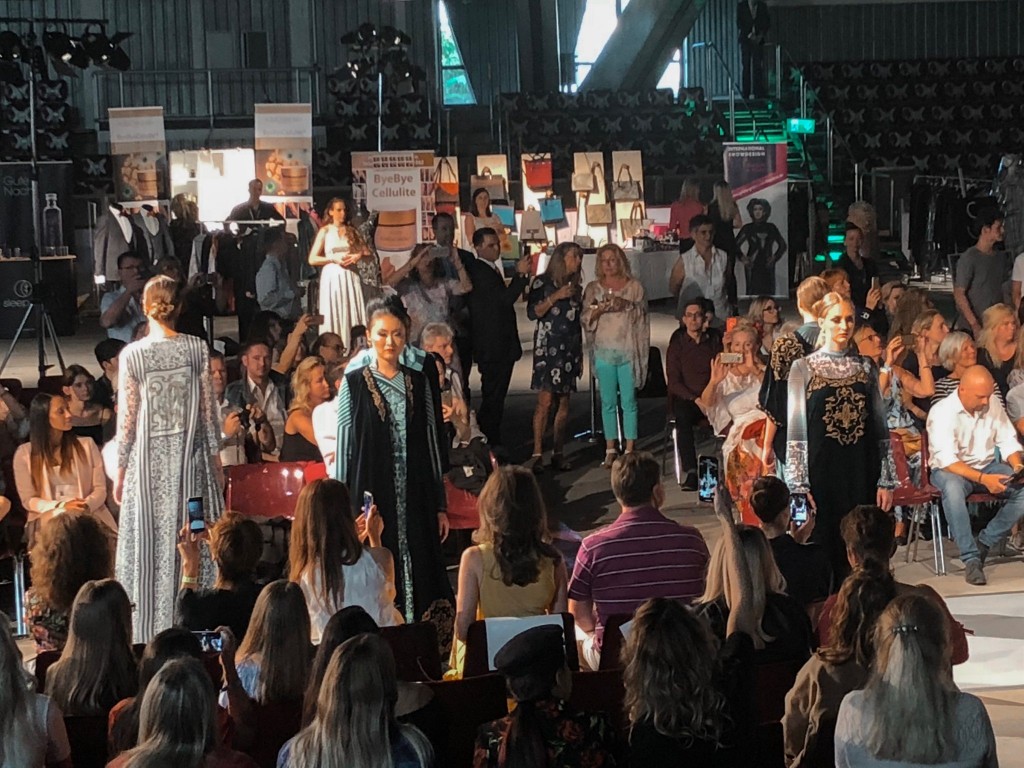 Day 2: Etsy Christmas Event, Fashion Blogger Café, Ipanema Fashion Night and Irene Luft Show
Etsy Christmas Event
The second day was clearly the most exhausting. I met my dear friend Selina at Hackeschenmarkt one hour later than planned. As expected, I had missed three trains and then the one that I took had delay. Anyway, the Etsy Christmas event was our first stop. Gift ideas for Christmas were presented at this event. Everything was wonderful decorated and the mood among the people was pleasant. I found it a pity that the Christmas theme was no longer discussed as a table with "gifts" and some small Christmas decorations. I would have completely pulled through the topic. The idea is really cool, Christmas event in the summer. Cookies, Christmas tree and Christmas carols would have made the event perfect.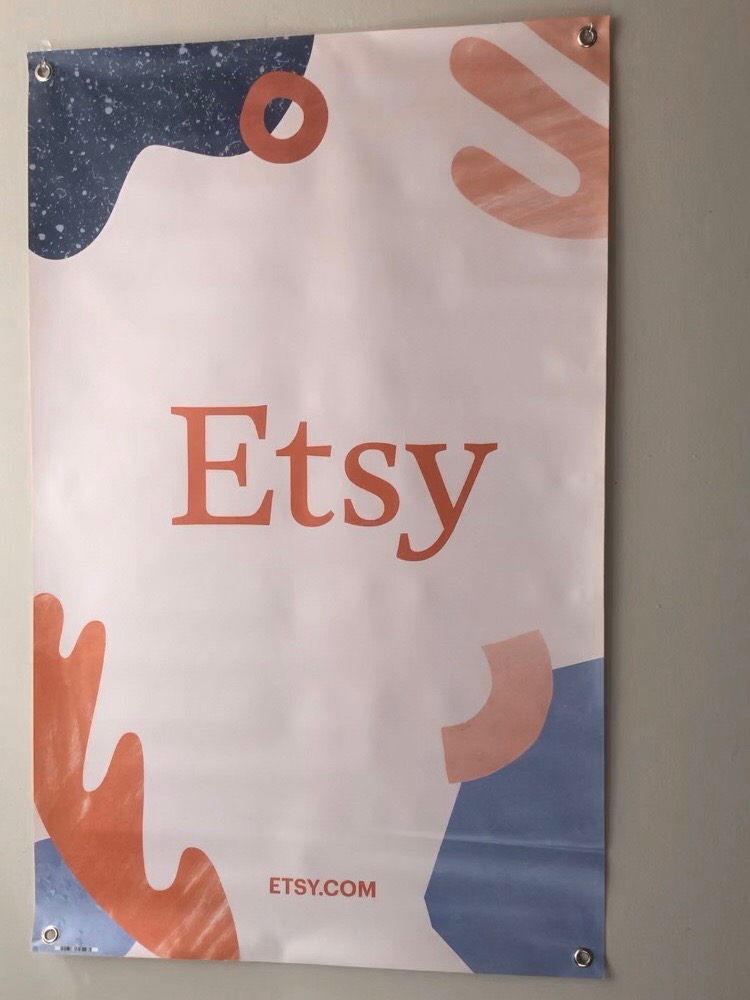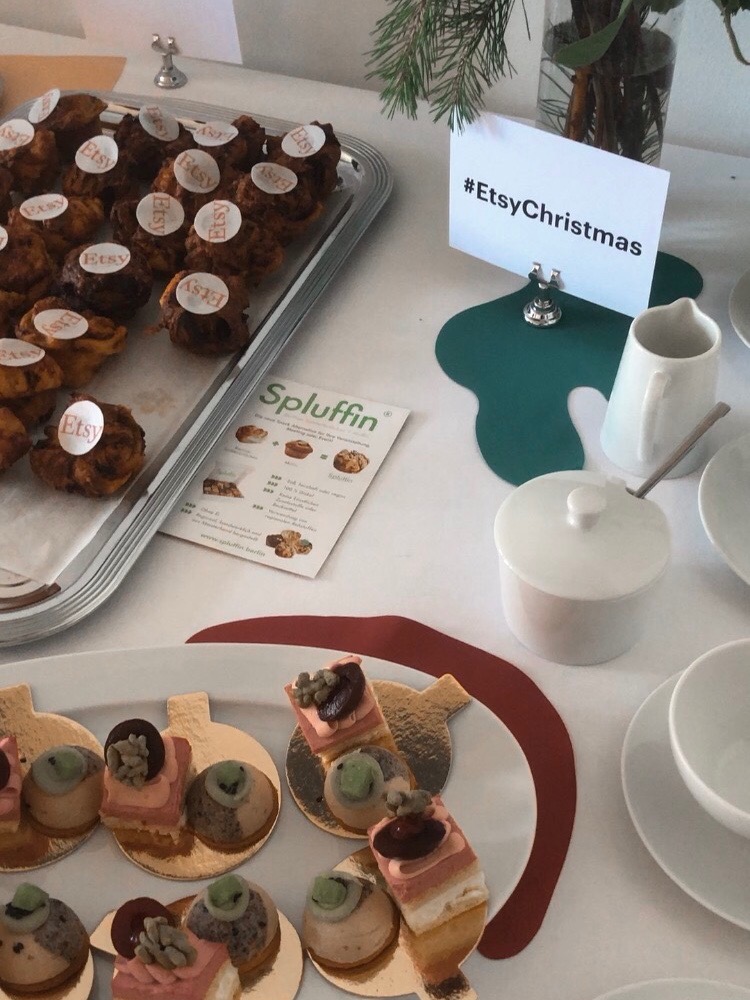 Fashion Blogger Café: Ultra Violett
After the Etsy event Selina and I went on to the Fashion Blogger Café, this season's theme was Ultra Violet. 
Pretty cool motto, after all, according to all fashion magazines, it is the trend color of the year. 
My personal trend color is orange, hehe. 
I wrote in my January review that the event was a bit more fun than the times before. 
This time it was even better, maybe it was just because I had someone with me. 
But if I look at the event individually, I would probably have had more fun on my own as well, because you could do a lot. 
Selina and I were there for over two hours and tried almost everything which you could try out. 
First, we got a drink from the sponsors who were responsible for the drinks; 
Selina took a Lillet and I got a water. 
Then we went to the photo booth, which was a mirror. 
Super cool, I'd wish I had something like this at home. 
The booth station was for the new perfume by Helene Fischer. 
Of course you could test the perfume directly. 
It smelled okay but really standard flowery and not outstanding. 
Anyway, the snapshot made a lot of fun. 
The next stop was Bruno Banani. 
There you could design a pair of boxershorts on a model (a pretty girl in underwear and two boys or men topless). 
The underwear was only for men so of course I made some for my dear boyfriend. 
At Dress Up they told us a lot about the cool concept and you could tie a headscarf directly – seems to be in trend at the moment, they made this at another event I went to not long ago. 
Of course there was a make-up station, but we do not used it. 
You could get drawn but we did not do that either, we prefered to paint by ourselves – at the booth of ArtNight. 
My "artwork" was totally different than planned and I am now 1000% sure that I will never be an artist. 
But you can judge for yourself, below is a picture of it. 
As the event slowly came to an end and we finished our paintings, we wanted to personalize a bracelet. 
We were waiting and then other exhibitors simply pressed infront of us and we had to wait even longer. 
Actually it was just a fair, the companies are the exhibitors and the rest were visitors. 
I do not really want to blaspheme here (that's why I do not name the company) but somehow you have to mention the negative things as well. 
We've been standing there for a long time and if I say long then I mean long. 
I do not want to be preferred, but they somehow want something from us visitors, if you go to such an event. 
To disadvantage someone then is not exactly smart. 
Now I have a bad impression of the brand and I can not imagine cooperation in the future because of this behavior. 
In the end, we just left but I think no matter where you are, if you're up and then there are some who work there and are jostling, that's not okay. 
They want to leave a good impression, but somehow not. 
Has something to do with decency. 
But except for what was at the very end, we had a great time.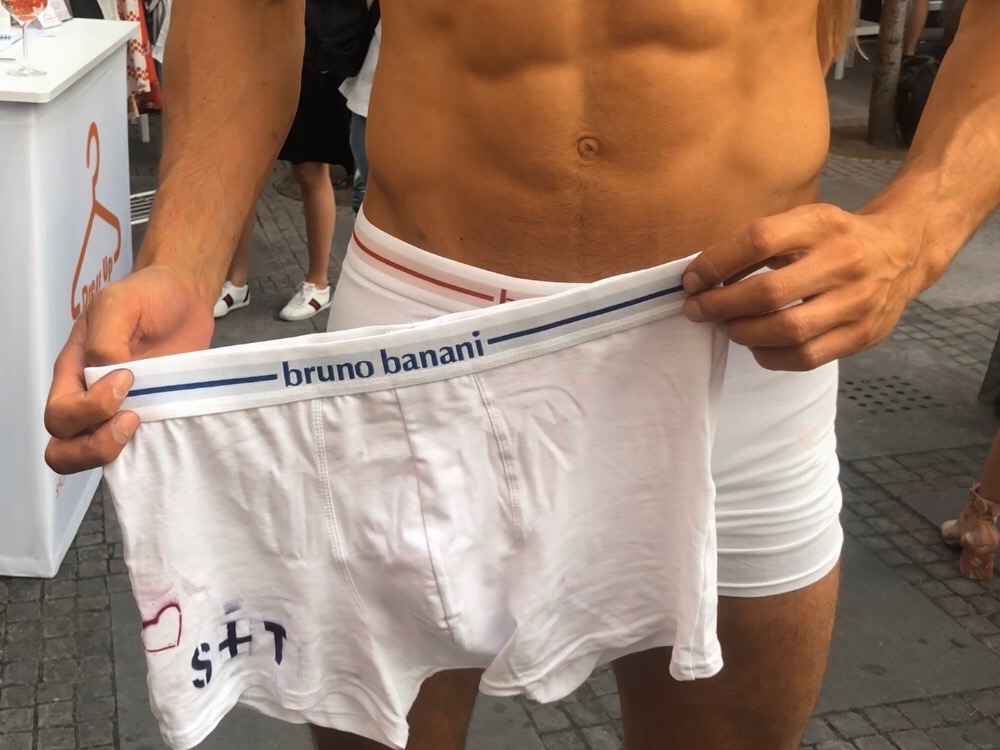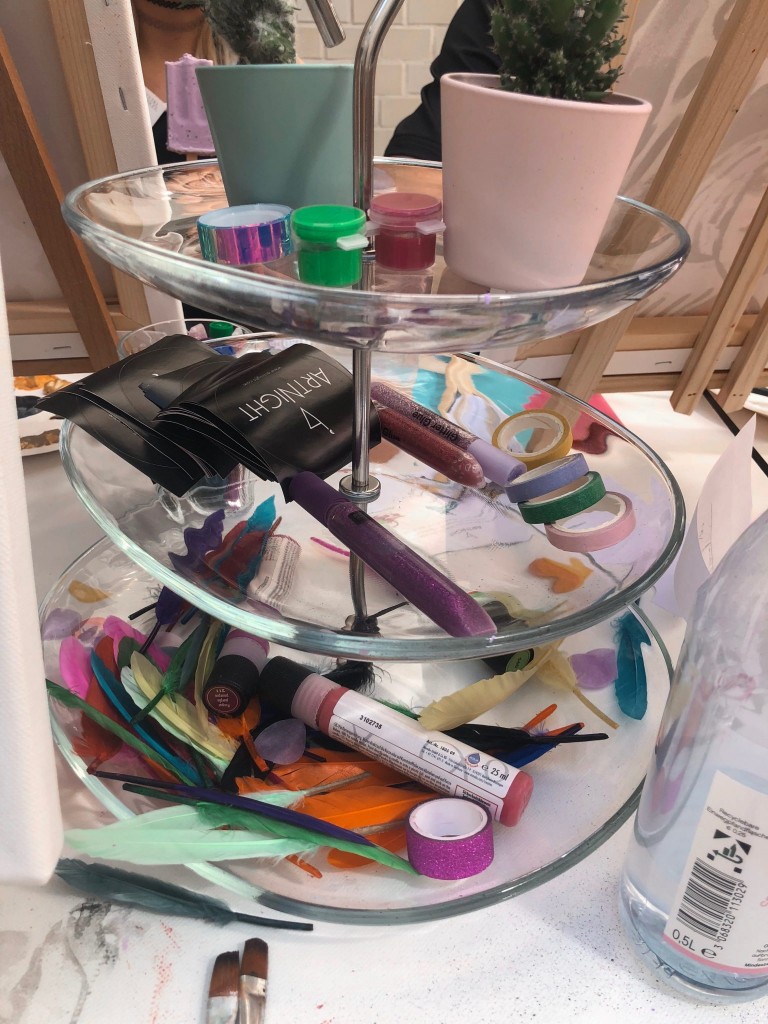 Ipanema Fashion Night
Unfortunately we were not too long at the Ipanema Fashion Night. This event took place at the Hotel Amano which is at the central station. It was not the roof top but very high up and had a terrace, so you could chill out with delicious drinks, a good mood and a stunning view. There was also a buffet where we fortified ourselves. Among other salmon was offered in a banana leaf, that was sooo delicious!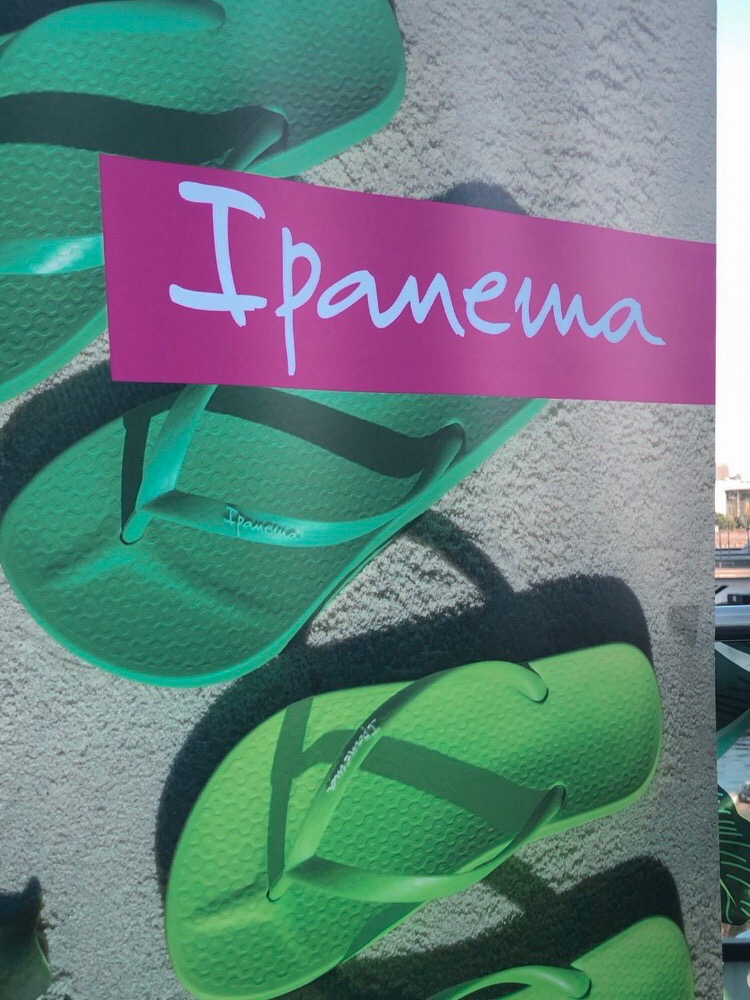 Irene Luft Show
As in the last year, I strayed on the way to the E-Werk. We came from another site and since I did not know the way by myself, I just followed what Google Maps told me. Unfortunately, I was led back to the wrong entrance, as we had scheduled buffer time so this was not too bad and we still arrived in time for the show. We had standing places but since some did not come we would probably have some to sit, but we did not understand this until every seat was already taken. Well, now I know how it works if I ever have no seat again. The show was great, last season I was already at her show and I already loved her designs then. As in the season before the designs were a mix between chic and rock. Especially in the make-up and the shoe choice stood out the rocking part. This was usually combined with pretty dresses. There were a lot of transparent pieces that were demonstrated. My favorite look was a hoodie in combination with a tulle skirt.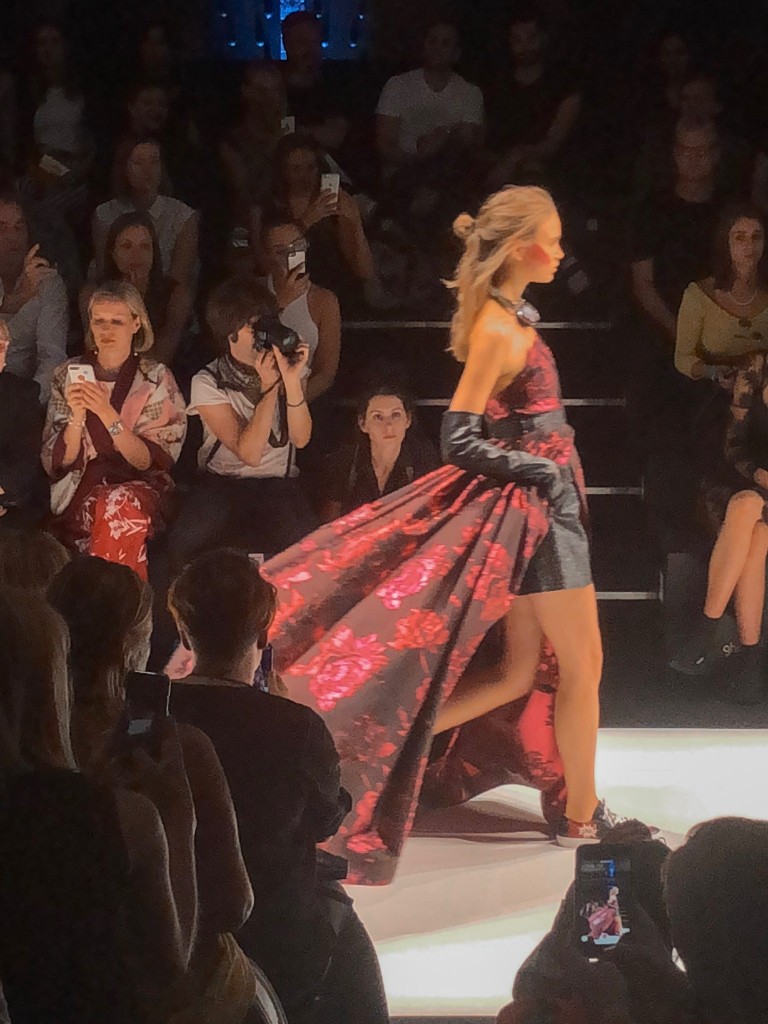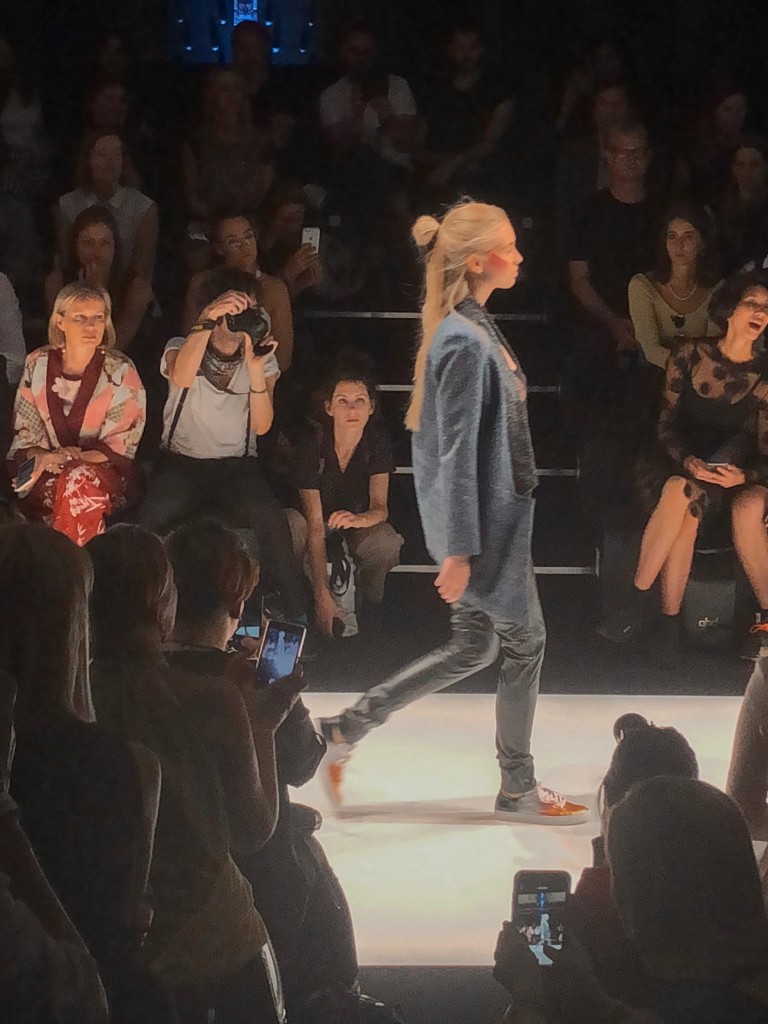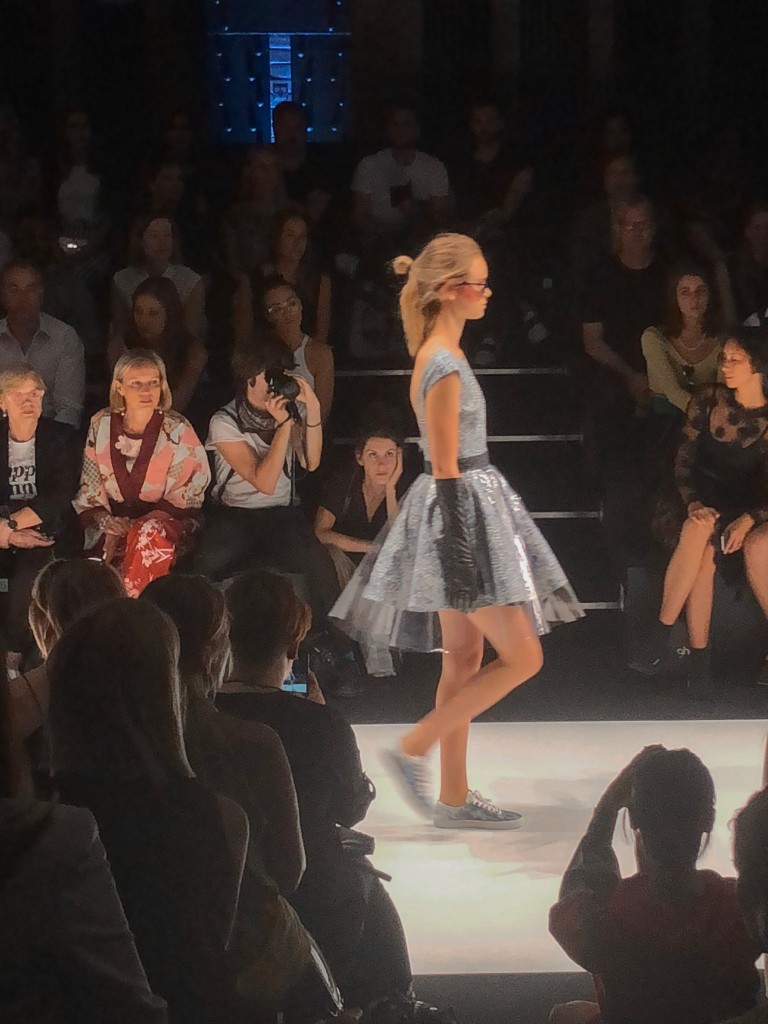 Day 3: Seek & Bright, Maison Common Show and HashMAG Blogger Lounge
Seek & Bright
In contrast to recent times, it seemed to me that the fairs had shrunk, especially the Bright was somehow only half of the hall. Anyhow, I was able to discover some things that I liked but nothing has blown me away. Maybe I was just a bit tired and the heat that prevailed in the halls was not exactly a mood uplighter either. Somehow I could have done something better with my time, sleeping in would definitely have been a better option.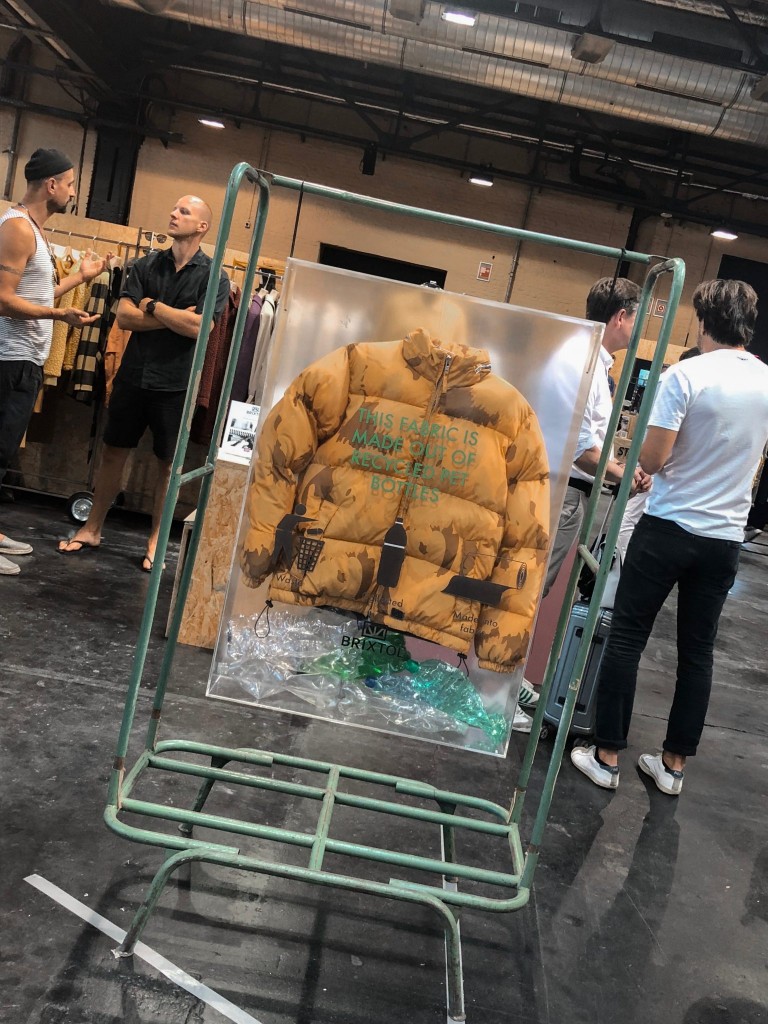 Maison Common Show
At the second show, we found the way directly and arrived at the perfect time, just when the inlet started. We had great seats in the third row and could see the show from there very good. As with the show by Irene Luft you could see a lot of transparency here. Otherwise stripes were a big thing! The collection was very, very summery and reminded me of a vacation. I also really liked this collection!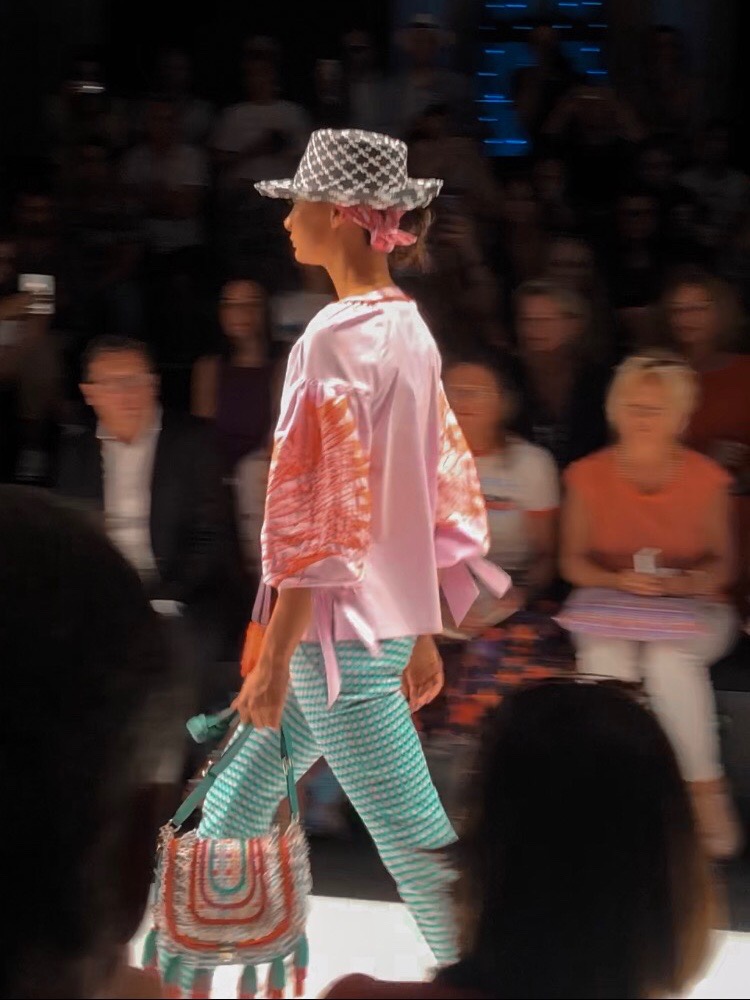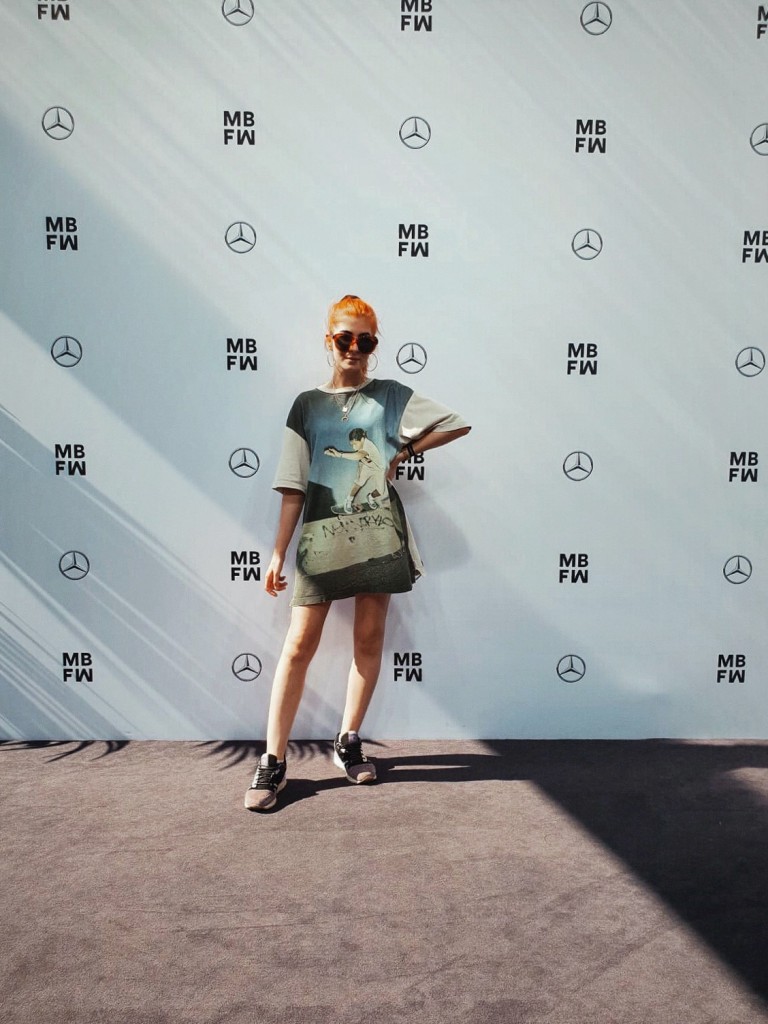 HashMAG Blogger Lounge
As with Seek & Bright, this event was a bit sobering. I do not know if my standarts are getting higher but it seemed like everyone is in a bad mood. In the last few seasons everybody was relaxed and seemed happy. I have the feeling that here too this division has arrived in large and small bloggers, which I personally find a pity. In addition, there were many brands that were already present in recent seasons, e.g. Sebamed or Lidl. I think it's a pity that half of the exhibitors are already known. I've talked to them about the brand and Co. so I didn't have to talk with them about it again, so I was pretty quick through everything. Even with Bijou Brigitte it gets boring, for the third time in a row you could make some jewelry I think that is a bit uncreative. I also heard some bloggers at the shows talking about how annoying all the goodie bags are. It would just be trash in it and mpstly there is only one thingt you really can use. Somehow they are not so wrong. I also filled a garbage bag with paper and unnecessary packaging. That was really a lot of work and the hand creams pile up with me now again. Meanwhile, I am giving away a lot. My friends always enjoy things that I do not need. It's just that there are things in these goodie bags that I can not tolerate or simply can not use. In any case, I really like the HashMAG Blogger Lounge a lot and hope that the team will find their way back to its roots again. Less glittering more cool new brands and funny get-togethers.
Day 4: HashMAG Blogger Lounge und I' VR Isabel Vollrath Show
HashMAG Blogger Lounge
Actually, I already told you all about it, but on day four I was back in town for a short time and because I mentioned it in my last outfit posting, I wanted to tell you this little story. I was working all day and had with the tattoo artist (yes you could get tattoos there) the day before agreed that I would look over at 18:00 clock, if I know what I want as a motive. I was even there earlier and waited and waited. Then he said to me that it would look bad, so the girl who was next in the row said that she would like to give her place to me. The tattoo artist agreed with her and told me on the next move that it would not work. No idea why not. Maybe I don't look like I have enough followers for this and the others do (pure speculation). I have to say, that put me in a really bad mood. Not just him, but this whole illusory world. But that's the way it is I'm not a big fish I'm a baby fish in the pond and the baby fish has nothing to report and is not as valuable as pastel-colored other fishes. I could pretend to be like these fishes but that would make me dissatisfied in the end. I could also get off and blog just for myself, but I think at some point I would think that I had lost a big opportunity in my life. Oke, oke enough deeptalk.
I' VR Isabel Vollrath
After Tristan picked me up from the HashMAG Blogger Lounge, we went to dinner and then to the show by I 'VR Isabel Vollrath. A year and a half ago I was already at her show with Tristan – thanks to a raffle by Air Berlin –  at that time the official shows still took place at the Kaufhaus Jahndorf. This time, thanks to my blog, I was allowed to go there because of me. The playful designs reminded me not only of the theme itself, which was Venice, but also of the clothes of the Baroque. Most of them, however, were made in a modern version of the style of this epoque. It was a very nice and varied show, there was something for every occasion.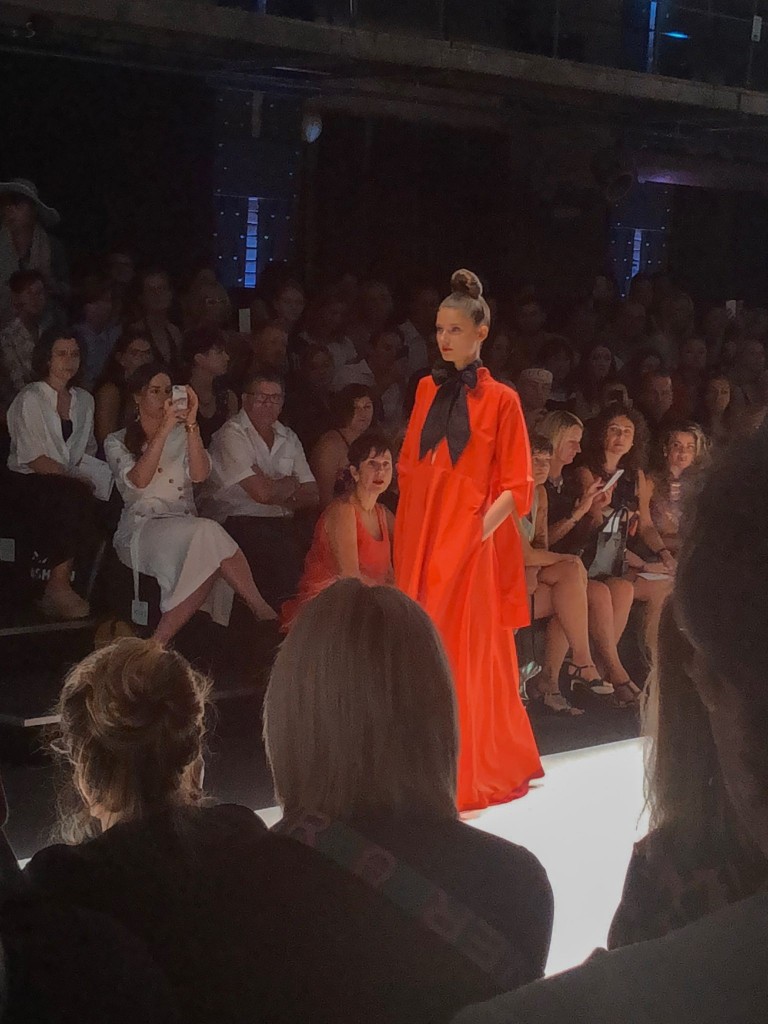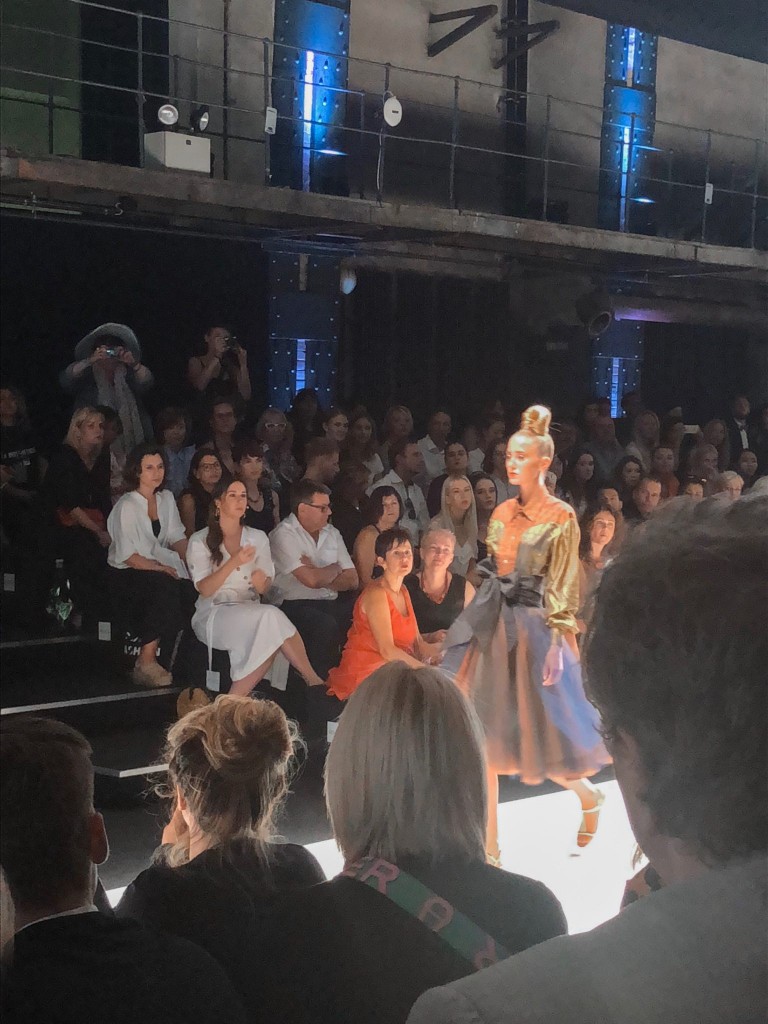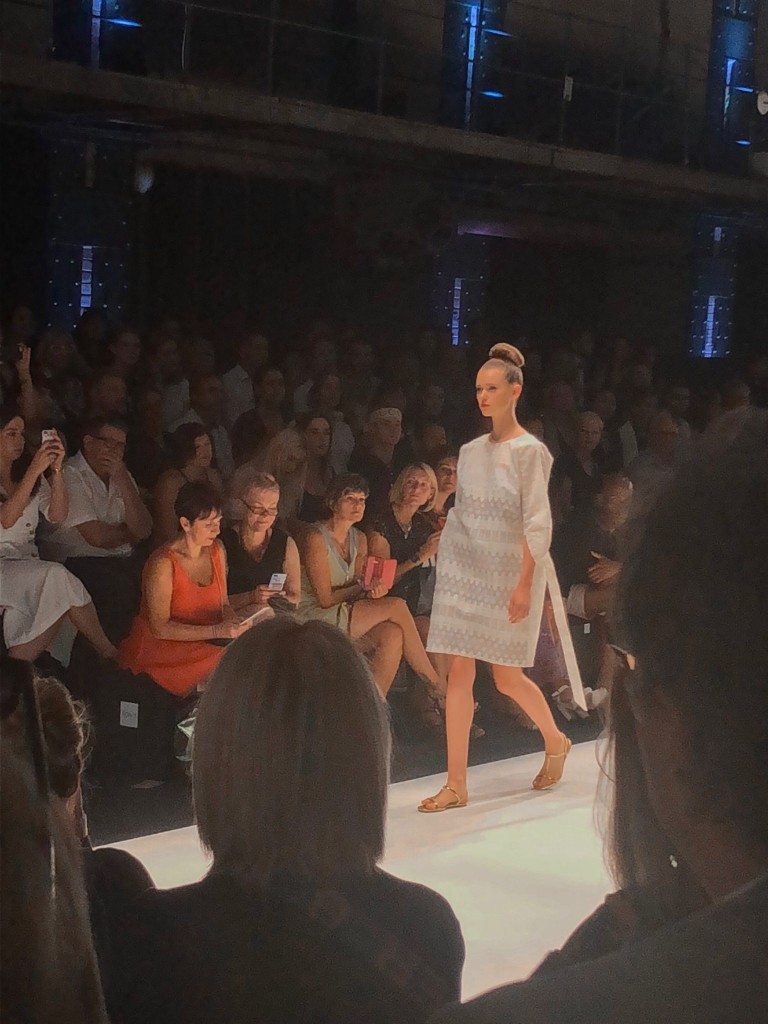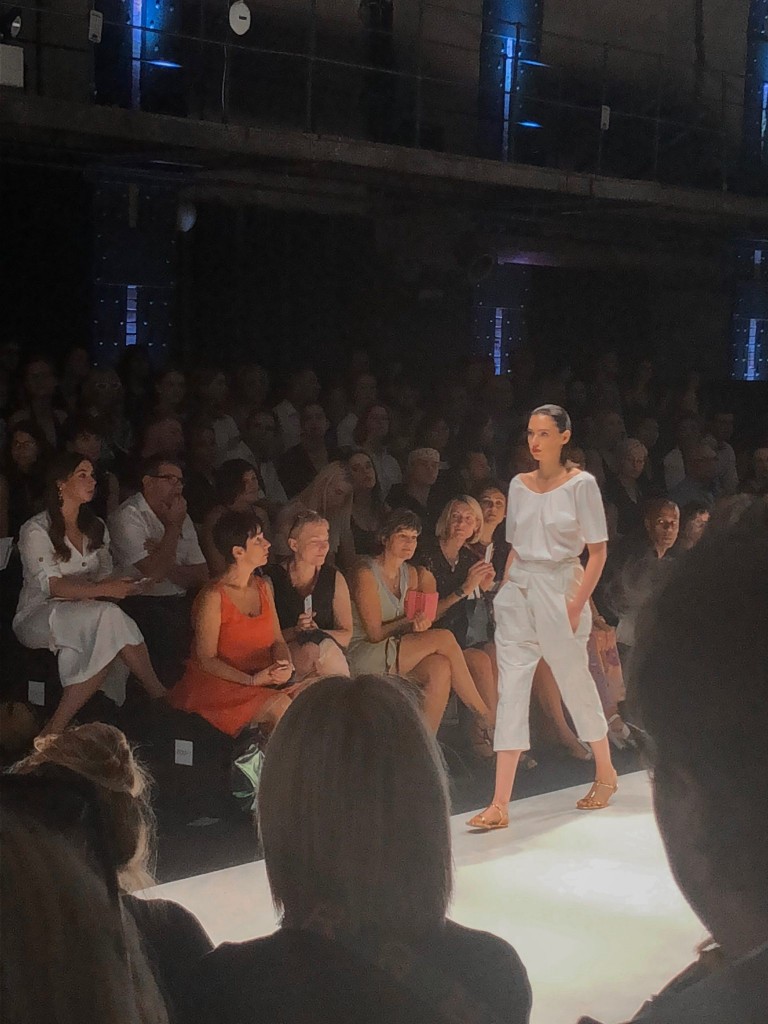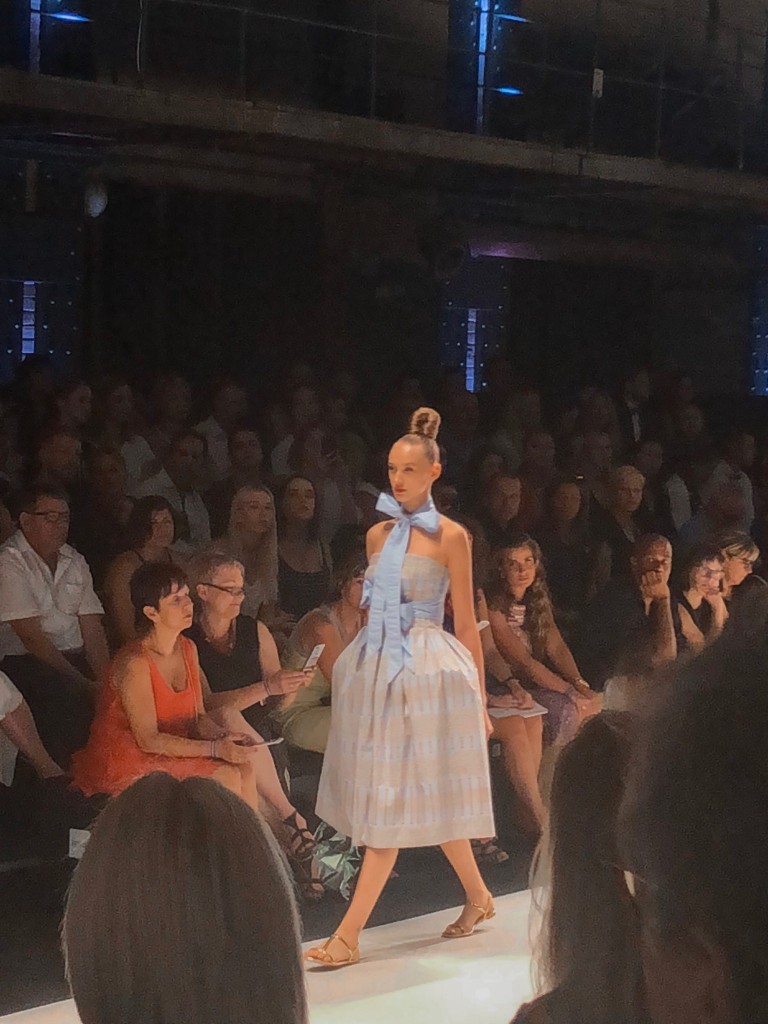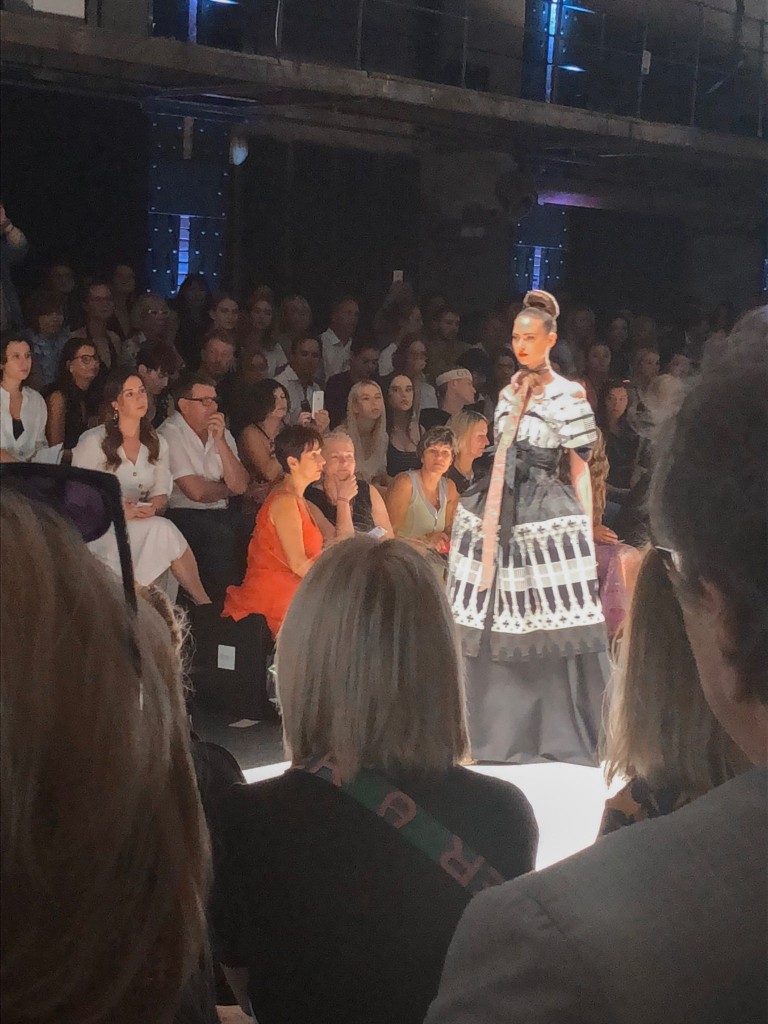 Conclusion MBFW Berlin
I noticed that many have missed out on the Berlin Fashion Week this year. The biggest of the big ones were at the haute couture shows in Paris and just stopped by in Berlin for like some hours and those who have been around for a while have booked (as I've learned) rather a vacation instead of getting stressed out. It is difficult to assess the whole thing, on one hand the MBFW Berlin is getting bigger but on the other hand it's going more downhill I have the feeling. I do not know if I will go next year or if I just go skiing. It really is a lot of stress and I also don't know if I want to talk girls who think they're something better just because they have some tousend followers more then me. If there are any cool other bloggers who think like me about the scene, please write me and let's be friends.
[:]